20 Tips For The Perfect LGBTQ Wedding
Author: Hollie Bond
NB: To help you browse our best suggestions we have included some third party links. Some purchases made through these links may earn us a commission to help keep our blogs and offers current and up to date. Thanks for your support!
---
Wedding traditions and conventions are notoriously old fashioned and stuffy – your father giving you away for example. Err hello, this is the 21st century! So, whether you're gay or straight there are many of them you'll want to ditch in order to make your day a lot more modern and personalised.
Most wedding traditions are based around the notion of a bride and a groom, with very little flexibility when it comes to gender. So when it comes to planning a gay or lesbian wedding, it can be difficult to know how to navigate many of the classic components of a big day. The good news is that you can completely rip up the rulebook and do things your own unique way.
We've got 20 tips for how to plan the perfect same sex wedding with plenty of ideas for making your day as unique as you are as a couple.
Plan Ahead For The Proposal
The traditional story goes that the man gets down on one knee and proposes to the girl he loves and they live happily ever after. In reality this isn't how many proposals or marriages go, especially for same sex couples, where there's the very real chance that both of you could be planning a proposal at the same time. In order to avoid an awkward situation where one of you beats the other to it, you might want to drop hints that you're planning to propose in the near future or that you would love to be the one to propose. And as for getting down on one knee – that's completely up to you.
Think Beyond Engagement Rings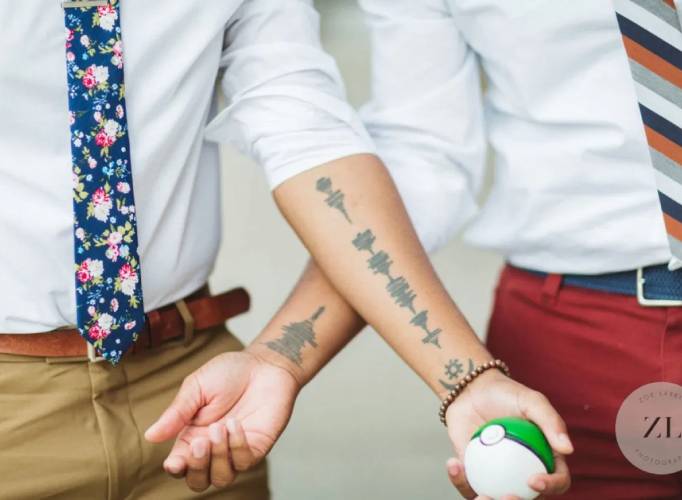 If a classic engagement ring doesn't work for you then there are plenty of other ways you can mark the magical moment you change from girlfriends or boyfriends to fiancées or fiancés. You could each give each other a gift, exchange another piece of jewellery like watches, get matching tattoos, or simply choose engagement rings you love together and wear it on whichever finger or thumb is most comfortable.
Photo Credit: Zoe Larkin Photography
Seek Out LGBTQ Specific Wedding Events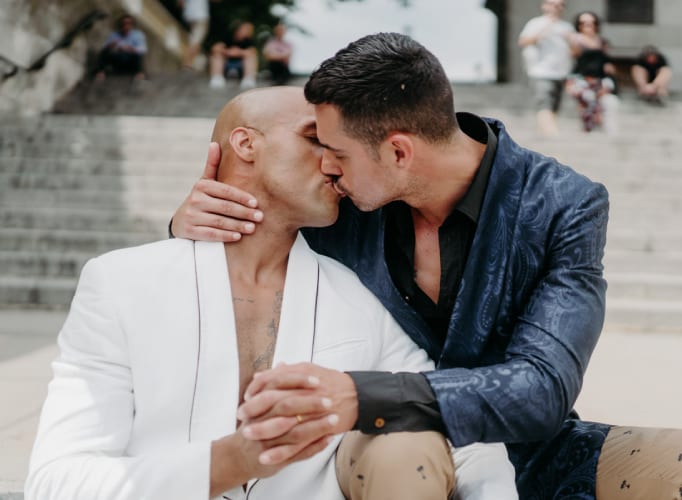 To get inspiration and find suppliers for their wedding a lot of couples go to wedding fairs in the run-up to the big day. Your mainstream wedding fairs aren't exactly focussed on LGBTQ weddings though and so you'll probably end up rather disappointed at all the suppliers and ideas that simply don't represent you as a couple and what your day will look like at all. Look out for more alternative and specific, modern fairs like The Gay Wedding Show and Pridelux instead that'll really get you in the mood for planning an event that reflects your love story.
Photo Credit: Ryan Bater
Read LGBTQ Specific Wedding Planning Guides
Traditional wedding planning guides might leave you feeling a bit alienated, so if you want some ideas and inspiration for your big day, head to LGBTQ wedding websites or buy a planning book that speaks to you specifically as a couple. The same goes for who you choose to help you plan. If you want a wedding planner, you might want to choose someone who has experience planning same-sex weddings as they'll have more wedding ideas and understanding of your big day wishes.
Make Up Your Own Wedding Party Labels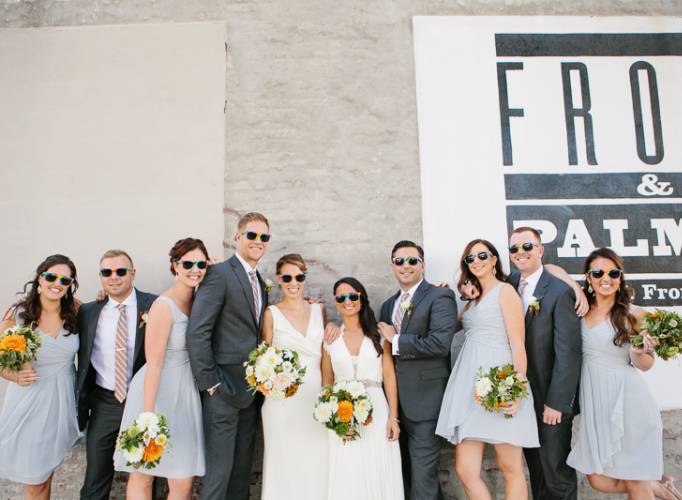 The well-known wedding party goes something like this – bride, groom, best man, maid of honour, ushers and bridesmaids. These are really gender specific roles and they don't really represent a lot of marriages these days. a lot of gay weddings and lesbian weddings have a mixture of male and female attendants instead. Without the classic labels though you'll need to make sure everyone in your entourage knows what is expected of them. If you've not called anyone your best man or maid of honour then you'll have to make sure someone is arranging your hen or stag do, likewise when it comes to speeches. Who do you want to make a speech from your attendants, if any?
Photo Credit: Sweet Water Portraits
Go Dress Or Suit Shopping Together
Typically a bride and groom go shopping separately and then reveal their outfits to each other on the wedding day. Shake this up at your same sex marriage by shopping and choosing what you want to wear on your special day together. After all, who knows you and your style better than your husband or wife to be? Wedding attire shopping is one of the most enjoyable parts of wedding planning too, so it makes sense to share this journey together.
Embrace The Rainbow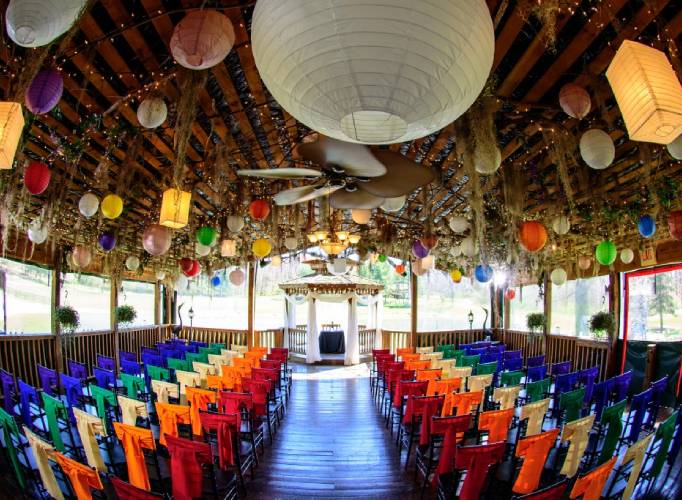 If white isn't your colour or seems a little bit conservative to you then have fun with colours instead. Go as bright and bold as you fancy with your outfits and wear what you feel comfortable with. The same goes for your wedding decor At gay and lesbian weddings it can be fun to go with a rainbow theme as a symbol of LGBTQ pride too.
Photo Credit: Mak Rabbitt Photography
Combine Your Hen Or Stag Dos
If you have a lot of friends and family in common and mix in similar social circles, you might want to combine your stag or hen dos to avoid inviting the same people to two events. Combining parties can be a lot more fun too. You're getting married to your other half so they're probably the person you most love to party with anyway!
Get Ready Together
Not seeing each other the night before the wedding and getting ready separately suits some couples but can seem a little outdated to others. Often one of the most exciting parts of the wedding day is the getting ready and the build up to the ceremony itself, so it makes sense to share this amazing time with your bride or groom.
Both Walk Down The Aisle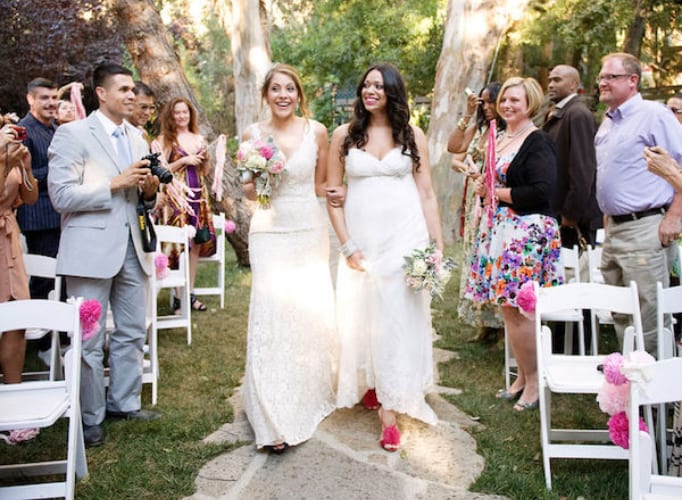 This is an area where a lot of couples at a gay wedding or a lesbian wedding like to throw out the rule book. If you can't decide who will walk down the aisle and who will wait at the top, or simply don't like the idea of sticking to this tradition, then don't. There are plenty of other options including walking down the aisle together, walking down the aisle one at a time with a parent or friend to "give you away" (let's interpret that as give you support) or neither of you walking down the aisle and just being there in the ceremony room to greet everyone on your guest list.
Photo Credit: Next Exit Photography
Write Your Own Vows
Classic civil ceremony or religious vows aren't the most inspiring and certainly don't do much to represent LGBTQ couples. If you want to tell the world how you feel about marrying your partner and add some colour and emotion to the proceedings, writing your own vows is a brilliant idea. Just make sure you're both on board with this and keep them short and sweet so your guests don't get bored.
Have Fun With Flowers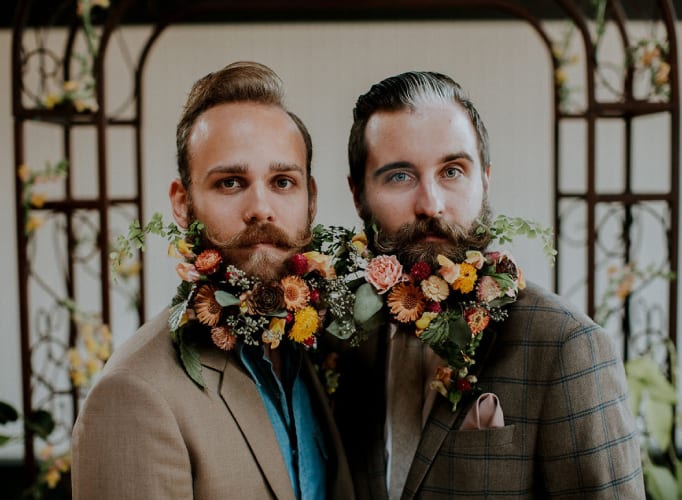 Bouquets aren't just for brides. You can have bouquets at a gay wedding too if you love flowers. Think outside the box when it comes to your flowers too. How about a flower crown, OTT floral boutonnieres, fresh flowers in your beard, a floral bow tie… you get the idea.
Photo Credit: Hazelwood Photo
Find An LGBTQ Wedding Friendly Officiant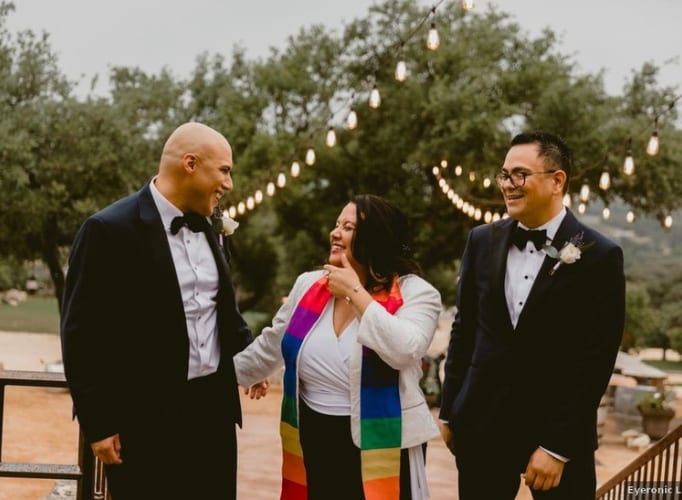 In the UK gay couples can legally either have a civil partnership or a marriage in a venue licensed for civil ceremonies. The exception is Scotland, where same sex couples can get married in a church too. Whichever type of ceremony you're having, you'll want to look for an LGBTQ-friendly officiant who has proven experience of hosting same-sex weddings in the past and a deep understanding of what your union means. If you prefer, you can have a celebrant who can make your ceremony as personalised as you want it to be, although it won't be legally binding and you'll have to legally get married before or after your big day.
Photo Credit: Eyeronic Love
Include Spiritual Or Symbolic Acts In Your Ceremony
If you can't get married in a church but would really like a spiritual or a religious feel to your ceremony it's best to choose a celebrant and ask them to include some symbolic acts like a sand ceremony, candle ceremony, hand fasting or ring warming (passing the wedding rings round your guests to get them blessed). There are plenty of symbolic ideas to choose from or you could make up something that is completely unique to you and reflects what you're both passionate about.
Search For A Specialist LGBTQ Wedding Photographer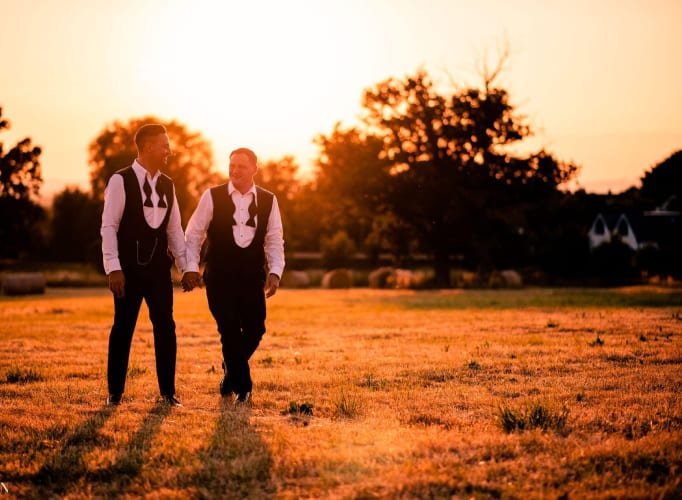 Not all suppliers need to be LGBTQ specific to make your day amazing, but it can help you feel at ease and to get the best service if certain suppliers are. One of these is your photographer. Having your photos taken on your wedding day can be quite an intimate experience, especially those loved-up couple shots, so you need to work with a photographer than makes you feel comfortable and relaxed in front of the camera. A photographer who has a lot of experience photographing gay or lesbian couples will have some brilliant and creative ideas too, and the end result will be much better photos for you. Get to know your chosen photographer before the big day too by booking an engagement shoot.
Photo Credit: Rich Howman Photography
Mix Up The Speeches
The traditional speech line-up goes: father of the bride, groom and best man. Clearly this isn't going to work at a same sex wedding, so mix it up and have as many or as few speeches by different members of the wedding party as you like. Remember the golden rules of speeches though – keep them short and entertaining so you don't bore your guests senseless. We love the idea of a joint couple speech at same sex weddings if you're both feeling brave enough to do some public speaking.
Forget About Traditional Seating Arrangements
A traditional top table usually includes the newly married couple, their parents and the maid of honour and the best man. Again this needs to be mixed up a bit at a gay or lesbian wedding because you'll have different and more gender fluid roles within the wedding party. You could completely get rid of the top table and either host your own table together or have your entire guest list seated at one long sharing style table. Some couples even choose to have their own "love" table with just the two of them looking out across the room full of their loved ones.
Create Your Own Traditions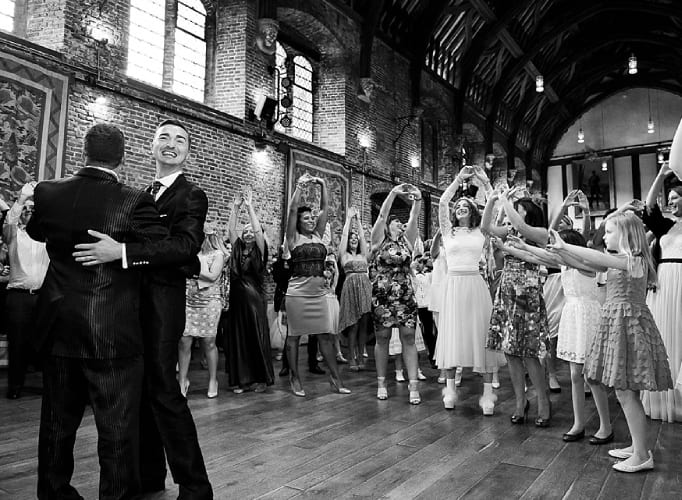 Your wedding is all about celebrating your special union and love for one another so if anything that is deemed a wedding tradition doesn't make sense to you or feels outdated then simply ignore it. The only part of a wedding you have to do is the official wording of the vows if you want to make it legal, everything else is up for interpretation! Think about traditions you'd like to create yourselves based around what is important to you or what you particularly enjoy doing together. Everything from the first dance and cutting of the cake to the bouquet toss can be changed to suit your personalities and budget, so be creative and have some fun with it. You never know you might just create a new LGBTQ wedding tradition that other couples enjoy for years to come.
Photo Credit: Fiona Kelly Photography
Share The Cost Of The Wedding
Back in the day it was tradition for the bride's father to foot the bill for the wedding day. This isn't usually the case at any wedding these days whether your partner is the same or different sex to you. Most couples these days pay for their day using a mixture of financial resources including their own money, help from parents and sometimes a loan. As a same sex couple you can ignore old fashioned traditions and start married life on a perfectly equal financial footing if you can and want to, by sharing the cost of the wedding budget. That said, if one or both of your parents want to contribute, then happy days – free bar here you come!
Do Your Own Thing When It Comes To Surnames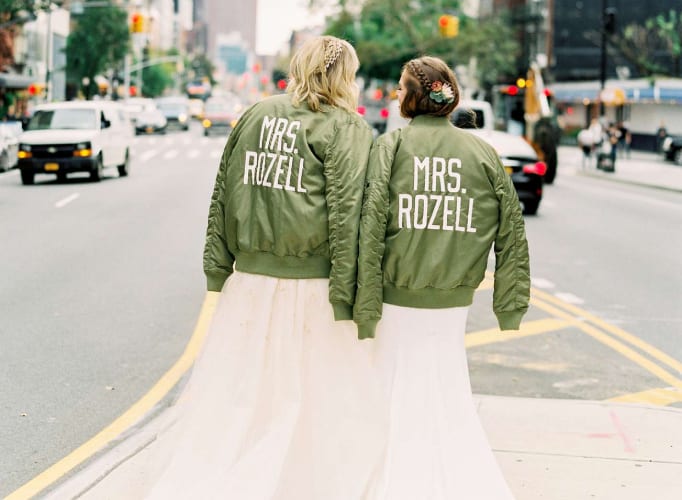 A surprising amount of brides still take their groom's surname these days, so this is a tradition that is still going strong. As a gay or lesbian couple though it's not as clear what to do when it comes to surnames, so you can choose whatever works best for you. If one of you has a surname you both love then you could both have that. Or you could simply just stick with your names as they are before you say "I do". If you want to have a bit of fun with your names though, consider a double-barrelled option or a blend of the two names if it works. A final option is to choose a completely different surname and both take that instead.
Photo Credit: Alicia Swedenborg