Wedding Superstitions Explained
Published date: 21st August 2020 | Author: Hollie Bond
NB: To help you browse our best suggestions we have included some third party links. Some purchases made through these links may earn us a commission to help keep our blogs and offers current and up to date. Thanks for your support!
---
Want to know where some of the most common and obscure wedding traditions come from before you start following them? Here we explain the meanings behind classics like wearing something blue and proposing on one knee…
Whether you're superstitious or not, sometimes it can be hard not to get swept up in deep-rooted traditions that have been around for centuries.
And, the wedding world certainly seems to have more than it's fair share of weird and wonderful wedding traditions that couples often follow without even knowing why they're doing it! If you spend your life avoiding black cats and not crossing anyone on the stairs, then you might want to make a comprehensive list of all the superstitions to be aware of in the run-up to and during your wedding day, many of which were believed to ward off evil spirits.
Perhaps you're the complete opposite and don't believe in any of them, so are throwing caution to the wind and planning to ignore them all. Whatever your take on these age-old wedding superstitions, it can be fascinating to learn where they came from and why we still follow them to this day.
Here, we've covered everything from the most famous "something old, something new, something borrowed…" poem to the wedding traditions surrounding your wedding cake, so you can decide which ones you are happy to keep and which ones you want to ditch when it comes to your big day.
Let's start at the beginning before you've even got a ring on your finger…
Wedding Superstitions
1. Wedding superstition: Proposing on one knee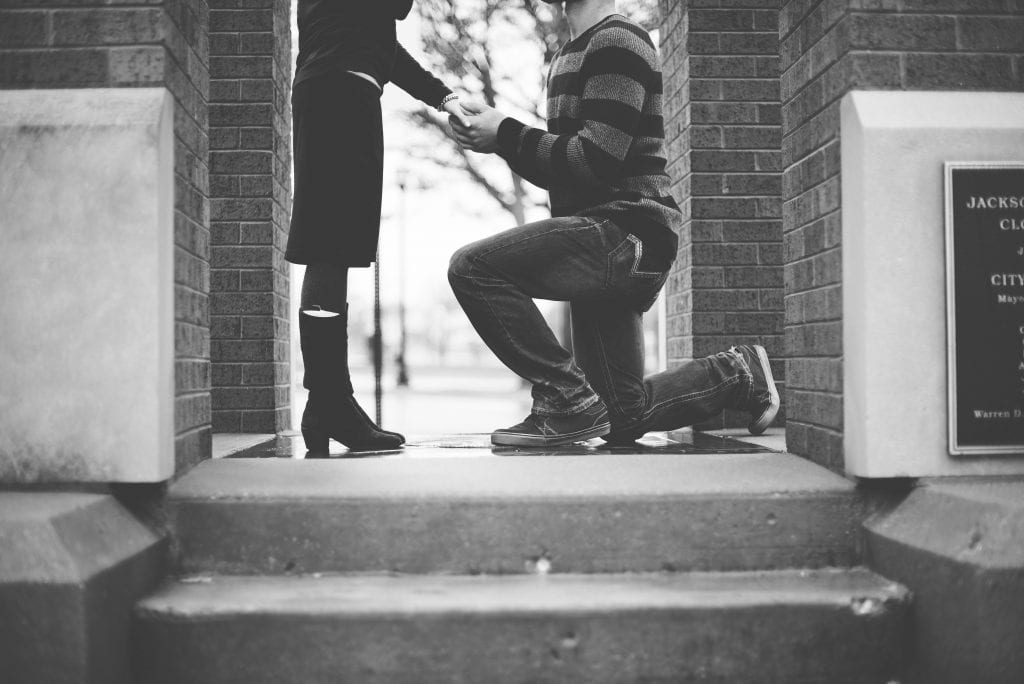 Meaning: This tradition has roots that are so ancient, it's not really clear exactly where it first originated from. In many religions, kneeling in front of someone is a sign of respect and loyalty so it may derive from this, or perhaps from the Middle Ages when men would bend down in front of women to show them they loved them. These days it can still be a lovely symbol, showing you that your partner is willing to surrender themselves and their love to you.
2. Wedding superstition: Having a hen or stag party
Meaning: Most couples embrace this tradition with open arms and don't stop to consider why on earth we go all out with a party before the even bigger party – the wedding! The origins of the hen party comes from Ancient Greece when the wedding was spilt into three distinct sections – the first being an all-female feast. Stags dos also originate from Ancient Greece, when men would gather to toast the groom to mark the end of his youth. They only became really popular in the UK in the 1960s, but when you're having the time of your life on your hen and stag nights, you might want to raise a glass to those Ancient Greeks who certainly knew how to have a good time.
3. Wedding superstition: Choosing the day and time to get married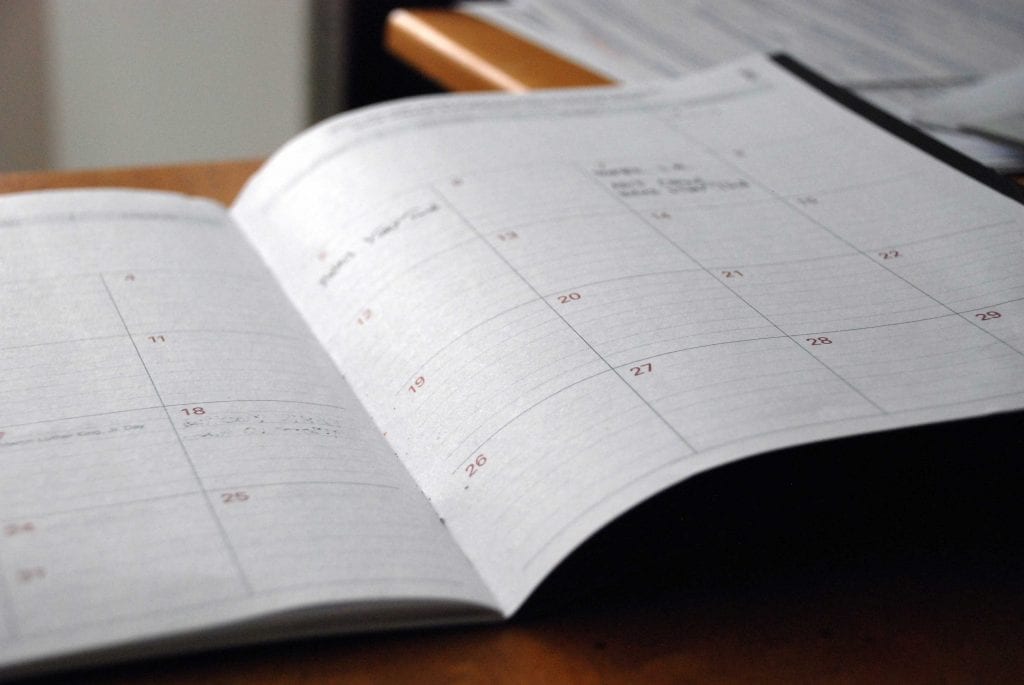 Meaning: Bad news for the thousands and thousands of couples who choose Saturday to get married if you believe this tradition. Much like the poem about babies who are born on certain days, there's a poem for the days of the week when it comes to marriage:
"Marry on Monday for health,

Tuesday for wealth,

Wednesday the best day of all,

Thursday for crosses,

Friday for losses,

and Saturday for no luck at all."
And, if you thought that was tricky enough, you might also want to consider the fact that it's also considered bad luck to get married during Lent and getting married on a full moon. Finally, there's also a thought that you should take the time of day you say your "I dos" into account. It's meant to be best to say your vows as the minute hand on the clock is pointing upwards and "ascending towards heaven" – so anytime between half past and o'clock. Phew, good luck aligning all of those!
4. Wedding superstition: Rain on your wedding day
Meaning: Every couple wants it to be lovely and sunny on their wedding day, but if you have a downpour don't be too disheartened. In some cultures rain symbolises cleansing and fertility and it is believed couples who have rain at their wedding will go on to have lots of healthy children.
5. Wedding superstition: Not seeing your partner before you walk down the aisle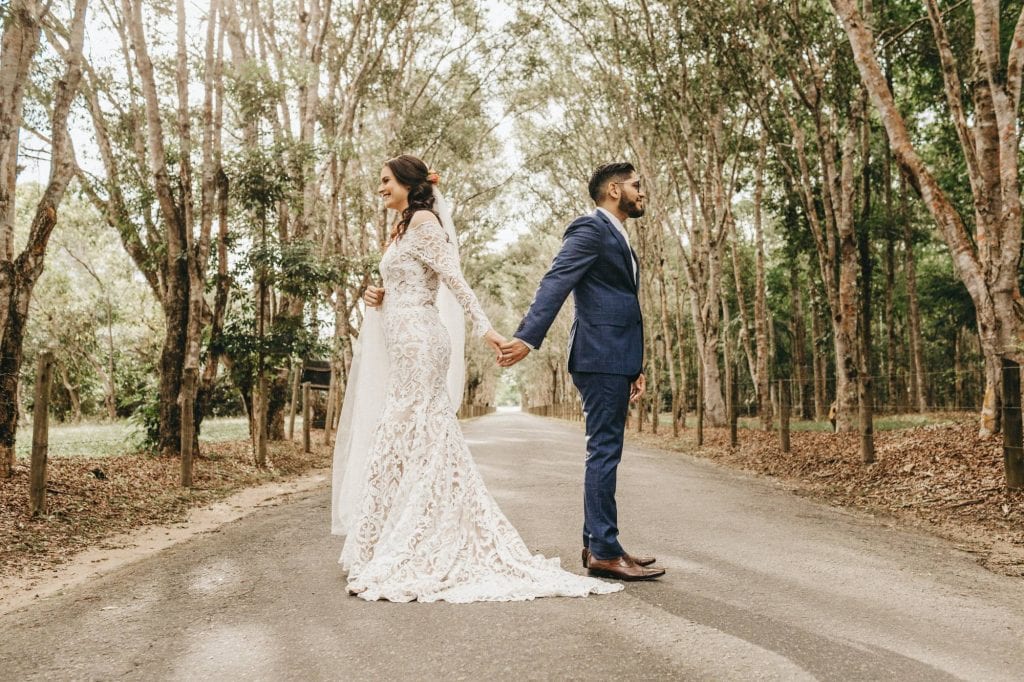 Meaning: We all know this one – the bride and groom (or brides/ grooms) shouldn't see each other before they get to the altar. But why do we follow this tradition and what about if you want to have a 'first look' photography shoot, which are becoming increasingly popular these days? This superstition doesn't have particularly nice roots, so you may want to ignore it. Apparently it dates back to the days of arranged marriages, when the couple had never met before and it was feared that if they met before the wedding service one or both might pull out of the arrangement. Nowadays it can be nice to stick to this tradition in order to build up the excitement of seeing each other for the first time in all your your wedding day splendour as you walk down the aisle.
6. Wedding superstition: Something old, something new, something borrowed, something blue
Meaning: We all know that this little poem is meant to bring you good luck on your wedding day, but why and where did it come from? The rhyme originates from Victorian times and it simply represents all the different parts of the bride's life coming together on her wedding day. Something old represents the bride's past and her link to her family. Something new represents the bride's new life with her husband (or wife) and also good fortune. Something borrowed is to remind the bride that her friends and family will be there for her throughout her married life to lend a hand and help in difficult times. And, something blue comes from even further back – the bible – where it represents purity. Wearing something blue is said to symbolise faithfulness and loyalty, both key elements of a successful marriage!
7. Wedding superstition: Putting a silver sixpence in your shoe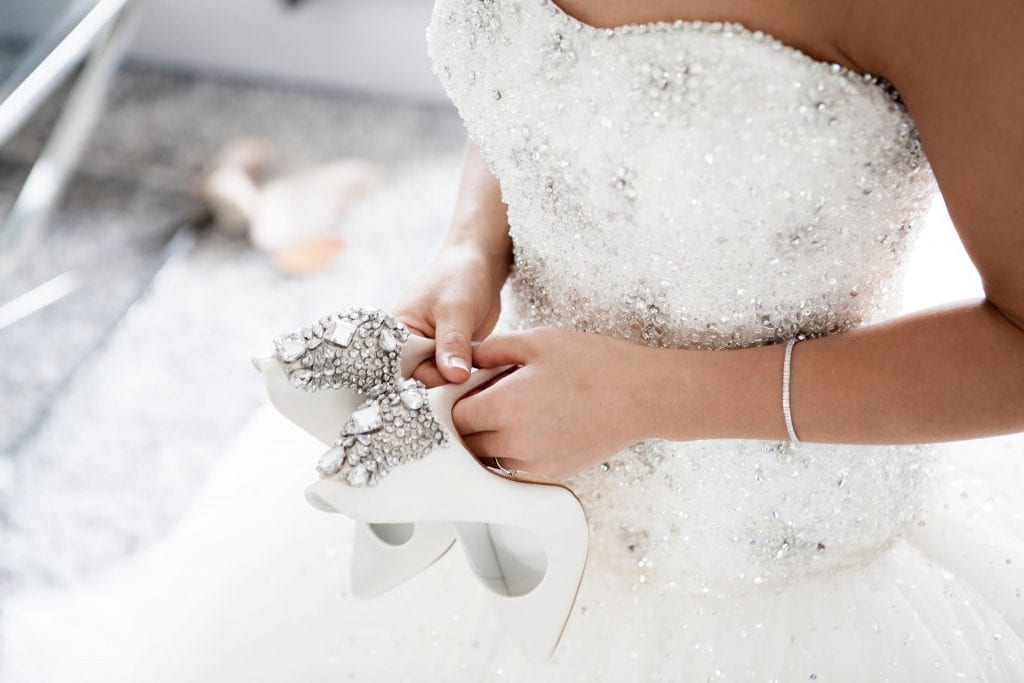 Meaning: It might be a bit annoying having money rattling around in your bridal shoes (might we suggest you stick it to the sole if you're following this one?), but it's believed that this tradition will bring you wealth and happiness in your future life together. Traditionally the father of the bride gave the sixpence as a symbol of his well wishes for the couple.
8. Wedding superstition: The bride being given away
Meaning: A bit like the not seeing your partner before the wedding tradition this superstition has old-fashioned roots that you may want to ignore! When marriages were seen as business arrangements with the exchange of money (or a dowry) involved, rather than a declaration of love like it is today, the bride being given away was a symbol that she was being passed over to a new owner. In modern times, it can be a lovely symbol that a family member is giving their blessing to your new partner to join the family.
9. Wedding superstition: Not wearing pearls on your wedding day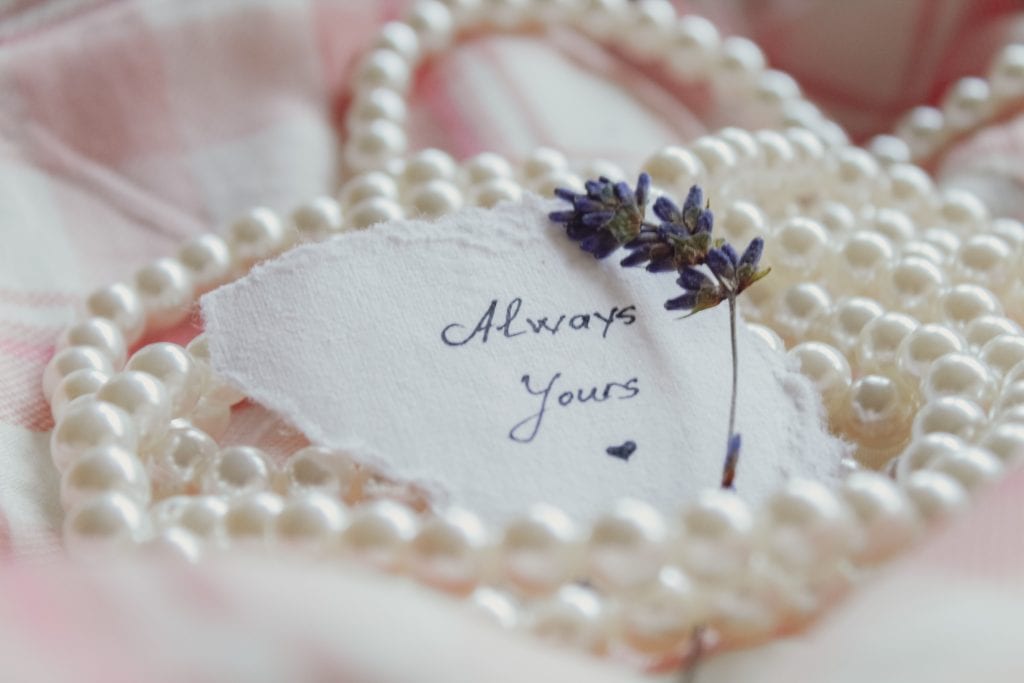 Meaning: Are pearls bad luck? Surely not! In some cultures pearls are thought to be bad luck as they represent the tears you'll cry during your marriage! We think pearls look gorgeous with wedding dresses though, so you may want to ignore this one!
10. Wedding superstition: The bride standing on the left of the groom
Meaning: Another rather ancient superstition that isn't particularly relevant today. The bride historically stood on the left of the groom so he could have his right arm free to use his sword in case of an attack from anyone trying to steal his wife away. Highly unlikely to happen at a modern wedding, so best to stand on whatever side you feel comfortable with.
11. Wedding superstition: Wearing your ring on the fourth finger of the left hand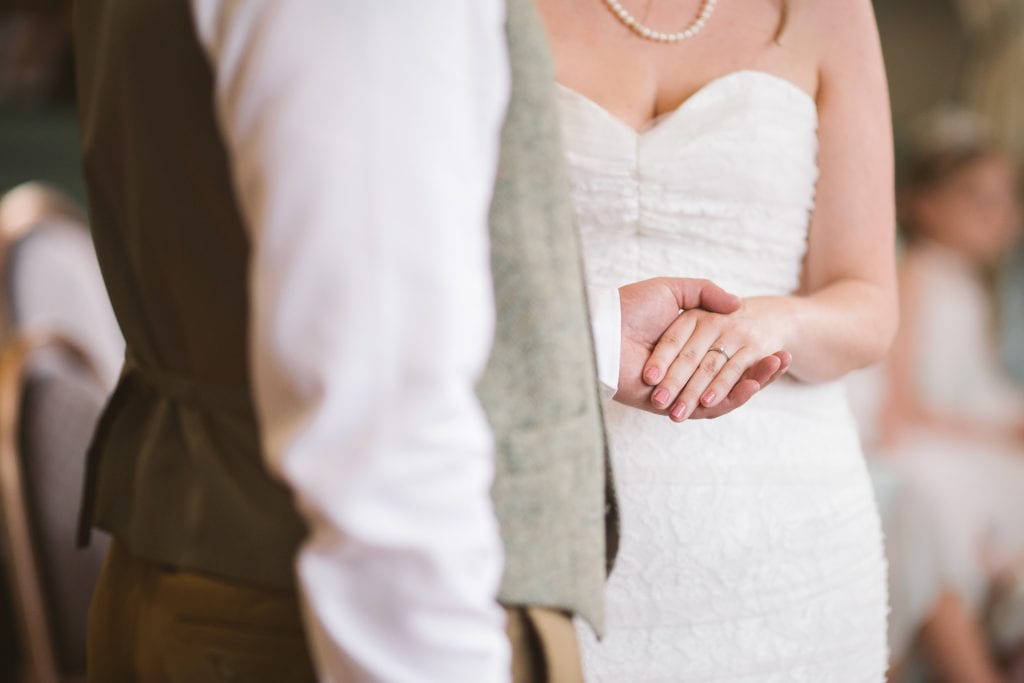 Meaning: The Romans believed that there was a vein that ran directly from the fourth finger of your left hand right up to your heart so by placing the wedding ring there it was a romantic gesture symbolising true love. Other cultures have favoured different fingers for the ring throughout history and Britons used to wear the ring on their little finger.
12. Wedding superstition: Throwing confetti
Meaning: Have you ever stopped to consider how weird it is that wedding guests all stand in a row and throw bits or paper or rice at the newlyweds after the wedding ceremony? Probably not, but when we put it like that it's a pretty bizarre tradition. Confetti is actually the Italian word for sweets, which historically were thrown in celebration at festivals and carnivals. The custom spread across Europe and gradually became pieces of paper rather than sweets as they're much less painful for the bride and groom! Rice was already being thrown before confetti became popular in the 1900s, as it was seen to be a symbol of fertility, but it's not particularly comfortable to be hit with a load of rice in the face, so we're glad petals and paper are more traditional now.
13. Wedding superstition: Wearing a white wedding dress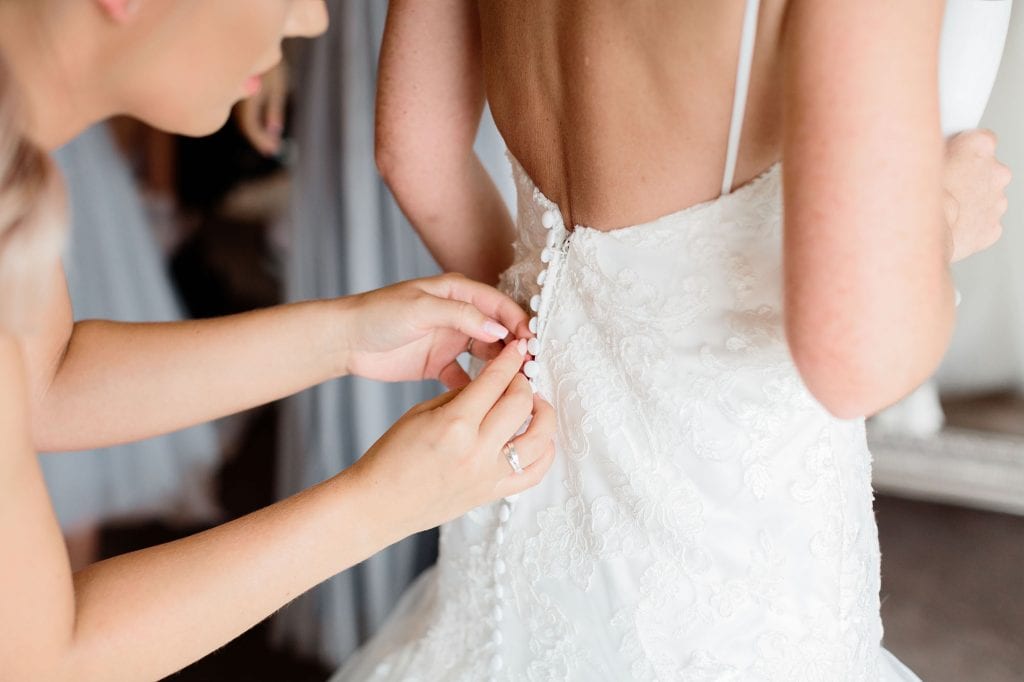 Meaning: The trend for wearing a white wedding dress hasn't been around as long as some people might think. In fact it was Queen Victoria who first wore a white wedding dress at her wedding to Price Albert in 1840. Back then it was the tradition to wear the most expensive dress you owned and apparently Queen Victoria's was a white satin number. The colour white is also associated with purity and wealth – both attractive features in a bride.
14. Wedding superstition: Wearing a veil
Meaning: This is another tradition that helps ward off evil spirits. The veil was believed to hide the bride's beauty and back when arranged marriages were the norm it also meant the groom wouldn't see his new bride until he'd committed to the marriage. Apparently if your friend tries on your veil after you've worn it, it means she'll run off with your new husband, so you might want to hide it away once you've removed it!
15. Wedding superstition: Providing favours for your guests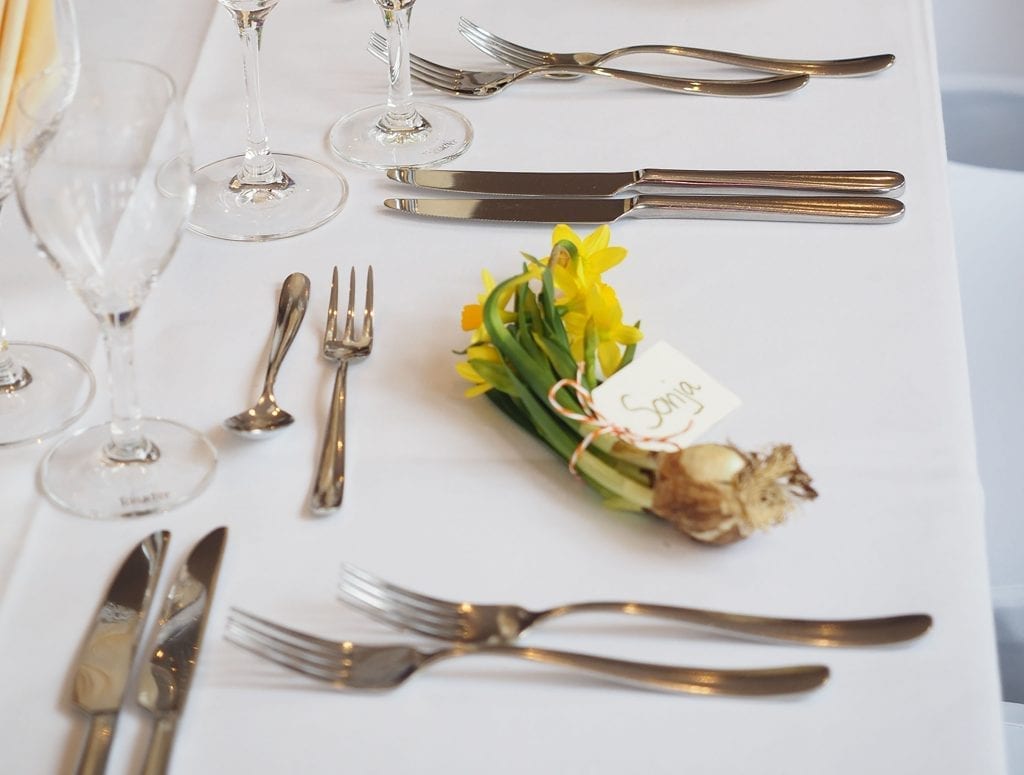 Meaning: This is less of a superstition and more just a tradition that is centuries old. Little gifts of sugared almonds or sweets have been given out at weddings across the world for hundreds of years as wedding favours. In England in the 16th century couples used to give love knots to their guests made out of ribbon and lace as a reminder of the day.
16. Wedding superstition: Throwing the bridal bouquet
Meaning: Back to those pesky evil spirits… the scents of all the fragrant flowers and herbs (including garlic!) within the bouquet were said to ward them off and also to make the bride smell lovely as she walked down the aisle. As for throwing the bouquet, it was the French back in the 1500s who started this tradition. The groom used to throw the bride's garter into the crowd, but it was decided a more tasteful take on this was the throw the wedding bouquet. Apparently the person who catches it will be next to be married.
17. Wedding superstition: Having a tiered cake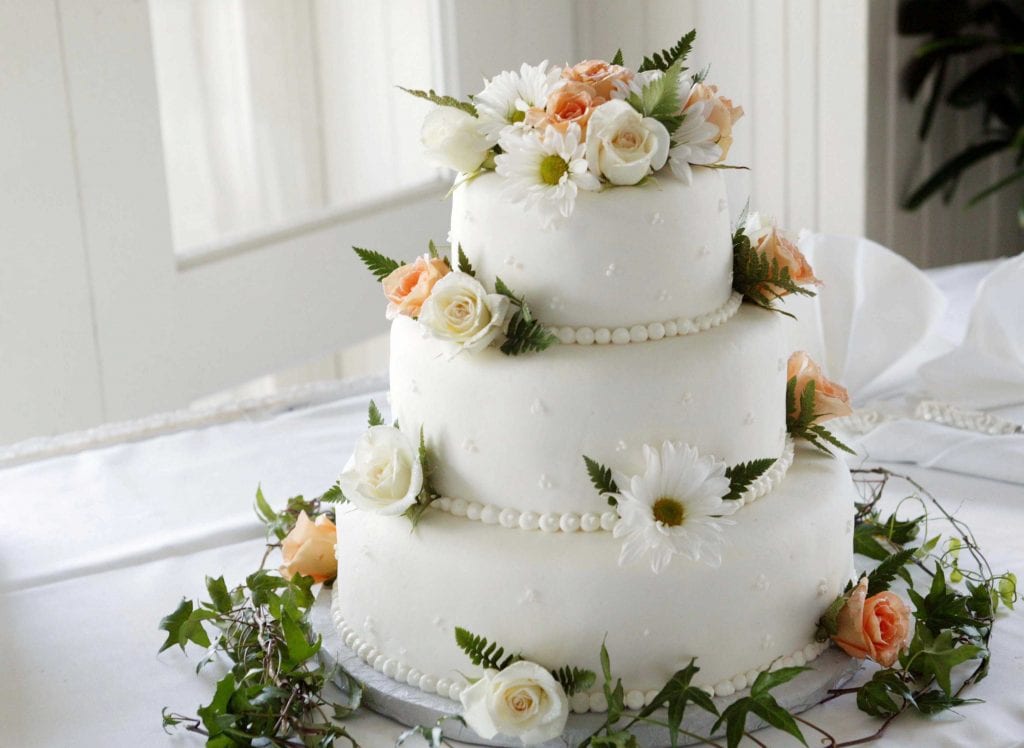 Meaning: A tiered wedding cake is clearly a pretty and useful way to serve a lot of guests at your wedding, but where did the idea of stacking cakes on top of each other come from? This wedding tradition first appeared at the wedding of the Prince Leopold, Duke of Albany in 1882 and has been popular ever since. And it is believed that the bride has to cut the cake first in order to ensure the marriage will be blessed with children.
18. Wedding superstition: Carrying the bride over the threshold
Meaning: This tradition is believed to be to help ward off any evil spirits that might be lurking in the new marital home as apparently the soles of the bride's feet are most at risk of attracting the evil spirits.
19. Wedding superstition: Crying on your wedding day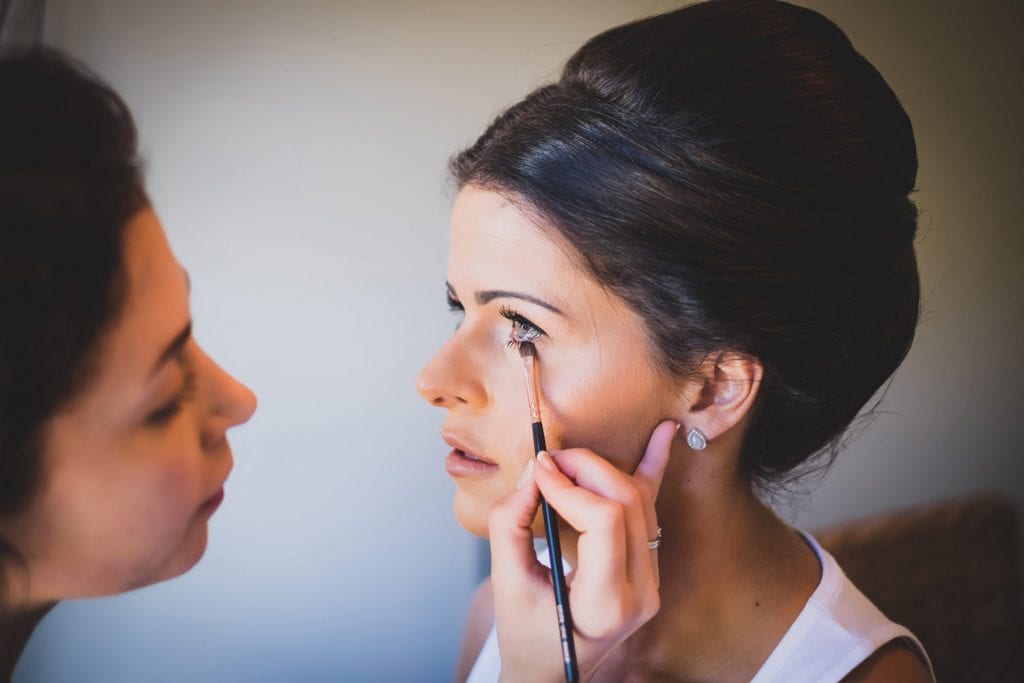 Meaning: Worried you're going to ruin your perfectly applied big day make-up if you cry? Fear not, because you shouldn't stop yourself crying on your big day, because according to tradition a bride who cried at her wedding won't have any more tears to cry during her marriage. So in other words, invest in a good waterproof mascara and let the tears roll if you want to ensure a happy marriage!
20. Wedding superstition: Having knives on your gift list
Meaning: When you're putting together your wedding gift list you might want to think twice about adding a posh new set of knives to your wish list. Apparently if anyone gives the gift of knives at a wedding it is said to cut the marriage ties or cut the friendship between the giver and receiver. The only way to stop the bad luck is to tie a penny to the knife as it is given.