Wedding Ring Buying Guide (Plus Free Ring Size Chart)
Author: Hollie Bond
NB: To help you browse our best suggestions we have included some third party links. Some purchases made through these links may earn us a commission to help keep our blogs and offers current and up to date. Thanks for your support!
---
It might be one of the smallest wedding details, but it's also one of the most sentimental and meaningful symbols of your big day. Here's everything you need to consider when buying your wedding rings.
It can be an extremely magical and emotional moment when you finally get to the point in your ceremony where you exchange rings after months of planning. After all, along with the wedding vows and the first kiss, the giving and receiving of rings signifies the moment that you become married.
So, that little piece of metal that'll sit on your ring finger for the rest of your married life deserves a lot of thought and effort and shouldn't be left until the last minute.
There's a lot to consider from the sort of ring style you want – traditional, modern or bespoke – to how much you can afford to spend on it and even whether you both actually want to wear one. Follow our guide to choosing your wedding rings, covering everything from buying the perfect metal to finding your ring size to ensure your wedding ring becomes a piece of jewellery you'll treasure forever.
Decide If You Both Want To Wear a Ring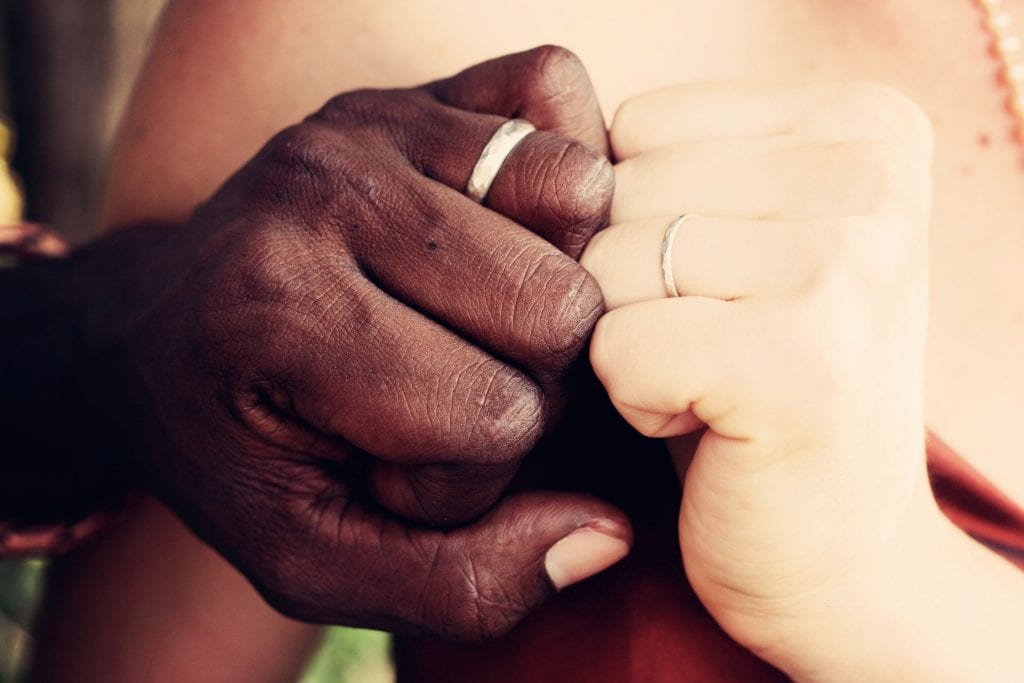 It sounds like a bit of an obvious question, but do you actually know if your partner wants to wear a wedding ring?
A lot of men (and some women) don't feel comfortable in jewellery or have hands-on jobs, like surgeons, chefs, or builders, that make wearing a wedding band pretty impossible about 80% of the time. Make sure to discuss early on how you both feel about wedding rings and whether they're important to you.
Remember you don't actually have to exchange rings to make the wedding official. It's just a symbolic act. If only one of you is having a ring, you can change the ceremony wording so the person who isn't having a ring says, "I give this ring as a symbol of…" and the receiver says, "I receive this ring as a symbol of…" Simple.
Work Out Your Wedding Ring Budgets
A bit like everything in the wedding world, you need to know how much you've got to spend on your wedding rings before you start buying anything.
This is especially important as it will affect everything from the sort of metal you can choose to the type of shop you can get your band from. Lower budgets need to stick to the high street or online jewellers, who have beautiful designs at excellent prices, while couples with higher budgets can head to designer boutiques like Tiffany & Co, Van Cleef & Arpels, and Cartier or go to an independent jewellers and go bespoke.
There's a huge variety in price when it comes to wedding rings, but you can get plain yellow gold bands for as little as £150.
Think About Your Engagement Ring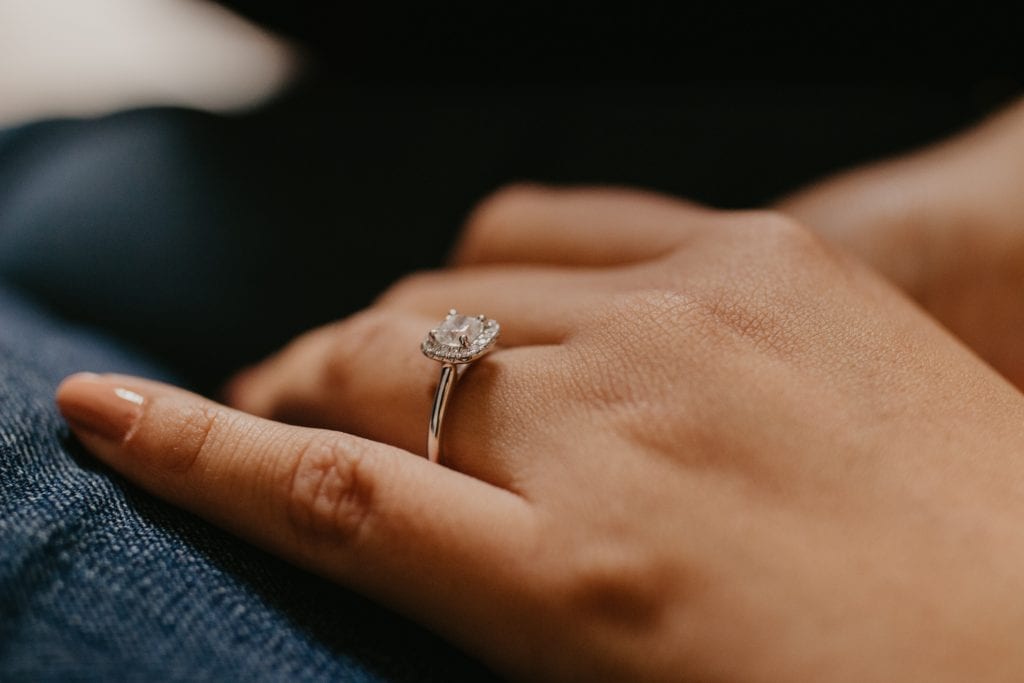 Have a look at your engagement ring and make sure to research designs and styles that complement it.
If your partner surprised you with a ring, you might want to ask where it is from and then book an appointment at the original shop to see if they have wedding bands that match it perfectly.
Engagement rings with a single solitaire diamond or a collection of diamonds in a pretty design will need a specific shape of wedding ring to sit flush to them and to be comfortable. Once you know the metal and quality of your engagement ring it can really help narrow down your wedding band choices.
Which Precious Metal Should I Choose?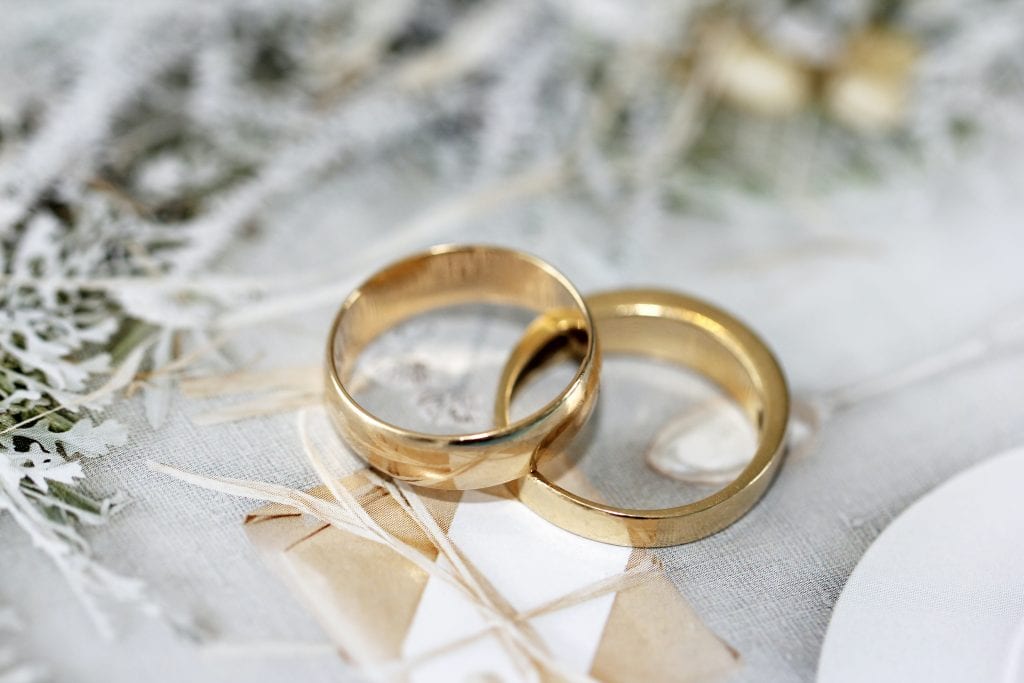 Wedding bands are traditionally a plain band of yellow gold.
However, these days couples are getting much more inventive with their wedding bands and choosing a whole host of different precious metals as the base for their rings.
Plain bands are becoming less mainstream too, with many couples using the wedding band as another excuse to get some sparkle in their lives by choosing diamond rings. You might want to be a perfect match and go for the same style and metal as your partner, or you can reflect your individual personalities with two very distinct and different choices.
We've outlined some of the most popular metals below along with any pros or cons when it comes to their durability and cost.
Yellow Gold
Your parents and grandparents probably have yellow gold rings and this a great choice for traditional brides and grooms who like to keep things simple. 9ct and 18ct rings are the most popular choices when it comes to gold, and anything higher than 18ct like 22ct will be too soft to wear every day, so be sure to think about durability.
The purer the gold (24ct is pure gold) the less likely it is to survive the daily wear of being on your finger and constantly being rubbed against hard surfaces. Think about your skin tone too. Yellow gold looks particularly good if you have a warm skin tone. 9ct yellow gold is the minimum standard for gold in the UK.
White Gold
White gold is the most popular metal these days, as it looks divine on every type of skin and it is usually a little bit more expensive than other types of gold. It is created by blending gold with palladium and silver. Some white gold is rhodium-plated, which is hypoallergenic so an excellent choice for anyone who is allergic to some metals. The rhodium does wear off however and requires replating. Although this does mean you can keep updating your ring every few years to look as good as new again! White gold wedding rings can look good next to a platinum engagement ring, so is a good choice if you don't want to fork out on platinum to match your engagement rings.
Rose Gold
Rose gold is an increasingly popular option for wedding bands and looks really beautiful and warm against the skin. The pinkish colour is created by adding copper to the alloy of gold. Rose gold will often deepen in colour with age, so the longer you are married the more gorgeous it gets!
Platinum
As the name suggests platinum is one of the most expensive choices for a wedding band, as it is the highest standard of metal used in wedding rings. This metal has many positives. It looks fantastic and is extremely hard wearing. Most platinum rings are around 90% pure metal too. Platinum is a really brilliant and shiny metal that works perfectly with diamonds too, which is why many engagement rings are made in platinum. Platinum is a heavier metal than the others and will feel denser to the wearer.
Titanium
It might not sound the like the most romantic of metals, but titanium is actually a popular and savvy choice for a wedding ring. Titanium is an industrial metal, so as far as durability goes you can't beat it as it's scratch-resistant, plus it's a brilliant budget option. It's also a bit darker than the other metals so is a popular choice with people who don't want such a bling or shiny look.
Silver
Silver is the most affordable of all the precious metals although in its pure form it is too soft to be a good option for a wedding band. However, as an alloy mixed with other metals, it is strong enough. Choose sterling silver (look for the mark 925) as this is at least 92.5% pure silver. Silver comes in a variety of colours and finishes so you'll have a nice choice of looks to pick from.
Palladium
This is one of the rarest minerals on earth so as you can imagine it's the most expensive option for a wedding ring. It's worth forking out the money if you want something unique, really durable and with a natural sheen to it that doesn't tarnish though.
Which Wedding Ring Style?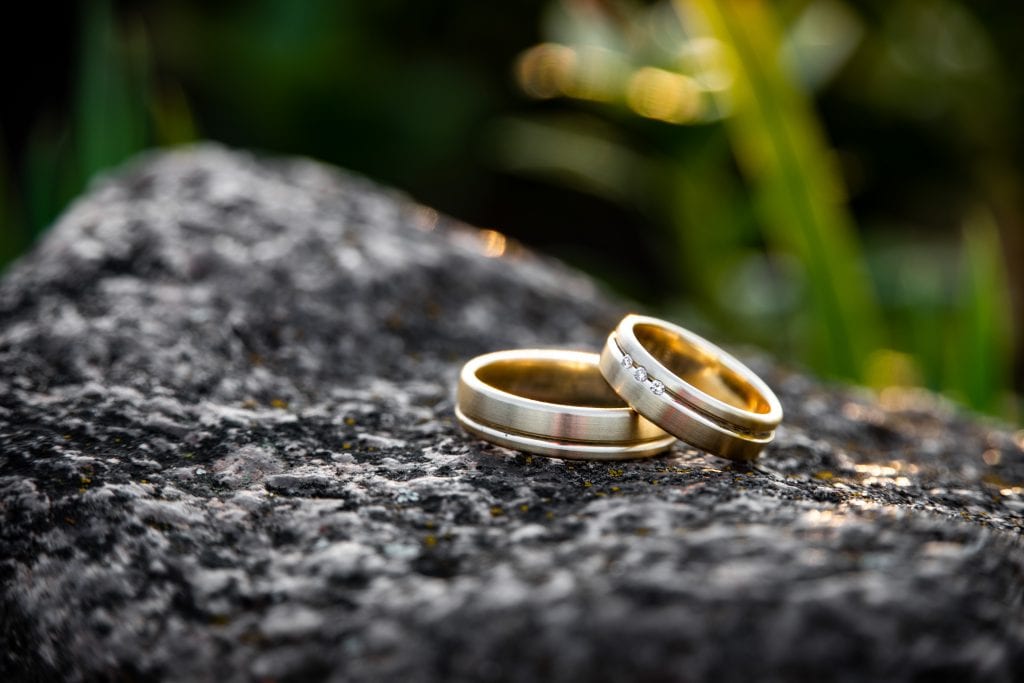 Are you both happy with a simple plan band all the way round or do you want something a little more unique?
Depending on your budget, now is the time to research different designs. Perhaps you could go for a mix of braided metals, a special design within the metal or add some precious stones like a diamond or a stone with a colour to it?
There are a lot of different options for wedding rings these days, so don't just buy the first ring you see. You can find the perfect ring as long as you start your search early enough. If you love diamond rings, think about whether you want the band to be diamond set all the way around. The back of the ring with not be seen very often and little diamonds in their settings may get caught on fabric or irritate the join in your hand.
Which Wedding Ring Shape?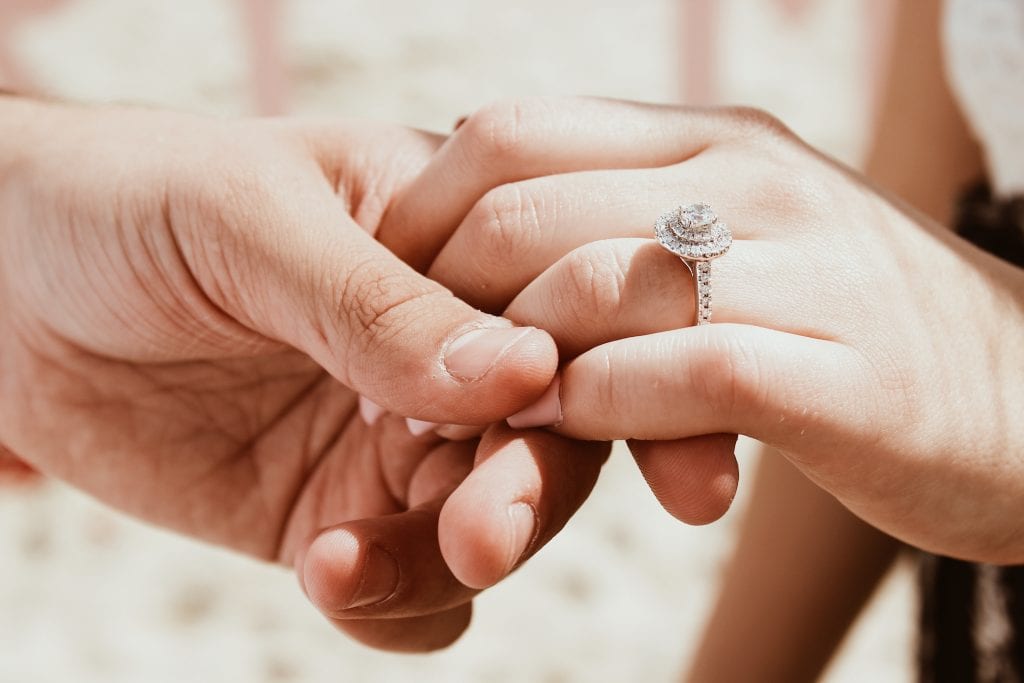 As well as making sure your engagement ring sits nice and snugly with your wedding band, you also have a choice when it comes to the ring's profile. This is about the comfort and shape of the entire band.
The choices are:
Court shaped (the classic rounded on the inside and outside style)
Flat profile (square edges both inside and out)
D-shape (square on the inside, rounded on the outside)
Flat-sided court (like a court but with flat edges on the outside to give less of a domed appearance).
How Do I Work Out My Wedding Ring Size?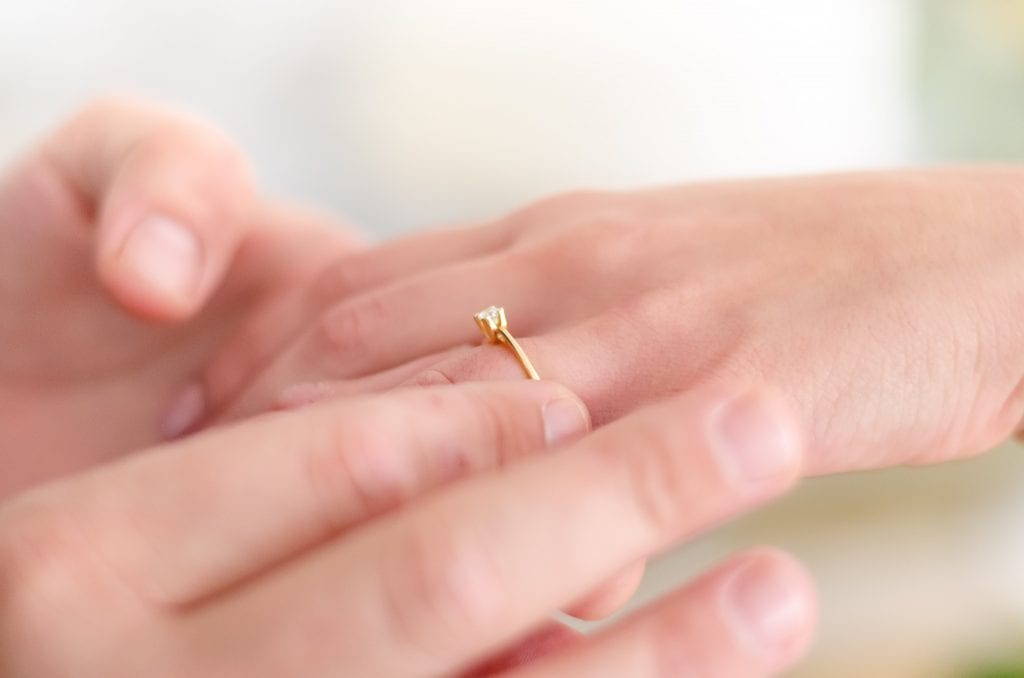 Chances are when you got your engagement ring, it was either too tight or too big and you had to wait until it was resized before you could wear it.
With a wedding band you can get the right size first time if you do a little homework before you go shopping.
UK ring sizes come in letters of the alphabet. You may remember the letter of your engagement ring so you can choose the same as that, as your ring finger won't have changed since then hopefully. Men will need to work out their measurements, however.
See our handy wedding ring size guide here to work yours out.
Jewellers will also be able to measure you in the shop if you prefer a professional to do it. Just remember you will be wearing this ring most of the time so it needs to fit well in all temperatures and conditions.
Try and measure your finger at the optimum time of day and conditions to get an average reading that'll work for when you're both hot and cold in the future. This means you shouldn't have a ring fitting first thing in the morning when you're retaining water from the night before, straight after you've exercised or if you're too hot or too cold.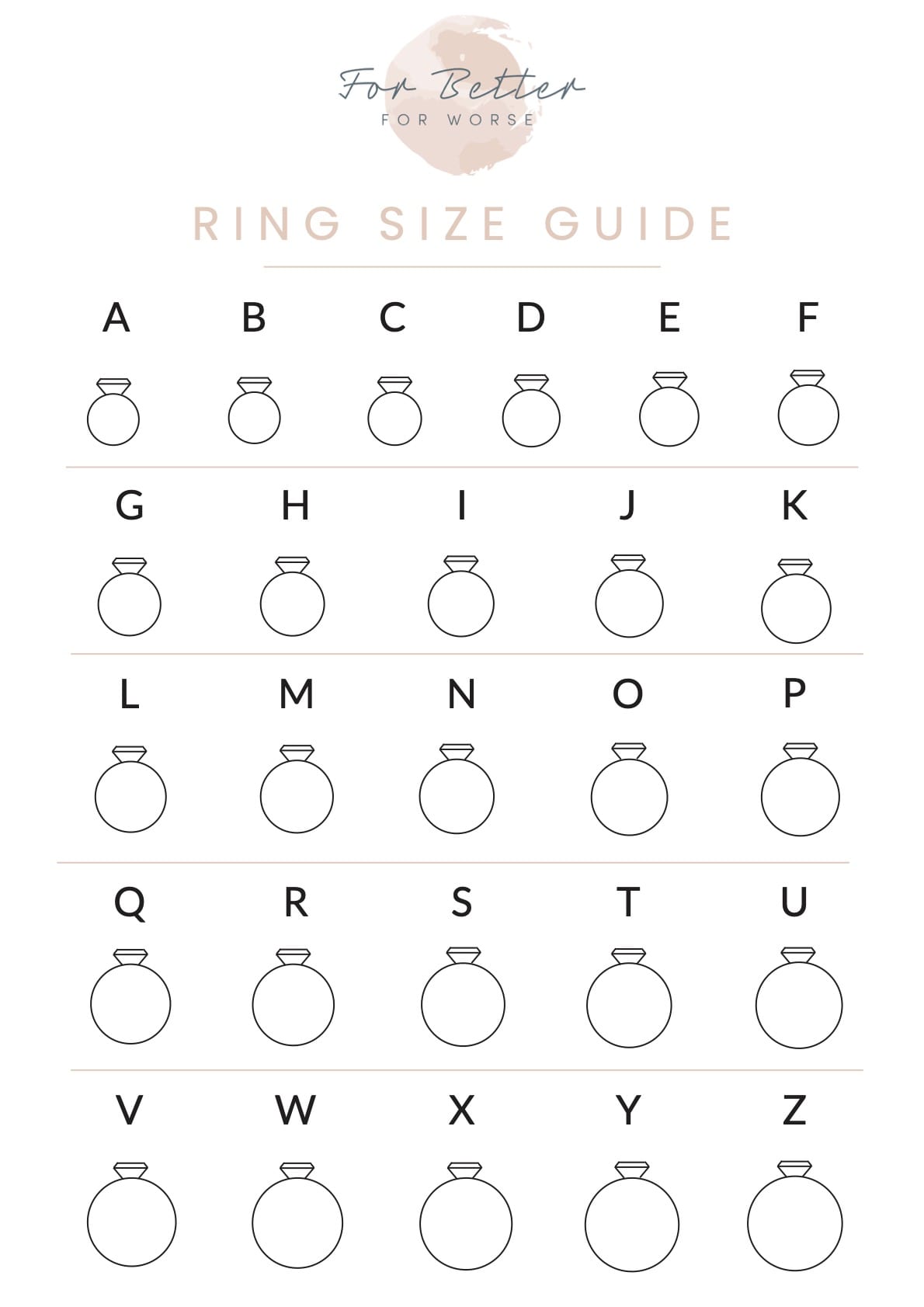 Consider How Long You Have Before The Big Day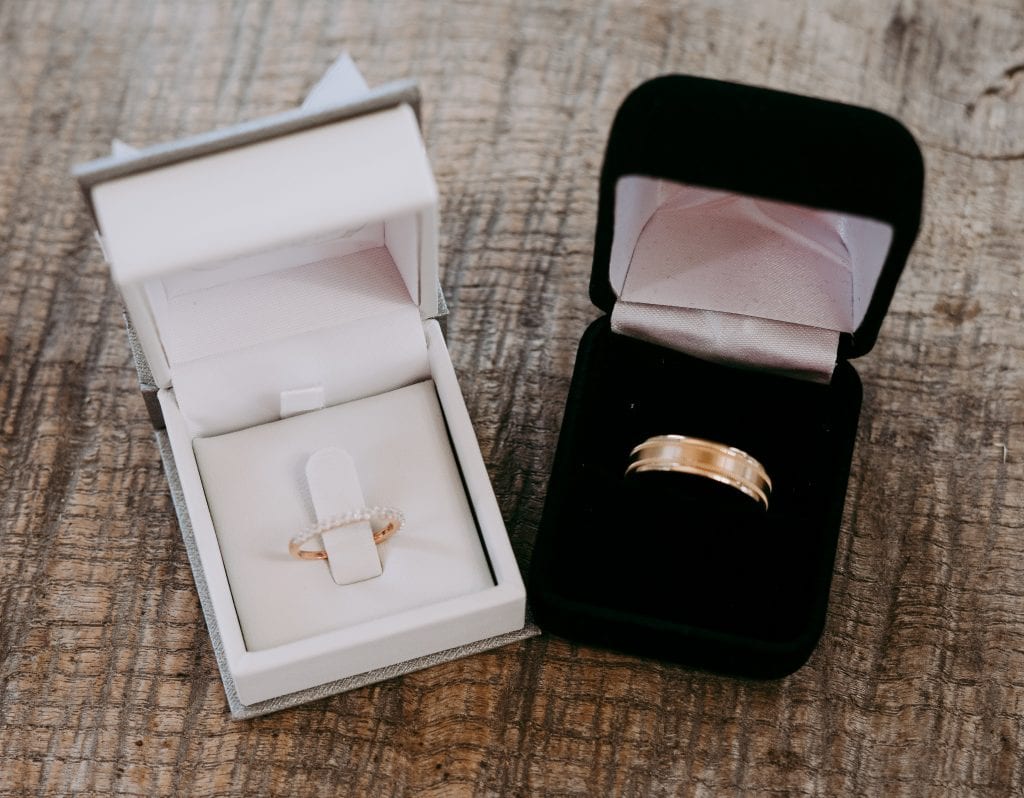 If you're going to a high street jeweller you'll probably be able to take the bands home with you or have them ordered in very quickly.
If you're going bespoke, for example commissioning a wedding ring from a jeweller in Hatton Gardens or in your city's jewellery quarter, you may need to factor in plenty of time to get the rings made and fitted before the wedding day. Make sure you speak to the jeweller straight away about how much time you have so that they can offer you a realistic option to purchase.
Time To Get Shopping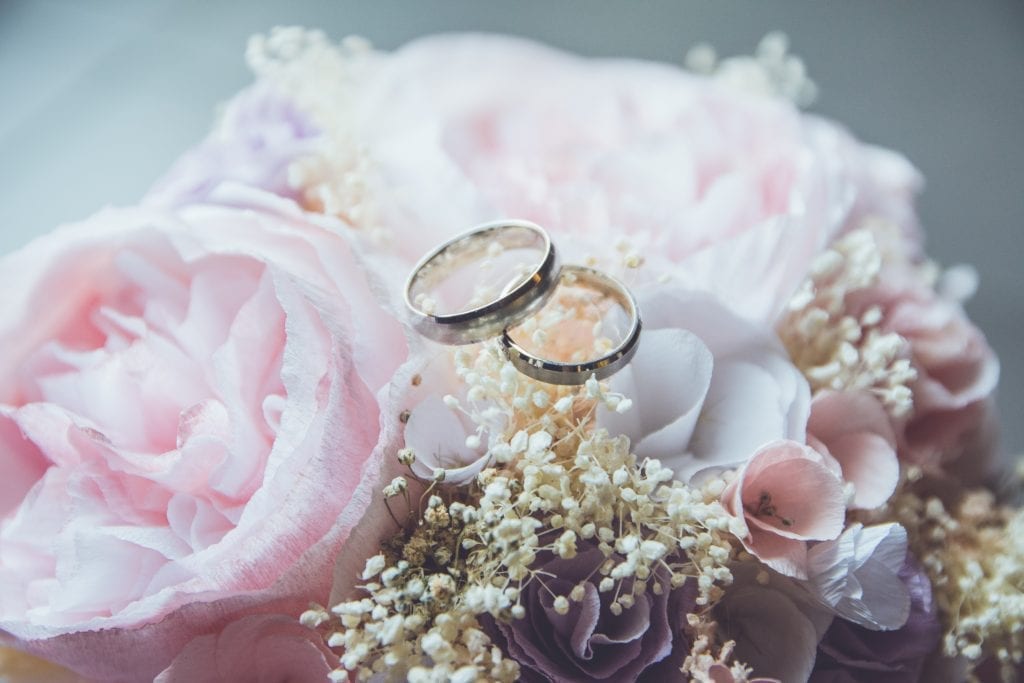 Set aside time to go out on your wedding ring quest together as it can be a lovely and romantic part of the wedding planning journey.
If you had no say when it came to your engagement ring too, this might be your only chance to choose something that is personal and exactly to your taste.
Do your homework and maybe even print out or have pictures on your phone of styles you really like that you can show the jeweller. A bit like wedding dresses though, let the jeweller suggest different styles and ideas to you as they will know exactly what does and doesn't look good with your engagement ring. You may be surprised to find the perfect wedding ring is nothing like what you had in mind.