How To Write Your Own Wedding Vows
Published date: 12th August 2020 | Author: Hollie Bond
---
Personalised wedding vows are the quickest way to make your ceremony special and unique. Here's how to write the most meaningful words you're ever likely to utter
In the midst of all the venue choosing, cake tasting and wedding dress shopping it can be easy to forget to spend time on the smaller, but just as key, parts of the big day.
When you boil a wedding down to the basics though, the ceremony – and especially the wedding vows – really are the single most important part of the day. After all, that's the moment you go from an engaged couple to actually being married! If you want to make sure this highlight of the wedding is as special and personalised as possible, it's a good idea to consider writing your own marriage vows.
A good question to ask yourselves is: when you read through the set wording for wedding vows given to you by your officiant, do they feel personal to you? Do they sum up how you feel about getting married to your partner? Chances are that they don't. To help you get started when it comes to writing vows that aren't too cheesy and over the top, but full of heartfelt sentiment and eloquent expressions of your feelings, we've rounded up some examples from previous couples and have all the top tips to make your wedding vows as unique as your relationship.
How to Write Your Own Wedding Vows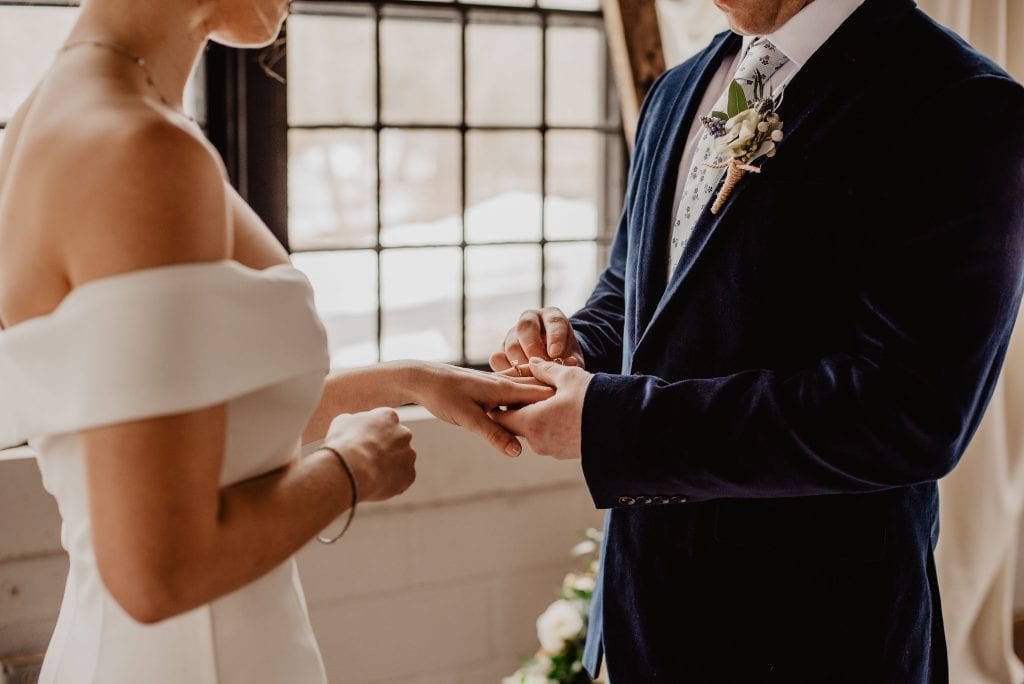 1. Make sure your partner is on board
It sounds obvious, but make sure you've spoken to your fiancé or fiancée about your desire to write your own wedding vows. This is something you need to both decide together, as you'll both have to write separate vows or it will look odd one of you going with the set vows while the other doesn't. If your partner really feels uncomfortable about saying personalised wedding vows in front of guests, think about compromises like agreeing to write letters to each other on the morning of the wedding instead, or perhaps you could do a speech at the wedding breakfast where you include the content you wanted to put in the vows.
2. Know the rules
While there is a lot of freedom to talk openly and honestly about your love for one another in your vows, there are still some rules you have to follow to ensure they are legally binding.
The first is that at a civil ceremony you are not allowed to include any religious references in the words at all. It depends how strict your registrar is, but some don't allow words like "angel" and you won't be able to say things like "I thank God every day that he sent you to me" or "in the presence of God" etc.
The only other thing that you legally have to take into account is making sure you "solemnly declare that I know not of any lawful impediment why I, (name), may not be joined in matrimony to (name)". Your registrar will advise on when and where in the vows these statements need to be included though.
3. Start early
Much like a speech, the earlier you start writing or at least brainstorming your vows, the better.
Trying to come up with heartfelt words in the panic of the week before the wedding is not going to result in your finest work! In the months before, search for examples to help you come up with a structure (see some ideas below) and jot down ideas as and when they come into your head. Before you know it you'll have the bones of your vows and they'll just need neatening up into something eloquent.
4. Take inspiration from better writers
Writing not your forte? Don't panic, because putting pen to paper can be daunting for a lot of people and sometimes it's impossible to convey your feelings in simple words.
The good news is that some people are the exact opposite and manage to sum up the most intense emotions in an exquisitely beautiful way. So look to your favourite poets, authors, lyricists and scriptwriters for inspiration. Borrow a line or two from them that shows your other half exactly how important marrying them is. Here are some of our favourites, from famous writers – hankies at the ready!
"As soon as I saw you, I knew a grand adventure was about to happen. Any day spent with you is my favourite day. So, today is my new favourite day." – Winnie The Pooh, A.A. Milne

"A soul mate is someone who has locks that fit our keys, and keys to fit our locks. When we feel safe enough to open the locks, our truest selves step out and we can be completely and honestly who we are; we can be loved for who we are and not for who we're pretending to be." – The Bridge Across Forever, Richard Bach

"I will love you forever; whatever happens. Till I die and after I die, and when I find my way out of the land of the dead, I'll drift about forever, all my atoms, till I find you again… I'll be looking for you, every moment, every single moment. And when we do find each other again, we'll cling together so tight that nothing and no one'll ever tear us apart.

Every atom of me and every atom of you… We'll live in birds and flowers and dragonflies and pine trees and in clouds and in those little specks of light you see floating in sunbeams… And when they use our atoms to make new lives, they won't just be able to take one, they'll have to take two, one of you and one of me, we'll be joined so tight…" – The Amber Spyglass, Philip Pullman

"I am nothing special; just a common man with common thoughts, and I've led a common life. There are no monuments dedicated to me and my name will soon be forgotten. But in one respect I have succeeded as gloriously as anyone who's ever lived: I've loved another with all my heart and soul; and to me, this has always been enough." – The Notebook, Nicholas Sparks

"I revere you. I esteem and admire you above all human beings. You are the friend to whom my soul is attached as to its better half. You are the most amiable, the most perfect of women. And you are dearer to me than language has the power of telling… You are now all my own… How will my soul find room for its happiness? It seems already bursting!" – Evelina, Frances Burney

"I no longer believed in the idea of soul mates, or love at first sight. But I was beginning to believe that a very few times in your life if you were lucky, you might meet someone who was exactly right for you. Not because he was perfect, or because you were, but because your combined flaws were arranged in a way that allowed two separate beings to hinge together." – Blue-Eyed Devil, Lisa Kleypas

"I come here with no expectations, only to profess, now that I am at liberty to do so, that my heart is and always will be yours." – Sense and Sensibility, Jane Austen

"You have bewitched me, body and soul, and I love, I love, I love you. And wish from this day forth never to be parted from you." – Pride and Prejudice, Jane Austen

"You are sunlight through a window, which I stand in, warmed. My darling." – The Miniaturist, Jessie Burton

"Whatever our souls are made of, his and mine are the same." – Wuthering Heights, Emily Brontë

"Do I love you? My god, if your love were a grain of sand, mine would be a universe of beaches." – The Princess Bride, William Goldman

"I love you without knowing how, or when, or from where,
I love you directly without problems or pride:
I love you like this because I don't know any other way to love,
except in this form in which I am not nor are you,
so close that your hand upon my chest is mine,
so close that your eyes close with my dreams." –
Sonnet XVII, Cien Sonetos de Amor, Pablo Neruda

"My bounty is as boundless as the sea,
My love as deep; the more I give to thee,
The more I have, for both are infinite." –
Romeo and Juliet, by William Shakespeare

"I've never had a moment's doubt. I love you. I believe in you completely. You are my dearest one. My reason for life." – Atonement, Ian McEwan

"How do I love thee? Let me count the ways. I love thee to the depths and breadth and height my soul can reach, when feeling out of sight for the ends of being and idea grace." – How Do I Love Thee? Sonnet 43, Elizabeth Barrett Browning

"When you realize you want to spend the rest of your life with somebody, you want the rest of your life to start as soon as possible." – When Harry Met Sally, Nora Ephron

"So this is love, so this is what makes life divine. I'm all aglow and now I know the key to all heaven is mine. My heart has wings and I can fly, I'll touch the star in every sky. So this is the miracle that I've been dreaming of. So this is love." – Cinderella, Disney
Perfect for same-sex marriage vows:
"What is straight? A line can be straight, or a street, but the human heart, oh, no, it's curved like a road through mountains." – A Streetcar Named Desire, Tennessee Williams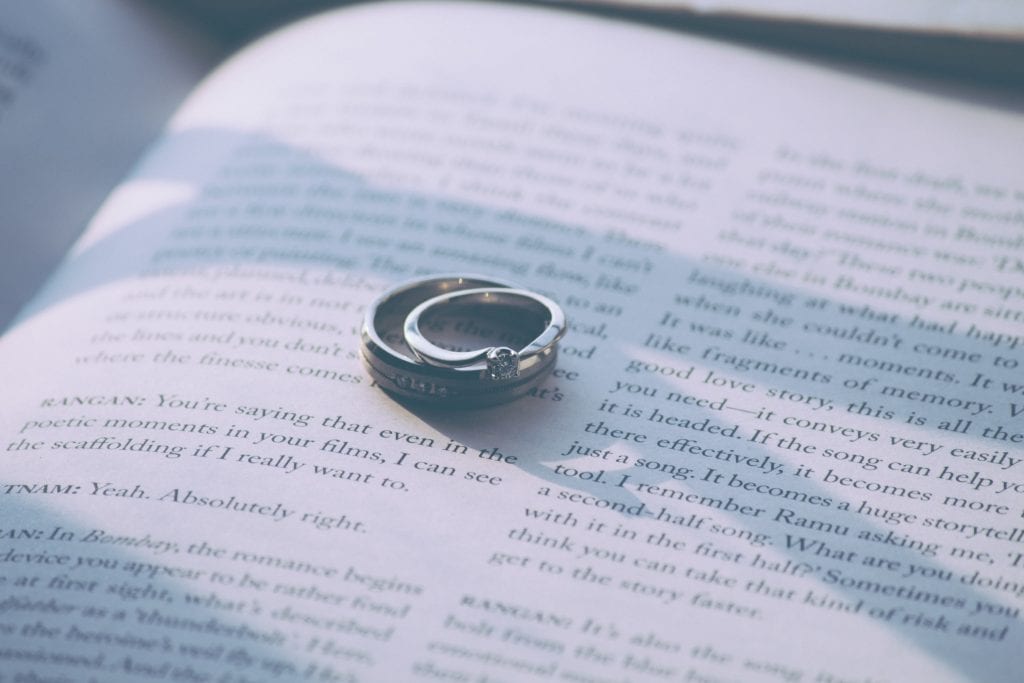 5. Don't over-promise
Yes, you'll be feeling overwhelming love for your soon-to-be wife or husband at this most emotional of times, but don't get carried away with outlandish promises and over-the-top sentiments that you can't maintain in everyday life.
Remember to write from the heart about how you feel daily about your partner, not just on your wedding day. A list of special and personal promises is a lovely way to structure your speech, but just remember promising to cook for them every day, promising to be a perfect wife or husband or promising to give them everything they've ever wanted might sound romantic, but they are completely unrealistic.
6. Keep the vows short and sweet
Again, just like speeches, the key to successful vows is keeping them short, and memorable. Your registrar might impose a limit anyway, but you really do only need to say a few lines of carefully composed words to make a real impact here. Time yourself saying them – one- or two-minutes max is ideal.
7. Don't make your guests cringe
Err on the side of caution when it comes to being gushy and cheesy. Really think about what you're trying to say and then tone it down a bit if it comes across as over effusive or cringe-worthy. You can always whisper those sentiments to your new wife or husband during your first dance or in bed that night! And of course, never mention anything to do with what goes on in the bedroom, consider your audience as well as your partner.
8. Make sure your registrar/ celebrant has approved your words first
When you're happy with your final draft, make sure to email it to your registrar to approve and check that it follows the rules. If you're having a celebrant, it can be a good idea to send to them too, so they can understand the sort of tone you're hoping to create during your wedding (if your vows are funny and jokey for example, they'll want to reflect this vibe in their words too).
9.  Practise saying the words out loud
When your partner is out of earshot, practise saying your vows over and over, especially if you've included a quote that might not roll off the tongue as easily as your own words. Saying your vows out loud can help you to iron out any strange sentence structure or parts that don't quite come across as you'd hoped. It'll also really help on the day when you're feeling emotional, as your brain will remember what words are coming next and help you get through them before the tears take over!
10. Make your vows into something special
Now you've spent all this time and effort composing the perfect vows, you'll want to remember them for the rest of your married lives, so consider having your vows immortalised into a beautiful gift that you can give to your new spouse after the wedding (or perhaps on your first anniversary as a paper gift – see more ideas here). There are lots of lovely ideas for turning your vows into a keepsake, from prints for your house to cufflinks and handkerchiefs.
If you're staring at a blank page wondering how on earth to start writing your vows, it can really help to look at some examples from former brides and grooms for inspiration. Here are some beautiful vow examples from real weddings that will help inspire you to write your own heartfelt sentiments.
Same-Sex Wedding Vow Examples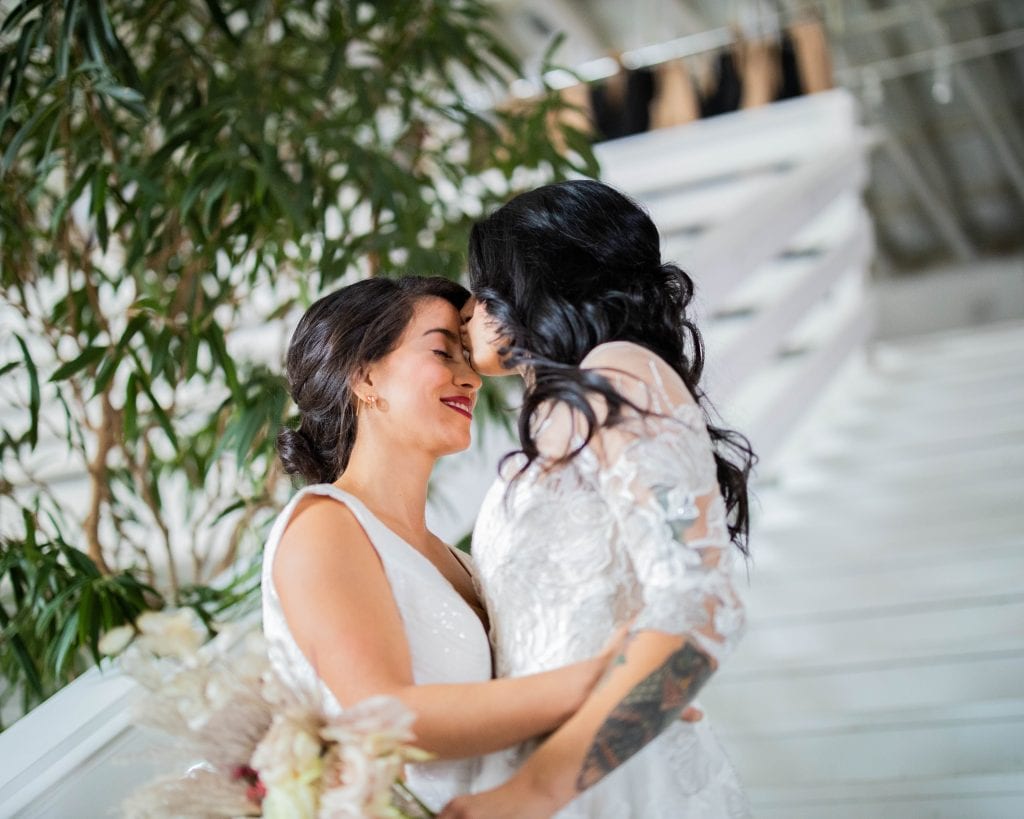 Example one:
"C, my love, you have changed my life.
You have taught me to love with abandon and to take the risk of vulnerability.
I love you – not only for what you are but also for what I am when I 'm with you. Not only for what you have made of yourself but for what you are helping me make of myself.
You have been my companion on adventures and a confidant for my soul.
You have challenged me to see greatness in myself and have celebrated my successes—great and small.
You have inspired me to be a better, more generous and loving me, and have believed in me when I have not believed in myself.
I love you for the part of me that you bring out, I love you for putting your hand into my heaped-up heart And passing over all the defensive, hurt things that you couldn't help dimly seeing there, And for drawing out into the light all the beautiful belongings that no one else had looked quite far enough to find.
I want to laugh, cry, plan, adventure and live a zestful life with you.
This commitment is very serious to me. I am so very happy to be standing here today.
I promise to share my life openly with you;
To cherish your uniqueness;
To honour your spirit and to listen intently;
To hold you gently when you are afraid;
And to softly kiss you when you are hurting.
With patience and compassion, I promise to support you through the changes and challenges of our lives together.
I promise to be faithful and honest, and to stand by your side, as we grow old together.
I promise to be an active member of our community and to build a home that is open to all (as long as it is clean!)
I vow to do my part to protect the earth and challenge my own beliefs about the path I walk on this planet.
I promise to dance in the moonlight, skinny dip in the lake and soar high above the clouds with you.
I delight in who you are becoming and promise to encourage the fulfilment of your dreams.
Together, we will broaden our horizons and expand our own boundaries. Together, we will explore the limitless wonders of the world and revel in its beauty.
Companion, lover, friend, playmate – I promise to be the very best me that I can…. For you, for us and for all time."
Example two:
"Liz, of all the people you've met on your journey and of all the places you've been, somehow and someway, you ended up here—with me. It is the most powerful and humbling fact that I can accept.
I used to think that we met by chance but now I know without a doubt that the universe put you in front of me because we were meant to spend our lives together.
You have filled my life with joy and have given me a sense of peace that I have never known.
You are my best friend, my biggest supporter, and… the best backup singer a girl could ask for.
Although today marks the start to the rest of our lives, I know it will not be enough time with you.
I will not take our time together for granted. And because words cannot do it, I promise to show you, for the rest of my life, how much I love you.
I promise to encourage you to follow your dreams.
I promise to make you laugh when you are taking yourself too seriously.
I promise to hold your hand through the good times and through the bad times.
I promise to be loyal and faithful and to put you before all else.
I promise to never stop making up songs for you. Although, I know you wish I would.
And I promise that when we are old and grey, we will look back on our lives together and we have no regrets.
…From this day forward, you will never walk alone."
Groom Wedding Vow Examples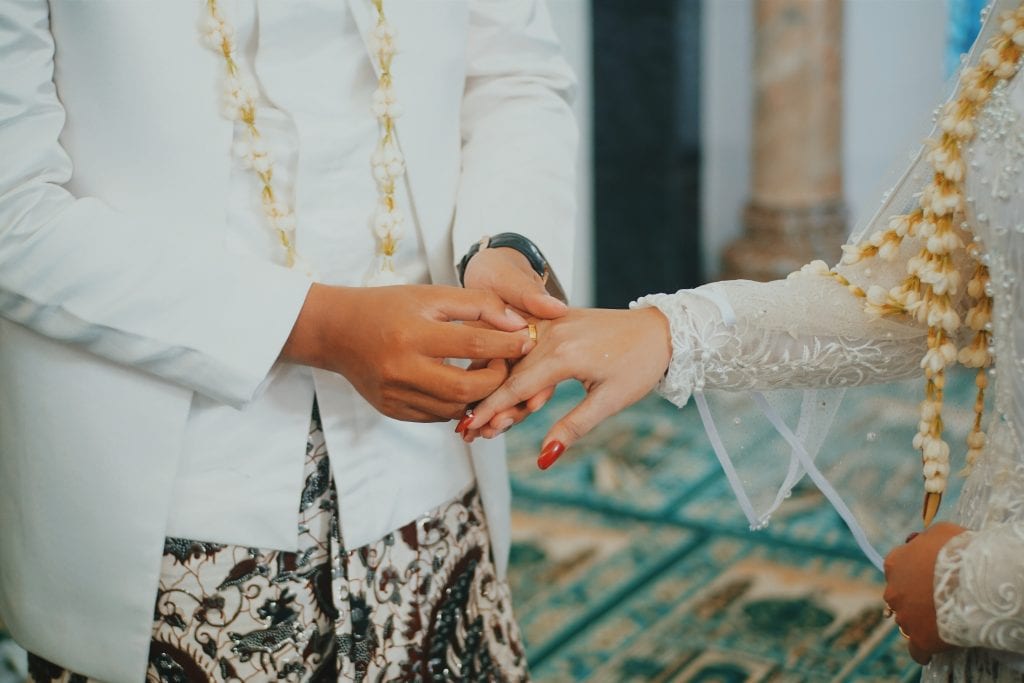 Example one:
With this ring, I give you my promise
that from this day forward
I will give you all my love,
and you shall not walk alone.
I have no greater gift to give.
As your love is my anchor,
and your trust is my strength,
May my heart be your shelter
and my arms be your home.
As this ring has no end or beginning,
so shall my love for you be.
As I place it on your finger,
I give you all that I am,
and all that I shall become.
Example two:
"You are my best friend. Today I give myself to you.
Using the love that we share as a vessel, through the pressures of the present and the uncertainties of our future, I can promise that you will always have my deepest love, my fullest devotion, and my most tender care.
I promise to love you, to always strive to encourage and inspire you, to laugh with you, and to comfort you in times of sorrow and struggle.
I promise to love you in good times and in bad, when life seems easy and also when times become difficult, when our love is simple, and when things becomes complicated.
I promise to honour you, and to always hold our love for each other in highest regard.
These things I pledge to you today, and all the days of our life together. I Love You."
Example three:
"You are my best friend. I love you with all my heart and stand here before all of our friends and family, sharing the happiest day of my life. I want nothing more than to share my future with you – my triumphs and my challenges, my joys and my sorrows. Together, I know we can accomplish the life we both dream of living."
Example four:
"From this day forward I promise to be worth it. Worth the time. Worth the trip. Worth the energy. Worth the embarrassment. Worth your love. I promise that you will always count. You will always come first, and of course, if you don't for whatever reason, I will buy you some shoes. From the moment you entered my world, you have filled it with life, colour and energy like never before … like kool-aid in a mud puddle … or a cupcake in a salad … or a rose garden in a junk yard. You are my rose, [name], and I promise to devote my life to being your dirt." American Comedian John Caparulo's vows to his wife. 
Bride Wedding Vow Examples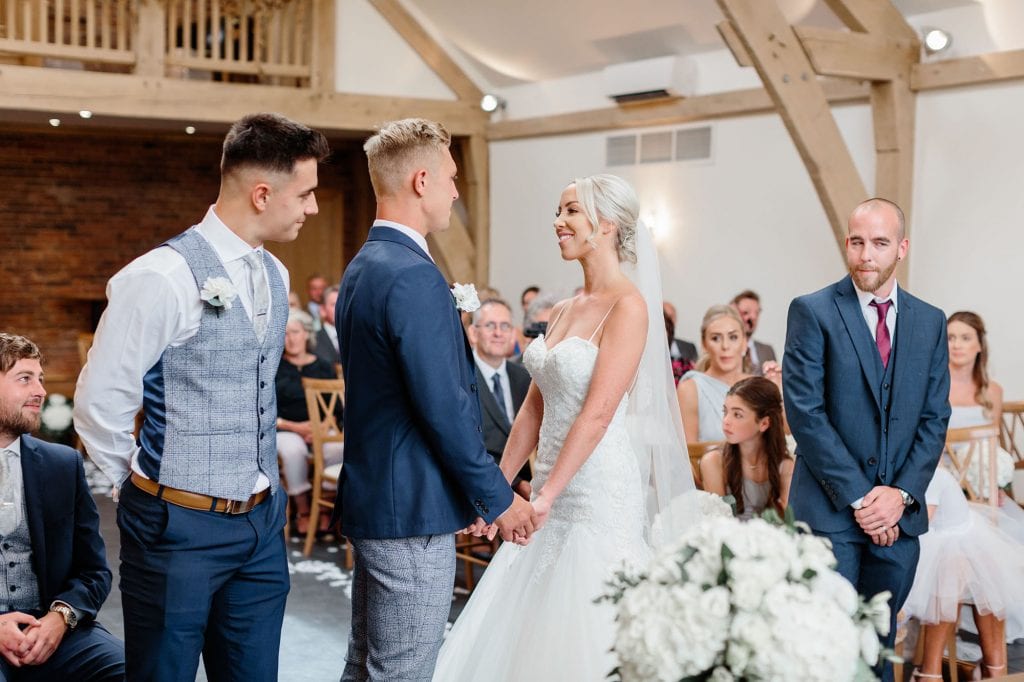 Example one:
"I promise today to be your navigator, best friend, and wife; honour, love, and cherish you through all of life's adventures. I swear to always and forever be your confidant and you mine. I vow to grow old with you and to keep the kid in you alive. I take you today to be my co-captain of team [Last Name]"
Example two:
"You make me laugh
You make me happy
You make me feel alive
I give you my heart
I give you my soul
I give you our life together
You give me your heart
You give me your soul
You give me our life together
I promise always to love you
I promise always to cherish you
I promise always to be by your side
Our 2 lives will move through life together
Our 2 lives will be better together
Our 2 lives will be one forever"
Example three:
"You are my inspiration and my soul's fire. You are the magic of my days. You help me laugh, you teach me love. You provide a safe place for me, unlike I've ever known. You free me to sing my own song. You are more of an amazement to me, each day I rediscover you. You are my greatest boon. I am yours. You are mine. Of this we are certain. You are lodged in my heart. The small key is lost. You must stay there forever." Written by Frau Ava in 1100s
Example four:
"You know that there are some things I don't believe in. But today, I want to tell you about some things I do believe in. I believe in sunrises and sunsets. I believe in hikes in the woods and walks on the beach.… I believe in all the beauty, the mystery and the wonder of life, and I believe that these joys, like all joys, are multiplied when you have someone to share them with. And I'm here because I want you to be that person. There's no one else I'd rather spend my life with. I love your shy smile, your sweet laugh, your sense of humour, and your adventurousness. And most of all, I love the way you make me happier than I thought anyone ever could. That's why I'm here, and that's why I'm marrying you today."
Funny Wedding Vow Examples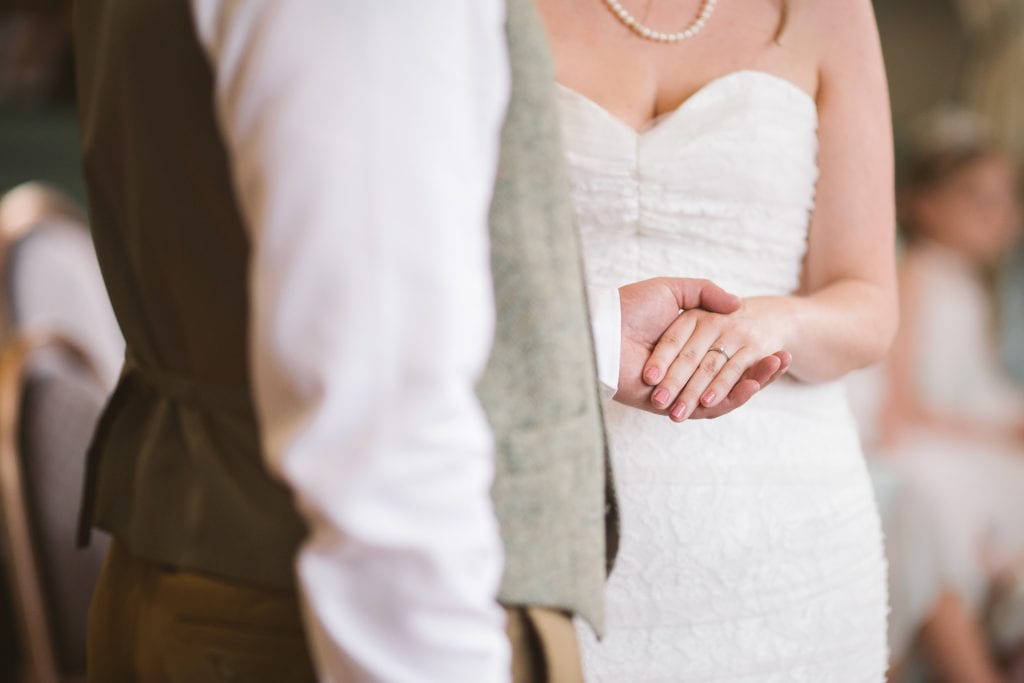 Example one:
"Now that we've gotten skinny for this wedding, let's get real fat together."
Example two:
"I want us to grow old and crusty together, to shake our collective fists at teenagers, and to talk endlessly about the old days when things were better, cheaper, and generally more wholesome."
Example three:
"I vow to wash if you'll dry, just so we can be together in the kitchen, laughing, all night – every night."
Example four:
"I promise to love you as much as I do our dog. From this day forward, I will lint roll the chairs whenever your parents visit. I will love you in sickness and in health, as long as you take care of the vet visits. I promise to cuddle you as much as I do (pet's name) and pick up treats for you whenever he gets some too."
Example five:
"i promise to love you as much as I love shopping and to not hold your obsession with trainers against you. I will pause the TV when you want to talk through [insert favourite show] and I will not complain when you check emails on our day off. And I promise to update my Facebook status to 'married' by the end of the day and in all our ups and downs I will helpfully remind you I am always right."