10 Tradition Breaking Ideas For A Feminist Wedding
Published date: 20th May 2021 | Author: Molly Malsom
NB: To help you browse our best suggestions we have included some third party links. Some purchases made through these links may earn us a commission to help keep our blogs and offers current and up to date. Thanks for your support!
---
There are so many wedding traditions that seem to have always existed. Getting engaged with a proposal and glimmering ring, wearing a white dress and your father giving you away. These things are all standard expectations when planning and holding your wedding.
But many of these traditions, most of which stem back hundreds of years, were originally created to oppress women, and have some rather sexist origins. It's for these reasons that many women, and men too, are choosing a more feminist approach to their marriage and wedding day.
If you are thinking about planning your own feminist wedding but you're not sure where to start, we have created a guide. Including a few classic wedding traditions and how they can be made more modern to suit a feminist bride (and groom!)
How To Plan A Feminist Wedding
If you're in the midst of planning your feminist wedding and need an extra helping hand, here are some wedding traditions you can ditch, and some alternative suggestions and ideas to take their place!
1. Not Asking The Bride's Father For Permission
Let's start from the beginning. No doubt you're aware of the tradition where by the groom-to-be asks the Bride's father for permission to propose. This wedding tradition goes pretty far back in history to a time when the father would decide on who their daughter marries, usually based around wealth and strengthening the family name. Of course, this isn't the case anymore, but for some feminist couples this tradition feels particularly outdated and some what unnecessary. If you're planning a proposal you want to get it right first time we have put together a marriage proposal checklist that may help you with planning your special moment!
Alternative Ideas
For many couples though, this is still seen as an essential tradition, as it shows respect towards the bride's family. However, in the 21st century it is often referred to as 'a blessing' rather than permission.
If this is something you still want to include in your feminist wedding, why not ask both parents if they are around, or even their siblings or best friends?
You could also take a different route, where instead of asking, it could be more of a conversation to let them know you plan to propose and wanted them to be the first to know.
It's also worth remembering that the only persons permission you really need to marry them is your partner's, so as long as they are onboard with the marriage plans, it's really no one else's decision.
2. Bride's Parents Not Paying
The idea of the bride's parents paying for the whole wedding is something we are beginning to see less and less these days. This wedding tradition was common practice back when, as soon as girls came of age they were prepped and expected to marry, as unmarried daughters were seen as a liability for a number of reasons. During some periods in history when weddings weren't such an extravagant and expensive affair, the father of the bride would give the groom a dowry instead (Bridgerton fans might be familiar with this one!)
Alternative Ideas
As you can probably imagine, this isn't common practice these days, and there are lots of ways to alter this tradition to make it more modern and fair.
Many parents offer to pay for some of the wedding as a wedding gift, so perhaps both sets of parents could pay for one element, such as the transport or the wedding outfits. This is something you should consider at the start of your feminist wedding planning so you can budget accordingly!
Alternatively, as a couple you might decide to fund the whole wedding yourselves.
3. The Wedding Proposal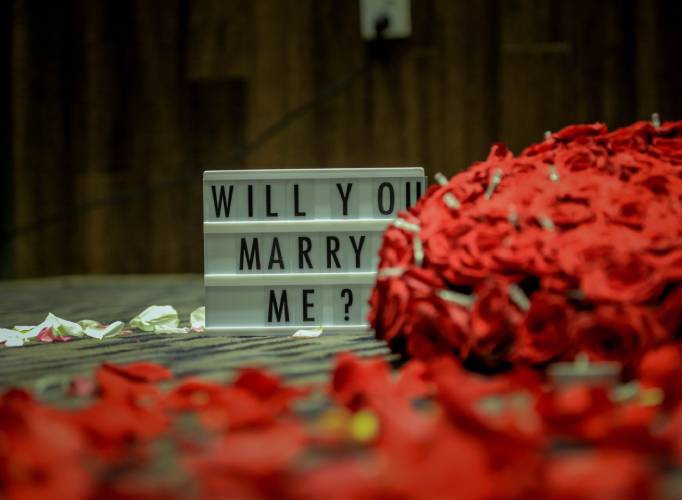 You probably guessed this one was coming! The proposal is the moment that begins the entire marriage, and more often than not we see the man drop down on one knee to pop the question. After all, we are all about ditching traditions here!
Alternative Ideas
Feminism is about being equals, so there is no reason the women can't propose too. Even though traditions and superstitions speak of the women proposing only on a leap year, there is absolutely no reason not to propose any other time.
Make it a decision. If you'd rather avoid a grand gesture, just have a chat with your partner and simply make the decision to get married.
4. Whether To Wear An Engagement Ring
While we are on the topic of the proposal, let's talk about engagement rings. There is some debate over the origins of the engagement ring. One belief is that they were worn by the women to show their husband's ownership in particular historic periods.
Alternative Ideas
There are a few feminist ways to compromise on this tradition.
Both you and your partner could choose to wear an engagement ring
If you aren't too bothered about the jewellery, you could forgo the bling altogether.
If you do choose to wear engagement rings, you might find our wedding ring buying guide and downloadable size chart useful.
5. Wedding Planning Together
This one doesn't quite fall under the traditions category, but regardless this is still an important factor to consider when planning your feminist wedding. We've all heard the term 'bridezilla' and we typically assume the bride has dealt with all the wedding planning. But your wedding is about you and your partner getting married, so the wedding planning should be shared equally between you.
Alternative Ideas
Consider what both of you want, from the venue and decor to the guest list and table plans. Both of you should be contributing to the wedding planning equally, and both of your ideas and suggestions included. This is the best way to make your wedding day about both of you.
Struggling to figure out a seating plan? Take a look at our wedding seating plan template which may be able to help you come to an agreement!
6. Not Wearing A White Dress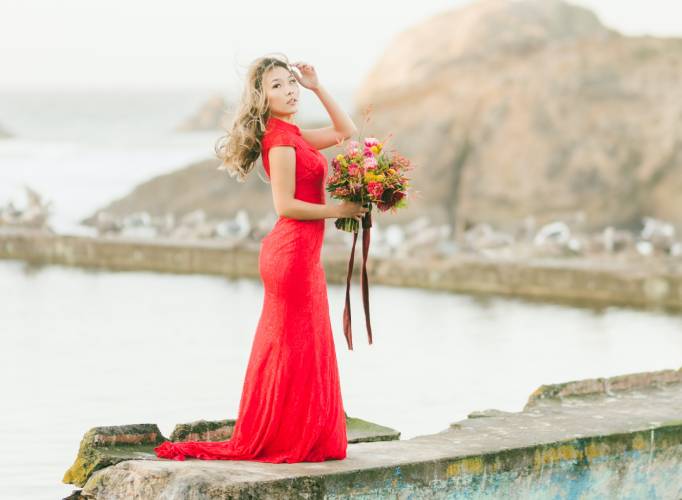 When you think of a wedding outfit, you think of the big white bridal gown, perhaps even a veil. However, this hasn't always been the case. You may have heard that the tradition of wearing white started as a way to show the bride's innocence and purity. Whilst this was the case, wearing a white wedding dress was popularised when Queen Victoria got married in 1840 in a white dress, which made many brides then decide to follow suit.
Alternative Ideas
If wearing a white wedding dress doesn't appeal to you, there are a few different ways to make you wedding outfit fit your tastes.
There is no reason you can't wear a different colour. Pink and red are popular alternatives, or perhaps you want to follow in Selling Sunset star Christine Quinn's footsteps and wear a black gown on your wedding day.
If you'd prefer not to wear a dress at all, why not look for a jumpsuit or even a suit?
Take a look at our how to pick the perfect wedding dress guide to help you find the perfect outfit for your big day!
7. Changing The First look
You've probably seen those videos on social media when the groom sees the bride for the first time and he becomes overwhelmed with emotion. And don't get us wrong, we absolutely love seeing these moments as it really shows the love and adoration in the couple's relationship. However, it shouldn't just be about the bride.
Alternative Ideas
For your feminist wedding, why not have a first look for both the bride and groom, so you get to see both reactions?
To really switch up the tradition, make it about the guests' reactions. You could create a moment where you and your partner don't see each other for the first time, but your guests see you instead. Not only is this fun for your guests, but it ensures both you and your husband are in the spotlight.
If you are having a larger wedding, having all the guests reacting might be difficult. In this case, why not create the first look with the bridal party and groomsmen? You could do this separately or all together, but it would be such a special moment between you and your closest friends. It's also a great opportunity to snap some of those all important wedding photos

!
8. Not Giving Away The Bride
You can probably guess where this tradition comes from. This is another one that stems from a time when women were seen as the property of men. The idea of giving away the bride was the passing of ownership of the women from the father to the husband when they get married.
Alternative Ideas
Unsurprisingly, feminist brides and grooms don't feel this is a necessary tradition on their wedding day. Now we're not saying you shouldn't have a family member or friend with you when you are walking down the aisle. After all, this is quite a daunting and nerve-wracking moment. There are still a few ways to alter this tradition.
When you reach the alter, perhaps just hug them in thanks before they return to their seat. This way you still have the moral support as you're walking down the aisle, but you're not being given away.
Another more modern, feminist option is for both you and your partner to walk down the aisle together. This way your friends and family will first see both you and your soon to be newlywed at the same time.
Of course, if you are feeling brave enough, there's no reason you can't take to the aisle solo. After all, it is your wedding day!
9. Not Changing Your Surname
This is another one of the wedding traditions that more and more people are moving away from. Similar to the previous tradition, taking the man's surname once you were married was the done thing to show ownership. Passing of ownership from the father to the husband.
Alternative Ideas
Choosing not to take the husbands's surname is not only popular with the feminist bride, but for couples with children from previous relationships. For some women, they just like how their name sounds. There are a few alternatives you can consider.
One option would be to double barrel both of your surnames. So neither of you are giving up your second name. This is often the go-to option for couples with children from previous relationships to avoid one child feeling left out with having a different surname.
Another more feminist idea would be for both the bride and groom take the woman's surname.
There is no reason why you both can't just keep your own names. Marriage is about a partnership and spending your life together. So in the grand scheme of things having different surnames really doesn't change that.
10. Not Having The Bouquet & Garter Toss
It is believed that the person who catches the wedding bouquet or garter will be the next to marry. In a sense, it is seen as a marriage good luck charm. There are a few reasons couple's are choosing to forgo the bouquet and garter toss at their wedding.
For one, it's an outdated ideal. Now a days, not everyone wants to get married, so expecting all your guests to participate in a marriage luck activity might not be so popular. It's also worth mentioning that the idea of women fighting over the bouquet is more something from old school chick flicks rather than reality.
You also might want to consider the fact that people don't tend to get married at such a young age as they did in the past. Because of this, it's likely that many of your wedding guests, including your friends and family, might already be married or have made the decision not to marry, so there wouldn't be many people participating in the toss.
We hope you have found our guide to planning a feminist wedding interesting and our tradition alternatives helpful. Don't forget to tag us on Instagram @_forbetterforworse_ and use our hashtag #forbetterforworse so we can see and share your feminist wedding photos. We wish you luck with the rest of your wedding planning!