Summer Weddings: 72 Ideas You'll Want To Steal
Published date: 7th June 2022 | Author: Hollie Bond
NB: To help you browse our best suggestions we have included some third party links. Some purchases made through these links may earn us a commission to help keep our blogs and offers current and up to date. Thanks for your support!
---
Make your summer wedding stand out with our gorgeous, unique and useful ideas to make the most of the season.
Summer is such a wonderful time of year to get married with warmer weather, stunning flowers and even the chance to say your "I dos" outside. All these things mean it's also the most popular time of year to tie the knot, and chances are that many of your friends and family will be attending more than just your wedding over the months of June, July and August. So how do you ensure that your wedding is the one that really stands out of the crowd and that your guests talk about for years to come? The answer lies in all the little details. Once you've sorted all the big things like your venue, catering, entertainment and outfits, it's key to turn your attention to the smaller seasonal elements that'll delight and surprise your guests and make your day look and feel unique and luxurious. With some expert advice from London wedding planner & designer Andri Benson, we've rounded up 72 of the very best summer wedding ideas that you'll want to steal and add to your big day plans.
72 of the best summer wedding ideas
Hire a summery venue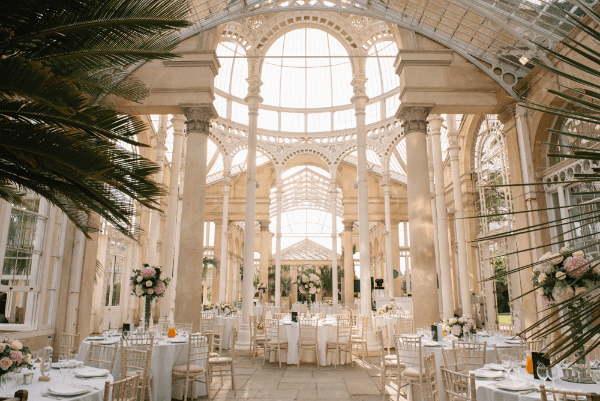 A brilliant place to start when it comes to making your wedding really reflect the season is by choosing the right venue. In summer there will be a lot more daylight that could last until around 9pm in the months of June and July, so it makes sense to choose a venue that lets all this gorgeous natural light in. Somewhere with lots of glass like an orangery could be a fabulous option, or perhaps somewhere that's known for its fabulous gardens. Some of our favourite summery venues are Woodhall Manor, Trevenna, Manor By The Lake, Kew Gardens, Syon Park, Euridge House and Orangery, and Sezincote.
"Look for a venue that gives you the option of an outdoor ceremony and drinks reception, but also has space indoors that will work if the weather isn't great," says Andri. "Barn venues often work well for this reason, as they may have multiple spaces. And they're not always a rustic wood beam vibe, there are some cool industrial style barns for hire too, with covered but open-sided courtyards that make great outdoor dance areas. Country houses with beautiful gardens are also a natural outdoor wedding choice where you can bring in additional structures like greenhouse marquees or stretch tents to give you cover."
Consider an al fresco ceremony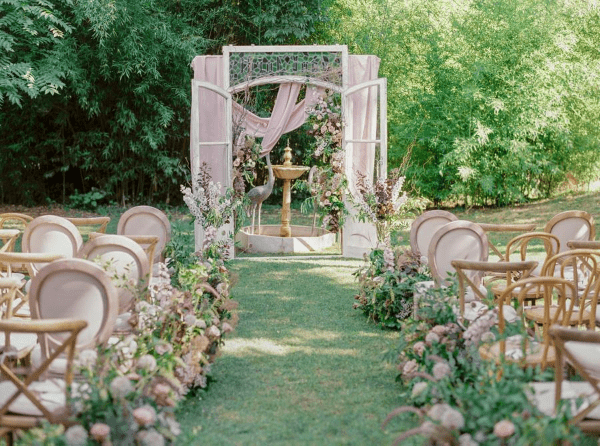 At a summer wedding, you have more options when it comes to your ceremony. You could have it inside your venue, or with the warmer weather you might want to consider a space outside your venue, especially since the permanent legalisation of outdoor weddings in England and Wales in March 2022. Don't get over excited and imagine the perfect summer day without a cloud in the sky and balmy temperatures though. While it could be like that, this is the UK, so it's important to have a Plan B. "Always have a wet weather back up, just in case you need to move it inside," says Andri. "And think about the timings of the day, you don't want a midday wedding as it will be uncomfortable for guests to sit in the full midday sun and won't look good in photos if guests are squinting. An afternoon wedding will be better."
Be ahead of the weather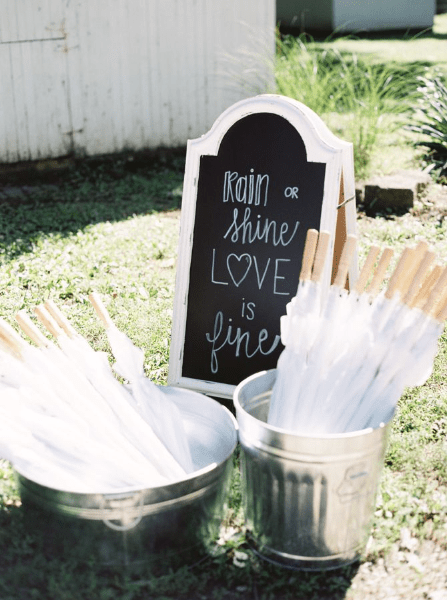 If you do decide to have elements of your summer wedding day outside, then remember to consider your guests needs. Whether it rains or shines they will feel the effect of the weather. "Hire some plain white umbrellas," suggests Andri. "They can serve a double purpose of protection against showers (just in case) and create shade." A basket full of pretty umbrellas or parasols will look lovely with your wedding decor too.
Have a summery theme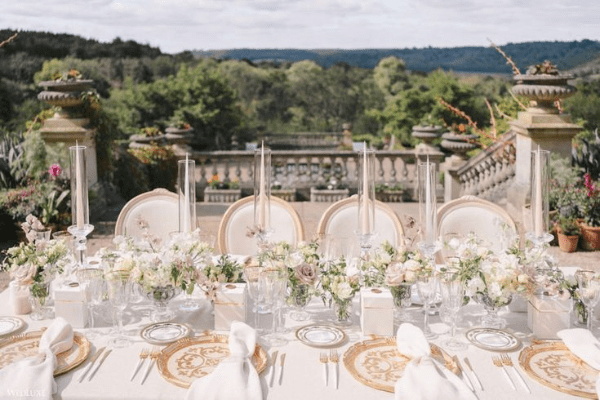 For some couples planning a wedding around a specific theme helps them to keep focused on the look they're trying to achieve. Think summer and themes like fairgrounds, village fetes, seaside, country garden party, festival and even a favourite summer sport like Wimbledon, Ascot and Henley Regatta spring to mind! Another idea is to loosely base your wedding theme around a favourite summery programme. "Thanks to Bridgerton we're seeing a lot more use of pastels and hand painted floral motifs on stationery, cakes and dresses," says Andri.
Host a wedfest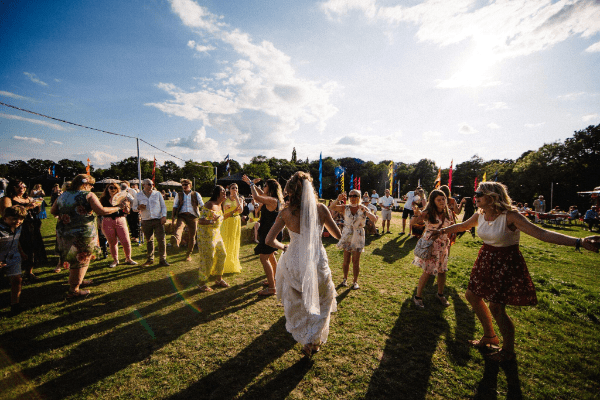 If you're known for your love of music, it can be a fun idea to turn your wedding into your own mini festival. A wedfest theme can work really well at a summer wedding. Some easy ideas to get started include street food served from trucks, a stage with various different musical acts throughout the day, a tipi venue, hay bales for seating, lots of bunting, personalised wristbands for your guests, ticket-style invitations, chill out areas, glitter and tattoo stations and rustic wooden signs.
Choose a summer wedding colour palette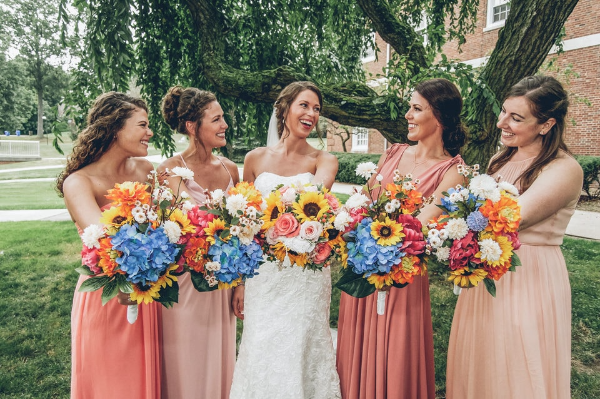 Summer is a time for light and bright colours reflecting the colours of the flowers that are in bloom as well as the (hopefully) bright blue skies and shining yellow sunshine. If you want your wedding to really complement the season, then steer clear or heavy, dark colours and look to nature to guide your colour palette with bright pinks, purple, yellow, green, orange or more subdued pastel tones.
Arrive in fun style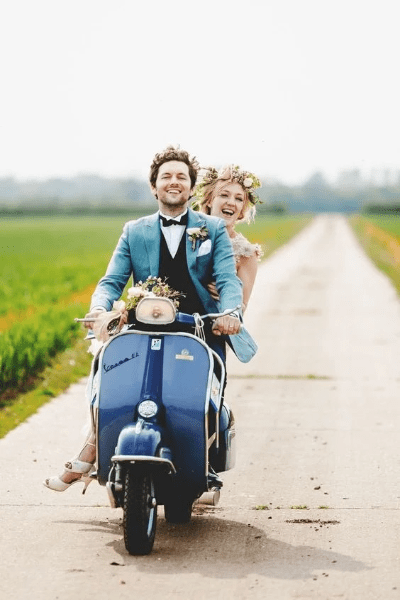 In summer as it's likely to be warm weather, you could rethink the way you arrive at the venue. Perhaps you could make your entrance on a decorated tuk tuk, on bicycles, by horse and carriage, open top car, moped or VW camper van?
Create a living aisle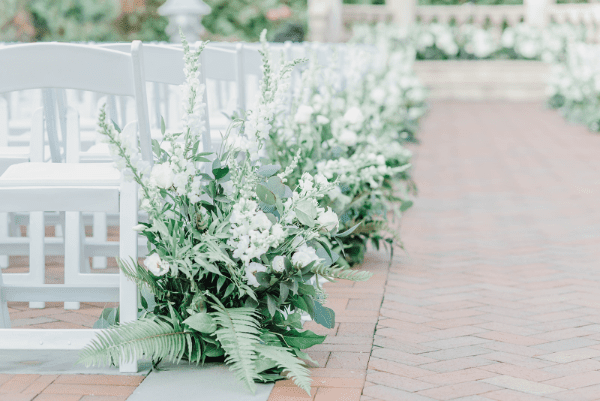 In summer you can go to town with flowers and foliage because they're so naturally abundant. Whether you're getting married inside or outside, a living aisle can look amazing and is one of our favourite summer wedding ideas. Ask you florist to fill planters with seasonal blooms and then use these to line either side of the wedding aisle. To make it affordable, let these flowers do double duty and repurpose them at your wedding reception.
Have an aisle of petals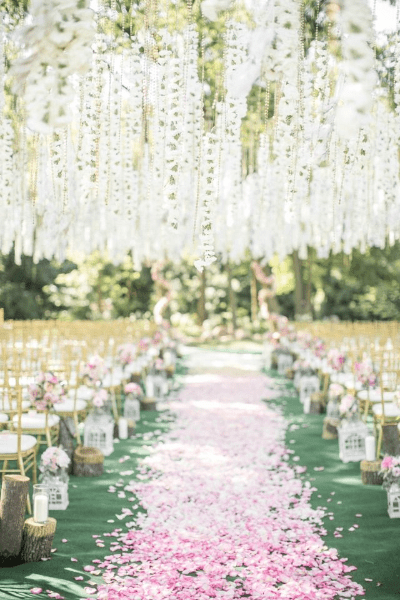 If your budget doesn't stretch to a living aisle, consider a petal aisle instead. Petals are a lot cheaper than floral arrangements and looks incredibly romantic, especially as you walk down the aisle and waft them gently with your train or veil.
Provide fans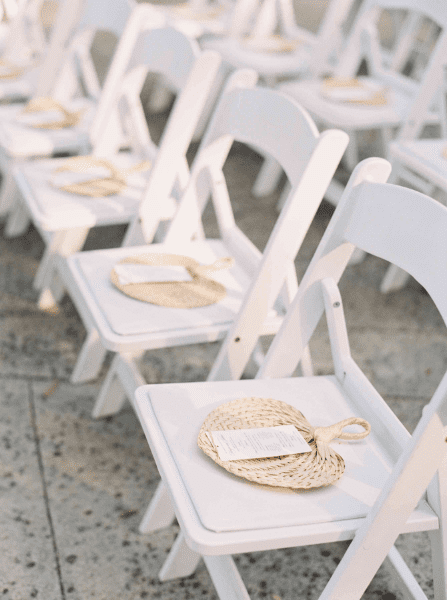 Weather looking like it will be hot on your big day? It can be a lovely touch to provide pretty fans for guests to help them keep cool.
Dine under the stars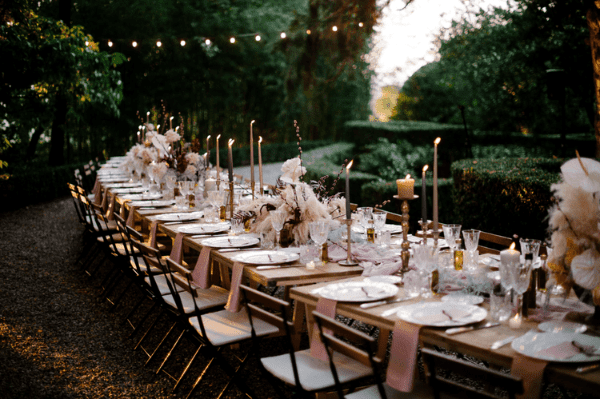 If your venue has the space and ability, it can be a magical idea to host your wedding breakfast outside. Wait to eat until the sun is setting as then guests won't bake in the direct sun, and at twilight you can have lots of romantic strings of lights over the tables, which will make the setting look like something out of a fairytale.
Use fabric creatively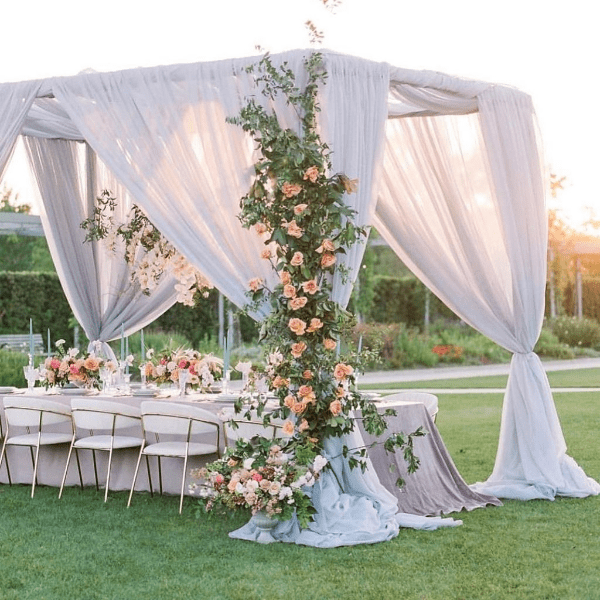 If a lot of your wedding is taking place outdoors then you will need to think carefully about different zones and providing shade for your guests. "Draping is coming back in a big way," says Andri. "It's a great way to divide large spaces, create shade and add interest to a space."
Create an outdoor seating area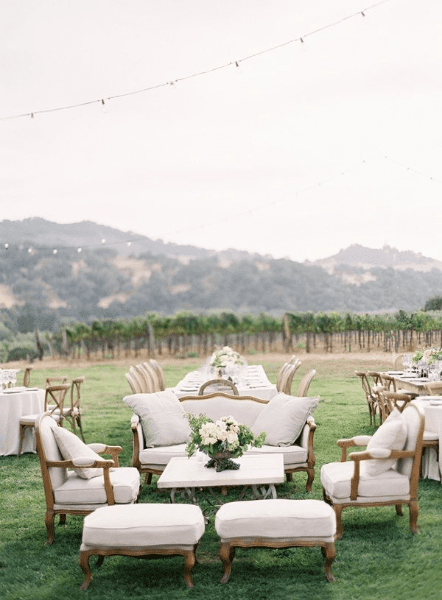 An easy way to create separate zones at an outdoor wedding and reception is by setting up outdoor seating areas using furniture that would usually be indoors.
Think outside the box with your catering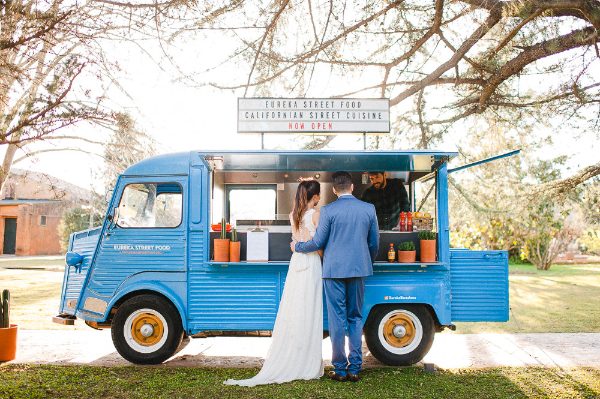 "Street food trucks work really well as a fun alternative to a sit-down meal, especially with an outdoor venue," says Andri. "Depending on numbers of guests I'd go for at least two trucks and have some tray-served options such as canapés or bowl food too, so there's not too much of a rush to queue for food at the trucks."
Provide a water station
On a hot day you need to keep your guests hydrated, but bottles of water or plain of jugs of tap water aren't exactly inspiring or pretty wedding day drinks. "Have a water station with different flavoured waters for when guests arrive," says Andri.
Focus on your lighting
"Don't forget lighting," says Andri. "Summer evenings may go on for longer, but it will get dark at some point. And it can be a great way to add a creative element to the décor from fairy light arches to hanging Edison bulbs or chandeliers."
Choose a summer wedding dress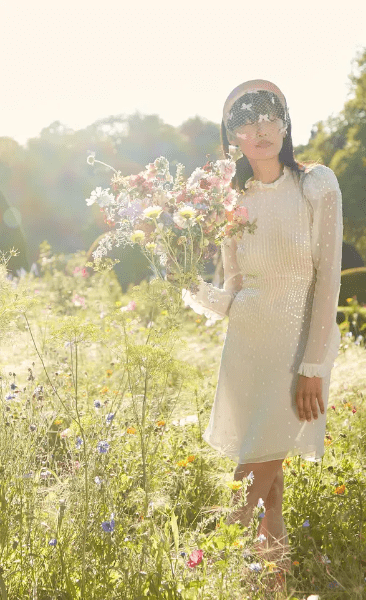 Opt for a hot weather hairstyle
With all the excitement and nerves you'll probably already feel a bit hotter than usual and in warm weather it can feel very uncomfortable to have your hair down over your shoulders. Think carefully about a pretty updo instead that'll leave your neck free to feel the warm summer breeze.
Have flowers in your hair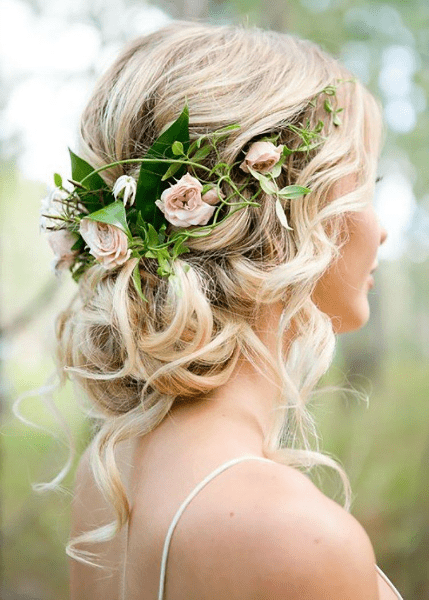 Ask your florist to provide some fresh flowers that match your bouquet for your hairdresser to weave through your hair. A flower crown can look fabulous at this time of year too.
Wear a relaxed summer suit
Grooms might want to consider something a little more casual or lighter when it comes to their wedding suit. Linen is a good fabric for summer suits or why not wear chinos and a blazer instead of a full three suit suit or tails? Light blues, pink, beiges and soft greys all look wonderfully stylish at this time of year.
Have some colourful wellies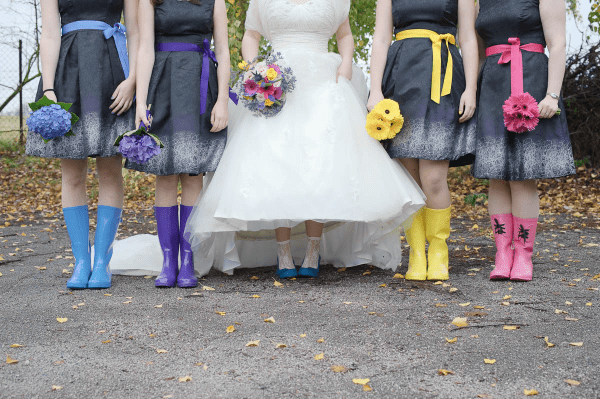 As well as a wet weather plan that involves some indoor space for your wedding ceremony and reception, think about your outfits if it happens to rain on your wedding day. If you have to walk across grass at any point remember it might not be dry so you and your bridesmaids might want to have some wellies to get you from A to B. A range of colourful wellies can look really fun in your bridal party photos.
Go big on bunting
Bunting is a really cheap but effective wedding decoration that looks particularly amazing at summer weddings and puts everyone in the mood for a fun festival or country garden party-style wedding day.
Decorate with pom poms
Another cheap way to bring colour and wow-factor to your summer wedding is with paper pom poms. Choose a range of sizes and colours and group together creatively.
Use fruit in your summer wedding decor
Seasonal fruit as a table runner or in your flower arrangements can look incredible and adds a real summer vibe to your big day.
Have a tropical theme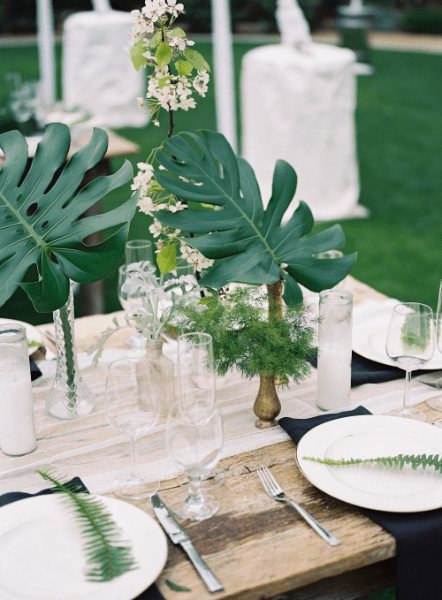 Give your wedding a holiday vibe by going all out tropical with your wedding decor. Monstera and palm leaves are huge and are really cheap and effective for giving your wedding an instant tropical look. Pineapple motifs (or the real things), bird of paradise flowers and a vibrant pink and orange colour palette will complete the theme.
Be creative with your cocktails
Who doesn't love a cocktail on a hot summer's day. Make your cocktail hour really stand out with cool personalised cocktails or fun summery drinks served in pineapples or garnished with lots of colourful summer fruits.
Provide a relief station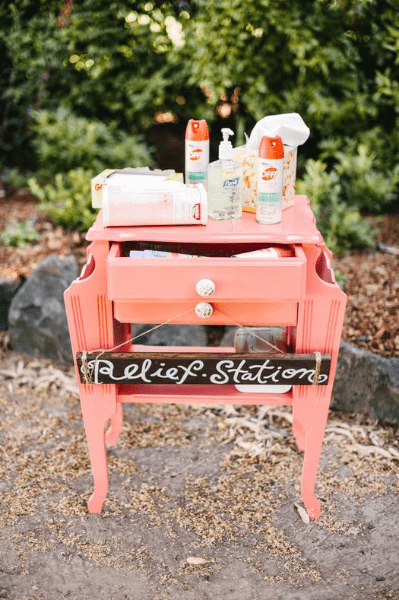 While summer has a lot of positives for weddings, there are a few downsides… insects, sunburn and overheating being the main ones. One of the best summer wedding ideas to ensure your guests aren't inconvenienced by any of these is to provide a relief station with bug spray, sun cream, parasols, hankies and even blotting paper for anyone concerned their make-up might run.
Set up a hat wall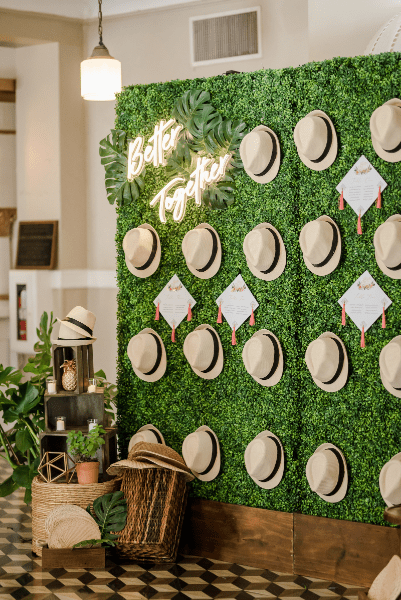 Lots of guests like to wear hats in summer to keep the sun off their faces. When it's time to come inside the venue though they'll need somewhere to put their hat, and we love the idea of a cool and creative hat wall that'll look so much chicer than just random hats dotted around the place.
Put a basket of toiletries in the bathrooms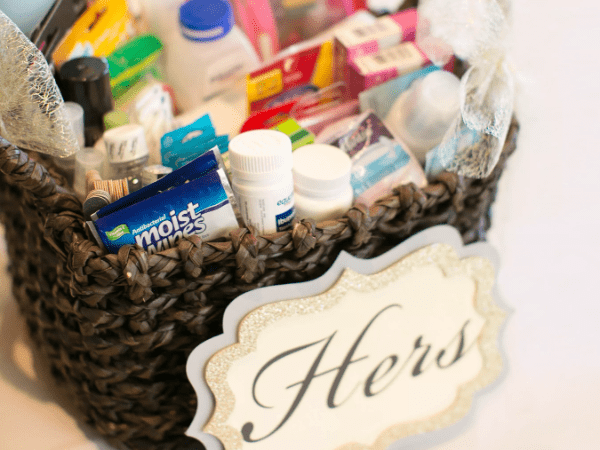 If you cater for your guests' every last need on your wedding day they'll be very happy wedding guests indeed. A surefire way to ensure they're comfortable and content is to provide a pretty basket full of essentials in the toilets such as deodorant, tissues, perfume, hairspray, hair bands and pins, safety pins, wipes and plasters.
Think about a beach wedding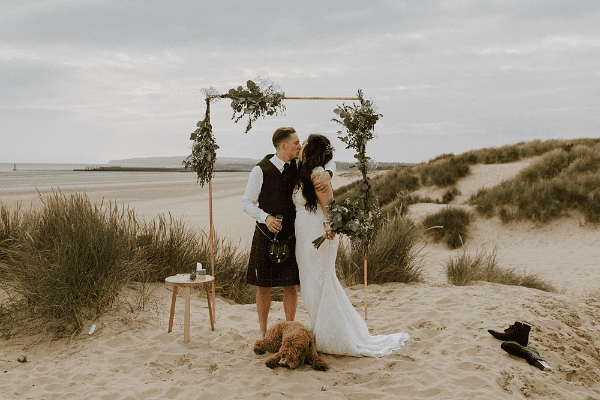 Everyone loves to go to the beach in the summer, so why not transport all your guests to a beautiful beach and host your wedding there? You could say your "I dos" with your toes in the sand and then all your guests could enjoy a little paddle during the drinks reception. And just imagine how stunning your photos will be with the sparkling sea as the backdrop.
Place edible flowers in your cocktails and food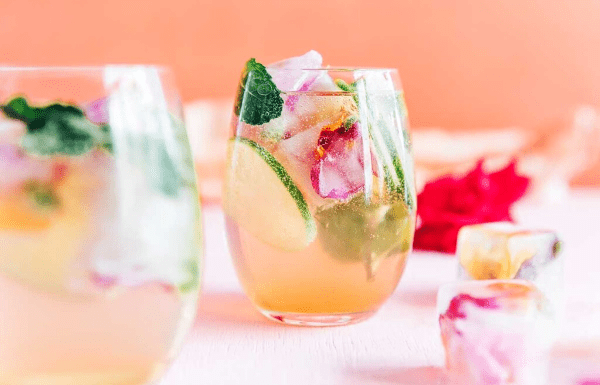 Some flowers are edible so you can use them as decor in and on your summer wedding food. Some of the prettiest ways to use them are in ice cubes in your drinks and cocktails, on top of canapés and on your summer wedding cake.
Choose floral stationery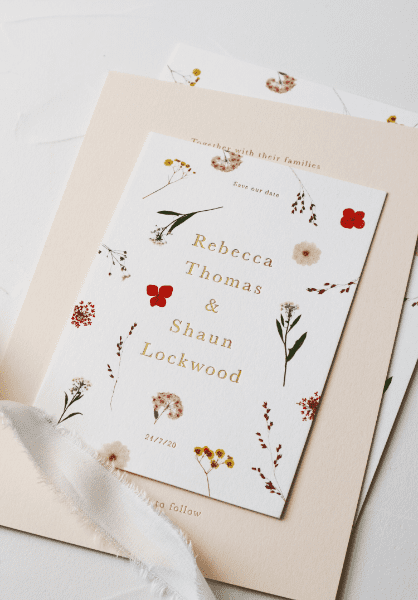 Real flowers can also be used to elegant effect in your wedding stationery. You could press your favourite summer flowers the year before your wedding and then use them on your DIY invitations or ask a wedding stationer like Gable & Grain to create the look for you.
Have a summer themed wedding cake
Naked or semi naked cakes with fresh flowers always look good at summer weddings, but if you want an iced cake consider bright colours to match your theme or cakes that are decorated with an abundance of seasonal blooms and fruits.
Provide a basket of flip flops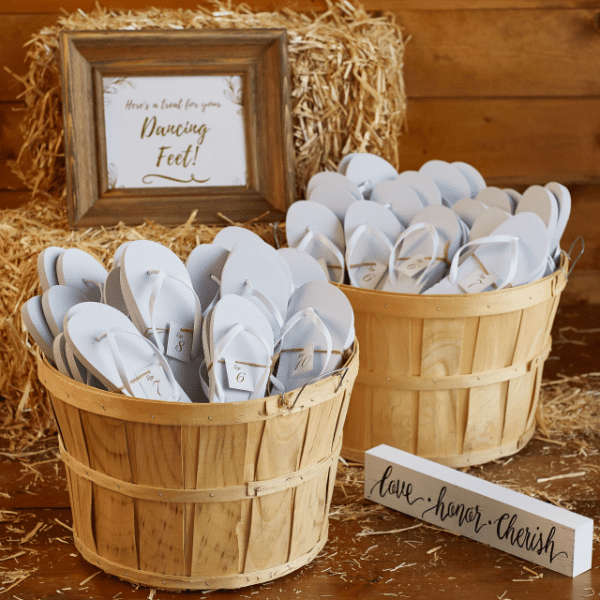 On a hot day heels and smart shoes can get very uncomfortable. To ensure your guests fill the dance floor when the music starts it can be an excellent idea to provide a basket of flip flops so they can dance the night away. You can even get personalised flip flops to match your wedding theme.
Be creative with your ceremony seating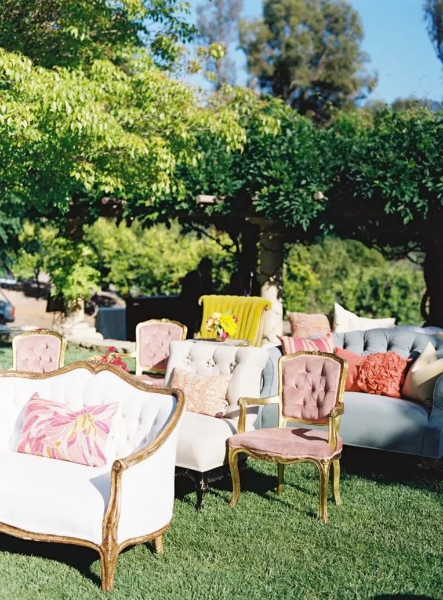 Before you use comfy chairs and sofas to create chill out areas at your reception they could also work well for the ceremony. "Use a mixture of sofas, armchairs and chairs for your wedding ceremony," suggests Andri. "It instantly creates a more relaxed vibe and looks great in photos." As well as thinking outside the box with some fun seating try setting up the ceremony in a different shape to the norm. Hay bales or chairs set in a semi circle looks amazing and means all guests get a great view of the ceremony.
Throw a summery pre-wedding party
Think about your favourite summer parties and incorporate this into your wedding plans. Perhaps you could host drinks on a beach the night before, or maybe a post-wedding picnic the day after is more your vibe.
Decorate with sand art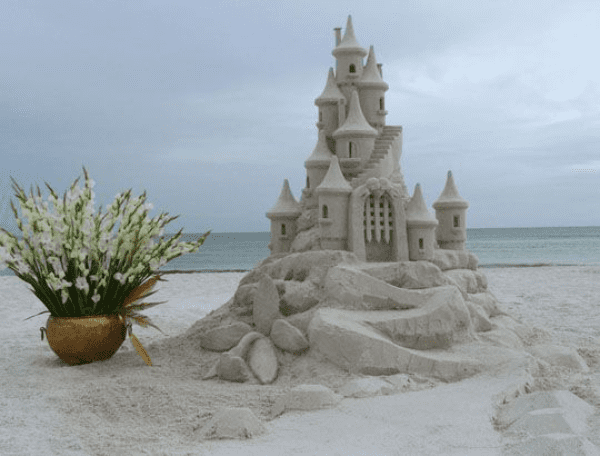 At beach weddings it can look incredible if you (or an artist perhaps!) decorate the sand with your initials or a motif from your day.
Serve alcoholic ice lollies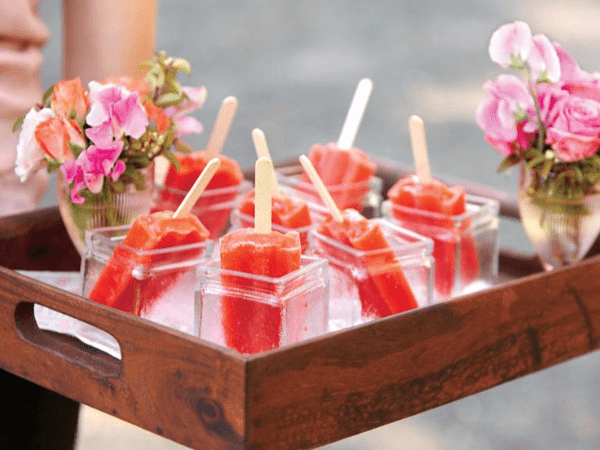 Want to keep your guests cool? Serve alcoholic ice lollies during cocktail hour alongside more classic cocktails.
Look after mini ones
If you're having kids at your summer wedding it's a lovely idea to provide some seasonal entertainment like a paddling pool or fun outside games. You could even set up a treasure hunt or little quiz for them as long as it's safe and someone supervises.
Provide fun fairground entertainment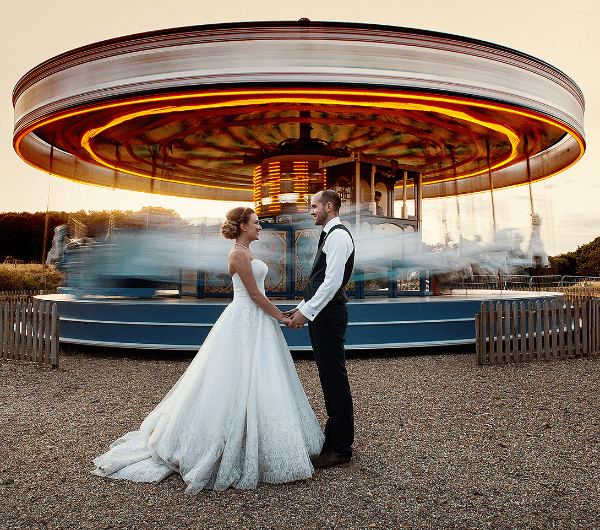 Worried your guests will get bored while you're having your pictures taken? Hire some fabulous fairground entertainment like rides, a magician and games such as a coconut shy and they won't even realise you're not there!
Provide outdoor games for adults
Even if you're having an adults-only wedding, you might want to consider some games to keep everyone entertained. Giant Jenga, hoopla, giant Connect 4, quoits, dominoes, and chess all work really well.
Have a creative al fresco bar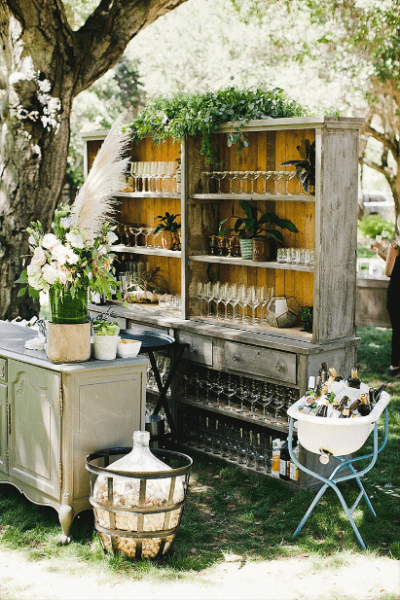 At a summer wedding you can be really creative with your bar. Think about a themed bar or hire something cool like a vintage airstream bar, a horse box bar or a vintage dresser.
Be bold with balloons
Balloons look amazing in summer, especially giant ones with pretty tassels that'll sway in the warm breeze and help create a party feel to your day.
Use romantic candles
It might not get dark until late at your summer wedding, but when it does make sure you've got lots of pretty candles dotted about to give a romantic feel to your wedding evening.
Throw fresh, biodegradable confetti
Petals and leaves are plentiful in summer and so you could easily collect and dry your own eco-friendly confetti before your big day. If you don't have time though there are plenty of companies that sell pretty petal confetti that looks and smells amazing and won't harm the environment.
Have a pool party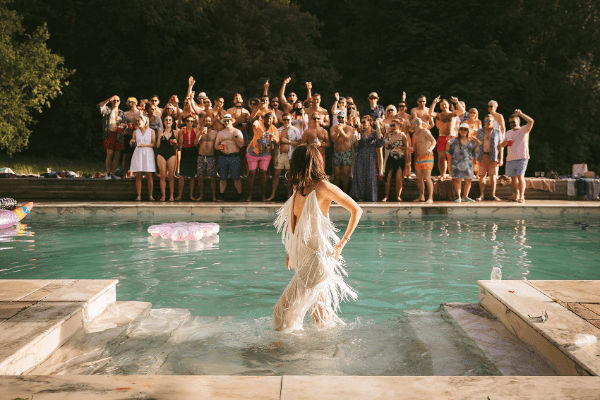 Having a destination wedding or got a UK venue with a pool? Then make the most of it with a fun Ibiza-style pool party the night before or even as part of your actual wedding day. Just make sure to tell guests to bring their swimwear along!
Provide fun or personalised pool floats
Like the idea of a pool party? Make it look the part with Instagrammable huge floats. A pair of swans for the happy couple perhaps?
Invite guests to a wedding picnic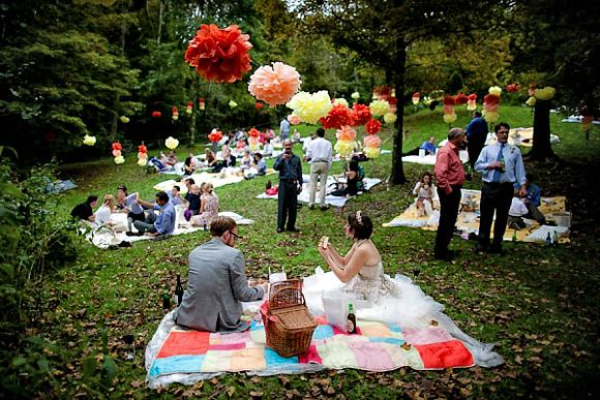 If you don't like the idea of a traditional sit down wedding meal, you could do something really relaxed instead like a wedding picnic at a summer wedding. Provide pretty rugs and a basket of gourmet goodies for each "table" and sit back and enjoy a seriously special al fresco meal.
Provide sunglasses
When they're all dressed up in their finery guests might forget to wear sunglasses. Why not provide some personalised sunnies as a wedding favour to help stop them squinting in the sun? This works particularly well at waterside or beach weddings to help stop the glare of the water make it difficult for guests to see.
Use bright ribbons in your flowers and decor
Ribbons are a cheap but effective way to decorate. Bright ribbons look brilliant at summer weddings and you can use them everywhere, from your bouquet to a photo booth backdrop.
Make a grand entrance down a floral staircase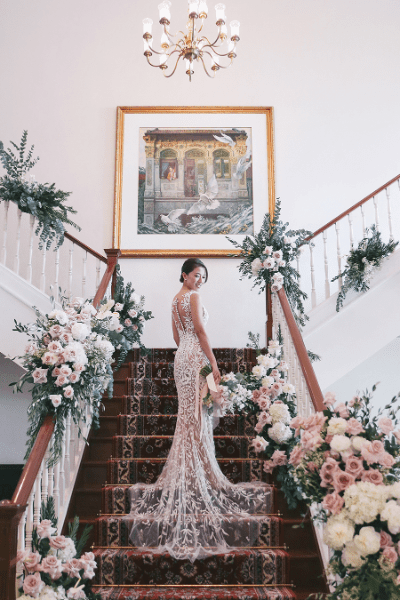 Has your venue got a sweeping staircase? Ask your florist to decorate the bannister with fresh flowers for an entrance that looks like something out of a Disney film.
Create a floral installation
Mark out the VIP head table with a stunning over head floral display that matches your summer wedding theme.
Do an al fresco first dance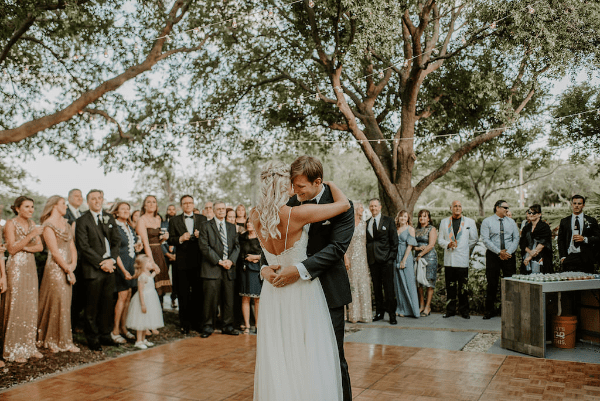 If it's warm weather why don't you take your first dance outdoors? Lay some pretty rugs on the floor, mark out a floor with festoon lighting and dance with your new husband or wife under the stars. Magical!
Have an outdoor dance floor
In fact why not take the whole party outdoors? As long as your venue has no sound restrictions you could ask for the dance floor to be set up outdoors for all the dancing.
Set a photo booth up in the garden
The same goes for the photo booth. There's probably more space to get creative with a pretty photo booth outside too and when it's light the pretty backdrop of your venue will make the pictures look even more stunning.
Hire an ice cream van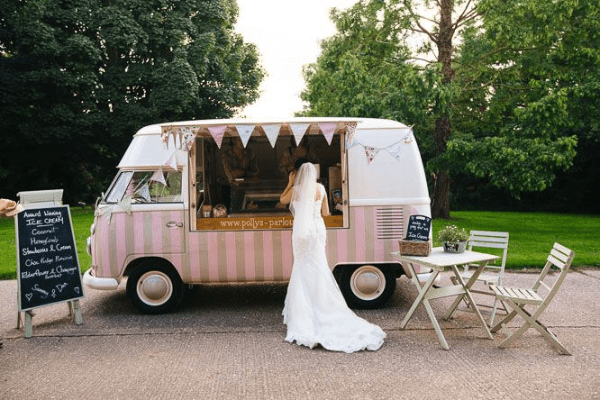 Instead of dessert (or maybe even as well as!) why not hire an ice cream van or cart to serve guests throughout the day?
Set up a frozen drinks station
On really hot days guests will also adore a frozen drinks station, serving cooling cocktails like frosé or frozen margaritas to help them stay cool.
Serve seasonal food
Make the most of the special season you've chosen to say "I do" by serving seasonal food like oysters, scallops, crab, summer berries, asparagus, lamb, pigeon, venison etc. Your caterer will be able to tell you what they can source locally that's perfect for the summer months.
Create a sweetie stall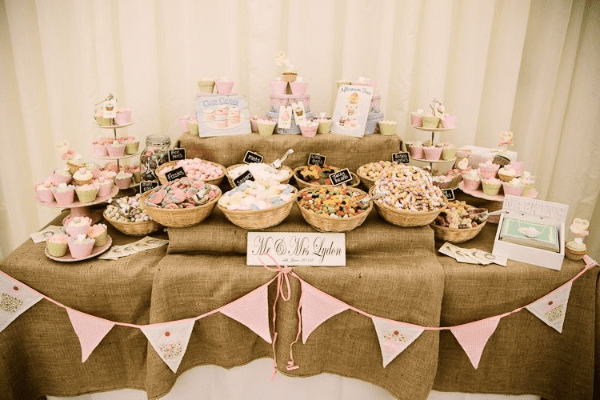 Appeal to your guests' inner child with a retro pick and mix station decorated in summery style.
Host a BBQ in the evening
BBQs are incredibly summery, so treat your guests to some flame-cooked fare in the evening.
Create a unique guest book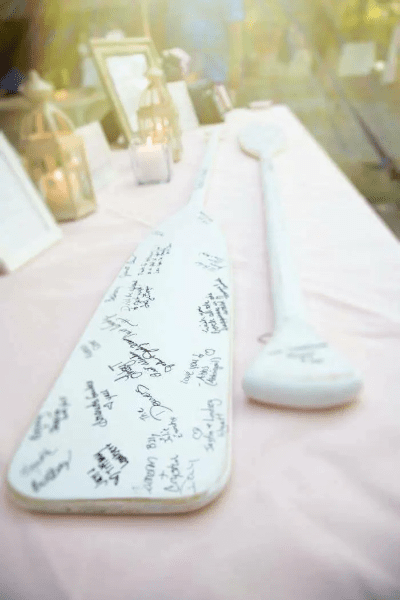 Instead of a traditional book think of something unique that fits your theme, like individual postcards with your wedding destination on it, jenga blocks, a polaroid photo book, signed champagne corks, a surfboard, oars, a typewriter, a map, a sports bat… the options are endless.
Decorate with summer succulents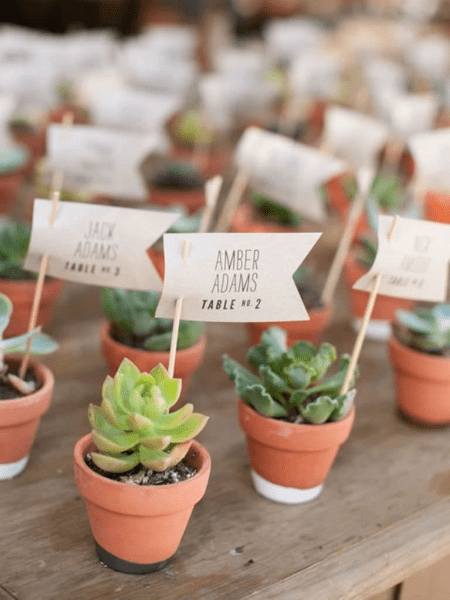 A cheap and effective way to bring nature into your wedding is by using pretty succulents. You could even tell guests to help themselves to one at the end of the day as a wedding favour.
Use fruit for place settings
Looking for cheap ways to create escort cards? Fruit is cheap and looks picture perfect on your wedding tables, so simple add a little name tag and voilà your seating chart is taken care of.
Use trees to hang floral garlands
If you're having an outdoor wedding, make the most of the natural beauty around you by decorating the trees and bushes with floral garlands, bunting and festoon lighting.
Create an illusion roof with string lights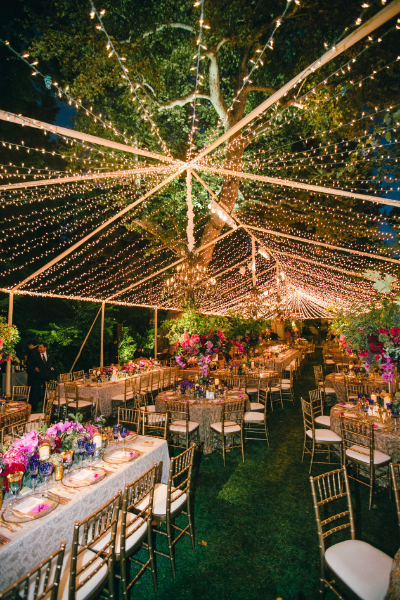 One of our favourite summer wedding ideas is this magical illusion roof created using fairy lights at an al fresco wedding breakfast.
Hire colourful glassware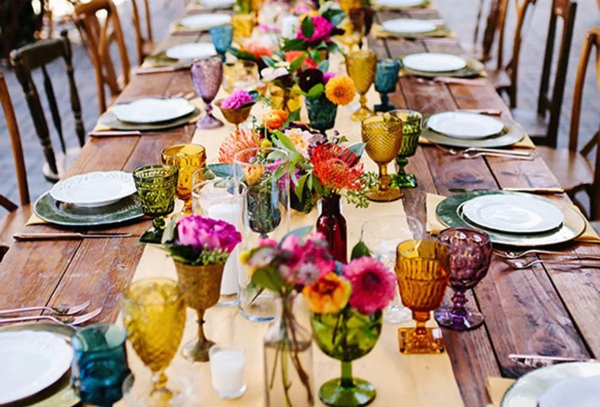 Looking for more ideas for colourful summer wedding décor? An easy way to add pops of colour to your tables is by hiring colourful glassware.
Have a sparkler send off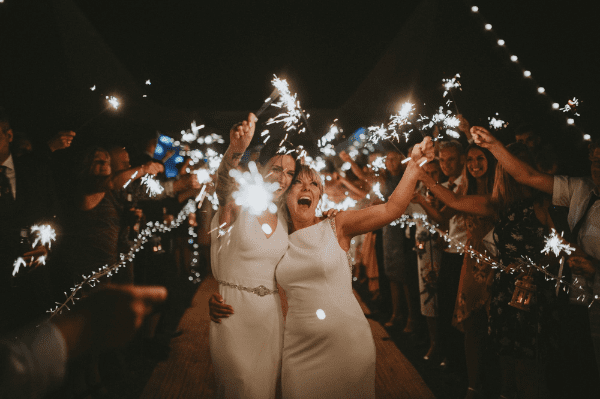 At the end of the evening continue to enjoy the warm weather by asking your guests to light a sparkler each and create an arch for you and your new spouse to walk through together.
Have fun with neon signs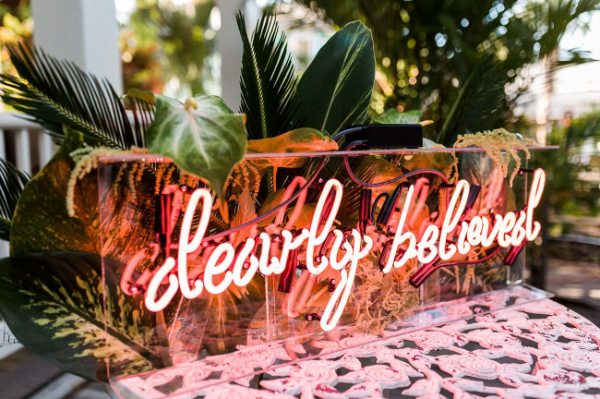 At a summer wedding you'll probably use every inch of your venue so it's important to have excellent signage. Bright neon signs can looks absolutely amazing as both decor and to point guests to the various places they need to go.
Choose a glamping venue
Don't want the party to end with the last dance? Look for a venue with a glamping site attached so all your guests can stay over and celebrate into the early hours.
Provide seasonal welcome baskets
For guests that are staying over at the venue it can be a lovely idea to welcome them to their accommodation with a welcome basket. Pack it with seasonal goodies like a mini summer cocktail, a lavender soap, bottled water, a little candle, toiletries and the ever useful suncream and bug spray!
Finish the night with a campfire party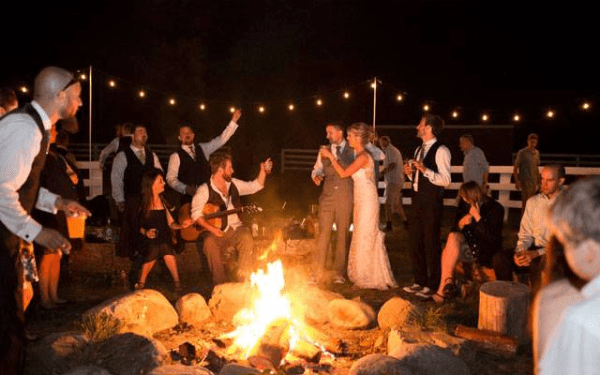 As summer wedding ideas go, this is one of our favourites… set up a romantic camp fire area with hay bales and a s'mores station and invite guests to sit under the stars to chat and toast marshmallows together.