The Celebrity Weddings of 2023
NB: To help you browse our best suggestions we have included some third party links. Some purchases made through these links may earn us a commission to help keep our blogs and offers current and up to date. Thanks for your support!
---
2023 has been quite the year for celebrity weddings, and we can't help but swoon over the glitz, glamour, and heartwarming moments that unfolded. From timeless styling to breathtaking locations, the A-listers that have tied the knot this year have left us all starry-eyed.
Join us as we take a closer look at the weddings of your favourite celebrities and how they can inspire your own journey down the aisle. So, grab a cup of tea or a glass of champagne (we won't judge), and let's dive into the world of celebrity nuptials!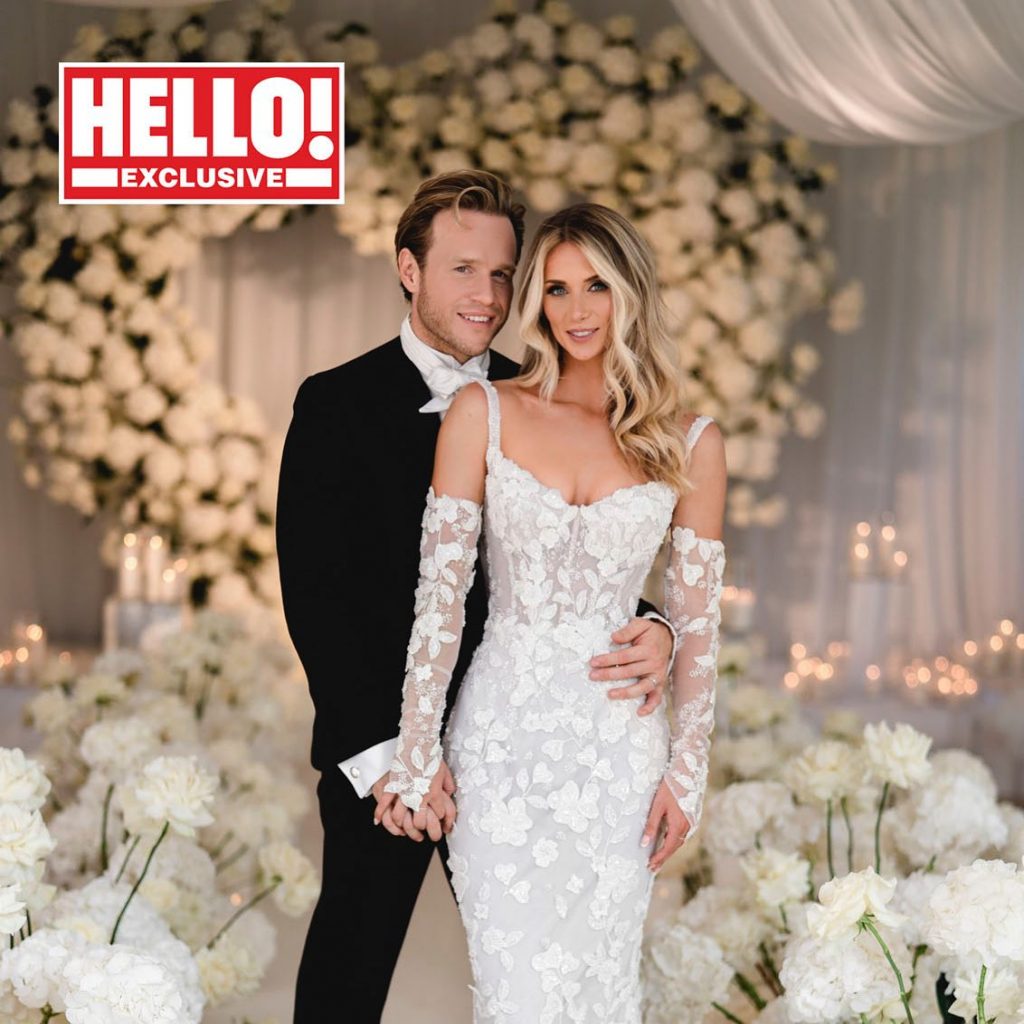 Olly Murs, the pop sensation known for his catchy tunes and undeniable cheeky chap persona, took our breath away with his wedding's timeless styling. Think classic elegance meets modern charm, a monochrome colour scheme which is just so in! Cascades and meadows of white flowers everywhere, white ceiling drapes and candle lit, the wedding ceremony looked nothing short of magical in every way!
The "FBFW Highlight" was undoubtedly the couple's impeccable fashion choices. Olly rocked a classic cropped tuxedo, paired with a silk shirt and roll collar, while the bride looked absolutely radiant in a stunning white gown adorned with all the glitz and large lace petal details.
Their choice of attire served as a reminder that timeless fashion never goes out of style, making it perfect inspo for couples aiming for a classy, enduring look on their wedding day.
Oh and also we cannot forget about 'MursFest' – the ultimate festival the following day to conclude their wedding celebrations!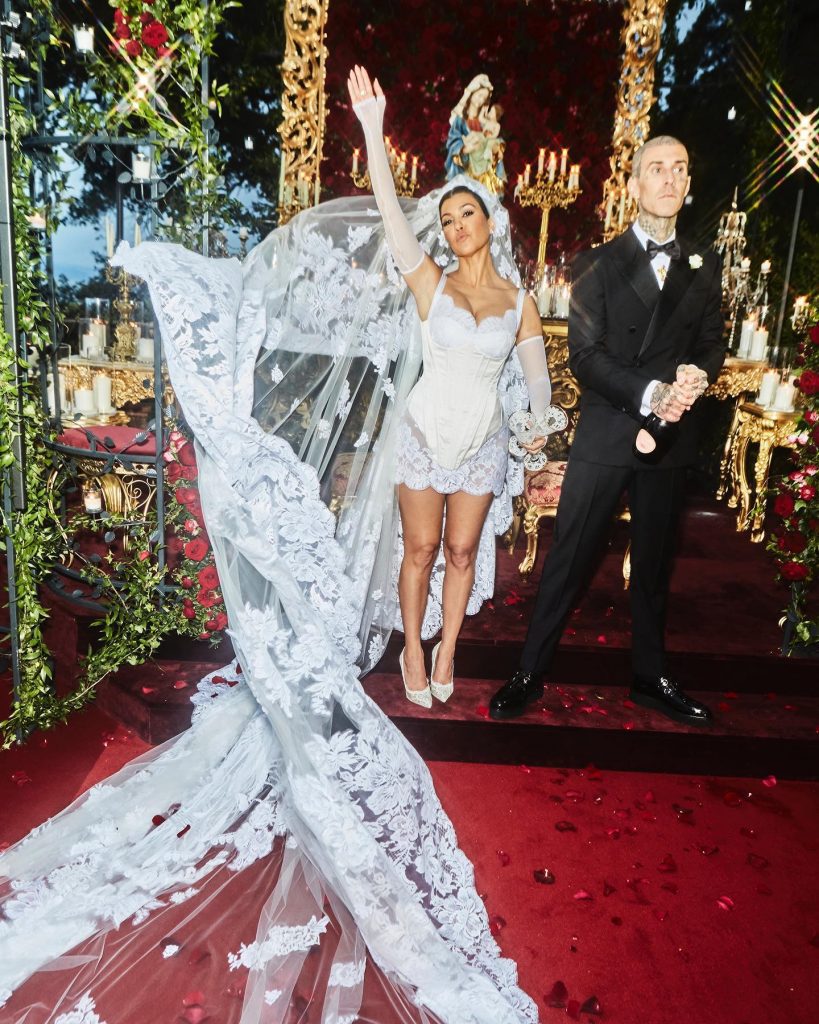 When the maven of reality TV, Kourtney Kardashian, and her rockstar beau, Travis Barker, decided to tie the knot, we knew it would be iconic.
Their Italian wedding had a Dolce and Gabbana vibe that oozed luxury and opulence, from her handcrafted dress by Dominio Dolce himself! to the star-studded guest list all wearing archival or custom D&G from the 90s.
The "FBFW Highlight" was their choice of venue – a historic Italian villa in Portofino, with breathtaking views. Their wedding proved that you can mix rock 'n' roll with high fashion for an unforgettable celebration.
(Ok we have to admit, this celebrity wedding was actually in 2022, but was way too good to miss from the list!)
If you're all about fashion, then Olivia Attwood's wedding is a must-see. This TV personality stunned in a show-stopping wedding gown, full lace and long sleeved with a bardot neckline and silk lapel. Paired with a slicked back updo and lace choker, perfection!
The "FBFW Highlight" was undoubtedly her dress, which left everyone in awe, but also her strict all black dress code for her guests. All the celebs and guests in attendance showed up and out, creating a super luxurious vibe and picture-perfect moments.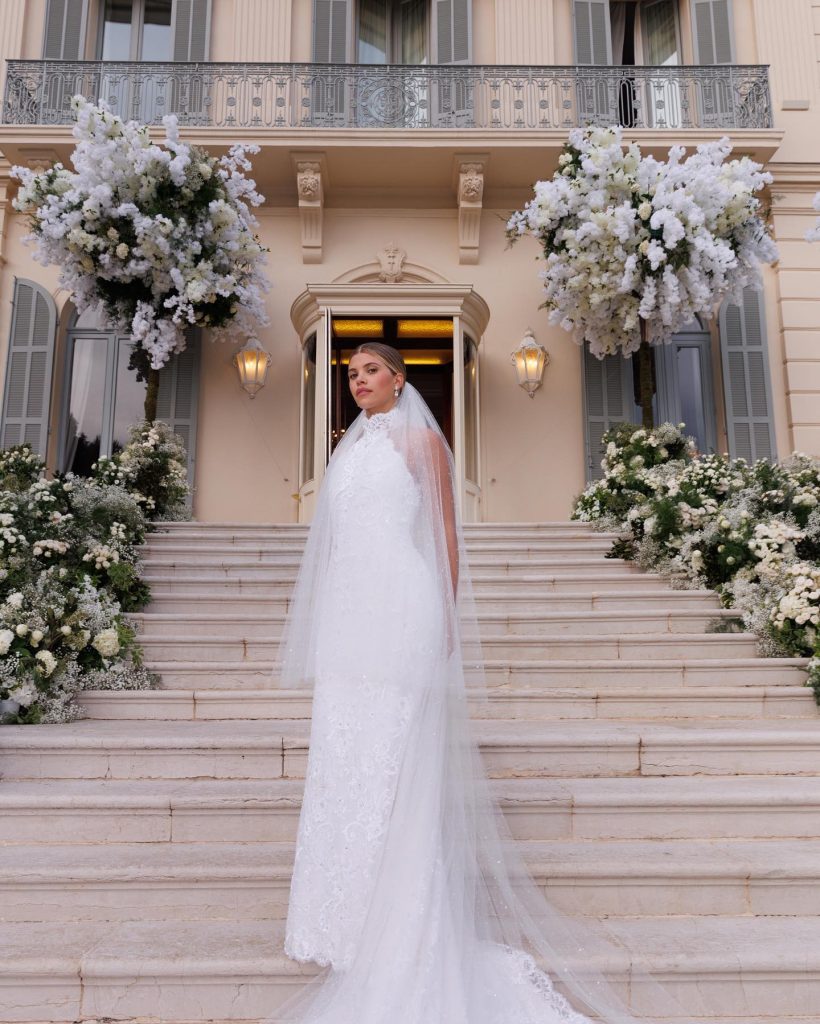 Sofia Richie's wedding (the daughter of music legend Lionel Richie) was quite possibly the most anticipated event of the year. As she continues to be at the forefront of influencing, one thing is for certain, she's influenced in the wedding world!
The "FBFW Highlight" was the dreamy location, in the heart of the South of France, that set the stage for a jaw dropping celebration. The aisle was a seven-and-a-half-minute walk! so if you want to savour the moment and have all eyes on you, take a page from Sofia's book.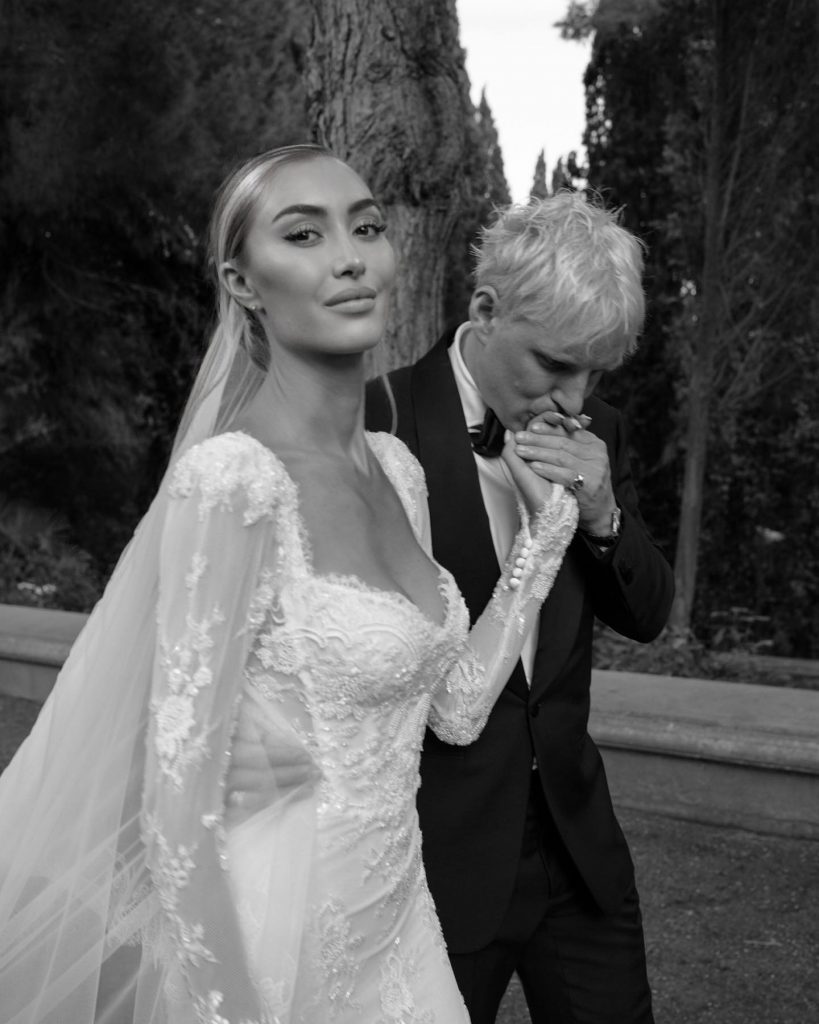 In the world of celebrity weddings, heartfelt moments are a must. Jamie Laing's wedding to Sophie Habboo was a heartfelt affair, and the "FBFW Highlight" was Jamie's touching groom's speech.
Jamie promised many things in his speech, each one a homage to his whit but with his love for Sophie the true message. Cue the watery eyes!
Opening with "I was told to find true love; you must first find a true friend and I have without a doubt found my best friend in you"
"So, I want to make some promises to you tonight. I promise that we will fight about silly things, but I promise to never go to bed angry.
I promise I won't always check to make sure the loo is clean, but I promise I'll be there for whenever you need me.
I promise I will make you irritated with me whether I deserve it or not, but I promise to always try and make you happy.
I promise I will forget dates in the diary, but I promise I will never forget to put you first.
I promise that we will have hard times, but I promise you they will pass.
And lastly, I promise that I will love and look after you for the rest of my life."
It reminded us that amidst all the glitz and glamour, what truly matters is the love and commitment shared between two people. Don't forget to pour your heart out in your vows!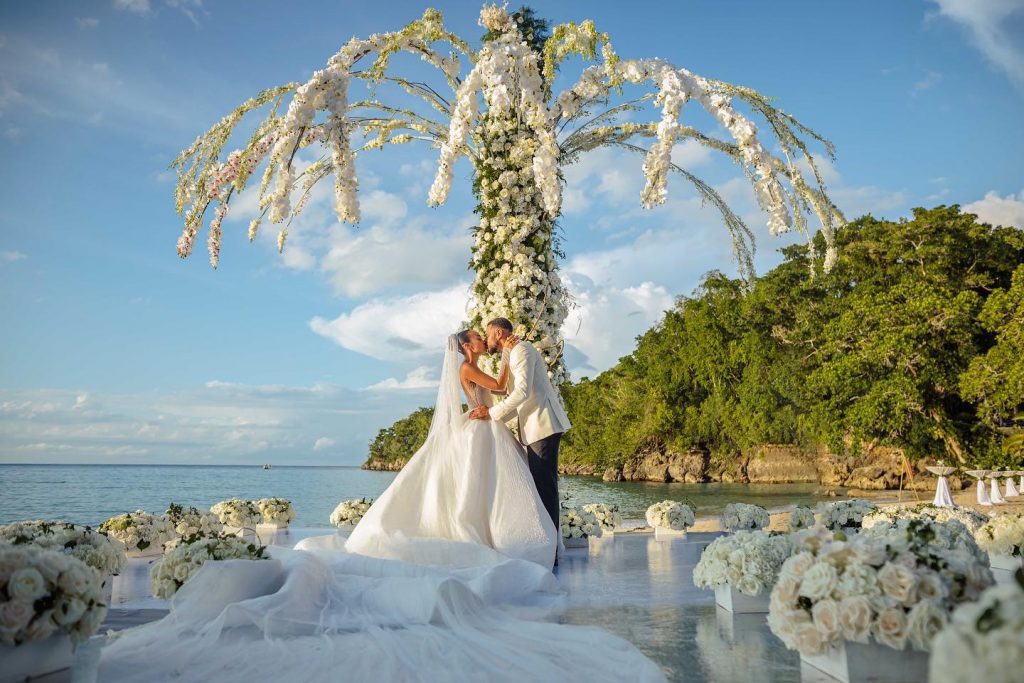 Leigh-Anne Pinnock wedding took destination weddings to a whole new level. They tied the knot on the beach in Jamaica. The most stunning 360 views at their small private ceremony made us all crave some vitamin sea.
The "FBFW Highlight" was the stunning location, proving that destination weddings can add an extra layer of magic to your special day. Whether it's on a remote island or a hidden cove, the beach sets the stage for unforgettable moments.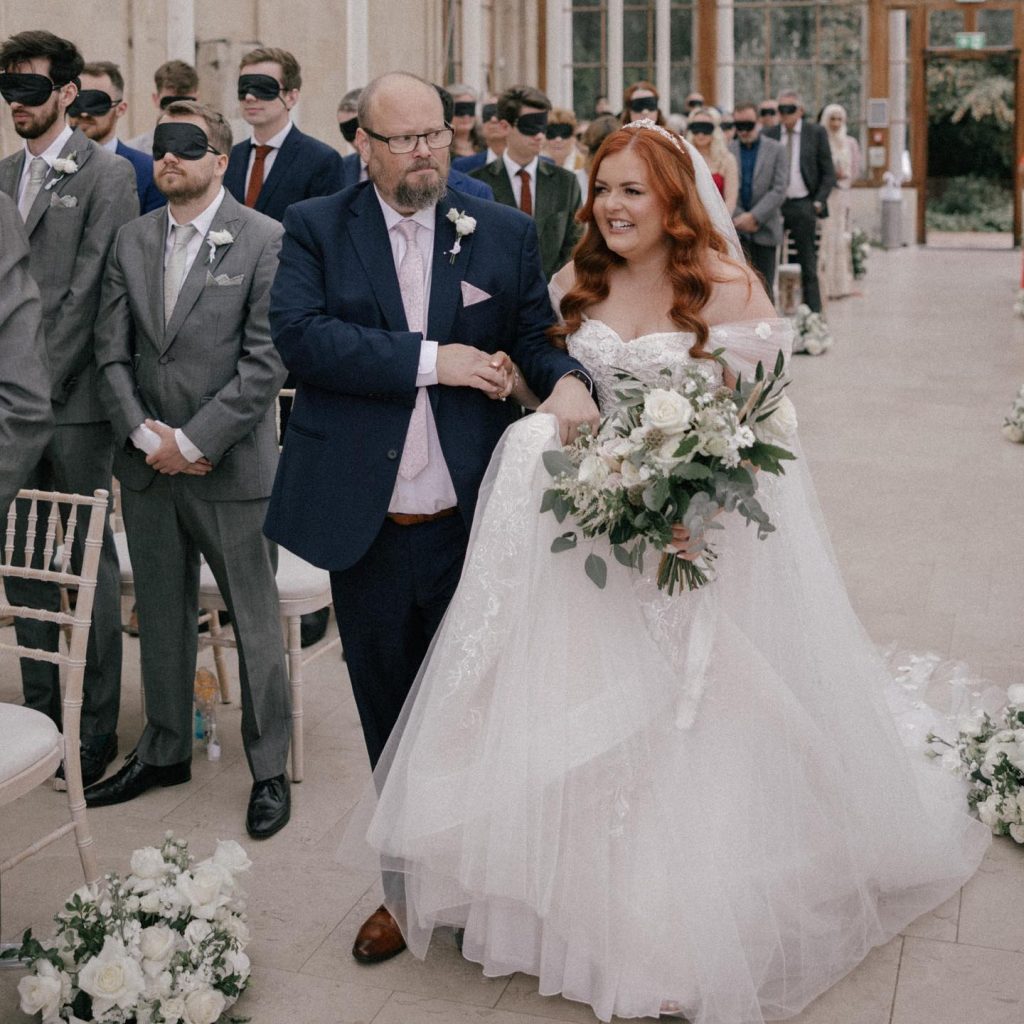 Lucy Edwards, a TikTok sensation who happens to be blind, gave us a wedding to remember. The unique twist? Everyone at the ceremony wore blindfolds. They said their "I-Do's" at the dreamy conservatory at Kew Gardens, London.
The "FBFW Highlight" was the powerful message of love and unity that transcended sight. It's a beautiful reminder that love knows no boundaries, and every love story is uniquely special.
So, there you have it, the celebrity weddings of 2022/2023 that are sure to inspire you and your partner on your own journey to your wedding day. Remember, your wedding should reflect your love and style, and these A-listers have shown us that there are countless ways to make your special day unforgettable.
Cheers to love, laughter, and a lifetime of happily ever after!