2024 Wedding Trends
NB: To help you browse our best suggestions we have included some third party links. Some purchases made through these links may earn us a commission to help keep our blogs and offers current and up to date. Thanks for your support!
---
If you're gearing up for the wedding of a lifetime, think of us as your trusty sidekick! Bringing you the inside scoop on the hottest wedding trends, that'll make your special day the biggest thing spoken about for years to come. We're talking about wedding trends that are as fun as a confetti cannon and as stylish as a tailored tuxedo.
So, grab a glass of bubbly (because we're all about the celebrations here) and let's dive into these 2024 wedding trends that'll make your wedding an epic and unforgettable moment!
Wedding Website: Your Love Story HQ
Keep wedding planning stress-free with a wedding website that's like your love story's HQ. RSVPs, details, and all the 411 your guests need, will be right at their fingertips. Much like the traditional stationery for your big day, the aesthetic of this website will allude to the vibe of your wedding, so keep it on brand with your colours, fonts etc.
It really is the perfect way to stay connected and organised from the start, great for you and your guests. (No more frantic phone calls from Aunt Susan asking for directions to the venue!)
Wedding Newspaper: Read All About It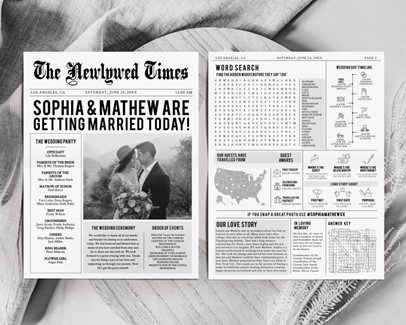 A HUGE wedding trend right now, and we are just loving it! The Wedding Newspaper.
Share your love story in style with a wedding newspaper. It's not just an itinerary; it's a whole experience! Get creative with the order of the day, throw in a few games, and tell your tale in the most unique way possible.
QR Photo Upload: Snap and Share the Love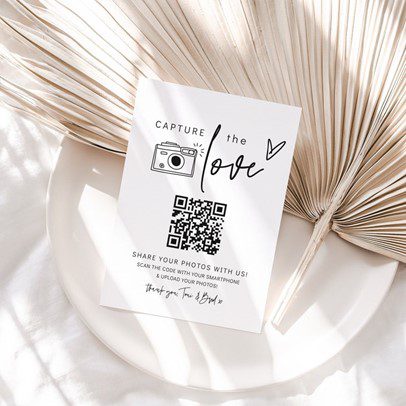 Capture every hilarious, tearful, and joyous moment with a QR photo upload system. Your guests can snap away on their phones and instantly share those pics. It's like having a thousand photographers at your wedding!
Audio Guestbook: Leave Your Voices, Not Just Your Names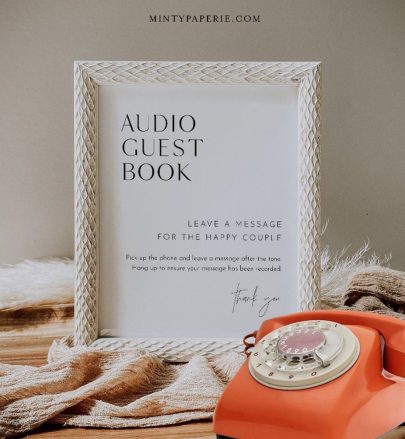 Say goodbye to written guestbooks. Instead, let your guests leave heartfelt audio messages on a phone. From funny anecdotes to heartfelt wishes, it's a keepsake you'll treasure forever.
Wedding Dress and Pearls: Dive into Elegance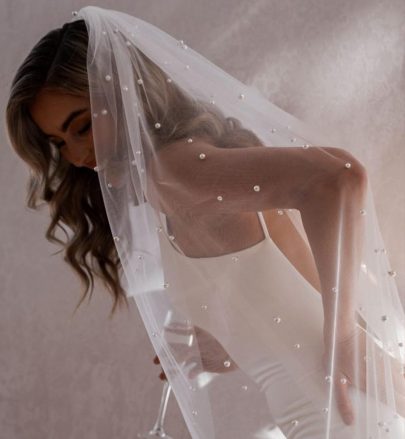 In 2024, pearls are the must-have accessory for brides and is one of the newest wedding dress trends. From adorned bodices to tulle sleeves with these gems all over. It's a romantic and chic combination that'll make you feel like a true princess. Oh, and don't forget the veil!
So, whether you choose pearls on your gown, on your veil, or even in your hair! You'll be a vision of elegance on your special day.
R&B Grooves for Your Wedding Moves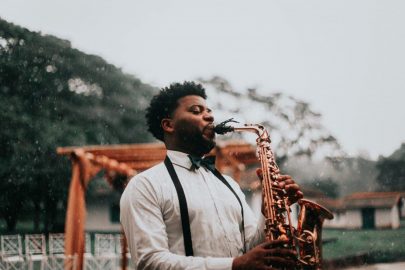 Are you and your partner R&B enthusiasts? Why not set the mood with a live saxophonist or a string quartet, serenading you with sultry tunes from artists like Drake, Rihanna, and Queen Bey herself?
Get ready to sway down the aisle and elevate your guest experience with these R&B renditions throughout your wedding day.
Cascading Florals: Drama, Darling!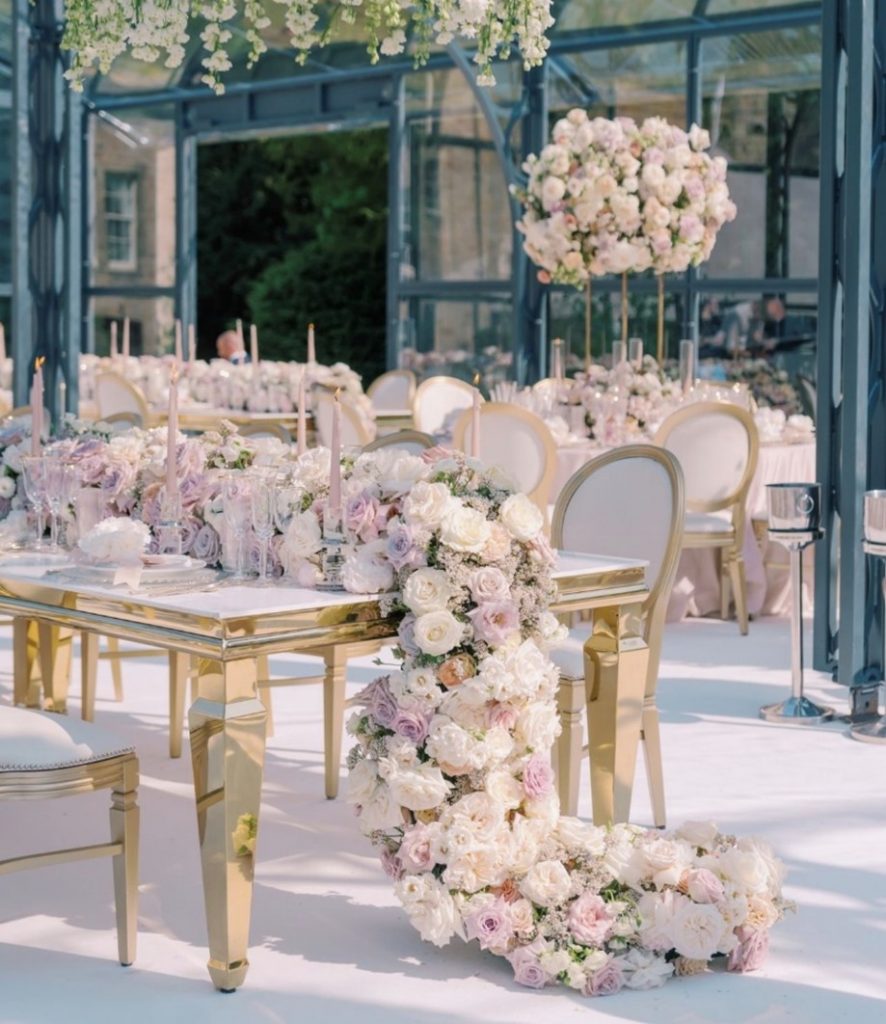 We're all about drama at weddings, but the good kind! Picture this: your reception tables decked out with an explosion of flowers. They cascade down the tables, flowing like a floral waterfall. It's like dining in a secret garden and makes for the most breathtaking wedding decor.
Arches & Chandeliers: Romance in the Air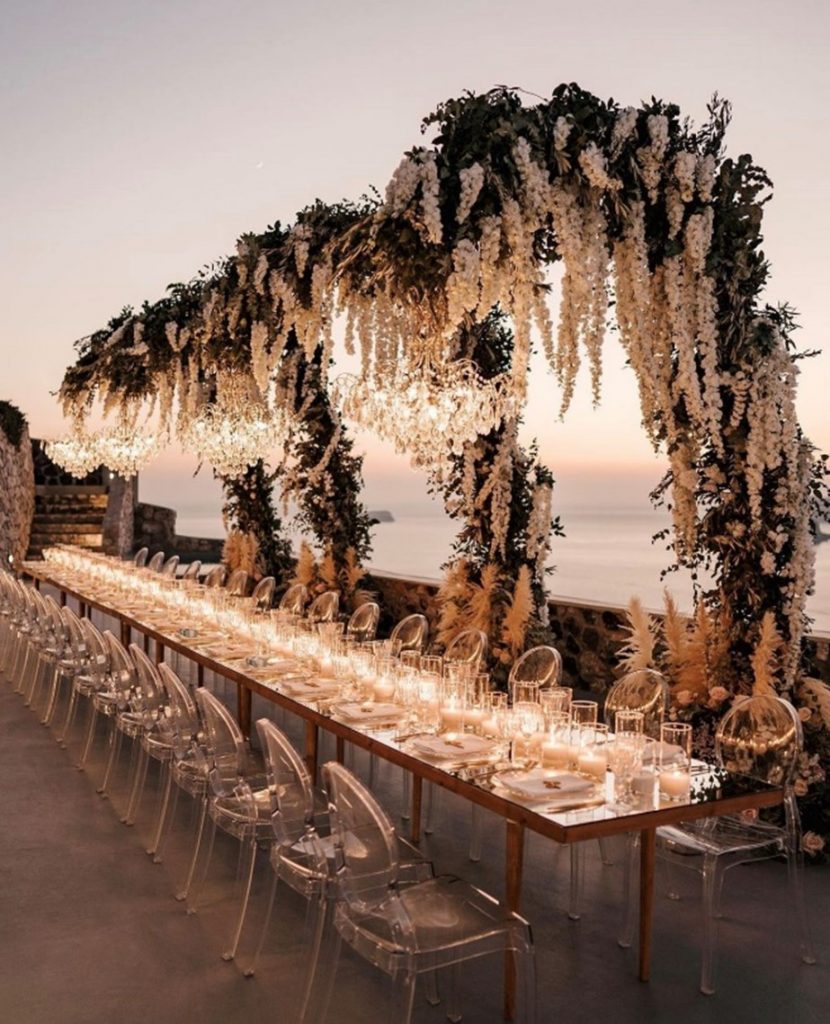 For cosy and intimate or destination nuptials we have just the wedding trend! Imagine your tables framed above with half flower arches, complete with chandeliers overhead, perfect for those "love is in the air" vibes.
Content Creator: Lights, Camera, Love!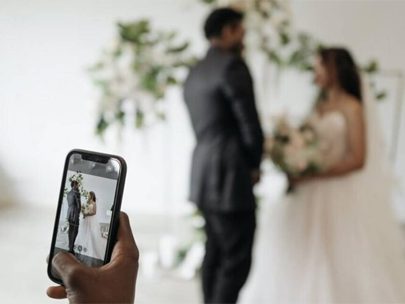 In the era of influencers, why not have a content creator at your wedding? They'll capture those candid moments and create killer videos, TikToks, and reels that will keep the memories alive long after the confetti has settled.
Ring for Bubbles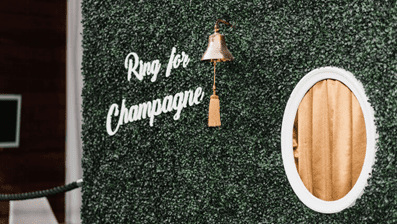 Another trend taking centre stage of the wedding world is the new 'Ring for Champagne' concept.
A flower or foliage wall. Your guests ring a bell, and suddenly, a mysterious hand appears, offering them a glass of champagne! It's like a magic trick that'll leave wedding guests in awe and with a bubbly smile.
Sip and Solve Games: Cheers to Fun Times
Keep the party spirit alive with sip and solve games at your drink's reception. Think couple's crossword puzzles and more! It's a fabulous way to break the ice and keep the laughter flowing.
Champagne Towers: Skip the Cake, Pop the Bubbles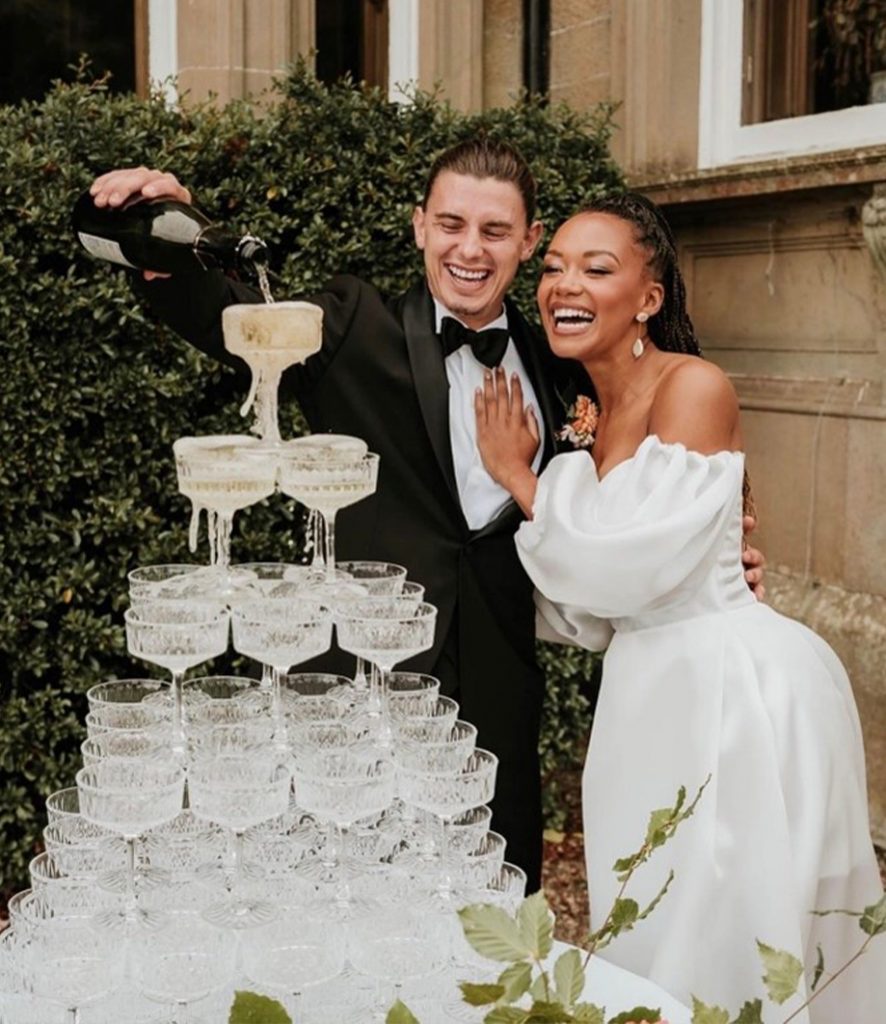 Ditch the traditional cake-cutting ceremony and go for a jaw-dropping champagne tower. Pour champagne into stacked glasses, and watch the bubbles rise like a liquid symphony. It's Insta-worthy and delicious!
Champagne Spray: Make a Splash!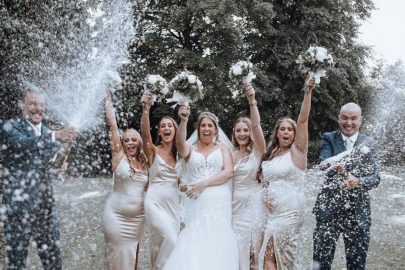 Want the ultimate picture-perfect moment? How about a champagne shower that'll have you feeling like a rockstar? It's like a Hollywood movie scene come to life, and it's the perfect way to toast to your happily ever after.
So, there you have it. Your big day is about to get a whole lot more exciting with these 2024 wedding trends that are as fun as a dance-off and as trendy as a viral TikTok challenge.
Remember, we are your go-to source for all things wedding-related, so keep the inspiration flowing, and let's make your wedding day the party of the century.
Cheers to love, laughter, and champagne showers!
The top trends taking the wedding world by storm in 2024!