Wedding Dress Trends for 2024
NB: To help you browse our best suggestions we have included some third party links. Some purchases made through these links may earn us a commission to help keep our blogs and offers current and up to date. Thanks for your support!
---
Whether you've been envisioning your wedding day since you were a little dot or you've only recently found your perfect match, one thing is for sure: your wedding dress is the star of the show. Imagine the feeling of stepping into that dress, of walking down the aisle with all eyes on you, and of dancing the night away in a fit that makes you feel like the truest version of yourself.
We understand that finding the right dress is about more than just fabric and frills – it's about expressing your unique love story, capturing your personal style, and embracing a look that'll leave your guests utterly mesmerised.
From unconventional choices that'll make your heart race to classic elements with a modern twist, these trends are tailor-made for the modern bride who's ready to embrace every moment of her special day. Without further ado, let's explore the wedding dress trends that are set to take 2024 by storm – because your love story deserves nothing less than the most unforgettable fashion-forward celebration!
Pearls of Perfection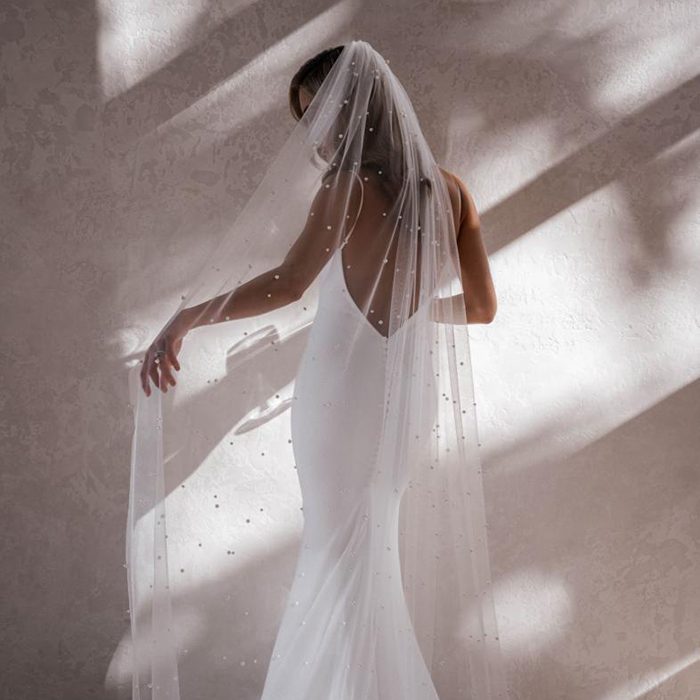 https://www.madewithlovebridal.com/shop/veils-accessories
Pearls aren't just for your grandma's jewellery box anymore – they're making a grand entrance into bridal fashion. From pearl-studded veils that cascade like shimmering waterfalls to gowns adorned with these lustrous gems, you'll be the embodiment of timeless elegance with a modern twist.
Lacy Love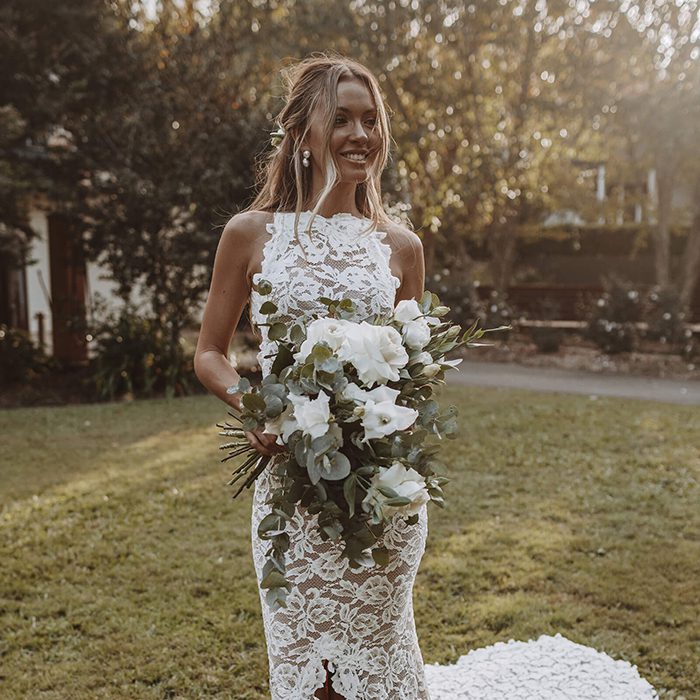 https://graceloveslace.co.uk/products/alexandra-custom
For those craving a touch of vintage romance, lace necklines are stealing the show. Picture delicate lace draping your décolletage, adding a touch of softness and sophistication to your bridal look. It's like a soft hug from your dress!
Jumpsuits of Joy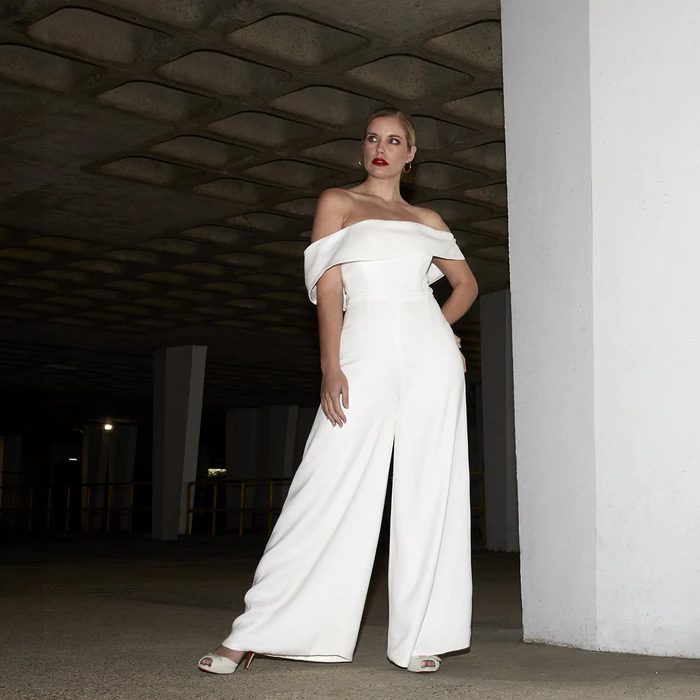 https://rockthefrockbridal.co.uk/products/laura-jumpsuit
Move over traditional wedding dresses, because jumpsuits are taking centre stage! Picture yourself strutting down the aisle in a chic and comfortable jumpsuit that's equal parts classy and sassy. It's like the best of both worlds, and you'll have room to dance the night away without worrying about tripping over layers of fabric.
Tailored Elegance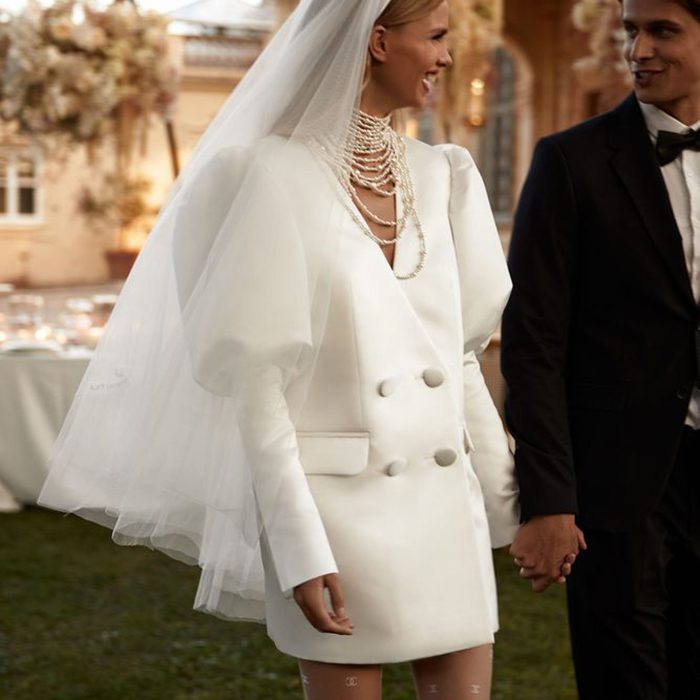 https://millanova.com/dress/katie
If suits are more your vibe, why not rock a tailored suit with a dash of bridal magic? Opt for a full three-piece or double breasted fit with lace undergarments.
Imagine a white blazer dress that exudes boss babe energy while still featuring those delicate lace touches or dreamy tulle accents. You'll command the spotlight while embracing your inner fashionista. Paired with some show stopping heels? Perfection!
A Dash of Avant-Garde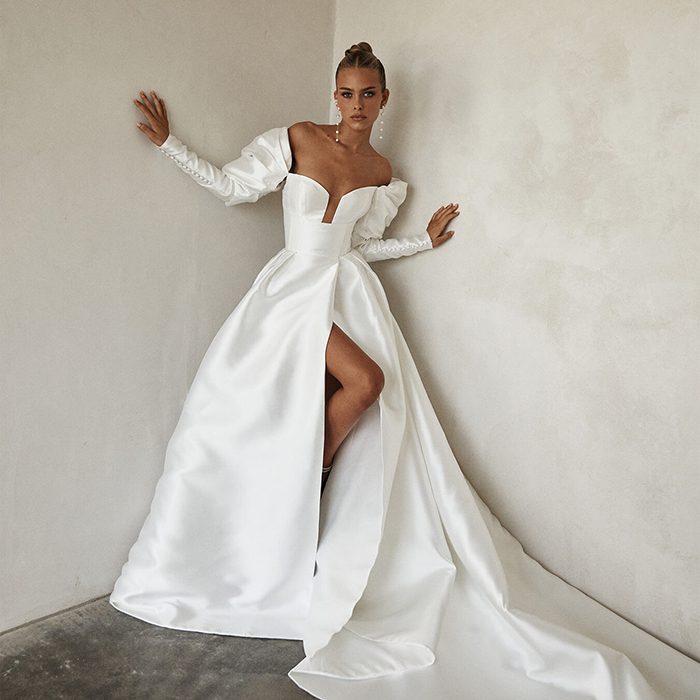 https://laceandgracebridal.co.uk/collections/jane-hill/
If you're the kind of bride who dreams in bold, vibrant strokes, then the avant-garde and modern structural designs are your jam. Think unexpected shapes, bold silhouettes, and a dash of artistic flair, straight off the bridal fashion week runway.
Tulle-Sleeved
Floral Whispers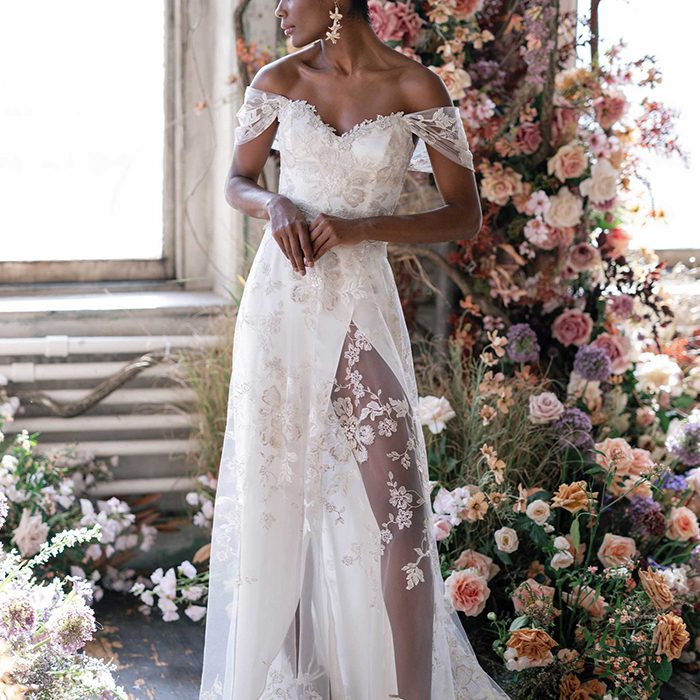 www.clairepettibone.com/products/morganite-gown
Floral design dresses are blooming all over the wedding scene. Floral lace is a huge hit and also imagine a gown adorned with intricate and colourful floral patterns, as if you're strolling through a secret garden. It's a perfect way to infuse a touch of nature into your celebration.
Embrace the Dark Side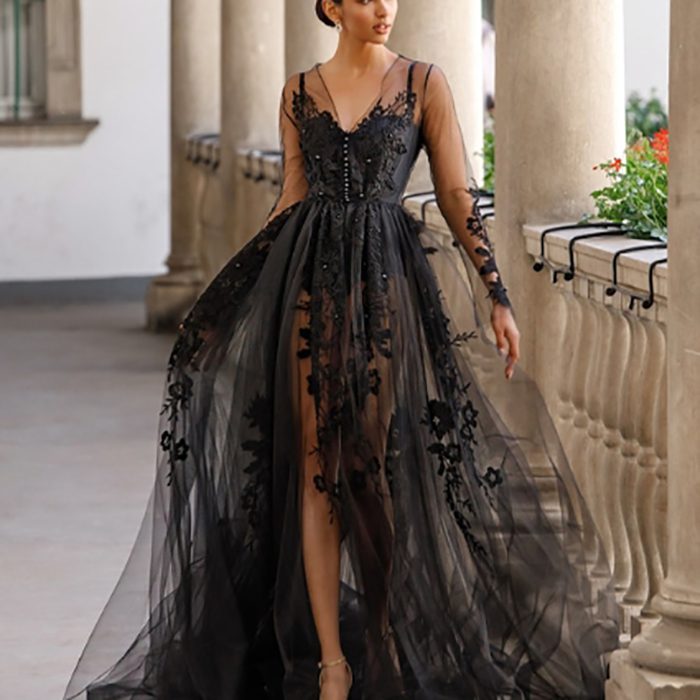 Masculine Magic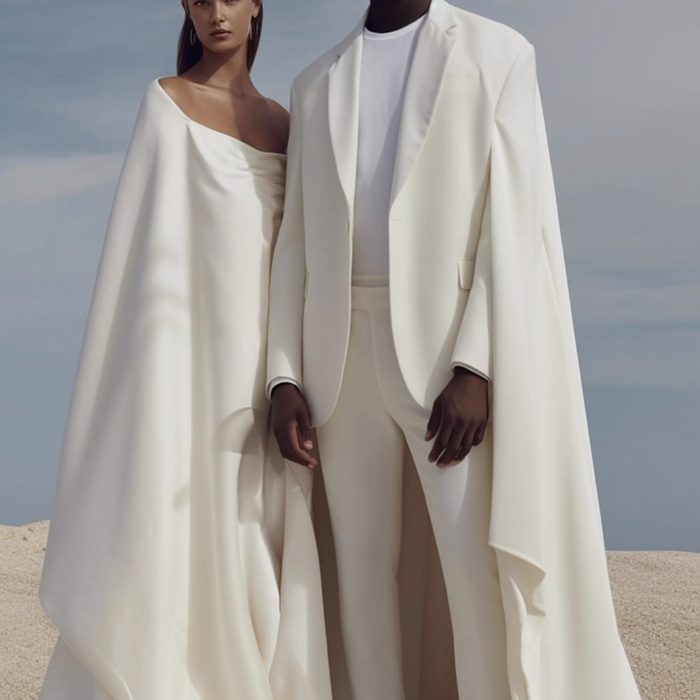 AI Generated Fashion Line by @brik.work on Instagram www.instagram.com/brik.work/
This one is for the guys. Picture this: a three-piece suit with a train! From extra volume and A-line fitting to a soft cape style, grooms are bringing their A-game to the fashion forefront. It's all about embracing the elegance and drama of a dress style, all while keeping that masculine charm intact.
Celebrity-Inspired Glam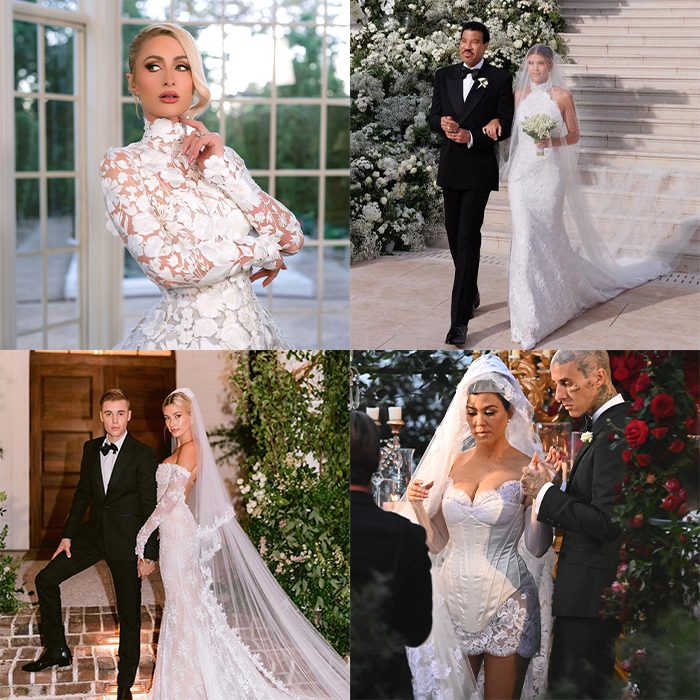 Let's not forget the swoon-worthy celebrity weddings that give us major heart eyes. Take cues from recent A-list weddings – whether it's the simplicity of a royal-inspired gown or the jaw-dropping looks from our favourite stars. Take inspo from the likes of Paris Hilton, Hailey Bieber and Sofia Richie, who all adorned breath taking bridal looks, to Kourtney Kardashian who went super edgy with a short, full lace, Dolce and Gabbana hand crafted piece of art!
There you have it – a sneak peek into the world of wedding dress trends for 2024. Whether you're a jumpsuit enthusiast, a modern art lover, or a romantic at heart, these trends will make your special day even more unforgettable. Remember, it's all about expressing your unique love story through your one-of-a-kind bridal style. Happy shopping, and may your wedding day be as fabulous as you are!
If you want a bucket load more of dress inspiration, click here!
P.S. If you're on the hunt for your dream wedding venue and suppliers, don't forget to check out our website – we're the matchmakers for all your wedding dreams!