How To Pick A Wedding Dress
Author: Hollie Bond
NB: To help you browse our best suggestions we have included some third party links. Some purchases made through these links may earn us a commission to help keep our blogs and offers current and up to date. Thanks for your support!
---
Choosing your dream wedding dress can be trickier than you might think. Read our guide to making this special shopping experience as magical and successful as possible.
It's the part of wedding planning that most brides look forward to more than anything – trying on wedding dresses. But before you throw yourself head first into the first rail of tulle skirts you set eyes on, it's important to think practically about the wedding dress shopping experience to make sure it's not stressful or overwhelming. Finding 'the one' isn't always as easy as stepping into a beautiful dress and watching your bridesmaids or mum well up with tears of joy! While some brides just know when they've found their dress, the vast majority don't and with so many beautiful wedding dresses to choose from, it can soon turn from a pleasurable wedding planning task to a confusion of silk, satin and sashes.
Before you even think about booking your first boutique appointment, read our comprehensive guide to wedding dress shopping, covering everything from the best dress styles for your body shape and what all the terminology means to what underwear to wear and questions to ask your bridal consultant.
Work Out Your Wedding Dress Budget
There's no point looking at any dresses until you know how much of your wedding budget you have to spend on a gown. Just imagine falling in love with a certain designer or style only to discover further down the line that the dress of your dreams in several thousands of pounds over budget. Come up with a realistic price range and make sure you only look at dresses or visit boutiques that stock dresses you can afford.
Don't feel disillusioned if you don't have a big budget for your perfect wedding dress. Fortunately there are plenty of divine dresses on the high street for well under a thousand pounds. You can call boutiques to ask the sort of price range they stock or look online to find out the average price that different dress designers you like charge. If you really have one designer in mind that you want to get married in but can't afford, consider looking at pre-loved dresses or waiting for a boutique to hold a sample sale.
Remember The Dress Isn't The Whole Outfit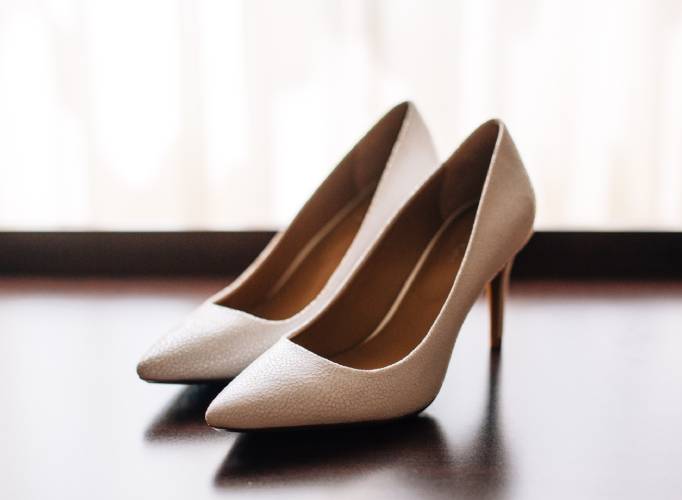 Make sure you set two separate budgets and have these on your wedding budget checklist, one for your accessories, and one specifically for the dress. You will have to factor in shoes, jewellery, veils and underwear to your overall dress shopping budget. So don't spend every last penny on the dress and then have no money to make it truly magical with all the accessories that turn you into a bride on the day.
Do Your Wedding Dress Research
Wedding dresses come in all sorts of shapes, designs and even colours so it's really important to do some research before you hit the shops. Spend some time on Pinterest, wedding websites and reading magazines and save pictures of your favourite dresses.
Be realistic about which pictures you save as your favourites. There's no point choosing lots of lovely petite styles, if you are really tall or falling for princess dresses with huge skirts if you're having a destination wedding on a hot beach. Look at your body shape and look into what styles and shapes flatter your particular body and then focus your search on these styles.
If you're a plus-size bride you'll need to look into boutiques, designers and brands that stock your size. Unfortunately, because bridal shops only stock sample sizes of each dress for brides to try on, curvy brides can't just simply walk in off the street and expect to have lots of dresses to try on. For a much more enjoyable experience, it's best to head to a specialist shop, where you'll find lots of gorgeous gowns in your size to try on.
Also, every bride should remember that bridal sizes come up small so you may end up needing a dress that is a larger size than you'd buy normally. Don't let this dishearten you – it's just a quirk of bridal sizing. Also don't choose a dress that is a size too small and tell yourself you're going to lose weight before the wedding. That's putting a lot of unnecessary pressure on yourself and might end up in you wearing a dress that doesn't fit on the day.
Get Clued Up On Wedding Dress Lingo
Fit and flare, fish tail, ball gown, A line, empire, illusion neck line and silk mikado all sound like words from a foreign language to you? Then make sure you look up all the different terms and meanings of words associated with wedding dresses and the fabric they are made from before you book your appointments. A bridal shop assistant will of course be able to tell you what everything means, but it can't hurt to have a bit of knowledge up your lace 3/4 length sleeve! It'll also really help your shopping trips go smoothly if you're able to tell the assistant from the off that you really like Chantilly lace ball gown dresses with illusion necklines for example. There's plenty of sources of wedding dress inspiration, just get searching!
Think About Your Personal Style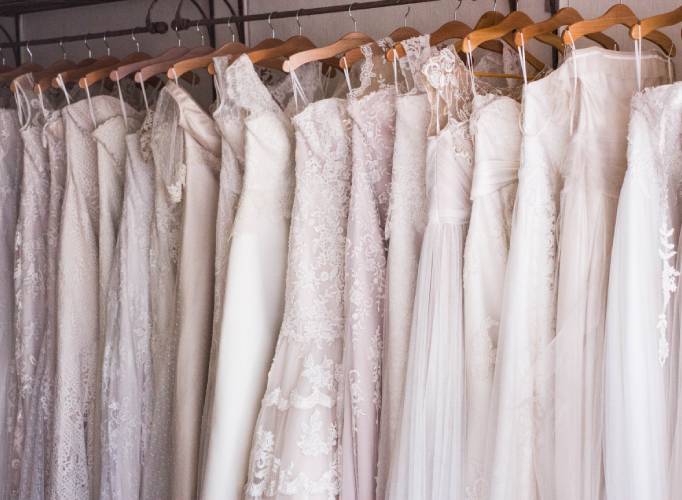 As well as thinking about your body shape you need to stay true to your usual style and look like yourself on the day. If you choose something completely different to what you usually wear, you'll probably end up feeling uncomfortable. So, if you normally like loose floaty clothes, choosing a really tight fitting fishtail gown might feel glamorous at first but you might end up feeling like an imposter.
Look at dresses you've worn to smart events and that you've felt amazing in and then see if there are any wedding dress styles that are similar. If you're unsure what your personal style is, ask friends and family what words they'd use to describe your fashion sense – boho, elegant, sophisticated, laid-back etc.
Consider The Style Of Your Wedding
The last thing you need to think about before you start actually trying on dresses is the style of your wedding. Are you getting married in a barn? Then you might want to consider a more rustic looking style. A city wedding in a chic hotel would be perfectly suited to a slim fit satin number. Having a barefoot beach wedding? Then you'll want something lightweight, floaty and a bit more boho perhaps? Be sure to think about the season too. You don't want to shiver your way through a December wedding or sweat in a heavy dress at a summer wedding.
However, there are no rules saying you have to choose a dress that matches the setting. So if you really fall in love with something that isn't a 'traditional' look for the setting, then don't let anyone tell you not to buy it. Just remember the practicalities of wearing your dress at your particular venue.
Start Searching As Soon As Possible
Every engagement length is different, but if you have time on your hands then it's really good to start the actual search for your dress at least nine months in advance. This gives you time to visit several boutiques and gives you the freedom to order a made to measure or custom made dress that can take weeks or even months to make. It also allows you enough time for any alterations that you might need to have made once the dress arrives. Your body might change a lot over a year so most brides do require at least some small alternations in the final weeks.
Don't panic if you've got less time and are having a quick engagement. You just need to adjust your search to focus on dresses that don't take months to be made. We're talking sample sales in bridal boutiques and high street stockists.
Choose Your Shopping Entourage Carefully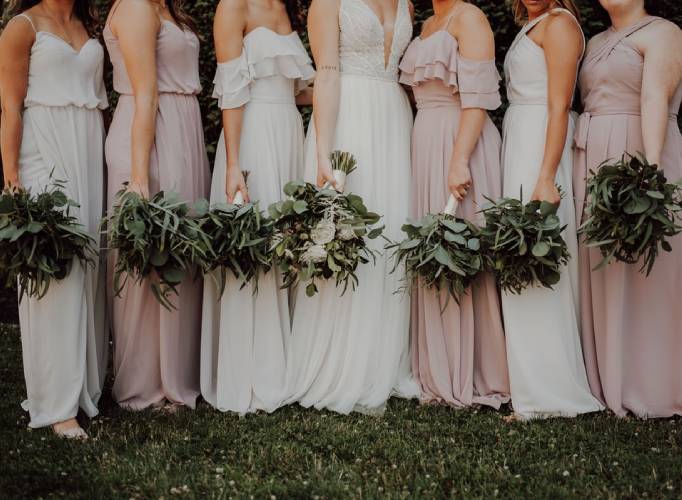 There's no denying your friends and family will be just as excited as you are at the prospect of seeing you in a wedding dress for the first time. However, before you invite 12 of your besties to your bridal appointments, remember the more people you bring along, the more conflicting opinions you're likely to have and that can result in complete confusion and make the experience stressful for you. Imagine your disappointment if you fall in love with a dress, only for half your friends to say they love it and the other half to disagree.
Also, some shops won't be large enough or allow huge groups of people to each appointment, so make sure to check when you make your appointment how many people they allow. When it comes to choosing your entourage, only select people you really trust and whose opinion you'll really value. A lot of brides choose to take their mum or a female relative as well as their maid of honour. But again, there's no rule that says you can't take a male friend if you prefer.
Don't Try On Too Many Wedding Dresses
As well as keeping your entourage on the smaller side of life, you'll want to keep the number of dresses you try on to a minimum as well. This might sound counter-intuitive as surely the more dresses you try on the more likely you are to find the one? But actually the more you try on the more confused you'll get, as wedding dresses are designed to be beautiful, so chances are you'll like lots of them. By only trying on the shortlist of dresses you were originally attracted to in the boutique at first you'll have a much clearer idea of the styles you like and don't.
Anything from four to eight dresses in each boutique is plenty. And this should include a selection of your favourite styles as well as one that you like but perhaps had never considered before. Often the bridal consultant will be able to help you pick this wild card option as they will know what will suit your body shape and what other brides like you might have fallen unexpectedly in love with before.
Remember, despite what you see on TV, how much you love a dress isn't measured by how much you cry. So don't just keep trying on dress after dress, waiting for the tears! Not everyone will cry when they find their perfect dress.
Wear The Right Underwear
For starters you'll be getting undressed in front of a total stranger in the bridal boutique so you need to feel comfortable and not be embarrassed by your greying old comfy Bridget Jones-style knickers and bra. Also remember that in slinkier, satin or tight-fitting dresses your underwear may show through and there's no way you'll get a good feel for a dress if your black knickers are visible. Invest in some seamless, nude coloured, supportive underwear before you go for the appointment to give you a good idea of what a dress could look like on the day.
Make Sure You Feel Comfortable In Each Dress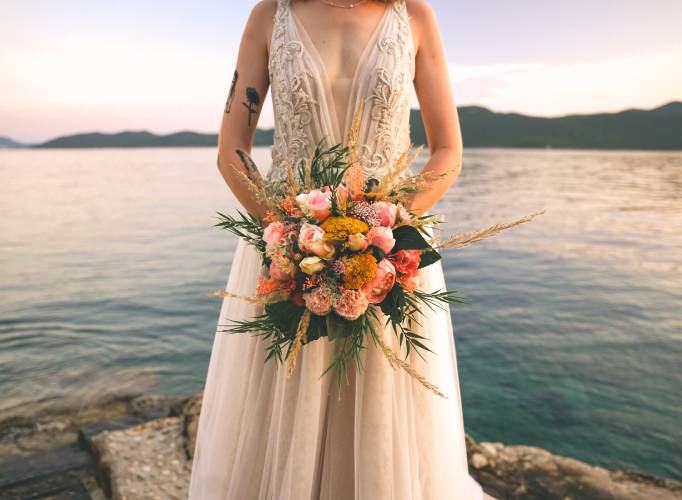 So you might feel like a movie star in a stunning sequin-covered fish tail dress as you stand admiring yourself in the mirror of the boutique, but have you thought about how you'll feel moving around on the wedding day and dancing in this dress? Will the sequins rub your arms raw after a couple of hours, will you have to do pigeon steps all day to just get around? It's important that you feel comfortable wearing your chosen gown in a number of different situations, not just when you're standing there like a mannequin.
When you're in the shop try sitting down in your dress, walking in it, dancing in it and any other types of movements you can expect to do on the day. If there are any movements that are impossible or make you feel awkward ask the shop assistant if there are any alterations they can make to help. For example, a ball gown with a huge skirt and long train might make dancing difficult, but a bustle can be fitted to help make it easier. Spend some time thinking about how the dress makes you feel in these different situations. You don't want key points in the day to be ruined by your dress feeling too tight or uncomfortable – walking down the aisle, dancing and posing for photos should all feel completely natural and relaxed.
Think About Your Dress (But Not For Too Long!)
So you've found 'The One' or at least you think you have. Before you whip out the credit card in a fit of champagne-fuelled excitement, take some time to think about it. You can leave the shop and tell them you're likely to be back for the dress, but as it's a big investment you need to think about it. If once you get home you can't stop thinking about the dress, then chances are it's the perfect wedding dress for you. If it's not, you'll remember any little niggles you had about it and realise the search isn't over. Don't spend weeks deliberating though. We can all convince ourselves that something isn't perfect if we spend a lot of time away from it.
You might think that taking pictures of you in the dress at the appointment will help you decide. A word of warning though… how you look on a normal day without your hair and make up done in a sample dress that probably isn't a very good fit, isn't an accurate indication of how you'll look on the wedding day. It's more about how you felt as you slipped into the dress as you tried it on in the boutique. Also, some wedding dress boutiques don't allow photos to be taken, so check this before you get snap happy.
Stop Looking Once You've Found Your Perfect Wedding Dress
So you've made your decision – congratulations! Now it's really important that you tick wedding dress shopping off your to-do list. If you continue to search online for dresses and scroll through instagram every night looking at gowns you're going to drive yourself mad. You need to make peace with the fact that you have found 'The One' and know that you're 100% happy with it. By continuing to look at other dresses, you're likely to see other styles that you think are nicer than what you've chosen and forget how amazing your dress makes you feel.