The Best Black Wedding Dresses On The High Street
Published date: 21st September 2020 | Author: Hollie Bond
NB: To help you browse our best suggestions we have included some third party links. Some purchases made through these links may earn us a commission to help keep our blogs and offers current and up to date. Thanks for your support!
---
There's no rule to say you have to wear white on your wedding day. We've rounded up the best black wedding dresses on the high street that are guaranteed to wow your guests as you take to the aisle.
Black wedding dresses are having a bit of a moment. Ever since reality star Christine Quinn from popular Netflix show Selling Sunset made her dramatic entrance in a show-stopping Galia Lahav black lace and tulle gown, there's been a new found appreciation for wedding dresses with black details or dresses that are black from bodice to train.
The good news is that you don't have to part with the $50,000 that Christine reputedly paid for her designer gowns. There are plenty of stunning black wedding dress options on the high street that will make just as much of an impact on your wedding day but cost a lot less.
Remember to look at occasionwear brands too, as even if they don't market a black dress specifically as a wedding dress, there's no reason you can't wear it on your big day. Just add a veil, some bridal accessories or jewellery, and a bouquet of beautiful flowers… and voilà, you're an instant bride.
If you're thinking of wearing a black wedding dress, don't let anyone put you off. You have to do what you want on your wedding day after all. It's certainly not bad luck to wear a black wedding dress either. In fact, white wedding dresses only became the fashion after Queen Victoria wore a white gown back in 1840 at her marriage to Prince Albert, it's one of the many wedding superstitions.
There are many reasons brides choose to wear a colour other than white. You might not be a traditional bride and it's important that you reflect your own style on one of the most important days of you life. Plus, black is a colour that looks fabulous on all skin tones and is slimming and striking, so you'll look and feel your very best if you choose to make a fashion statement in this brilliant colour.
Neve Embellished Gown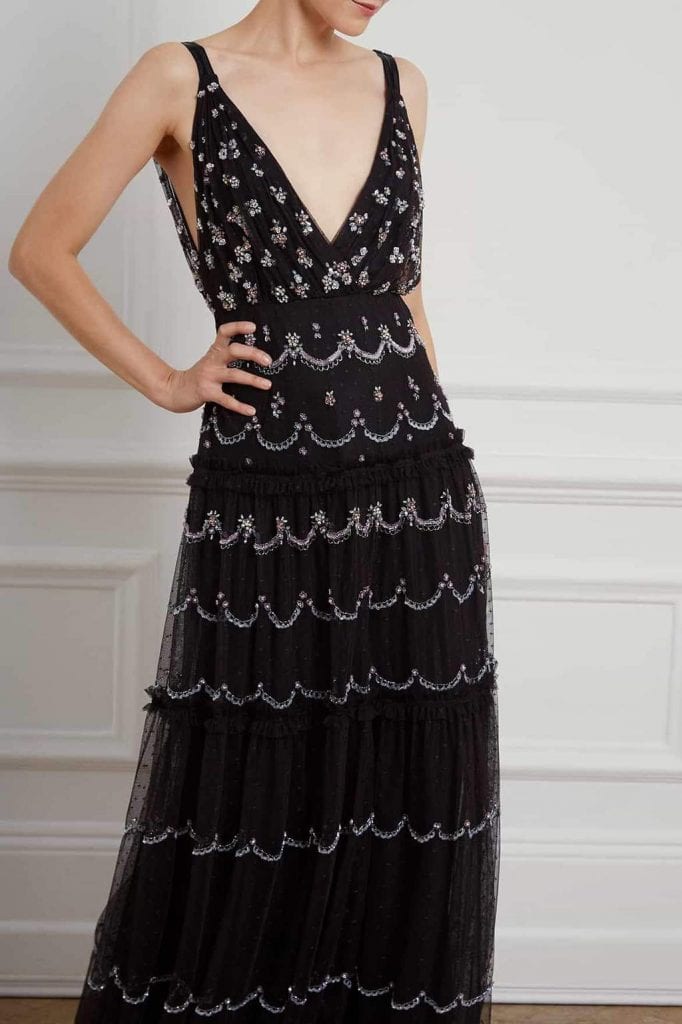 If you love a bit of sparkle then you can't go wrong with this dreamy maxi dress from Needle & Thread. The black background really helps the sequins to stand out, and just imagine how good it'll look under the lights when you're on the dance floor. You'll love the romantic pink floral details and Victorian style scalloping too, which makes this black gown the perfect choice for a wedding dress.
Nikka Dress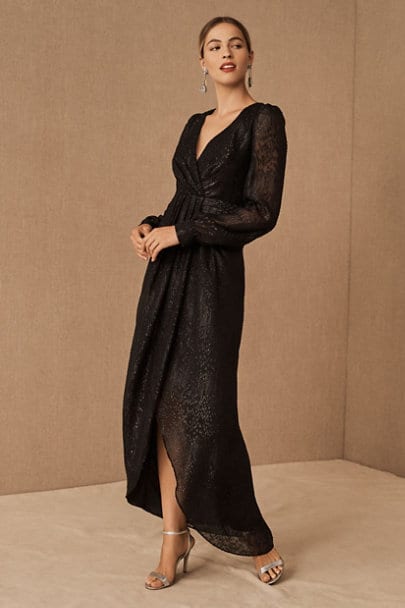 Treat your aisle like a red carpet in this stunning black dress that oozes Hollywood glamour. The silhouette with a ruched design at the front means the style is flattering whatever you body shape and the ankle length skirt is the perfect excuse to splash out on some statement bridal shoes.
Cut Out Maxi Dress With Placement Embroidery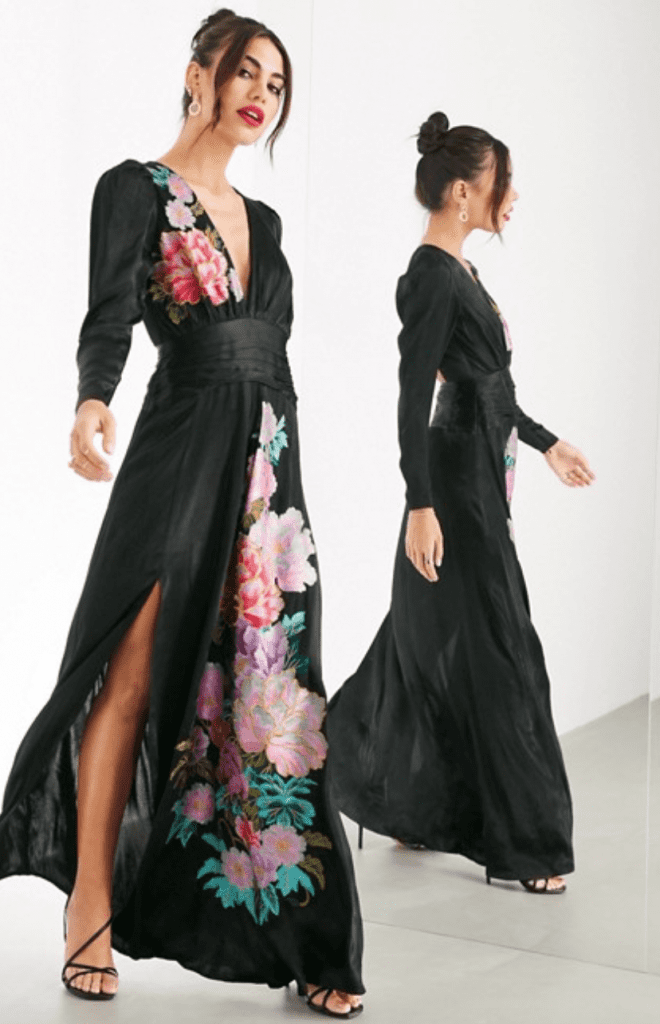 Wear your bouquet on your wedding dress instead of carrying it with this beautiful black maxi from ASOS's premium range. The floral design really stands out against the black material and the cinched-in waist, plus plunging neckline and skirt slit make it a sexy and sophisticated option for a modern bride.
Sia Sequin Maxi Dress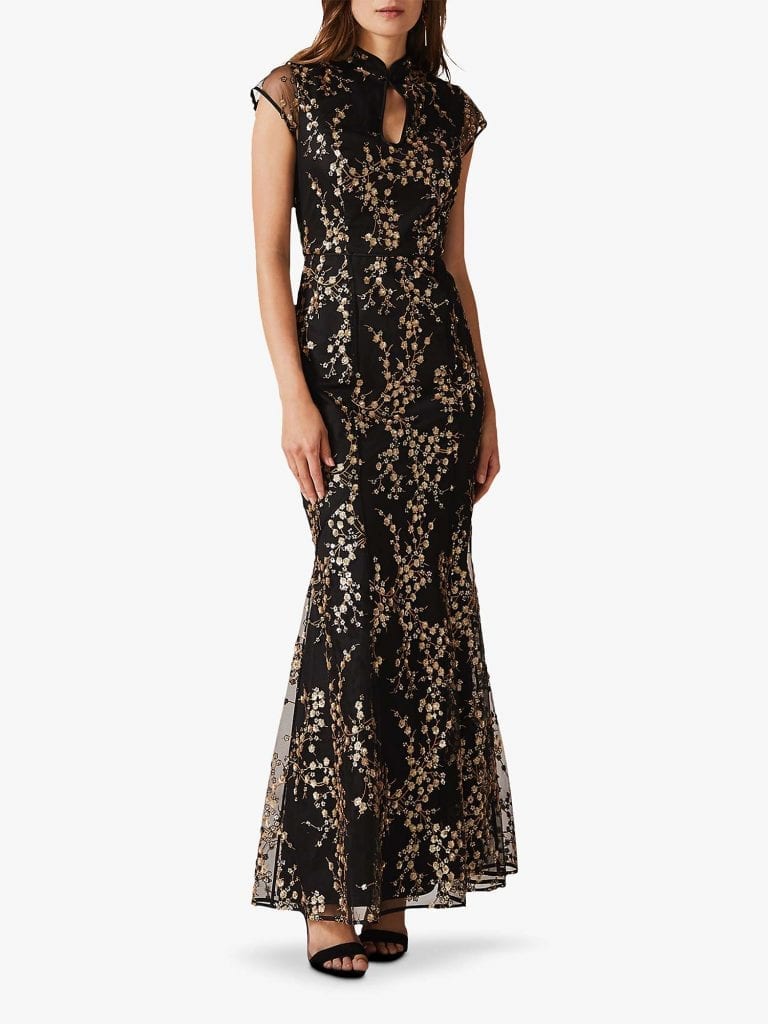 £295, Phase Eight Collection 8
Black and gold has to be one of the most heavenly and celebratory of all the colour combos in the fashion world. This maxi has bridal written all over it thanks to the sequins, statement neckline and delicate cap sleeves.
Raishma Lola Embellished Gown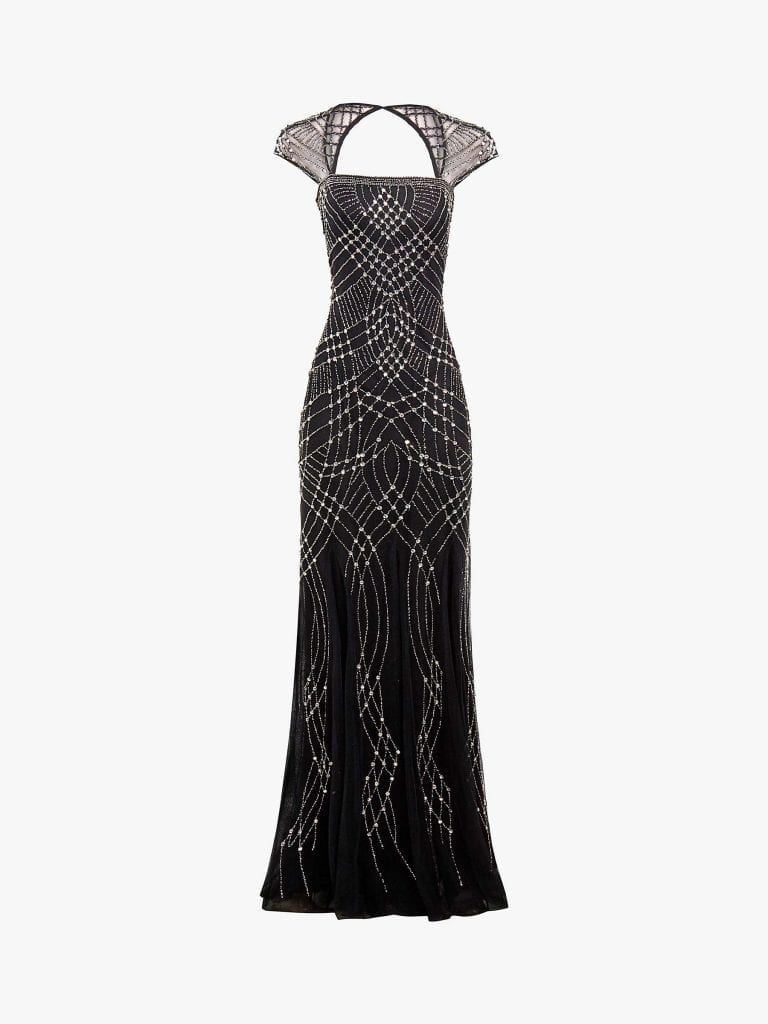 There's a lot to love about this Raishma dress. The square cut out neckline, the embellished Art Deco design and the chic cap sleeves. This gown would look particularly smart at a city wedding or an evening event in the winter months.
Lace Floral Midi Dress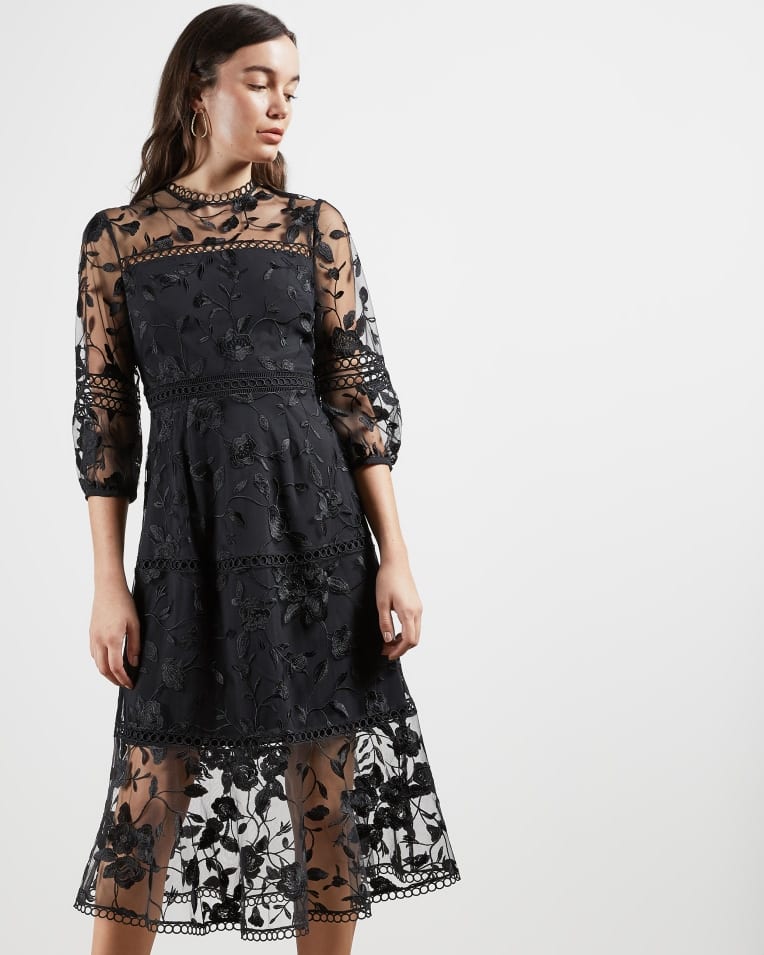 Just because you're wearing a dark colour, doesn't mean you can't embrace other classic wedding looks like lace. This floral lace with a dreamy overlay is wedding day perfection at a laid-back affair. The sleeves are particularly flattering for any brides looking to cover the tops of their arms but still show a little flesh.
Antonia Floral Embellished Maxi Dress In Recycled Fabric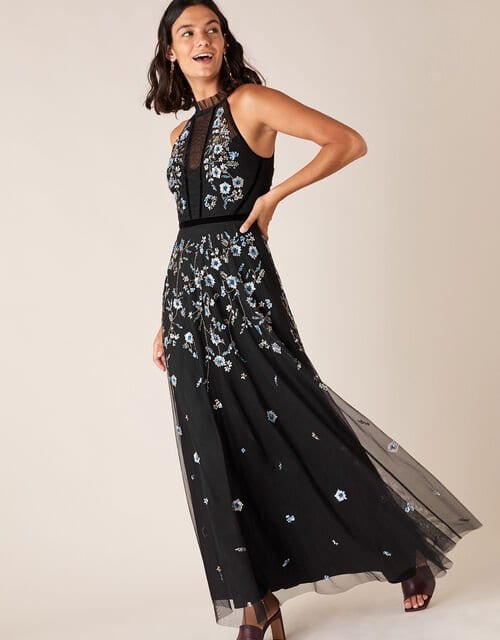 You'll feel fabulous in this beautifully cut dress, because not only is it a gorgeous design with standout details but it is made from recycled materials so you'll be doing your bit for the planet too. The high neck is a fashionable look, plus the floral pattern can be your 'something blue'.
HotSquash Black Maxi Evening Gown With Contrast Sash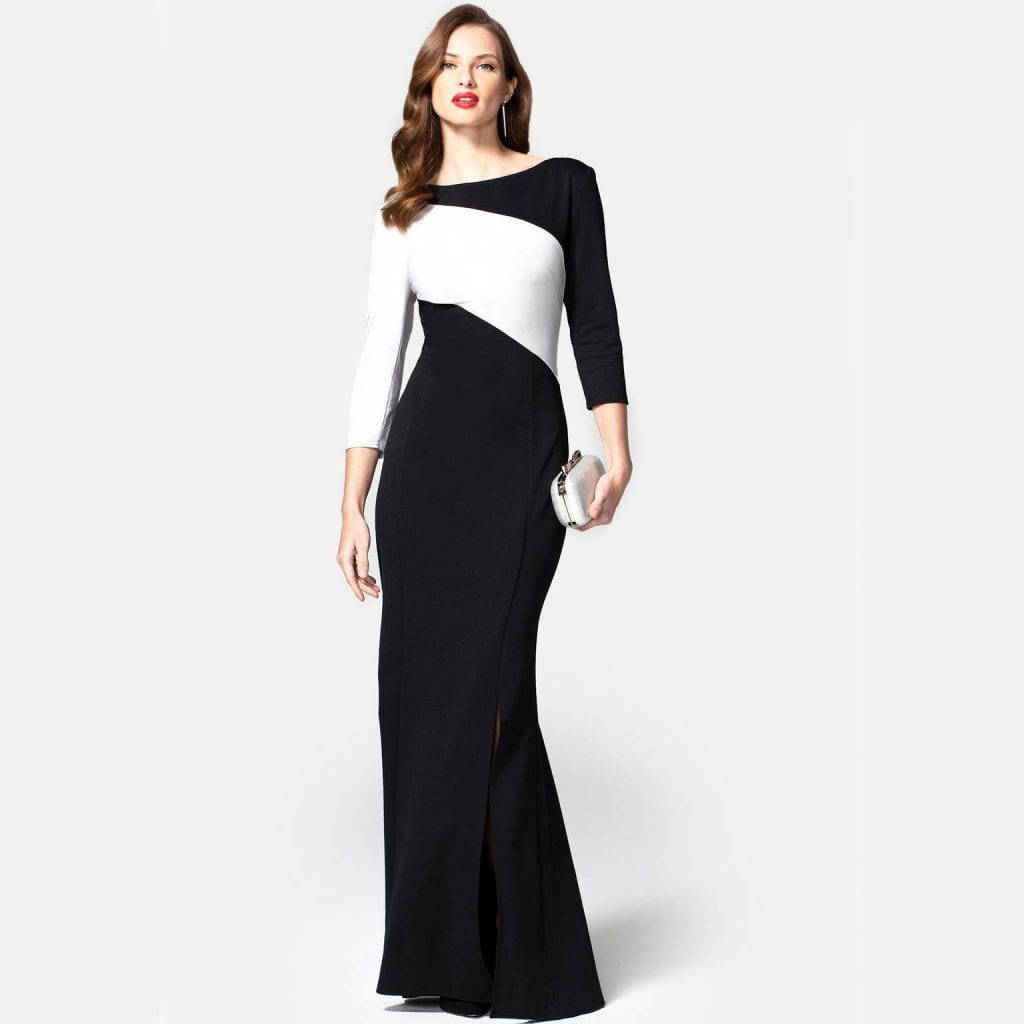 Not quite ready to say goodbye completely to wearing white on your wedding day? How about a bit of both with this figure-hugging black dress with a striking white sash? There's a lovely Hollywood-style slit up the front as well for showing off those special bridal shoes.
Embellished Maxi Dress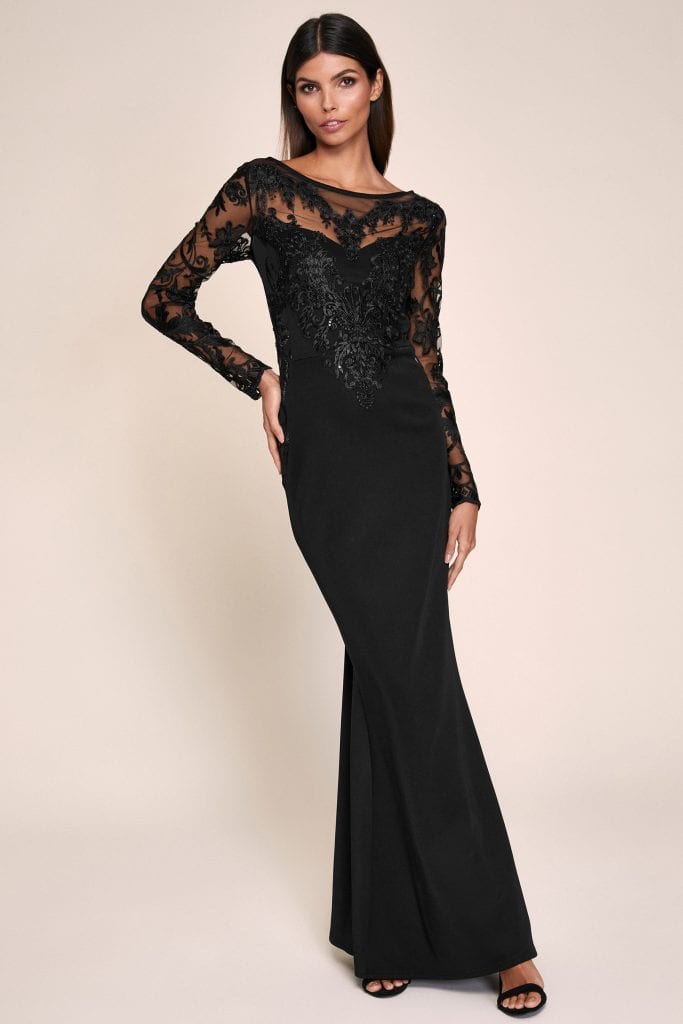 When you're making a statement with an unexpected colour like a black wedding dress, it can be good to keep the design simple to let the colour choice do the talking. This maxi is the perfect option with it's sleek design and delicate lace overlay.
Studio 8 Hazel Maxi Dress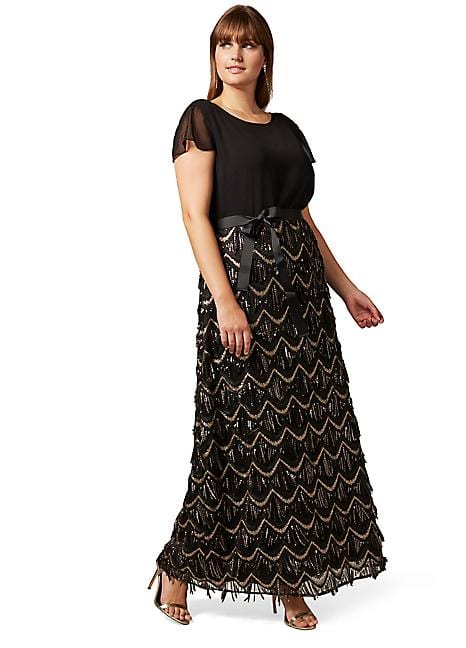 A black wedding dress is a particularly great choice for a plus size bride as it's instantly slimming. This smart gown from Curvissa has a show-stopping skirt that'll delight guests and look fabulous when you're strutting your stuff on the dance floor during the evening party.
Thailia Dress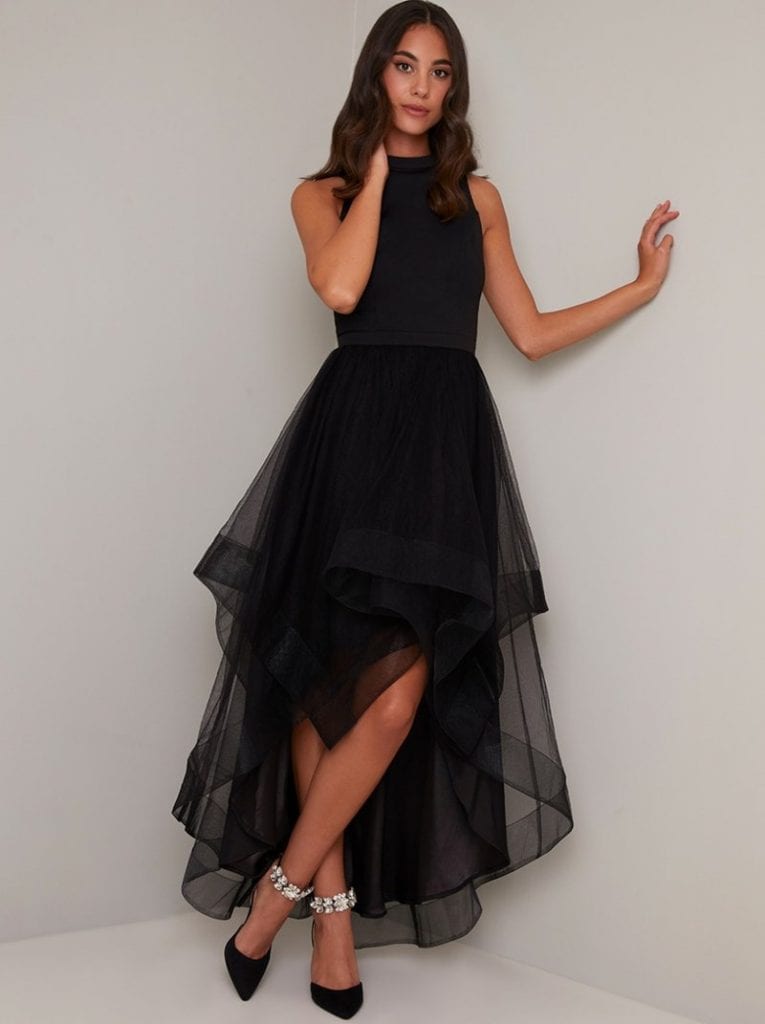 Just look at that skirt! This gown will have you looking a million dollars straight away and all you need to do to give it that bridal edge is to add some sparkly jewellery and accessories that will really stand out against the bold colour choice.
Claudia Dress
Party the night away A-lister style in this glamorous dress that wouldn't look out of place at The Oscars. This style is inspired by the 1930s and has a gorgeous satin skirt and delicate Georgette bodice with a lovely cowl neck back detail. Everything you could want in a black wedding dress.