10 Stylish Ideas for a Sustainable Eco-Friendly Wedding
Author: Hollie Bond
NB: To help you browse our best suggestions we have included some third party links. Some purchases made through these links may earn us a commission to help keep our blogs and offers current and up to date. Thanks for your support!
---
If 2020 has taught us anything, it's that our planet is precious and we need to take better care of it. We all know how to be eco-friendly in every day life, but what about eco- friendly weddings?
As events go, weddings can actually be rather wasteful and harmful for the environment. There's lots of items like confetti, the wedding dress, wedding décor and seasonal wedding flowers only being used for that one special day, plus all the travelling your guests and suppliers will do to get to your nuptials.
The good news is that you can still have all the beautiful elements associated with traditional weddings on your big day, but in a green and environmentally-friendly way. If you're an eco-conscious couple you can easily make lots of little changes to your wedding that'll help reduce your carbon footprint and give you a warm glow knowing you're doing your part for the planet.
From fair mined jewellery to vegan weddings, we've rounded up the top ten sustainable wedding trends for 2021 and beyond that you'll definitely want to say "I do" to on your wedding day.  
1. Sustainable Jewellery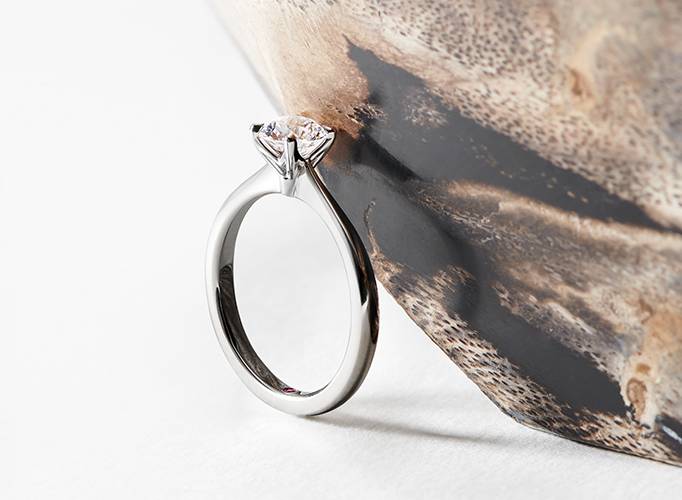 Opting to wear sustainable jewellery is one of the main 2021 wedding trends for brides. It means you can start your entire wedding journey – right from the moment you choose an engagement ring – as you mean to go on, in a sustainable and eco-friendly way. These days you can quite easily find jewellers that create rings from recycled and fair-trade metal. Try brands like Boodles, Ingle & Rhode, Ethica Diamonds and Taylor & Hart.
It's also important to make sure any diamonds you want in your wedding jewellery are ethically sourced. We love this sustainable ring from Taylor & Hart. Fairmined gold or Single Mine Origin gold is the best metal you can choose. Another way to be eco when it comes to your engagement ring is to chose a vintage or antique ring or one that is already in your family and can be passed down.
2. Eco Wedding Invitations Or E-Vites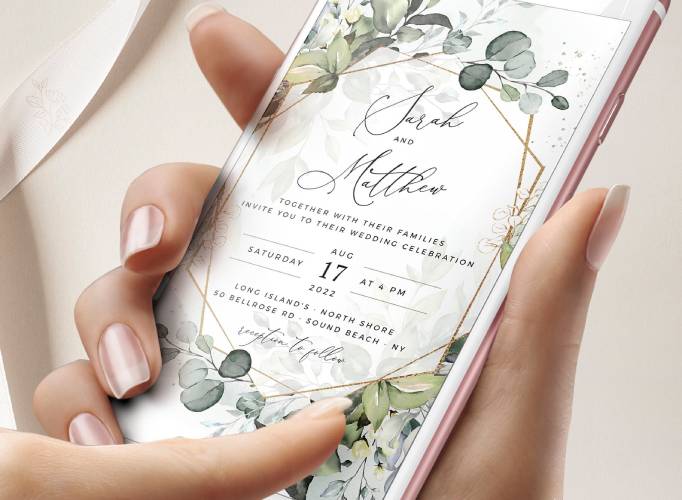 During the various lockdowns of 2020 and 2021, even the most digitally-challenged people have had to embrace technology. So while once upon a time the idea of sending e-vites as your save the dates or wedding invitations would've been prohibitive for certain older members of your guest list, now you can rest assured that even Great Auntie Edith will have a functioning email account and know how to use it! You can find some beautiful ideas on Etsy, like this boho wedding e-vite.
E-vites are the most eco-friendly way to invite guests to your wedding and there are some really gorgeous options out there from companies like Papier, Paperless Post and Greenvelope. If you really love the idea of sending some special stationery through the post though, there are green wedding stationery options. Look at brands like Summer Lane Studios, Blushful Earth and Paper Tree who have green initiatives and use recycled materials.
Photo Credit: DIY Paper Boutique
3. Eco Wedding Fashion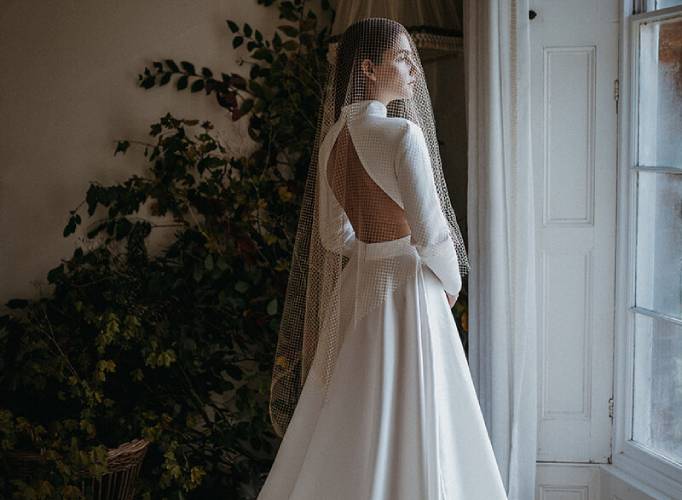 There's been a huge focus on the waste created by the fashion industry in recent years and a shift to sustainable clothing rather than fast fashion. This is a trend that is starting to make it's way into the wedding industry.
Unfortunately wedding dresses are only worn for one day so that makes their carbon footprint rather huge. There are plenty of ways to reduce this and make eco choices when it comes to your wedding outfit though. If you buy a brand new dress, then consider selling it afterwards for another bride to wear or keeping it for any future children. If you like the sound of wearing a second hand dress like Princess Beatrice did in 2020, then you can find lots of gorgeous options on sites like Preloved and Still White or go down the vintage route or search in certain charity shops.
There's also the option to do your research and find a dress from an ethical designer or a boutique that has strong green credentials. Check out brands like Reformation, Kate Halfpenny, Sanyukta Shrestha, Sabina Motasem, Indiebride London and Sister Organics, like this sustainable long hemp silk wedding dress.
Sustainable wedding fashion should extend beyond your own dress and this year there's set to be a more relaxed approach by eco conscious 2021 brides to what their bridesmaids wear. Instead of choosing dresses for them that they will only wear that one day of the wedding, it's much more sustainable to ask maids to choose something they will be able to wear again or even better to wear a dress they already own and love. You can mark them out as bridesmaids with bouquets if you're worried guests won't know they're part of the bridal party.
Photo Credit: Sanyukta Shrestha
4. Natural Decor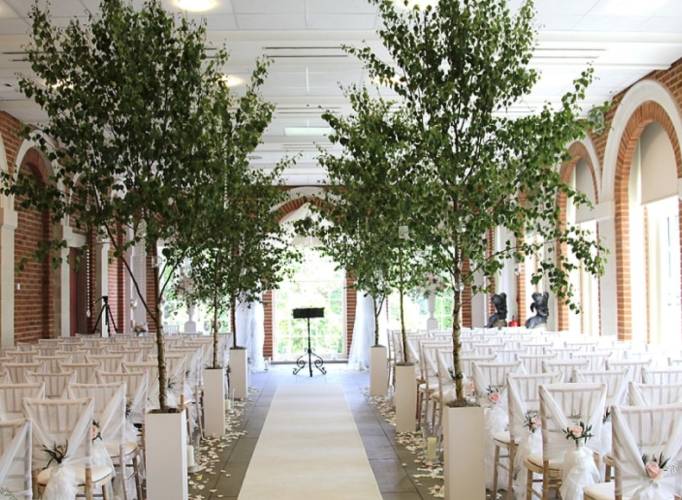 One of our favourite 2021 wedding trends is the use of natural décor. Instead of forking out for manmade décor that'll only be used once, brides and grooms are looking for wedding venues that either are so naturally beautiful they don't need any extra décor or using nature to decorate their day for example lining the aisle with potted trees, or a flower wall that can then be replanted in their own garden.
If you want to get on board with this wedding trend and increase your sustainability then think about getting biodegradable confetti from somewhere like Shropshire Petals, holding your big day in the beautiful great outdoors and incorporating plants or other items sourced naturally like wood and shells in your décor. If you do want something that is manmade like fairy lights, bunting, and vases you can always look at décor rentals companies or ask to borrow items from friends who are already married.
Photo credit: The Fine Flowers Company
5. Planet-Saving Charity Gift Lists
This is one area of weddings where a small change makes a massive difference. Instead of a traditional gift list full of brand new items that will be delivered in plastic wrapping and boxes (read not eco friendly at all!) you could actually embrace one of the top wedding trends for 2021 and use your gift list to save the planet or help others.
There are wedding gift lists for a whole host of charities from Unicef and Oxfam to Stand for Trees and Save the Elephants, while Prezola allows you to mix traditional gifts with lots of eco choices and charity donations too.
If you do want a traditional list with items for your new home look at brands like Buy Me Once that specialises in gorgeous pieces intended to last you a lifetime or the environmentally-friendly Aerende gift list.
Photo Credit: The Danes
6. Green Honeymoons
Long haul flight = massive carbon footprint, so if you're really serious about being green then you'll have to look closer to home for your honeymoon. Staycations are all the rage for 2021 due to the recent travel restrictions. The UK has some amazing eco hotel options like Heckfield Place with its biodynamic farm, The Green House in Dorset, The Scarlet in Cornwall and The Pig Hotel at Combe. Or you could opt for a self-catering log cabin, treehouse or glamping site. Think about how you're going to travel to your honeymoon destination – opt for a train, or perhaps hire an electric car for extra eco points!
If you really do want to jet off somewhere exotic (and no one could blame you after the last year or so being stuck at home!), offset your carbon footprint by staying in an eco resort like any of the Six Senses hotels, Jetwing Surf Sri Lanka, Svart in Norway, Soneva Kiri in Thailand, and Bambu Indah in Bali. Or consider a honeymoon that gives back in some way – taking part in beach clean-ups, working with an animal charity or using your diving skills to help with marine conservation. Look up companies that specialise in "honeyteering" (that's volunteering on your honeymoon) for inspiration too.
Photo Credit: The Scarlet, Cornwall
7. Choosing A Close-To-Home Wedding Venue With Eco Credentials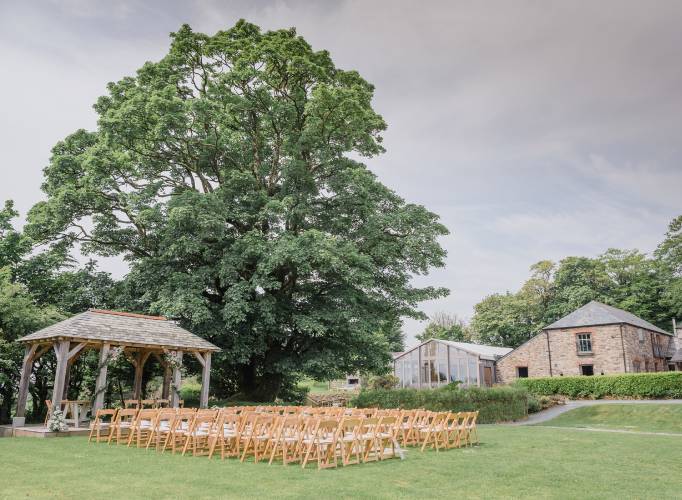 We've all been staying very local over the past year and discovering the beauty of our own locale, so it makes sense that one of 2021's trends is to get married close to home. Thankfully this is a really eco friendly option as it cuts out a lot of travel for you and guests (as long as you live near family and friends). Up your green points by choosing an eco-friendly wedding venue too.
Many venues are now going above and beyond to ensure their weddings don't have a negative impact on the environment, Some of our favourites include Nantwen, Hayhouse Farm Weddings, Styal Lodge, The Lodge on Loch Goil, Trevenna, The Tree Marquee and fforest Weddings. When you look round venues be sure to ask them what they do to be sustainable and environmentally friendly.
Photo Credit: Laura Buffery Photography
8. Micro Weddings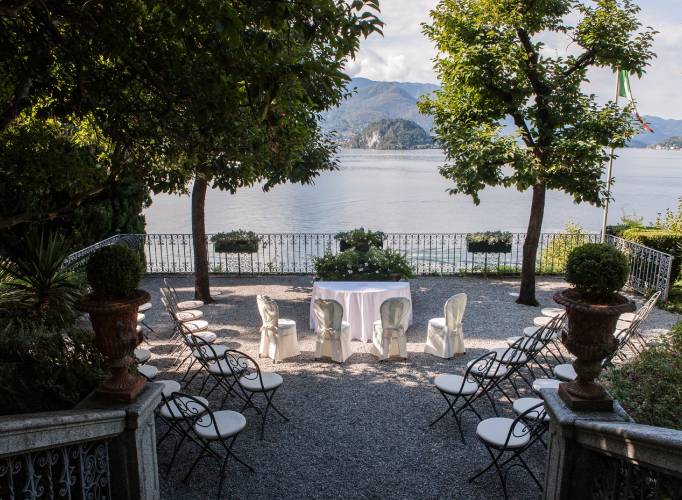 One of the consequences of the coronavirus pandemic is that more and more couples are opting to have smaller, intimate weddings. With guest lists being forced to be cut to 30 or less over the last year, micro weddings have become a trend whether we wanted them to or not.
The good news about a smaller guest list though is that it is a much more eco friendly option because less people are travelling to your day and there's less waste. Guests from far away or those who don't make the cut don't have to miss out though. Consider live streaming your ceremony to them – it's a much more eco way to involve everyone than having hundreds of people driving or flying over from other countries to your wedding venue.
Photo Credit: Lee Scullion Photography
9. Live Flowers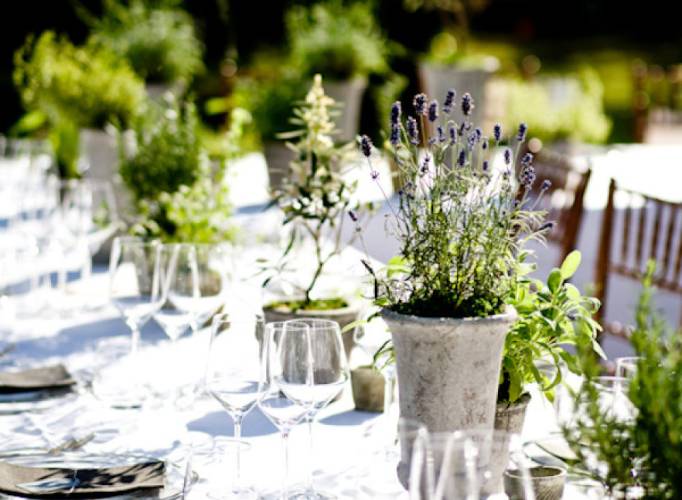 Many couples are saying goodbye to traditional cut flowers at their 2021 weddings in favour of "live" centrepieces and arrangements that can be enjoyed long after the celebration. Instead of classic cut flowers ask your florist to source beautiful potted arrangements for your tables that you can then gift to guests or take home for your own garden.
If you do want cut flowers for your bouquets then try and ensure you choose locally grown seasonal blooms. Once your big day is over, ask if you can donate the flowers to be enjoyed by others in a local care home or a church.
Another area where you can embrace nature is with your favours. Think about gifting a little plant like a succulent at each place setting rather than a gift that contains single use plastic or is throwaway.
Seed packets are also a really lovely and eco-conscious choice and will be a lovely, long-lasting reminder of your special day for your guests.
Photo Credit: Docuvitae Photography
10. Organic, Plant-Based Food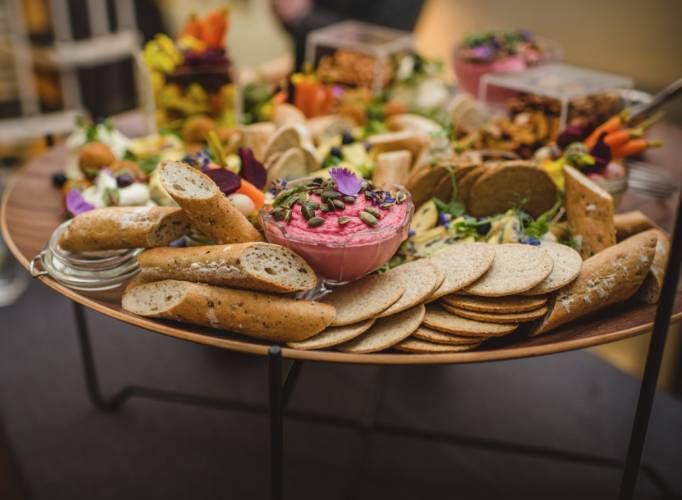 It used to be the case that one or two guests might RSVP to a wedding saying they're veggie, but these days more and more people are embracing a plant-based lifestyle and as a result completely vegetarian big days are definitely on the rise.
Choosing to host a veggie wedding certainly makes catering a lot easier, but many couples arranging 2021 weddings will also be considering the sustainability of their wedding reception food. And, choosing to go plant-based is a good way to feel better about the impact of your wedding day on the planet.
Another 2021 wedding trend is that couples are opting to go with caterers who have strong sustainability credentials or who only serve organic food. Brides and grooms who want to embrace this trend should spend time researching specific eco-friendly caterers or ask their venue's caterers to make a few small changes if possible to help reduce any waste and food miles.
It's also much less wasteful to choose to host a wedding reception with plated food rather than a buffet as so much less food is leftover at the end. For your evening party consider street food stalls or individual food items like burgers or a hog roast to help minimise waste too.
Photo Credit: Kalm Kitchen and Sophie Duckworth Photography