20 of the Best Wedding Trends for 2023
Author: Hollie Bond
NB: To help you browse our best suggestions we have included some third party links. Some purchases made through these links may earn us a commission to help keep our blogs and offers current and up to date. Thanks for your support!
---
It's all about Bridgerton, big bows, bridal separates, bold colours and back garden weddings this year.
Ah 2023, how we've waited for you to arrive. Finally brides and grooms can invite as many people as they want to their wedding, they can get married wherever they choose, whether it's in the UK or abroad and wedding guests can hug and sing to their heart's content. 2023 will go down in history as a year of awesome celebrations, the party year and the year.
In this joyful climate there are a number of new wedding trends that are shaping celebrations including wedding cake arches, back garden parties, al fresco dancing and bright bold colours. We've rounded up the very best of the 2023 wedding trends, that any couple planning a wedding will want to know about and start including in their own big day in 2023 and beyond.
Bridgerton Inspired Weddings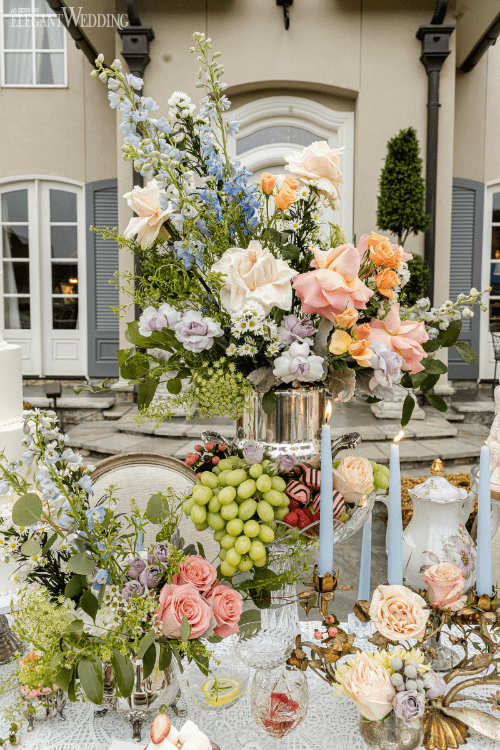 The Netflix show Bridgerton has been a huge hit in the UK over the past couple of years and now we're seeing Regency elements inspired by the show make their way into weddings. It's not about making your wedding look like the set of the TV show, but a much subtler interpretation. Think Regency blue colour palettes, vintage china tablescapes, literary inspired touches, soft flowing fabrics as table runners, and empire-waist wedding and bridesmaid dresses with a square neckline and puff sleeves.
Other ways to interpret the Bridgerton trend is by having handwritten notes to guests at their places settings, including your favourite poems in your vows, and having traditional live music in the form of a string quartet, harp or pianist at your ceremony. Elegant ribbons, stand-out stationery and little details like wax seals and cakes with your initials on or vintage style floral arrangements add to the timeless vibe.
Close to Home Honeymoons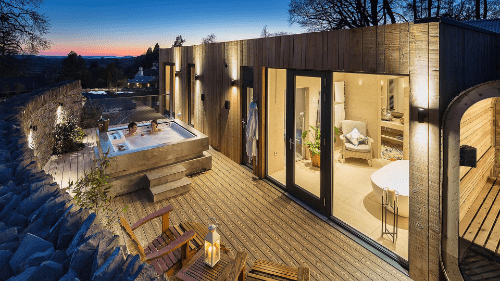 If the pandemic taught us anything, it's that our own country is something of a stunner! And, one of the biggest wedding trends for 2023 is that couples are still discovering the delights of their own country and honeymooning close to home. While travel restrictions have more or less disappeared now, lots of couples still don't want the faff and expense of airport travel and are instead seeing the benefits of honeymooning closer to home in the UK. Jumping in a car and spending more money on luxury hotels or romantic self-catering cottages rather than on flights is one of the key drivers of this trend.
If you've had your fill of staycations, don't worry. The other honeymoon trends coming hot on the heels of UK breaks is the adventure honeymoon – an action-packed, bucket-list trip where you splash out on a once-in-a-lifetime honeymoon in an exotic location that you'll never forget.
Sequel Weddings
Sequel weddings or post-micro wedding parties are another wedding trend that has occurred as a direct result of the Covid-19 lockdowns. Lots of couples got fed up waiting for big celebrations to be allowed again following the ban, so decided to tie the knot at an intimate wedding with the few guests who were legally allowed at the time and then follow up with a huge party once the rules were relaxed.
Now that there's no need for micro weddings anymore (unless you want one that is!) many couples are planning a larger sequel wedding for the first anniversary of their legal ceremony. Some newlyweds are choosing just to have a huge party with a wedding reception and evening dancing, while others are making the event similar to a wedding day, with a symbolic wedding ceremony first so that family members who missed out on the legal wedding can still witness the "I dos".
Weekday Weddings
It might not sound very romantic, but there's a huge backlog of weddings to get through this year because of the ban on celebrations during lockdown and there simply aren't enough venues with weekend availability to go around. So forget the wedding weekend and say hello to the next of the 2023 wedding trends… the weekday wedding.
The positives of a weekday wedding are that the venue hire rates are often a lot lower, suppliers might also charge less and there's a lot more dates available. The negatives are that guests may have to take annual leave from work. However, the appetite for weddings among guests is huge at the moment as we all enjoy seeing family and friends we haven't for several years and are able to hug and celebrate in style again, so if there's ever been a good time to throw a weekday wedding, it's now. Plus, if you're having a destination wedding, chances are no one will know what the day is because they're in holiday mode, so you could plump for any day of the week!
Garden weddings
Us Brits love pretty flower-filled gardens and it seems we've realised quite how gorgeous our own ones are when it comes to hosting an outdoor wedding reception. Another of the 2023 weddings trends to emerge is the back garden wedding, with couples choosing to erect a marquee in their own or parents' beautiful back garden and celebrate their big day at home. Not only does this save an awful lot of money, which is incredibly helpful in the current climate, but it's such a lovely idea to celebrate the best day of your life in a place that's so special.
Only got a teeny tiny garden, but love the idea of getting married surrounded by country garden flowers and having the relaxed vibe that naturally comes with back garden weddings? You can still get on board with this trend by choosing a wedding venue with a stunning garden and then erecting a marquee and allowing your guests to enjoy the glorious great outdoors.
Wedding Cake Arches and Smaller Wedding Cakes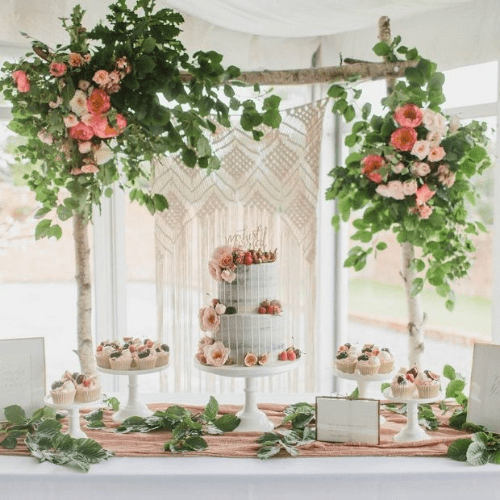 If you're going to fork out for a wedding cake then you want it to be a showstopper and be more of a feature than the usual rather underwhelming two minutes when you cut the cake! Many couples are now making their wedding cake do double duty as a fabulous piece of decor too, by investing in or DIYing a wedding cake arch or hoop. By decorating an arch with flowers, foliage, lights and decorations and placing the cake beneath it, it creates a real visual focal point (as well as a handy instagram photo backdrop!) and draws more attention to the cake.
With all this attention on the cake, another wedding trend we're seeing is for smaller and more intricate wedding cakes that are put on display with larger plain, cutting cakes left out in the kitchen to be cut up and served. After all, some of these smaller wedding cakes are complete works of art and simply look too good to eat!
Virtual Save The Dates
There's been a lot of rearranging of weddings over the past few years. As a result, virtual save the dates have become increasingly popular, as to order and send out multiple paper save the dates isn't just expensive, but it's not exactly good for the environment either. While the joy of receiving a beautifully made and designed paper wedding invitation can never be replaced in our opinion, when it comes to the save the dates you can definitely go down the digital route without taking anything away from the wedding. After all, the purpose of a save the date is simply to inform guests well ahead of time to keep the date free.
Stationers and designers have really enhanced digital save the dates recently, so there are many more designs to choose from than before the pandemic, so you can choose something personal and unique to your wedding. Just remember to follow up your emails with a quick text… imagine if all your emails ended up in junk folders! Don't forget that some guests may not have access to a computer or email address so be sure to provide them with a printed copy too.
Kiddy Creches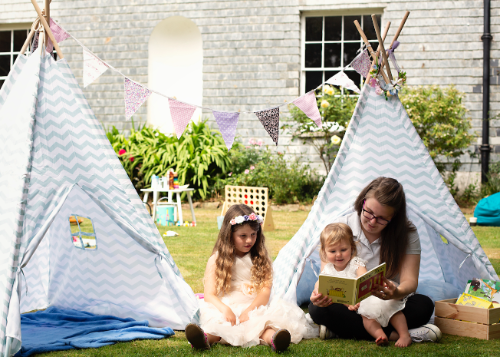 With a lot of couples being older when they get married these days (research shows that in 2019, the average age for a first wedding was 34.3 years for men and 32.3 years for women) it makes sense that there's likely to be a lot more children in the family at the time of the wedding. The pandemic also means many couples who were planning on getting married in 2020, had to delay their wedding and chose to have a baby first and get married afterwards, with their little one now in tow of course.
With all these pint-sized family members on the guest list, couples are looking for ingenious ways to keep them entertained during the wedding day so the adults can still enjoy a big celebration and don't have to be on childcare duty. Enter the wedding creche, a service where babysitters or nannies set up a child-friendly area full of toys and games in a room or section of the wedding venue and look after the children during the bits they might find boring and interrupt (we're thinking the speeches, sit-down wedding breakfasts and the pre-reception drinks). The kids can then play starring roles as flower girls and page boys and look angelic in the photos without creating mayhem during the more adult parts of the day.
In the same vein, there's been an increase in the number of brides choosing to get married while they're pregnant, so maternity wedding dresses are having a bit of a moment, and you can expect to see lots more brides with newborns too – just imagine how cute that's going to be!
Renting Your Wedding Dress and Suits
As unbelievable as it seems, Boris Johnson's wedding to Carrie Symonds is the reason this wedding trend has taken off so much in 2022 and 2023, although BoJo can take none of the credit. Carrie wore a gorgeous rented Christos Costarellos wedding dress that would've set her back a few thousand pounds if she'd bought it, but instead she only paid £45 to rent it. That got a lot of other brides and grooms thinking: when you're planning on wearing something for one day, why pay thousands when you can pay next to nothing and be more sustainable too?
So renting your wedding dress or wedding suit is one of the biggest wedding trends of the year, and it allows couples to wear a designer outfit they could never have dreamed of affording otherwise. If you love the sound of saving money and the planet while looking super stylish you can search for wedding dresses to rent at places like Hurr Collective, By Rotation, and Infinite Closet. Or perhaps you want to wear a designer dress that isn't specifically bridal? If so, try Selfridges Rental, My Wardrobe HQ and Frontrow. Let your bridal party know about these services too as many mothers-of-the-bride and -groom and bridesmaids would jump at the chance to wear designer for the day.
Alcohol Free Options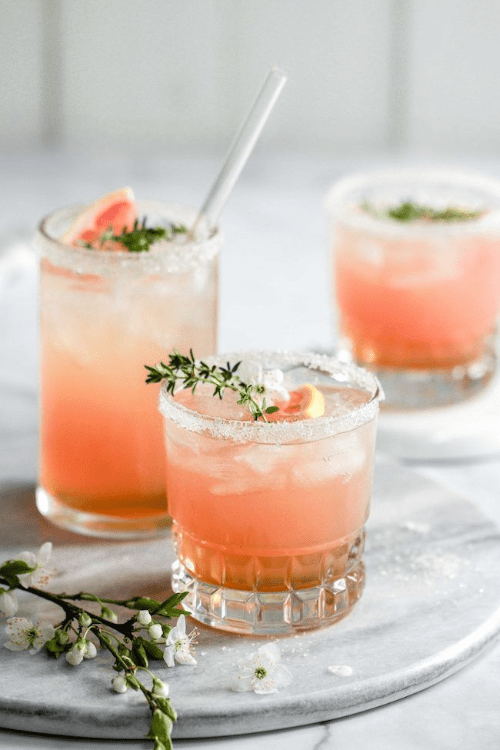 Have you heard of the sober curious movement? It's an emerging trend that's starting to have an impact on weddings. Sober curious people aren't completely teetotal, however they like to attend events and remain sober or simply have a few sips of champagne and then return to a soft drink. Sober curious individuals choose not to drink much for health, wellness or personal reasons and they're attracting quite a following. While it used to be that "good" weddings had a lot of alcohol at them, now the tide is turning and guests want more choice when it comes to alcohol-free drinks.
So when it comes to choosing your drinks package for your wedding, it's important to concentrate just as much on the non-alcoholic options as the alcoholic ones, to ensure all your guests are happy and well-catered for.
Romantic Light Installations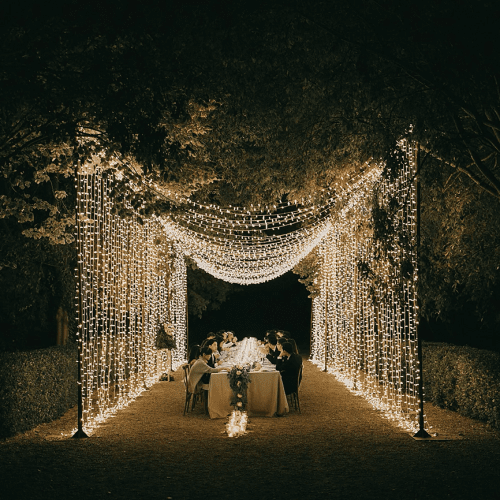 With so many couples getting married outdoors now, thanks to the new rules that came into play in April 2022, wow-factor light installations are really having a moment. With string upon string of fairy lights or stunning drapes of festoon lights, going big on lights is a really romantic look and works particularly well at destination wedidngs or summer weddings in the UK when you have balmy evenings and can enjoy the golden glow of the lights while socialising outdoors.
If you're having a winter or autumn wedding in the UK though, you can still embrace the trend. Barns or venues with high ceilings look incredible with chandelier-style light installations or you could get married or dine in front of an arch of hanging fairy lights or even string them over your top table as part of a bigger floral arrangement.
Earthy Colour Palettes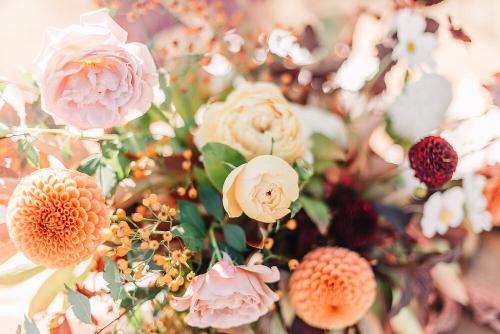 There's a huge focus on the environment at the moment, with a lot of news coverage on what we can do to help protect our planet and how we can support our local wildlife. As well as sustainable celebrations continuing to be one of the top wedding trends for 2023, reflecting the environment in your wedding decor is another one. Earthy, natural colours are big news for 2023 and onwards with bronze, burnt orange, purples, sand, rust, and pink being key colours at weddings.
Floral Prints and Embroidery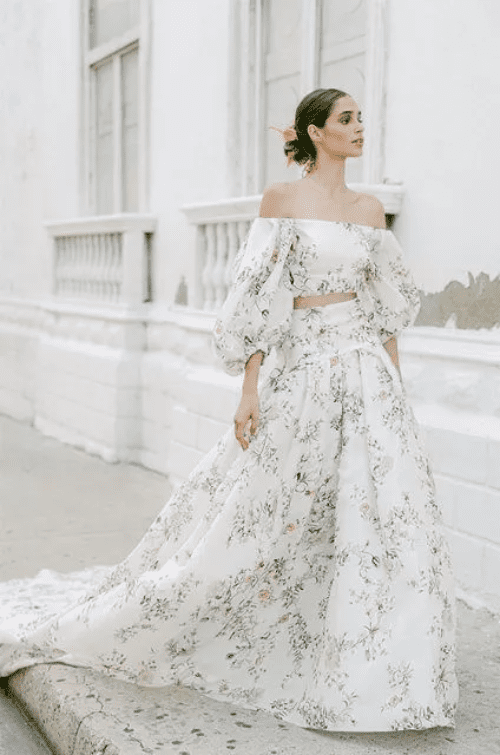 A nod to nature is evident in another of 2023's wedding trends – floral-inspired details like hand painted flower designs, prints and embroidery. This wedding trend is most evident in the wedding dresses for the year, with key designers like Needle and Thread, Temperley London, Marchesa, Peter Langner, Claire Pettibone and Sassi Holford embracing the trend in a series of stunning floral appliqué and lace gowns.
If you don't want to wear this trend though there's plenty of scope to include it in your wedding day. You could have floral embroidered napkins or a table runner, hand painted floral invitations or place cards or dress your bridal party in fabulous floral bridesmaid dresses instead.
Bows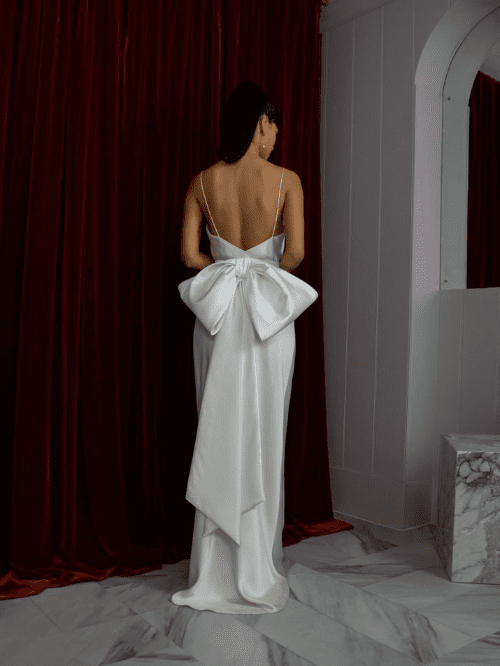 Oversized bows are back for 2023 and they're more fabulous than ever. This is one of our favourite wedding trends because you can add a bow to all sorts of elements of your day, from your wedding dress, to your groomswear (we're talking amazing bow ties of course), and in your hair or in your wedding decor. Then there are bows that can be added to shoes, to flower girl dresses, around napkins, around the stem of your bridal bouquet, on candles, on cakes… the list just goes on.
Vintage Engagement Rings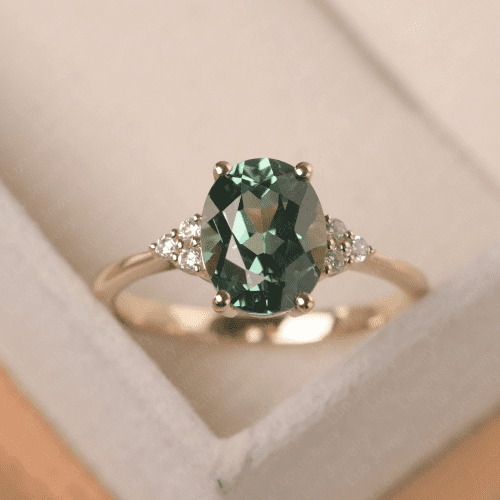 What could be more romantic than wearing an ancestor's engagement ring? Well, engaged couples of 2023 certainly don't think anything tops an antique ring as this is one of the emerging wedding trends of the year. If your, or your other half's, family doesn't have an Antiques Roadshow style attic to delve into for heirlooms, don't worry, because you can still get on board with this trend by buying vintage or secondhand jewellery. Even though the previous wearer wasn't in your family, there will be some sort of love story attached to the ring, plus it's much more eco-friendly and sustainable to wear something that's been worn before.
Modern Monochrome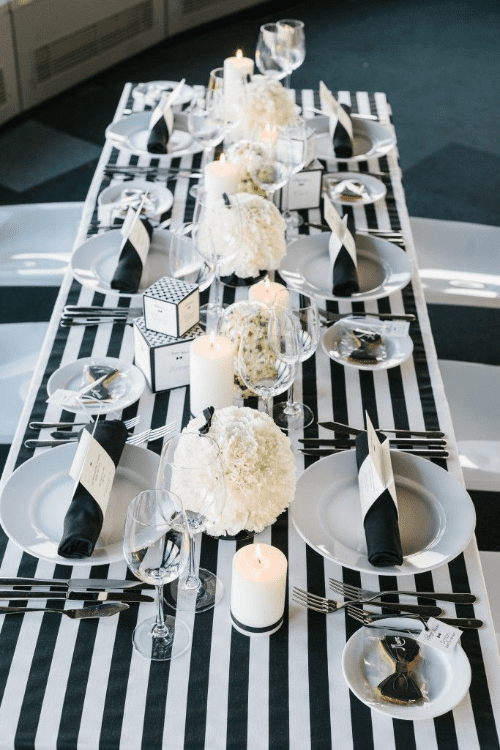 Earthy tones not for you? Don't worry because when it comes to wedding trends there's always more than one colour scheme fighting for the top spot. One of the key schemes making it's way to the top of the list this year is monochrome, but not your Art Deco style of monochrome, this is a much more contemporary look. Think big chunky modern art style blocks of white and black in geometric shapes and you're in the right area. This trend works really well when paired with some really bold, bright colours, so speak to your florist or wedding planner about hot pink, bright oranges and vibrant greens to really tie make an impact.
Family Style Meals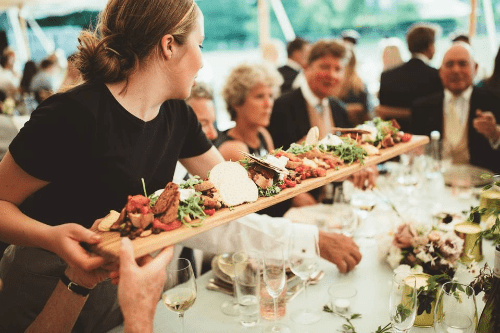 A decade ago it was very much the norm to have a formal sit down three-course meal with a traditional top table at a wedding. Fast forward to 2023, and this is one of the weddings trends that has changed the most. Now lots of couples are favouring family style meals where food is placed on the tables and people share from a large platter or nominate one member of the table to serve everyone like the parent! It might be a bit more work for the wedding guests, but it's a really good ice breaker and helps people get to know each and start talking really quickly. When you are wedding planning think about the sort of vibe you're trying to create and how the way you serve the food can help you achieve the right feel.
Bridal Separates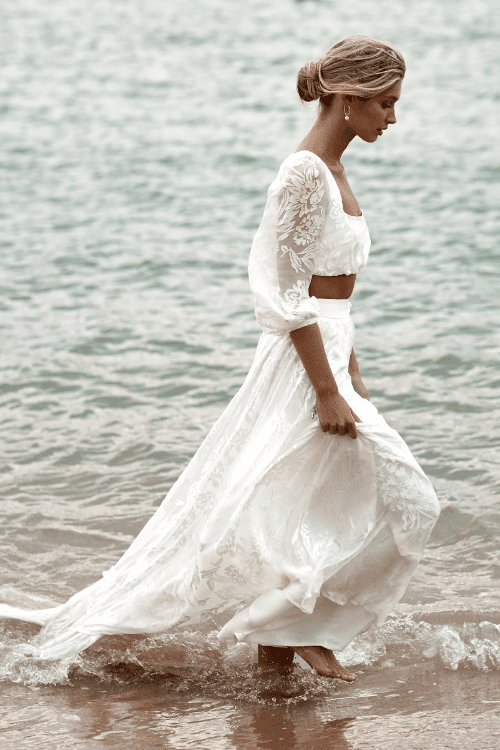 The latest wedding trend when it comes to big day fashion is for brides to choose to wear two-piece wedding dresses. It's a seriously stylish look and allows brides to be more versatile and change up their look throughout the day, by adding an overskirt here or a pair of trousers there. A top and skirt or trousers combo isn't only fashion-forward but it's more sustainable as you may be able to wear one or both items again as separate items after the wedding date. And, with less couples getting married in the more formal setting of a church, these separates look particularly good at laid-back humanist services, outdoor weddings and casual chic civil ceremonies.
Outdoor Dance Floors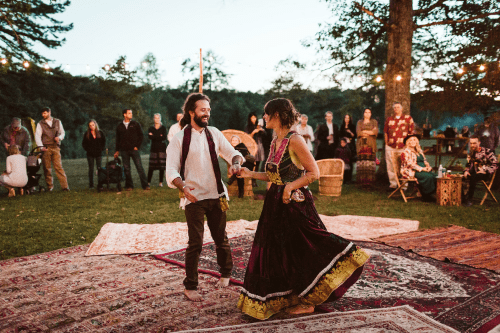 One of the top wedding trends in summer 2023 and one we expect to see in the warmer months of 2024 as well is the outdoor dance floor/ outdoor first dance. This is a really easy wedding trend to achieve. You simply need to find a lovely sheltered outdoor space at your wedding venue, create a dance floor with a huge pile of mismatched rugs, some strings of fairy lights and a sound system or live music. With the gorgeous warm evenings the UK enjoys at the moment, you could almost be at a destination wedding as you dance à deux under the stars.
Bright Bold Colours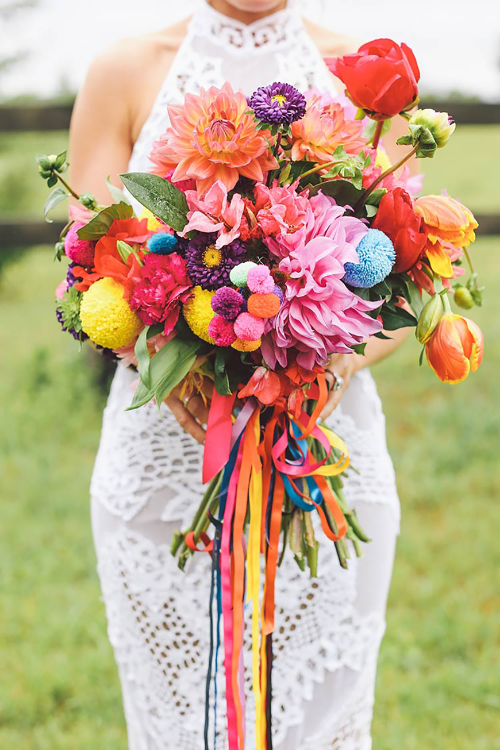 So long soft pink and baby blue! This year some couples will be having lots of fun with bold and bright colours. While pretty pastels have reigned supreme at weddings for many years now, we're suddenly seeing pops of bright, tropical colours in everything from the fresh flowers to the cake and stationery. While we're all for a bit of romance, we can't deny that this fun look is one of our favourite 2023 wedding trends.