Planning the Ultimate Eco-Friendly Wedding
Published date: 19th March 2021 | Author: Hollie Bond
---
If like many of us you're taking steps to live more sustainably, wedding planning can be a bit of a minefield. Food waste, plastic packaging and single-use decorations, not to mention all the guests travelling from far and wide mean weddings can be pretty wasteful events.
But the truth is, while no wedding can be completely sustainable, by making a few changes here and there it is possible to plan a day that will be better for the planet. And it's easier than you might think. From finding a greener wedding venue to a more responsible gift registry, read on for our top tips on how to plan the ultimate eco-friendly wedding…
Location, location, location
First up, when it comes to planning an eco-friendly wedding you need to think about the location. Without a doubt, the biggest carbon footprint of any wedding is from the travel, so if you can find a venue close to home – that can hold both the ceremony and reception to avoid extra travel – that's a great start.
Another way to be eco-friendly, is to opt for a permanent infrastructure, as opposed to a marquee or tipi, as transporting and erecting constructions likes these are not kind to the environment. But choose carefully. Different venues have different policies when it comes to recycling, using biodegradable materials and energy efficiency so just make a list of what matters most to you and ask about these when you visit.
Not sure where to start? Nancarrow Farm in Cornwall describes itself as creating a sustainable future and The Rosendale Public House & Gardens serves a sustainable menu. Search through our picks of the finest wedding venues in the country here.
Eco-friendly wedding transport
As we mentioned, travel is a huge factor when considering your wedding's effect on the environment and no matter where it's being held, some guests will have to travel further than others. Try encouraging people to share lifts where possible (you could ask your guests to tell you if they have a free spot in their car when RSVP'ing and match them with someone who needs a lift), or if you're planning a local wedding, you could put on transport. From classic coaches to quirky red buses, there are tons of options available here.
Choose reusable decorations
Often, décor at weddings is used on the day then either thrown away or put in storage, never to be seen again – not to mention the reams of plastic it will inevitably come wrapped in. But rest assured there are more eco-friendly options out there.
Swap plastic balloons for biodegradable options that you can pop and place right in your garden compost when you're done, or reusable, biodegradable paper lanterns. Or why not make your own cotton bunting for a rustic feel that you can string up at your next celebration, too?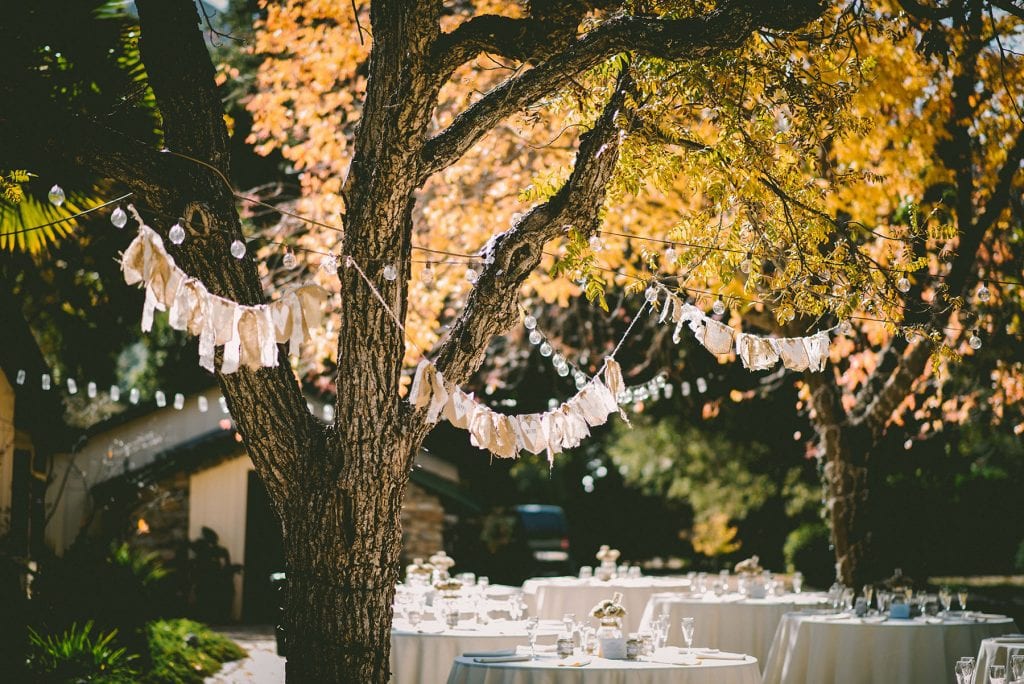 For the table decorations, there are lots of place setting and centrepiece ideas that are both stunning and sustainable. You could recycle glass bottles and/or cans and fill them with flowers as centrepieces, and scatter dried flower petals found in neighbours' and friends' gardens as an aisle runner (you could also use these dried petals to make your own environmentally-friendly confetti, too).
If DIY isn't your style, instead of ordering new props and decorations just for one day, why not just hire them, such as from Love Me Do Event Hire? In fact, if you decide to hire everything from just one company, you'll cut down on travel for deliveries too. From flower arches to centrepieces, crockery to table linen.
Our suppliers have everything you'll need.
Be ethical with your dress
When it comes to choosing your wedding dress, there are plenty of ways to make a more ethical choice. For starters, you could consider a pre-loved dress, or if you fancy something a bit quirky, why not pick out a perfect vintage piece?
There's also the option to hire a dress, such as at Zoe in Kent, in addition to your bridesmaid dresses and usher's suits, rather than buying them, to reduce the environmental impact. But rest assured, if you have your heart set on a made-to-measure dress for your special day, there are a number of designers that use environmentally-friendly fabrics and ethical production methods.
Choosing a British-made design, such as by Suzanne Neville, is also a good way to ensure it's been ethically made.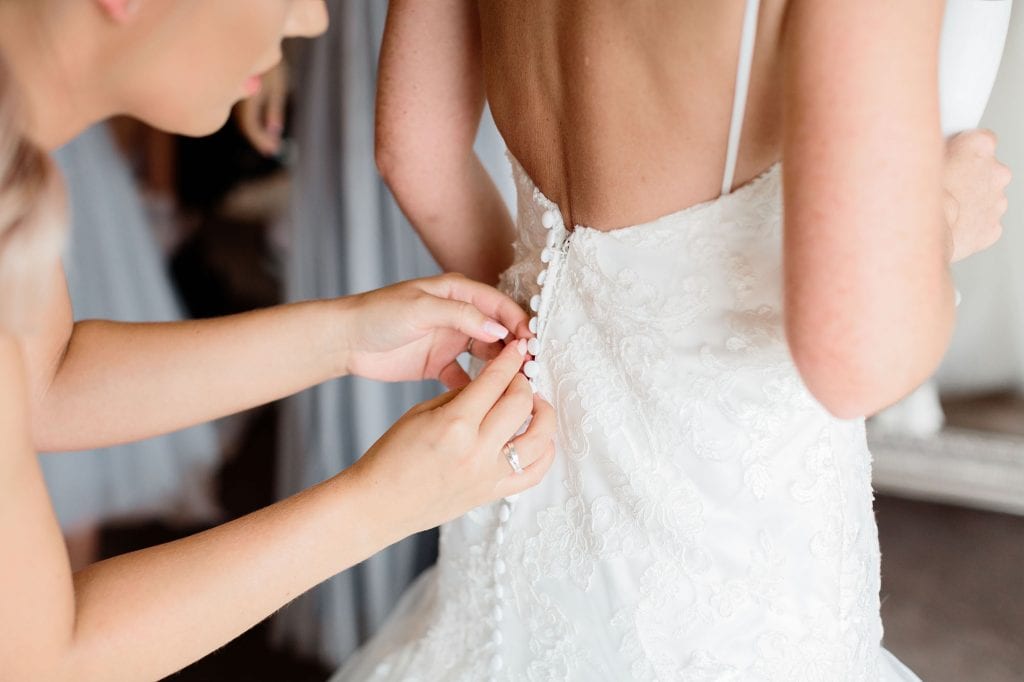 Finally, who says your wedding dress can only be worn once? Cast aside the 'trash the dress' photoshoots and sell your gown so it can be enjoyed by someone else. Alternatively, if you want to keep it for yourself, why not dye your dress a different colour and voila! You've got yourself a brand new, totally unique evening dress. The same goes for all your bridesmaids' dresses, too.
Take a look at our wedding dress suppliers here.
Eco-friendly wedding flowers
Another sure-fire way to throw a more sustainable wedding is by giving your guests eco-friendly wedding favours. Think handmade soaps, homemade candles, seeds or bulbs to plant, or even homemade cookies, which can all double up as place names.
Another option is to make a charitable donation to an environmental initiative or to anyone that might be in need, in your guests' names. This saves giving unwanted favours and means someone or something will benefit from your day.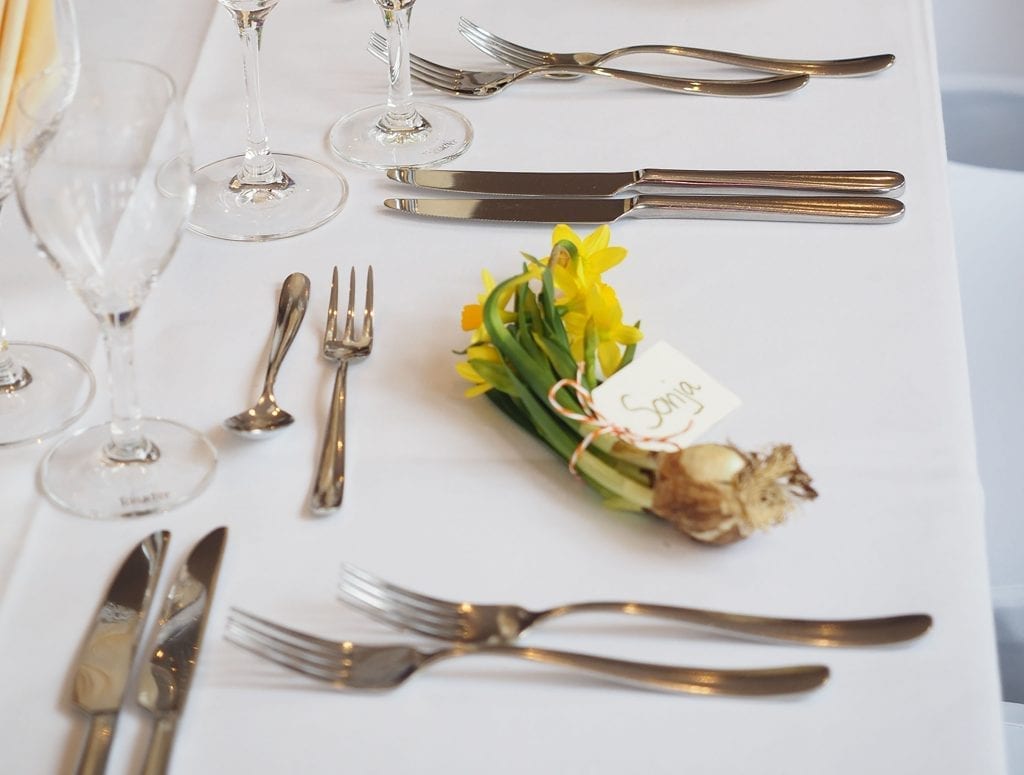 Eco-friendly wedding stationery
If printing invite after paper invite, not to mention all those Order of Service, is keeping you up at night, there are plenty of ways to help you reduce the impact on the environment. First of all, you could avoid paper all together and send e-invites – which will also save money on printing and postage and make it easier people to RSVP. The same goes for the Order of Service. You could display it on a laptop as you enter, or even better, project it on to a wall or backdrop at your ceremony.
If you have your heart set on paper stationery and invites, the best thing to do is print them on to recycled card. Eco Print can create bespoke wedding stationery designed to your personal taste and have it eco printed on a range of specialist and exotic recycled papers and cards.
Also, make sure the invites are recyclable themselves. Avoid embellishments such as glitter and glue, and including a line on your invite, asking guests to recycle it after your wedding is a nice touch.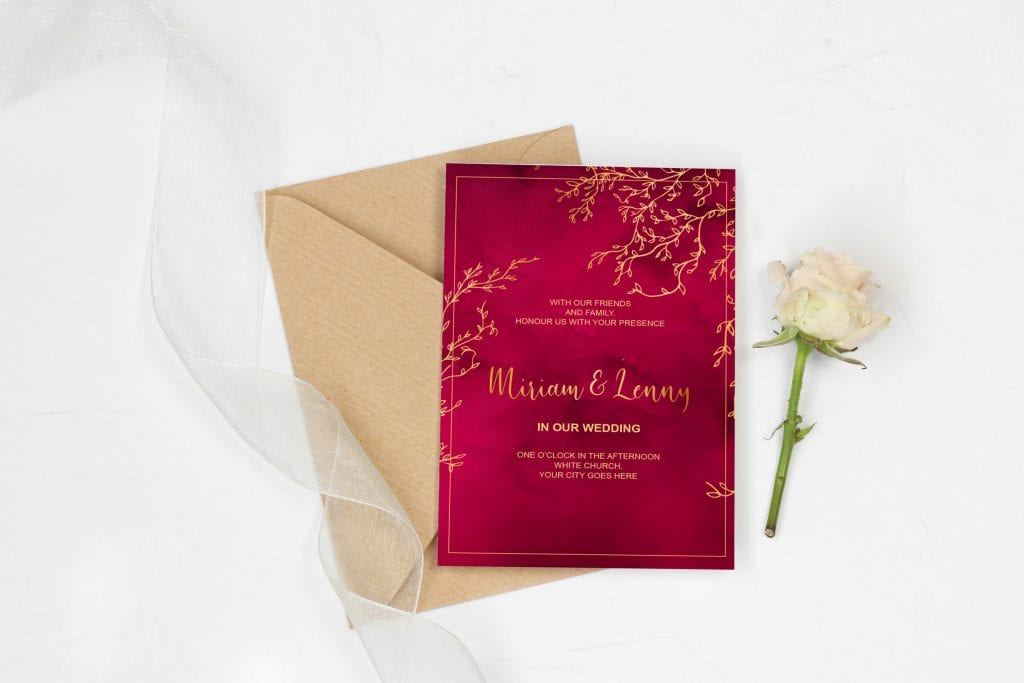 Food for thought
Using local, seasonal, and organic food is the way to go if you want to your wedding to be environmentally friendly, so choose caterers who offer this, such as YOUnique Events Catering.
Cutting down on the amount of meat is better for the environment too, but either way, speak to the chef to learn more about which suppliers they use and if they use local and in-season produce. You can do the same with your cake maker and request they only use natural, organic ingredients, as Beth's Bakes does.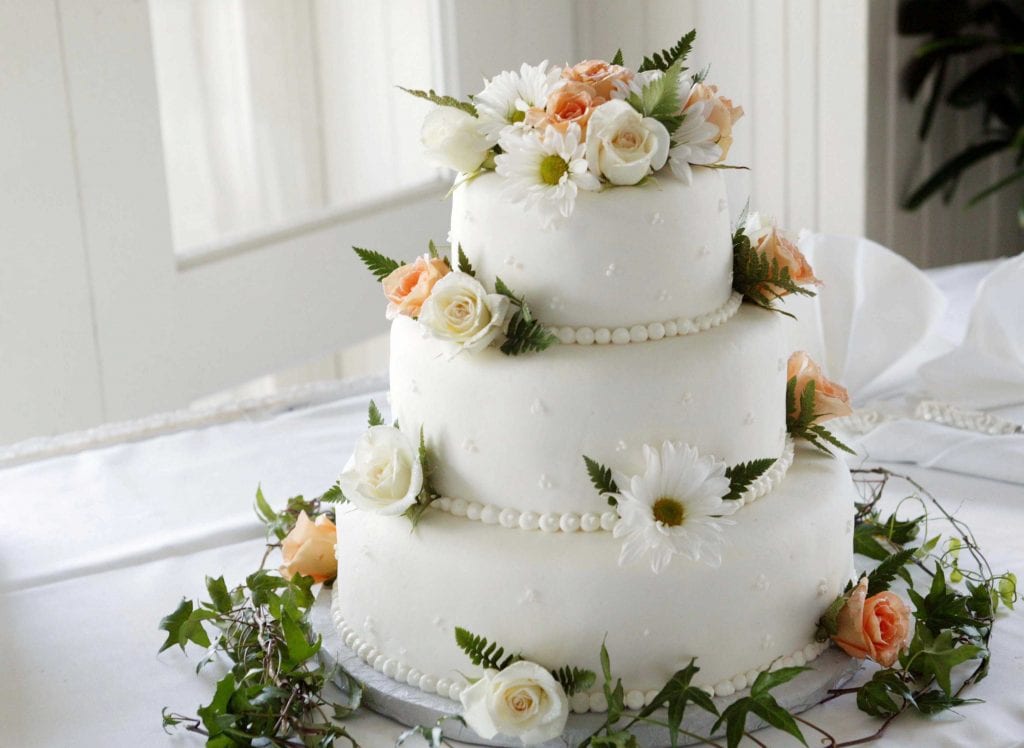 To avoid food waste, steer clear of buffets as it's impossible to cater exactly to the amount of guests, and disposable dinnerware, such as plastic straws, plates, cutlery and cups are also a no-no. (If your venue is concerned about serving drinks in glasses to be taken outside, ask if they can use compostable cups instead.)
You can find the best of wedding caterers here and cake companies here.
Garden-grown wedding flowers
From bouquets to buttonholes, what's a wedding without flowers? But often they're mass produced and grown out of season, which means use of chemical aids.
Ask your florist about their supply chain to ensure the flowers are grown locally, not just from a local wholesaler, and choose in-season flowers to avoid them being shipped from abroad. Another thing to check with them is whether they use floral foam, also known as oasis. This foam doesn't break down in landfill so best to avoid.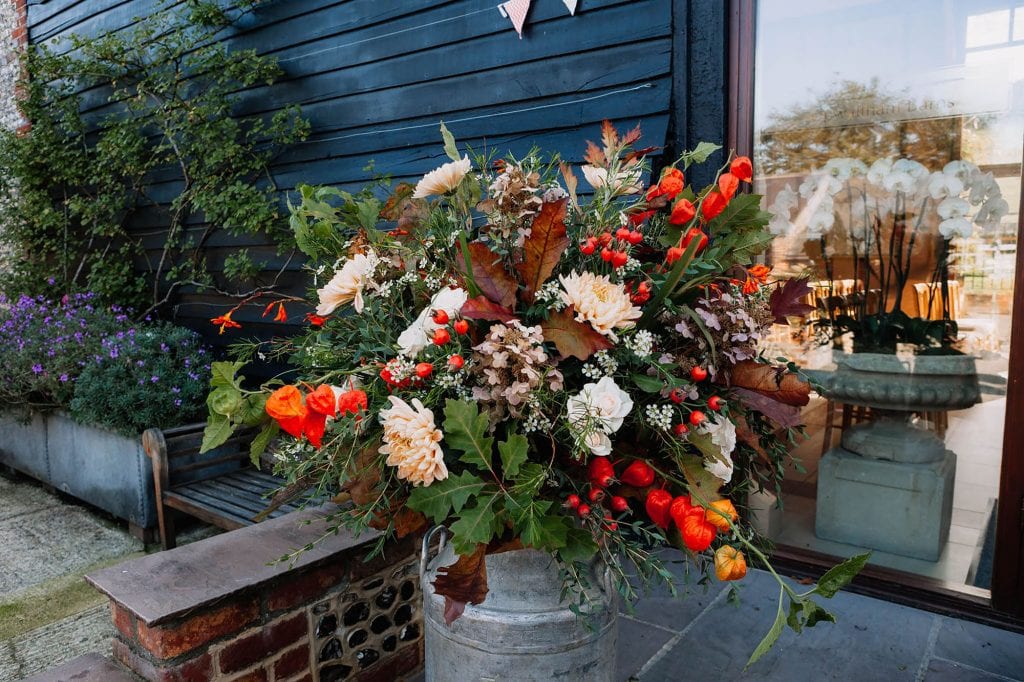 You could even grow your own flowers if you're feeling ambitious, or collect flowers throughout the year and dry them, ready to be used on the day.
But if you want to avoid flowers entirely, little pots of plants that can be kept after the wedding (and given as gifts) make lovely centrepieces, too.
Feel-good gift list
Finally, gifts are a huge part of weddings, whether you want them or not, so it's best to be upfront to avoid receiving three unwanted toasters and a barbecue. Choose sustainable, ethical products that will not harm the environment and if you don't need (or want) any more things, then asking for donations towards a charity is a great option.
So, there you have it. Our top tips on how to plan a more sustainable, eco-friendly wedding. If you're planning your big day and are looking for spectacular companies to make it a day to remember, check out our fabulous list of suppliers for unmissable inspiration.