75 Easy and Creative DIY Wedding Decoration Ideas
Published date: 3rd September 2021 | Author: Hollie Bond
NB: To help you browse our best suggestions we have included some third party links. Some purchases made through these links may earn us a commission to help keep our blogs and offers current and up to date. Thanks for your support!
---
DIY wedding decorations aren't for every couple who are planning their big day, but if you love making things and have the time and energy, they can add a really personalised and unique edge to your wedding celebrations. DIY wedding decorations are also amazing talking points for guests, who will be very impressed at your creativity and the effort you've gone to to make your wedding look fabulous.
Another positive about making your own decor is that it's usually a lot cheaper than simply buying wedding decorations. And, if you're smart you can create decor using things like mason jars and vases that you can then reuse at home. Don't panic if you didn't excel at art at school, because lots of these DIY wedding decoration ideas are really easy to do, and some simply need to be displayed or put together on your wedding day. Scroll down to find 75 of the very best budget, yet beautiful DIY wedding decoration ideas.
Flower Girl Or Page Boy Cart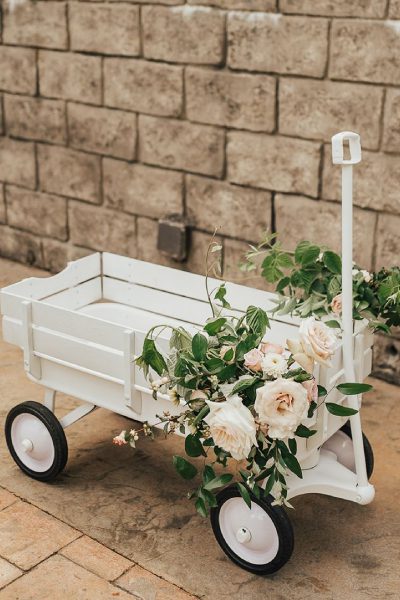 Worried that your flower girls or page boys little legs won't quite make it down the aisle. Make all your guests' hearts' melt with a DIY cart that one of your older ushers or bridesmaids pulls them along in. A wooden cart works well as a neutral palette for any DIY decor you want to add – think flowers, garlands, lights, greenery or simply paint the cart in your wedding colours.
Flower Crowns
Give your little flower girls or bridesmaids a summery look as they take to the aisle with some homemade flower crowns. The beauty of these is that they look their best when they're loose and wild-looking, so you don't have to aim for perfection. If you've got a few to make ask your bridesmaids to join you in a craft session fuelled by some bubbly to make them a day or so before the wedding.
Paper Flowers
If you loved origami as a child, then this DIY paper flowers project is for you. Create instant wow factor at your tables or at your ceremony with colourful paper flowers, they make a great wedding table centrepiece idea. Keep it simple with individual blooms or cluster them together to create a pretty backdrop or wreath.
Personalised Place Cards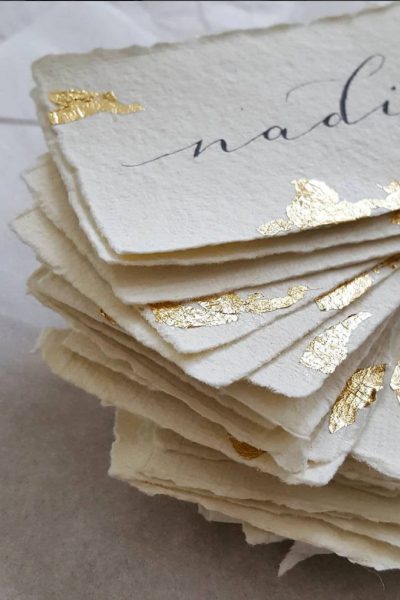 Get creative with your place cards and you could save a lot of money. Find some lovely quality paper and then write names as beautifully as possible. Then you could add some watercolour or perhaps some gold leaf or simply display them in a fun way for example in wine corks or baubles at a Christmas wedding.
Image Credit: Beautifully Lost Shop via Etsy
Greenery Table Runner
If your flower budget is a bit tight, then a really cheap but effective DIY wedding idea is a greenery table garland. Collect your favourite foliage (eucalyptus looks particularly effective) and twine it together using florist's wire. Then lay elegantly along your tables. Dot candles among the leaves for a really romantic effect.
Lights In Jars
This is so easy and cheap but really looks amazing. All you need to do is collect some mason jars, buy or borrow strings of lights and artfully place them inside the jars. Dot them around your venue or along paths in the evening to make your wedding look magical.
Vintage Birdcage Floral Decorations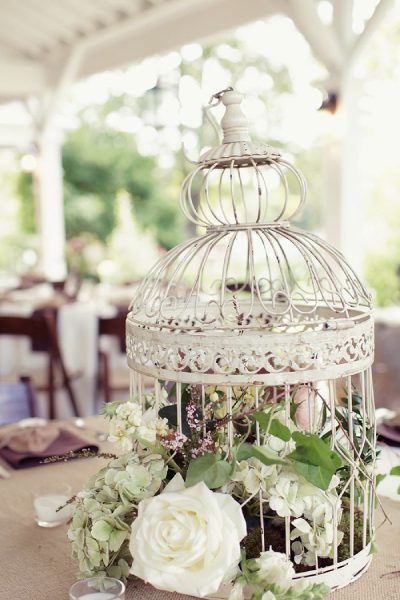 At a vintage or rustic country wedding it can be a lovely idea to display your flowers in birdcages. This DIY wedding decor idea doesn't need a pro florist to do it as you can simply place some easy-to-arrange flowers like baby's breath (gypsophila) inside and it'll look elegant.
Ceremony Comfort Station
If you've decided on an outdoor wedding venue or saying "I do" on a destination wedding then a brilliant DIY decor idea is a comfort station where you provide things that your guests might need like pretty fans, sun shades, blankets and water. Display these essentials in a pretty way and it can become one of your most photographed wedding decorations.
Pimp Your Drink Station
Let your guests get creative with a drinks station, where they can garnish their pre-reception drink with a whole host of lovely things. Pimp your Prosecco is a popular choice and you can provide edible flowers, fruit and different flavour syrups displayed in a pretty way that'll wow your guests.
DIY Bouquets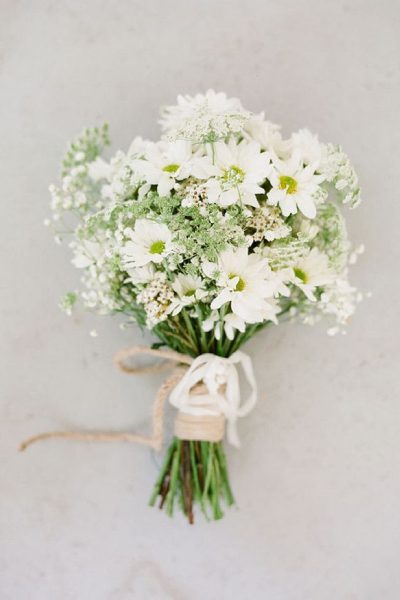 Keep your flowers budget down by making your own bouquets. Head to a flower market the day before your wedding so the flowers are really fresh and then arrange them in a hand tied bouquet. It might be worth going on a workshop beforehand to learn the tricks of the trade if you want a professional finish.
DIY Wedding Mirror Signs
Scour your local antiques or flea markets for pretty mirrors and then use them as signs at your wedding by writing on them in pretty pens – a Sharpie oil-based marker is ideal as it shouldn't rub off if guests decide to touch your handiwork.
Creative Seating Plan
Think about your wedding theme and then come up with a DIY wedding seating plan to match or even use a seating plan template. Perhaps it's a map of the world at a travel themed wedding or pictures from your love story. Whatever you both love, use it as inspiration to help your guests find their seats.
DIY Confetti Cones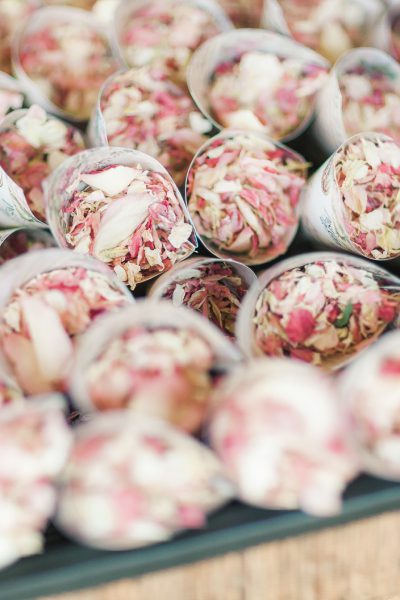 Choose a design of card that works with your theme and then create your own confetti cones. Fill them with biodegradable dried petals and display prettily in a true or basket for your bridesmaids to hand out to guests after the ceremony.
Image Credit: Katy Lunsford Photography
Confetti Cone Basket
You could always make the basket for your DIY confetti cones too. Upcycle a used wine boxed or wooden food box by painting it and adding your initials or take plain basket and jazz it up with some decor and ribbons that match your theme.
Card Box
Even if you have a traditional gift list, guests will still bring a card for you on the big day. Make sure you have somewhere stylish to collect them by making your own card box. You could make a letterbox or just a simple box with a pretty sign or writing telling guests to post their cards.
Cake Table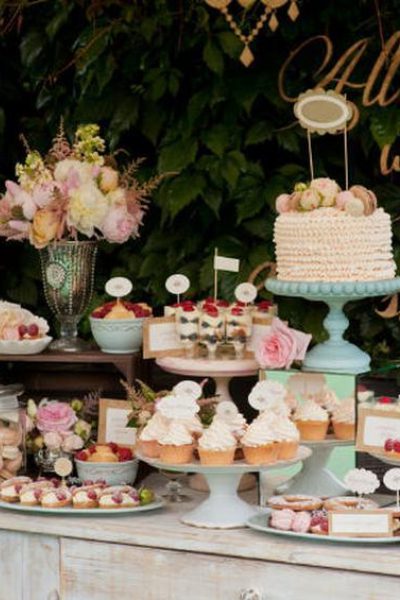 If you've gone to the trouble of making sure your wedding cake looks and tastes incredible then you'll want to ensure it is displayed beautifully too. Spend time DIYing the table that it is placed on so that it really stands out as a key piece of wedding decor. Surround your cake with flowers, pom poms, greenery garlands, candles, drapes and signs for a picture perfect look.
Pom Pom String
As DIY wedding decorations go then don't get much easier than this! All you need to do is fluff out some pretty paper pom poms in your wedding colours and then string them up around your wedding venue.
Bunting
If you're good at sewing and have access to a sewing machine you might want to add some summer fete style to your celebration with homemade bunting. Choose a fabric that works for your wedding and then sew strings of bunting to drape around your venue.
Ceremony Backdrop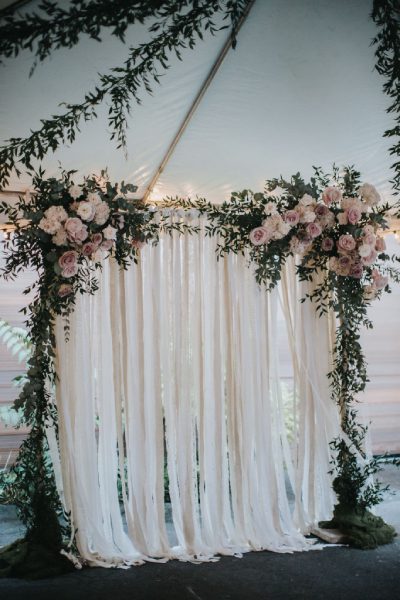 The most important part of your wedding is the moment you say "I do". So you'll want the backdrop to this unforgettable event to look the part. A DIY wedding ceremony backdrop can be easy to make and will really make your photos look incredible. Ideas include a balloon wall, a flower wall, an arch with drapes or flowers, long ribbons, a lace curtain or fairy lights.
Creative Aisle
Walking down the aisle will be something you'll never forget and your guests will be taking pictures of you every step of the way, so jazz up your aisle with some pretty DIY wedding decorations like flowers, candles, lanterns, bay trees, rose petals or pretty paper hearts on sticks.
Chair Backs
Provide instant wow factor as your guests arrive at your reception venue with some DIY chair backs. DIY wedding decoration ideas can be as simple as some pretty chiffon tied in bows or as elaborate as floral arrangements, personalised signs, burlap or macramé covers.
Ceremony Arch
Say your vows underneath a magical DIY wedding arch. You can buy or hire a metal arch and then go to town with DIY flowers, ribbons, pampas grass, drapes, and lights. Ceremony arches work particularly well at an outdoor wedding to add some structure to your aisle.
Drinks Display
Get the party started in style with an inviting drinks display. Of course there's the traditional champagne glass tower, but you could also make a wall for champagne glasses, urns full of cocktails, a bathtub full of beers, or a rustic step ladder display. The only limit on this reception decoration idea is your imagination.
DIY Photo Booth
If you're on a budget and don't want to hire a Photo Booth complete with backdrop then it can be a brilliant idea to make your own. Read our guide to how to make your own DIY photo booth backdrop and find brilliant inspiration here.
Arrow Signs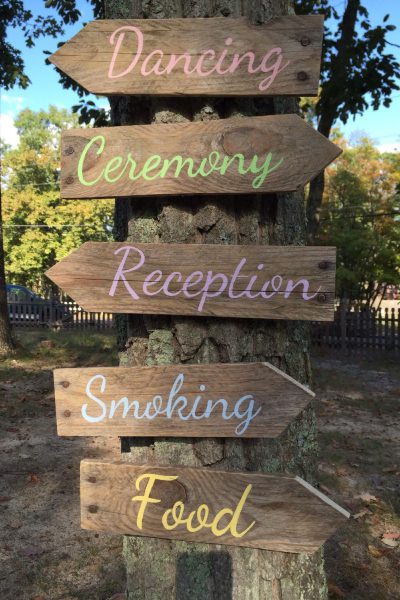 Don't let your guests get lost by making some useful and pretty arrow signs directing them to key places like the toilets, the ceremony space, the reception area and of course the bar.
Gold Tipped Feathers
These decoration ideas don't serve a practical purpose but they look very pretty when you place them on top of a napkin! Simply spray paint the top of feathers gold and add some sparkle.
DIY Lawn Games
There's often a bit of a lull between the ceremony and reception or reception and evening party so it can be a smart idea to provide some entertainment for your guests. A brilliant budget idea is to make your own rustic lawn games – we're talking quoits, hoopla, giant jenga, skittles and croquet.
Napkin Cutlery Holders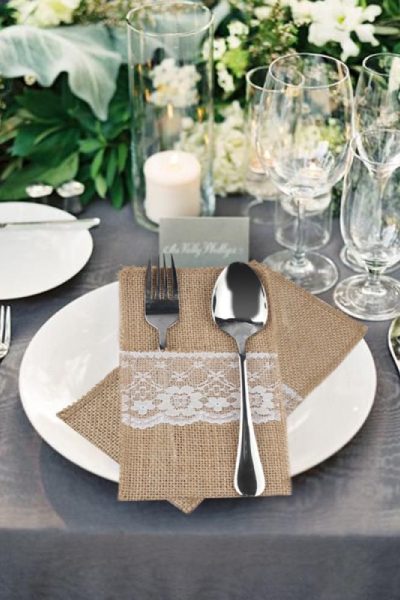 Simple napkins can become much more useful if you turn them into cutlery holders. This idea is a perfect way to keep cutlery together if you're serving food in a more relaxed way – outdoors perhaps or where guests help themselves to cutlery from a basket or bucket.
Escort Card Display
If you've decided to go for American-style escort cards rather than a table plan then you can have a lot of fun with how you display them. We've seen everything from escort card topped cupcakes and vintage keys with the cards as labels to potted plants and even shot glasses!
Vintage Bike Flower Display
If you've got a pretty vintage bike or know a friend who has, ask to borrow it and then display pretty wild flowers in the basket and hang a sign to your wedding on the handle bars for a really simple piece of DIY decor.
Wax Seal Invitations
Add a regal look to your invitations with a pretty DIY wax seal. You can buy an inexpensive personalised stamp and wax from places like Etsy, and wax sealing is a really easy yet effective DIY project.
Wooden Pallet Order Of The Day Sign
Grab a disused wooden pallet, turn it on its side, paint it and use the wooden panels to write down the order of the day. Pretty it up with flowers to give it a wedding vibe.
Lavender Table Sprinkles
This is a really easy DIY project. Collect some fresh lavender and then rub it between your hands to loosen the lavender petals. Sprinkle them on your table for some natural and beautifully-scented table confetti.
Sweetie Table Or Display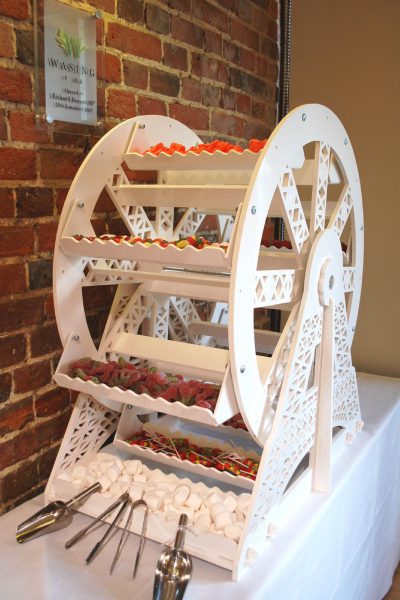 Got a sweet tooth? Treat your guests to some pick and mix at the evening party but ensure it is displayed in tempting style with pretty jars, vintage cake stands or even a mini DIY Ferris wheel.
Candle Or Fairy Light Path
Light up the path to your big day or the toilets and bar if they're outside with strings of fairy lights or festoon lighting.
Polaroid Guest Book
Wedding guest books can be a bit boring, so make them more exciting for both you and your guests with a DIY polaroid guest book table. Leave some pritt stick out with a polaroid camera and ask guests to write their message next to a picture of them. This is a genius idea as it's the guests who end up doing the work!
Pet Ring Collar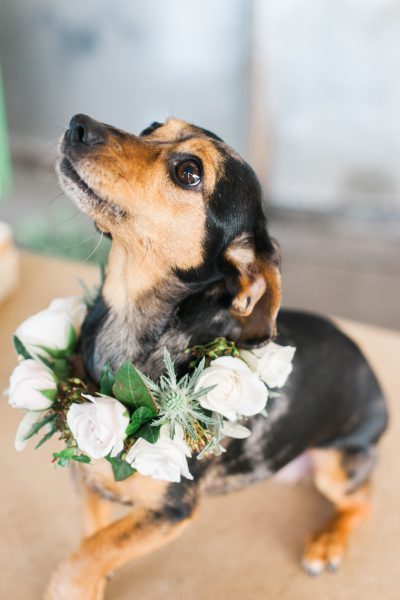 Does your fur baby have a starring role in the big day proceedings? If you're trusting them to deliver the ring down the aisle then make sure they look the part with a DIY wedding collar with a little pouch attached for the all important bling.
Image Credit: Kate Nielen
Wine Bottle Table Numbers
Got some spare wine bottles from all the engagement celebrations? Turn them into table numbers by creating personalised labels or by painting them and then adding the number on top.
Wood Slice Displays
A pretty centerpiece idea is to collect or make your own wood slices from your garden and then pile them up artistically on your tables before topping them with flowers.
Foliage Garland Lighting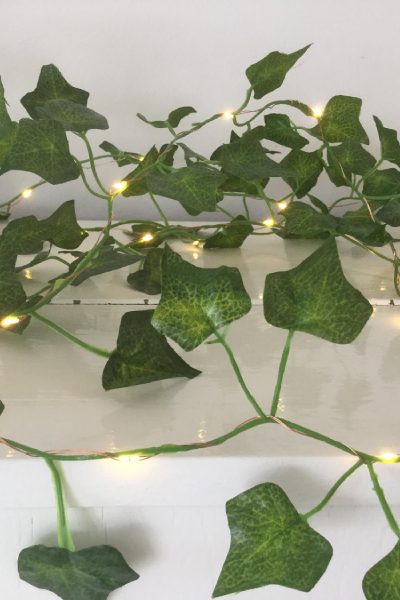 If you're having strings on lights throughout your wedding venue, give them a rustic and natural look by winding some foliage around the wires too.
Image Credit: Etsy
Feature Dessert Table
Instead of having your dessert served to the tables why not make your dessert do double duty as décor too and arrange a selection of cakes, macarons, and mini desserts in different containers on a table with flowers.
Fresh Fruit Table Runner
This idea looks particularly amazing at destination weddings or an outdoor wedding. Buy some vibrant fresh fruit like oranges, lemons and apples from the market and then arrange it as a table runner along trestle style tables. Guests can then help themselves too.
Potted Plant Centrepiece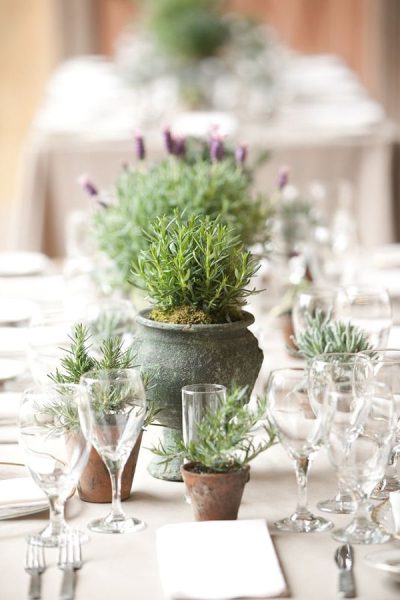 This is a sustainable and pretty way to decorate your tables. Potted plants can then be taken home by your family and friends or yourselves to be enjoyed once the wedding is over.
Taper Candle Display
Bring the romance to your big day with plenty of candles. Have some fun creating an eye-catching look with different heights and colours of taper candles.
Mr And Mrs Banner
Create your own Mr and Mrs/ Mr and Mr/ Mrs and Mrs banner out of colourful card or material and hang it behind your top table.
Bride And Groom Chairs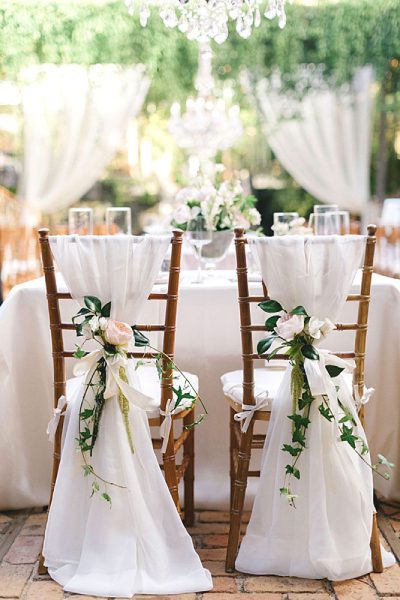 Make sure your reception chairs are worthy of the VIPs you are with some homemade Mr and Mrs signs. Pretty foliage garlands or flowers will ensure your chairs stand out from the crowd too.
Tree Decorations
If you're getting married or holding your drinks outdoors you can add some bling to the trees by hanging pretty decorations from the branches.
DIY Dance Floor Decor
Have some fun with your dance floor with some DIY decor like an overhead fairy light chandelier, light up letters made from wood and light bulbs or even a monogrammed dance floor.
Photo Banner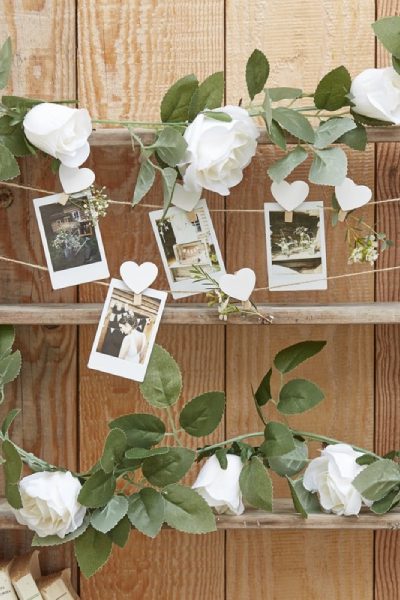 Make some personalised bunting out of photos of you and your new spouse. Include pictures as babies right up to your engagement and watch guests enjoy a trip down memory lane.
Strings Of Lights
Create a pretty backdrop to your table, ceremony or any other area you want to light up with strings of lights hung vertically from a frame.
Make Your Own Cake Topper
Buy some modelling sugar paste and try and make yourselves in bride and groom form for the top of your cake. Or perhaps something simpler like mini bunting or a foliage covered wire heart?
Terrariums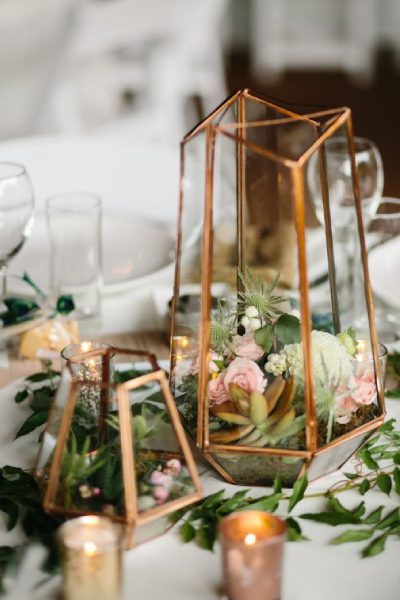 We love the idea of creating a terrarium for the centre of each table using succulents, pretty glass vases and pebbles. They look so smart and can be gifted or enjoyed at home afterwards.
Wedding Favours
When it comes to working out the budget wedding favours often end up getting the cut as buying 100 little gifts can be rather expensive! By DIYing your favours though you can still treat your guests without spending lots. Homemade jam, chocolates, a mix tape of your wedding music, DIY candles, hot chocolate or cocktail mixes will all be received very happily.
Barrel Cocktail Drinks Tables
Buy or borrow some old barrels and unleash your inner carpenter by turning them into tables. It's actually a lot easier than it sounds and they will look amazing at a rustic drinks reception.
Sew Your Own Ring Pillow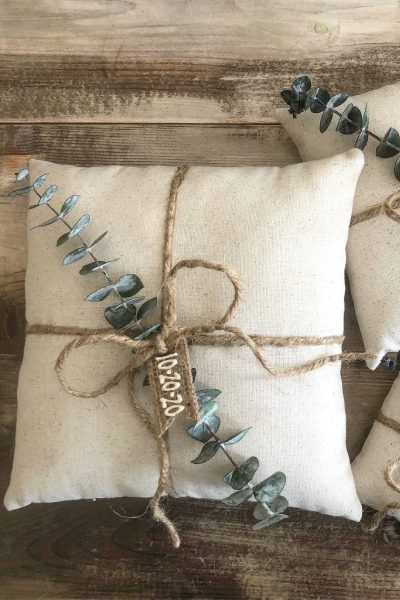 Got a cute little flower girl bringing your rings into the reception? Give the moment a fairytale touch with your own DIY ring pillow. It'll be a wonderful keepsake too.
Image Credit: The Arsty Hippie via Etsy
Colourful Pin Wheels In Jars
Inject some colour into your reception room with pretty paper pinwheels in jars.
Collect Vintage China
Scour antiques shops for mismatched vintage china and then use it in your decor as either flower vases, table centrepieces or even to serve tea and coffee in after dinner.
Eucalyptus Hoop Wreaths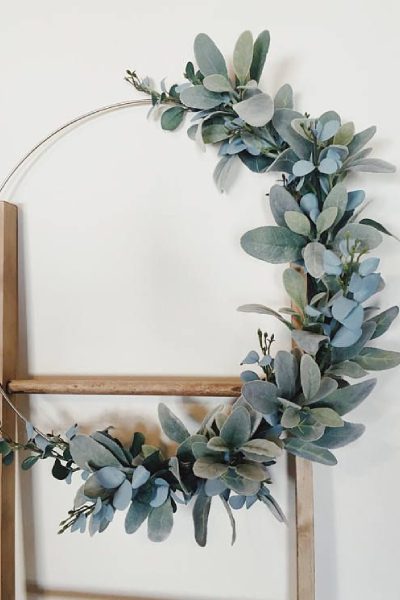 This floristry project is so easy to do but looks stunning. Wrap eucalyptus round pretty gold or brass hoops and hang them at varying heights in your venue or outside.
Hanging Ribbon Flowers
Attach flower heads to long lengths of ribbon, which in turn are hung from a door frame or arch. The final effect will be an ideal ceremony or photo booth backdrop.
Macramé Hanging Plant Pots
Who knew tying a few knots could result in something so pretty. Macramé plans pots look really stylish and add vertical interest to your foliage and flowers.
Homemade Jam Jar Favours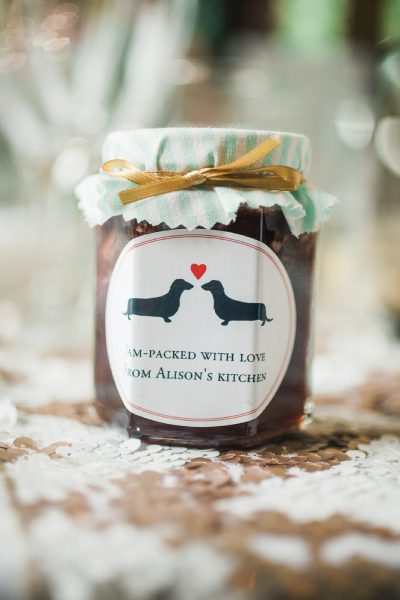 If you (or one of your parents) loves making jam then ask them to make a special batch for your big day. Create your own cute personalised labels and colourful lids too.
Image Credit: Katie Lunsford Photography
Glitter Bottles
Clean leftover wine bottles and then coat them in glitter. These can then be used as candle holders or to display table numbers.
Wine Bottle Table Plan
There are so many uses for leftover wine bottles at weddings, including using them as your table plan. Paint them in black chalk board paint and then once dry write names and the table number on top in white chalk.
Balloon Wall Backdrop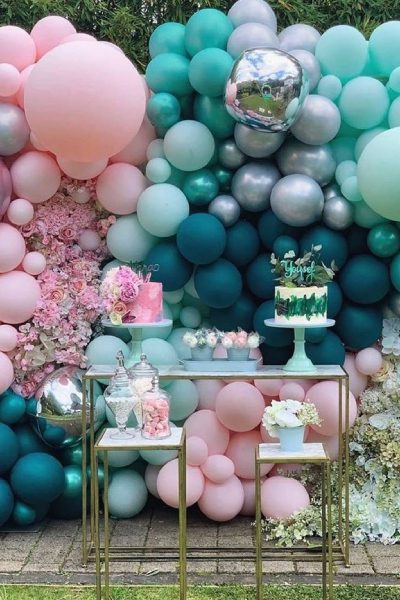 You'll need a lot of puff for this project. Blow up lots of balloons in your wedding colours and attach them to a wooden board to create a vibrant budget-friendly backdrop.
Ceremony Chair Bows
Source some gorgeous fabric like velvet, silk, lace or chiffon in your wedding colours and tie lengths of it around the back of your ceremony and reception chairs. Think about layering different fabrics or add springs of flowers for a country garden look.
Hanging Wreath Garland
If your venue has beams then you could easily hang an impressive looking garland wreath from them. All you need is plenty of foliage to wrap round a metal hoop that you then tie up using lengths of rope.
Driftwood Sail Boat Table Numbers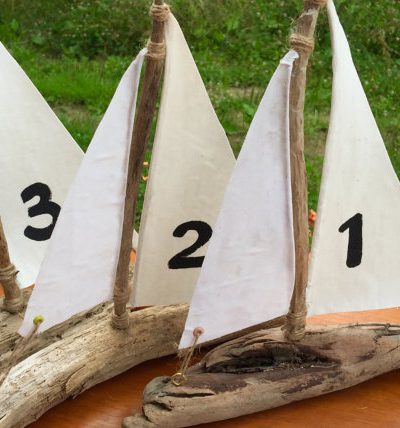 How cute are these driftwood sailboats as table numbers for a coastal celebration. Search along beaches for driftwood during the run up to your wedding and then simply add a wooden mast and sail.
Silk Flowers
This is quite an intricate project but it's a sustainable one as silk flowers can be used again and again. Place a DIY material flower on each place setting or use them in arrangements to supplement real flowers.
Hanging Shells Beach Ceremony Backdrop
Collect pretty shells from the beach and then attach them to lengths of string that you hang from a frame for a chic piece of seaside wedding decor.
Colourful Tassel Balloons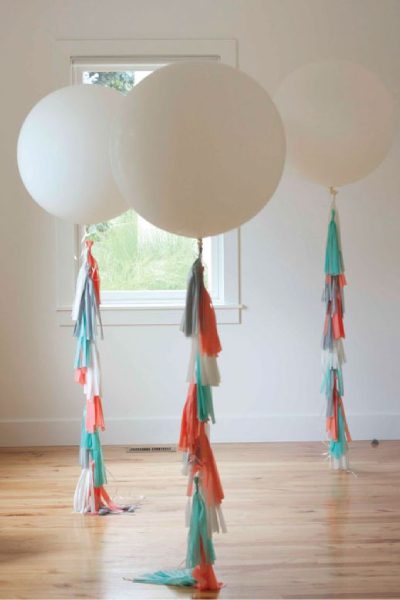 If you're having huge helium balloons at your wedding, add a pretty DIY garland tail to give them the extra wow factor.
Fairy Lights In Mason Jars
Fairy lights look extremely pretty and romantic when you wrap the lights into a messy ball and then place them inside a small vase or jar on your tables.
Floating Candle Vases
Fill glass vases with water (add food dye if you want some colour) and then float candles on top for a pretty and budget-friendly DIY centrepiece.
Wooden Wedding Cake Stand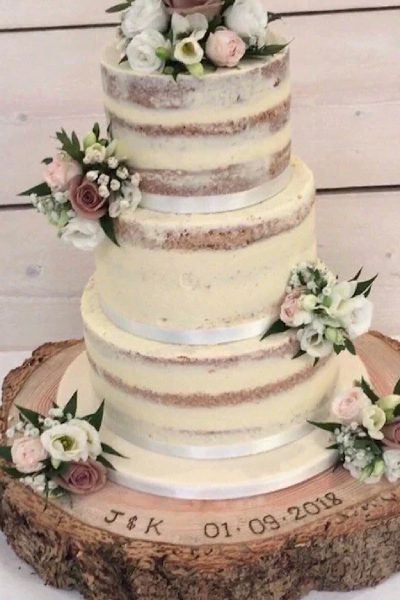 A large, thick tree slice can make for a wonderful cake stand at a rustic wedding. Personalise it by adding your names and dates using a pyrography pen.
Image Credit: Wood Yard Things via Etsy
Personalised Sparklers
End the party on a high by having your guests do a sparkler send off. Place sparklers in a box with a pretty sign so guests know exactly what to do.
Wooden Ribbon Wands
At the end of the ceremony it can look amazing having all your guests waving ribbon wands. They're simple to make and can be made in any colour and fit with any theme.