40 Magical Winter Wedding Ideas For 2022
Published date: 15th December 2021 | Author: Hollie Bond
NB: To help you browse our best suggestions we have included some third party links. Some purchases made through these links may earn us a commission to help keep our blogs and offers current and up to date. Thanks for your support!
---
Bring some warmth and magic to your winter wedding with these amazing seasonal surprises.
Winter is a truly magical time of the year to get married. You can invite your friends and family to celebrate with you in a cosy and elegant venue, with spectacular seasonal decor, deep sumptuous colour palettes and that special hint of romance that comes from the festive time of year. 
There's no such thing as 'wedding season' anymore and more and more couples are choosing winter to get married because of the winter wonderland they can create. And, of course, the icing on the cake is the fact that a lot of dates in the colder months will be a lot cheaper for weddings than in the height of spring and summer.
If you're ready to embrace the challenge of planning an amazing winter wedding you'll want to make sure you consider the season in all your big decisions, from your choice of outfit and decor to the type of food and drink you serve and the entertainment. To help you, we've rounded up 40 of the best winter wedding ideas for any brides and grooms tying the knot in December, January and February.
Wear a Wintry Outfit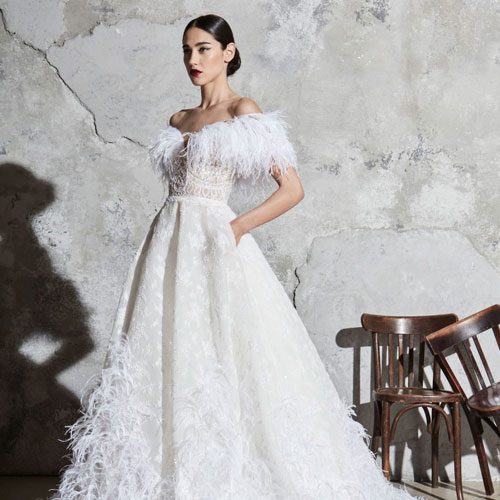 This goes without saying, but it's important to dress for the season. You'd be amazed how many brides get completely wowed by a wedding dress that's inappropriate for the weather or their venue though. When you go along to try on wedding outfits be sure to keep the season in mind at all times so you don't get tempted to try on that elegant silk slip wedding dress that'll have you shivering all day!
Ask the wedding boutique to suggest ways you can layer your outfit with amazing wintry accessories like faux fur boleros and stoles, tuxedo-style jackets, leather jackets, or perhaps a pretty overlay with feathery or sparkly details. Long-sleeved dresses and dresses with full, long skirts are also great ideas for the season. You can go all out with sparkles at a winter wedding too, so if you love a bit of bling don't hold back. For grooms thicker fabrics like tweed and wool look chic and rustic and will keep you warm.
Image credit: Thomas Nutzl
Host Your Wedding In a Wintry Venue
When you're looking for a place to get married and hold your reception always keep the season in mind so you can choose a wedding venue that lends itself perfectly to the colder weather.
You don't want to pay for somewhere with acres of gorgeous grounds and multiple outdoor ceremony and reception spaces when realistically most of your day will be spent inside. Look for cosy, rustic and welcoming indoor spaces that give you plenty of scope for celebrating in different rooms.
You might even want to take things a step further and choose something quintessentially seasonal like a ski-style chalet or a barn with a winter lodge vibe.
Choose a Winter Colour Palette
Rich colours work really well in winter and can add real warmth to your celebration. Festive colours like deep reds and greens are classic winter colour combinations, while outside the Christmas period you might want to go for something sumptuous like jewel tones – think deep purple, ochre, warm oranges, dark pink, teal and navy. Warm winter colour palettes always go really well with metallic elements too like touches of gold, silver, brass and rose gold.
Don't be scared off by minimalist colour palettes in winter though. In the right venue, a monochrome palette can look incredible as can an all-white palette. Just be sure to add lots of warm lighting so that it doesn't come across as cold.
"Take inspiration from your home, the colours that you love, your soft furnishings – what colours make you feel calm, happy and festive?" says venue stylist Kirsten Butler from The Little Wedding Helper. "A great place to start with colour is the linen – a tablecloth or runner is the first layer and the base for everything else to go on top of."
Consider a Chic Coat or Elegant Jumper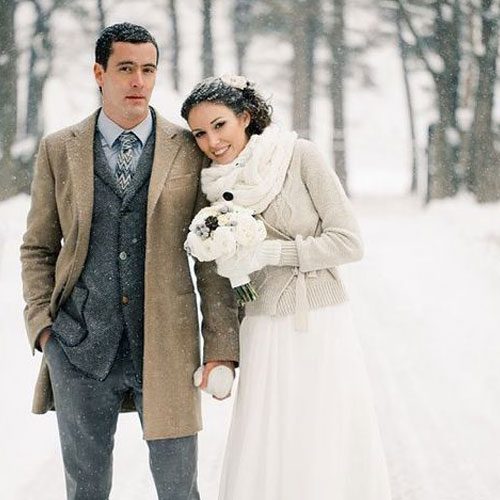 If part of your day is going to take place outside – for example, if you're coming out of a church ceremony or another civil ceremony venue and travelling to a different reception venue, or you've got your heart set on outside photos, then you'll want to consider a nice warm coat, otherwise you'll end up looking blue in your pictures! Look to hire or buy (and use for future events) a really chic coat that goes with your outfit. White fluffy mohair, cashmere or oversized wool jumpers can look amazing when paired with a silky or tulle skirt too.
Image credit: Pinterest
Opt for Bold Make Up
There's going to be less natural light throughout the day at a winter wedding in the UK and night will fall a lot earlier, so you'll want to accentuate your make-up so you don't look pale and it stands out in your pictures. Your make-up artist will be able to advise what will work well for your skin tone and outfit, but some of our favourite winter wedding ideas include a really bold red or deep plum lipstick, dark eyeliner, vampy red nails and sparkly or metallic eyeshadow.
Let your Bridesmaids Sparkle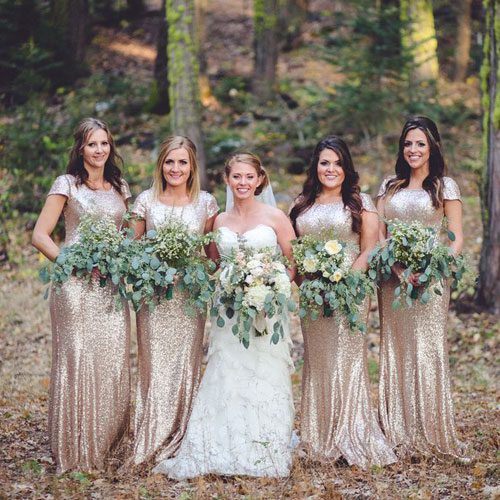 Winter bridesmaids in full-length sequin-covered dresses always look amazing at winter weddings. As long as your maids are all on board with the bling and being in the spotlight that is!
Image credit: Pinterest
Serve Festive Cocktails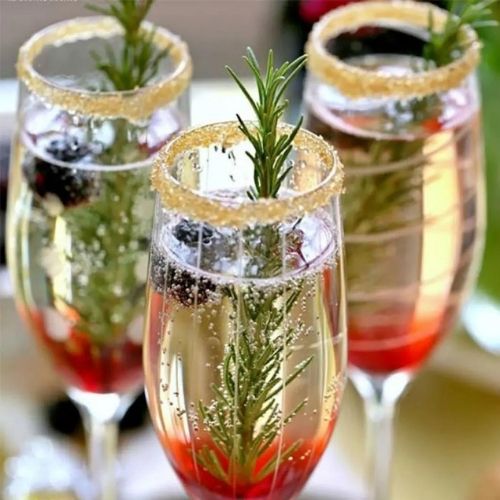 "Add to your drinks offering something that will keep people warm when they arrive at your cocktail hour," says wedding planner Holly Poulter from Revelry Events. "A hot cocktail, maybe something with a little whisky, and ask if you can add a tea and coffee service earlier in the day to keep people warm before the ceremony or dinner."
Mulled wine will go down well with guests at a Christmas wedding too, and will make your venue smell incredible.
Image credit: Pinterest
Use Christmas to your Advantage
"Even if you don't want to theme your wedding around the season, some seasonal elements can make beautiful additions and will be kinder on your wedding budget," says Holly. "Fairylights on a Christmas tree, for example, can be used at its most minimal look to bring the outdoors in, or go full glam and decorate it to the brim within your colour scheme. Christmas tree decorations are typically cheaper than a floral arrangement of the same size. Or use one to display escort cards/place names as a feature."
Look for Thicker and More Traditional Materials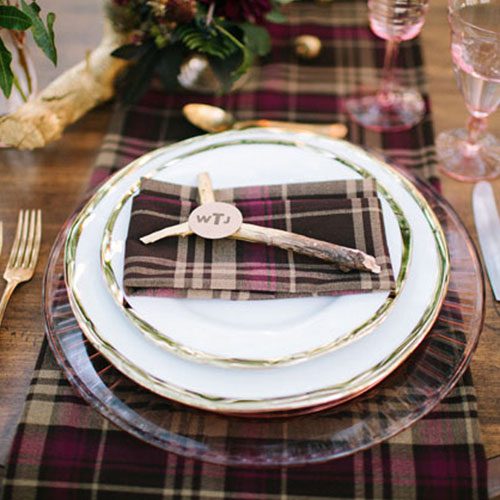 When thinking about everything from your outfits to table runners choose thicker, more sumptuous materials as these will help create a cosy feel and reflect the season better. Each table setting could have a lovely thick napkin or placemat in a wintry fabric like tweed, velvet, tartan or burlap. Other ways to use a thick fabric around your venue are by hanging drapes, as a photo booth backdrop, or as table cloths.
Image credit: Ashley D Photography
Go All Out With Sparkle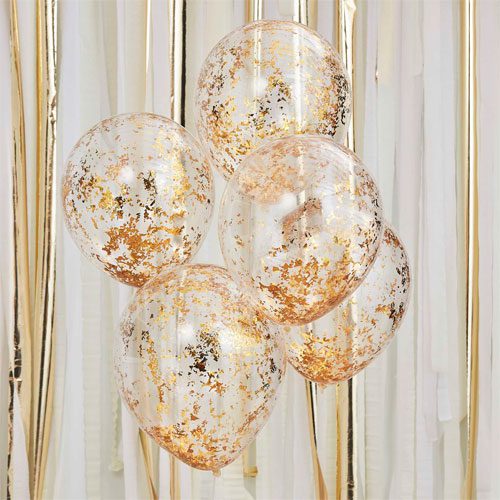 Winter can be dark and moody outside so the more sparkle you have the better to bring brightness to your wedding decor. Sparkly details also work so well against a darker backdrop as in summer they can get lost in the bright sunlight. Sparkly details can include incredible sequin-covered table cloths, glitter-covered wine bottles and candle holders, huge helium balloons full of glitter confetti, chandeliers, edible glitter cakes and so much more. Release your inner magpie!
Image credit: Ginger Ray
Focus on Soft Lighting
At winter weddings it's important to spend some time thinking about lighting as a large part of your celebrations will take place after dark. Ask to visit your venue at nighttime so you can gauge how cosy and warm the lighting already is. If it's not quite what you're after think about spending money on candelabra, fairy lights and festoon lighting. Also, speak to your photographer about the sort of lighting that will work best for your photos.
Have Fun With Foliage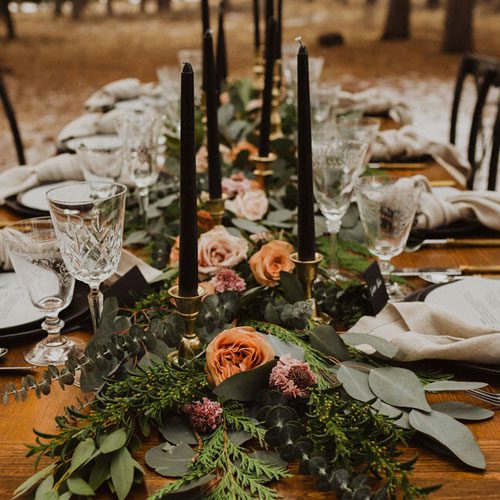 "If you have a rectangular table then adding foliage down the centre always looks (and smells) great," says Kirsten Butler. "You can forage for this, buy from a florist or there are some great faux garlands that you can use year after year. If you have a round table then a flower arrangement, lantern or festive decoration can fit in without it being overbearing. Remember to keep any wedding centrepieces below the eye line so you can chat across the table easily and ensure there is enough room for any sharing dishes!"
Image credit: Nicole Ashley photography
Choose Seasonal Flowers
Winter weddings are usually less expensive than summer weddings, but one area where you can majorly overspend is when it comes to flowers. If you simply order blooms that you like you may end up paying through the nose for out-of-season summer and spring blooms. As well as not being particularly eco friendly, it costs your florist more to get hold of them. Spend time researching winter blooms that could work for your wedding bouquet and at the reception. Some of our favourite seasonal wedding flowers include hellebores, anemones, berries, paperwhites, narcissi, ferns, ranunculus and pussy willow.
Experiment with Dried Blooms
If you really want some summery flowers in the mix but don't want to pay too much for them think about dried flowers. These are becoming increasingly popular at weddings and can look incredible when mixed in with fresh blooms. Dried flowers will give you more scope to incorporate your wedding colour palette into your floral decor.
Warm Guests With a Hot Chocolate Bar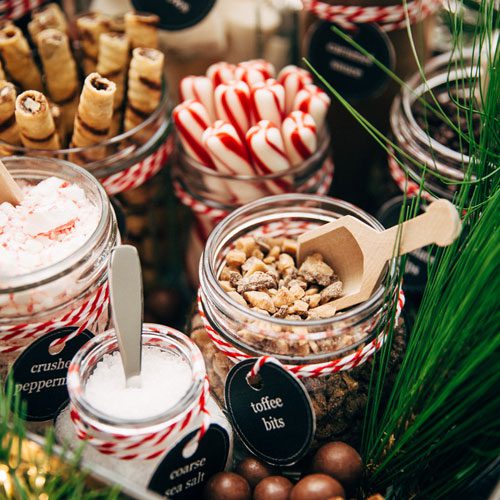 Instead of summer favourites like 'Pimp your Prosecco' or gin bars, why not set up a cute hot chocolate bar where guests can mix up their own sweet treat. Make it luxurious with real chocolate nibs instead of hot chocolate powder, flavoured syrups like gingerbread and cinnamon, Baileys and fabulous toppings like marshmallows, sprinkles and caramels.
Image credit: littlespicejar.com
Bring the Outdoors In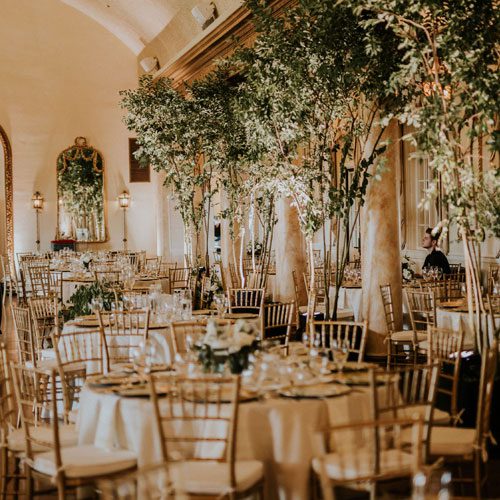 It might be too cold to hold your reception drinks al fresco so bring some of that outdoor feel inside your venue by decorating with branches, trees, greenery and even some fake snow! Trees make a huge statement and can help create that cosy and intimate winter wedding vibe, especially if they're towering over your guests. If you prefer something sparkly you can hire light-up trees that are really magical.
Draped greenery or a large foliage wreath is equally gorgeous for a winter wedding, while you could source bare branches for absolutely nothing on walks leading up to your big day and then use them in a vase or jug as props for decorations like baubles.
Image credit: Pinterest
Go For a Modern Aisle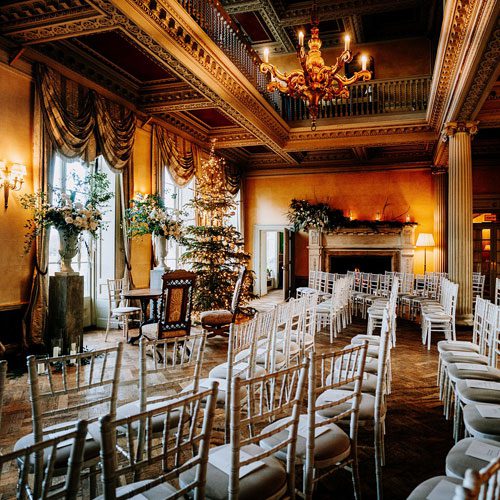 If you're having an intimate winter wedding or want to create a cosy vibe think about different ways to seat your guests. A circular aisle with guests in the round or a semi-circle is particularly good for creating a welcoming and inclusive atmosphere.
Think About Your Guests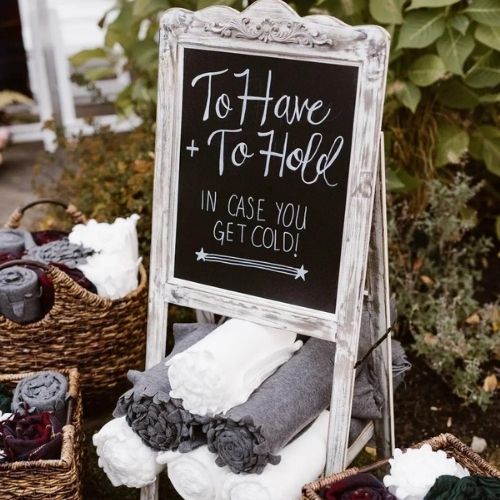 While you may love the season of winter, some guests might not be quite as excited about celebrating at a cold time of year. Make sure to consider your guests' needs in winter to ensure they can enjoy your wedding to the max. Speak to your venue to ensure every corner is cosy and toasty so that no one has to sit in a draught and get cold feet.
"Buy some blankets in bulk and make a cute display of them," says Holly. "Guests can grab one if they get cold – particularly useful for older guests and if you booked your venue because of the stunning grounds or outdoor elements, it would be a shame to keep people indoors. Tempt them outside with fire pits, warm drinks and blankets!"
Image credit: Pinterest
Scatter Candles Throughout Your Venue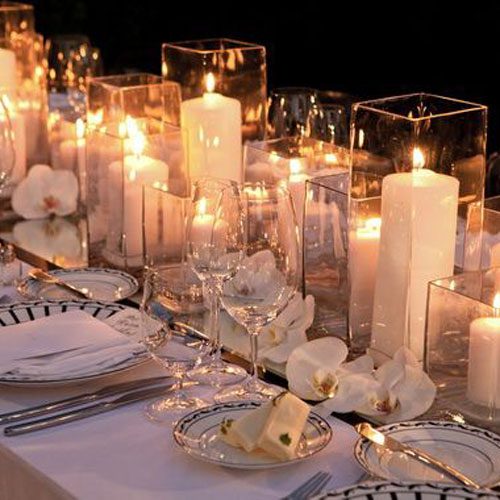 "Candles are a must for the festive season and this can range from tealights to tapered dinner candles or pillar candles," says Kirsten. "Candles can be incorporated into the centrepiece as well as around the venue and really give a warm and cosy feel."
Image credit: Pinterest
Go Big with Your Venue's Fireplace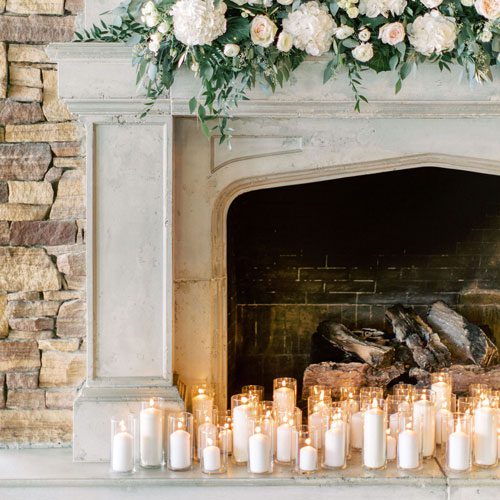 Fireplaces are a big focus at winter weddings and even if it's not lit you can still make it feel warm and cosy for your guests by filling the grate with candles and draping stunning foliage or floral wreath over the mantelpiece.
Image credit: Pinterest
Create Warmth With Drapes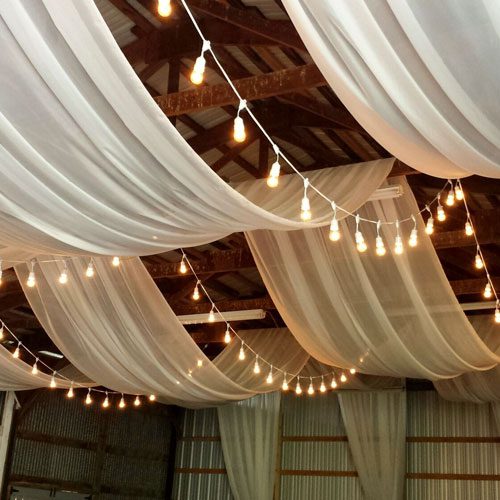 If your venue has high ceilings or is a blank canvas, it could feel a bit cold and airy at a winter wedding. One of the quickest ways to cosy up a space without breaking the budget is to use drapes, which can be hung from beams in a barn or the ceiling of more modern venues.
Image credit: Pinterest
Use Berries in Your Decor
Collect berries (as long as you know they aren't poisonous) or buy some from your florist and use them throughout your decor to give a really seasonal look to your winter wedding. You could place them on each table setting, use them as a cake topper or have them in your flowers.
Decorate With Sumptuous Velvet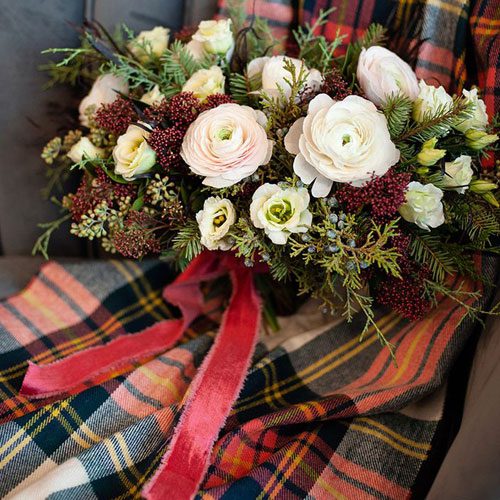 Nothing says winter quite like glorious velvet and you can use this luxurious seasonal fabric in all sorts of décor as well as your outfits and even on your wedding cake and bouquet if you use it in ribbon form.
Image credit: Pinterest
Set Up Wintry Food Stations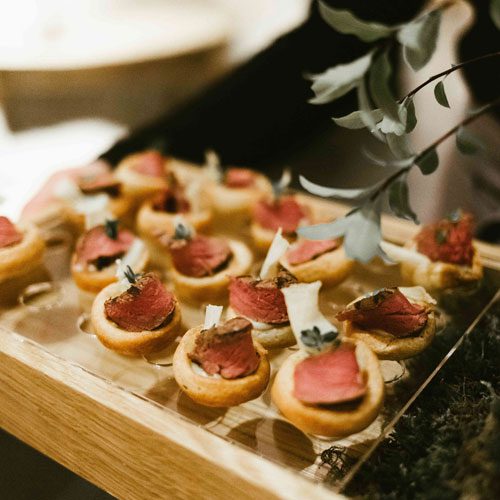 If you want your wedding day to feel like a winter wonderland then setting up various food stations for the evening reception is a brilliant idea. Think pie stations, a s'mores bar, a cheese cart, a gourmet chips van, a pizza truck or a burger bar.
Image credit: Jasmine Andrews Photography
Decorate Your Cake in Wintry style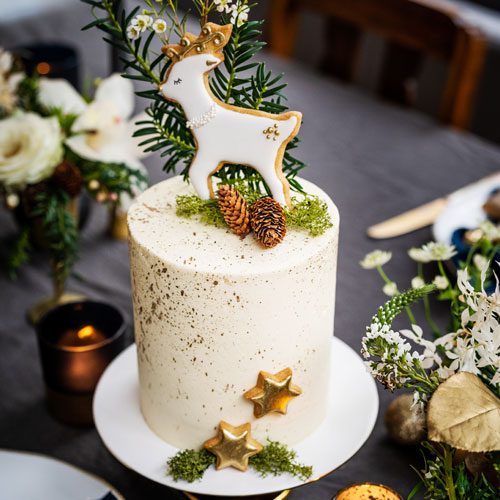 Your wedding cake can be a key part of your winter theme if you decorate it in seasonal style. Top with wintry blooms, incorporate metallic details, cover in icing sugar to look like snow, use gold leaf, decorate with berries, or have festive details like reindeer biscuits and holly leaves. The options are endless.
Image credit: Evoke Pictures
Have a Seasonal Flavour Cake
As well as decorating your wedding cake in seasonal style, think about choosing a winter flavour cake inside too. For example a spiced apple cake, a gingerbread, a stem ginger cake, a fruit cake or a Black Forest gateau.
Use Pine Cones in Your Decor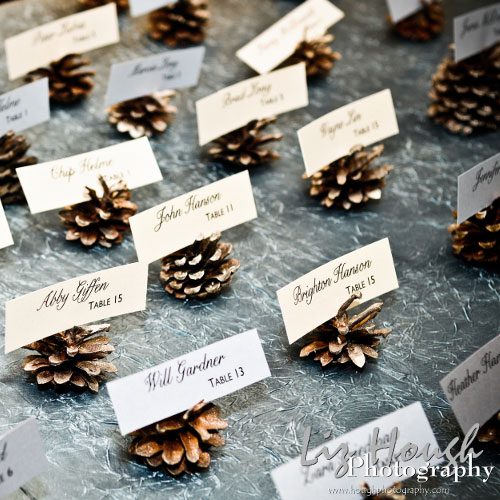 Pine cones are a very budget-friendly décor idea. You can forage them yourselves and then place them around your venue or even paint them gold and silver to add some bling.
Image credit: Pinterest
Create a Cosy Atmosphere
"Candles are a super-easy way of making a winter wedding feel cosy and intimate," says Holly. "Add some classic greenery and foliage on your tables and any feature areas, like a fireplace, and keep it simple."
Hire Lots of Fairy Lights
Fairy lights are a winter wedding staple. Not only do they create a lovely ambience, but they can be used as light up paths to lead guests around the venue and can also become stunning pieces of decor when hung vertically to create a backdrop.
Direct Guests with Neon Signs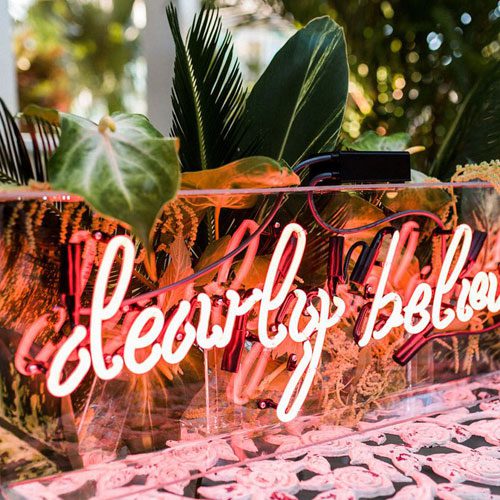 If you want to jazz up your wedding venue signage, consider hiring some cool neon signs. Your guests won't have to ask the way to the toilets or bar with these retro beauties.
Image credit: Kaity Brawley
Use Dried Fruits and Spices in Your Decor
A fun craft project can be to dry fruits and use them in your decor. Citrus fruits work best and can be paired with cinnamon sticks and cloves and used to decorate a fir wreath or table runner.
Opt for Wintry Entertainment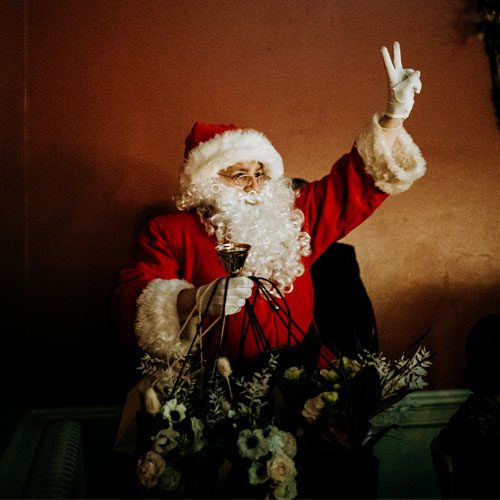 "One December wedding we did a few years ago had Father Christmas come in for the kid's entertainment (but let's face it, the adults were pretty surprised too), which was a lovely way to nod to the season and keep the little ones busy," says Holly.
Image credit: Revelry Events
Have an Ice Sculpture or Luge at the Bar
Winter wedding ideas don't get much more fun than this… embracing the cold snap with an ice sculpture. Ice artists can do incredible things like create a statue of the two of you or you could opt for an ice luge to really get the party started.
Arrive in a Horse-Drawn Carriage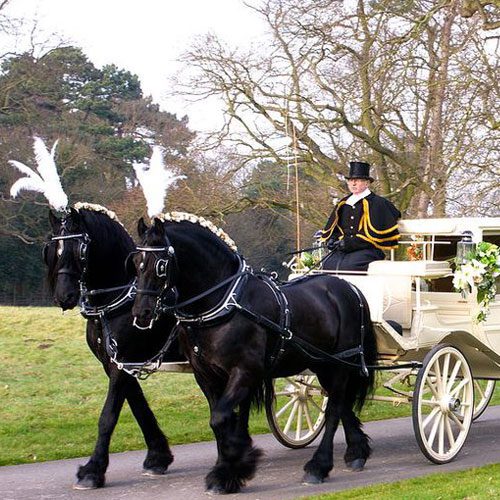 Imagine arriving at your winter wonderland wedding in a horse-drawn carriage with a cosy faux fur blanket around the two of you. It doesn't get much more magical or romantic than that.
Image credit: Pinterest
Throw Snow Confetti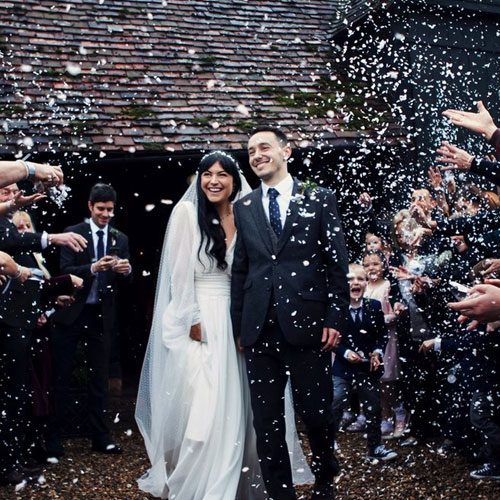 It might not actually snow at your winter wedding, but you can create the illusion with some biodegradable snow confetti. The pictures of you leaving the ceremony with your new husband or wife will be out of this world.
Image credit: Dollz Confetti
Have a Monochrome Theme
Black and white with hints of gold is a perfect winter wedding palette especially if you're lovers of all things Art Deco or are getting married in a chic city venue. Just make sure to warm things up with lots of candlelight.
Set Up a Sparkler Send Off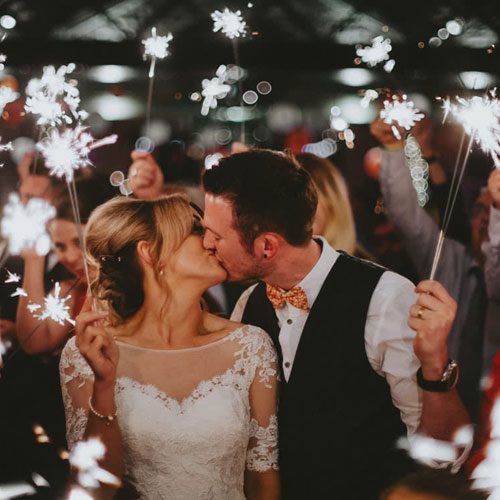 Sparklers are a brilliant idea at winter weddings as they put guests in mind of the magic of Bonfire Night and will look incredible in photos against the dark skies. We love the idea of giving them to guests at the end of the night to create a sparkler send-off, or you could use them to create clever shapes in your couples photos.
Image credit: Flawless Photography
Focus on Decadent Place Settings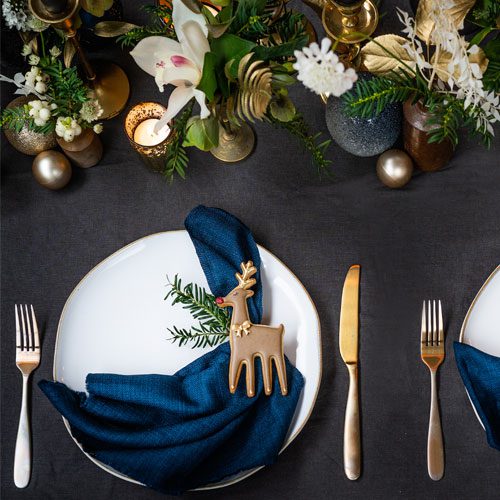 "What is going to greet your guests when they sit down? Are you having different china, glassware or cutlery?" says Kirsten. "It's easy to hire in, so how about leaving the everyday stuff in the drawers and cupboards and using something different. Think gold cutlery with gold rim glassware to add that wow factor to your tables. Also, think about napkins that tie in with your colour palette that you can fold and lay between the cutlery. Adding a name tag is always a lovely touch, especially when it's handwritten. Nestle in a homemade decoration or sprig of mistletoe and you have a personal festive touch for your guests."
Image credit: Evoke Pictures
Add Hints of Gold, Silver and Bronze
Metallic colours and details look particularly good at a winter wedding and are the perfect way to give rustic textures a touch of elegance. Rose gold, gold, brass, and copper will add warmth to your decor, while silver creates the illusion of ice and snow.
Serve Classic Winter Fare at Your Reception
In winter guests will want to warm up with hearty food so make sure any dishes you serve reflect the season. A classic roast dinner will always go down well, while other warming options could include starters of baked camembert or soup, mains of beef bourguignon or pie with mash and dessert can be a British classic like a sticky toffee pudding or crumble. Let guests wash it all down with warming winter Pimm's, mulled wine, craft ales or full-bodied reds and whites.
We hope some of these ideas have inspired you for your own winter wedding!