The Ultimate Greece Honeymoon Guide
Author: Gracie Pritchard
NB: To help you browse our best suggestions we have included some third party links. Some purchases made through these links may earn us a commission to help keep our blogs and offers current and up to date. Thanks for your support!
---
As far as honeymoons go, Greece is an extremely popular destination for a lot of lucky couples! But choosing where to stay isn't as easy as it sounds. There are a wide variety of beautiful towns and cities to choose from. And by this point you're probably wondering how you could possibly decide (you're not on your own there)!
Whether you're looking for a more tranquil trip or you're a couple searching for an adventure, there is well and truly something for everyone on these idyllic islands. And we've put together an amazing guide to Grecian honeymoons, just to make it that little bit easier!
So put on your strappy sandals and read on to find out more!
Where Should You Go for Your Greek Honeymoon?
Classic - Mykonos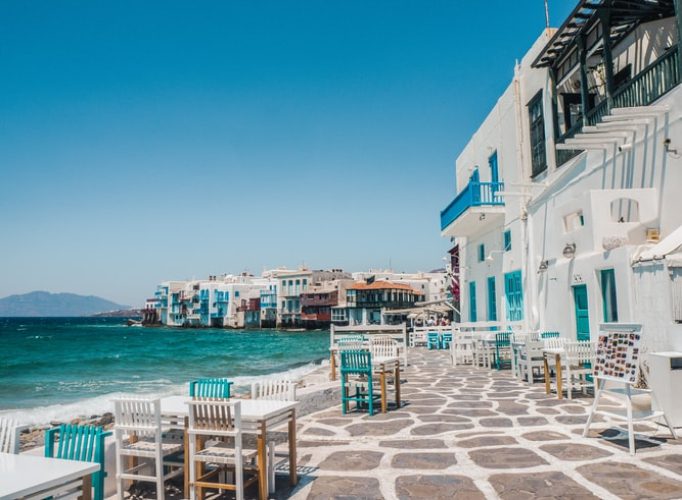 If you're a couple looking for a classic Greek getaway, Mykonos could be the ideal island for you to escape to! In close second after Santorini, Mykonos is another one of the most popular honeymoon destinations, mostly due to it's abundance of tiny, charming villages!
Unlike Santorini, it's know for stunning sandy beaches and bustling night-life, as well as being a fantastic place to experience authentic Greek culture. There's something for everyone in Mykonos, whether you're looking to relax or to experience something new – need we say more!
Modern - Crete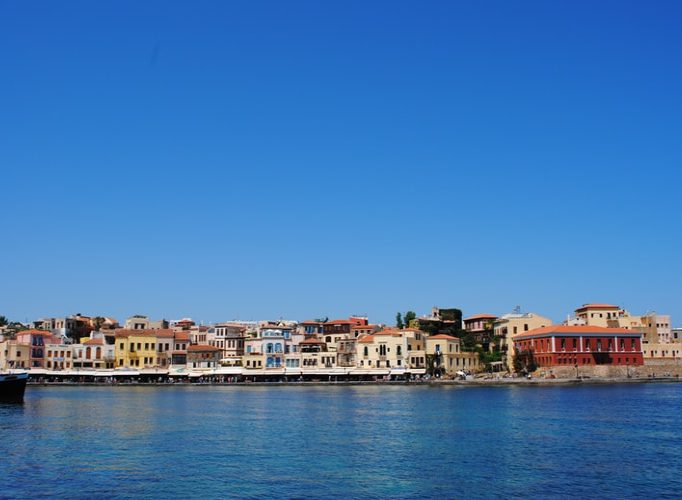 Whilst modern isn't the best word to describe any of the islands in Greece (that's what's so charming about Greece – it's old), Crete is the perfect location for a couple accustomed to the hustle and bustle of modern, city life.
Known as one of the most budget-friendly and largest islands in Greece, this location is great for a couple looking to get away for a cheaper price. But just because it's cheaper doesn't mean it's any less special than the other islands. There are so many amazing activities and adventures waiting to be explored in Crete – honeymoon goals!
Romantic - Santorini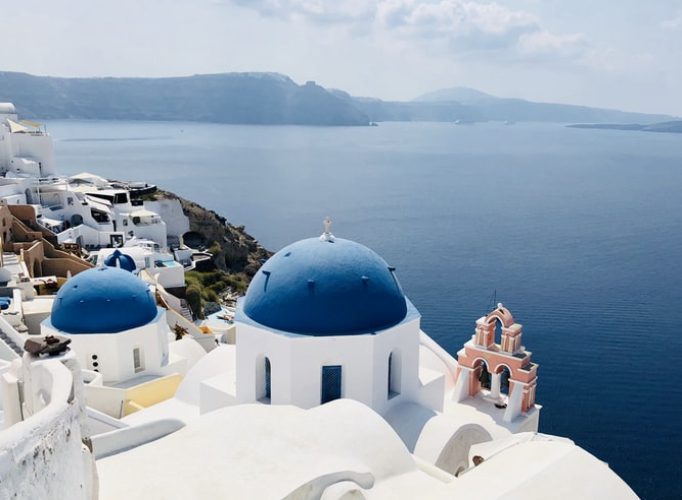 Arguably one of the most popular Greek islands when it comes to honeymooners – and for good reason too. White buildings with blue accents are dotted along the bay, making for a picture perfect honeymoon destination.
Not only that, but there are a wide variety of fantastic couple activities to take part in, from exclusive dining experiences to sunset cruises, Santorini really is the definition of romantic. So, if you're a couple looking for an intimate honeymoon hideaway, this could be the location for you!
Plus, it gives us major Mamma Mia vibes, time to channel your inner Donna and Sophie!
Adventurous - Athens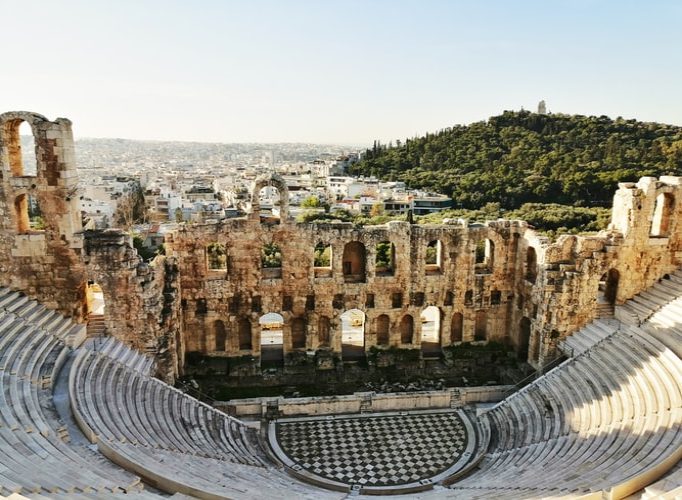 The capital of Greece and the largest city, anyone that is into ancient history and adventure will fall in love with Athens. Admittedly, it isn't typically the ideal honeymoon destination, as many prefer tranquillity and relaxation over hikes and history. But if you aren't a lay-by-the-pool kind of couple, a honeymoon in Athens could be the one for you!
From the Acropolis to the Temple of the Olympians, Athens boasts a whole host of fantastic facilities and activities for an active couple looking to explore and experience Greek culture. And it's also famous for it's bustling night-life and variety of delicious, fine dining restaurants. What's not to love!
Other - Corfu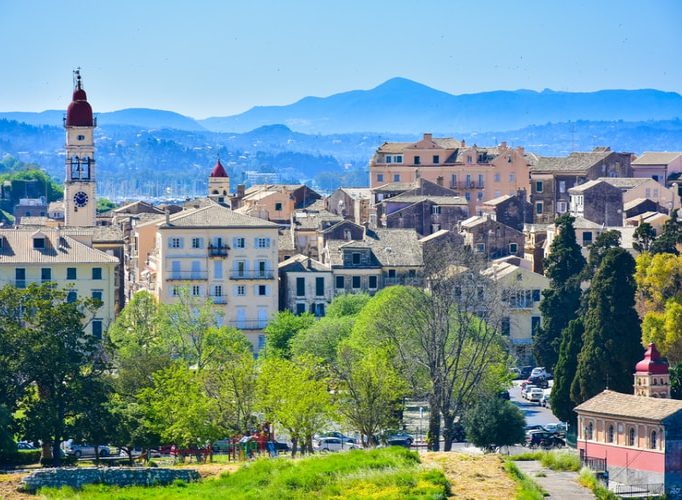 One of the less popular locations but stunning nonetheless, Corfu is located near the border of Albania and across the sea from Italy. Because of this, it's famous for its multicultural history and heritage. So far from the other more traditional Greek islands, but still just as amazing!
Because of this, Corfu tends to be more quiet than the other islands, so if you're a couple looking for complete relaxation and exclusivity, it could be the perfect place for you! And if you're a nature lover, you'll absolutely fall in love with the luscious green landscape! And Corfu Old Town is absolutely gorgeous!
Romantic Activities in Greece
Watch The Sunset in Oia
Due to it's beautiful beaches, Oia is famous for it's stunning sunrises and sunsets, and we can't think of anything more romantic to experience with your significant other. Enjoy a delicious meal and then take a short stroll along the beach until you find the perfect place to chill. Simply stunning!
Venice is one of the most romantic cities in the world. So why not take a trip to Mykonos' very own 'Little Venice' as part of your honeymoon. Favoured by thousands of newlyweds, Little Venice is a stunning place to visit, and a great muse of many famous artists.
Sailing to Navagio Beach to swim and explore the shipwreck has been a popular tourist activity for a very long time, and we think it would be the perfect romantic experience for you and your partner. While there are many ways to travel there, the Get Your Guide's Shipwreck Beach excursion package sounds fantastic!
Wine Tasting In Santorini
Did you know that red wine is an aphrodisiac, well if you didn't, then you do now! So it would only make sense to make wine tasting a part of your honeymoon getaway (not that you'll need it). The Blue Shades of Santorini wine tasting experience sounds like an absolute dream. We'll raise a glass to that!
Romantic Walk On The Beach
Known for its many beautiful beaches, we can't think of anything more romantic than a sunset walk along the ocean! If you're a daring couple looking for a fun adventure, Platys Gialos in Mykonos is a stunning beach, famous for a wide variety of beach-themed activities.
However, if it's simply a romantic stroll with your partner you're looking for, Mylopytas beach in Ios, with beautiful sand and scenery, could be the beach for you!
When To Stay in Greece?
Greece is one of the most popular holiday destinations (for UK nationals) for a reason! Known for its stunning scenery and the scorching heat, it well and truly is a beautiful place to go on your honeymoon. But when is the best time to go?
If you're looking for high temperatures, perfect for basking on a beautiful beach, plan your trip around the peak time between June and August. Although, as temperatures are at their highest, as you can probably imagine, so is tourism. This means it will be a lot busier than usual!
Couples looking for a more private trip should plan their honeymoon towards the end of August for sunshine and seclusion in abundance. Like many holiday destinations, avoid the winter months if you're a fan of the heat!
Best Hotels for a Greek Honeymoon
There are plenty of fantastic honeymoon hideaways, located across the whole of Greece, fit for any couple who decide to travel there. But here are a few of our favourite locations for a bit of inspiration:
Kalesma, Mykonos
There's only one word to describe this gorgeous getaway location: luxurious. Meaning 'inviting' in Greek, the Kalesma is a stunning boutique hotel, located in Mykonos, with an intimate ambience. The perfect place for a couple looking for something more exclusive!
Andronis Arcadia, Santorini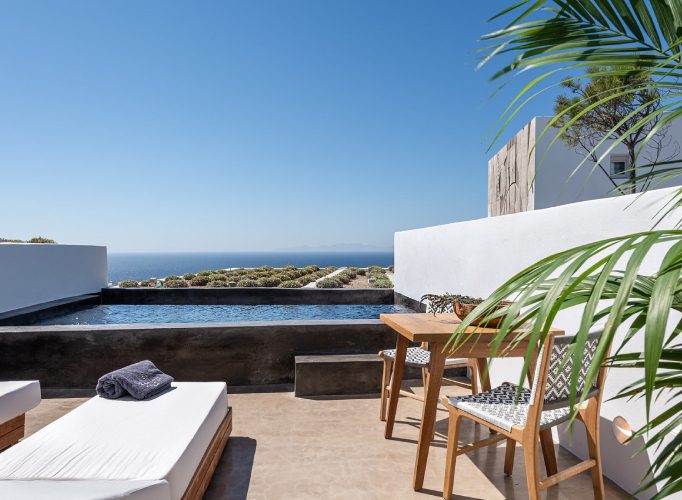 Located on one of the most romantic islands in Greece, the Andronis Arcadia in Santorini is the ideal honeymoon destination. And only a short stroll away from the beautiful beaches of Oia, famous for it's stunning sunsets. Plus, all of the suites come with their own pool inspired by the Aegean sea. Sounds like a little bit of paradise!
F Zeen, Kefalonia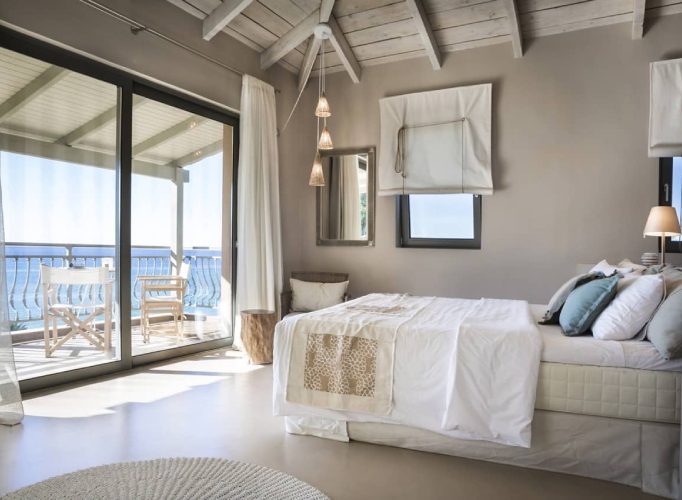 Who doesn't love a family-run business! F Zeen is a gorgeous, adults-only retreat, located in the beautiful Kefalonia, focussed on mental and physical well being. Pools, yoga decks and an exclusive holistic spa are just a few of the fantastic facilities available at this location. The perfect honeymoon hideaway.
Blue Palace, Crete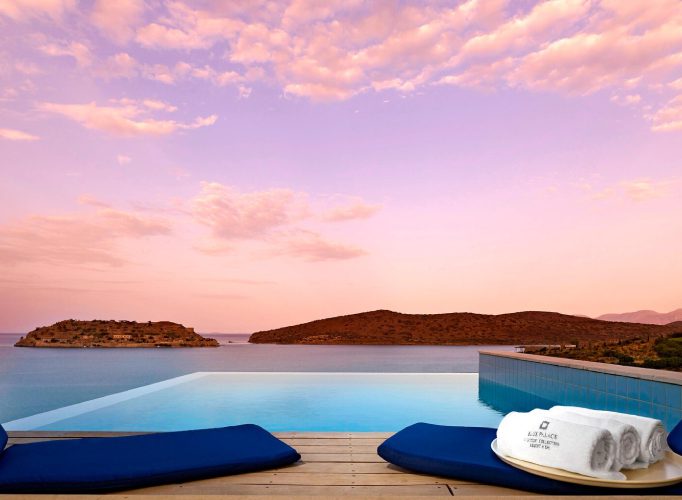 Described as your new 'home away from home', the Blue Palace Elounda in Crete is well and truly one in a million. Made up of a mixture of bungalows, suites and villas, this unique honeymoon location is a great way to experience and explore Greek culture, from the comfort of your own private pool. Yes please!
Elysium Boutique Hotel, Analipsi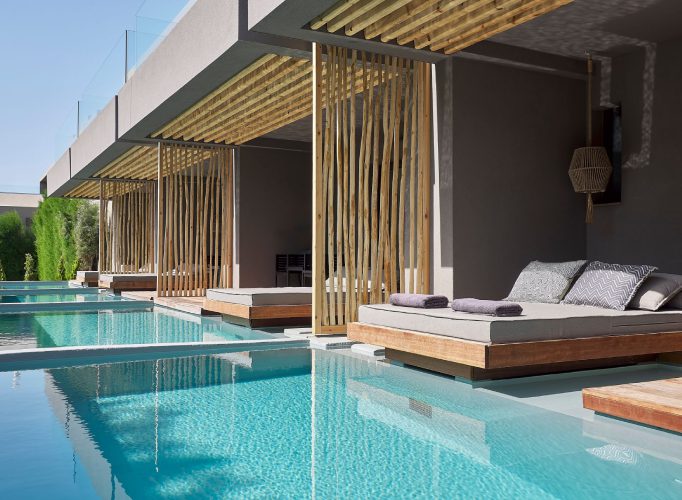 Elysium Boutique Hotel is a stunning five star, adults-only retreat in the serene and secluded town on Analipsi, Crete – need we say more! Surrounded by lush landscapes with a beautiful beachfront view, this boutique hotel is every honeymooners dream – we're booking our room as we speak!
Best Restaurants in Greece
Tudor Hall, Athens – Described as one of, if not the best restaurant in Greece, Tudor Hall can be located on the 7th floor of the King George in Athens, and is famous for its Greek cuisine – with a moreish, modern twist. And the view isn't half bad either (that's an understatement, have a look for yourself)!
Ambrosia Restaurant, Lindos – Nestled in the middle of the beautiful village of Lindos, the Ambrosia Restaurant is the perfect place for a couple looking for a classy, yet intimate dining experience. Specialising in fresh sea food and authentic Mediterranean cuisine, we think the food sounds absolutely delicious!
Blue Myth, Mykonos – Just off of the famous Platys Gialos beach in Mykonos, you can find Blue Myth, a stunning beachfront restaurant with gorgeous views of the bay and even tastier food. Whether it's homemade pizza or a fillet steak you're after, dinner here is a guaranteed success – and so romantic too!
Aktaion, Corfu – If it's a hit with the locals, it's definitely food you can't pass up! The Aktaion is located along the bay of Garitsa in Corfu, with beautiful views of the Ionian sea. This stunning café-bar is the perfect place to stop off for a bite to each with your partner!
Mylos, Santorini – Just about the perfect place to watch the beautiful town of Santorini light up as the sun goes down! Mylos has been a popular location for honeymooners for a long time, and for good reason. What a stunning place to enjoy some tasty snacks and cocktails. Bliss!
Of course, these are just a few of our favourite restaurants dotted around Greece, but we have no doubt that there are hundreds of fantastic places to enjoy, no matter where you're staying. Sounds like food heaven to us!
Best Souvenirs in Greece
Greek Honey – Paired with some fresh, thick Greek yoghurt, we can't think of a better souvenir to take home.
Traditional Grecian Clothing – Grecian fashion has a deep rooted history, and is absolutely stunning, so would be the perfect souvenir for the family fashionista. Beautiful fez's, flowy shirts and embroidered skirts can be found across the islands!
Mati (Evil Eye) Wards – Great for someone who believes deeply in superstition, evil eye is when you experience bad luck due to someone else's extreme jealousy towards you. And Mati wards are the best way to protect against it!
A Backgammon Set – A huge part of Grecian culture and a favourite game of leisure. Known as 'tavli' in Greek, this is a great souvenir to bring home for the whole family!
Bouzouki (Greek Instrument) – A gorgeous string instrument associated with the beautiful Greek music we have come to know and love. You can even find miniature Bouzouki's in some gift shops – perfect for kids!
Leather Sandals – A staple piece in any ancient Greek's wardrobe, and now yours. We think leather sandals are a great souvenir, and easy to style too!
Ancient Artefact Replicas – If there's one thing Greece is known for, it is it's many gorgeous ancient artefacts. And in some museums and souvenir shops, you can replicas to take home with you!
Olive Wood Products – A rare find, especially outside of Greece. So if you can get your hands on olive wood products, they're the perfect souvenir!
What Should You Pack for a Greek Honeymoon?
Sunscreen (and lot's of it too) – We think it's safe to say that this product needs no explanation. If you're out in the sun, always wear sunscreen! And remember to reapply regularly (or get your partner to do it).
A Kaftan – A kaftan or a cover up, either to wear pool-side or on your adventures, is an absolute must for looking stylish but keeping cool!
Portable Charger – As you can probably imagine, there aren't many electrical sockets available on the beach/poolside, so portable chargers are the best way forward!
Power Adapter – Like many other European countries, Greece have their own shape of plug socket. So make sure you research and stock up on adapters before you travel!
Neck Wallet/ Bumbag – While it is safe in Greece (always keep your wits about you wherever you are), pickpocketing is very common. Especially in the bigger, busier towns. So taking a neck wallet/bumbag will allow you to keep all your valuables close!
Water Bottle With Filter – Not all of the water in Greece is safe to drink without getting ill (stomach issues) unfortunately. So in situations where bottled water isn't available, filtered water bottles are absolute life savers!
Shawl/Scarf – Famous for its many churches, you're bound to visit a few whilst on your travels. Keeping a scarf/shawl on you when exploring is always a great idea so you can stick to the modest dress code without hassle.
Hiking Shoes – There are lots of gorgeous hiking trails to explore across Greece, and we don't suggest doing it in flip flops (no matter how comfy they are)!
Insect Repellent – Mosquitoes, Mosquitoes and more Mosquitoes, need we say more!
A Hat – If you are a couple looking to explore, it's always a good idea to wear a hat to protect yourself from the beaming sunlight. Can't imagine spending the night in a Greek hospital would be very romantic (although it definitely would be one for the memory book)!
What Shouldn't You Do in Greece??
Should NEVER Do The 'Moutza'
A gesture that anyone outside of Greece will be unfamiliar with, but offence either way. So of course, should be avoided at all costs. Consisting of a flat plan extended outwards with all fingers spread, it's almost like giving someone the finger!
Should NEVER Touch Ancient Artefacts
This goes without saying! Some of the ancient artefacts you may come across on your travels have 100's if not 1000's of years of history to go along with it. So as a sign of respect (and to prevent any unwanted accidents), it's always best to not touch anything special!
DON'T Eat At Fast Food Chains
There are so many fantastic places to eat whilst out and about in Greece (we've even listed a few of our favourites above). So while it may be tempting to go for something familiar, there isn't a better place to step out of your comfort zone and try something new. Authentic Greek food is absolutely delicious!
DON'T Put Toilet Paper In The Toilet
A strange custom that may take some time to get used to (everyone forgets a couple of times), but the sewage systems in Greece are outdated! Bins are provided in all toilets, so throw it away instead to save clogging the loo (not the most romantic thing).
DON'T Show Too Much Skin In Churches
As with any church you visit, no matter where you are in the world, covering up is always the way to go so as to show respect. Keeping a scarf/shawl in your travel bag will help you to keep your modesty if need be!
Looking to spice up your honeymoon vacation? Take a look at this fantastic range of couples toys from Love Honey  or even our own honeymoon sex toy guide – we promise you won't be disappointed!