The Ultimate Bali Honeymoon Guide
Published date: 12th August 2021 | Author: Hollie Bond
NB: To help you browse our best suggestions we have included some third party links. Some purchases made through these links may earn us a commission to help keep our blogs and offers current and up to date. Thanks for your support!
---
Everything you need to know to plan the perfect honeymoon to the Indonesian idyll of Bali.
Bali is a wonderful year-round choice for a honeymoon destination. This Indonesian island has something for every type of honeymoon – adventure, romance, relaxation and incredible historic sights.
A Bali honeymoon is one that you will never forget as this country has a certain magic about it thanks to its wonderful mix of spirituality, laid-back vibe, awesome landscapes, tropical weather and the hospitality of the people who live here.
The culture of this country will truly captivate you – you'll see stunning Hindu temples around every corner, the streets are lined with colourful offerings to the gods and shops selling enticing local wares and the smell of incense constantly pervades the humid air.
And, in terms of landscapes, you'll be spoiled for choice with sandy beaches in the south, rich jungles and rice paddies and volcanoes in the north. If you can't decide between a beach honeymoon, an adventure honeymoon or a cultural break then Bali is for you, because in a few short days you can do them all.
How Much Does A Bali Honeymoon Cost?
Once you touch down in Bali you can get an awful lot of bang for your buck. Bali might be the most expensive island to visit in Indonesia because it is so popular with travellers and honeymooners, but there are still bargains to be found in terms of accommodation and food.
If you're hoping to stay in the island's top luxury resorts you'll not see a huge difference in price to what you'd pay in any other country, although in shoulder season and low season you can definitely enjoy luxury for less. You'll want to budget around £2,000pp for a week in a five star resort with flights.
Smaller Balinese boutique hotels and B&Bs however can be very affordable, from as little as £40 per person per night. Flights to Bali start at around £500pp although can increase significantly during school holidays.
A smart way to enjoy this island without breaking the bank is to book a breakfast only option at one of the luxury resorts in Bali and then enjoy lunches and dinners out and about, as Balinese meals in nearby towns can be extremely cheap, but excellent quality.
How Do You Get To Bali?
Bali is a long haul honeymoon destination for UK couples, so make sure you've got enough annual leave to make the most of a trip here. A couple of weeks in Bali is ideal as you'll spend a day either side travelling.
Flights to Bali from London take around 17 hours and will always include a stopover somewhere, so you may want to consider a multi centre honeymoon. Singapore and Dubai are brilliant choices of city to pair with a Bali honeymoon.
Airlines that fly to Denpasar in Bali are Singapore Airlines, Malaysia Airlines, Qatar Airways, Emirates, Thai and Cathay Pacific.
The Best Places To Visit On A Bali Honeymoon
Ubud
Ubud in Bali's centre is a must-visit on any Bali honeymoon. It is a magical place of temples, rice paddies, and a rainforest with the pretty Ayung River running through it. If you want to feel immersed in traditional Balinese culture, this is the place to do it.
The town is a wonderful place to while away a day or even week thanks to the many colourful offerings outside every house, the cool independent shops and the relaxing sound of the traditional gamalan paired with the heady scent of incense.
There are five-star hotels hidden amongst the trees and rice paddies making this the perfect place to relax and recharge after your wedding.
Seminyak
In the south west of Bali you'll find the upmarket beach town of Seminyak. Here you'll find a town full of stylish boutiques, galleries, cafes, restaurants and bars plus a long stretch of lovely soft white sand lined by some of the island's most luxurious hotels.
It's a brilliant buzzing spot for a honeymoon as there's plenty to do and see, including surfing, as well as the chance to just soak up the sun and relax round a swimming pool or by the sea.
Jimbaran Bay
Jimbaran, a 4km stretch of sand in the shape of a crescent moon, is one of Bali's best beaches. The bay is lovely and calm thanks to a coral bank beneath the water, so surfing here is for beginners.
You'll find a selection of restaurants and bars along this beach that are much higher quality and more honeymoon-worthy than nearby backpacker's haven of Kuta.
Nusa Dua
Nusa Dua in the south of the island on the Bukit Peninsula is a smart, manicured gated compound full of high-end hotels, sumptuous spas and posh golf courses.
It's the place to head if you want some down time in the sun on a white sand beach and crystal clear turquoise waters, but you'll want to pair it with a visit to the uplands in order to get your fill of true Balinese culture.
Nusa Dua translates as "two islands", which refers to the two headlands off the coast with Hindu temples on.
Uluwatu
If you love surfing or want to learn Bali's most popular sport then Uluwatu should be top of your list of places to visit on your honeymoon. Uluwatu is a surfer's paradise.
On land you'll find a selection of both luxury restaurants and smaller beach food shacks.
Hilly Uluwatu is a scenic place to visit even if you don't surf, with a soft sand beach and dramatic cliffs, and there's a pretty temple of the hill that is worth a look at too.
Canggu
Canggu is a cool beachy alternative to Seminyak and there's more of a boho beach shack vibe if the glitz and glamour of the luxury resorts isn't your style – think yoga and juice bars.
Canggu tends to be less crowded than Seminyak too and there are more traditional Balinese warungs and accommodation to be discovered here.
Where To Stay On A Bali Honeymoon
Four Seasons Jimbaran Bay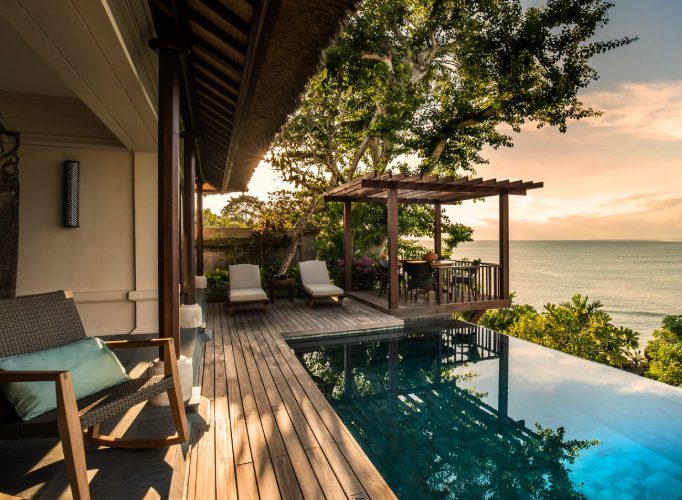 The villas at this luxury resort will blow your mind. Set out like a Balinese village, they tumble down the verdant hill towards Jimbaran Bay and each one has its own double door entrance into a pretty walled garden complete with a swimming pool.
Privacy is guaranteed, and it's a wonderfully romantic place to spend your honeymoon with incredible sunsets over the sparkling Indian Ocean. It's the 57 metre beach front infinity pool at Sundara Beach Club that steals the show though.
W Retreat & Spa, Seminyak
This colourful and hip resort, on the best stretch of Seminyak shoreline, is a modern marvel. Rooms are graded from Wonderful to Extreme Wow and the views from the ocean-facing suites will have you exclaiming those very words.
Everything is pretty "wow" here, from the main pool that mimics traditional rice fields, to the party haven Woobar.
Four Seasons Resort Bali at Sayan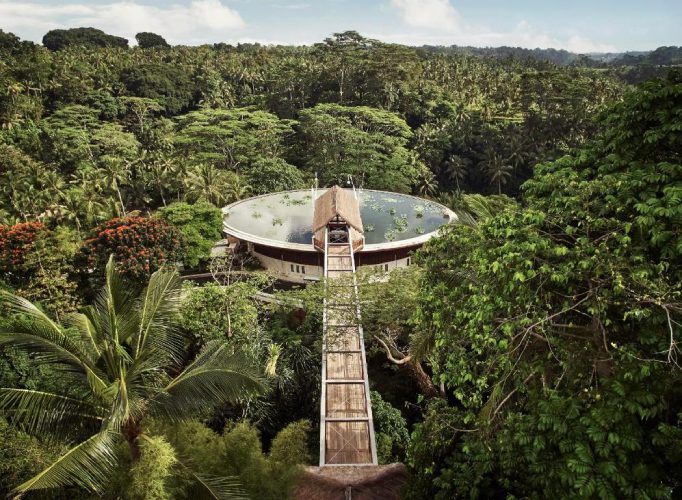 First impressions count, and you'll never forget the moment you set eyes on this hotel if you choose it for your Bali honeymoon.
You arrive across a wow-factor suspension bridge high up in the trees that leads to a tranquil floating lily pond with views down over the Ayung River and surrounding rice paddies. And that's just for starters.
Four Seasons Resort Bali is also home to one of the most sumptuous spas you'll ever set eyes on, pretty tropical gardens, luxurious thatched Balinese villas with their own infinity pools and private sun decks.
Fivelements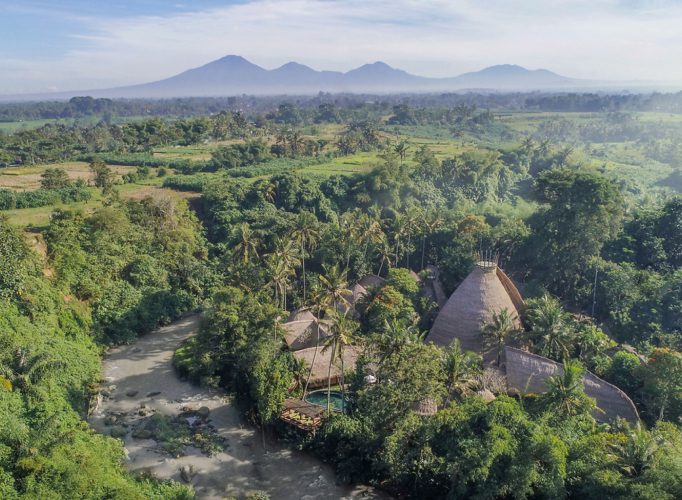 If you're hoping to experience Bali's legendary wellness offering on your honeymoon, then head to eco-conscious resort Fivelements in Ubud.
This beautiful retreat in the river valley is an absolute treat for the eyes as well as the body. The restaurant serves up a whole host of delicious vegan food, the spa treatments are sensational and you can even embark on a personalised wellness plan.
Belmond Jimbaran Puri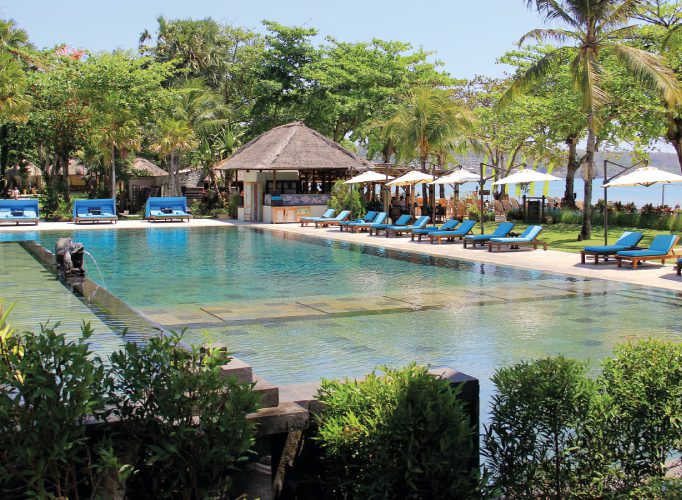 You can always rely on the Belmond brand to cater for your honeymoon perfectly and their Jimbaran resort is no exception.
This hotel embraces all the best bits of Bali – wonderfully friendly service, pretty Balinese interiors and an incredible spa. The on-site temple adds a sense of spirituality to the beachfront setting too.
COMO Uma Ubud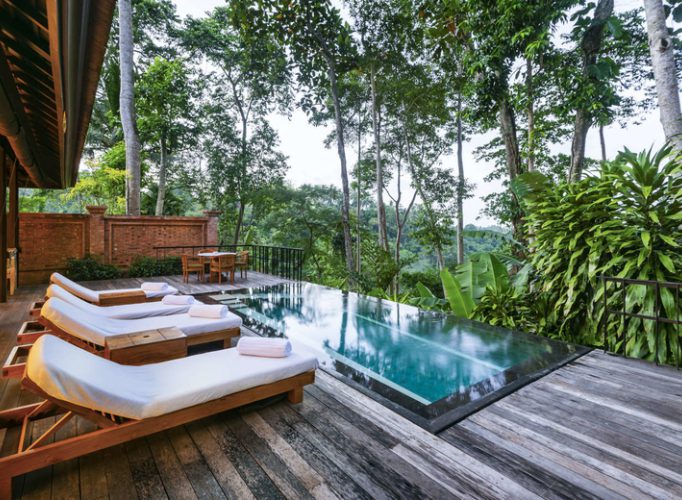 You'll be very happy with your choice of Bali honeymoon hotel if you choose Uma Ubud. This rustic beauty is a stylish escape in the Bali countryside.
It's located on the side of a hill so the luxurious rooms all have exceptional valley views. The signature spa is regarded as one of the best in the area, and in Bali that's really saying something.
The Legian Bali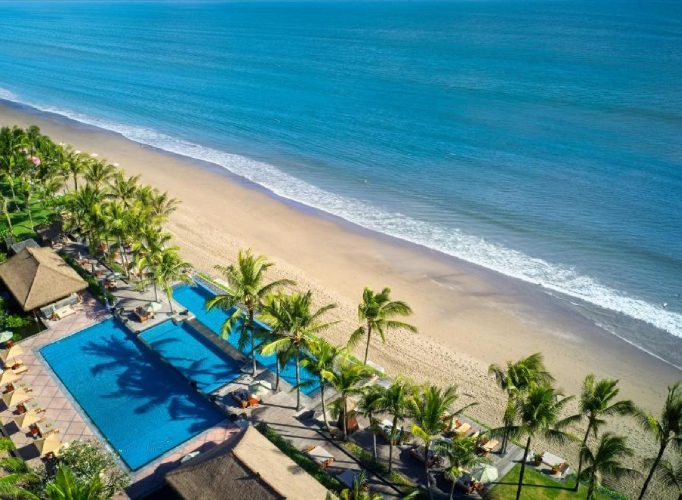 This five-star stunner on Seminyak beach is surrounded by the most glorious tropical gardens, with fabulous fragrant colourful flowers framing a heavenly infinity pool.
The Legian is a truly tranquil space with a dark, moody spa and romantic restaurants.
COMO Shambhala Estate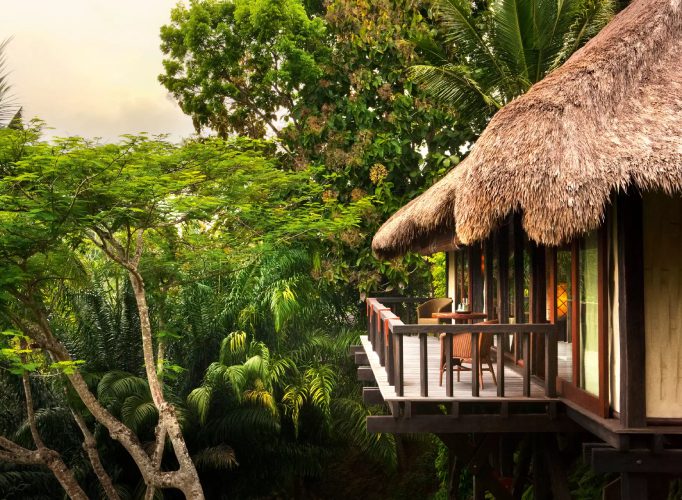 Book early if you want a villa in this spa sensation next to Ubud's Ayung River. Book yourself on one of the popular Ayurvedic programmes or simply soak up the spa-like atmosphere all around the resort.
Keep an eye out for celebs who flock to this resort for some down time as well as the incredible Balinese cuisine in the stylish restaurant.
Alila Villas Uluwatu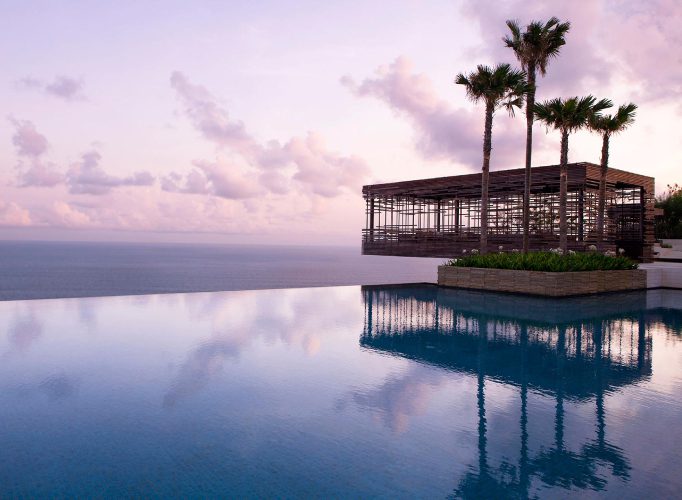 One of the most visually captivating hotels in the world, Alila Villas Uluwatu has won many design awards. We also think it scores highly in the romance stakes.
In typical Balinese style, the spa is worth spending a lot of time and money in – if you can bear to leave your villa, which comes with a butler and private pool.
The Mulia Bali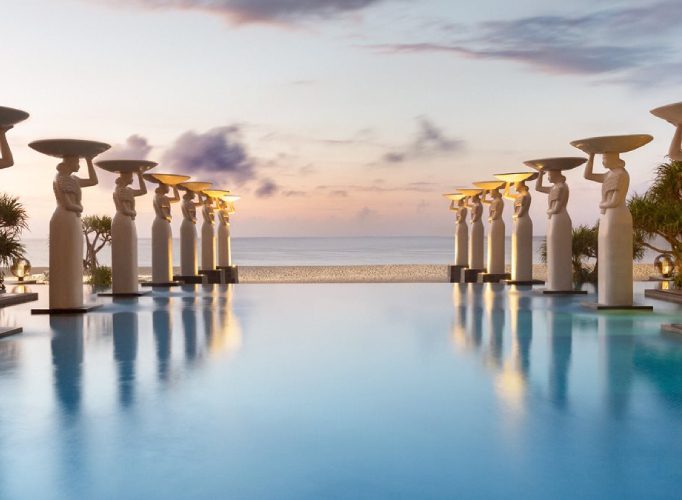 We heartily recommend this beachfront beauty in Nusa Dua for melting away any wedding planning stresses.
Each suite is spacious and chic, and comes with a Jacuzzi and private patio. Just add Champagne and you'll be in honeymoon heaven.
Munduk Moding Plantation 
If you're planning to take in the mountainous northern region of Bali on your honeymoon then you'll want to book to stay at this sublime yet affordable resort.
The view is absolutely break taking and there's a unique looking pool that allows you to enjoy the stunning sunsets as you glide along.
Being so high up, the climate here is a little cooler and fun activities include learning about the nature and culture of Bali through cooking and Balinese dancing.
Sandat Glamping Tents
Think of the most luxurious type of glamping possible and you'll still not come close to how fabulous Sandat is.
This boutique resort in Ubud is surrounded by nature and thanks to its brilliant secluded design it feels like you're on a safari honeymoon in the middle of the jungle. Camping has never looked so cool.
Soori Bali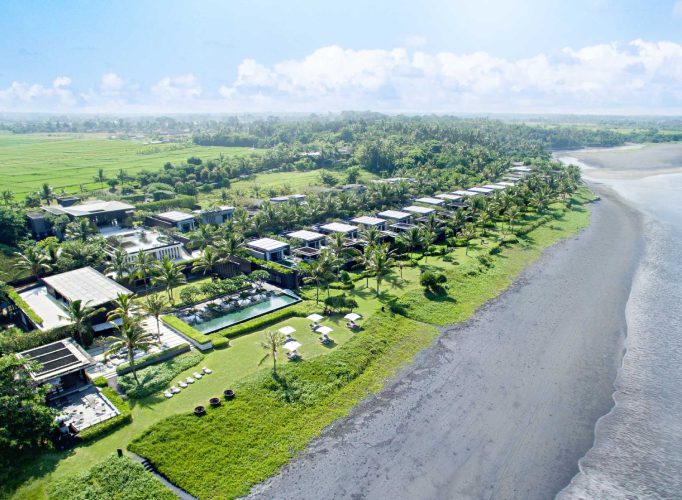 Soori is an elegant eco-friendly option just north of the main and more crowded beach towns.
This tranquil hotel combines amazing modern architecture with traditional Balinese style and is the place to choose if you want some serious rest and relaxation on your honeymoon.
Best Romantic Couples Activities In Bali
Bali is a very romantic destination for a honeymoon. This is mostly thanks to the wonderful sense of spiritualism that pervades all aspects of life here.
There's love in the air everywhere you go because of the Hindu culture and many temples that you'll see in each and every town. You could choose to have a blessing in one of these temples during your honeymoon.
Other loved-up ideas include:
Watching the sun set over Uluwatu Temple
Strolls along one of the many soft sand beaches
Horse riding
A helicopter ride
A private sunset cruise
A traditional meal with a spectacular view in a rice paddy
A couples spa journey in one of the many world class spas
Honeymoons in Bali simply can't fail to be romantic.
When To Go To Bali?
Bali is a beautiful year round destination, but the best time to visit is during the dry season, which runs from April until October. The temperature during these months stays at a very agreeable 28 – 30 degrees Celsius.
The rainy season still has incredible weather though, although the humidity is higher. April, May, June and September are the best months for honeymooning in Bali as the weather is at its best, but the flights will be cheaper than during school holidays and all the key sights and beaches will be a lot less crowded.
Don't be scared to book during rainy season as you'll still enjoy brilliant weather and be able to stay in true luxury for less.
Looking to spice up your honeymoon vacation? Take a look at this fantastic range of couples toys from Love Honey – we promise you won't be disappointed!