The Ultimate Hawaii Honeymoon Guide
Published date: 14th September 2021 | Author: Gracie Pritchard
NB: To help you browse our best suggestions we have included some third party links. Some purchases made through these links may earn us a commission to help keep our blogs and offers current and up to date. Thanks for your support!
---
When it comes to honeymoons, there are thousands of gorgeous honeymoon getaways to choose from. But for the real globe trotters, Hawaii tops the list! Perfect for ultimate relaxation or an adventure like no other, it really is a location full of surprises (plus a few volcanoes).
But to really make the most of your trip, you need to know the ins and outs. Where is the best place to stay? Where should we eat? What can we do? And most important, when can we go? Thankfully, we've put together this handy guide to answer all your questions.
Say Aloha! to our Ultimate Hawaii Honeymoon Guide:
Where Should You Stay On Your Hawaii Honeymoon?
While the Big Island of Hawaii is stunning, there's actually a lot more to it! Hawaii is home to a wide variety of beautiful towns and cities, perfect for newlyweds looking for a great honeymoon destination. Whether you're looking for an adventure or a romantic hideaway, there's somewhere and something for absolutely everyone.
Classic - Kauai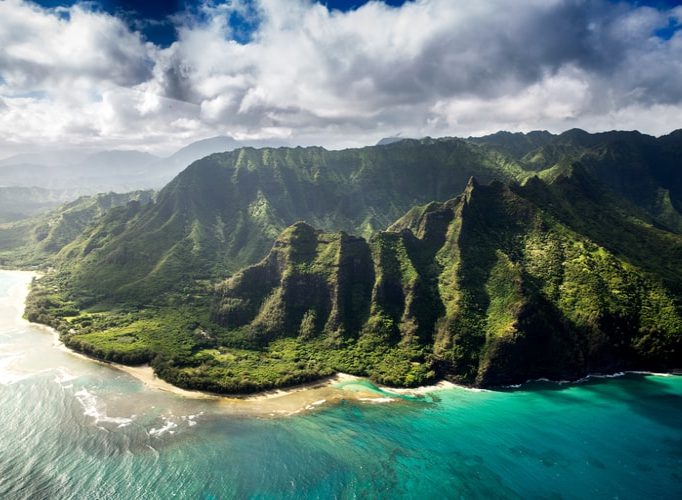 For a classic Hawaiian getaway, Kauai (also known as the Garden Isle) is one of the greenest, most luxurious Hawaiian islands. For more of a relaxed vibe away from the big city, this island is perfect for a couple who love to be one with nature! Known for having one of the most beautiful golden sand beaches in Hawaii, Hanalei Bay is the perfect place to catch a few rays with your S/O. Or if you're looking for something more active, take a hike through the stunning Kalalu Trail!
Modern - Oahu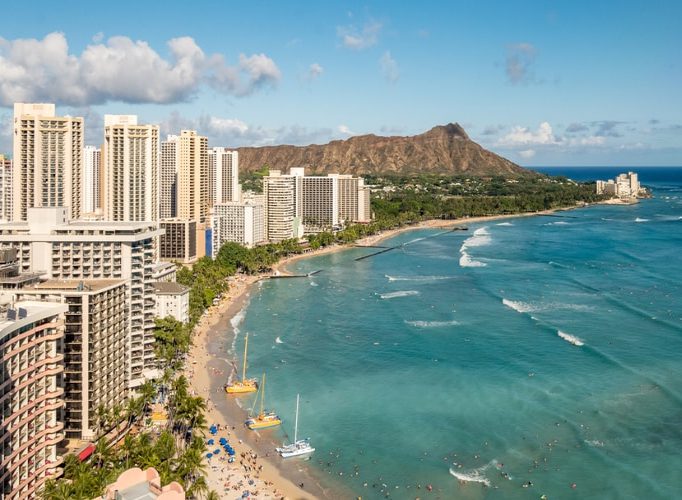 The perfect mix of beautiful beaches and built up cities, Oahu is the ideal location for a couple looking for a more modern holiday. Known for its restaurants and beach-front resorts, as well as shops and museums, this island really is the best of both worlds. Head to Honolulu, the biggest city in Hawaii, for a bit of hustle and bustle, surf around with the locals in Waikiki or travel to North Shore to explore the beautiful botanical gardens. Bliss!
Romantic - Lanai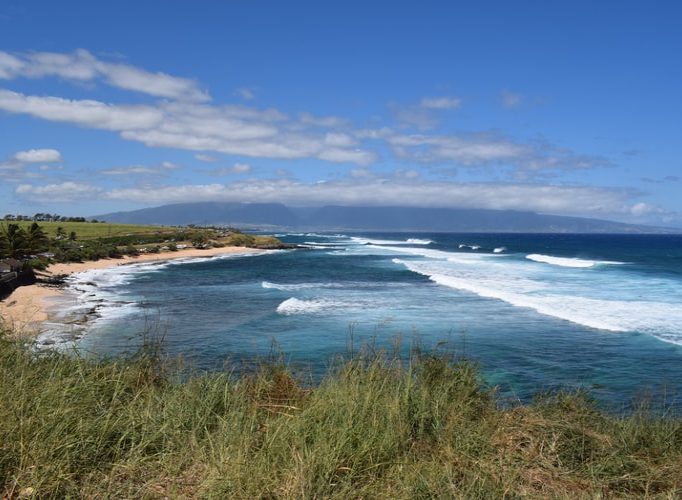 Ideal for a couple looking for a little bit of paradise, Lanai (a former pineapple plantation) is the perfect place to enjoy the secluded sunshine! Known for its stress-free atmosphere (there's not a single traffic light on the whole island), this island guarantees total relaxation for you and your partner. Talk about a romantic getaway!
Adventurous - Hawaii (The Big Island)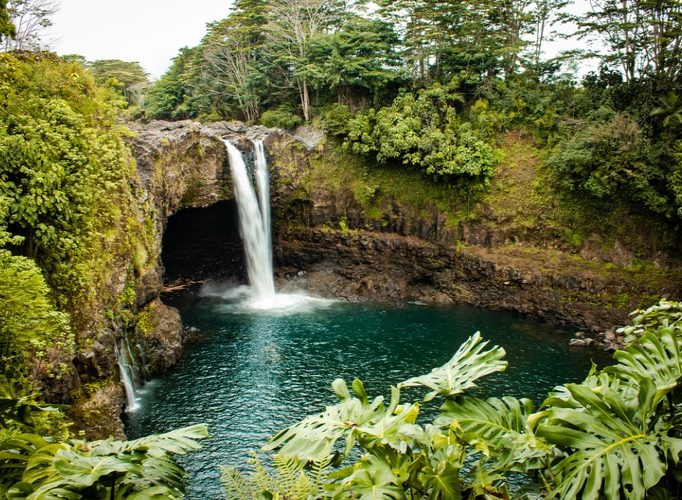 If total seclusion or beach holidays aren't the only thing you're looking for, Mainland Hawaii is the perfect location for a more adventurous couple. One of the only places on the Island couples can get up close and personal with an ACTIVE volcano, before heading back to your resort for a spot of dinner from one of the many top rated restaurants on the Western Coast. Or visit the rainy Eastern Coast and Hilo (a beautiful seaside town), famous for their botanical gardens and waterfalls.
Escape - Maui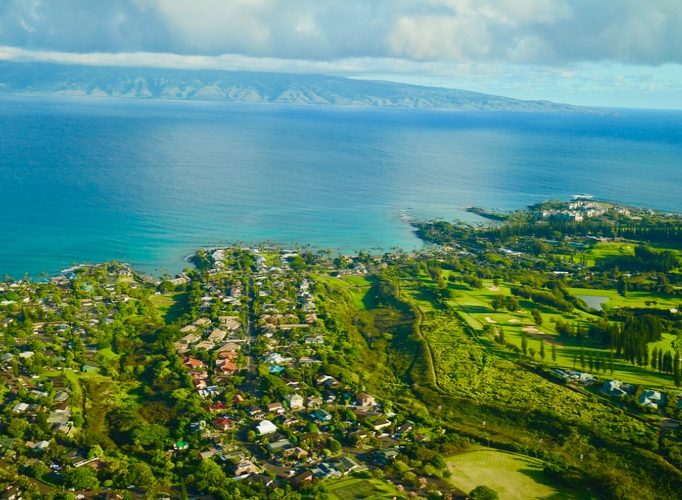 Couples dreaming of a beautiful beach holiday will fall in love with Maui, known for its stunning golden sand beaches and stunning sunsets. But its also known for its fantastic abundance of couple activities, ranging from stunning scenic drives on the Road to Hanna to exploring cowboy culture in inland town Paia, there's something for everyone on this island!
Romantic Activities
Bike It Maui Sunrise Bike Trip – there are many beautiful spots to watch the sunrise in Hawaii. But, as it's recommended to not head out on late night adventures unsupervised, Bike It Maui provide fantastic trips!
Picnic on Kapalua Beach – a picnic on any beach would be the perfect romantic activity, but Kapalua Beach is known for being more secluded for the perfect private picnic.
Old Lahaina Luau – arguably one of the best Luau's on the whole island, get a taste for Hawaiian culture with authentic food, drink and entertainment.
Blue Hawaiian Private Helicopter Ride – perfect for a couple looking for a more luxurious activity, the Blue Hawaiian private helicopter rides are the best way to take in the sights with your partner.
Private Massage By The Ocean – most beach- front hotels will offer private couples massages by the ocean and we can't think of anything more romantic!
Stargazing at Mauna Kea – stargazing is romantic at the best of times, but imagine searching for the big dipper on top of a dormant volcano in the middle of the Pacific Ocean, just magical!
Where To Stay On Your Hawaii Honeymoon
Grand Hyatt Kauai Resort and Spa, Kauai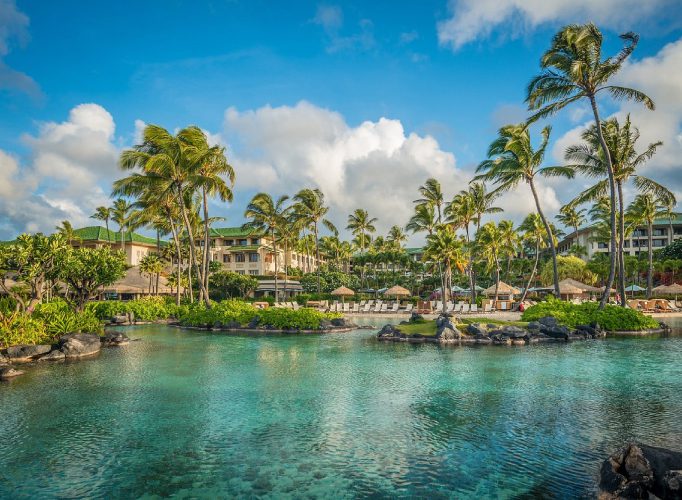 The Grand Hyatt are a great chain of award-winning luxury hotels, famous all over the world, and their Kauai Resort and Spa is no exception!
Halekulani, Oahu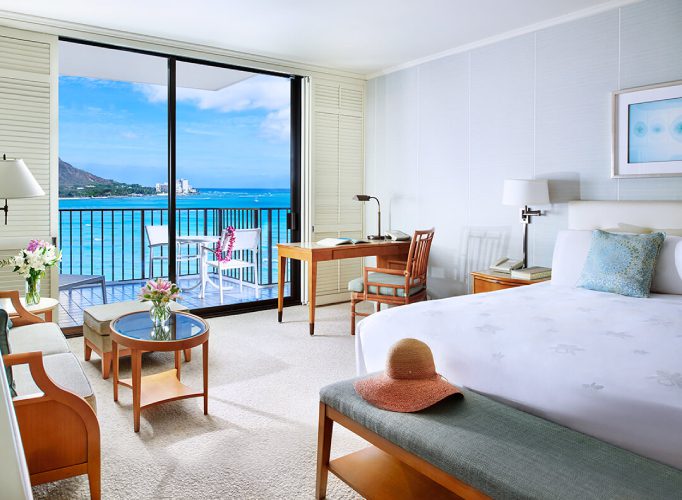 Halekulani is one of the oldest resorts on the island and one of the most popular for a reason. Halekulani has been a Hawaii honeymoon favourite for over a century and is the most amazing place to spend some quality time with your partner.
'Alohilani Resort, Waikiki Beach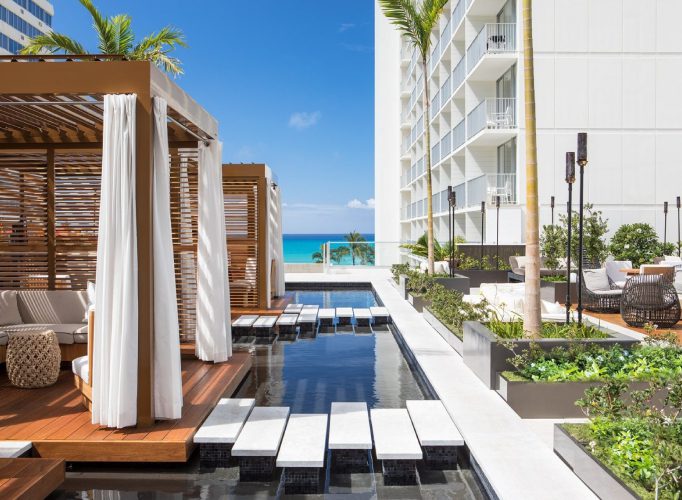 'Alohilani Resort is described as a 'modern oasis' in a fantastic 'urban location' right on Waikiki Beach, boasting two incredible restaurants and amazing pools, the 'Alohilani Resort is one in a million!
Montage Kapalua Bay, Maui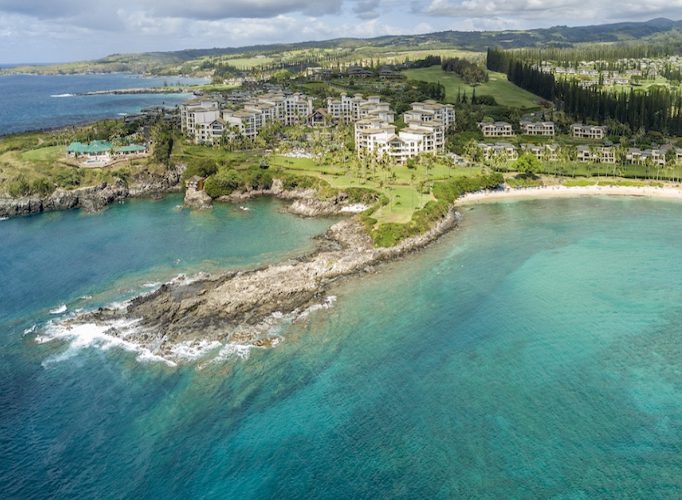 Famous for its 'genuine island hospitality and authentic culture', Montage Kapalua Bay is a beautiful place to stay on your Hawaii honeymoon.
Fairmont Orchid, Hawaii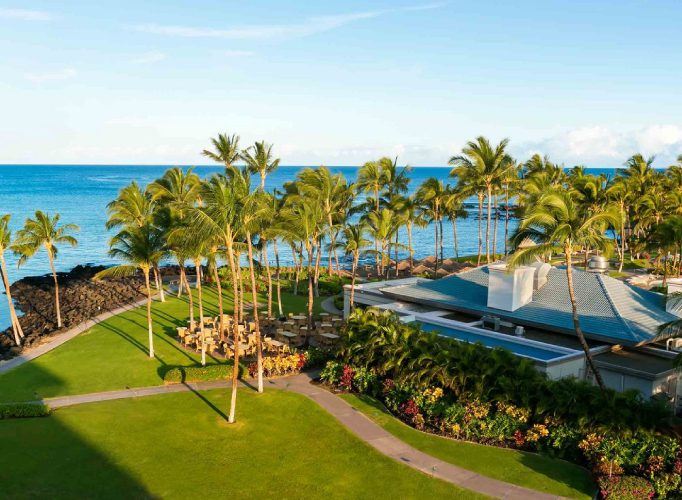 Known for it's stunning apartment style suites, Fairmont Orchid is perfect if you're planning a family honeymoon trip.
Four Seasons Resort, Lanai
The Four Seasons Resort is quite literally the only resort in lovely Lanai, and thankfully, it's absolutely stunning. The perfect romantic honeymoon hideaway!
Of course there are plenty of other stunning hotels to stay at whilst on your Hawaii Honeymoon (it was nearly impossible to put together this list), so make sure you do your research!
Which Season Is Best for a Hawaii Honeymoon?
The great thing about Hawaii is that it's the kind of honeymoon destination that you can go to regardless of the season or time of year. However, it is recommended that you book between March and September (Spring to Autumn) as it's less rainy and temperatures are at their highest (don't forget your sunscreen).
Statistically (and unsurprisingly), December is the worst month to book your trip. Teaming with tourists, accommodation and flight prices are massively inflated, and it's also usually the wettest month of the year. If you're looking for a more private and dry holiday, avoid December trips at all costs!
What Should You Pack for a Hawaii Honeymoon?
Sunscreen (and lots of it too) – never understatement the sun in Hawaii, even if it rains!
Portable Phone Charger – this one needs no explanation, you're on an island, there aren't many plug sockets on the beach.
Waterproof Bag/Case For Phone/Camera – perfect for photography at the beach.
Hiking/Comfy Shoes – while flip flops and sliders come in handy, they aren't great when it comes to hiking up a volcano, so bring some shoes safe for hiking.
Sunglasses – there's nothing worse than lying on the beach with the sun in your eyes, so bring some sturdy sunglasses.
All The Necessities – clothes, towels, toiletries – the whole works (it's always good to make a checklist).
Fancy Outfit – being your honeymoon, it goes without saying that you may enjoy some fine dining whilst on holiday, so bring appropriate dinner attire!
A Good Book – there's never a better time to get off social media than when you're on the beach in Hawaii. But to keep preoccupied, bring a good read along with you!
Insect Repellent – possibly the only downfall when it comes to holidays in Hawaii – mosquitoes!
A Beach Bag – while it's not for everyone, it's always a good idea to bring an extra tote bag to take with you, even if you aren't a beach lover!
Best Hawaii Honeymoon Souvenirs
Kona Coffee – because of the volcanic soil and humidity, Hawaii is the perfect place to grow delicious coffee. We couldn't think of a better way to start the day!
Flower Lei – an absolute classic. Known for bringing about the spirit of aloha and feelings of joy, why would you not want to bring one home with you.
Hawaiian Jewellery (Black Pearl) – a souvenir that will well and truly last forever. Whether it's a bracelet, a necklace or a ring, black pearl pieces are some of the most elegant and precious jewellery pieces you can buy!
Pineapple Wine – if you're a fan of sweet wine, you HAVE to take some pineapple wine home as a souvenir. How delicious does that sound!
Ukulele – another iconic souvenir, perfect for kids (although we'd love one). Toy ones are available for younger children. However, they're really special if you can get your hands on a genuine one!
Hawaiian Sea Salt – inexpensive and traditional, need we say more! We recommend the pink salt if you really want to take home a great souvenir.
Koa Wood Products – koa wood is exclusive to Hawaii, so any product that you can get your hands on is extremely special. Truly a souvenir to be cherished!
Best Restaurants
Merriman's Kamuela, Big Island of Hawaii – this beautiful restaurant has been serving fresh, local produce straight to the table for the last twenty years, perfect for an 'intimate and relaxed' Hawaii honeymoon dinner.
Koiso Sushi Bar, Maui – with only room for 15 people to eat, this one is a definite pre-book, however, it's worth it! They serve some of the best sushi on the island here, so don't miss out.
Joy's Place, Kihei – perfect for any veggies, Joy's Place serves delicious breakfast and lunch dishes from their tiny kitchen. And it's a hit with the locals – if that doesn't make you want to go, we don't know what will!
Like Poke?, Kahului – When in Hawaii, it would be silly not to indulge in some delicious, fresh poke. And this food truck, located opposite the Costco in Kahului, is the perfect place to grab some on the go!
As far as food goes, Hawaiians know how it's done. So don't be afraid to step outside of your comfort zone and dive straight in. We promise you won't regret it!
What Not To Do In Hawaii
DON'T Bring Home Any Lava Rock (Curse of Pele)
Locals believe that anyone that takes lava rocks from the island will be cursed by Pele, the goddess of fire and volcanos. Most send them back when they learn of the curse, but it would be best to leave them as they are in the first place. And if you're not one for superstition, it may help to know that it's illegal to take the rocks, as they're an important part of Hawaiian culture!
DON'T Eat At Chain Restaurants
There are so many delicious, authentic restaurants, cafes and food trucks to enjoy, dotted around the island. So try not to get lured in by familiar, chain restaurants after a long day. Not only that, but it also helps the community there – why wouldn't you want to explore their beautiful culture?
DON'T Limit Yourself To Your Resort
Many go on holiday to alleviate stress and to relax, especially when it comes to honeymoons (some find it difficult to even make it out of their rooms for reasons we won't disclose). But there's so many amazing activities and sights to take in in Hawaii, so explore as much as you can while you can!
DON'T Stand Next To Blowholes At The Beach
While most blowholes are surrounded by gates and warning signs, some aren't, so be aware of your surroundings! Standing too close could result in a fatal accident, and that's not very romantic.
DON'T Decline A Lei If Offered One
It's seen as extremely disrespectful to decline a lei if offered one! So always accept with a hug or a kiss and simply remove the fresh petals from the string and scatter over the sea/land afterwards!
Looking to spice up your honeymoon vacation? Take a look at the best honeymoon sex toys for 2021 – we promise you won't be disappointed!