Elegant, rustic with a modern twist wedding at the Great Barn at Manor Mews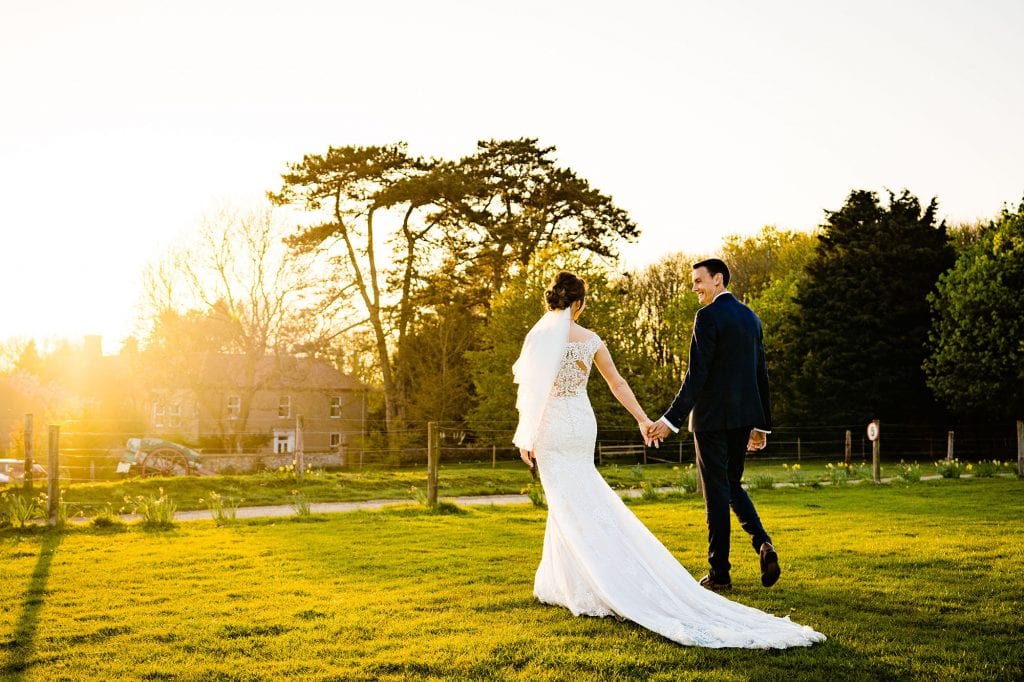 Will & Danielle
Photography by James Powell Photography
What were the top two 'must haves' at your wedding?
Accommodation for our guests – we knew we wanted to get married in Norfolk which would be at least a 90 minute drive for most of our guests & we also really liked the idea of everyone being able to stay at the venue & carry on the celebrations beyond the Saturday.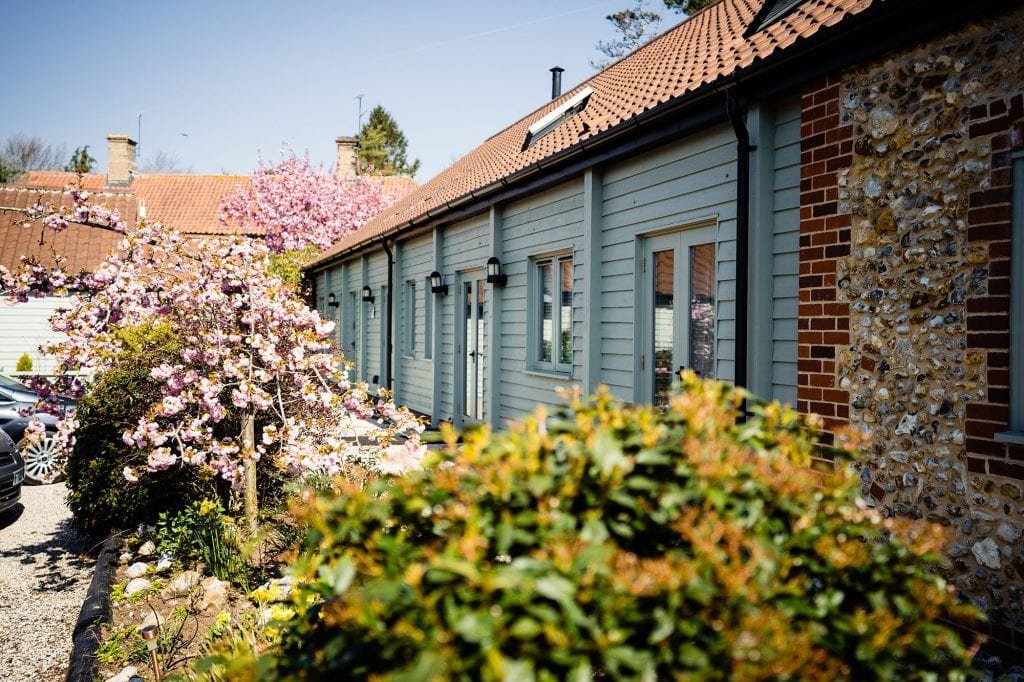 A beautiful venue full of character – but one we could put our own stamp on & personalise
What was the theme/look of your day?
Elegant, rustic but with modern twists
What colours did you choose, and why?
We chose blush pink, grey & ivory. My dress was ivory & we tied this into the flowers, chair drapes & drape in the barn. At the beginning we wanted the bridesmaid dresses to be a darker more rustic pink but then came across the blush pink bridesmaid dresses we had, which worked perfectly. It can be quite difficult finding bridesmaid dresses to suit everyone & that fit nicely…but all the girls loved these so went with the blush pink.
We then tied the blush pink into the flowers & ribbons on the chairs. The groom, groomsmen & pageboy all wore blush pink ties & pocket squares. We then wanted a colour to contrast with the pink & chose grey (we have a lot of grey in our house too!), which we used on all the stationary (invites, table numbers, menus, place cards etc)
All 3 colours really tied in with the elegant/rustic theme we were aiming for & complimented each other well.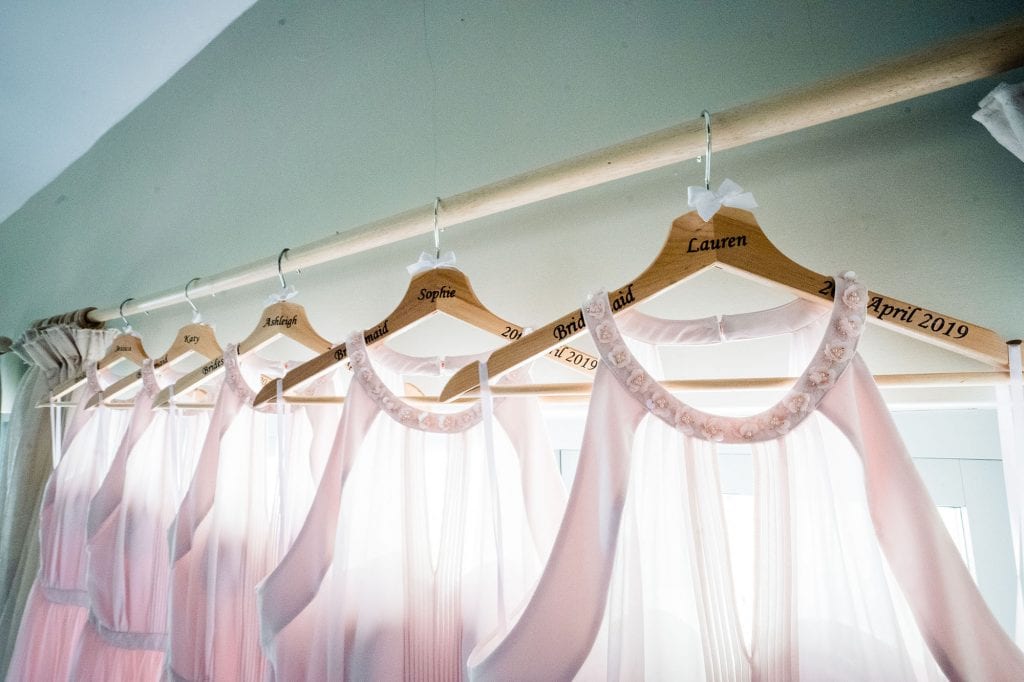 What did you love the most about your venue and what made you choose it?
We live in Lincolnshire but have regularly visited Norfolk over the years & love the area, so when we started searching for venues, we were keen to see what Norfolk had to offer & it didn't let us down! The barn at Manor Mews was beautiful & full of character, it was also quite stripped back which meant we could put our own stamp on the venue with flowers & decorations.
The accommodation at Manor Mews is amazing too. You can have up to 70 guests stay the whole weekend from the Friday to the Monday – they only have one wedding a weekend too meaning you have plenty of time to set up on the Friday & don't have to rush off on the Sunday morning. Our wedding was on the Easter bank holiday weekend & we had 50 guests stay the whole weekend. This was lovely as it meant we were able to welcome a lot of our guests & start the celebrations on the Friday & they continued until the Monday. To some, having so many people stay might sound stressful, but this helped to create such a relaxed, sociable & chilled out feeling to the wedding.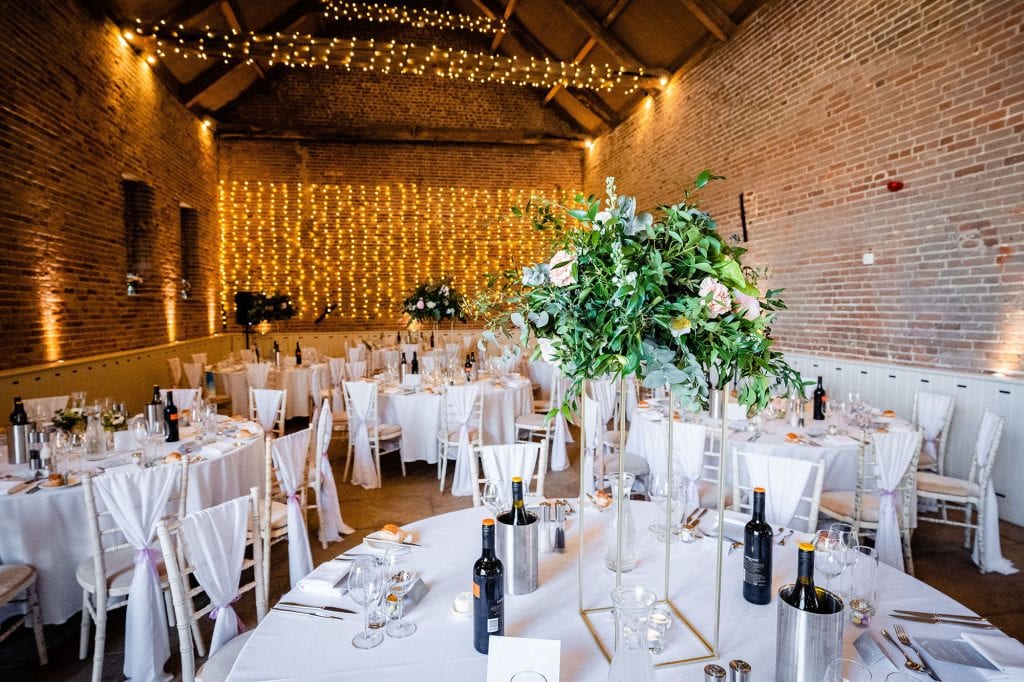 What was the atmosphere you were hoping to create?
Relaxed, sociable & lots of fun! We wanted it to have a nice flow but not feel forced at any point. We didn't want our guests to feel they were being organised.
How did you decorate your venue?
We kept the venue decorations quite simple, as the barn was so naturally beautiful. The venue already had beautiful fairy lights around the beams in the barn & a fairy light canopy on the back wall, which added delicate lighting. From Epic Events we hired large, rustic love letters, an ivory drape which helped to segment the barn & ivory chair drapes with blush pink bows.
Our florist created us beautiful floral centerpieces, which we alternated between low & high centerpieces on the tables. On half the tables we had tall square frames, with a large arrangement on top. The frames meant that the large centerpieces didn't block anyone's view & our guests could see through them. On the other half of tables, we had small arrangements in jam jars, which we complimented with tea lights. The barn also had some little windows/alcoves, in these we had tealights & jam jar vases which the bridesmaids put their flowers into when back at the reception (a tip from the wedding planner!).
We both play tennis & met when were young at our local tennis club, Will also now works as a tennis coach, so it is a big part of our lives & we wanted to get a little bit of this into the wedding. Our seating plan was laid out as a tennis tournament draw & all of the tables were courts with a tennis court design on the numbers on the table. Our wedding was also over the Easter weekend so we were keen to have a nod towards this too so our wedding favours were little jars of mini eggs.
We also had a table which my bridal flowers sat on at the reception, this included our guest book & also two rustic boxes full of flip flops which our guests could help themselves to so they could keep dancing the night away.
Tell us about your flowers…
Our flowers were from Lily Jayne Florists & incorporated our colour theme with blush pink, dusty pink & ivory flowers. Alicia really understood our wedding & what we wanted – the flowers were beautiful & matched perfectly. The bridal & bridesmaid flowers were made up of a seasonal mix of flowers & included quicksand roses & foliage. The bridal flowers were in a teardrop bouquet & the bridesmaid one's were in a handtied bouquet with ivory ribbon.
The groom/groomsmen had blush pink & ivory buttonholes & were finished with twine. We also had flowers at our church as pew ends which were the bridal flowers in milk bottle jars as well as 2 pedestals at the entrance of the church, we then took these back to the venue to have at the barn entrance. The same flowers were used in our table centerpieces along with green foliage.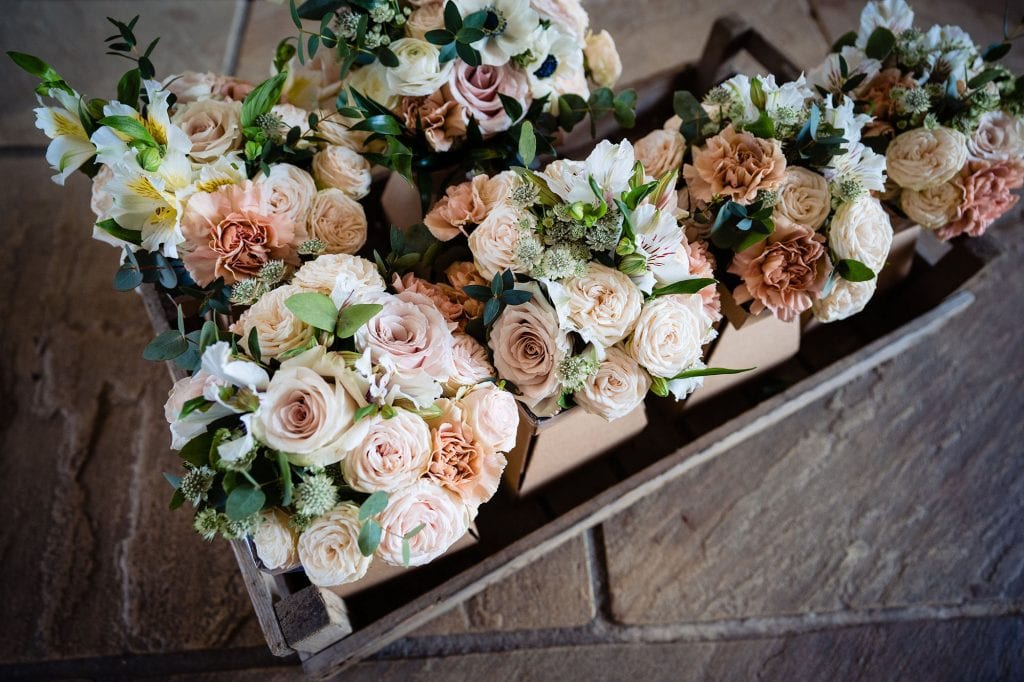 Tell us about your dress, who was it by? What did you love about it?
Essence of Australia, the lace, train & fit were very classic but it had modern details such as the cutout sides and sparkle in the lace. The cathedral train was my favourite part as it was edged in beautiful lace & made the dress look amazing from behind, especially when fanned.
When I started dress shopping, I knew I wanted a slim fitting dress & this designer really suited my body shape. The dress also had a champagne coloured underlay, which I had not considered until I tried this dress, it suited my skin tone so much better than the pure white & ivory dresses I had tried.
What accessories and shoes did you wear?
My shoes were from Rainbow Club. They were ivory court shoes with a stiletto heel & diamante & faux pearl t bar. I would definitely recommend this brand of shoes as they were really well lined & cushioned making them comfortable to wear all day. You are in your shoes a long time so definitely make sure they are comfy!
My veil was also from Rainbow Club. It was a two-tiered, fingertip veil with a Russian braid edge.
Th earrings I wore were a wedding gift from Will – they were white gold pearl drops. I also wore a small silver bracelet which was a gift from my bridesmaids & had a horseshoe charm on it.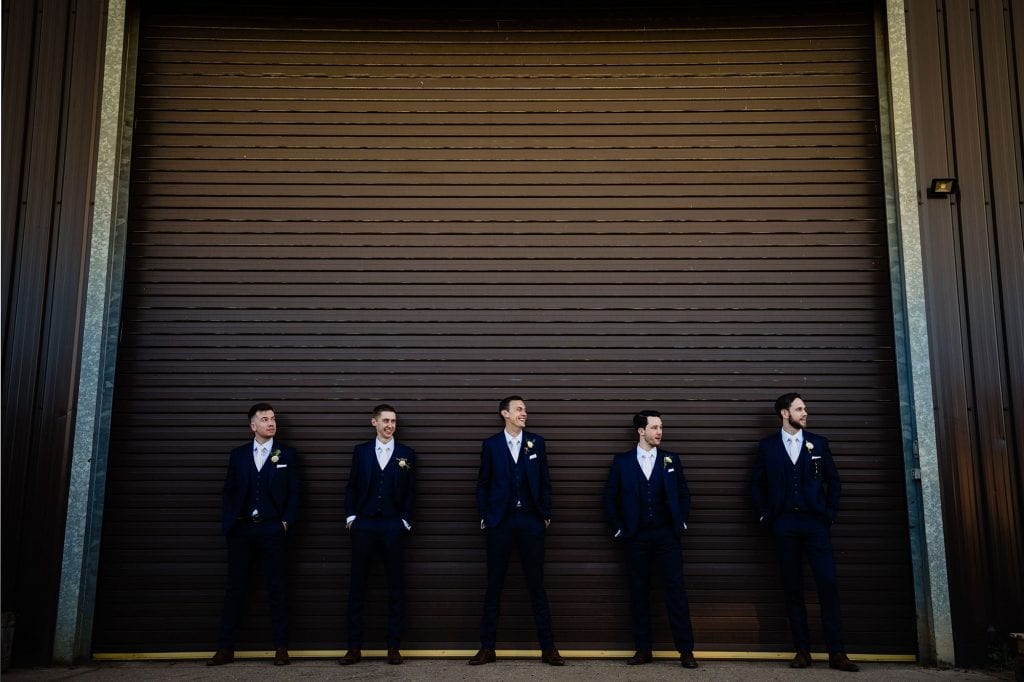 Tell us about the groom, what did he wear, and who was it by?
The groom's suit was from Moss Bros. It was a slim fit, 3-piece, blue, twisted suit, with a slight texture to the fabric. Will had his suit tailor made so that he could add some personal touches – blush pink thread on the button whole, a bespoke lining to the jacket & waistcoat to make his different from the groomsmen & a monogram on the jacket lining which said 'Will & Danielle'. His shirt was from Charles Tyrwhitt – it was a double cuff, white twill shirt & his shoes were brown, monk shoes from Cobb London. The cufflinks Will had were personalised with a W&D and our wedding date. Will bought his groomsmen the same cufflinks as a gift but had these personalised with their initials.
And what about the bridesmaids?
The Bridesmaid's dresses were from Ted Baker. We had been looking for a few weeks & not really found anything we liked, when my sister came across these. The style was great as it was flattering & suited different body shapes & sizes. They were high necked with a floral embellishment & had a soft flowing fabric. This made them great for swirling, as you will see from some of the pics!!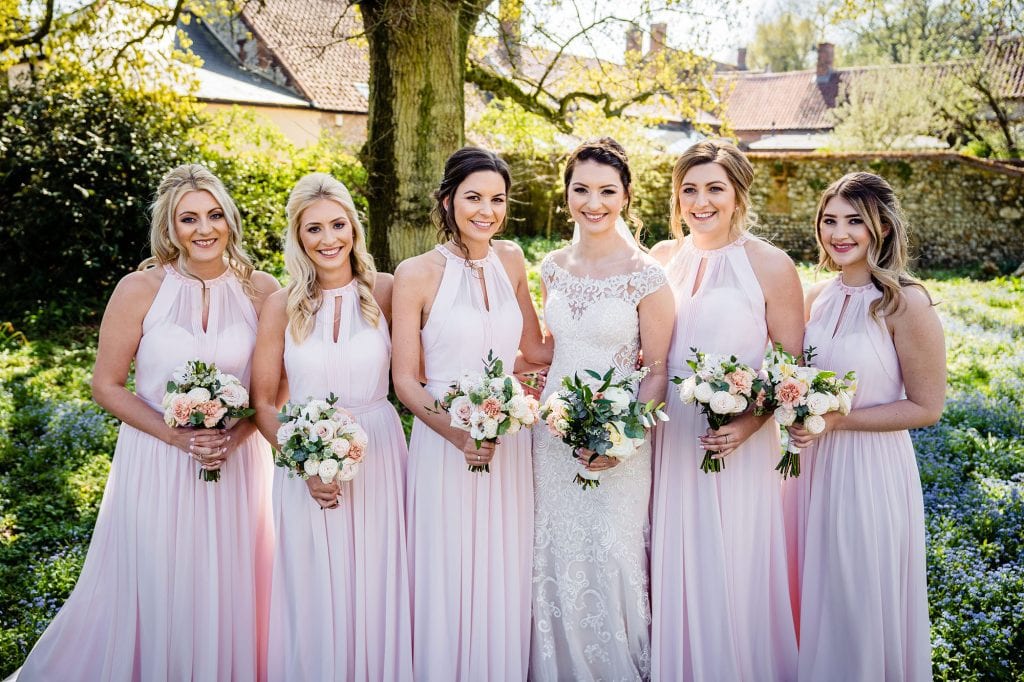 Where did you get ready before tying the knot?
In the cottage my parent's & siblings were staying in at Manor Mews. Will got ready with his groomsmen in one of the other cottages.
If you had a drinks reception, where was it held and what drinks/canapes were served?
In the UK you can never predict the weather & with our wedding being April we had no idea what it was going to be like – the weekend before had been grey, windy & hailing. But Mother Nature was kind to us & the sun shone all weekend, which meant that we were able to use the lovely garden at the back of the barn for our welcome drinks & canapés.
For welcome drinks we had champagne & Peroni. The canapes were tomato passata & buffalo mozzarella bruschetta, smoked salmon & cream spinach tartlets, pork belly rillette bon bons with a crackling crumb, tiger prawn tempura with sweet chilling dipping sauce & crispy duck, spring onion, cucumber & hoisin. We didn't think the children would fancy this though – so made them their own little snack bags with some crisps, fruit & a drink in.
What kind of role did the music/entertainment play in your big day?
We created our own playlist for the welcome drinks & during the wedding breakfast, which we connected to our speaker – this meant that we could pick all our favourite songs. For the evening entertainment we had the band Crossfire. We had seen these guys play at a few events we had been to & were brilliant each time – they really get everyone up & dancing. They play a range of rock, indie & pop music – a lot of classics that gets everyone up singing & dancing.
What was your first dance song?
John Legend – Stay with me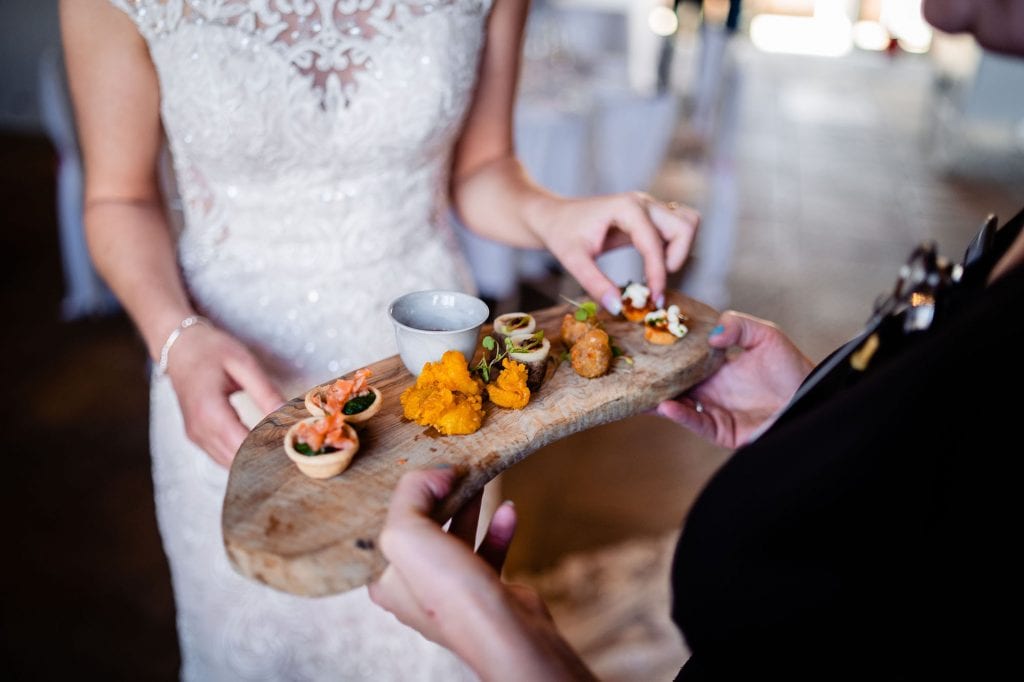 What was on the menu?
For the children they had garlic bread with cheese, chicken fillet goujons, served with fries & beans followed by warm chocolate brownie with chocolate sauce & ice cream. The guest could also help themselves to pick n mix from our sweet cart.
Was there a stand-out dish for you?
 Prior to the wedding Unique Norfolk Venues invited us to a food tasting day. This event allowed us to see the quality of the food & also to try some of the delicious dishes – we got to sample 3 starters, 3 mains & 2 desserts. It was here that we tried the Blue Cheese starter, we would never have picked this if we hadn't have tried it at the tasting event. It was a hit with our guests!  All of the food was amazing….it was beautifully presented & absolutely delicious.
Did you have any evening food?
Yes, we had pull pork baps & cones of chips. We wanted to keep the evening food really relaxed.
How did the Events Team help you in the lead up to and on the day of your wedding?
The events team were great. We had regular catch ups in the run up to the wedding updating on plans. They were available to chat whenever needed. The events team also gave us lots of useful tips & ideas too – they were able to help with what they've seen work well before & advise us on the best ways to do things.
On the day they were just amazing, we didn't have to worry about timings or sorting anything – they literally did it all and kept the day running so smoothly. We also received lots of compliments from our guests on how great the service was & how helpful the staff were.
Is there anything you would like to say to the Events Team who helped you?
We cannot thank them enough!! They provided help & support in the run up to the wedding & made sure it ran like clockwork on the day. Their help & support was beyond what we expected. They are there with you every step of the way.
What was your favourite moment of the day?
This is so hard to pick…. there were so many lovely moments!! But walking back down the aisle once married and seeing all our friends & family was really special.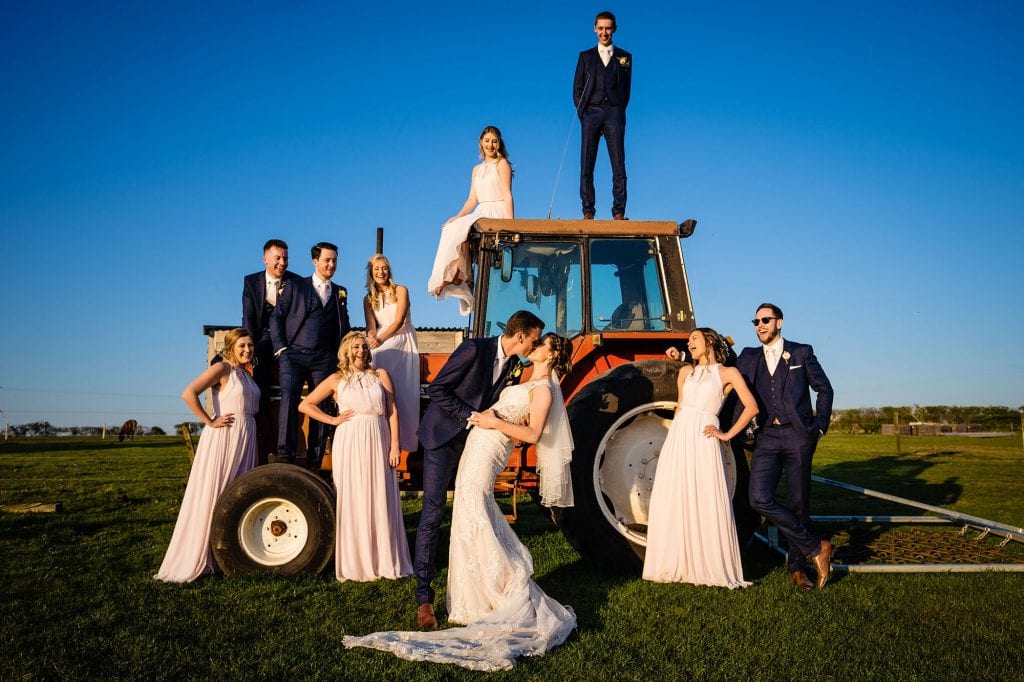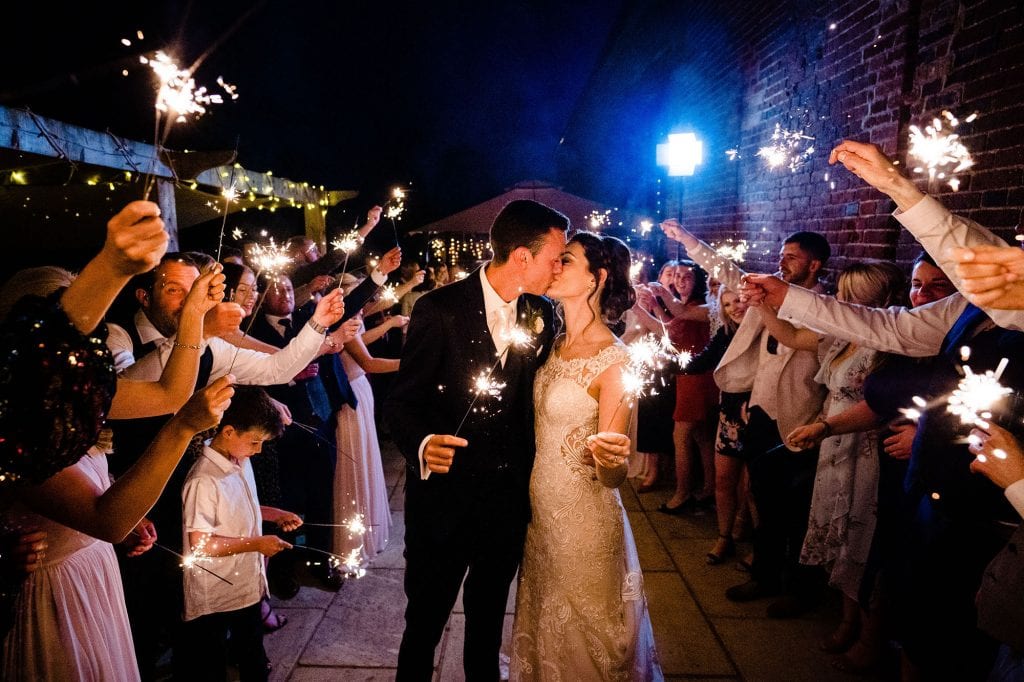 Were there any stand out moments or any little surprises on the day?
As the church was only a mile away, we weren't too fussed about having wedding cars. But my dad said let me organise transport, so he was left in charge & he kept it a secret what he had booked (much to my mum's annoyance!) It was only when we were ready for church on the day & the car turned up that we saw what he had booked. He did a great job & booked a lovely classic car.
It was my birthday on our wedding day & it is a tradition in our family that you get a Colin the Caterpillar cake from M&S, which Will surprised me with as part of his speech
Going for a walk to get some photos & our bridal party ending up on top of a tractor…totally unplanned & unexpected
We had sparklers in the evening – and this created a beautiful scene with everyone together & lovely photos.
What advice/tips would you give to other couples still planning their big day?
Make sure you have fun while planning
You don't have to do everything yourself & can have great fun with friends & family who are willing to help
Remember it's your day & do what makes you happy – it's impossible to please everyone
Choose your photographer wisely – you only get one chance at getting those perfect pics.
Do you have any wedding regrets, or would you have done anything differently?
No everything ran perfectly & we couldn't have wished for a better day. We wouldn't change anything & would love to do it all over again!
The suppliers
Venue: The Great Barn at Manor Mews
Photographer: James Powell Photography
Videographer: Lincolnshire Videography
Florist: Lily Jayne Florist
Hair: Love Hair
MUA – Beautyfy
Cake: Dust with Cocoa
Band: Crossfire
Decorations: Epic Event Hire