Alice in Wonderland inspired wedding at Curradine Barns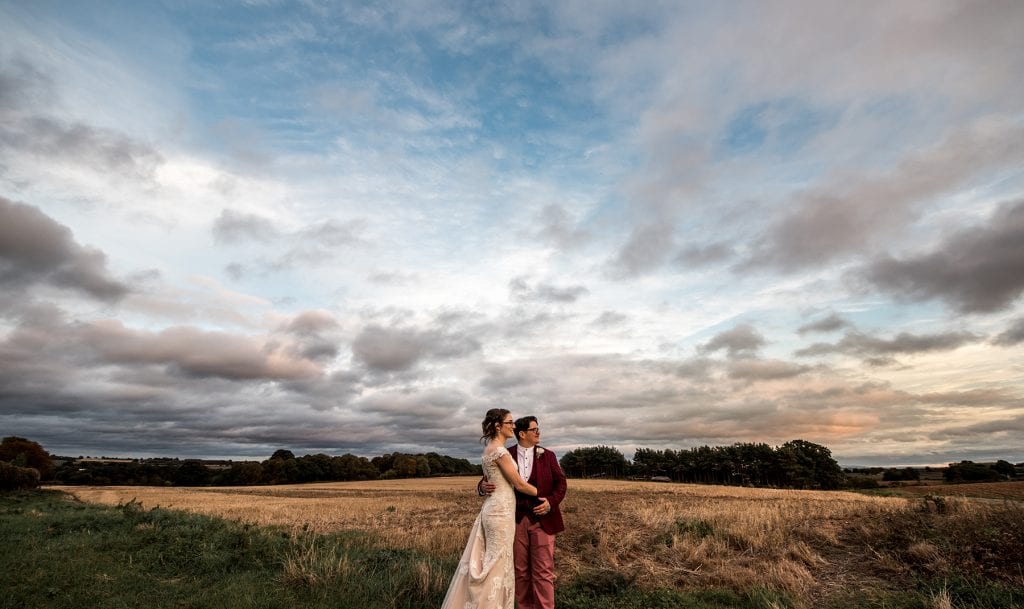 Alice & J
Photography by Adam Lowndes
What was the theme/look of your day? Why did you choose this theme/look?
We had a slight theme to our wedding starting from the invites. J says I'm her Alice in Wonderland so we used flowers, teacups and pocket watches on our invites which were drawn by our very gifted friend Jenn. 'Don't be late for a very important date'. J had an Alice in wonderland pocket watch, which I'm sure she kept checking the morning of the wedding whilst 8 of us were getting hair and make up done, taking longer than planned.
We had some artwork around the venue, tied little 'Drink me' tags to our (delicious) welcome drink, Alice in Wonderland props for the photobooth and our amazing Alice cake made by our very talented friend Amy. However another slight tangent off the theme was because J is a big superhero fan, particularly Batman, so we made some decorations to fit into this too. Naming our tables Alice, White Rabbit, Queen of Hearts, Batman, The Flash and Daredevil. We didn't want a garish theme but also wanted a part of us in our day and our guests loved all the little quirks.
What decorations did you have? Did you make any of them yourself?
We made quite a few decorations not only to keep costs down but because we felt it added a more personal touch and we both had a lot of ideas. For our favours we had picked up about 80 stones from our recent family holiday in Bude which we used to write messages on for our guests and our initials on which acted as table places and doubled up as favours. We made all the table decorations, myself my sister and friend Sasha, decoupaging comics on boots for the superhero tables and pocket watches and book pages for the Alice pages.
Each of the people on all our tables were important to us and were there because they love and support us as a couple so we wanted the time we took to decorate the venue to reflect this. We used an Agnes Arber bottle as J's mummy was called Agnes so she had a special place on the ceremony table and the top table too.
What colours did you choose, and why?
We have always spoken about burgundy being our wedding colour so this was a given. Who knew though there are so many variants on the colour, wine, maroon, plum etc. so colour matching turned into a bit of a mission at some points but we like the mix and match look we created. It took us some time to pick a colour to match but we left that up to my brothers and bridesmaid, as long as they were happy, we were too.
Did you use flowers to decorate?
Yes we went with our colour scheme and let the florist work her magic. We decided on a more rustic look for our wedding so we wanted this to fit in and Js love of feathers featured in the day so we wanted white feathers in our bouquets and Js button hole so family who have passed are still with us on our day.
What was the atmosphere you were hoping to create? 
A relaxed atmosphere, with our friends and family mingling and laughing. We just wanted a day to celebrate us, not full of poses and structure but a reflection on us. All our photos show genuine happiness and genuine celebration which are our favourite photos and memories from the day.
Why did you choose your venue? And what did you love about the look/feel of it?
We chose Curradine Barn when we first got engaged, I think we started searching the next day to see what kind of thing we both wanted, we saw pictures and the barn conversion look was exactly that. We didn't book however for about a year and we were glad we did, we got engaged in December and didn't view the venue until the following October so was just perfect to see how it looked in Autumn, how it would look on our day. The colours and lights were amazing, and we knew as soon as we arrived to view it, it was the one.
Tell us about your outfits, who was the designer? Where is it from? Why do you love it? How did you find it?
My dress my mum bought for me from Perfections in Worcester, a new design from Stella York this year. I thought I wanted a ivory dress but being pale trying on this off-pink colour when I put it on I knew it was the one, and you can see the lace detail so much better this way! J assumed my dress was a white dress which was hard to keep secret that it wasn't quite that. But J loves it just as much as I do, I want to wear it again! I couldn't recommend Perfections enough their service, enthusiasm, patience and wisdom is just what I needed.
They suggested dresses and I didn't know that's what I wanted until I tried it on so I cant thank them enough. Js outfit we put together from various places as J's vision was very hard to find. It consisted of the most amazing burgundy Armani blazer, a mandarin collared shirt J added a burgundy trim and burgundy buttons too and burgundy waistcoat we changed the buttons to match the blazer.
What jewellery/accessories and shoes did you wear? Who designed them?
I wore my Nan's pearl necklace that she had worn at my mum's wedding as my something old. My hair clip was my something borrowed from my treasured friend Nanette from work. All my brothers and my sister Emily as maid of honour in navy were our something blue. My shoes were ribbon lace up lace shoes from online my mum bought for me.
Tell us about your partner's outfit?
J loves accessories so we may have gone all out we found the most AMAZING shoes from Churches, J's pride and joy, exactly what she wanted in the exact right colour. I also got J the Monaco Tag Heuer watch she has always wanted and also wore feather cuff-links.
What did the bridesmaids/groomsmen wear, and did they have any accessories?
Bridesmaids were in navy. My brothers Sam, Joe and Eddie and Master of Ceremonies my mum's partner Rich, all had burgundy button holes and J's sister Geraldine and my mum Ruth had corsages on a pearl bracelet.
Where did you get ready before the ceremony?
Us 8 girls, my mum, sister, friend, J's sister and nieces all had our hair and make up done at the Salon. Hair by Strands in Worcester, make up by J's niece (Catherine McSherry at Libra Beauty) and a friend of ours (Charlotte Whitehead at The Face). We got our outfits on and finishing touches at Curradine in the beautiful upstairs room with plenty of mirrors and a big clock so were not late!
Where was your ceremony held?
At Curradine Barns in the Granary Barn, which we felt was breathtaking with the balcony where live music was played as we walked down the aisle, the gorgeous chandelier and the windows at the end of the aisle which we felt was almost church-like.
If you had a drinks reception, where was it held? What drinks/canapes were served?
We had a drinks reception outside on the forecourt at Curradine. Sangria Flora was beautiful and didn't last long as everybody loved it. We chose 6 canapes including mini steak and chips, mini hotdog and onion and a tomato mozzarella risotto ball, which were so delicious.
What kind of role did the music/entertainment play in your big day?
Music was a big part of our day as it's a big part of us and our family. Our musician was the fantastic Dan Greenway, who J has known for many years, he did so much for our day. As we had two Brides at our wedding we had two Brides to walk down the aisle so Dan did a mash up for us as we walked down the aisle of 'Marry me' when J walked down and then 'She's the One' when I walked down, both by Robbie Williams. He played 'Love my Life' by Robbie Williams as we exited, changing it slightly to 'Love my Wife'. He played live and a playlist we chose throughout the night getting everyone up dancing way into the night.
What was your first dance song? Was it choreographed?
For our first dance we had something special. J's niece Liz has the most amazing voice so she had been practicing our first dance song (the Delta Goodrem version of 'I Believe in a Thing Called Love') which was one of the best moments of the day and was absolutely beautiful and perfect. And also took the focus of my awful dancing too!
What was on the menu? Why did you choose this food?
We knew as soon as we got married we wanted a hog roast so that was a given it was all the extras which were great. The food was beautiful and everyone loved it I could eat it all again, with gravy this time, I didn't trust myself with that white dress!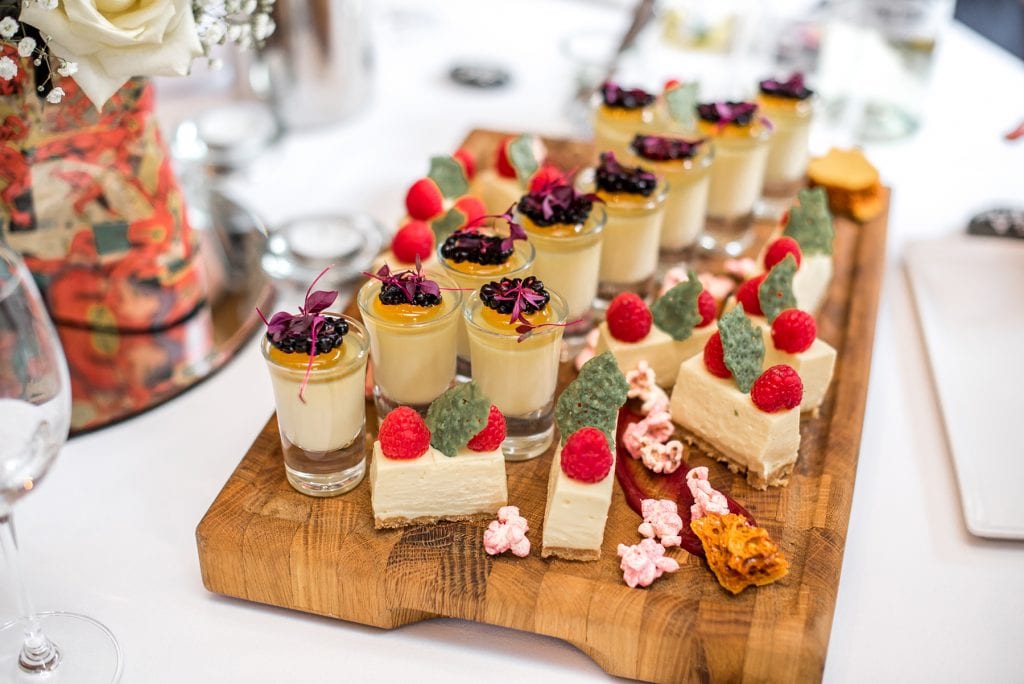 Were there any reasons behind your choice of menu?
Was just what we both wanted no question, was the easiest decision, we didn't want a sit down 3 course meal we wanted to keep it rustic and allow people to have whatever, and as much, as they wanted.
Was there a stand-out dish for you? What was it and why?
All the food was amazing but the hog roast was the best I think everyone would agree it was more than we expected and served beautifully.
Did you have evening food? What was it?
We had clay oven fired pizza available to all our guests which everyone enjoyed.
Did you speak to the chef during your wedding planning, and did you find this helpful in choosing your menu?
We spoke to a lot of Curradine staff, all helpful, particular shout out to Toni for organising before our day and Adele for sorting everything on our day so brilliantly.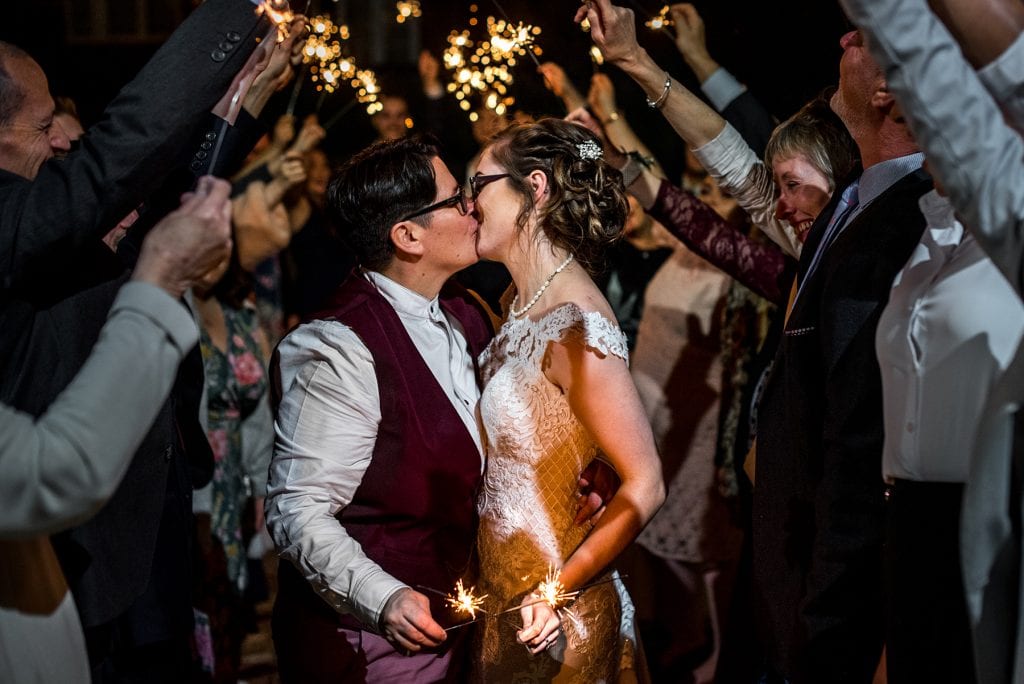 Did you choose any particular drinks package?
We felt the welcome drink, wine and beer drum as part of our casual dining package was plenty, the beers in a barrel just outside and the Sangria Flora we have been told was a favourite.
How did you feel the Events Team helped you in the lead up to on the day of your wedding?
We met with Adele the day before our wedding and she helped put up decorations on the day and really did make everything go smoothly and stress-free, she was amazing.
What was your favourite moment of the day?
For both of us we would say seeing each other when I was walking down the aisle, it really was like just us were in the room, we just held hands tight and said 'I Do' and our family and friends being there with us was an amazing feeling, a lot of happy tears when we turned around and exited I think.
Were there any stand out moments or comedy errors that happened throughout the day?
Stand out moment would be Liz singing our first dance, I'd only heard her singing in the car so was a real privilege to hear her with a mic singing in the room we got married, and with Dan playing the guitar, perfect moment and made all our guests, particularly J, smile. In such a beautiful place her taking the time to do this for us meant more than we can say.
Were there any little surprises on the day?
J surprised me with a note in the morning (almost tearing up and smudging my make up) and Dior perfume which was adorable.
What advice/tips would you give to other couples getting married and still planning their big day?
Don't get bogged down by little things, they always work out on the day and as long as you two are there and married, nothing else matters, you are already over the moon and can guarantee you won't stop smiling throughout the whole day.
Do you have any wedding regrets or would you have done anything differently? Regrets?
I cant think of any. Just that it goes very quickly and I wish it was longer, take a minute, I did during the food, to look around the room and everyone smiling and chatting and take it all in, everyone there was happy and that meant the world to us.
Did you go on honeymoon? If so, where did you go?
We went on Mini-moon. J's family came over from Ireland so we were with them the days after the wedding which as just as precious but we went to Falmouth for few days after they went home.
How did you decide on the location? Was there a special reason for choosing your honeymoon location?
We love it down south and wanted to explore somewhere new by the beach. Its one of our new favourite places in the world and we will definitely go back.
The suppliers
Photographer: Adam Lowndes
Venue: Curradine Barns
Florist:  The Wedding House
Dress/outfits: Perfections Bridal Studio (Worcester)
Musician and Singer: Dan Greenaway
Hair: Strands Hair & Beauty
Wooden Letters: Lilberts Event Hire