A romantic, timeless & elegant wedding at Combermere Abbey

James & Amy
Photography by Shane Webber
What were the top two 'must haves' at your wedding?
Harpist and flowers
What colours did you choose, and why?
Gold, white and dusty pink. We wanted our theme to look timeless and elegant which is why we chose all white/ivory flowers. We chose to have gold in all of the details e.g., charger plates, glasses, cutlery, table numbers, seating plan etc. This gave the tables a sense of luxury. We then added the dusty pink napkins for a romantic and soft look.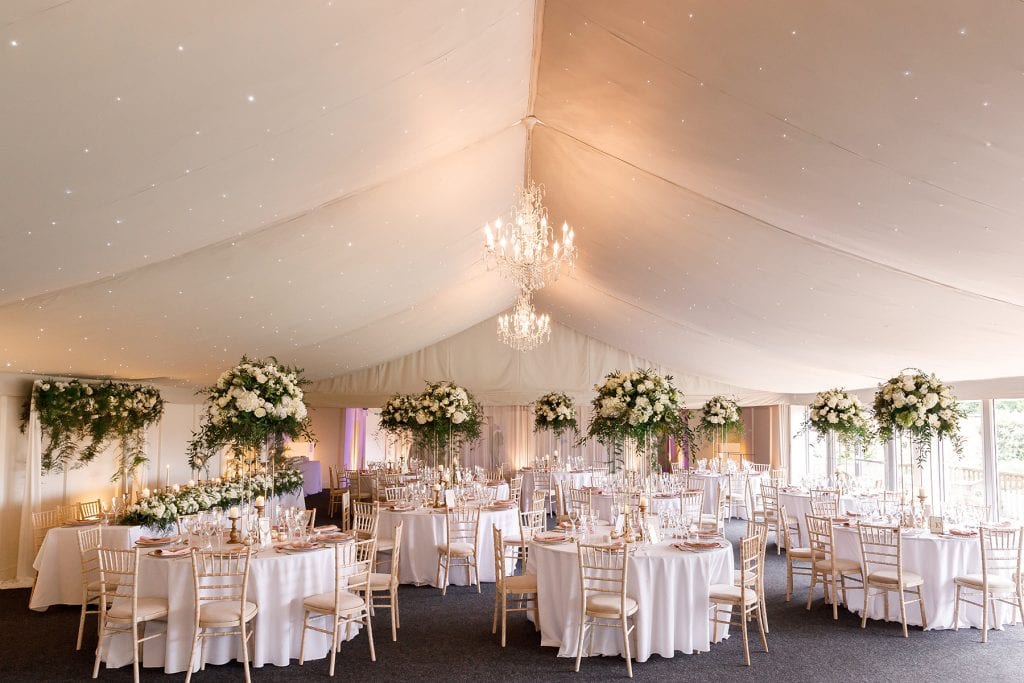 What did you love the most about your venue and what made you choose it?
We loved the gardens and the fact that we had full use of all of the cottages.
What was the atmosphere you were hoping to create?
Relaxed, fun and romantic.
How did you decorate your venue?
Lots of candles and flowers inside and lots of fairy lights outside.
Tell us about your flowers…
All white and ivory with greenery (eucalyptus for scent). I love white roses, so I made sure there were plenty of them. You would have to ask Verdure florists as they would know more about the details.
Tell us about your dress, Who was it by and what did you love about it?
It was from Pronovias Studio, the matching veil which had lace detail from top to bottom. I found it at the Knutsford wedding gallery.
What accessories and shoes did you wear?
Rainbow ivory shoes with pearl details. I looked at typical expensive bridal shoes, but I found that Rainbow shoes were sooo much comfier and they lasted me the whole day. I wore a beautiful necklace and earrings from Boodles- they were amazing, and they really brought my whole look together.
Tell us about the groom, what did he wear, and who was it by?
Whitfield and ward tailor made suit. He wore a different waistcoat to the groomsmen which made him stand out, with a navy blue and white dotty tie. His shoes were from Debenhams.
What about the bridesmaids?
The dresses were from Bespoke Brides of Chester. They were a dusty pinky lavender colour (if that's even a colour). They were very simple yet elegant and they got a lot of compliments! I wanted a simple style for the bridesmaids as I wanted them all to feel comfortable and beautiful on the day.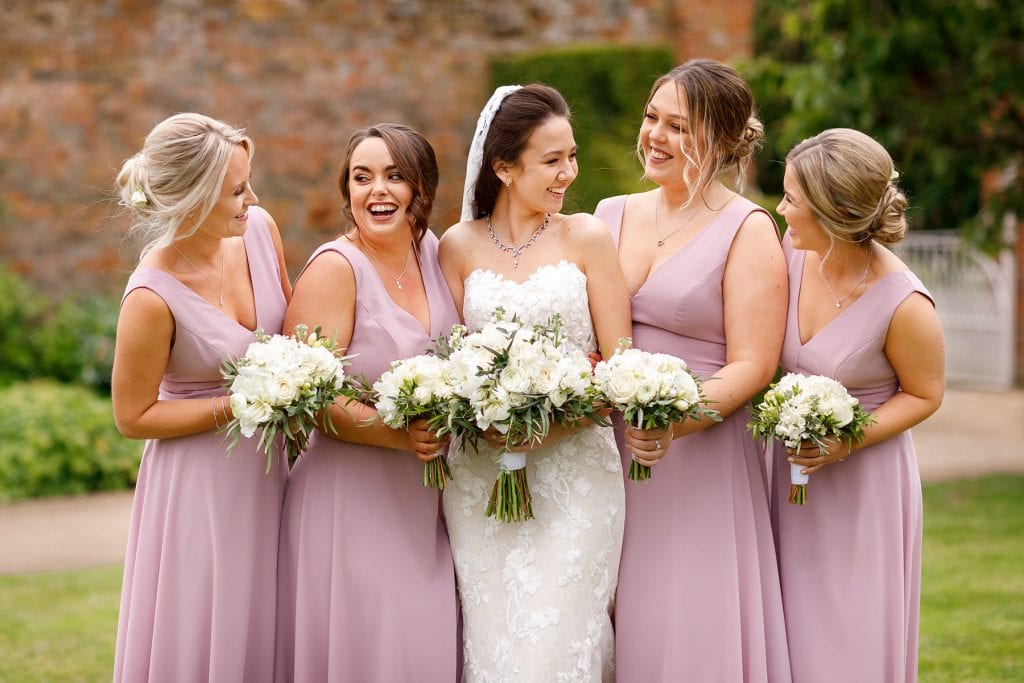 Where was your ceremony held? 
In the glasshouse. We did arrange for it to be outside in the centre of the maze but of course, it rained. Either way, the ceremony was beautiful inside the glass house and the photos look so bright and romantic.
Did you write your own vows?
No, that's too emotional for me and I wouldn't have been able to get through it 🙂 we chose one of the options from the registrar and we couldn't have asked for any better, everything she said was lovely and heartwarming.
If you had a drinks reception, where was it held and what drinks/canapes were served?
Again, we planned for it to be outside in the gardens but as it rained, it was inside the glasshouse.
What kind of role did the music/entertainment play in your big day?
A huge part of the day- the harpist was one of my must haves as it sounds so romantic. I walked down the aisle to a classical piece (I Giorni) which will stay with me forever. The pianist played during the canapés which was nice just as background music. Juno (the band) were fantastic, we couldn't have asked for any better!
I had a personalised song written and acoustically recorded for James, we played this after the speeches and it was all anyone could talk about afterwards. There were a few tears during this part of the day. We also had a selfie mirror which was great fun, we now have an album of hilarious pictures to look back at.
What was your first dance song?
There will be time by Mumford and Sons. We had some of the intro cut out as it was quite long.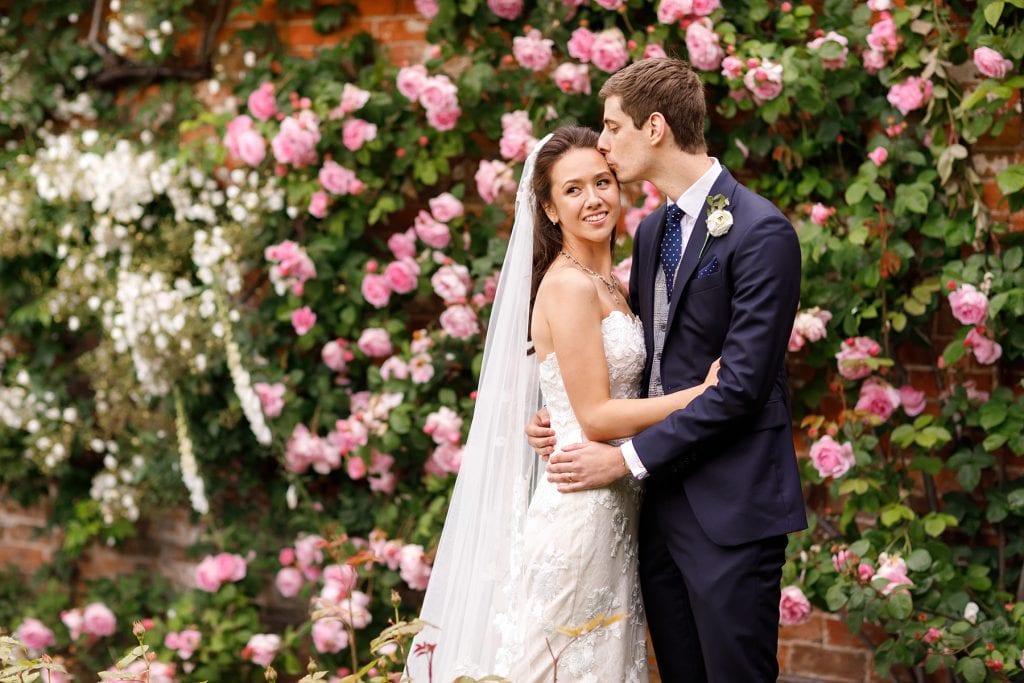 What was on the menu?
Tapas. We loved the idea of everyone sharing and having more options than just one plate in front of you.
Did you have any evening food?
We had pizza and pasta. Great for when you've had a few drinks and need something to keep you going.
How did the Events Team help you in the lead up to and on the day of your wedding?
They kept in contact with me and Charlotte (our wedding planner) and they were always quick to reply if I ever had any questions.
Is there anything you would like to say to the Events Team who helped you?
Thank you for all of your help from showing us around the venue for the very first time, to saying goodbye to us the day after our wedding and everything in between. All of your hard work makes Combermere Abbey such a beautiful and special place to get married.
What was your favourite moment of the day?
Seeing James at the other end of the aisle.
Were there any standout moments or any little surprises on the day?
The personalised song that I had written for James. It told the story of our relationship. It made people laugh and cry!
What advice/tips would you give to other couples still planning their big day?
Choose a venue with natural beauty, we saved so much money because we didn't have to dress everything up and our guests really enjoyed exploring the grounds. Also, this time of your life goes by so fast so don't waste time stressing, enjoy it and do most of your planning with nice food and a glass of champagne.
Do you have any wedding regrets, or would you have done anything differently?
Try to eat the food you spent so long choosing, you'll regret it afterwards if you don't.
The suppliers
Venue: Combermere Abbey
Photographer: Shane Webber
Videographer: Perfect Moment Films
Planner/stylist: Charlotte Elise
Florist: Verdure Floral Design
Dress: Knutsford Wedding Gallery
Hair/MUA: Nala & Knot
Bridesmaids: Bespoke Brides of Chester
Groomswear: Whitfield and Ward
Cake: Marie Antoinette Cake Design
Harpist – Oona Linnett
Selfie Mirror: Probooths Events