Rustic & botanical wedding at Clock Barn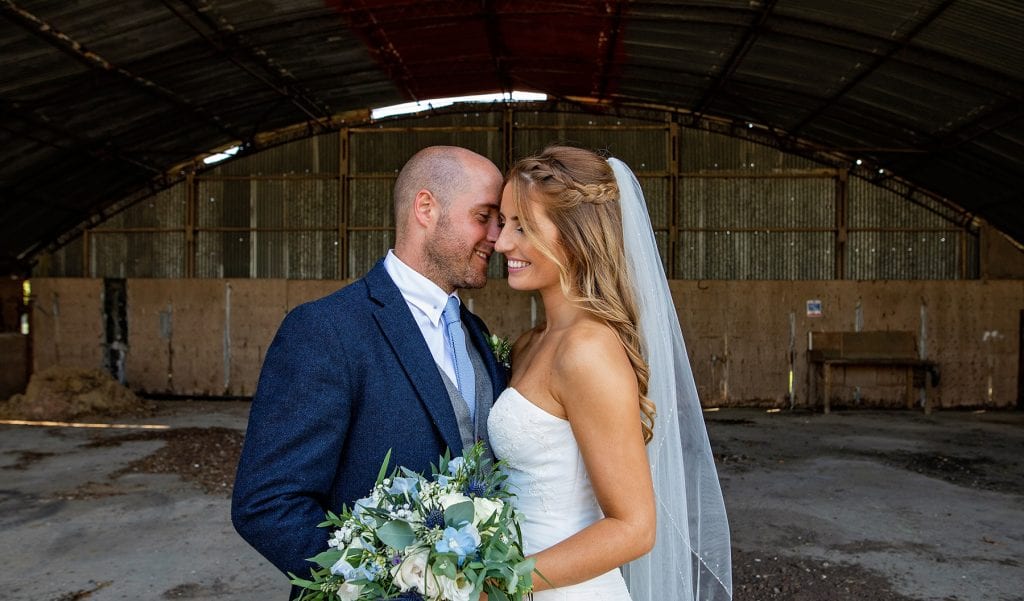 John & Alice
Photography by Lou Osborne
What was the theme/look of your day? Why did you choose this theme/look?
The theme/look of the day was rustic and relaxed yet visually beautiful. We wanted to accentuate what the barn offered which was a very real, natural and rustic feel but enhance that with lots of white flowers and green foliage, and we added a touch of pale blue to the colour scheme which was perfect for the time of year.
What decorations did you have? Did you make any of them yourself?
The Clock Barn provided fairy lights and bunting for the main area of the barn which looked lovely – it was set up this way when we went to visit, and we wanted to keep it that way. I wanted to keep our decorations very personal to us so that they were unique to our wedding. We had a wooden welcome board with our names and date of the wedding hand painted onto it, in a calligraphy style. We stood this at the entrance of the barn on my sister's art easel.  We had a wooden card box, again with our name and wedding date.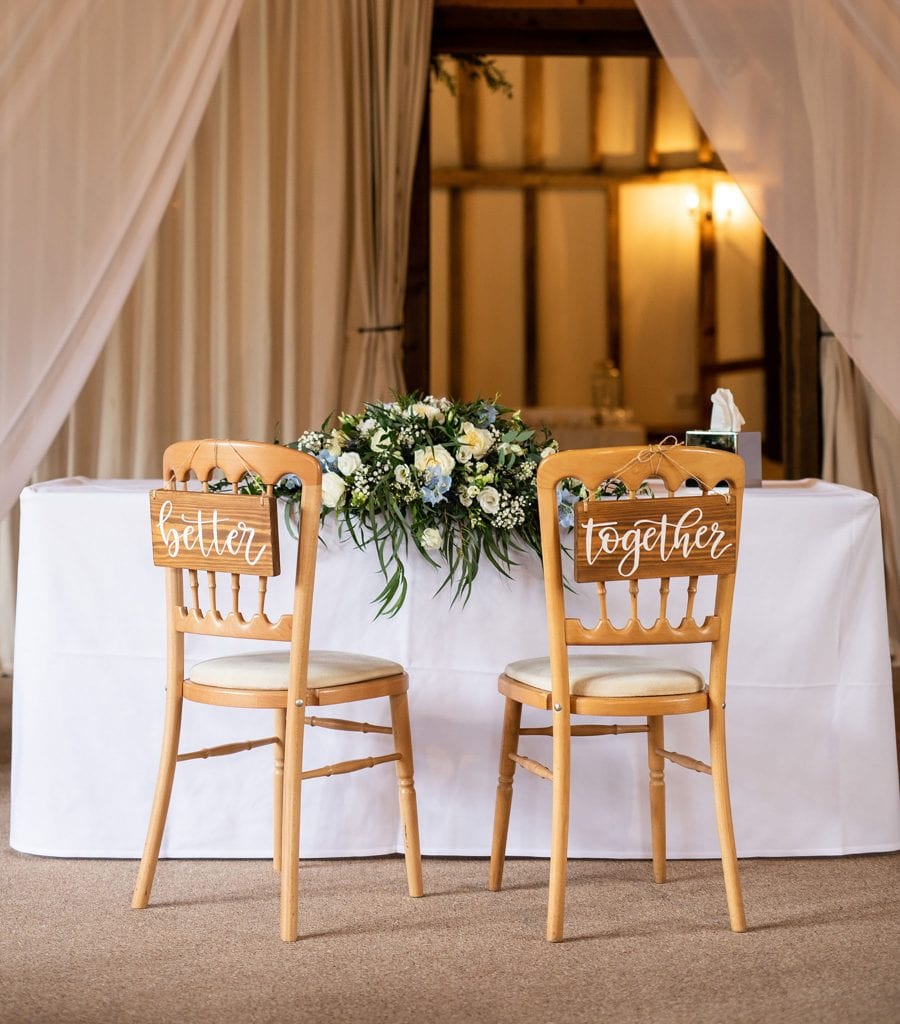 Paper confetti was scattered across the tables and had "Alice & Jon 01.09.18" printed on them. Our favours were scratch cards that were slotted in to a brown card which read 'For richer, for poorer, thank you for celebrating with us, Alice & Jon' and then our wedding date. We also gave the children a little activity book each with colouring pencils on their places on the tables.
We also had some garden games in the paddock which were great fun for all ages, including giant Jenga, lawn croquet, giant connect four, hoola hoops, the list goes on! We had some photo props, little masks, silly hats etc which were fun during the evening when there were lots of photos taking place.
I made the confetti myself by collecting and drying old flowers with the help of my mum and my bridesmaids.
And for the back of our chairs I got two chair signs made – one that said Better and the other said Together – reading 'Better Together', which I loved because I do think we are better together!
What colours did you choose, and why?
We wanted to keep the colours quite natural so it mainly consisted of a lot of wooden/brown colours to match the barn but then we also had flowers which were a mixture of whites, green foliage and a hint of blue – to match the bridesmaid dresses.
Did you use flowers to decorate?
Yes, we had low flower centerpieces for all the tables. We had an old apple crate filled with flowers by the entrance to the barn and we had flowers around the archway of the door to the barn which looked beautiful. For the ceremony we had an old wine barrel either side of the ceremony table, each one decorated with a beautiful flower arrangement on top.
What was the atmosphere you were hoping to create?
We wanted a relaxed and romantic feel but also a day where everyone could have loads of fun – I feel confident that we achieved that. We were really lucky that the weather was perfect on the day, the sun was shining, it was warm, and everyone spent so much time outside and we got to make the most of the beautiful grounds.
Why did you choose your venue? And what did you love about the look/feel of it?
We chose the Clock Barn because from the minute we arrived at the 3-mile-long driveway we fell in love with it. It was the first venue we saw but we both got such a happy warm feeling being there. The barn was a beautiful old barn with exposed beams and lots of space, however small enough to still make the wedding feel intimate. The barn was set in the most beautiful grounds surrounded by endless countryside, it was everything we loved and imagined – rustic, natural, understated yet stunning.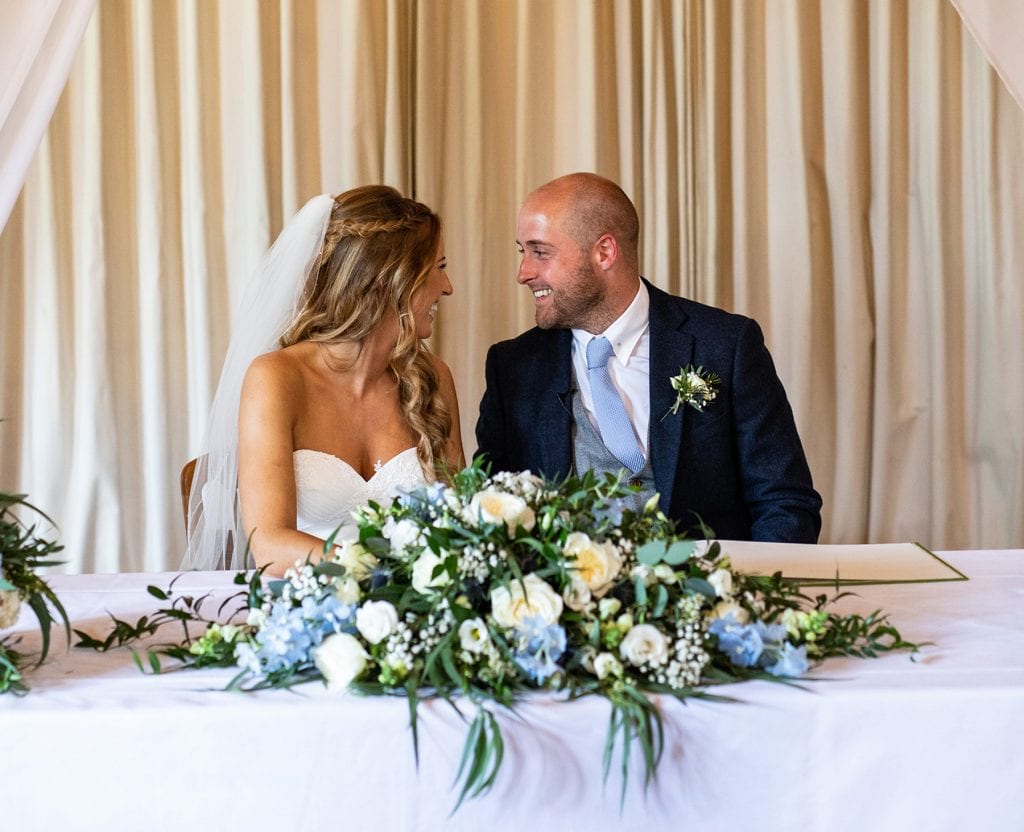 Tell us about your dress – who was it by? Why do you love it? How did you find it?
My dress was not something I thought I would go for, which you hear so many brides say! It was a fishtail style, strapless sweetheart neckline, a very fitted, boned structure down to the upper thigh where the dress then fell into a ruffled fishtail effect. The ruffles are something I thought I wouldn't like but they were very delicate and subtle and added the wow factor I felt. The dress was lightly embroidered and there was just a touch of sparkle. It was by Pronovias from Anya Bridal in Botley. I went to Anya Bridal after a recommendation from a friend who had recently purchased their dress there and it really is a lovely shop. A barn funnily enough!
I loved the dress because I feel like it flattered me in all the right places and suited my figure and my style. I was quite a young bride, getting married at 25 and I wanted to wear a dress that felt young but while still being classy.
What jewellery/accessories and shoes did you wear? Who designed them?
My veil was from Anya Bridal; it went to the bottom of my back so not to hide the detail at the bottom of my dress and was lightly decorate with diamante around the edge for that very subtle sparkle.
My shoes were from Dune and they were beautiful, they were a white satin heeled sandal, however the strap around my ankle was embroidered with diamante which looked amazing. My jewellery were some small diamond earrings that Jon bought and asked my mum to give me on the day of our wedding. I also wore my Grandma's ring that she gave me for my 18th birthday which belonged to her Grandma and a silver Links of London bracelet I've had a few years from Jon.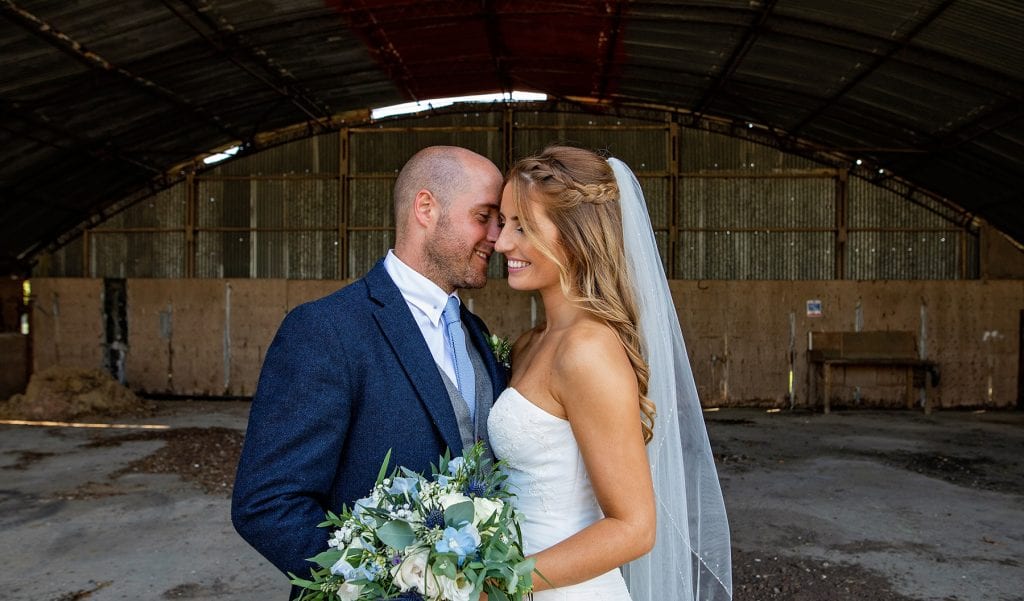 What did the groom wear and who was it by?
Jon wore a tailored suit from Victor Valentine. He looked amazing on the day. The main suit was a dark blue tweed with brown button detail on the arm. He wore a grey tweed waistcoat with a crisp white shirt underneath. He had a pin going through the top of the shirt button which looked really smart. His tie was a knitted pale blue which matched the bridesmaid dresses perfectly.  He wore brown leather brogues.
What did the bridesmaids wear, and did they have any accessories?
The bridesmaids all wore floor length pale blue dresses; they had a very slight fishtail style to them. The dresses were from Quiz clothing, an online store, I was actually really surprised to find them there. For shoes they all wore either nude or silver strappy sandals, I wasn't too bothered as the dresses were floor length and you couldn't see them anyway! They all look absolutely stunning and so many people have asked me where the dresses were from since the wedding!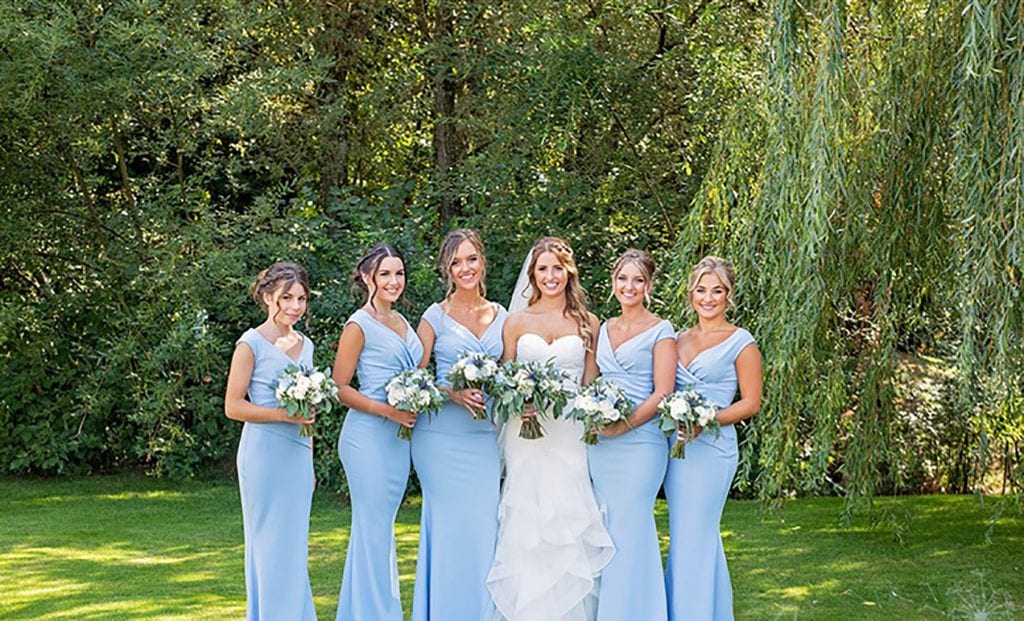 Where did you get ready before tying the knot?
I got ready at the Norton Park Hotel, about 10 minutes away from the venue. It was perfect, we stayed in the bridal suite the night before with three of my bridesmaids and my mum and two younger sisters stayed in a room nearby. In the morning the hotel opened up a room for us which was a huge dressing room with loads of mirrors, dressing tables, chairs and the best lighting – it was amazing!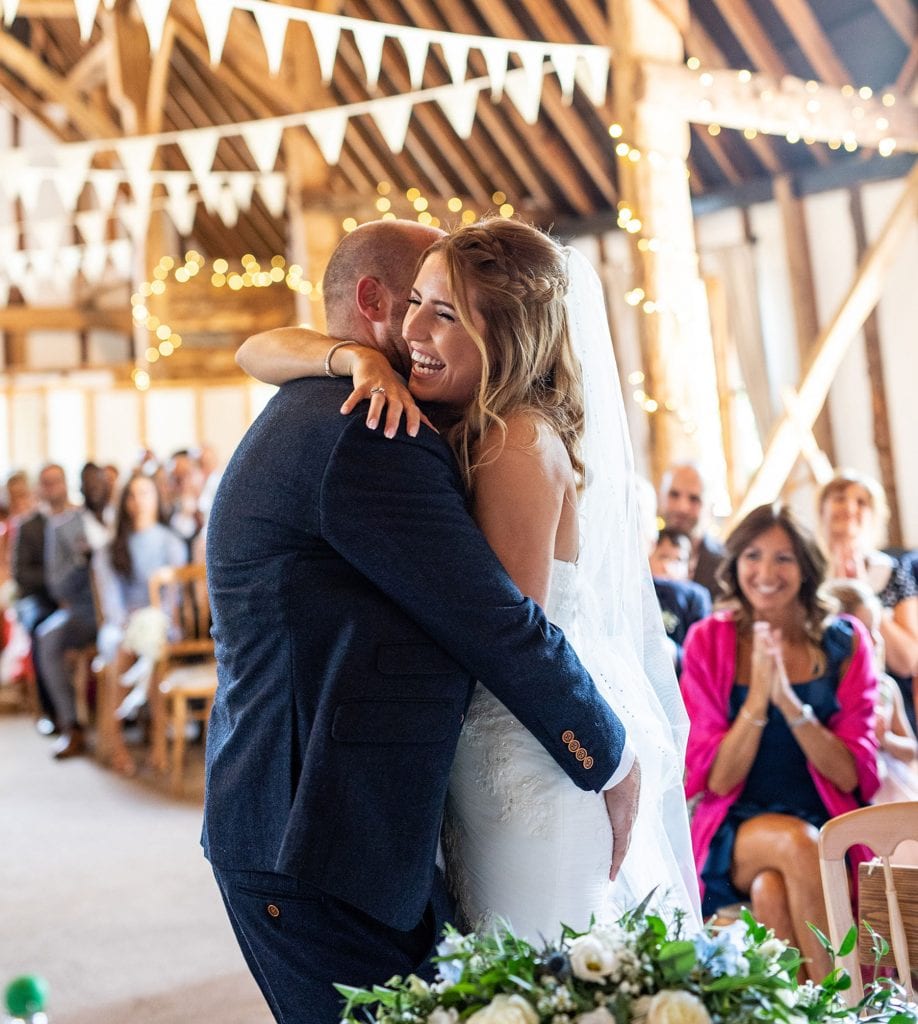 Did you include any special readings?
Jon's sister and my sister both did a beautiful reading each during the ceremony, the words in both readings were so meaningful and lovely – it was very emotional.
If you had a drinks reception, where was it held? What drinks/canapes were served?
We were so lucky and had the most glorious weather on our wedding day, so the drinks reception was held in the gardens just outside of the barn, where there were lots of garden furniture and parasols. We had Strawberry Rose Sangria & Original Pimm's cocktails. We had an Elderflower Sparkler cocktail for those who wanted a non-alcoholic drink. We also had some fresh fruit juices, flavoured waters for the children and then we had a beer drum in the garden (Jon's request!).
The canapes we had were delicious, we got to try so many at the tasting event but in the end, we went for Smoked Salmon Blini, dill cream cheese & salmon caviar, crispy risotto balls of sun-dried tomato and mozzarella, Spiced stick chicken wings, toasted sesame seeds, and finally, Roquefort Beignet.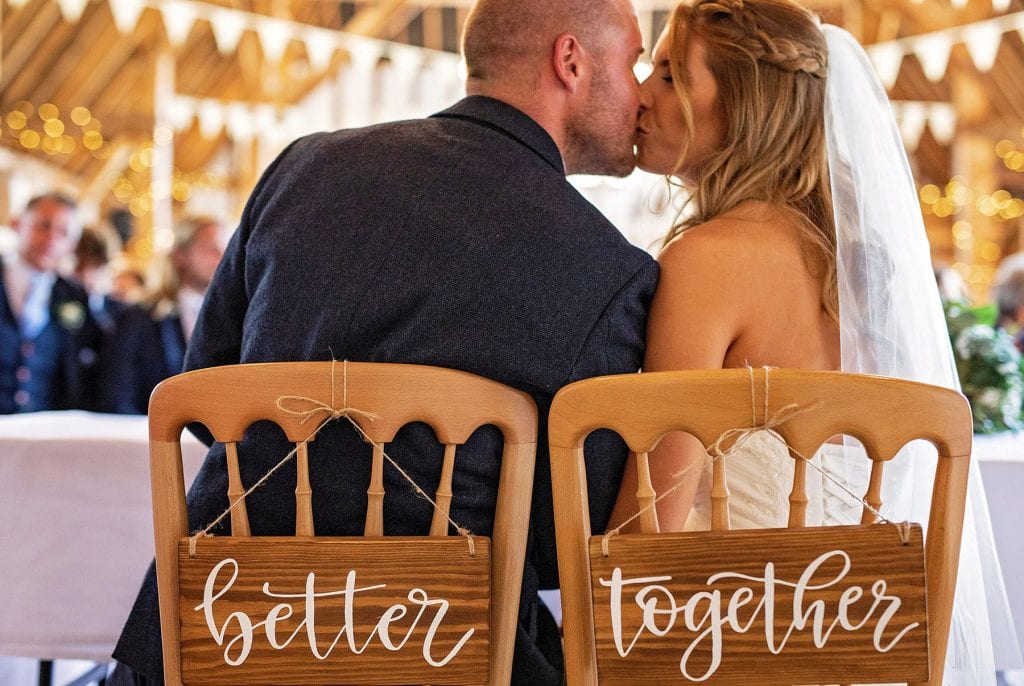 What kind of role did the music/entertainment play in your big day? 
For the reception music when guests were arriving to the ceremony, we had a mixture of Oasis such as – She is love, Liam Gallagher – I've all I need and Train – Marry me. My husband is really into his bands like Oasis, Stone Roses etc. and has subsequently really got me into that music too. When we left the ceremony as husband and wife we had "Let's Stay Together – Al Green," which we loved because we really felt it set the tone for the rest of the day – happy and upbeat!
The entertainment was a DJ and that worked perfectly for us because we were able to put the whole playlist together to make sure everyone heard a song they loved. The dancefloor was packed all night which is a really good sign!
What was your first dance song? Was it choreographed?
Our first dance song was Take over the world – Courteeners. Jon played it to me when we started thinking about our first dance song and I fell in love with it straight away, the words really resonated with us and even now we sometimes play it on the speakers in our kitchen and have a little dance together. The first dance wasn't choreographed though, Jon and I can't dance to save our lives!
What was on the menu? Why did you choose this food?
We were invited to a tasting day at the Clock Barn in the February before our wedding where we got to taste various different options, and these were our favourties, but at the same time they were options we though the majority of our guests would also enjoy. For starter we had Seared Scallops and seabass, for main we had fillet of beef, potato dauphinoise and green peppercorn sauce and for dessert we had triple-chocolate brownie.
Was there a stand-out dish for you? What was it and why?
Every dish was stand-out and so many of our guests said it was the best wedding food they had ever had. The fillet of beef was cooked to absolute perfection – how you can get it that right when you are catering for 92 people I will never know!
Did you have evening food? What was it?
Yes, we had a pizza oven outside the barn which was great fun, we had a pepperoni option and an artichoke option – again amazing and everyone loved them! One of my evening guests was a vegan and they made her a bespoke vegan pizza, she said it was the best she had ever had! Inside they also had a little popcorn stand along with some other treats, I hadn't realized that would be included so it was a lovely surprise. I have to confess though that Jon and I were too busy having fun on the dancefloor and didn't get to try any of the evening food!
Did you choose any particular drinks package? i.e. cocktails, beer drums etc.
We had the cocktails and beer drums that we mentioned above. But on the tables during the wedding breakfast we went for a Callia Malbec and a Corte Vigna Piot Grigio which were both lovely wines. Jon bought me a case of the same Malbec wine for Christmas which was a lovely touch.
How did you feel the Events Team helped you in the lead up to on the day of your wedding?
The Events Team were just fantastic; we couldn't praise them enough. They are absolute experts in what they do. No question or request was too much trouble and the whole planning process with them was seamless.
What was your favourite moment of the day?
My favourite moment of the day was seeing Jon's face when I walked down the aisle. I had been thinking about that specific moment for so long and it was more amazing and magical than I ever thought it would be.
Were there any standout moments or comedy errors that happened throughout the day?
I think the speeches had to be the standout moments, Jon's speech was brilliant, he was funny, sentimental and loving all at the same time but most of all he was just himself and everybody loved it. The best man's speech was unbelievable, he had put together a poem which was witty, funny, emotional and I don't think there was a dry eye in the room by the end.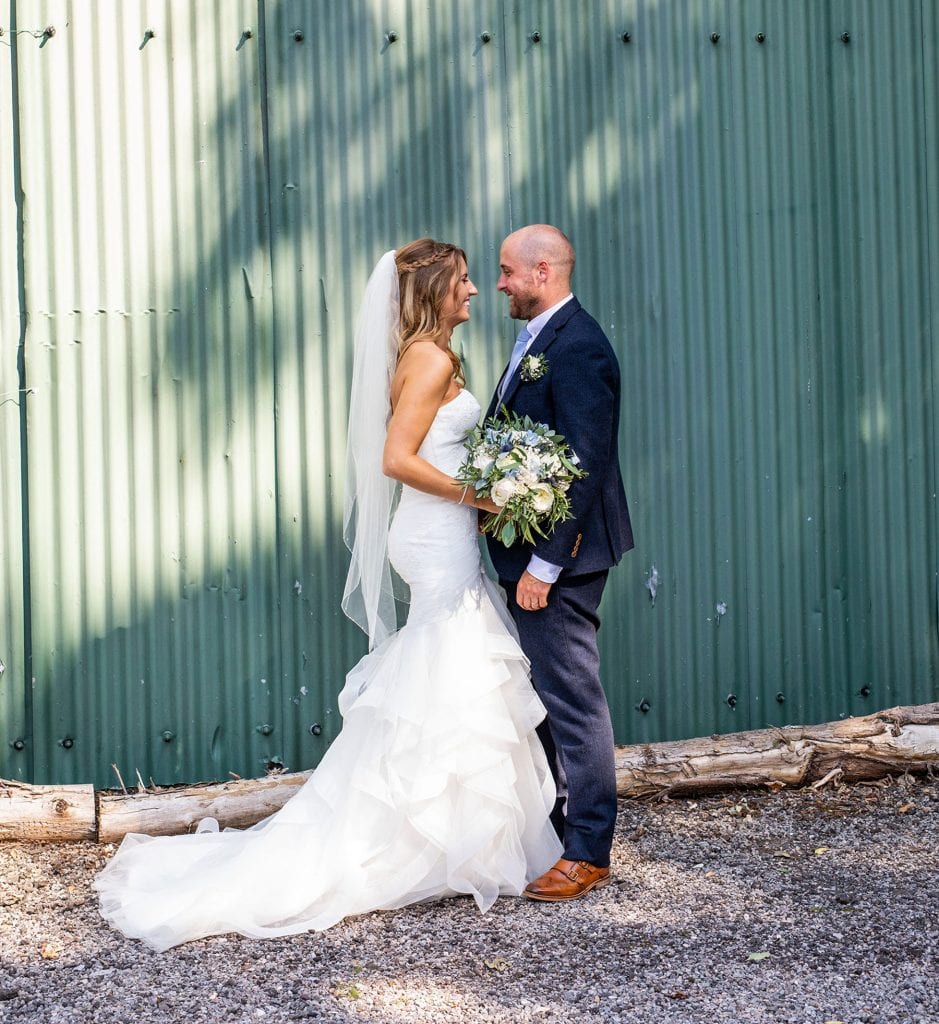 Were there any little surprises on the day?
Yes, we had my niece, Hettie, as our flower girl. She was 9 months old at the time and couldn't walk so we got a white wooden baby carriage for her to sit in. They were the first ones to walk down the aisle and as I was waiting, I could hear the 'ahhhh's' as they went down. It was adorable!
What advice/tips would you give to brides-to-be still planning their big day?
My main advice would be to try not stress and to enjoy the planning process. We kept a spreadsheet of what we needed to do, what payments were due when and that massively helped us manage our time and money throughout.
Do you have any wedding regrets, or would you have done anything differently?
We have absolutely no regrets and there is nothing I would have done differently. We truly embraced the whole experience; we loved every moment. It was the happiest day of our lives with the most important people in our lives. We couldn't have wished for anything different.
Did you go on honeymoon? If so, where did you go?
Yes, we went on Honeymoon on the 3rd of September, two days after our wedding. We went to the Seychelles.
The suppliers
Venue: Clock Barn
Photographer: Lou Osborne
Florist: Bloom Bloom
Dress: Pronovias, Anya Bridal
Groomswear: Victor Valentine
Cake: Fiona's Taylor-Made Cakes
Videographer: Ben Radley Wedding Films
Garden Games: Wessex events