Spring pastels wedding at Blackwell Grange

Harry & Molly
Photography by Poppy K Photography
What were the top two 'must haves' at your wedding?
The two most important things to me was finding the perfect venue and the perfect dress. I felt that everything else would fall into place as long as I had found those two things.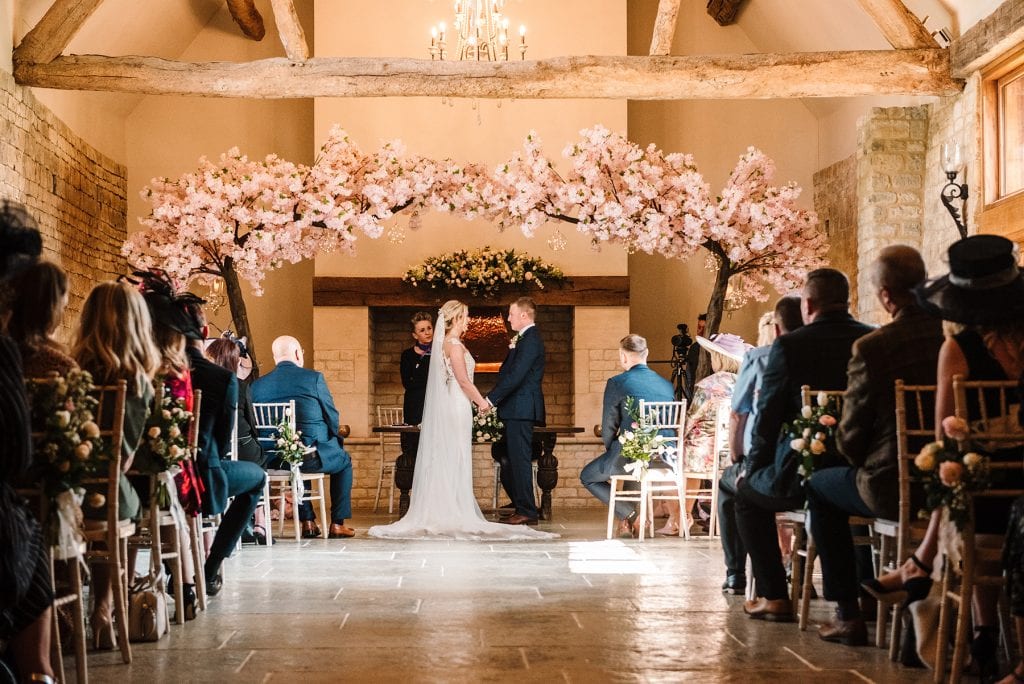 What colours did you choose, and why?
It was Spring so we chose pale pinks, rose gold and light pastels. We wanted the whole day to reflect the time of year. We incorporated blossom tress wherever we could and tied the whole colour scheme in with that.
What did you love the most about your venue and what made you choose it?
As soon as we drove down the long driveway to the venue on our first visit, we fell in love with it! We loved the secluded feel and how much space there was. Even better, we wouldn't have to share that space with anyone. We loved the light and airy feel of the Orchard Barn, and it is such an amazing space to fill. The Thatch Barn, where the ceremony is held, has a church-like feel to it which was really important to me as I didn't like the feel of a lot of places where ceremonies are held in hotels or registry offices. The whole venue is simply stunning without any decoration, so we knew that we would easily be able to make it look perfect for our special day.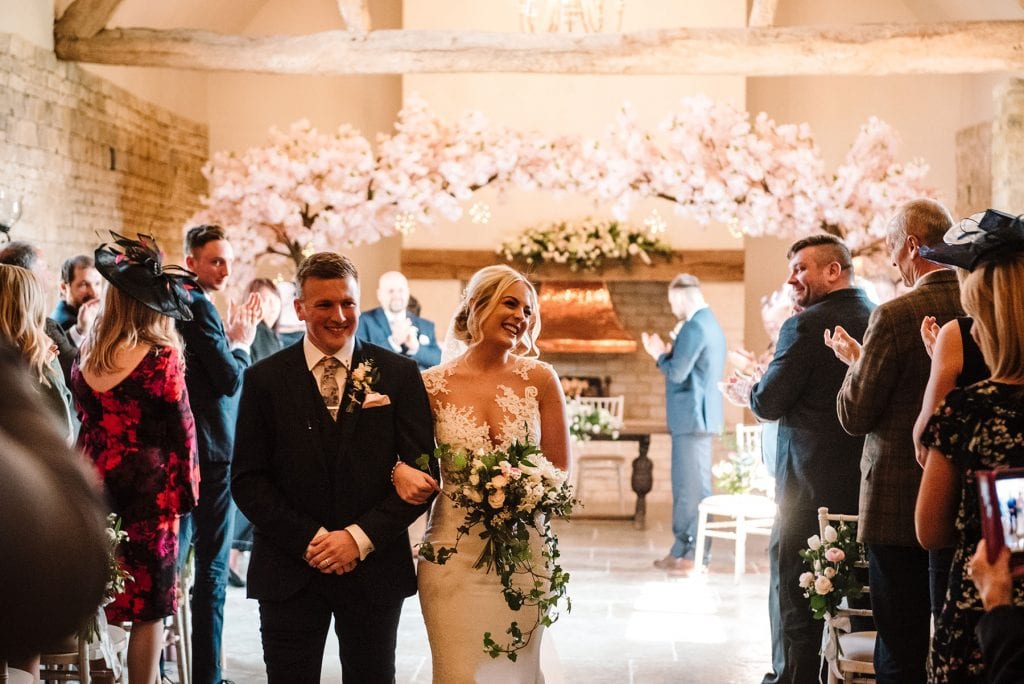 What was the atmosphere you were hoping to create?
A relaxed and laid-back atmosphere with a degree of formality. Although barn weddings are often seen as more casual, I didn't want it to be too casual, but it was important to us that people felt relaxed enough to enjoy themselves and the day.
How did you decorate your venue?
We had two tall pink blossom trees framing the front of the Thatch Barn with glass globes hanging off the branches with fairy lights in. We also had a small tied set of flowers on the end of each row down the aisle and little rose gold tea light holders in the little crevices of the wall.
In the Orchard Barn, we had white blossom trees on 5 of the 9 tables. Around the trees and on every other table we had a display of flowers in mismatched vases and vintage glasses on a mirrored circle. We also had drapes hanging from the ceiling with very fine fairy lights intertwined to create a fairy-tale feel.
In the entrance to the Orchard Barn, to match the copper plated bar, we had a rose gold theme. We also put out pink flip flops for all the guests in baskets, which went down very well during the evening!
Tell us about your flowers?
Our florist was incredible and was able to achieve exactly what I had imagined. I wanted a fairy-tale feel to our flowers and my bouquet reflected this. We had spray roses, ranunculus, hyacinths, hydrangeas, eryngium and ivy. We had a beautiful garland around the spiral staircase in the Orchard Barn, which just added to that fairy-tale feel.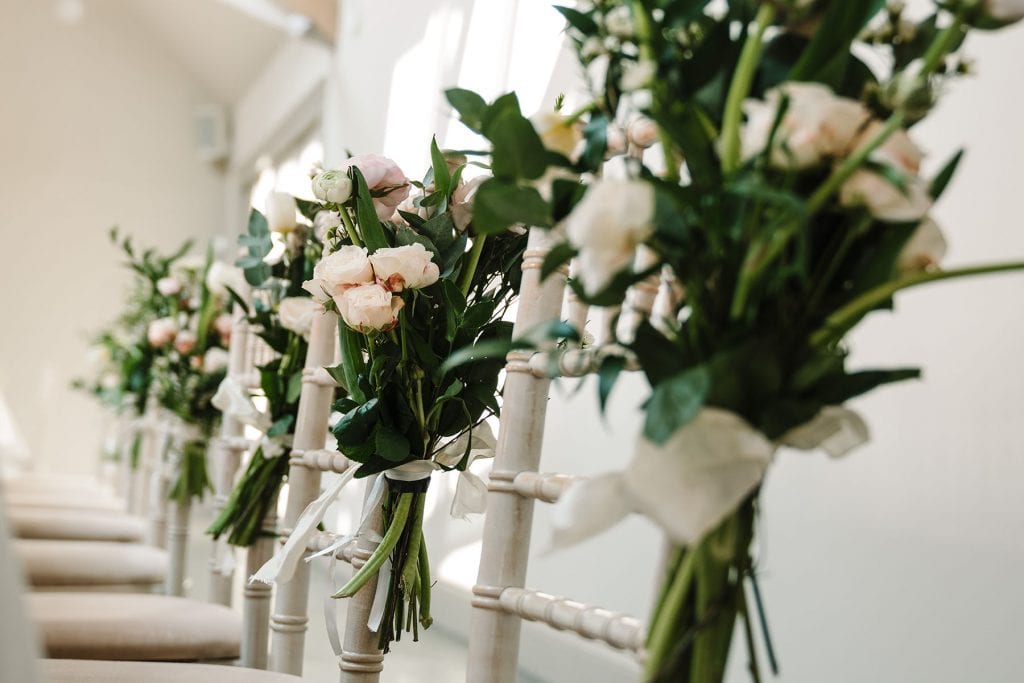 Who was your dress by? Pronovias. I had always wanted a dress with a detailed button-down back and I absolutely loved the back of my dress. I loved the lace detailing around the top that was different to anything I had seen on any other wedding dress before. Most of all, I loved the way I felt in it. I would never normally wear anything fitted but my dress fit so perfectly that I felt like a princess in it – I didn't want to take it off!
How did you find it? I bought my dress from The Wedding Club in Birmingham. It was the first shop we went to and I was not expecting to find a dress so quickly. Funnily enough when asked what I wanted, I specifically said I did not want anything fitted!! After trying on about 10 dresses, Sammi suggested I try on the Pronovias and, immediately seeing it was fitted, I said no. She encouraged me to try it on as she had pieced together what I liked from all the other dresses I had tried on. Before it was even fastened up properly, I knew it was the one!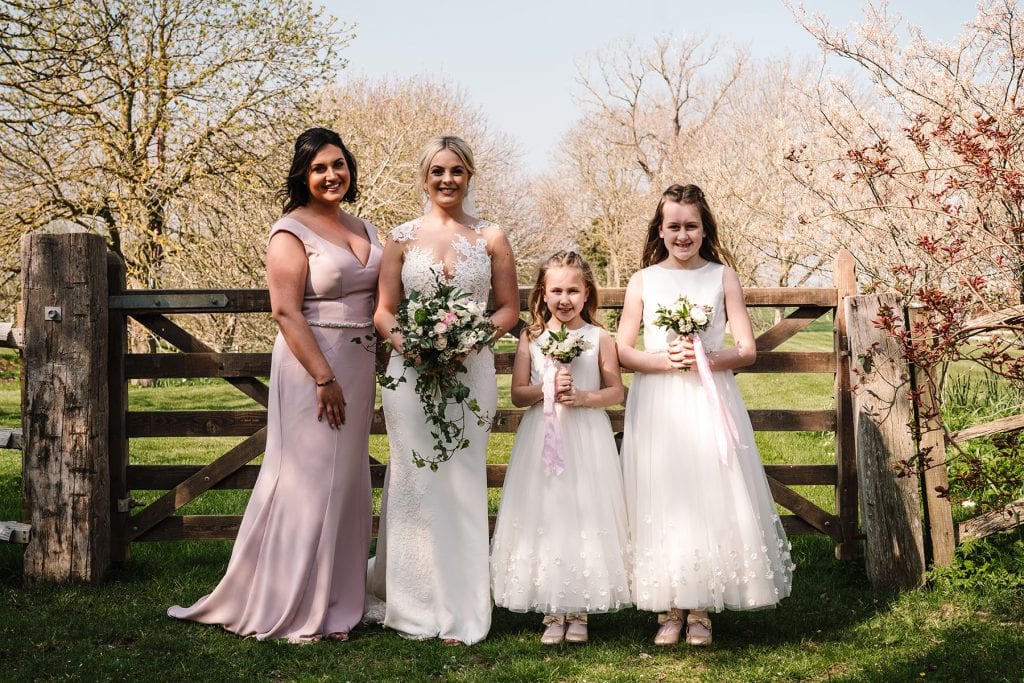 What accessories and shoes did you wear?
 I wore a Ronald Joyce veil with a gorgeous lace trim. My hairpiece and bracelet were custom-made by Annie at Tallulah's Trinkets. My grandmother, who passed away a few years ago, had left me her favourite pearls. I had my bracelet made out of these pearls, with a blue gem on the clasp as my 'something blue'. Annie also placed some of the pearls in my hairpiece to make it extra special. My earrings were from Victoria Percival, who does some amazing bridal jewellery. My shoes, probably my favourite accessory, were Chanel and tied in with the pearls on my hairpiece and bracelet perfectly.
Tell us about the groom, what did he wear, and who was it by?
Harry, the groomsmen and the two Dads all wore navy suits by Jeff Banks for Debenhams. The ties were also from Debenhams and the pocket squares from John Lewis.
And what about the bridesmaids?
All bridesmaid dresses were from Lily Rose Bridal Boutique in Kenilworth. My maid of honour wore a pale pink dress with a pearl beaded belt by True Bride. The two younger bridesmaids wore white dresses by Emma Bridals with custom belts that matched the maid of honour's.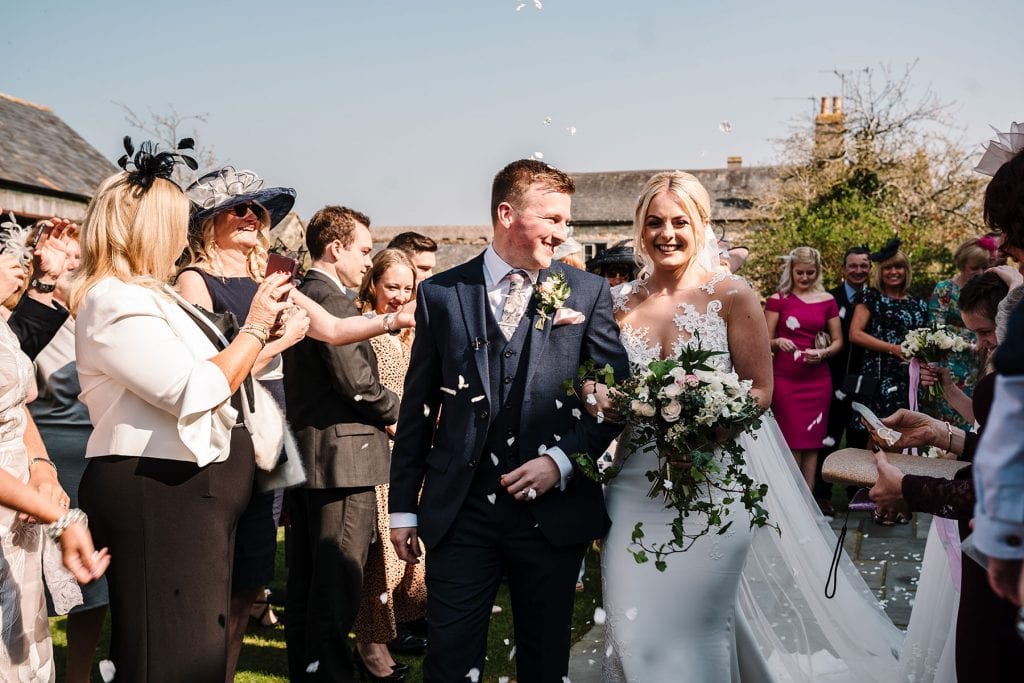 Did you include any special readings?
Harry's brother did a reading for us – 'The Meaning of True Love'. My close friend, Bella, also sang during our ceremony which was extra special. She sang Songbird by Eva Cassidy, accompanied by Ben Drummond on the guitar. There was not a dry eye in the house during that!
If you had a drinks reception, where was it held and what drinks/canapes were served?
Outside the Orchard Barn at Blackwell Grange. Prosecco was served during the drinks reception and we had a bellini station at the bar for the guests to add their own flavours/fruit to their fizz. We had the following canapes – Grilled sirloin steak, duck fat chips and Bearnaise sauce; lamb koftas with minted yogurt; shepherd's pie, creamed and buttered mash; deep-fried Thai fishcake with chilli sauce; fried Somerset brie, sesame crust, red pepper sauce; crispy risotto balls of sun-dried tomato and mozzarella.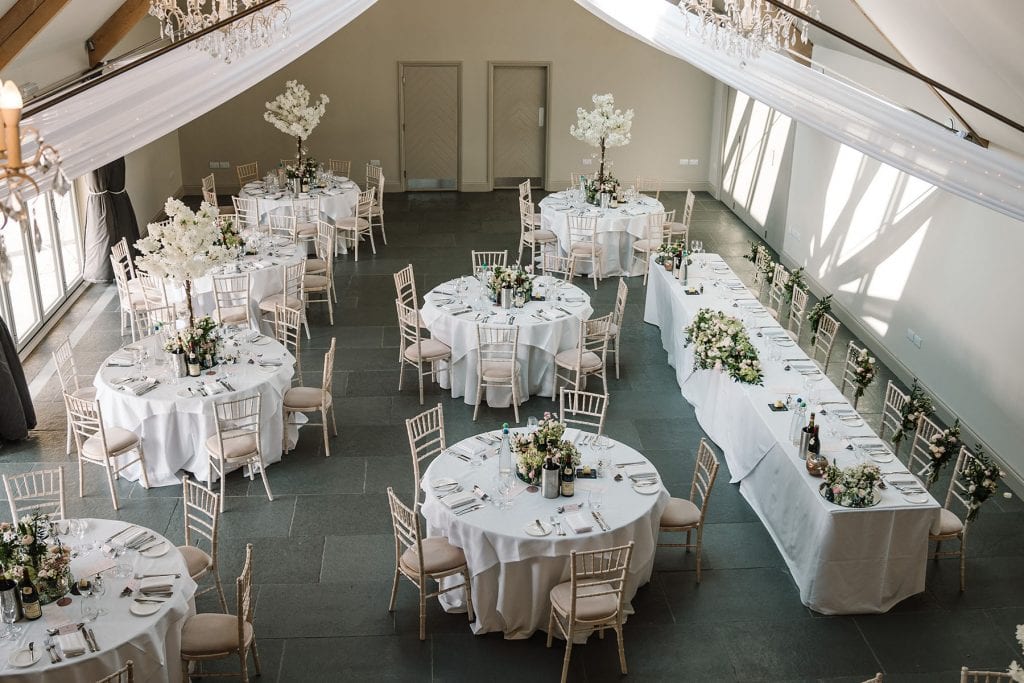 What kind of role did the music/entertainment play in your big day?
I wanted our music to also reflect the relaxed atmosphere of the day, which is why we loved Ben Drummond's work so much. He sang and played the guitar beautifully throughout the ceremony and outside during the drink's reception. We then had a DJ, also provided by Ben Drummond, to entertain the guests in the evening.
What was your first dance song?
The One by Kodaline
What was on the menu?
Starter – Confit duck, garlic and parsley, spiced cauliflower puree and pickled radish or tartlet of baby beetroot, red onion marmalade and mature cheddar.
Main course – Fillet of beef, potato dauphinoise, green peppercorn sauce or Nut bean roast, served with roast potatoes, honey-roast parsnips and carrots, thyme and mushroom gravy.
Dessert -A trio of almond and griotte cherry Bakewell tart, iced raspberry and vanilla mousse with raspberry popcorn, and dark chocolate fudge cake with a brown butter toffee cookie. Additional course – Cheese plate.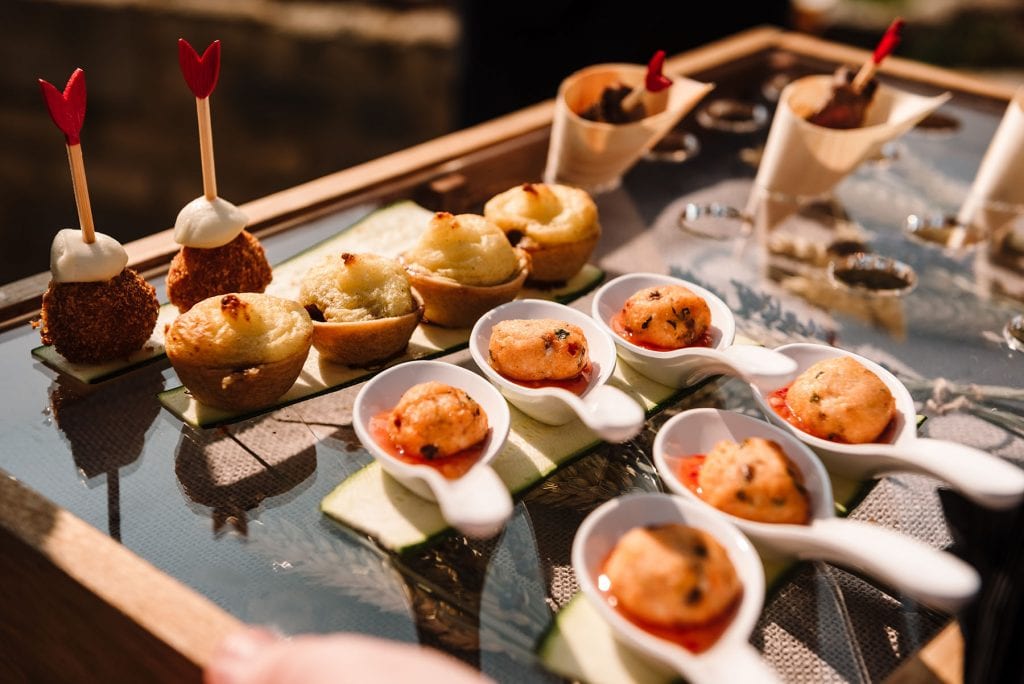 Did you have any evening food?
Wood-fired pizzas – spiced pepperoni and chorizo with mozzarella and roast garlic or ham and mushroom with grilled peppers, Kalamata olives and rocket. Guests could also order their own pizzas with whatever toppings they fancied.
How did the Events Team help you in the lead up to and on the day of your wedding?
The events team at Blackwell Grange could not have been more helpful throughout the whole process of planning our wedding. They were always so quick to respond to any questions and never made you feel silly for asking lots and lots of questions! The day went so smoothly, and I did not even have to think about whether we were running on time or what we had to do next – the team worked so well behind the scenes to make sure of this.
Is there anything you would like to say to the Events Team who helped you?
We would like to say a huge thank you to the team at Blackwell Grange for helping us to plan the most perfect day. In particular, we would like to thank Lucy who was the event manager for our big day. She was so helpful and was willing to go above and beyond to make sure the day was perfect for us. We couldn't recommend the venue and catering enough!
What was your favourite moment of the day?
I enjoyed the ceremony so much more than I expected. Because we had included a reading and my friend singing, it was a perfect length. I've been to a few weddings where the ceremony is really short and it's over with before you know it, and I really didn't want ours to be like that. The registrar was excellent and created a fantastic atmosphere in the Thatch Barn. There was a lot of emotion and humor and it felt so personal that I almost forgot we were surrounded by so many people!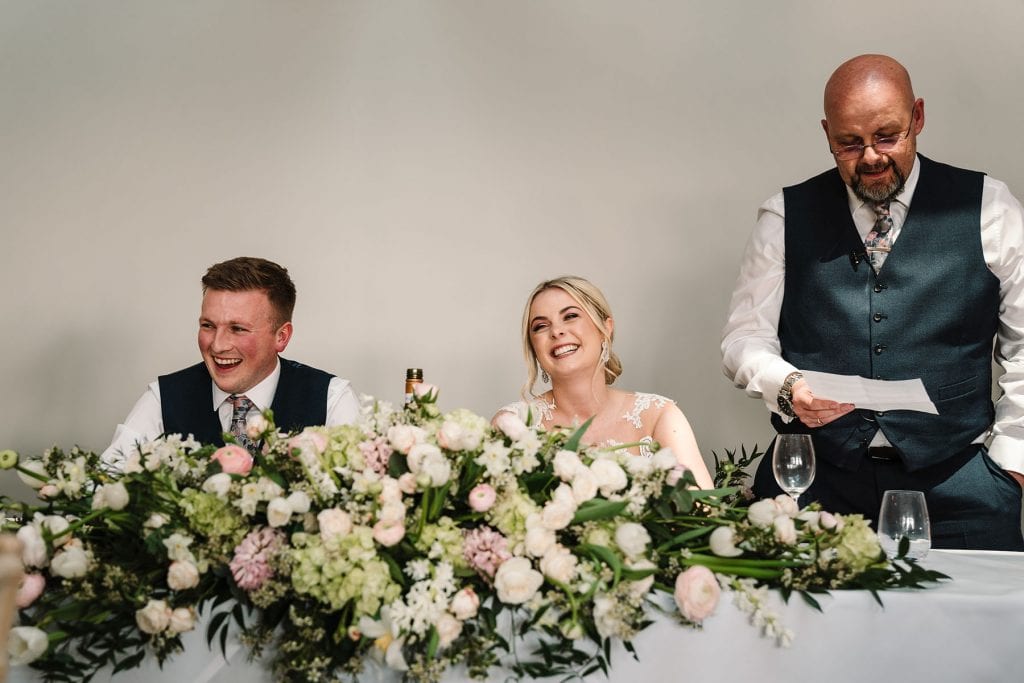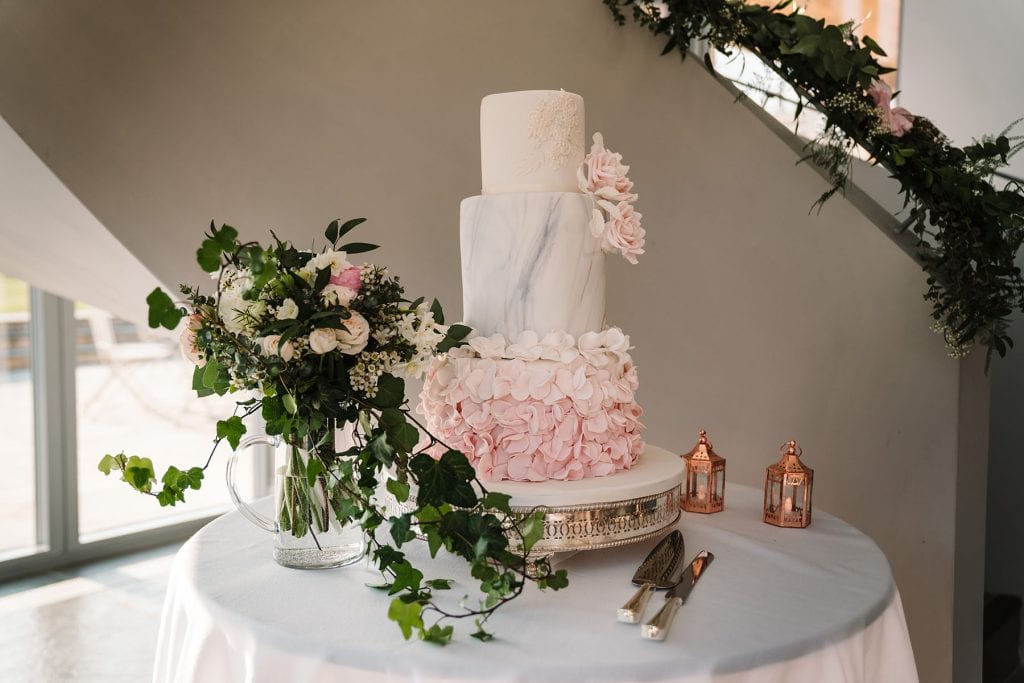 Were there any standout moments or any little surprises on the day?
A really special moment for me was when my Dad walked into the Potting Shed and saw me in my dress for the first time. We were both very emotional and it was a moment that I will never forget.
What advice/tips would you give to other couples still planning their big day?
I think it's very easy to get carried away trying to make everyone else happy in the lead up to the wedding. But ultimately it is your special day, so do what makes YOU happy! Make sure you take some time to appreciate the excitement of the day, both in the build up to the wedding and on the day itself. People kept telling us to make sure we took some time out for ourselves on the day and we are so glad they did. The day goes so quickly and before you know it, it's all over!
Do you have any wedding regrets, or would you have done anything differently?
I would not have done anything differently! I think sometimes I stressed about the tiniest of details, like making sure people sat in the right place in the Thatch Barn during the ceremony (I even made a seating plan for the ceremony!!) But when it comes to it, I didn't even notice where people were sat. That's probably the one thing I would do differently – so don't worry about things that really don't matter or that you won't even notice on the day.
The suppliers
Wedding venue: Blackwell Grange
Photographer: Poppy K Photography
Videographer: BRS Wedding Videography
Florist: Sarah Horne Flowers
Dress: Vicenta by Pronovias
Hair: Potion
MUA: The Glam Room
Bridesmaids: Lily Rose Bridal Boutique
Cake: Elite Cake Designs Limited
Entertainment: Ben Drummond