Intimate, rustic country wedding at Bassmead Manor Barns
Photography by Georgie B Photography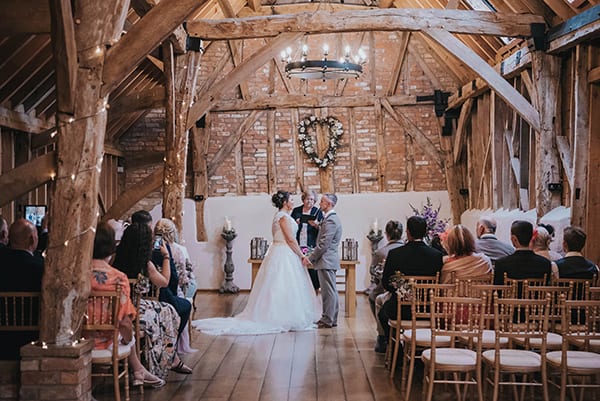 What was the theme/look of your day? Why did you choose this theme/look?
Our theme was rustic country. As Terry works outside and has always enjoyed the countryside and I love the cosy. Our try look we decided to bring the outside in. We made everything ourselves mainly out of reclaimed wood and finished everything off with lots of greenery plus our colour scheme of pastel lilac.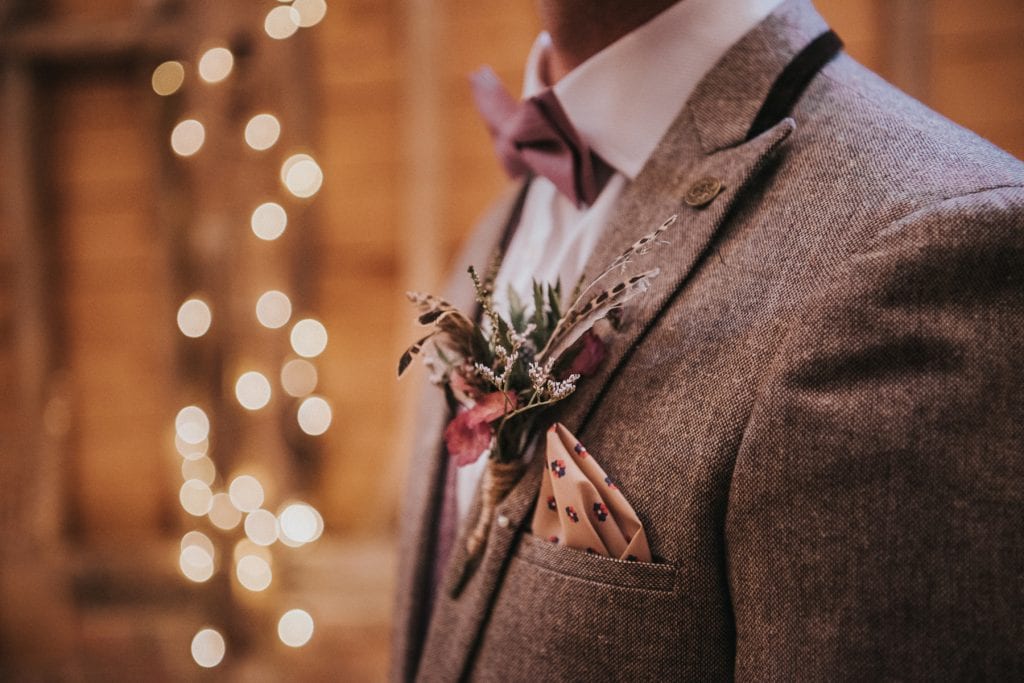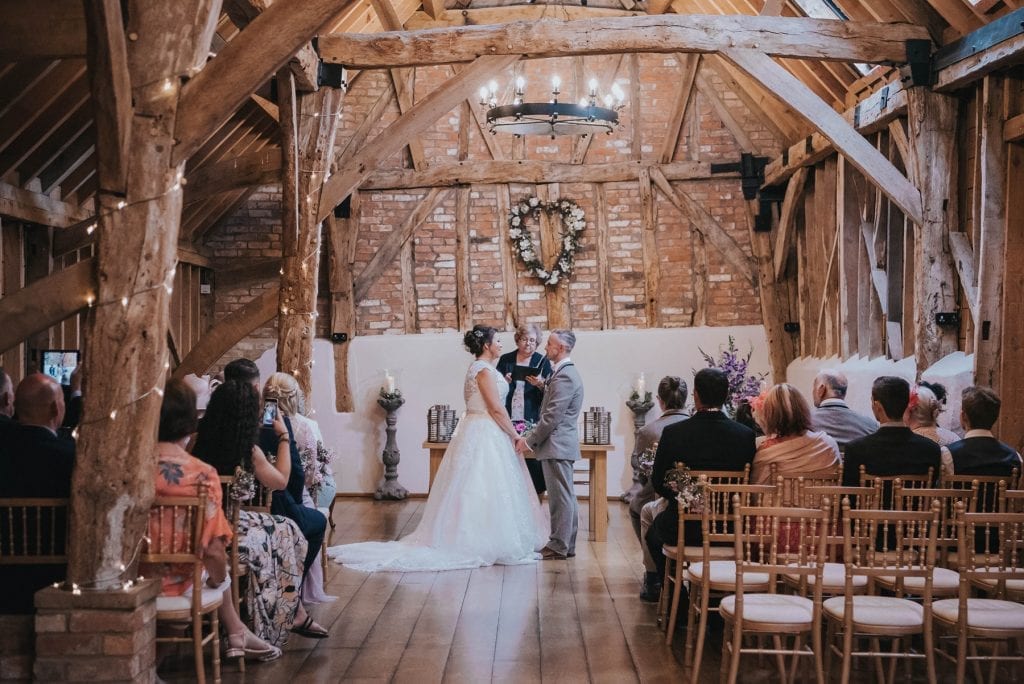 Why did you choose your venue? And what did you love about the look/feel of it?
We choose the venue due to myself and my husband loving rustic and old country charm we felt the barns brought this and so much more it was just what we were looking for. As soon as we found it we knew and therefore did not look elsewhere. We knew it was the right place for us, as soon as you walked round the venue we were constantly seeing something new that was pure charm. The venue was perfection, the thing that sold it to us was the old rickety barn where the ceremony took place, all of our guests were taken back by simplistic but yet charm full, old and beautiful style.
What decorations did you have? Did you make any of them yourself?
We wanted our decorations to look simple but have a big impact just like our day. In the old rickety barn we had simple flowers tied with twine on the end of the chairs going up the aisle. On the table where we stood for the ceremony we had a flower centre piece, that was made to look like wild flowers and either side of the flower centre piece was two lanterns made with hessian and rope.
In the corner we had a large pedal stall with a very large wild arrangement on. As you came out of the main barn there was a table displaying dried petals for the guests to throw this was in a basket and we had a piece of slate with 'throw petals and wishes at the new mr & mrs'.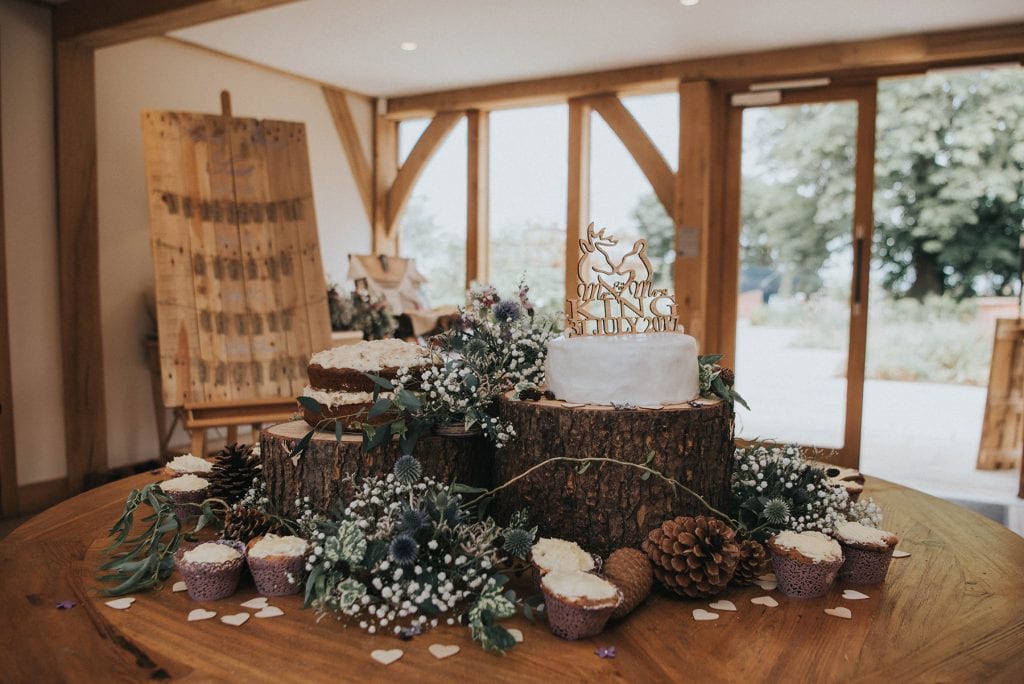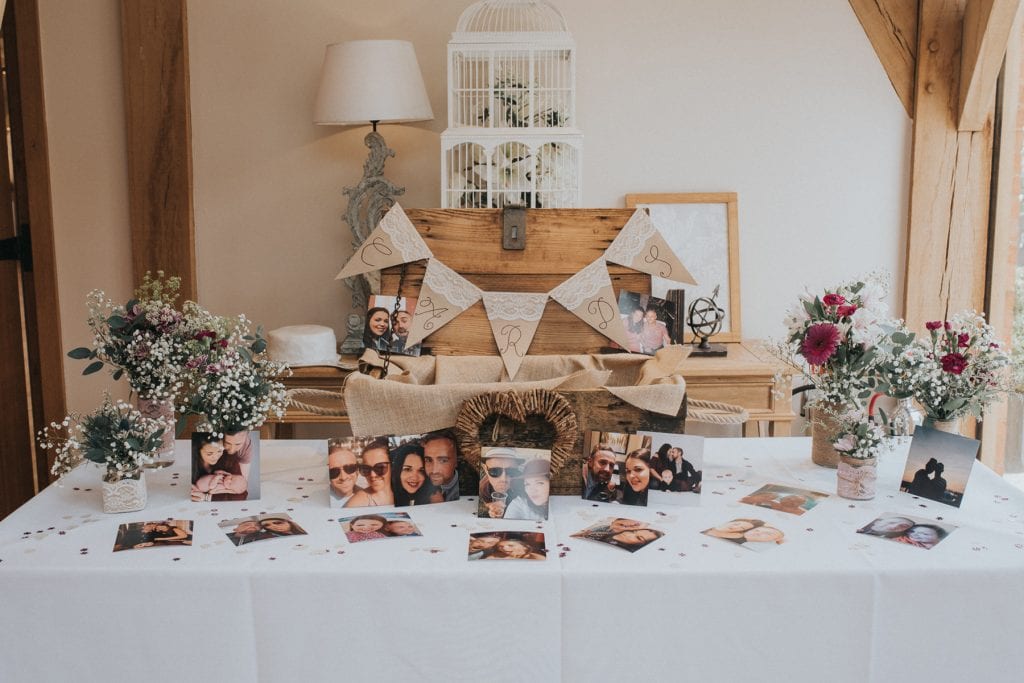 In the bar area we had homemade jars with twine and lace on which had our wild flowers in these were placed around the drinks, card/present table and the guest signing board. The board for the guest to sign was made out of old pallet wood which we had my brother in law to design a heart with mine and terrys initial on this was for the guests to write their message.
On the card and present table we had an old trunk that we rubbed down and I lined with hessian and made bunting displaying cards and around the box we had pictures of myself and terry along with wild flowers. In the middle of the bar area with had a massive round table where we had our homemade cake stands and the decoration was wild flowers and greenery weaving on and out the cake stands which were tree stumps at different heights.
Around the table we had wooden stag heads and hearts. In the dining room on the tables we had slate for place names and wooden discs with the decorated jars that had Wilde flowers and tea lights in. outside we had a sign which we made again out of old pallet wood which said to guest eat, drink, party repeat. We also had a table with sweets on where we had old sweet jars, a love letter sign made out of tree bark and again we had slate signs that said 'sweet wishes from mr & mrs' and 'love is sweet take a treat'.
What colours did you choose, and why?
We choose browns and pastel lilac. The reason we chose brown textured suits was because we wanted it to match the country brown of the wood and the reason we chose lilac was because it went well with the brown and its subtle but still summery.
Did you use flowers to decorate?
Yes flowers were a big part of our wedding this was because it gave it the country field feel and also terry's Mum is a very good florist. We had flowers in every room and even in my hair.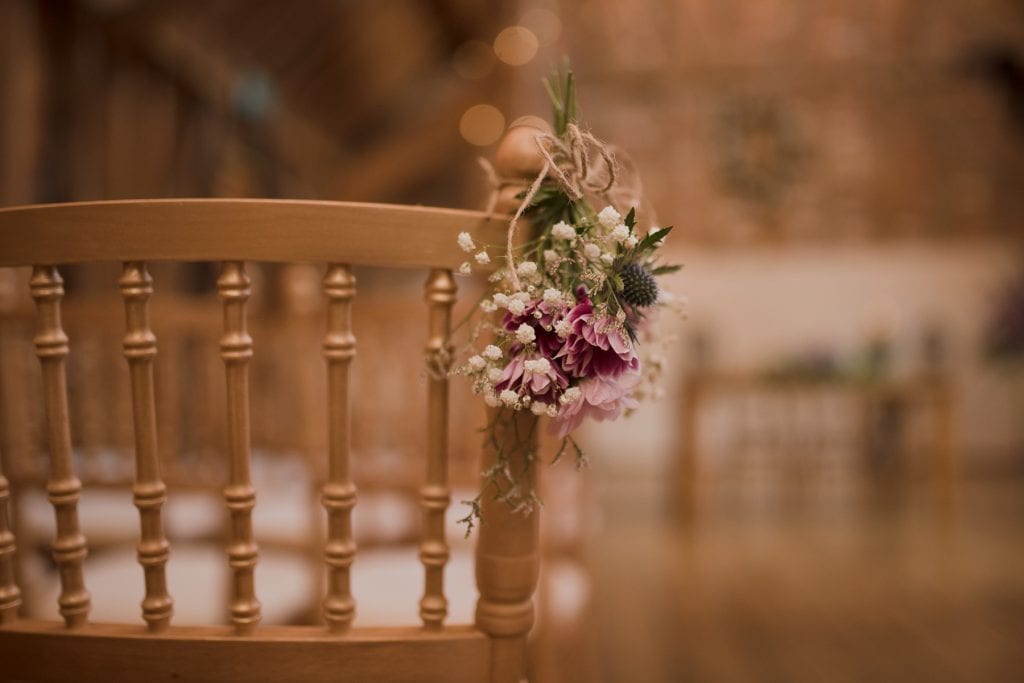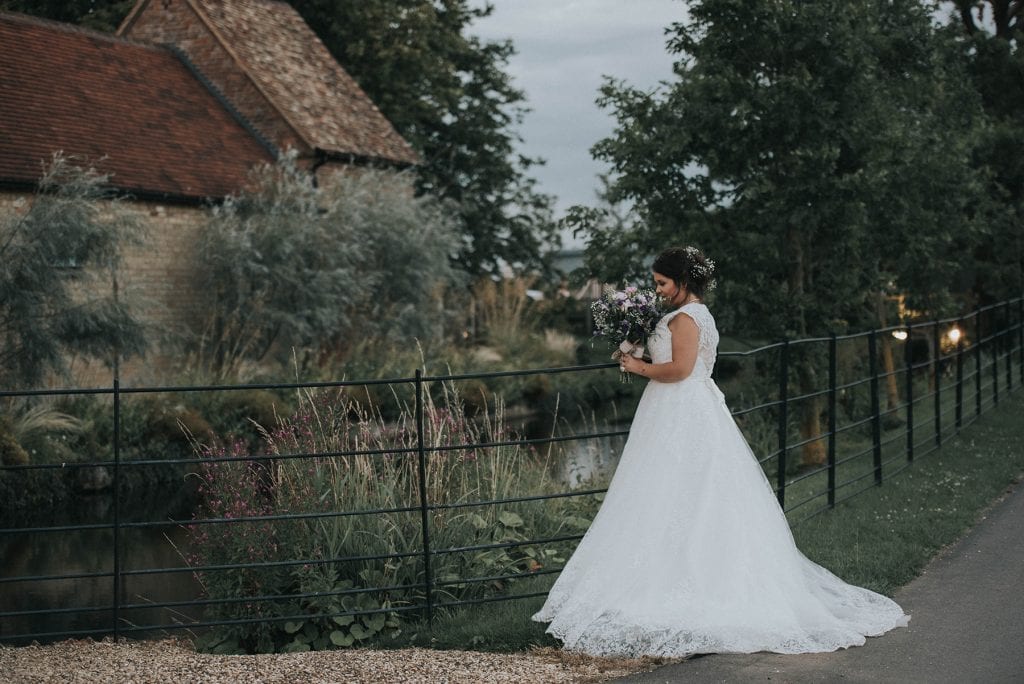 Tell us about your dress – who was it by? Why do you love it? How did you find it?
My dress was utterly stunning I didn't know what I wanted my Mum chose this one randomly off the peg but once it was on it was the one we both knew it was. I have to say everyone commented on it before anything else. It had lace on top of the dress which trailed down, the bottom of the dress was in an A line but had a long trial. I loved the flow, the lace, the large trial, it was hard to begin with to walk but by the end of the day I was dancing and spinning around in it. I just wish I could wear it again I felt stunning.
What jewellery/accessories and shoes did you wear? Who designed them?
The jewelry I wore all meant something to me, I wore pearls on a gold necklace these pearls were given to Mum from me and my brother when we were little so my dad had brought them for us to give to her, so my mum gave tether to me on the day. My mum brought me a rose gold Swarovski bracelet. I wore a rose gold belt on my dress. I wanted comfortable shoes so I wore sandals with pearls and jewels on.
What did the groom wear and who was it by?
The groom wore a textured brown suit and a lilac waistcoat. He wore a lilac dickie bow. His shoes were brown leather. His suit was from Marc darcy, his waist coat was from Anthony formal wear. White shirt
The best man and the 2 dads wore the same suit but wore the waist coat that came with the suit and they wore lilac skinny ties. Leather brown shoes. White shirt.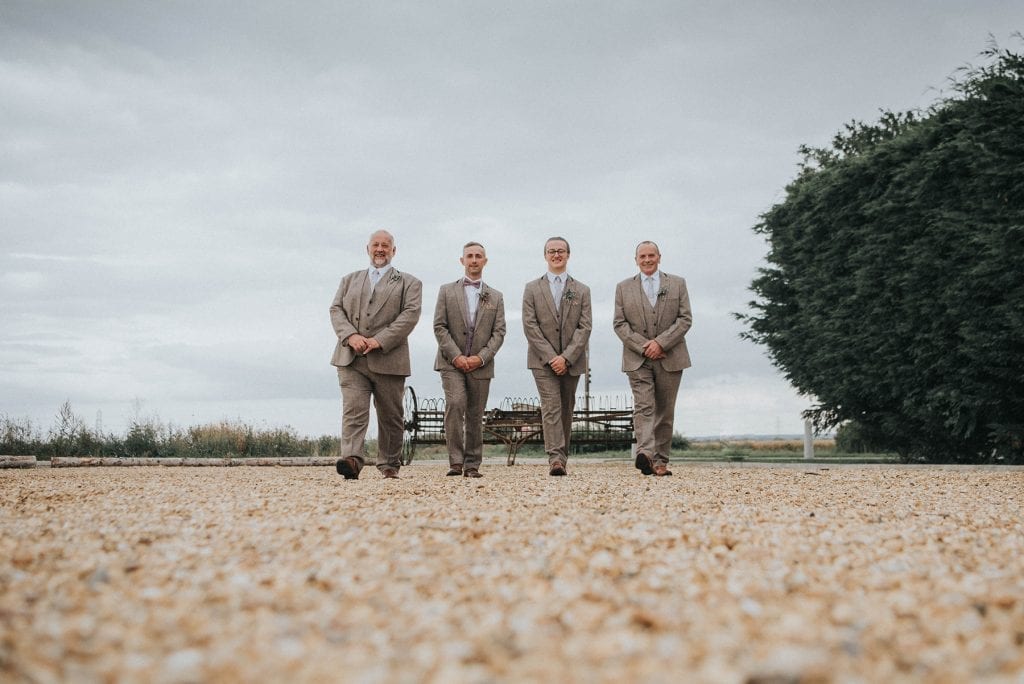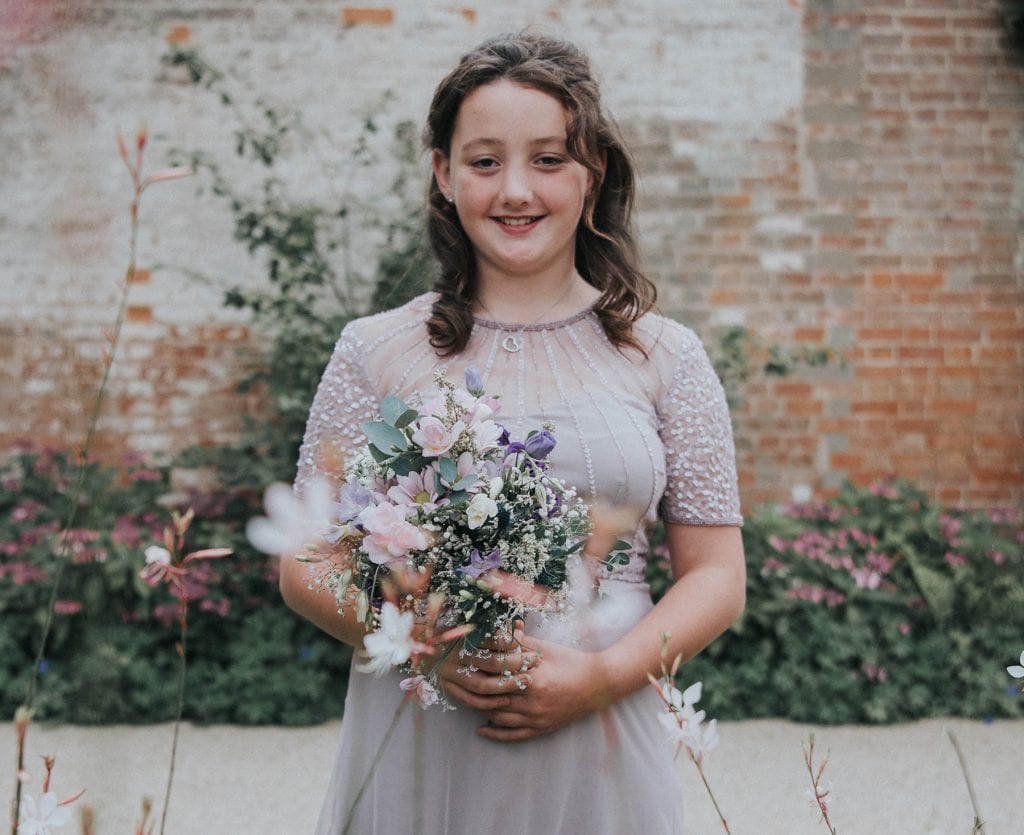 What did the bridesmaids wear, and did they have any accessories?
The bridesmaids wore a pastel lilac dress, it was long so went to the floor, the top of the dress was had a lot of design with beading and the bottom was plain. They wore pearl look bracelets pearl colour and a lilac colour.
Our little boy was a page boy and he wore linen cream trousers white shirt same dickie bow as daddy and lilac braces with brown brogue shoes.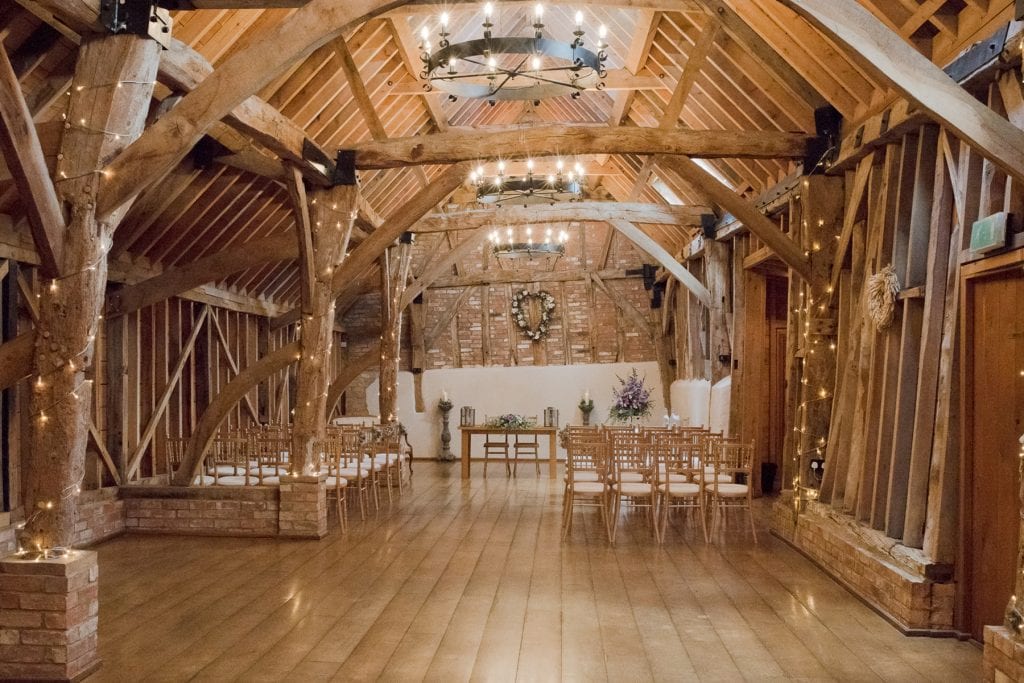 If you had a drinks reception, where was it held? What drinks/canapes were served?
It was again held as Bassmead in the bar area, we had sangria flora with elderflower liqueur, elderflower sparkler for the non-drinkers, gin and tonic table as that's mine and Terry's favourite summer drink and a barrel of beer and cider. Our canapés were crispy risotto balls of sun-dried tomato and parmesan, fried Somerset brie, sesame crust, red pepper sauce, crispy fried squid, caper and parsley mayonnaise and finally Thai chicken, sweet chilli glaze.
What kind of role did the music/entertainment play in your big day?
We had a DJ in the evening and we made our own playlist for reception drinks that we played on their sound system.
What was your first dance song? Was it choreographed?
Our first dance song was by James Arthur- say you won't let go.
What was on the menu? Why did you choose this food?
To start we had smoked bacon scotch egg, apple puree and crisp pancetta, main course was fillet of beef, dauphinoise potatoes, veg and green peppercorn sauce. For desert we had triple chocolate brownie with vanilla ice cream. We then had a cheese table with port.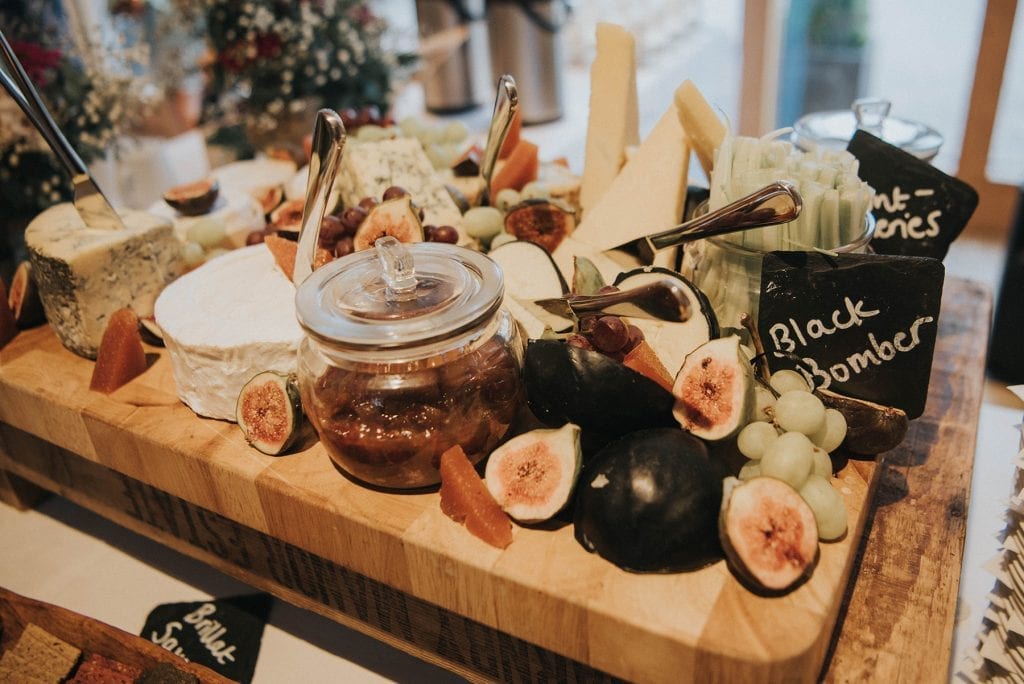 Were there any reasons behind your choice of menu?
There wasn't really any reason behind our menu it was purely the food we enjoyed as a couple and the brownie was because it was homemade especially by Bassmead and they have it on offer every time you went for a meeting.
How did you feel the Events Team helped you in the lead up to on the day of your wedding?
They answered any questions we had and sorted out anything we needed and they gave opinions when we asked. Otherwise we all knew what we needed to do when and where.
What was your favourite moment of the day?
That's very hard but probably my Mum and Dad seeing me just before the ceremony and walking down the aisle seeing terry at the end.
Were there any stand out moments or comedy errors that happened throughout the day? The day ran to smoothly for any funny errors but the speeches for me were stand out and everyone enjoyed them. They made me cry and laugh.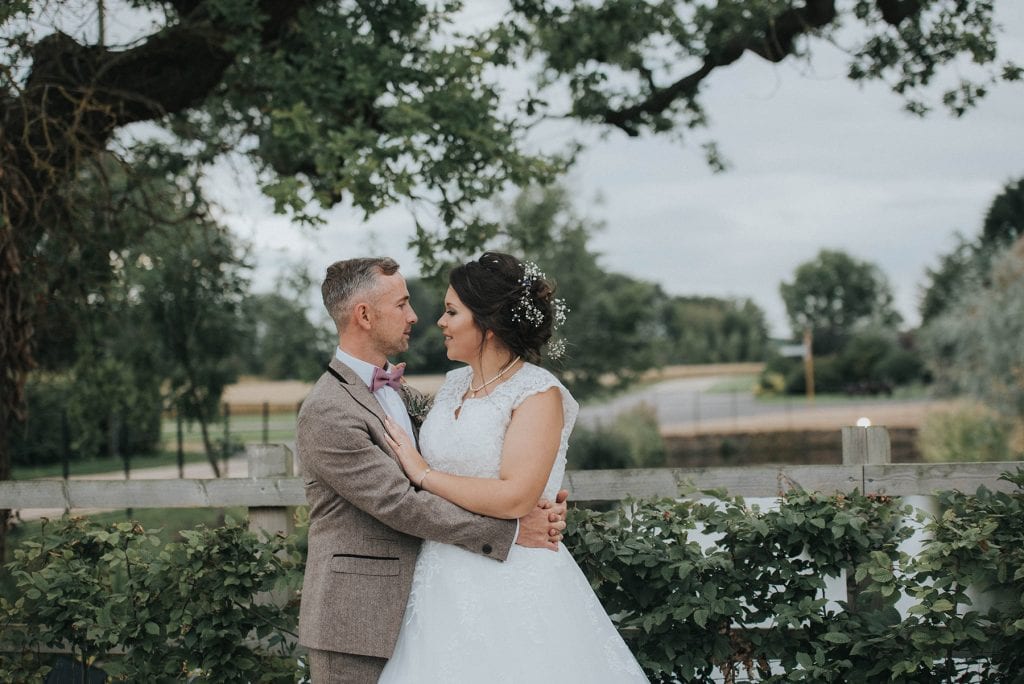 Were there any little surprises on the day?
The flowers as we had an image in our head and when we saw them they were just outstanding and we never thought they would look that good. Terry also got his Mum to tie round a locket that was personalised around the bouquet.
What advice/tips would you give to brides-to-be still planning their big day?
Don't stress make you and your partner happy not your guest, yes you may make people upset but you work so hard on the day you dream of and when you have it exactly how you want it you feel amazing. Don't think to much about decisions defiantly go with your heart and make it personal to you two as a couple. And just enjoy because it really does go to quick and you can't change that!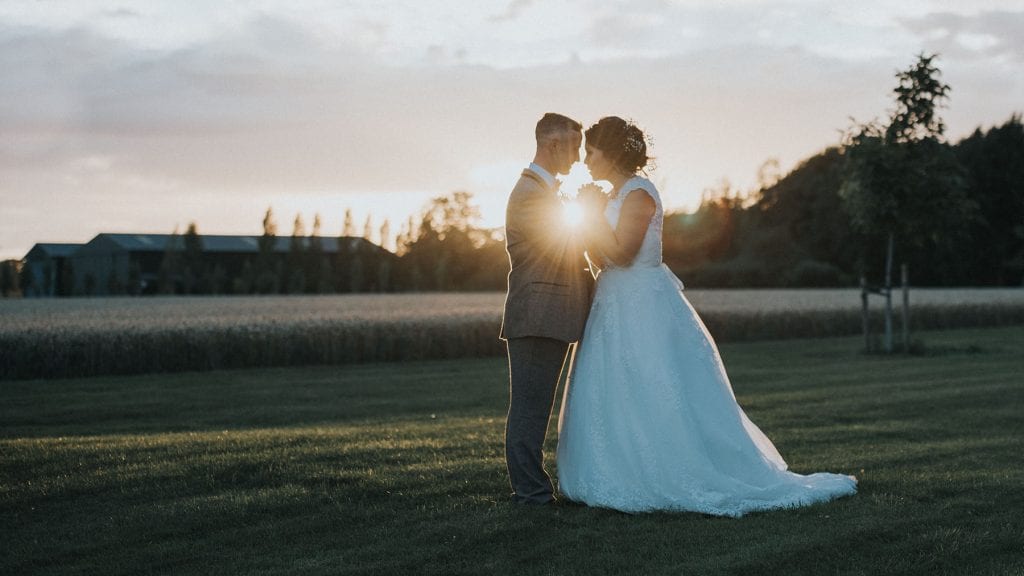 Did you go on honeymoon? If so, where did you go?
We went on a mini moon as we had previously been to Mexico in May so we went to bath in the UK as a little break.
The suppliers
Venue: Bassmead Manor Barns
Photographer: Georgie B Photography