The Ultimate 12 Month Wedding Planning Checklist
Author: Hollie Bond
NB: To help you browse our best suggestions we have included some third party links. Some purchases made through these links may earn us a commission to help keep our blogs and offers current and up to date. Thanks for your support!
---
Congratulations on your engagement! Once you've stopped popping Champagne corks and updating all your friends and family with your happy news it's time to start planning your perfect wedding day and that can feel rather daunting. Just where do you start?
Unless you plan large events for a living, chances are wedding planning will feel very much out of your comfort zone. Don't panic though at the thought of pulling it all together, because if you approach the tasks one at a time and in an organised way, wedding planning can be a breeze. We have a great check list to ensure you keep to your wedding planning budget. 
To help you enjoy every minute of the run-up to your big day we've compiled a wedding checklist of when you should be booking and organising each element of your wedding, starting 12 months from the wedding date to reflect the average planning time.
Of course, if your engagement is longer or shorter than this then simply adjust to suit, but try to stick to the order as it'll really help you keep on top of all those tasks. To make things even simpler, you can download our free wedding planning checklist and keep it with you at all times, so you can tick off wedding planning tasks as you do them.
12 Months To Go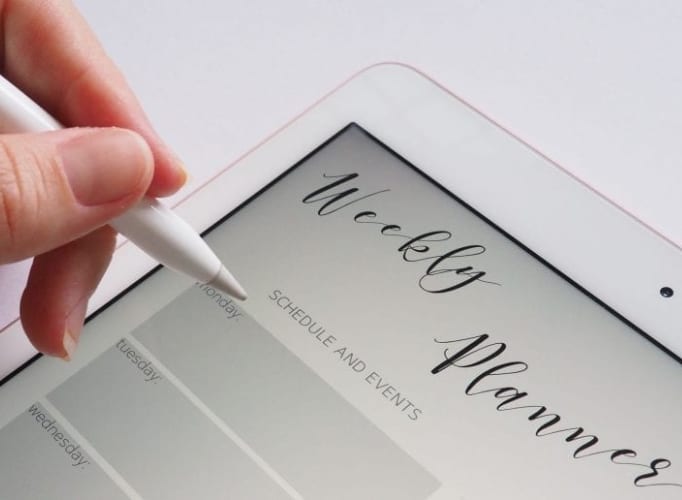 Set Your Budget
The first wedding planning task is probably the least fun, but it's also one of the most important. Before you can do anything you need to know how much money you've got to play with. Sit down with your partner and discuss how much you feel comfortable spending on your wedding day and where you can source your money from. You might want to include parents in this discussion if they've said they're happy to contribute. Once you've got a figure sorted, you can start to divide your budget up using our handy wedding budget checklist. It can be really helpful to start a spreadsheet at this point too to keep track of your spending.
Set The Date
Now you can decide the all-important wedding date. If you're working to a really tight budget consider low season or mid-week dates as you could save thousands. Otherwise consider times of year you love best, how long you want to be engaged for, and any times of year that are easier for you job-wise. If you have a specific wedding venue in mind, it might be worth asking them what their availability is before you set your heart on a specific month or day. Be sure to check late availability and offers just before finalising your date, it may help you stay within your wedding budget!
Create Your Guest List
Jot down a list of who you'd ideally want at your wedding and then consider whether you have the budget or can find a venue to suit. It can be helpful to have an A and B list here (in case you need to trim it down) and perhaps a day guest list and evening guest list.
Choose And Book Your Venue
Now you're armed with your budget and number of guests you can start the wedding venue search. With a location, venue style, capacity, and budget in mind you can narrow your search easily. It's worth shortlisting up to ten venues and then visiting up to five of your favourites in person. Think about whether you want a venue that will work for both your ceremony and reception or whether you want these to take place in separate locations.
Send Save The Date Cards
Now you know the special date it's important all your favourite people keep it clear in their diaries too. It's worth sending out save the date cards nice and early with some basic details – the date and the location (e.g. Surrey or London) is usually enough at this point.
Hire A Wedding Planner (if you want one)
If you are too busy or want a professional to help you it's worth getting a wedding planner. They can help with everything from finding a venue to helping come up with the theme and decor. If you're having a destination wedding, a planner can be invaluable.
Take Out Wedding Insurance
Now you're starting to spend some serious money on things like venue hire and supplier deposits it's important to protect yourself and your hard-earned cash in case anything should go wrong during the wedding planning process or at the last minute with some wedding insurance.
Buy An Engagement Ring If You Don't Have One
If your other half proposed with a placeholder ring then now's the time to go engagement ring shopping together to find that perfect piece of bling for your ring finger.
Go To A Wedding Fair
To get you in the mood for wedding planning and to help you find suppliers a wedding fair can be a really fun and useful day out.
11 Months To Go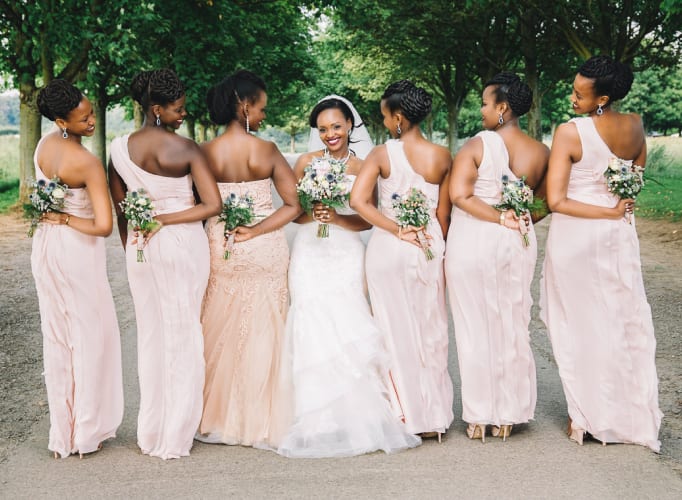 Choose Your Bridesmaids, Maid Of Honour, Best Man, and Ushers
It's now time to ask your best friends to play a special part in your wedding day. Think carefully about who you ask – you need supportive, helpful, and positive friends in your bridal party. Here are some lovely ways to ask them.
Start Thinking About The Theme Of Your Wedding Day
You can now start planning all the pretty details and think about the overall aesthetic of your wedding day. Try to think in a broad sense at this point to avoid being overwhelmed by ideas that all fight with each other. Making mood boards can be really helpful. Also, consider the style of your venue to ensure the whole look works together.
Book Your Photographer And Videographer
With 11 months to go, it might feel early to book suppliers, but the best industry professionals get booked up months, sometimes years in advance so it's really important to prioritize key suppliers like your wedding photographer and videographer at this point. Meet up with them to ensure you feel comfortable in their company and ask to see lots of examples of their work.
Book Caterers If Necessary
If your chosen venue doesn't come with an in-house caterer, you'll need to choose a caterer asap. Food is a hugely important part of your day so you need to put 'sort menu' at the top of your wedding planning checklist.
Book Evening And Day Entertainment
Good wedding DJs, bands, and live musicians are also wedding suppliers that get booked up really quickly, so if amazing entertainment is a priority, think about this nice and early on your wedding checklist.
10 Months To Go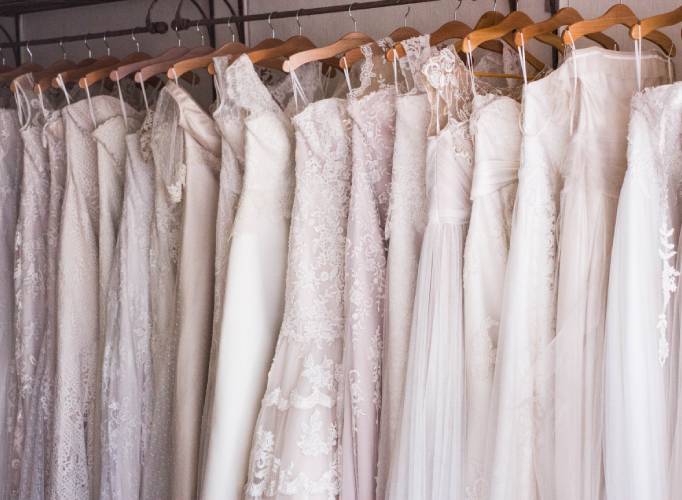 Start Wedding Dress Shopping
The part of wedding planning that most brides can't wait for – wedding dress shopping! It can be really exciting trying on those first dresses, but make sure you wait until you've got your venue, wedding date and budget sorted as they will all play a key role in the style of dress you choose. If you're buying a custom made dress you need to allow at least ten months, and dresses from a bridal boutique can take up to eight months to arrive.
Create A Wedding Website
Now your guests know the date, you might want to start giving them some more details about your day so they can think about booking accommodation and sort their travel out. A wedding website is a really good way to do this as you can add information as you get things booked and amend anything as you go.
9 Months To Go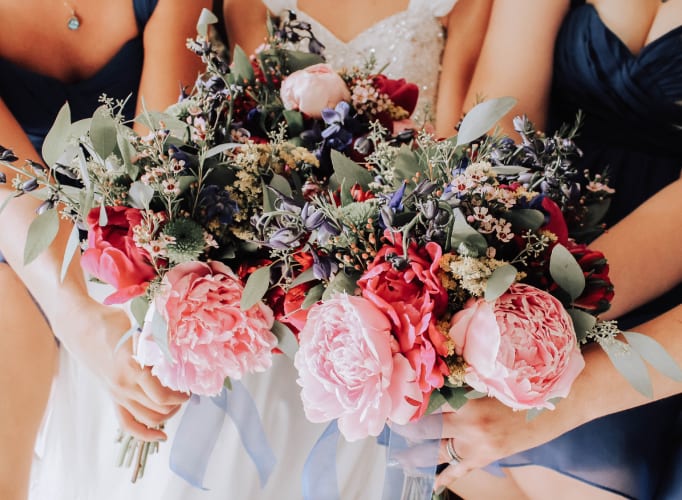 Buy your wedding dress
If you haven't already, now is the time to commit to a dress and buy it, unless you're going for a high street wedding dress or choosing something from a sample sale or vintage/second-hand shop.
Book your florist
Now you've got an idea of what your day is going to look like you'll want to get a florist on board to bring your vision to life. It's a good idea to meet your florist in person to discuss what you like and don't like and also so they can show you some of their work.
8 Months To Go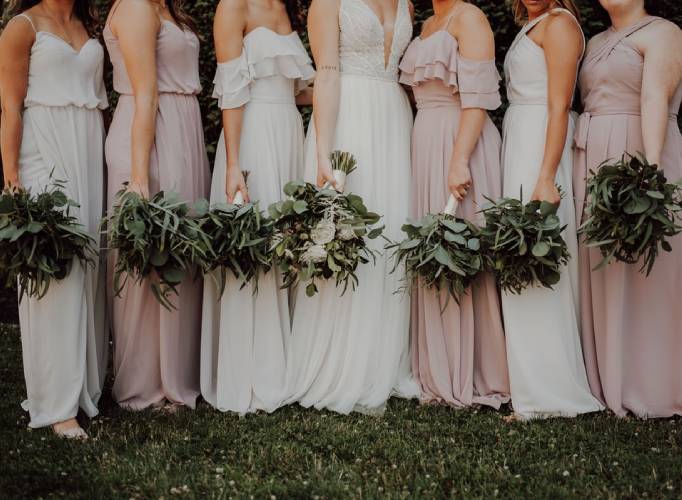 Choose your gift list and sign up
Your guests will want to buy you a gift to celebrate your wedding day so now's the time to tick 'choose a gift list registry' off your wedding checklist. A lot of companies allow you to choose a mixture of physical gifts, honeymoon contributions and charity donations. There are some great online wedding gift list website you can use such as Prezola and Zankyou.
Go bridesmaid dress shopping
Next on the wedding checklist is bridesmaid dresses. These don't take as long to sort as a wedding dress, but it can be tricky to find a style and colour all your maids love so don't leave it too late. Find some bridesmaid dress inspiration here.
7 Months To Go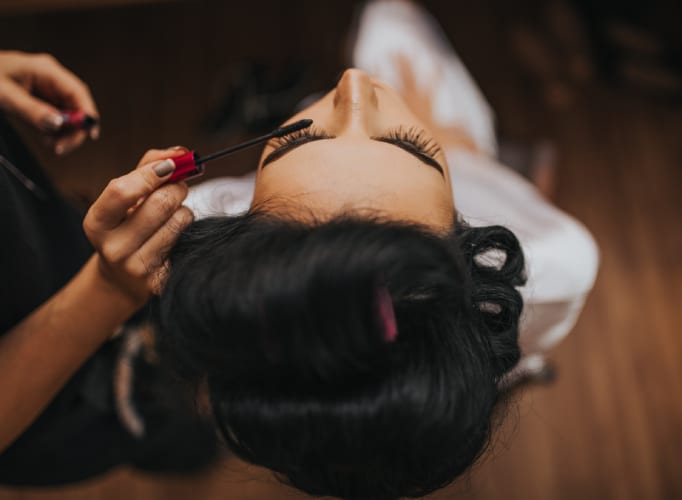 Order Any Rental Items
If you've chosen a dry hire venue, you'll want to be sourcing all the chairs, tables, dance floor and other furniture at this point on the wedding checklist. Even if your venue comes with everything you may want to consider hiring large decor items like light up letters and photo booths.
Meet And Book Your Officiant
Opting for a humanist ceremony on the actual wedding day? Make sure to spend time and effort well ahead of your wedding date finding the right officiant for you. You'll want someone who gets your vision and tone of the day and who you feel comfortable with.
Book Your Hair And Makeup Artist
Now you have your dress sorted you can think about the finishing touches. Research hair and make up artists near your venue or who you know and trust to make you look your very best.
6 Months To Go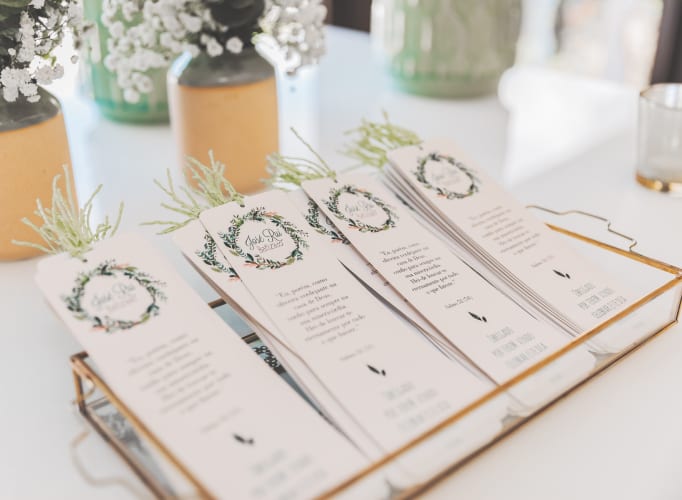 Research And Book Your Honeymoon
If you're hoping to head off on honeymoon straight after your wedding day then now is the time to start thinking about where you want to go and for how long. It's best to keep your honeymoon budget separate from your overall wedding budget. Read our honeymoon guide to help pick your perfect destination.
Start Your Beauty/ Wellness Regime
You'll probably be burning the candle at both ends with work and wedding planning so you need to build in time on your wedding checklist to look after yourself so you look radiant rather than exhausted as you take to the aisle. Regular facials, vitamins, an exercise regime, and lots of healthy food should be your priority.
Choose Ceremony Music And Readings
Time to personalise your ceremony and make your wedding unique and heartfelt. Find ideas for wedding readings and music here.
Order Your Wedding Invitations And Any Other Wedding Stationery
Let your creative juices flow and either make or choose some beautiful wedding stationery that reflects the theme of your day. You'll need wedding invitations, menus, an order of service, and any other personalised signs for your reception venue. You can either have wedding stationery to match your save the dates or choose something different but complementary.
5 Months To Go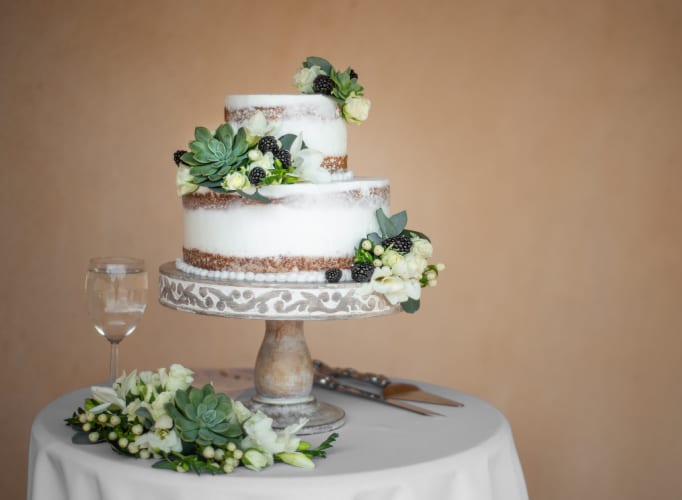 Start Shopping For Bridal Accessories
Don't forget all the pretty details that will make you feel like a bride on your big day. We're talking tiaras, veils, wedding shoes, and some stunning jewellery.
Have Your Engagement Shoot And Hair And Makeup Trial
With your entire outfit sorted you can now finalise plans for your hair and makeup with a trial. Take along your accessories and a picture of your dress so your hair dresser can help you choose a hairstyle that works with them. If you're having an engagement shoot try and book it to happen the same day so that you can see how your makeup looks in professional photos.
Order Your Wedding Cake
Time for the tastiest part of the wedding planning checklist – the wedding cake. As well as the design think about the flavours you want for the inside. Ask your cake maker if you can have a tasting – after all you need to check it's good enough for your guests!
Shop For Suit Hire Or A Bespoke Suit
One to add to the groom's wedding checklist – the suits for the groom and bridal party. These don't take as long as a wedding dress to sort unless the groom/s are going completely bespoke.
Have A Menu Tasting
Your venue or caterers will usually get in touch about the menu tasting, but it should be around the 5 months to go mark. Enjoy this lovely item on the wedding checklist as a couple and use it as a chance to have a date in the middle of all the wedding planning.
4 Months To Go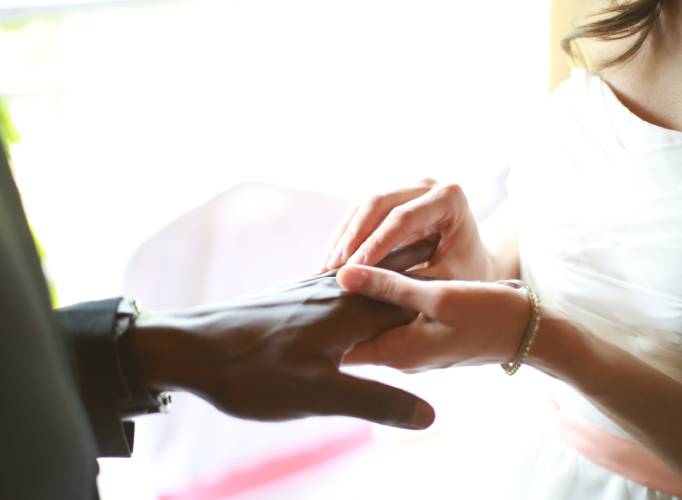 Book Final Dress Fittings And Adjustments
The final dress fitting is probably the moment you realise your wedding is really approaching fast! It's an exciting item on the wedding checklist and you should allow plenty of time for it in case any alterations need to be made.
Buy Wedding Rings
Another task on the wedding checklist that you can enjoy together – shopping for those all-important wedding rings.
Book Transport For Guests If Needed
If your ceremony venue and reception venue aren't in the same place you'll need to think about some transport for both the wedding party and all your guests.
3 Months To Go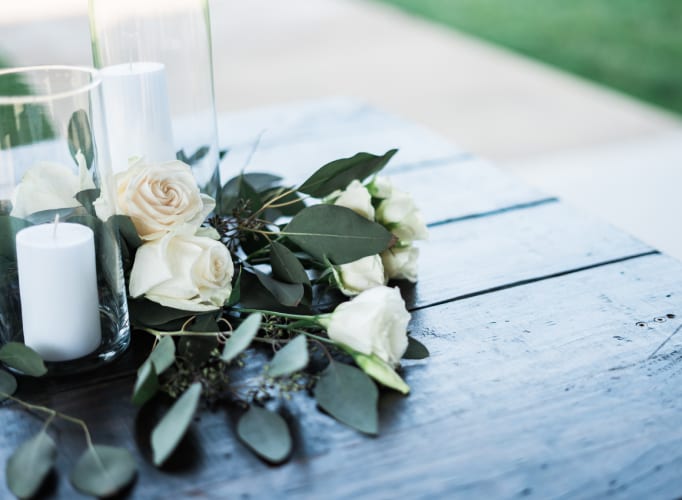 Send Your Wedding Invitations
With 3 months to go it's time to make things feel very real and send out your official wedding invitations! Remember to include an RSVP card with a clear deadline for your guests and also ask any dietary requirements.
Order/ Start Making Wedding Venue Decor
Don't leave decor to the end of your wedding checklist in case it takes longer to source or make than you anticipated. Decor ideas and details you might want to consider at this point are extra wedding stationery like a table plan and reception signs, a guest book, balloons, pom-poms, confetti cones, and any other decor for the tables that isn't floral.
2 Months To Go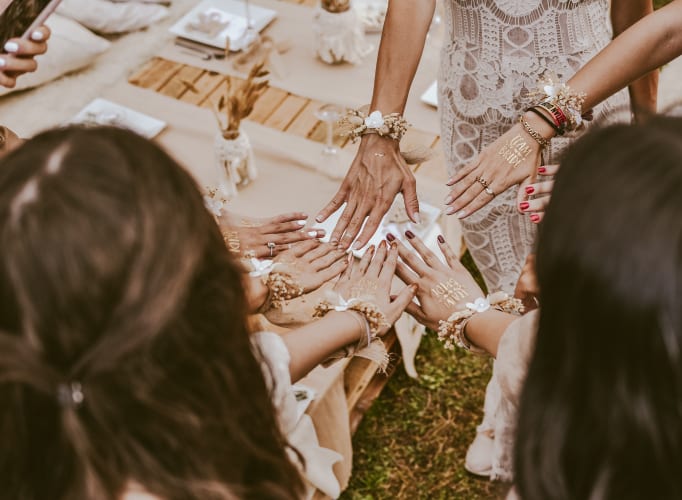 Buy Gifts For The Bridal Party
You'll want to thank your wedding party for all their help and support in the run up to your big day so don't forget presents for bridesmaids, ushers, the best man and your parents. They don't have to be expensive, just thoughtful.
Go On Your Hen Party Or Stag Do
This is one task that you'll be raring to tick off your wedding checklist because it requires minimum effort from you but lots of fun! Make sure to let your bridesmaids or groomsmen know that you want your hen do or stag do a couple of months before the big day to allow you to recover from it well before your wedding.
Write Wedding Speeches And Vows
Time to put pen to paper and get writing any speeches or personalised vows. Giving yourself a few weeks is a good idea so you can make edits and hone your first draft.
1 Month To Go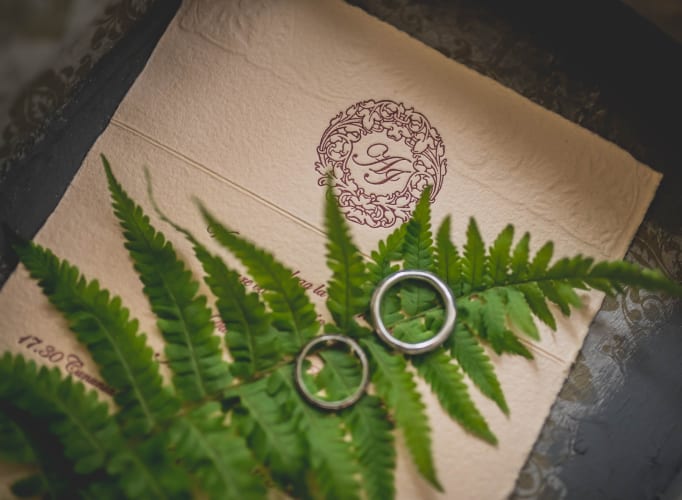 Attend Final Fitting And Pick Up Dress
Next on the wedding checklist – the final fitting! Make sure you feel completely comfortable in your dress as this is your last chance to make alterations.
Finalise Details With All Suppliers
Don't just presume everyone knows what you want from them at your wedding especially if it has been several months since you booked them. Double check details by calling all your suppliers in the weeks before the wedding.
Arrange A Wedding Rehearsal And Rehearsal Dinner If Wanted
If you're getting married in a church you'll usually have a rehearsal the day before and you may want to organise a dinner or party for key members of the wedding afterwards too.
Chase Up Outstanding RSVPs
There are always a few naughty guests who don't RSVP on time so give them a friendly nudge now.
Sort The Seating Plan
Now you've got all the RSVPs back you can finalise your seating plan and get all your place cards written up.
1 Week To Go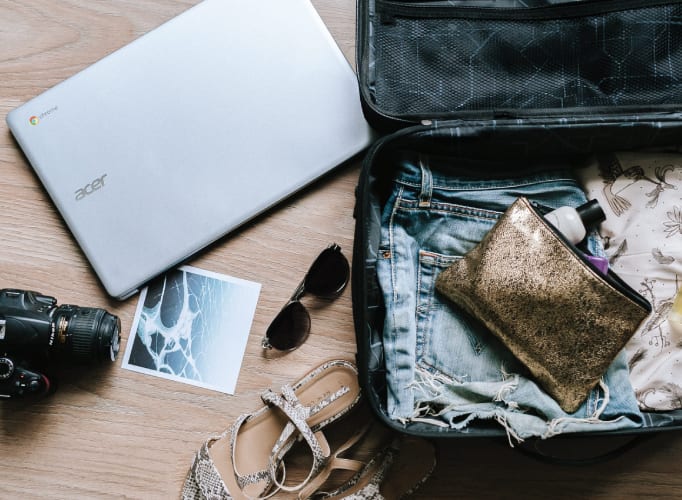 Pick Up Any Hired Clothing Or Decor
Next on the wedding checklist is picking up hired items. This could be a task for the best man if you're running out of time.
Pack For Your Honeymoon If Heading Straight Off
Get your suitcases completely ready as you don't want to spend your wedding night packing for your honeymoon.
Pack A Bag Of Wedding Essentials
As well as a honeymoon bag you'll want a bag of essentials for your wedding – things like plasters, lipsticks, tissues and a mirror.
Have Final Beauty Treatments
Have your hair coloured and cut, your nails painted, your eyebrows done, a fake tan or any other beauty treatments you need or want to make you feel relaxed and your beautiful best.
Create A List Of Supplier Contact Details
The last item on your wedding checklist is an important one… make sure someone like your planner, venue co-ordinator or the best man has a list of all the key suppliers in case they need to contact them at the last minute.