When To Get Married According To Your Zodiac Sign
Author: Hollie Bond
NB: To help you browse our best suggestions we have included some third party links. Some purchases made through these links may earn us a commission to help keep our blogs and offers current and up to date. Thanks for your support!
---
Not sure what date to choose for your wedding? It could be written in the stars, so consulting your zodiac sign could be the perfect way to decide.
You're engaged – congratulations! By now you've probably realised that the first of many questions on everyone's lips once you've announced your engagement is: "have you set a date yet?". So, once you've had time to simply enjoy having an engagement ring on your finger and basking in your new role as a fiancé or fiancée it's time to start thinking about when and where you might like to say "I do".
While some couples instinctively know that they want to hold their wedding during a certain season or month for the weather and the sort of ambiance they're after, others have no real preference and it can be tricky to decide on a wedding date. That's when your star sign can play a part in helping you choose, as if you believe in astrology, there's a perfect time for everyone to hold their wedding based on the time of year they were born.
Each sign of the zodiac is thought to have its very own personality and certain traits as well as strengths and weaknesses, all of which can play a part in the sort of wedding and marriage you will have. Astrologers believe that brides and grooms will like certain things depending on their wedding zodiac sign and may plan their wedding in a certain way or style too. Even if you don't particularly believe astrology is related to how you live your life though, it's pretty romantic to think that both your relationship and impending marriage is written in the stars, so it can't hurt to take your star signs into account when making tricky wedding decisions!
One of these tricky decisions is settling on the date of your wedding and apparently certain zodiac signs are better suited to winter weddings, while the stars show that other signs will benefit from a big day in warmer months. Read on to discover what your sign of the zodiac says about when you should be tying the knot and how astrology says your sign might affect all the choices you make while wedding planning from the wedding date to the dress you'll choose.
Winter Weddings: Taurus, Cancer and Scorpio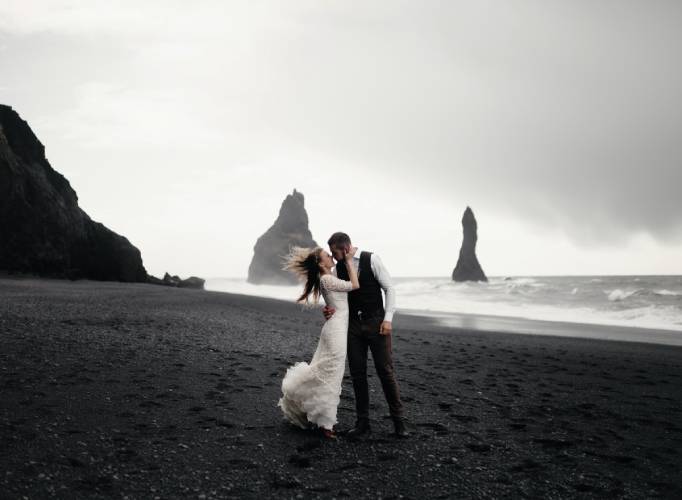 Taurus (20 April to 20 May)
This earth sign represented by a fierce, yet serene bull is ruled by Venus, so love and romance are often top of the agenda when it comes to getting married. For Taureans winter symbolises romance with all the cosy candlelight and having friends and family together in a warm, close knit space, so a wedding date from late October to early March will suit best.
The Taurus connection to the planet of love, Venus, means you crave the best things in life and enjoy making those around you happy, so you'll find that a lot of choices you make about your wedding are around your guests' happiness. Don't forget to put yourself and your soon to be spouse first though and ensure you spend time enjoying your relationship in the run up to your wedding. Now you know which season works best, it's time to think about the location and a Taurus bride or groom should opt for a seriously romantic wedding venue like Hawkstone Hall in Shropshire.
Cancer (21 June to 22 July)
People born under this cardinal water sign love spending time with their nearest and dearest so a cosy winter wedding with lots of special guests is ideal. Cancer is ruled by the moon and anyone who is this zodiac sign is often a real homebody and so will probably want to search close to home for their venue. Cancerians will probably opt for classic and romantic details for their big day too. Channel your energy into making sure all the people you love best can make it to your wedding as this will make your winter wedding even more special for you. A gloriously cosy venue like Augill Castle in the Lake District is an excellent choice for a Cancer bride or groom.
Scorpio (23 October to 21 November)
This water sign is pretty versatile and so any season would work for a Scorpio. However, winter is a good choice for such a special event as Scorpions are known for their unrivalled love, passion and loyalty and like to keep people guessing, so a slightly less orthodox winter wedding will appeal to your nature. A Scorpio also has a lot of sexual energy and so you may want to choose a stunning fitted wedding gown with a low back or thigh slit and as a water sign, any venue close to the sea, river or lake like Manor By The Lake in Cheltenham will appeal.
Spring Weddings: Aries, Capricorn and Pisces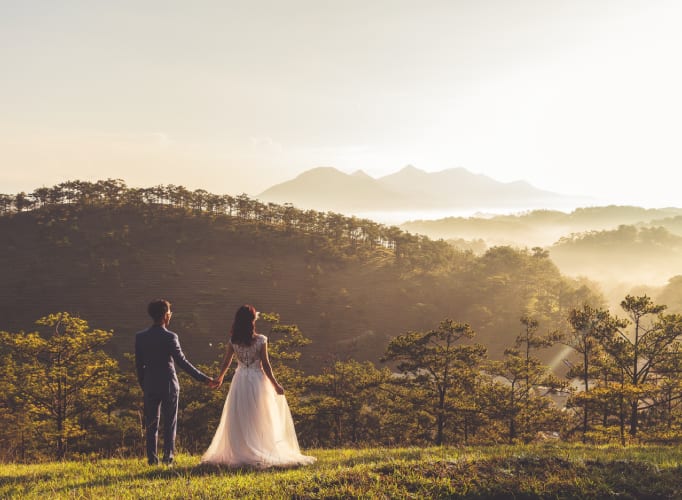 Aries (21 March to 19 April)
Aries is known as the first sign of the zodiac and people born under Aries tend to be ambitious, competitive, passionate, have lots of energy and are born leaders. How does this affect your wedding day though? Well, an Aries bride or groom will love to take complete control of wedding planning and be rather impulsive about the decisions they make.
If you're this zodiac sign you won't want to wait to get married – spring, which traditionally symbolises the start of wedding season is the perfect time of year for you and means your wedding is likely to be one of the first that year… and not that you're competitive or anything, but in your opinion first is always best! A wow-factor venue with outside space like Trevenna in Cornwall would be perfect, although this fire sign is ruled by a love of travel so a destination wedding somewhere exotic like a beach or mountainside might be on the cards too.
Capricorn (22 December to 19 January)
Capricorns love a bit of tradition so weddings are right up their street. Traditionally spring is the classic time of year to have a big day, so it's ideal for the Capricorn personality. As an earth sign you'll want to channel your energy into natural details like flowers but it's important to make time to enjoy the moment and not get carried away planning a day that you deem "perfect".
Strong willed Capricorns should call on friends and family to help them rather than taking on all the wedding planning themselves. A traditional venue that looks stunning in spring like Botleys Mansion in Surrey would be a smart choice for any Capricorn brides and grooms.
Pisces (19 February to 20 March)
Pisces is a star sign for creative, imaginative and above all, romantic people, so you'll be in your element when it comes to planning a wedding. All your dreams will come true through planning the pretty key details and emotional speeches and vows. Spring is a particularly romantic time of year thanks to all the vibrant flowers and new life all around so a Pisces bride or groom will feel very comfortable getting married at this time of year. Put your planning energy into finding the perfect country garden venue like Kew Gardens on the outskirts of London.
Summer Weddings: Leo, Virgo and Sagittarius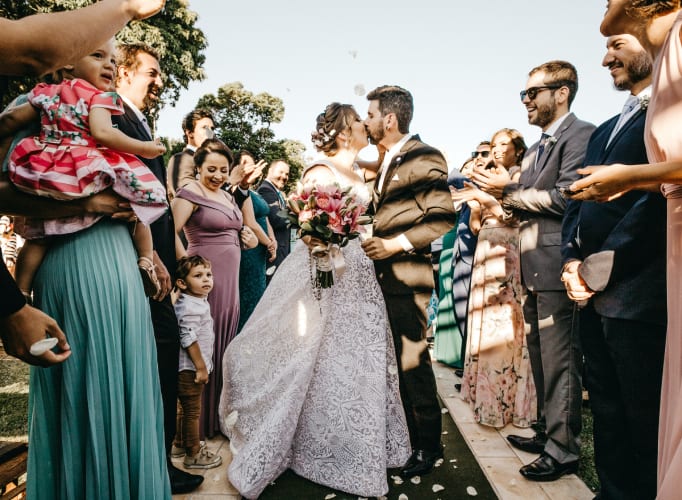 Leo (23 July to 22 August)
Leo, this is your moment to shine and boy have you been dreaming about your big day for a long time. Leos are ruled by the sun so it makes perfect sense that they'd want a summer wedding. As a Leo you love the spotlight too and basking in the warmth of everyone's admiration so it's likely to be a lavish summer event. A Leo bride or groom will be drawn to venues like Hensol Castle in South Wales and Notley Abbey in Oxfordshire that are dramatic and theatrical and that have lovely long aisles to everyone can see you make your grand entrance. A Leo loves a good party too, so make sure to save room in the budget for a reception to remember.
Virgo (23 August to 22 September)
Virgo is an earth sign that is closely linked to nature and all things rustic so a summer barn wedding is the obvious choice for a Virgo. Choose a venue that makes you feel at one with nature, perhaps somewhere with animals like Runa Farm in Durham or somewhere out in the sticks.
As perfectionists, Virgos can get obsessed with the little details so try and relax, rope in your family to help and focus on the key tasks rather than getting distracted by the tiny details, as otherwise wedding planning could be anything but fun for you.
Sagittarius (22 November to 21 December)
Free, independent and wild at heart are words used to describe Sagittarius and so you'll want to be in the great outdoors during the warmest season with the wind flowing through your hair on your big day rather than constrained to an indoor venue. For the fun in the sun that you crave look for places that are licensed for al fresco ceremonies like Woodhall Manor in Suffolk. In terms of your style and wedding dress, a Sagittarius bride will probably be drawn to something boho and floaty to represent her independent, happy go lucky and fun personality.
Autumn Weddings: Gemini, Libra and Aquarius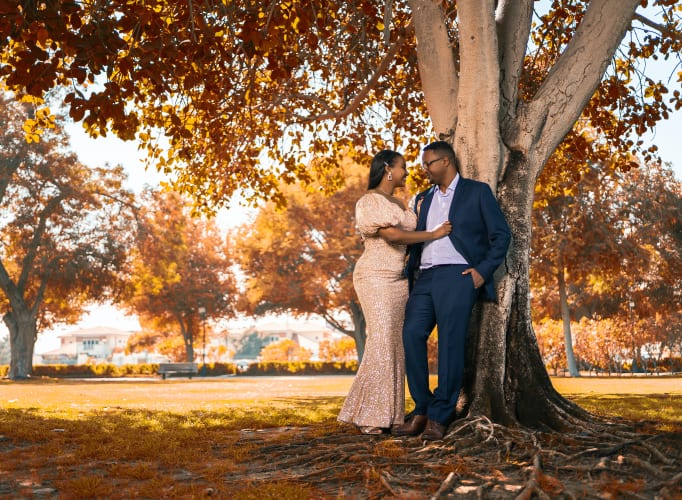 Gemini (21 May to 20 June)
The perfect season for a Gemini wedding has to be autumn. You're likely to be mercurial (the planet Mercury rules this zodiac sign) and love things to look beautiful and full of colour so the rich colours of autumn leaves are bound to appeal. Gemini is a very sociable sign too, so you'll probably have a huge guest list so will be on the lookout for venues with large capacity like Stanbrook Abbey in Worcestershire which has room for up to 400 guests.
You'll be full of energy for wedding planning, but as your sign is represented by twins, the two competing sides of your personality are likely to mean you change your mind a lot, so be careful before you commit to big purchases like your wedding dress or your honeymoon.
Libra (23 September to 22 October)
The zodiac sign Libra is represented by scales as life is all about harmony, balance and equilibrium for anyone born at this time of year. Venus rules Libra so you also are drawn to beautiful things and that means you're likely to choose a season for your marriage that is both a mild temperature for a sense of harmony, but is also beautiful… autumn and your birthday months of September and October.
Libra is a very sociable sign and so you'll have collected a lot of friends from all walks of life who you want to celebrate your big day with you, so somewhere central in the city like The Union Club in Soho that is easy to get to for everyone near or far is an excellent option.
Aquarius (20 January to 18 February)
Aquarius is a sign that likes to be different and so as autumn isn't a particularly traditional season, it will appeal to your unique and edgy nature. Your energy comes from the air and this means you're a big thinker with one of a kind ideas that will translate into a standout wedding.
If you're an Aquarius you're likely to favour venues like Nancarrow Farm in Cornwall who have excellent eco-credentials. You will also dream of making every detail of your day reflect your passions and loves rather than following any particular trends, so everything from your wedding dress to the food you serve is likely to be a bit different and very "you".