Top 15 Wedding Hair Styles For Afro & Curly Hair
Author: Hollie Bond
NB: To help you browse our best suggestions we have included some third party links. Some purchases made through these links may earn us a commission to help keep our blogs and offers current and up to date. Thanks for your support!
---
You've found the dress of your dreams and the accessories to match and now it's time to finish off your bridal look with the perfect hairstyle. Choosing the right style can be tricky though especially if you don't often have your hair styled and prefer a more relaxed, natural look.
The good news is that natural hairstyles look just as gorgeous as updo hairstyles and highly stylized wedding hairstyles so it's key not to feel any pressure to change your hair just because you're saying "I do". The most important thing to think about when choosing your big day beauty look is that you remain true to yourself and feel comfortable when you look in the mirror. It's also worth spending time researching black British hair bridal stylists who will know exactly how to style your afro hair and will have plenty of tips and tricks for making your hair look its beautiful best on your big day.
It can be particularly difficult to find wedding hairstyle inspiration for black women, with so much of the traditional wedding media focussing on caucasian hair. However, afro hair is really versatile thanks to its incredible texture, so you'll be spoiled for choice when it comes to styling it.
To help you choose the perfect style for your afro hair, we've rounded up the most beautiful wedding hairstyles for black women below, with everything from loose curls to a braided updo, plus tips on how to make sure your hair is in the best condition to pull off your chosen style.
Gorgeous Wedding Hairstyles For Black Women
1. Defined Curls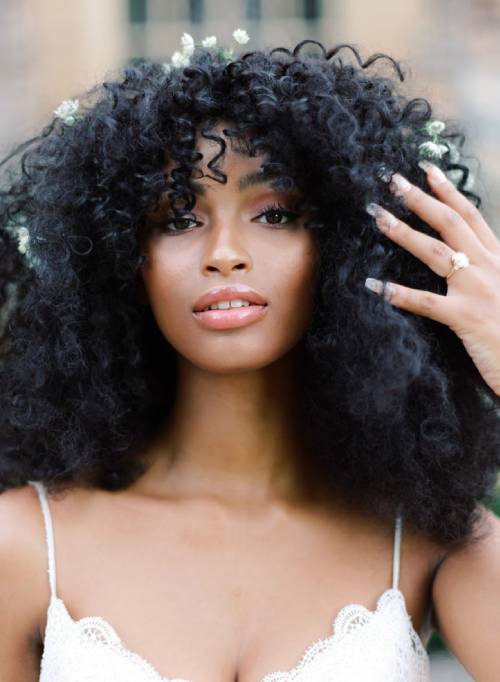 Let your natural curls shine on your wedding day, but ask your wedding hair stylist to make them perfectly defined using curl cream and styling techniques that'll help them look neat and their curly best.
Photo Credit: Lindley Battle Photography
2. Low Bun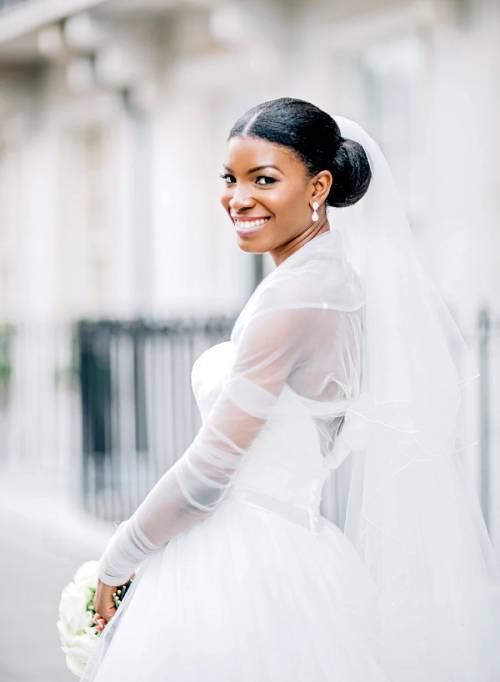 This is a classic wedding hairstyle for a reason. It's an elegant and wonderful look whatever texture hair you've got as it keeps hair neat and works really well for brides who want to wear a veil. With afro hair your bun can be simply sensational thanks to the natural volume of your tresses, especially if you ask your stylist to dot real or silk flowers throughout.
Photo Credit: Jacob and Pauline Photography
3. Pulled Back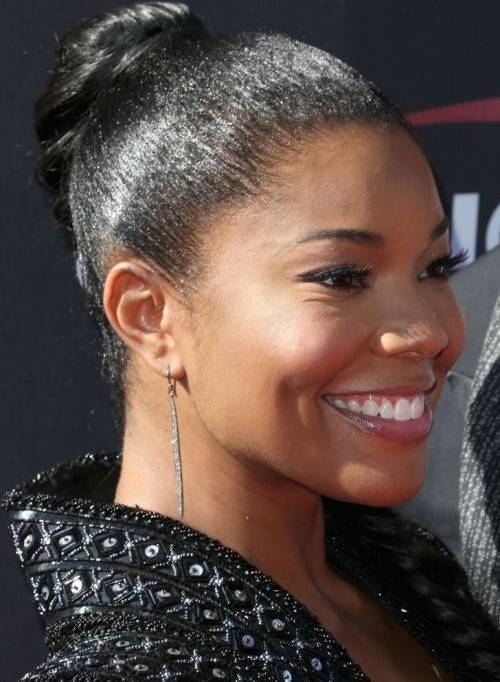 If you want to keep your hair away from you face on your wedding day you might want to consider an elegant pulled back style. There's no need for heat or chemicals to achieve this look – a good stylist will be able to make your natural hair sit close to your scalp while revealing a textured pony behind.
Photo source: Pinterest
4. Braided Bun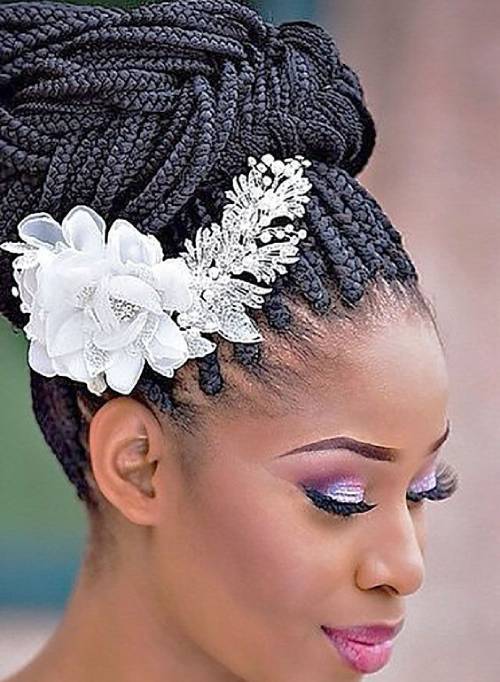 Braids look absolutely gorgeous on afro hair thanks to the full texture, giving them a really standout quality. Mix braids and a bun for a stylish updo that'll stay in place all day. Decide whether you want a low or high bun and the type of braids you like best for a look that's uniquely yours.
Photo source: Pinterest
5. Ponytail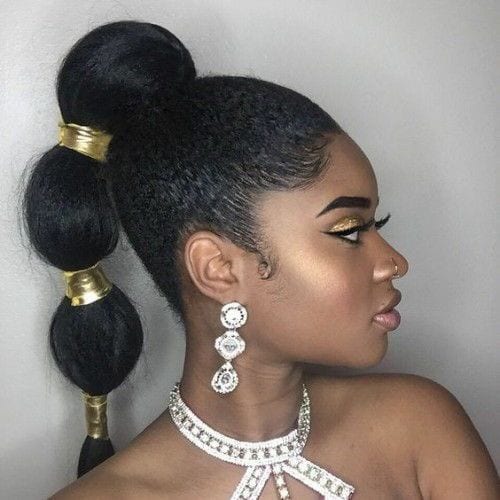 A ponytail is a chic look for brides as it allows you to show off beautifully cared for locks while still having hair away from your face. Ponytails are really versatile and can be sleek, high, low, braided or natural.
Photo source: Pinterest
6. Bun Updo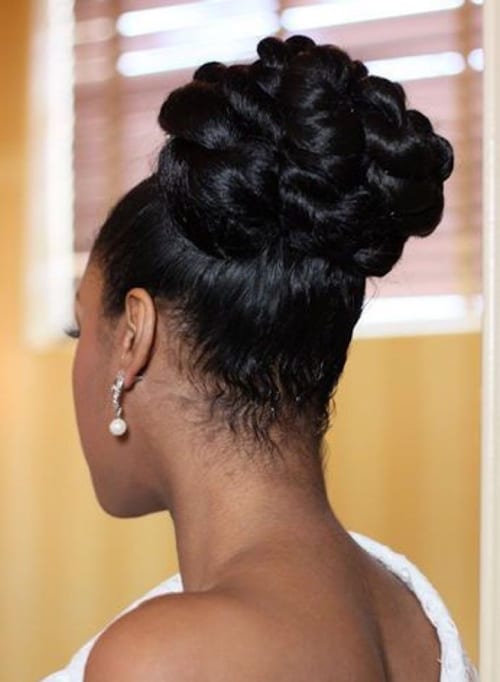 Ask your stylist to pile your hair in a standout bun high on your head for a statement look that is perfect for your big day.
Photo source: Pinterest
7. Loose Long Curls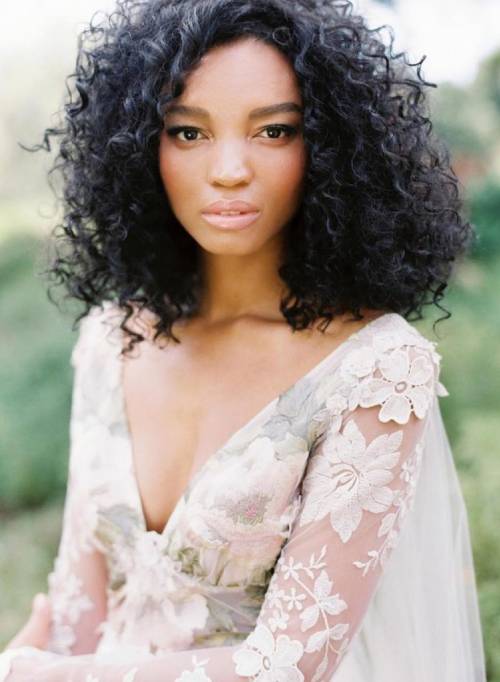 Let your long natural afro hair do the talking on your wedding day. Wear your hair as nature intended and you will look and feel your beautiful best. Bouncy curls always look stunning on brides. Make sure you spend some time before the wedding day conditioning your hair so it looks and feels fabulous. You can add a hair accessory to loose waves or just celebrate your curls as they fall naturally.
Photo Credit: This Modern Romance Photography
8. Teased Out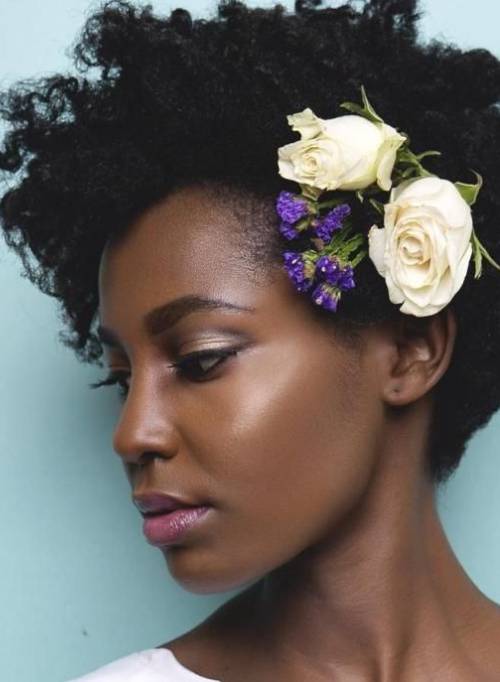 Afro texture or coily, type 4 hair looks stunning when it is teased out to frame your face. This hairstyle will stay nicely in place all day with very little intervention.
Photo source: Pinterest
9. Short Natural Hair With Accessory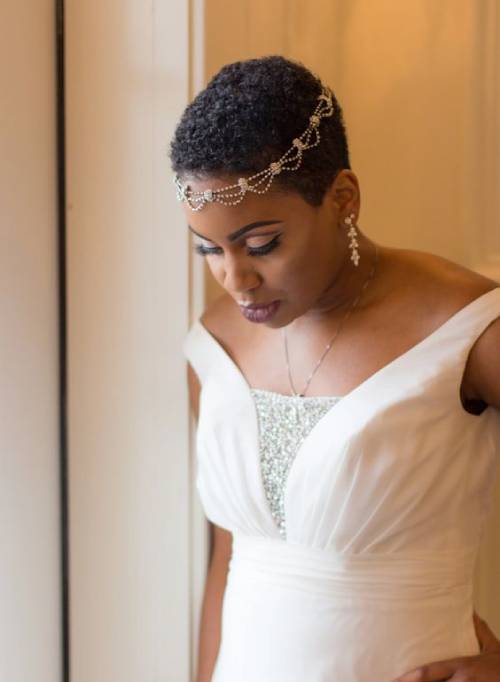 If you've got short hair, stick to your usual hairstyle and give it a bridal twist with some glitzy accessories.
Photo source: Pinterest
10. Braid With Side Part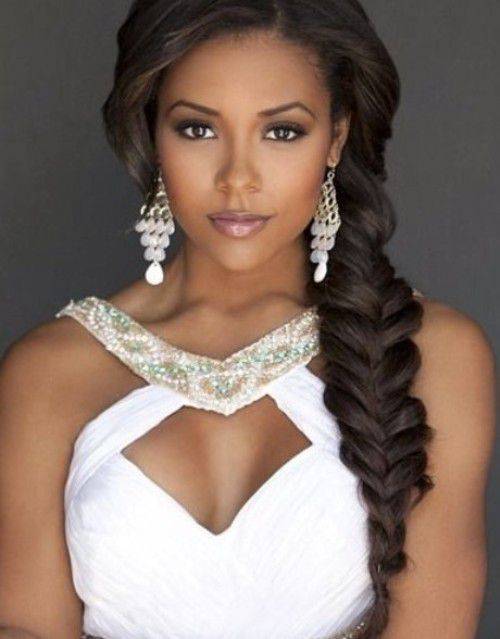 Side partings look really chic on nearly all face shapes and work especially well with chunky braids.
Photo source: Pinterest
11. Ghana Braids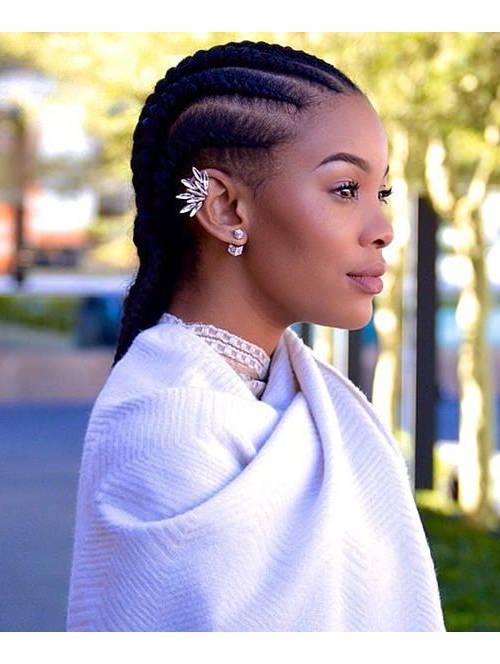 Ghana braids that end in long plaits are a beautiful bridal look, and will frame your face perfectly for all those wedding photos.
Photo source: Pinterest
12. Braided Locs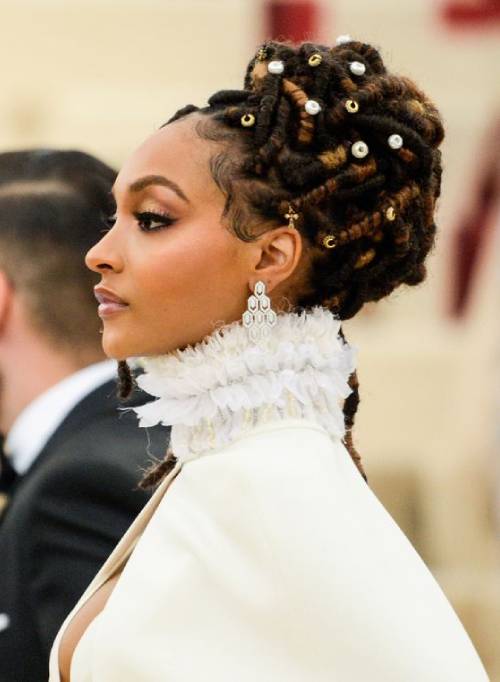 Braided locs piled on top of your head to create a crown shape will make you look like the VIP you are on your big day. Give the hairstyle an extra bridal twist with pretty gems or pearls studded through your locs.
Photo source: Pinterest
13. Halo Braid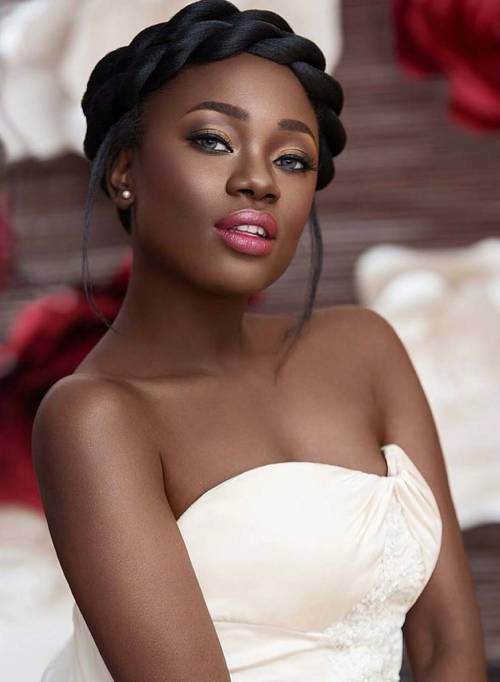 This angelic look works really well on long hair as well as natural hair and is particularly stunning for black brides who have a lot of texture to their hair allowing the braid to really stand out. With your hair up and away from your neck and ears you can go big and bold on your choice of earrings and necklace too.
Photo Credit: Abi Oshodi Photography
14. Half Up, Half Down With Veil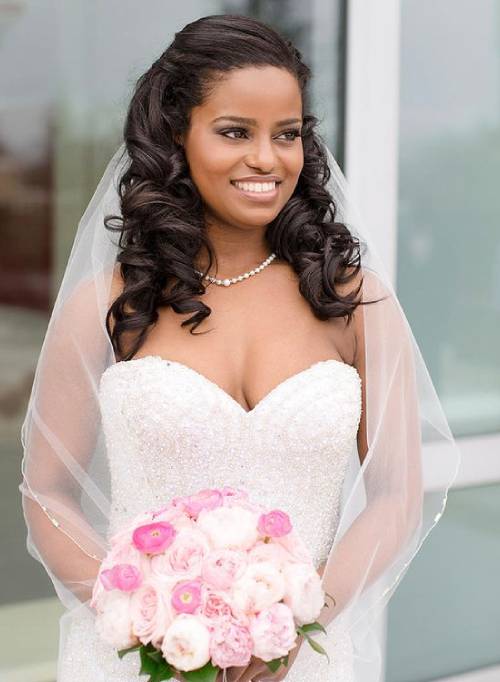 The half up half down style never goes out of wedding fashion because it works so perfectly with a veil or a pretty hair accessory. It's an easy look to achieve too. Simply smooth out your roots and let the rest of your curls hang naturally. Keep the style in place with a pretty hair accessory.
Photo source: Pinterest
15. Chignon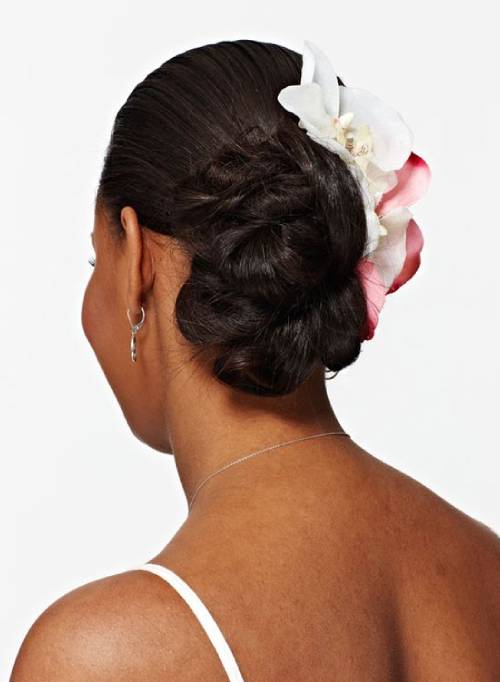 Chignons are another wedding favourite and are particularly good for brides who have chosen dresses with low backs or a stunning feature like a bow on the back of their gown. Similar to a low bun this style looks brilliant with little flowers or pearls dotted throughout.
Photo source: Pinterest
Best Wedding Hair Accessories For Afro Hair
Real flower crown – ask your florist to set aside some spare blooms to match your bouquet and then have them made into a stunning flower crown.
Tiara – let a classic tiara glitter spectacularly against your dark afro hair for look worthy of a princess. Short natural hair that isn't long enough for most accessories looks really chic with a tiara.
Vintage barrette – if your wedding has a vintage vibe to it search for an antique barrette to match the theme.
Diamante comb – if a tiara is too full on for you or your hairstyle doesn't suit one, a comb can be the perfect alternative to bring a bit of bling to your bridal look.
Oversize bow – the texture of afro hair lends itself really well to large accessories so don't be afraid to go all out with something like an oversize bow on your wedding day.
Trinket charms – choose your favourite charms or trinkets and have them dotted throughout your chosen style. These work best in a bun updo and locs.
Faux or real flowers – ask your stylist to pin real flower heads or faux silk ones into your chosen style.
Jewelled pins – pearls standout particularly well against black hair so pin them throughout your style for a chic bridal look that'll wow your guests.
Gold thread – is there anything prettier than subtle sparkly gold thread winding its way through black hair? The contrast of the gold against dark hair makes for a beautiful wedding hairstyle and works in a lot of different 'dos.
Head wraps – African women wear amazing head wraps on a daily basis so it makes sense to continue the look on your wedding day with a standout wrap in a colour that goes with your wedding style.
How To Look After Afro Hair Before Your Wedding
Whatever type of hair you have – curly, straightened, a weave or wig – it's really important to look after it and give it some TLC before your wedding. Whichever style you choose for your wedding, here are some top tips for conditioning afro or curly hair that can be prone to becoming dry and making it look as healthy as possible.
Invest in some protein treatments and leave-in conditioners in the run up to your big day. Start thinking about getting your hair healthy at least three months in advance of the "I dos" for maximum effect. Make sure to buy treatments and masks that are specifically targeted at afro or curly hair. Try products like Mixed Chicks Deep Conditioner, Twisted Sista Leave-In Conditioner and Charlotte Mensah Manketti Oil.
Book yourself in for some scalp massages that use oil. A healthy and hydrated scalp will result in healthy and hydrated hair.
Make some time to steam your hair either at a professional salon or you can buy a hair steaming cap to use at home.
If you have long hair, have it trimmed every six weeks or so in the lead up to the wedding to keep ends healthy.
Don't try any drastic straightening, chemical or colouring treatments too close to the big day as they may dry your hair out and leave you little time to get it back to its former glory.