10 Unique Red Wedding Dresses For Your Special Day
Author: Molly Malsom
NB: To help you browse our best suggestions we have included some third party links. Some purchases made through these links may earn us a commission to help keep our blogs and offers current and up to date. Thanks for your support!
---
One of the most exciting parts of the wedding planning process is shopping for your wedding outfits. And for brides, it's all about the wedding dress. You might instantly picture a big, flowing white gown, perhaps a dramatic veil to match.
But any modern brides are ditching the norms and opting for opting for a splash of colour as they take to the aisle. And what colour makes more of a statement than red? From bold, bright tones to deeper, oxblood shades, there are some absolutely beautiful red wedding dresses for you to try and buy for your special day!
What Does A Red Wedding Dress Mean?
The colour red symbolises many feelings and emotions. Love, passion, strength, power, and boldness, just to name a few. As such, red wedding dresses portray the same things. A bride in a red dress exudes confidence whilst embodying the colour of love. Sounds perfect for a wedding dress, right?
Is It OK To Wear A Red Wedding Dress?
It's absolutely okay to wear a red dress on your wedding day. Whilst many brides choose to wear the classic white gown, we are seeing an increasing number of people choosing to add a dash of colour to their wedding outfit.
Back in the day, all brides would actually wear a colour dress. Wearing white only came in to fashion after Queen Victoria took to the aisle in an ivory gown, so as much as we call it traditional, it's not been a tradition for that long!
So, if you fancy wearing red on your wedding day, we say go for it! And to help you find the perfect piece, here are a few of our favourite red wedding dresses!
10 Unique Red Wedding Dresses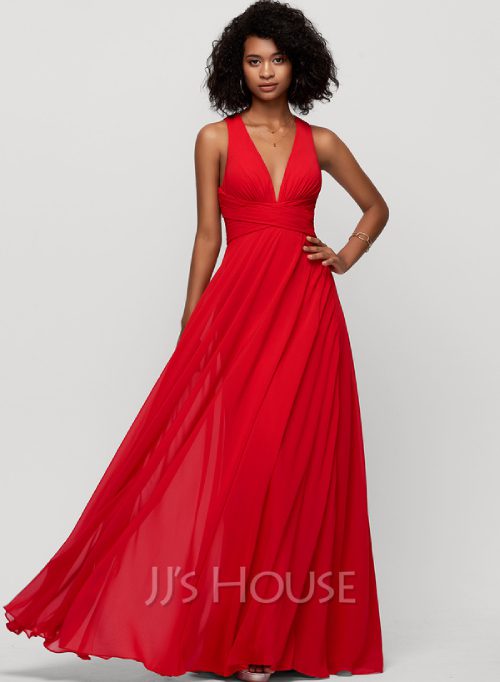 This a-line v-neck dress is floor-length and made from chiffon. A stunning red evening dress with a criss-cross back that fastens in a bow, perfectly flattering.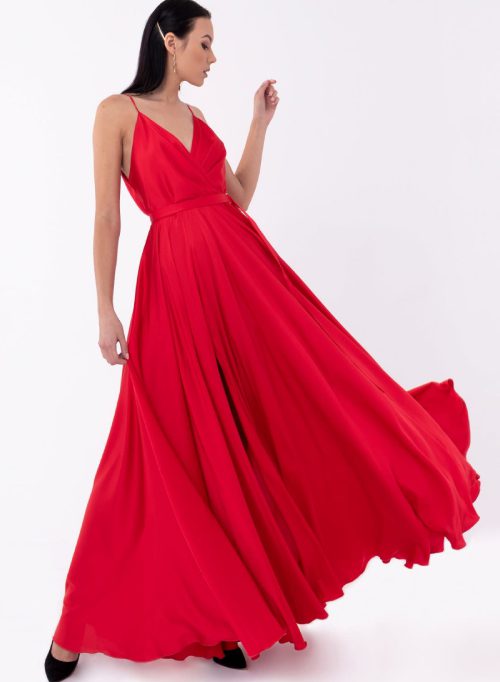 This beautifully tailored red dress from Wolf & Badger would make a beautiful wedding dress. It has a fitted bodice and a skirt that flows freely. It also has a v-neck with a hidden zipper at the back. We love it!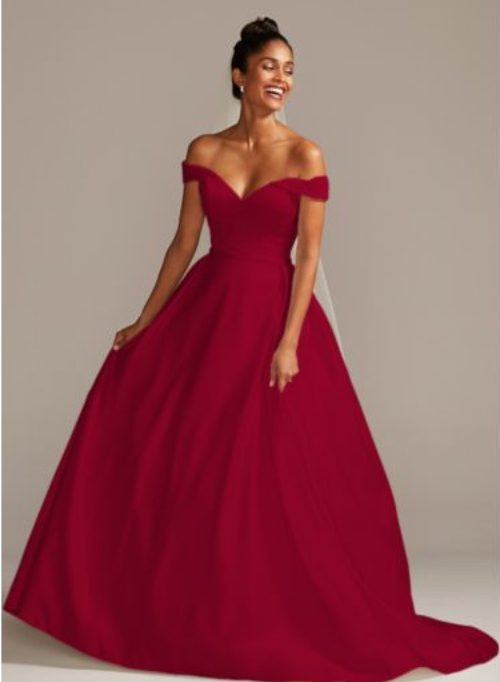 This beautiful gown from David's Bridal is cut just like a wedding dress and is available in white for the more classic bride. We love this red apple colour and think it makes a statement for a modern bride!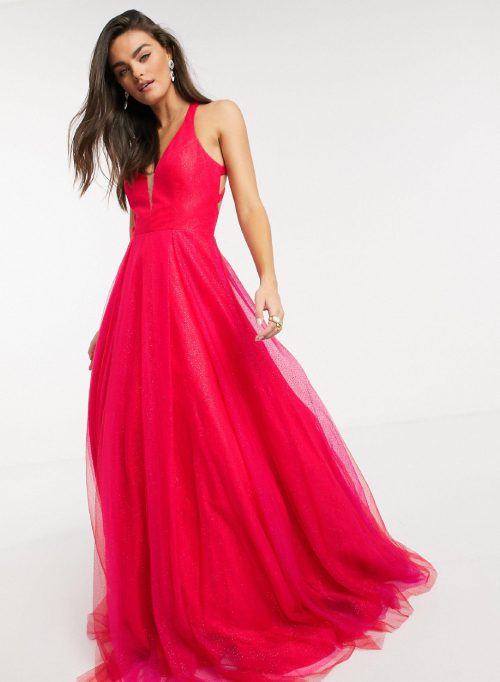 This shimmering beauty of a dress would make a great wedding dress for any bride! It is floor length with a deep-v neckline featuring nude fabric and it has a feature back meaning it's not the wedding dress for a winter bride!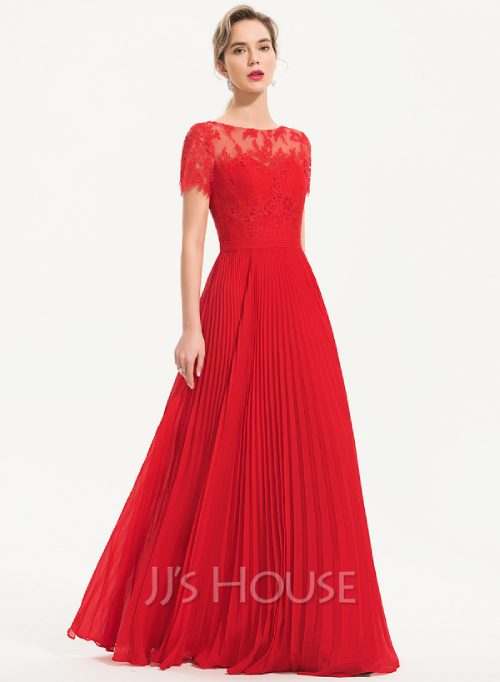 This a-line chiffon evening dress features a scoop neck, pleated skirt and embroidered bodice. Perfect for an elegant bride that prefers to show a little less skin!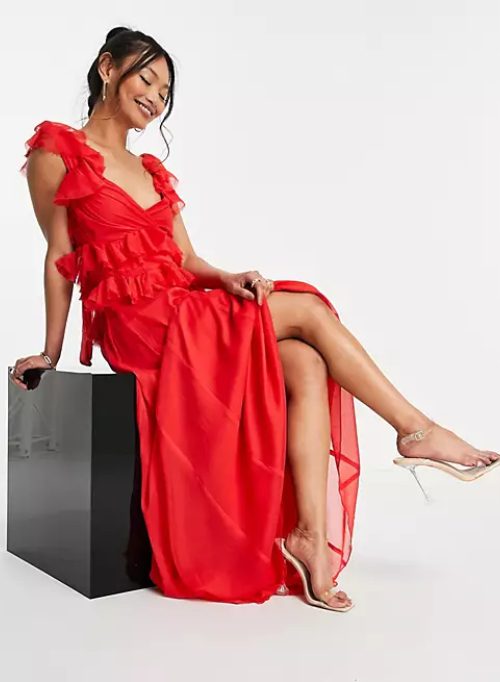 The perfect dress for an outdoor or beach wedding! The free-spirited bride will love this red tiered ruffle maxi dress from ASOS. It also has a low back that ties in the middle and a sweetheart neckline.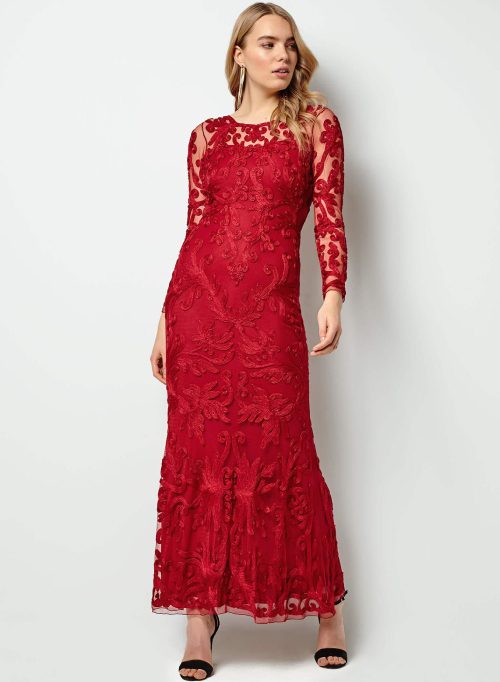 This red wedding dress is perfect for a bride that loves everything vintage! The Aubree Tapework Lace Maxi Dress from Phase Eight features tapework lace detailing from head-to-toe, it is finished with a semi-sheer neckline and elegant long sleeves, plus delicate embellishment for extra sparkle.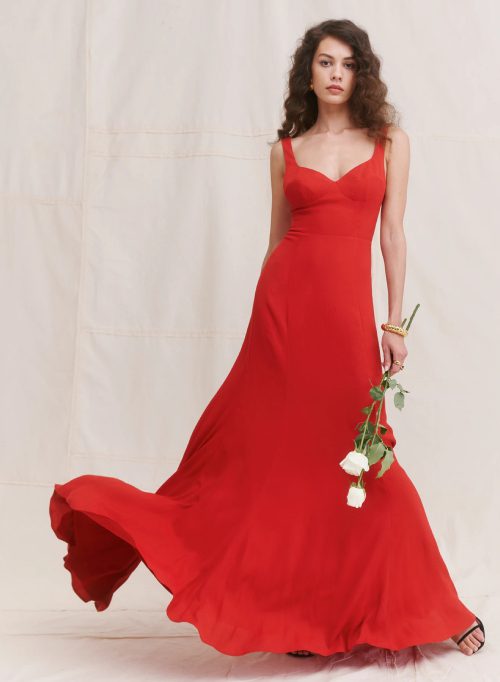 This sleek floor-length dress from Reformation features a fitted bustier bodice, a low scoop back and a full skirt that has a stunning train. Perfect for a bride that prefers a simpler style of dress!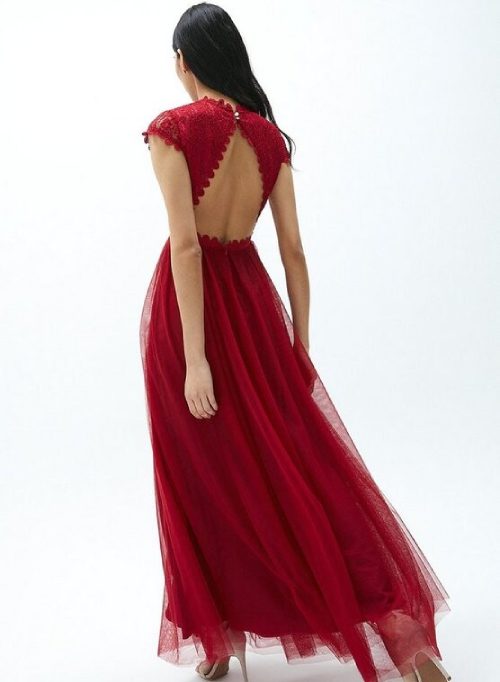 A beautiful red wedding dress here from Coast. It features an open back with button fastening and a lace bodice. This would look gorgeous at a winter wedding against the backdrop of snow!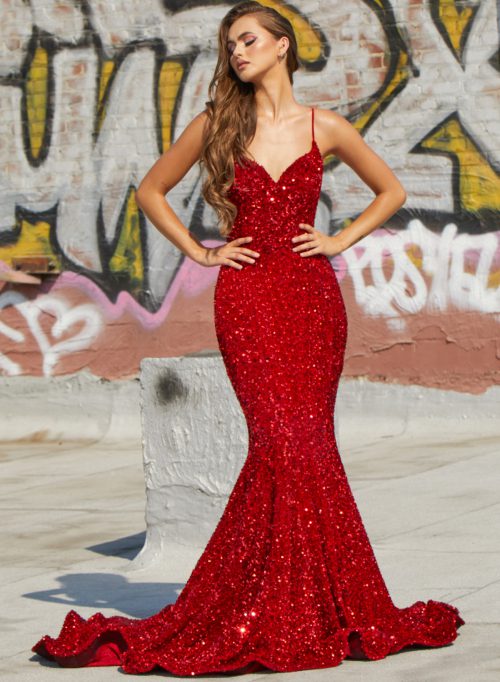 Wow, what a showstopper! You could be a modern bride walking down the aisle or a star walking down the red carpet in this incredible gown. If you love a sweetheart neckline, crystal embellishments and a train then this is the red wedding dress for you!
We hope these dresses have inspired you to live out your red wedding dress dreams!