The Best Wedding Planner Books
Author: Hollie Bond
NB: To help you browse our best suggestions we have included some third party links. Some purchases made through these links may earn us a commission to help keep our blogs and offers current and up to date. Thanks for your support!
---
Keep your wedding planning and spending on track with one of these brilliant new Wedding Planner Books.
When it comes to planning a wedding, you need to be super organised in order to ensure that every meticulously chosen detail comes together on the big day and that it is all within your wedding budget. Planning a large event with so many elements is no mean feat and brides and grooms can often be overheard saying that it's "like having a second full time job".
Using a wedding planner book can really help make the experience less stressful and fun and enjoyable though and is the easiest way to ensure you have everything to hand each time you go to an appointment. While some couples love spreadsheets and online planners, a lot of nearly-weds like to have all the details in a more tangible format like a book. Or if you want to be the most organised bride or groom in town, you may want to use both digital and paper planners.
Wedding planner books allow you to be really creative and as well as all the concrete details like dates for appointments and tracking your budget, you can also keep swatches of material or colour charts in a planning book. There are some really gorgeous wedding planner journals in the shops this year that'll help you plan your 2021 or 2022 celebration to perfection and will be a lovely memento of your engagement to look back on after the big day.
We've rounded up the most useful, practical and, of course pretty new wedding notebooks to buy this year, where you can keep track of everything from the big stuff like choosing and paying for your venue and wedding dress, to jotting down inspiration and ideas for smaller details like the decor and your music playlists. Once you've celebrated the engagement and before you start planning or search for anything wedding related, be sure to have a wedding planner book to hand and you'll find your wedding planning journey is brilliant fun and most importantly, smooth sailing.
Let The Adventure Begin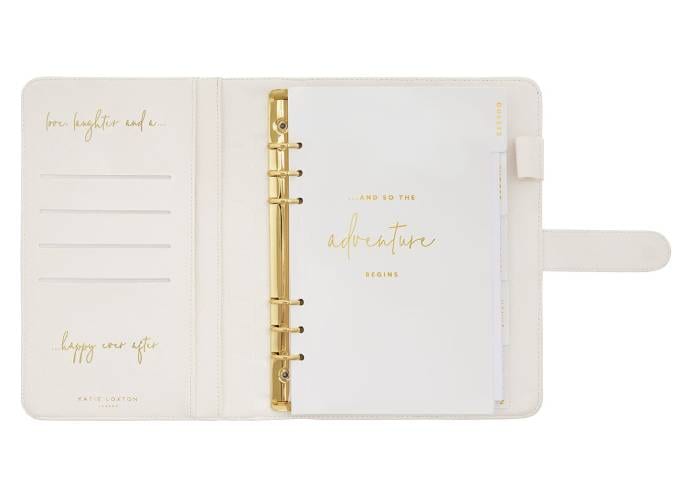 Our Wedding Day Planner, £39.99, Katie Loxton
If you're planning a chic and classic big day, this simple and smart Filofax style wedding planner book from Katie Loxton will work perfectly and look the part when you go along to all those appointments. Plus it's made from vegan leather, so appeals to everyone, even those planning an eco-friendly wedding.
Posh Planner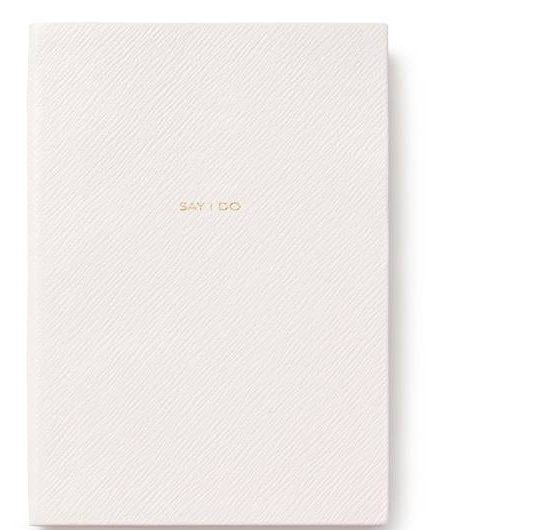 Say I Do Planner, £165, Smythson
Everyone knows that Smythson produce seriously high quality stationery, so if you want to invest in a lovely piece that you'll treasure during the engagement and for many years to come, then you can't go wrong with this super smart planner with gilt edged pages and that can be personalised too. Perfect for planning a luxury wedding!
Green Goddess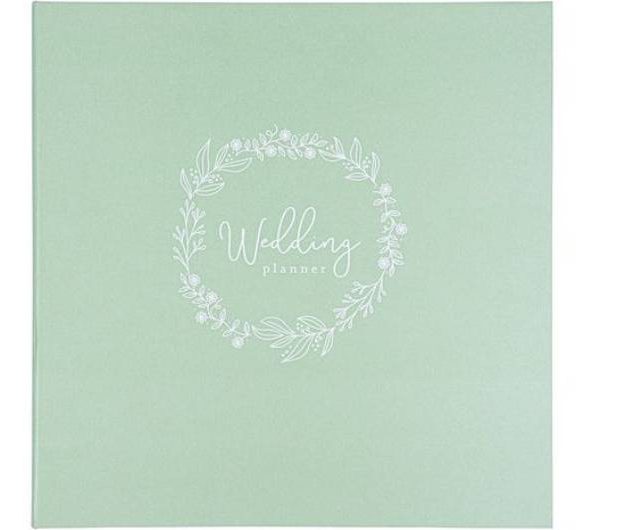 Eucalyptus Wedding Planner, £18, Paperchase
Paperchase has a fabulous range of wedding stationery, including budget books and planning lists, but this wedding planner book is your best bet as it keeps everything in one place thanks to the different categories and helpful tabs. And, it's really rather pretty, perfect if you're planning a wedding inspired by greenery.
Go For Gold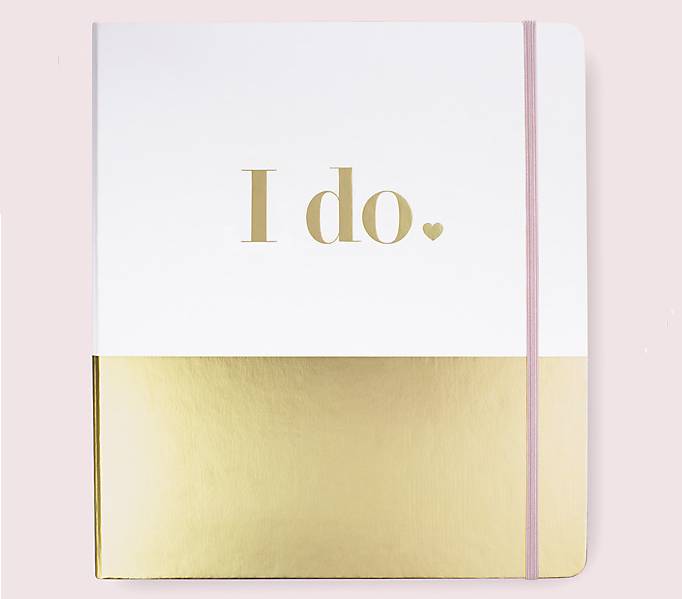 I Do Bridal Planner, £46, Kate Spade
Say "I do" to this golden wonder of a wedding planner book from the stylish Kate Spade that is perfect for couples who like a bit of glamour in their lives. You can keep all your ideas in one place, alongside all the practical information that'll help you plan a perfect event.
Spot On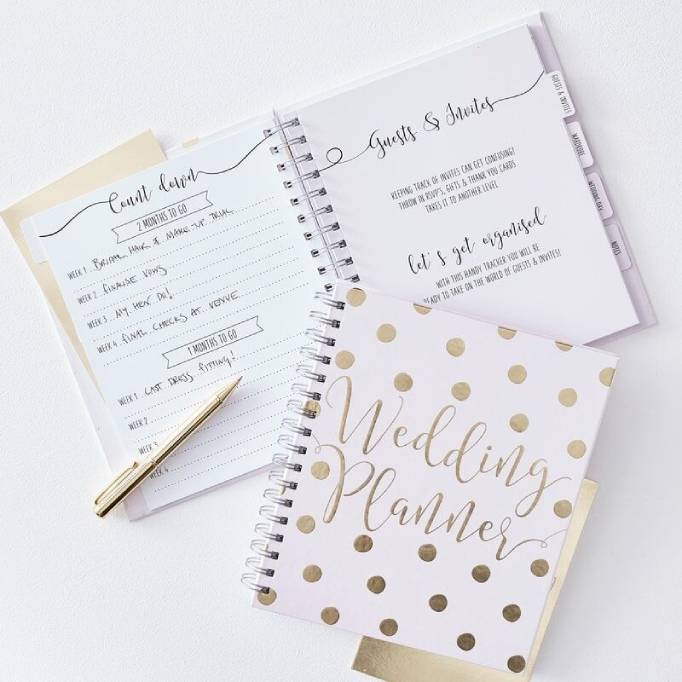 Luxury Pink & Gold Wedding Planner Book, £14.99, Ginger Ray
Never heard of the brand Ginger Ray? You will have by the time you're knee deep in wedding planning, because this brand do loads of lovely budget-friendly wedding details. This pink and gold spot wedding planner is an ideal choice for the organised bride or groom because it includes space to budget easily, sort out your guest list and has checklists to make sure you don't miss a single detail.
Red For Romance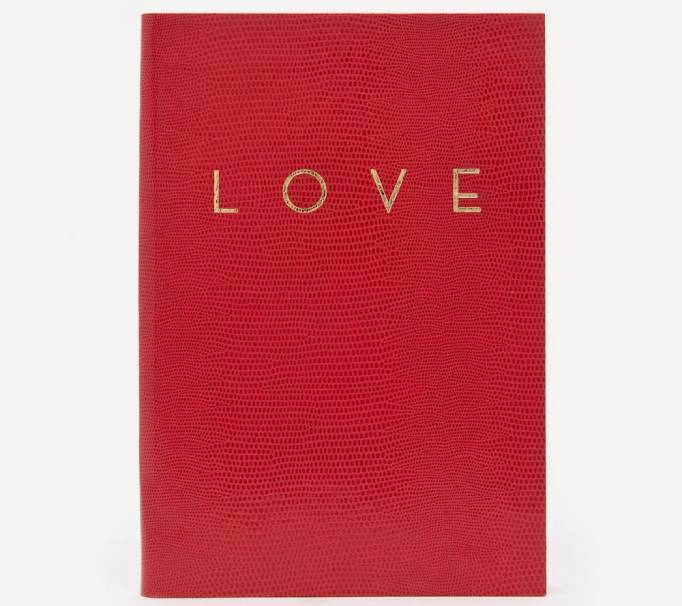 Love Wedding Planner, £40, Sloane Stationery at Liberty London
Wear your heart on your sleeve with this stunning book from none other than Liberty of London. This wedding book planner is best for couples who like to do things their own way, as inside you'll find simple lined pages so you can note down all your ideas and plan as you see fit.
Make It Personal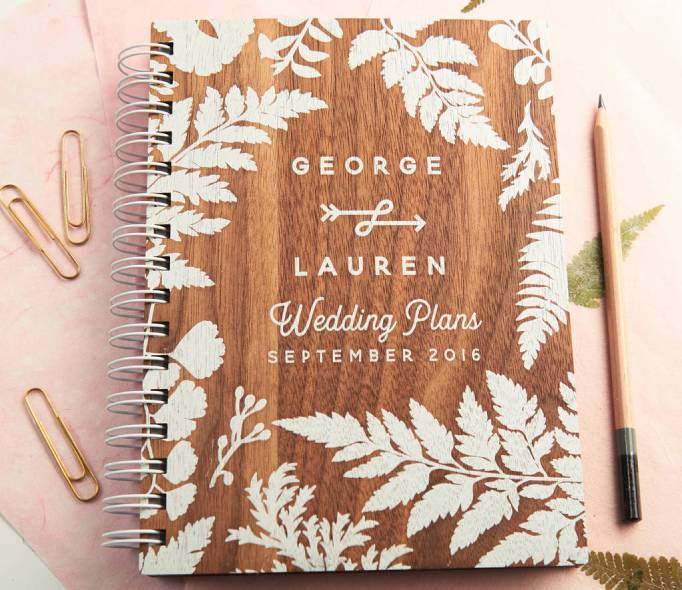 Personalised Walnut Wedding Planner, £24, Oakdene Designs at Not on the High Street
Your wedding is going to be full of personalised details and unique touches that reflect you as a couple, so you might as well start as you mean to go on with a wedding planner book that has your name on the cover. This pretty nature inspired bridal notebook can be personalised with your names and the date of your wedding.
Fun & Flirty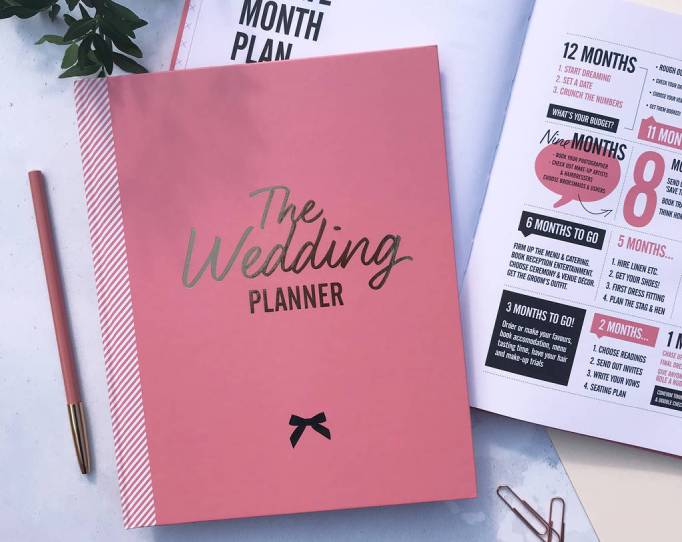 The Ultimate Wedding Planner in Pink, £22.95, Illustries at Not on the High Street
Illustries is a brilliant brand who make stationery and especially wedding planners a lot of fun. This bright pink option contains really cool graphics with helpful top tips and a wedding planning timeline. If you love filling in lists and jotting down memories and ideas Bullet Journal-style, then you'll love this sassy planner that you can read once you're married and remember how fun the journey was.
Back To Black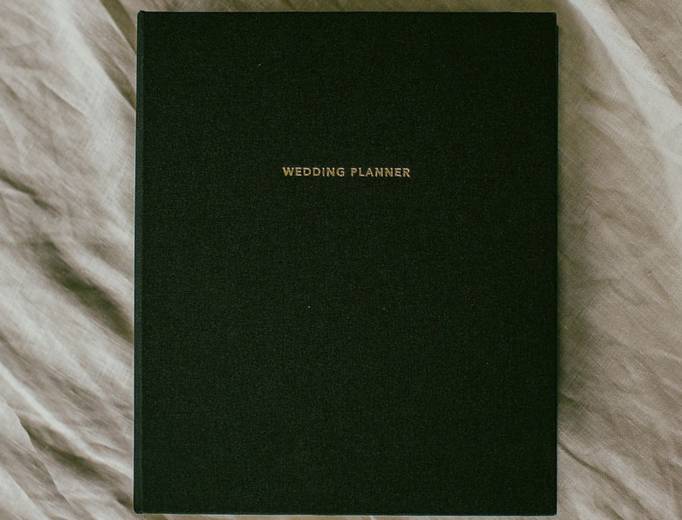 Wedding Planner, £36.29, Karen Walker
If you're not one for frilly details and like things smart and simple, then this no nonsense black embossed wedding journal from Together Journal x An Organised Life is for you. It is divided into easy-to-use sections and has invaluable tips from professional wedding planners and real-life couples who have already been through the wedding planning journey.
Passionate Planner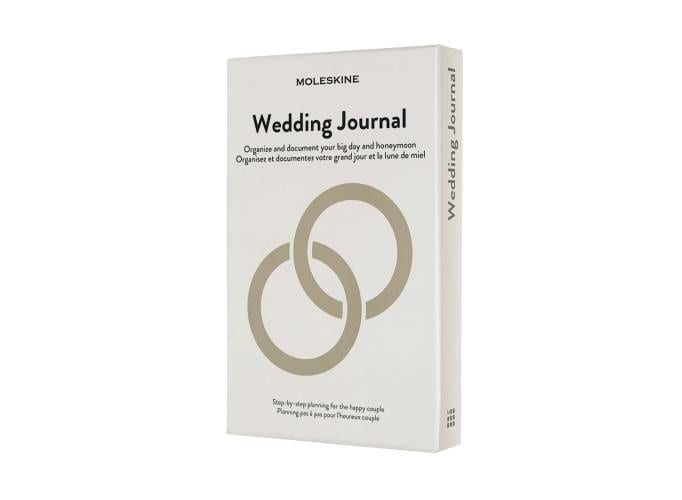 Passion Journal, £26.99, Moleskine
If you're a member of the must-have-a-Moleskine gang then you'll be delighted to hear that they also do a big day version with lots of carefully thought out sections and space for keepsakes and any products you might want to save from the process. You can turn it into a planning scrapbook to admire in years to come.