15 Affordable (Yet Stylish) Wedding Venues in Kent
Published date: 12th August 2021
---
East of London you will find the beautiful county of Kent, known for being affluent and home to some rather luxurious wedding venues. As you can probably imagine, demand for weddings is high, which means there are plenty of stunning venues to choose from.
Being located just outside the capital, the average cost of a wedding venue in Kent is around £6000, which works out around £2000 less expensive than a wedding in London, making it a popular location for people looking for a more affordable wedding nearby.
Whether you are searching for a regal castle to tie the knot, or rustic barn surrounded by countryside views, we have the perfect wedding venue inspiration for every style, theme and most importantly budget of every wedding.
Here are our top 15 picks of stylish yet affordable wedding venues in Kent…
1. The Warren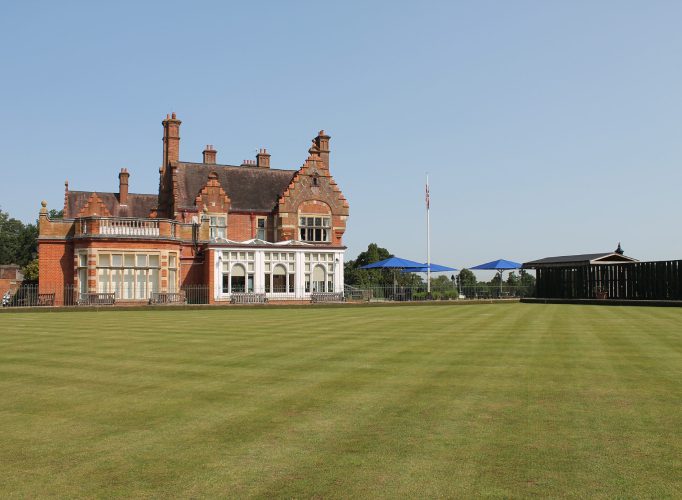 Pricing starts at £250 for venue hire
Located near the historic town of Bromley, The Warren is a Victorian grade II listed country house nestled in 22 acres of the famously beautiful Kentish countryside. Their Coney Suite is licensed for civil ceremonies and can accommodate up to 200 guests.
Invite up to 350 guests for an extravagant evening reception party, and why not head to the picturesque walled gardens to snap some memorable wedding photos?
And don't worry about travel either – this amazing wedding venue is easily accessible via train from Charing Cross and London Bridge and it's only 20 minutes from the M25!
2. Hever Castle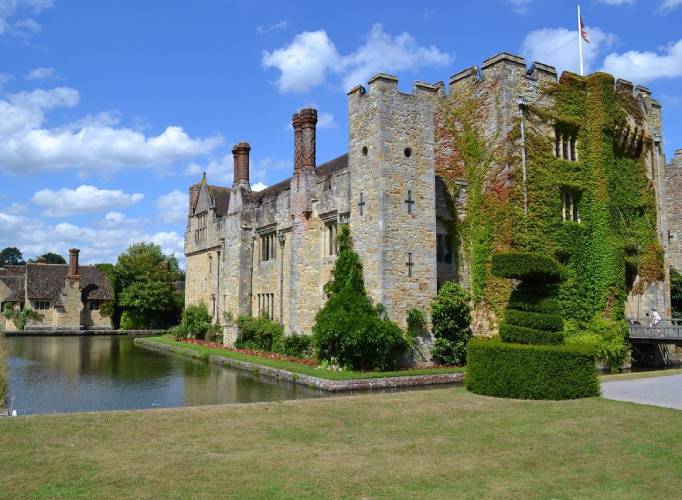 Pricing starts at £3000 for venue hire
If you fancy feeling like royalty on your wedding day but don't want to spend like them, Hever Castle is the perfect wedding venue for your very own royal celebration.
This magnificent castle was once home to Anne Boleyn and is steeped in rich history dating all the way back to the 13th century. It's no surprise it's now regarded as one of the best wedding venues in Kent.
Hever Castle features three different, yet equally stunning, locations to host your wedding, including the Astor Wing for an unforgettable reception overlooking the lake, the Inner Hall and Dining Room for a gorgeously tranquil ceremony, and the Italian Garden for an unmissable opportunity for some unforgettable photos.
If regal is your thing, you've found the right venue.
3. The Barn, Tunbridge Wells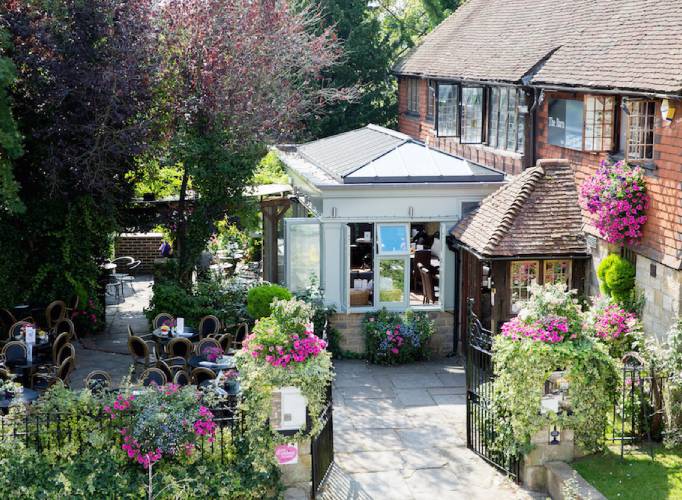 Pricing starts at £2995
The Barn is a charming venue in the heart of Tunbridge Wells that is sure to bring a personal and joyful feel to your wedding day.
This venue has seen its fair share of awards, and for good reason – The Barn has an unmistakable atmosphere that you just can't find anywhere else and offers several inclusive packages for an incredibly reasonable price.
The team at The Barn are especially determined to bring you the most delectable food they can possibly offer for your wedding breakfast. The food and drink will be tailored completely to your tastes, whether it's a fancy meal of dainty dishes or an indulgent variety of delicious street food.
You can be certain that you'll be well looked after at this renowned Kent wedding venue.
4. Hall Place and Gardens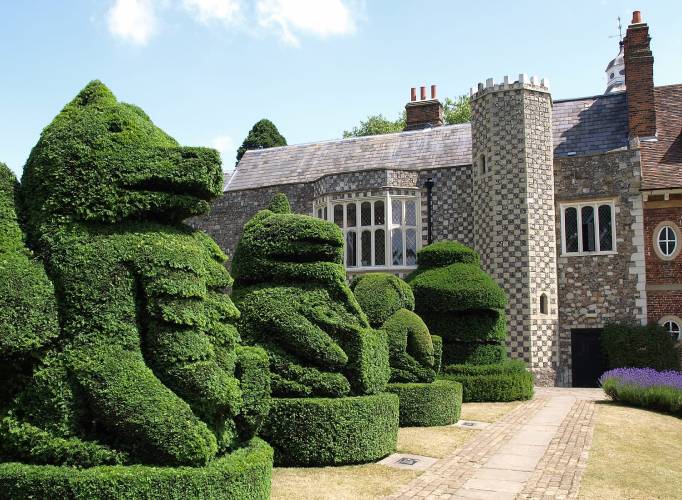 Pricing starts at P.O.A
Hall Place is in perfectly placed right next to the beguiling River Cray – and it's not just the location that's amazing.
This Tudor house wedding venue offers several excellent rooms for all elements of your wedding day and offers beautiful decor, including stone fireplaces, wood paneling, and mullioned windows.
Once your ceremony is complete, head out to their breathtaking garden reception area to celebrate with a glass of champagne and capture some candid wedding photos of you and your guests.
The venue is also available for exclusive hire, making sure that you'll have total privacy to enjoy your wedding with your loved ones.
5. The George in Rye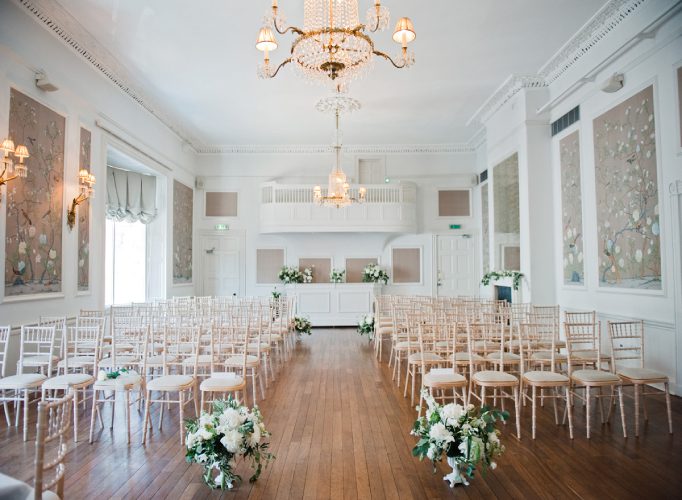 Pricing starts at £500 for venue hire
Just a short distance from the Kent border, The George in Rye aims to offer a wedding experience like no other.
Just 5 minutes from the idyllic Camber Sands Beach, The George is a Grade II listed wedding venue that follows the trend of the nearby historic Rye town, dating back to the 16th century. It's not all medieval magic, though – this venue prides itself on its modern "House Party" atmosphere.
The George features an elegant Georgian Ballroom with a minstrel's gallery, as well as its Benson room, a more cosy, intimate area for smaller weddings. With plenty of space both indoors and outdoors, the George is certain to wow all of your guests with its lovely historic charm and picturesque surroundings.
6. West Heath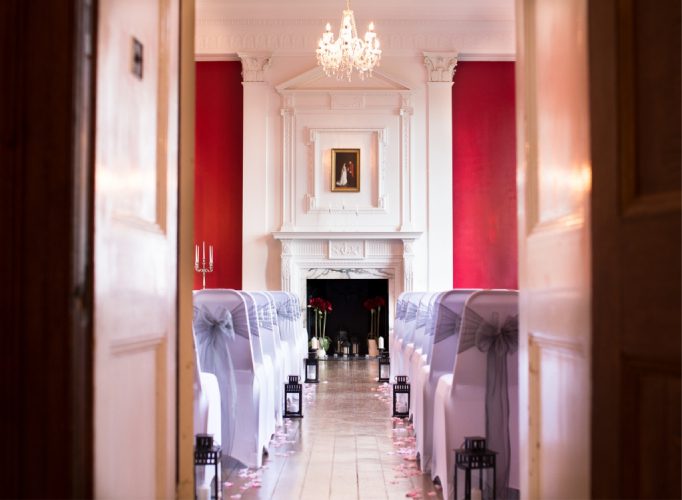 Pricing starts at £3000 for venue hire
Whether you're looking for a grand ceremony with hundreds of guests or a small intimate affair, this breathtaking country house has you covered.
West Heath was formerly West Heath School, where young Princess Diana spent some of the "happiest days" of her life – and you can guarantee that your time here will be no different.
This wedding venue boasts plenty of space, both indoor and outdoor to celebrate and party in. West Heath also offers their couples a delicious food banquet, as well as plenty of space to stay the night in their exceptional 18th-century-style rooms, so you can celebrate your first night of married life in style.
7. Weald of Kent Golf Course & Hotel
Pricing starts at £3250 for venue hire
The Weald of Kent Golf course, despite being located only 5 miles from the center of Maidstone, feels like a world of its own in the Kent countryside.
Though you might think a golf course wedding is a little on the eccentric side, the vast open space, picturesque lake and manicured grounds form the perfect countryside venue, and offers the ideal backdrop for your wedding day.
This particular golf club has over 20 years experience crafting spectacular weddings and boasts a team of expert wedding co-ordinators, so you can be sure your wedding will go ahead without a hitch.
If that isn't enough, their highly professional team of chefs are specially trained to bring whatever food cuisine you would like to serve for your guests. Sounds good to us!
8. Salomons Estate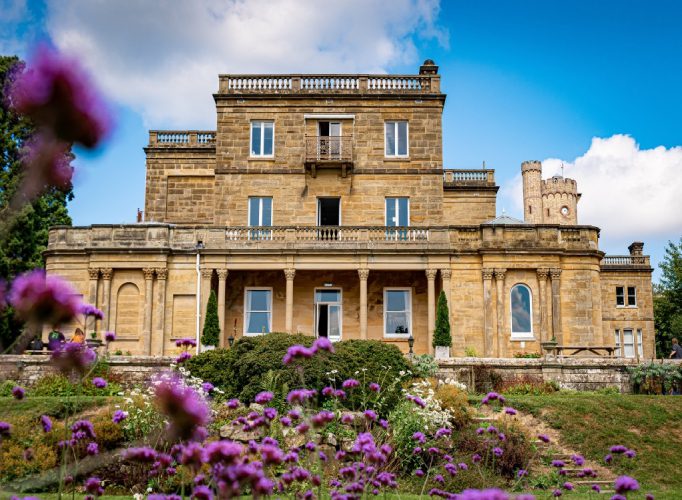 Pricing starts at P.O.A
Fancy tying the knot in a grade II listed Victorian Mansion with 36 acres of rolling parkland, gardens and woodland? We think you'd be crazy not to. Salomons Estate, not far from Tunbridge Wells, features everything you could possibly want for a wedding of any size and scope.
This wedding venue is home to a luxury bridal suite, 3 guest bedrooms, and a luxury 17th-century Keeper's Cottage for the newlyweds to spend the night.
Choose between their lovingly restored function rooms with period features; the Gold Room for outdoor weddings, the Victorian theatre for larger celebrations, and a breathtaking drawing room for your wedding breakfast.
These are just some of the many different rooms you'll be able to take advantage of if you spend your wedding day here – and with all this choice, why wouldn't you?
9. The Alexander Centre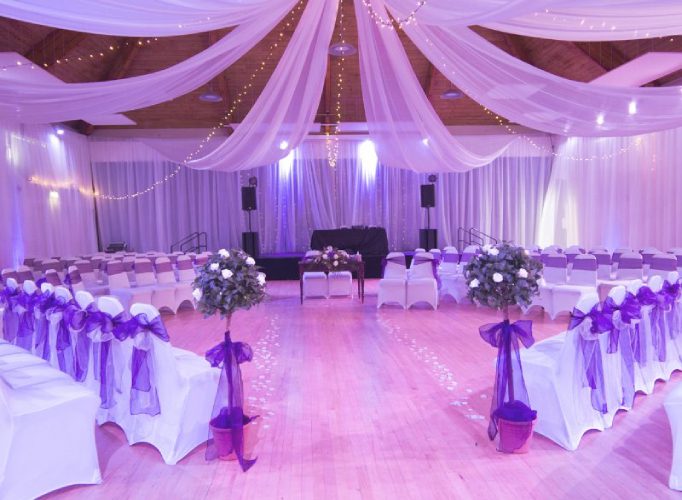 Pricing starts at P.O.A
If you're looking for versatile spaces, plenty of open room and a charming garden for any of your celebrations, then the Alexander Centre in Faversham is sure to give you exactly what you want.
This venue offers you a completely blank canvas to craft your dream wedding to your own design. You could even choose a ceremony-only or reception-only service, as there are several churches nearby – it's entirely up to you.
Whether you're looking for a traditional vintage wedding, the opulent feel of a country house or a more contemporary design, the open-minded planning staff here are happy to create any style of wedding that you could want.
If that wasn't enough, there are plenty of hotels and B&Bs nearby for you and your guests to stay, and the venue is in easy reach of Faversham station, so everyone can get there easily!
10. Cornwallis Suite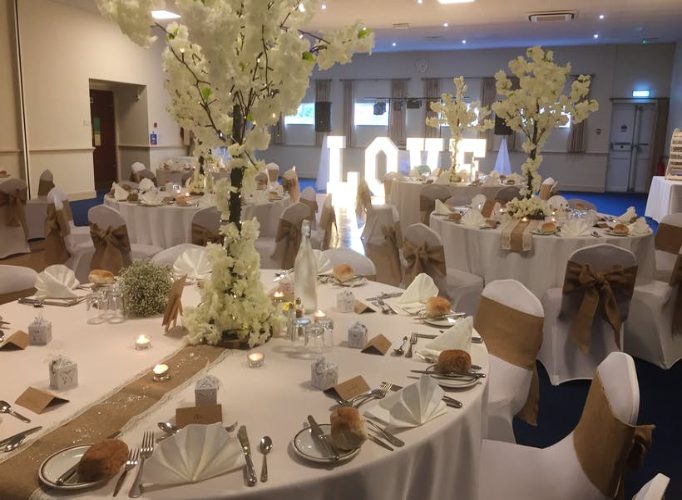 Pricing starts at £300 for venue hire
This hidden gem in the busy town of Maidstone is a real treasure trove wedding venue.
The spacious Cornwallis Suite has a choice of two distinctly different function rooms for any kind of wedding that you might wish for. What's more, this venue now features an outdoor gazebo if you fancy an outdoor wedding in the spring or summer sun!
The suite can accommodate up to 160 guests for a wedding breakfast and up to 200 for an evening reception, and don't worry, there's plenty of space for all of your guests to park.
The venue also offers a selection of wedding packages tailored to your style, your needs, and your budget, so you can be sure you're getting the best value for money possible.
11. St Julians Club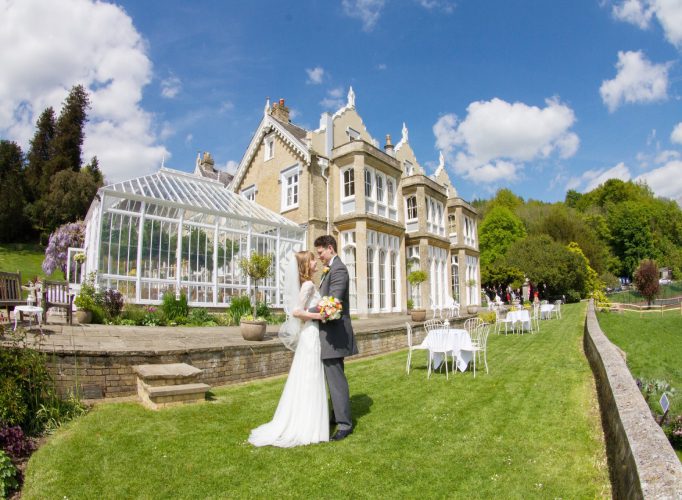 Pricing starts at P.O.A
St Julians is an elegant Georgian Country house on the outskirts of Sevenoaks, which has been a well-known private club since the 1950s.
This amazing venue overlooks the Weald of Kent and its own fresh manicured gardens, providing the perfect backdrop for your wedding. What's more, St Julians features three separate French-style rooms for you and your closest family to spend the night once you're all partied out!
The team at this stunning venue are more than happy to help you with any wedding planning questions you might have. They make sure that every day is specifically made for any couples taste, whether that's an old traditional style wedding or something with a modern twist – you can ensure you're in the right hands here.
12. Rowhill Grange and Utopia Spa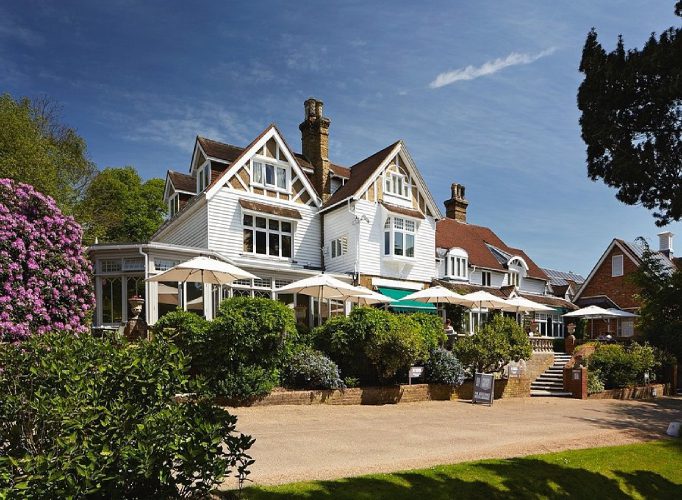 Pricing starts at £6750 for venue hire
Do you fancy the idea of having a relaxing and indulgent spa day right before or after your wedding day? If you answered yes, Rowhill Grange will be right up your street.
The aptly named Utopia Spa is more than likely to ease off any stress that might be in your mind on your big day – and the rest of the venue is nothing to laugh at, either.
This venue has a maximum capacity of 120 people and is brilliant at hosting any wedding, from small intimate parties to large, lavish celebrations.
Tie the knot in the grand outdoor gazebo in the summer sun or perhaps you'd prefer to marry in the spacious Clockhouse with a private courtyard and garden? By the end of it, we aren't sure you'll want to leave!
13. Tudor Barn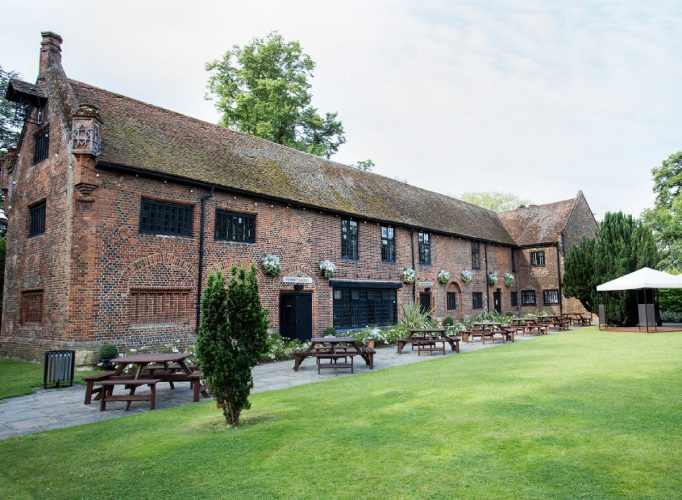 Pricing starts at £5970 for venue hire
Living up to its name, this venue is the only remaining Tudor Barn in London. Now converted into an attractive wedding venue, there aren't many better places to live out your dream wedding in the South East.
This lovely venue in Eltham is surrounded by a moat and 13 acres of parkland, all dating back to the 16th century – the word "fairytale" doesn't even begin to describe it.
Having been the site of many big-name weddings, including that of famous children's author Edith Nesbit, the site is naturally open to any number of wedding ideas you may have, whether they are big, small or somewhat crazy!
This wedding venue is exclusively yours for the entire day, so you can be sure you'll feel truly spoilt on your wedding day (as you should!)
14. Best Western Plus Dover Marina Hotel and Spa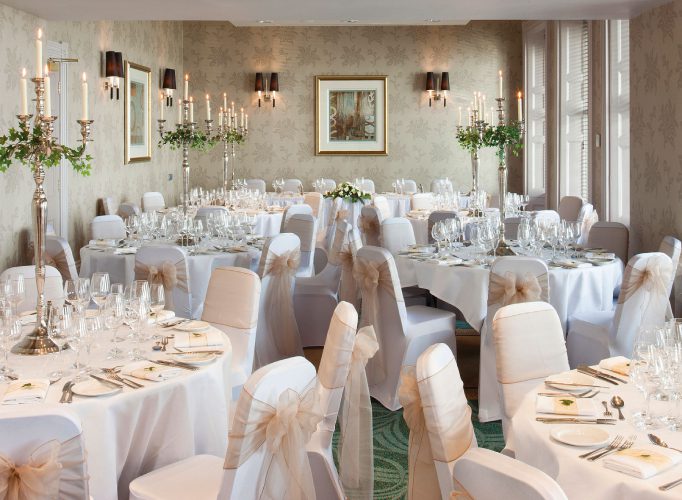 Pricing starts at £400 for venue hire
Set within the famous white cliff town of Dover, this hotel is managed and run by industry experts Best Western, and you can rest assured they'll give you a perfect seaside wedding that none of your guests will ever forget.
There are three elegant function suites to choose from, all suitable for your ideal wedding ceremony, banquet and evening celebrations, no matter what they may entail.
If you choose to stay the night, you'll be well looked after in one of the several comfy rooms, along with access to all of the building's facilities, including a gym, sauna, and steam room.
If you find yourself feeling a bit peckish, head to one of their two in-house restaurants for a hearty meal, or why not try their very own fish and chip shop? After all, you are at the beach!
15. Tenterden Town Hall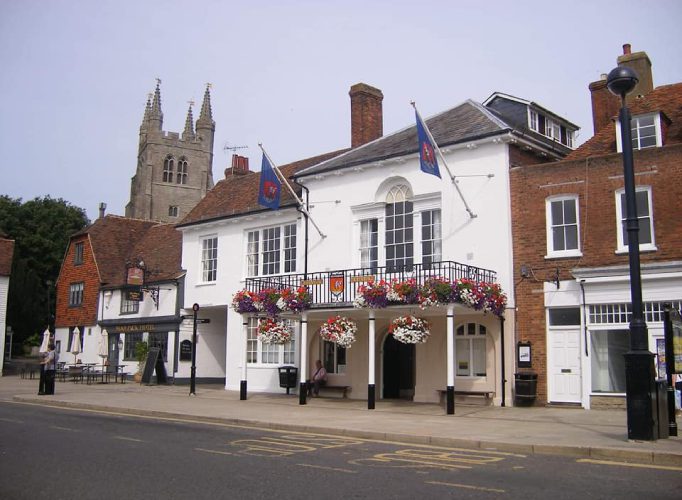 Pricing starts at P.O.A
We've brought you castles, barns, hotels and manor houses… so how about a town hall?
One of the most eccentric yet romantic wedding venues in Kent, Tenterden Town Hall can provide you with a quirky and unique wedding day if you so desire.
This 18th century building overlooks the historic market town, and has been home to the council for hundreds of years.
Celebrate in the peaceful Mayor's Parlour for a more intimate wedding ceremony, or venture into the larger Assembly Room, a space with capacity for up to 120 guests, complete with a stage for any entertainment you're thinking of booking.
When you find a moment to slip away as a newlywed couple, head up the stairs for some wedding photos on the ever popular balcony. You are sure to remember the fun-filled events of your special day in style.