20 of the Best Hen Party Ideas For 2022
Published date: 1st December 2021 | Author: Hollie Bond
NB: To help you browse our best suggestions we have included some third party links. Some purchases made through these links may earn us a commission to help keep our blogs and offers current and up to date. Thanks for your support!
---
For advice on Virtual Hen Do ideas during lockdown, check out our latest article here.
Planning a hen do? Whether you're organising a quiet and relaxing night with just a few close friends or are going all out with a full-blown weekend of partying, there's one thing that is essential to every hen party. No, we don't mean prosecco (although that is obviously a must-have, too!) – we're talking about fun-filled, hen-tastic activities!
Hen party games and activities are a great way to break the ice, especially if your group of hens don't know each other that well.
From tried-and-tested favourites like cocktail making to personalised scavenger hunts, we've come up with a list of our favourite activities to give you a bit of inspiration.  Some are classic, some are a bit more quirky – but all will give your friend the single send-off she deserves! 
Before you get started
First things first, there are a few basics you need to know. How many people will be attending the hen do? What's the maximum amount that people are prepared to spend? Are there any absolute no-nos?
Another good question to ask is if any people are only attending during the daytime. It's not unusual for some guests such as the Mother of the Bride or those who aren't up for a big boozy night to come to just the daytime part of a hen do.
Answering the questions above will be a good starting point to set you off in the right direction. So, with all that in mind, you can start to come up with a mix of both daytime and evening activities so that everybody can get involved and have some fun. And remember, no matter how unusual your hen party ideas may be, also tailor it to the bride! Just remember it might be a good idea to keep the daytime fun a little bit more tame than the evening escapades!
1. Hold a vintage tea party
This one is a real crowd-pleaser – after all, who doesn't love the chance to have a natter over a piece of cake? A tea party is a fantastic activity that gets everyone together and doesn't leave anyone out.
It suits all budgets, too: from hiring out a vintage double-decker to hosting at home, this is a really flexible activity. And the great thing is, you can make it personal to your bride by decorating with balloons and photographs or even getting everyone to dress up!
2. Head off on a scavenger hunt
This is another great activity that is great for the wedding budget, and personal too. Not only that but dividing everyone up into teams is a great way to get people talking to those they don't know. And we're not talking any type of scavenger hunt, here!
Get creative with the tasks – how about snapping selfies in specific locations with a cardboard cut-out of the groom, making a wedding dress out of toilet paper, or finding someone willing to serenade your bride? Who doesn't love a bit of wedding DIY? There's plenty of fun ideas to think of!
3. Go on a spa day 
We know, we know – this one is kind of obvious. But we did say there would be some classics on the list and let's face it, when it comes to a spa day as a hen party activity, if it ain't broke don't fix it!
Everyone loves a bit of pampering, your hens can choose a treatment of their choice, and it's the perfect chance for the bride to enjoy some well-deserved 'r and r' before the big day. Everyone's a winner! 

4. Go to a craft class
Doing a class altogether is another great way to encourage all of your hens to bond – and a crafting class is a real people pleaser. From beautiful flower crowns to creating your own fascinators for the big day, there are tons of options to choose from.
Whether you head out to a class or host a workshop at home, this is a super flexible activity that can work for hen parties of all sizes and budgets.
5. Host a hen party Olympics
We went to a hen party a few years ago where one of the activities was a hen party Olympics and it's remained one of our favourite and most memorable activities ever since.
From old-school egg and spoon races and relay races to more risque alternatives (we'll let your imaginations run wild with that one!), this activity is affordable and fun. Throw some bubbles into the mix and you've got yourself a hen-tastic afternoon!
6. Learn to dance
Let's face it, there's nothing like a good old dancing session to put people in a good mood. Dance classes are another hen party classic, and with so many classes available across the country, you can easily find one that's right on your doorstep.
From salsa to ballroom, slinky burlesque or even learning the moves to one of the bride's favourite pop videos, there's no better way to get the girls giggling than a good old boogie.
7. Go to a show
This one is, of course, dependent on where your hen party is going to be – but if you're near a town or city with a theatre, getting dressed up and going out to see a show is another timeless hen party classic.
Choose a matinee performance and go for a lovely lunch before-hand and then slink off to a chic bar for cocktails after. 

8. Swing from the treetops at Go Ape
If you're looking for an adventure-filled activity, you can't go wrong with Go Ape. There are 33 locations throughout the UK where you can spend a couple of hours high up in the trees, tackling obstacles, zooming down zip wires and swinging like Tarzan high above the ground.
Not only will it get your adrenaline pumping, but it's a great bonding experience, too.
9. Cook up a storm at a cookery class
A cookery class is a great activity that absolutely everyone will enjoy – and there's the added benefit of getting to eat everything you've made afterwards too!
From sushi-making sessions to tasty Thai treats, there's a class out there for every cuisine – so simply find out your hen's favourite food and get ready to don your chef's hats and aprons!

10. Brush up on your makeup techniques
A makeup class or workshop is another fun activity that appeals to everyone – and let's face it, you've all got an event coming up soon that you want to look your best for!
You can pick up some really helpful techniques in a makeup masterclass, which means it's money well spent – and if you're venturing out in the evening, you'll be able to try out your new found skills on the very same day!

11. Visit a comedy club
Moving onto evening ideas, and there are plenty of fun-filled hen party activities as opposed to just downing shots at the nearest bar.
One activity for guaranteed laughs is paying a visit to a comedy club – it's a great way to get everyone in the mood for an evening of fun, and something a little bit different, too.
12. Have a pj party
Don't fancy going out? No problem – who says you have to leave the house to have fun? An old school pyjama party is a super-fun, nostalgic activity that everyone will love.
Put on your PJs, pamper yourselves with facemasks and do your nails whilst enjoying some prosecco. You could even do a movie marathon of all the bride's favourite films!
13. Throw a dinner party
Who said hen dos have to be big and brash? If you want to spend quality time with your bride, there's nothing better than getting everyone together around the dinner table for a delicious meal.
You could even make it a Come Dine With Me style event, where everybody has to bring their own dish and the bride decides on the winner!  

14. Karaoke night
There's nothing more cheesy or more fun than getting a group of girls together to sing some karaoke. Get dressed up in your finest and get ready to sing your heart out and have a laugh at the same time. Beyonce, eat your heart out!
15. Roller disco
Karaoke not your thing? Then how about going old school with a good old roller disco. Strap on your skates and get ready to disco with a difference!
There are plenty of venues up and down the country, and some are even exclusive hire – so you can have the entire place just for you and your hens!
16. Stay in with gin!
If you're leaning towards staying in for the evening, then how about hosting a night in with a difference and holding a gin tasting party?
Yep, you read that right: there are people that will actually come to your house armed with plenty of bottles of delicious gin for you to taste. You'll get to try a variety of different gins, pair them with scrummy tonics and even learn how to make the perfect G&T – and we don't know about you, but we reckon that's an evening pretty well spent!
17. Indulge in some wine tasting
Gin not your thing? No problem – you could choose to host a wine tasting evening instead!
Sample a selection of delicious wines and learn all about the different types of grapes and regions – and you could even put together a super-scrummy cheese board, too. We'll toast to that!
18. Shake things up with a cocktail class
Cocktails and hen dos are one of life's perfect matches – so why not bring the two together with a cocktail making class?
With so many bars offering cocktail masterclasses these days, simply choose your bride's favourite bar and learn how to whip up her top tipples. There are even non-alcoholic mocktail options for those not drinking, too.

19. Discover whodunnit with a murder mystery
Was it Miss Scarlet with the candlestick? Reverend Green with the revolver? Or perhaps it was Colonel Mustard with the spanner?
Find out whodunnit with a fantastic murder mystery dinner party! Get everyone to dress up in character and enjoy a delicious dinner whilst solving the mystery – you could even offer a prize for the best dressed!
20. Paint the town red
If none of the above appeals to you, why not simply put on your glad rags and go and paint the town red?
There are few things better in life than a good old girl's night out, so get dressed up in your finest, draw up a list of your bride's favourite bars and get ready to hit the town!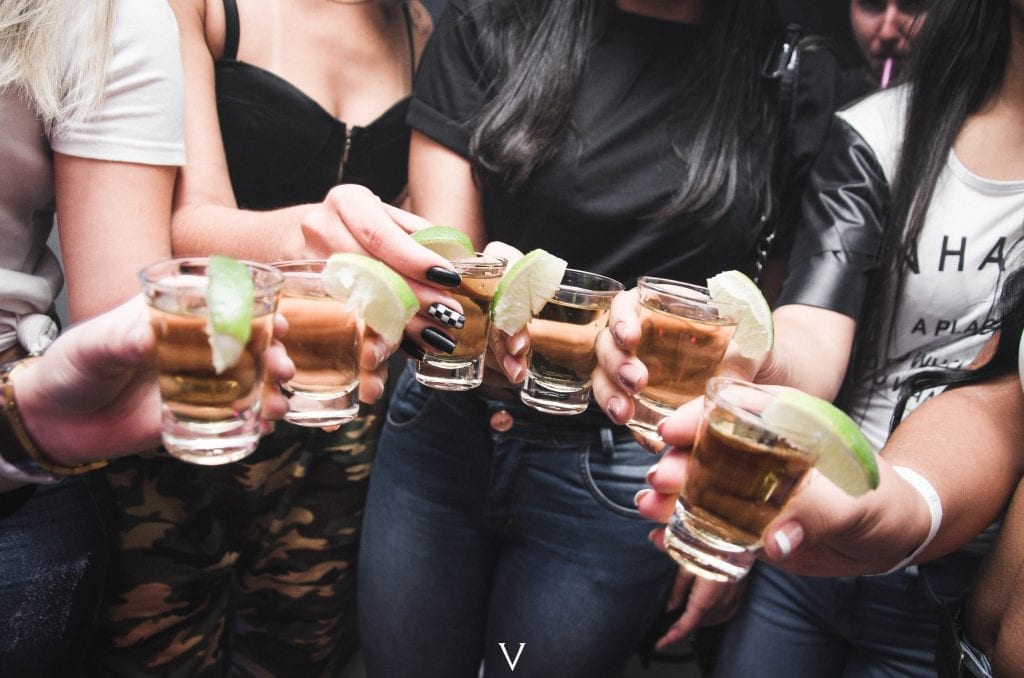 So, there you have it – our top 20 hen party activities!