Weddings at the Wild Garden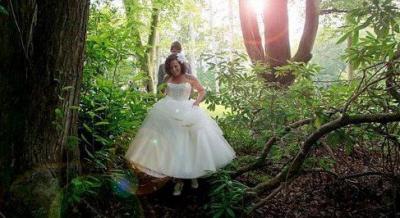 Turn in along a winding drive, among the ancient trees of a private estate where deer roam. Discover our gardens, picturesque in their natural beauty, and then imagine having the space all to yourselves for your wedding. Against the background of two lakes and ten acres of beautiful gardens, our Oyster Pearl Marquee gives the perfect setting for you to individualise. Whether formal or shabby-chic, you can create a truly personalised dream wedding.
The site itself is woodland perfection: the marquee sits under mature beech trees, with a gently sloping lawn down to the lake shore. A small wood-chipped path leads down onto the causeway across to the Wild Garden itself, where you can wander to your heart's content. There are a wealth of photo opportunities - a double swing, a Monet-style bridge, paths among the flowering shrubs. You will feel as if it is your own private garden...

Of course the site is tailor-made to provide you with all the practical requirements you will need too. A hard standing car park sits next to the site, with a wheelchair-suitable ramp down to the marquee, and with easy access for portable loos, and other wheeled facilities. A catering tent and generator are already on site.
The rest is up to your imagination! Our team will be delighted to suggest local professionals who can enhance your wedding. Arabian Tents who provide our marquee have a stunning variety of furniture styles, and decorative extras, so be inspired! Or please see our Recommended Suppliers page for more information.

For your bespoke quotation, please do not hesitate to contact us and we would be happy to discuss all of your requirements with you.

Website | Email | Request a Brochure