Sustainable Weddings & Mental Health With Kate Beavis
Published date: 14th May 2021 | Author: Kate Beavis
NB: To help you browse our best suggestions we have included some third party links. Some purchases made through these links may earn us a commission to help keep our blogs and offers current and up to date. Thanks for your support!
---
On Wednesday 12th April we were joined by Kate Beavis for our Wedding Hour to talk about weddings, sustainability and wellbeing.
Kate is a vintage second hand expert, magazine writer and a marketing & PR expert. She also runs sustainable weddings at Magpie Wedding.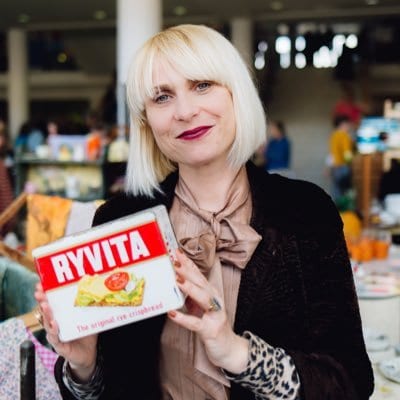 Tell us a little about you and what you do
So I do a few things! I run a marketing and PR agency and also @magpiewedding
We also run shows across the UK (we have brand ambassadors who run them) they're the Ethical Wedding Show.
How long have you been working in the wedding industry?
We launched on Valentine's 2010! Forever ago! We originally were the Vintage Wedding Fair then the National Vintage Wedding Fair. We rebranded to @magpiewedding about 4 years ago and launched the Ethical Wedding Show just before the pandemic.
It says on your website that you like to help couples make more sustainable choices for their wedding day. What are some of the choices couples can make to be more sustainable on their big day?
So many! The first is to really ask suppliers about their practices. Recycling? Where are they buying stuff from? Fair trade?
We have a guide to help with loads of ideas which I'll tell you more about.
We take people through the ethical wedding journey. We start with asking can you borrow items with buying last. Buying isn't bad – but consider where it's made, and what you do with it after.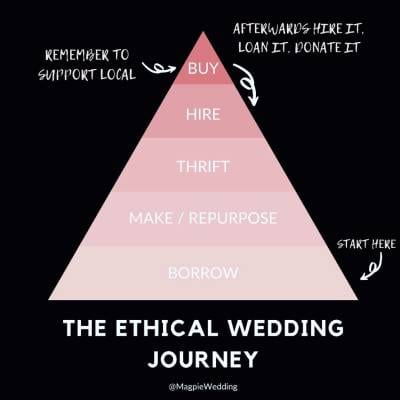 It's Mental Health Awareness Week and we know you do a lot to help couples with their well-being too. What ways do you help them with this?
One of our core values at Magpie Wedding is well-being over weight loss, so focusing on mental health. This week we are focusing on grooms as the press etc always focus on the bride's anxiety, but definitely when it comes to worries – we shared a groom yesterday who had body confidence issues.
We know there's still no further guidance on weddings for steps 2 and 3 as yet which is causing more anxiety for couples and suppliers! Do you have any tips on how to deal with this?
It's so hard isn't it. We ran an interview with a therapist about this for our Facebook, she talked about the stages of grief and how we need to go through it to be able to cope.
How have you found things this past year and how have you managed your own mental health?
Thanks for asking! I'm lucky that I have another business but Magpie Wedding was impacted as of course no shows. To be honest, home schooling took most of my brain! I miss people!
Do you have any tips for any wedding business suppliers wanting to promote themselves as a sustainable or ethical supplier?
Yes, create a page for it on your website with all the things you do. Consider having a styled shoot that is sustainable and try to get published. Use hashtags on Instagram, or come and exhibit with us!
Do you do shows Nationwide?
We do shows in Leeds, Manchester and Norfolk for now. We also are looking for brand ambassadors to run the shows in new counties (and take most of the profit!)
Who motivates you? Do you listen to any podcasts?
Good question. I don't listen that much to podcasts (keep trying to launch mine!) but I do listen to people like Amy Porterfield. I'm inspired everywhere though – too many ideas, not enough time!