How to Create TikTok's for your Wedding Business
Published date: 14th November 2021 | Author: Charlotte Purnell
NB: To help you browse our best suggestions we have included some third party links. Some purchases made through these links may earn us a commission to help keep our blogs and offers current and up to date. Thanks for your support!
---
TikTok has 1 billion monthly active users, and according to Hootsuite almost half (43%) of TikTok users are aged 18 to 24 with women in that age category making up nearly a quarter (24.7%) of TikTok's advertising audience. So, if you're looking to reach more customers this year, you can't afford to not use this platform! You may not have the budget or resources of big brands, but we are sure you can still make the most of TikTok and reach more people, read on to find out how.
Get a TikTok business account
First off, you need to set up your TikTok business account. Download and open the app then create a personal account, once you have created a personal account, you can tap the three lines in the top right-hand corner and select manage account. You will then see 'switch to pro account', tap this then choose business. You will also need to select the category that best describes your business, so that could be 'food & beverage' if you're a caterer.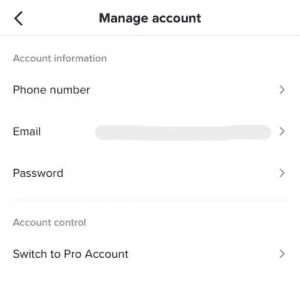 Create content that people will want to watch
So your profile is all set up, the next thing you need to do is start creating some content! This is the most difficult part as you need to think up some ideas that your audience will enjoy. If you're a florist, creating videos of you building a bridal bouquet would be great as people tend to like DIY-style content. If you're a caterer, create a video of you whipping up your signature meal and tell everyone how they could make it at home!
If you're a recommended supplier for a specific venue then you could even collaborate on a reel together, hopefully doubling the number of people your TikTok could reach!
Engage your audience
TikTok offers a variety of ways you can engage your audience. Here's a quick list of things to try:
Interactive live streams
Use polls
Respond to any comments
Like and comment on other TikTok accounts
Doing these things should help you gradually build an engaged and dedicated audience!
Explore analytics and advertising
If you want to see how well your TikTok account is doing, head over to the analytics. Here you'll be able to see how many shares, likes and comments your TikToks have got plus the number of profile and video views you have received. It will show you the percentage increase or decrease so you can tell how well your account is performing!
If your account is struggling, it could be a good idea to look into advertising. You can choose from:
In-feed ads – self-service ads you can create yourself
Image ads – runs only in TikTok's News Feed apps (BuzzVideo, TopBuzz, and Babe)
Video ads – video ads are available for TikTok itself or for the TikTok family of news apps
Spark ads – boost organic content from your own account
Pangle ads – ads placed through the TikTok Audience Network
Carousel ads – runs only in TikTok's News Feed apps
The price of TikTok ads can vary, you set your budget similarly to how you would in Facebook or Instagram, with a maximum daily spend and maximum lifetime spend. It's worth taking a look at ads even if you're not currently interested, as then you have the knowledge for when the right time comes!
We hope this quick run-through of how you can use TikTok for your wedding business helps you reach more customers this year!