40 Best First Dance Songs for Your 2022 Wedding
Published date: 23rd November 2021 | Author: Hollie Bond
NB: To help you browse our best suggestions we have included some third party links. Some purchases made through these links may earn us a commission to help keep our blogs and offers current and up to date. Thanks for your support!
---
If you're looking for the perfect piece of music for your first dance, you've come to the right place. We've rounded up 40 of the most romantic first dance songs ever written.
Choosing just one song to kick off your wedding evening celebrations and that sums up exactly how you both feel about each other is no mean feat. You'll want to choose something that is memorable, means something to you and is easy to dance to. The first dance is a really special part of the wedding day that you'll treasure forever, so getting the mood and tone right with the perfect love song for you is an important wedding planning task and one that you should spend time doing together well before the big day.
How To Choose Your First Dance Song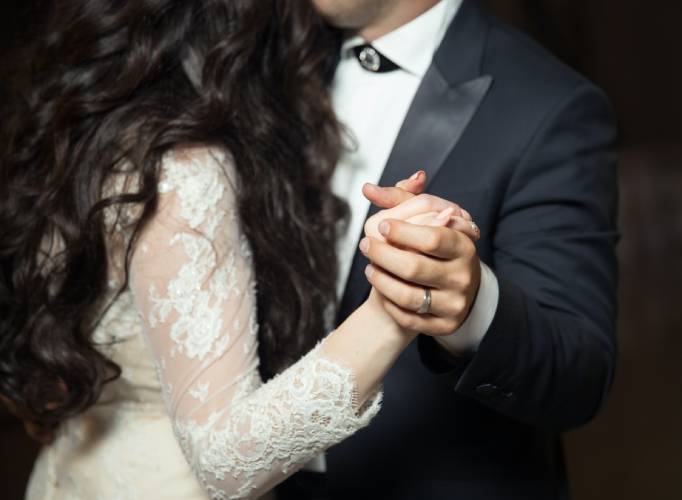 If you're not one of those couples who already have a special song' that they have always dreamed of doing their first dance to, then don't fret. There are plenty of ways to find your very own special song. In the run-up to the big day spend time listening to music together and jot down any that you both particularly love.
Listening to music doesn't just have to be on the radio or Spotify. Think about gigs you've been to together and your favourite films too, as many movies have wonderfully romantic soundtracks that might speak to you as a couple. It's also a good idea to both create separate lists of songs that you can imagine dancing to and then seeing whether you have any of the same or similar songs.
Read: 135 Songs to Walk Down The Aisle To
Remember to always listen carefully to, or even better look up the lyrics of, any songs you like the sound of, as the words need to speak to you as a couple and work for your relationship and feelings. Plus, some love songs can actually have lyrics that aren't all that romantic. We're talking about The Police's Every Breath That You Take and Baby It's Cold Outside among others!
The other factor you need to take into account when choosing a first dance song is what sort of dance you want to do. Have you got two left feet and want a simple and easy sway around the dance floor? Then you need to find something with a tempo that allows you to do just that. Perhaps you want to wow your guests with a choreographed number? Unless you're going for a waltz then something a bit more upbeat that works with a cha cha cha or a foxtrot might be more suitable.
And remember, first dance songs don't have to be romantic love songs, although most couples do choose to go down this route. If you're both known for your love of heavy metal music then feel free to kick your wedding evening off with some couples' headbanging! As long as the song means something special to you as a couple and you both love it, then it qualifies as a perfect first dance song.
Once you've chosen your favourite first dance song, make sure to practise dancing together at least a few times before the wedding so that you both feel comfortable with the tempo and flow of the song. You don't want your first dance to be an awkward experience after all. You also need to think about how you want the music to be played on your big day. If you're having a band do you want them to play the piece or would you prefer to have the original recording with your favourite singer?
Either way, you need to let whoever is in charge of the music on the day know what your choice is. And, if you have chosen to have your band play your first dance song, ask to hear them do so in advance just in case they do the tempo differently from how you've practised.
We've rounded up 40 of the most popular and best first dance songs, from modern love songs by the likes of Ed Sheeran and Ellie Goulding to romantic old school classics by Frank Sinatra and Nat King Cole, for a wedding moment you'll never ever forget. Any of these pieces of music will work beautifully as wedding songs throughout the day too.
The Best First Dance Songs
Put your best foot forward with these brilliant choices for a romantic first dance song.
At Last by Etta James
Make You Feel My Love by Adele
I Don't Want To Miss A Thing by Aerosmith
How Long Will I Love You by Ellie Goulding
Perfect by Ed Sheeran
The Way You Look Tonight by Frank Sinatra
All Of Me by John Legend
Can't Help Falling In Love by Elvis Presley
Thinking Out Loud by Ed Sheeran
Your Song by Elton John (or the Ellie Goulding version)
Let's Stay Together by Al Green
Stand By Me by Ben E King
I'm Yours by Jason Mraz
Let There Be Love by Nat King Cole
We Have All The Time In The World by Louis Armstrong
For Once In My Life by Stevie Wonder
The Luckiest by Ben Folds
Better Together by Jack Johnson
Wonderful Tonight by Eric Clapton
Unchained Melody by The Righteous Brothers
Just The Way You Are by Bruno Mars
A Thousand Years by Christina Perri
You're Still The One by Shania Twain
One Day Like This by Elbow
God Only Knows by The Beach Boys
No One by Alicia Keys
Respect by Otis Redding
Brown Eye Girl by Van Morrison
You've Got The Love by Florence + The Machine
Endless Love by Lionel Richie and Diana Ross
It's Your Love by Tim McGraw
Everything I Do (I Do It For You) by Bryan Adams
You Are The Best Thing by Ray LaMontagne
Can't Take My Eyes Off You by Andy Williams
Chasing Cars by Snow Patrol
What If by Colbie Caillat
I Will Always Love You by Whitney Houston
Iris by The Goo Goo Dolls
How Sweet It Is (To Be Loved By You) by Marvin Gaye
Grow Old With You by Adam Sandler