Chocolate Fountains in Buckinghamshire, Hot Chocolates
Hot Chocolates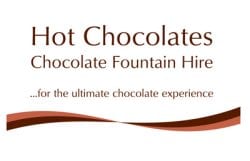 For the ultimate chocolate fountain experience - competitive all inclusive
packages and your very own PHOTO CD starting from £295 including Large
Fountain, 8 Dips, Illuminated Star Surrounds, Bespoke Decoration and
uniformed friendly staff. Covering the South of England including Hampshire,
Surrey, Berkshire, Wiltshire, Dorset, London, East and West Sussex,
Buckinghamshire and parts of Kent. Repeat Customers including: TONI & GUY,
BBC Master Chef and The RAF to name but a few!
Contact: http://www.hotchocolates.co.uk | email
Hot Chocolates recommends (13 venues):
Farnham Castle, Farnham
Macdonald Compleat Angler , Marlow
Eastwell Manor, Ashford
The Tithe Barn, Petersfield
Hampton Court Palace Golf Club, Kingston upon Thames
Show all?
More Suppliers in Buckinghamshire?
Back to Buckinghamshire?
This entry has been viewed 7343 times since 11th October 2010