Wedding party bags: An alternative to favours
Published date: 14th May 2019 | Author: Hollie Bond
---
Don't fancy sticking to the traditional? Wedding favours are usually simple tokens, intended to thank your guests for their presence and act as a reminder of the day. If you're planning a more offbeat event, a party bag is a fun alternative and gives you maximum flexibility for tailoring the contents to individual guests. Here are our tips for making your own.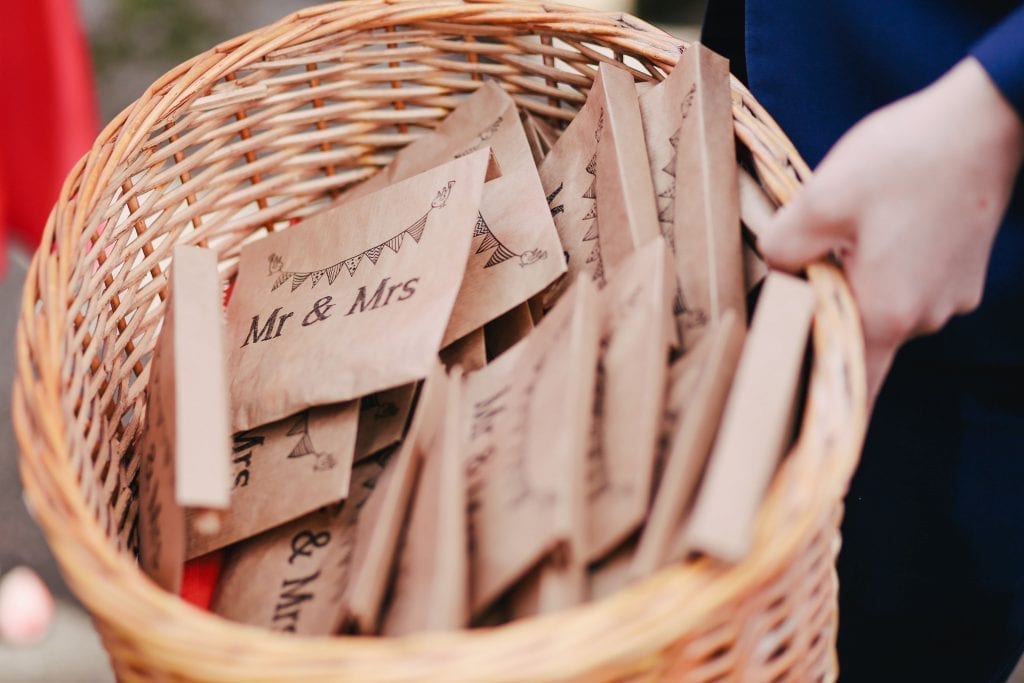 Printables
• An easy way to make professional looking party bags is to print them from a specialist website. If the design isn't super ink heavy, you can easily do this at home.
• Most sites will offer a variety of attractive designs, as well as assembly instructions.
• You can buy A4 cards from most stationary shops. For an added touch of luxury use 100% cotton rich paper.
• If you look around you can find free designs, which leaves you with lots of budget left for filling them!
Getting Crafty
• If you've got the time, getting crafty can give your bags an added oomph. Making them yourself will show that you've put lots of effort in and make your guests feel extra special.
• Buy coloured card from a stationary shop, draw your template on, cut them out and glue it together. It's worth practising this on paper first to make sure it works!
• You can decorate it with sequins, appliques, and stencils from a haberdashery store. Finish the design of by punching holes in the card and threading ribbon through as handles. A nice idea is to put glitter inside the bag so that it falls out when it's opened.
• If you're not very confident artistically, you can buy plain bags online, which you can decorate and personalise.
What To Fill Them With
• This is the fun part. A party bag gives you the flexibility to tailor the contents to suit individuals. The more you can personalise them the better, as it will make your wedding all the more memorable.
• You can buy party bag fillers from online retailers that cater for a range of genders and ages. For example, for teenage girls you could include lip balms and nail varnishes, whilst for older women bath stuff and small house decorations might be more suitable.
• Filling a bag with masks, games, crayons and paper is a great way to keep children occupied (and quiet!) throughout the day. Ready-made busy bags are becoming a popular choice for brides who have lots of kids attending the ceremony.
• For an added personal touch there are lots of fillers you can make at home like friendship bracelets and personalised sweet wrappers. Pinterest is a good place to find ideas.
If you want to make your wedding more unique, party bags are great alternatives to favours. They give you the opportunity to really personalise your small gifts. Plus they're a great excuse to have fun getting crafty!
Have you got any ideas to share?
Bio: Elise Leveque is a bride-to-be who loves to throw dinner parties and events. She currently lives in Bristol.