Vegan weddings
Published date: 2nd October 2019 | Author: Hollie Bond
---
Planning any wedding has its challenges; planning a vegan wedding is bound to have more. But it's your lifestyle choice, and your day. Actually it is the day for two of you (and we don't mean the bride and her mother), but let's assume that both are in agreement about the entire day being planned according to vegan principles.
Let's start with the venue, as that is the biggie. You'll need a venue comfortable with hosting a vegan event – not necessarily a vegan place, though if you can find one you're halfway home. If not, you can rule out the full ancestral hall with dead animal decor quite easily, but you may have to compromise at some point about wool or silk carpets and similar. And there's a whole debate about whether beeswax (for candles) is cruelty-free or not.
Some venues insist on their own caterers, but it can be tricky having a non-vegan chef catering vegan food, by which we mean they may be capable of keeping to a vegan regime, but will they have developed great vegan dishes? Baked potatoes all round? So if you can use a vegan chef (having first found one), it can help greatly, and avoid the 'only a bit of bacon for flavour' syndrome. Don't despair, you'll find plenty of venues on this site who will bend over backwards to meet your vegan needs – Buckland Hall in the Brecons for example is known for its vegetarian and vegan cuisine; and check out Manor by the Lake in Cheltenham and Suffolk's Woodhall Manor, both very welcoming of vegan parties – as do many others here.
Most of your friends and close family will be aware of your veganism, but it's diplomatic to let more distant relatives who are invited know that it's a vegan day with vegan food. Actually, so many carnivores will be fed up with rubber chicken wedding meals that a change will be very welcome, though a few from the backwoods may expect to go home hungry. Dazzle them with a tasty menu that will fill and impress them! We trust that – unlike a recent case in the UK where a bride's family apparently refused to attend her wedding because of the vegan menu – you'll get no refusals because it's vegan. But if someone doesn't care enough about you to forego meat and dairy for a few hours, you may be better off without. Finding vegan wines – no isinglass, casein, egg white or gelatine used in clearing the wines – is not difficult nowadays, as you'll doubtless know – but make sure your caterer or the venue does too.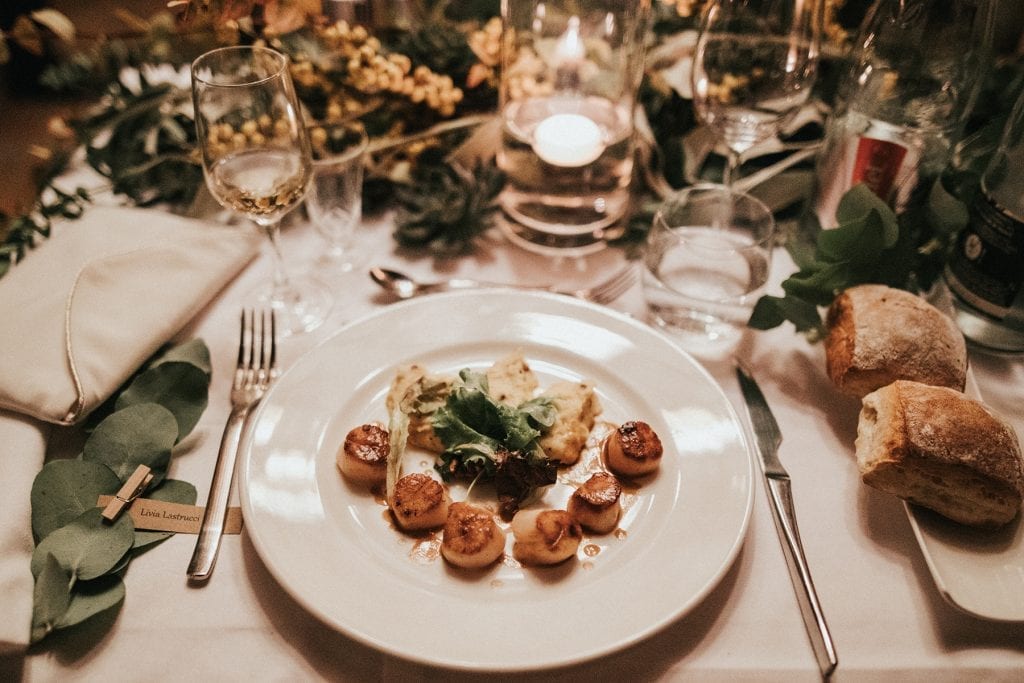 Perhaps you can't reasonably expect everyone to dress without wool, leather, suede or silk, but some will make a special effort for you, and there are vegan officiants around. If and when you send out your wedding list you need to make sure that everyone is aware of your veganism (or use a shop service where you can exchange stuff easily!).
Clothing for bride and groom, and even the bouquet, are potential hurdles again. So many wedding dresses incorporate silk, likewise bridal shoes, bouquets with silk flowers – or hidden silk ribbons. Cotton or linen, and non-silk lace, surely beckon. Most formal ties are silk, but it's not hard to find great rayon versions; if you are going top-hat-and-tails, the hat without silk will take some finding, and formal hire suits are generally wool or wool blend, so get looking now. Shoes you'll be used to finding, and there are some high end non-leather shoe makers around now that will make it easier to find something stylish than it was not so long back. You can't have real pearls in your jewellery, or decorating your dress or bouquet, of course.
As a vegan you'll be aware of online lists of cruelty-free make-up and hair-product suppliers, and if you use professionals to do your make-up and hair on the day, they need to be vegan or understand your needs. And speaking of professionals, your photography will need to be exclusively digital, as 'proper' film uses gelatine.
We hope that quick tour covers most of the pitfalls you could face in organising a true cruelty-free wedding (though strangely it's not considered cruel to dress page boys like waiters). In the end these are your principles, and you won't be comfortable if you flout them on the most important day of your life. And keep thinking, when it is all over, you escape – on a vegan-friendly honeymoon.