Intimate Weddings: The New Normal?
Published date: 27th August 2020 | Author: Hollie Bond
---
What does the 'new normal' look like for weddings? We speak to two wedding industry experts to find out how big days might look post pandemic.
We've all heard the words 'the new normal' being used to describe the strange new world of face masks, hand sanitisers and two metre rules that we've emerged into post lockdown. But what exactly does the term mean when applied to weddings? Thankfully it doesn't look like 'you may now kiss the bride' will turn into 'you may now remove your mask and kiss the bride' and the exchanging of rings won't be accompanied by liberal squirts of hand sanitiser. However, there's no denying that what we know as 'normal' in the world of weddings, might not return for many years to come. In a normal year, we'd have spent the summer attending a multitude of weddings, shopping for outfits, going to hen and stag parties and booking hotels to stay in for the happy day. 2020 of course, looked nothing like that. Instead most of us were getting messages from brides and grooms postponing their big days, while the couples in question scrambled around to find another suitable – and not already taken – date in 2021 to rebook their big day.
Will these weddings in 2021 (if the virus continues to abate) look like the weddings we've known and loved for so many years though? The huge guest lists, the late-night partying, the travelling across the UK – and world – to celebrate, the many hugs and kisses as you see friends and family you've not seen for ages… quite possibly not. There's no point looking to the past and lamenting what could've been though, as sometimes a big change can actually be a positive and many new trends will emerge from these difficult times.
Are Intimate Weddings The New Normal?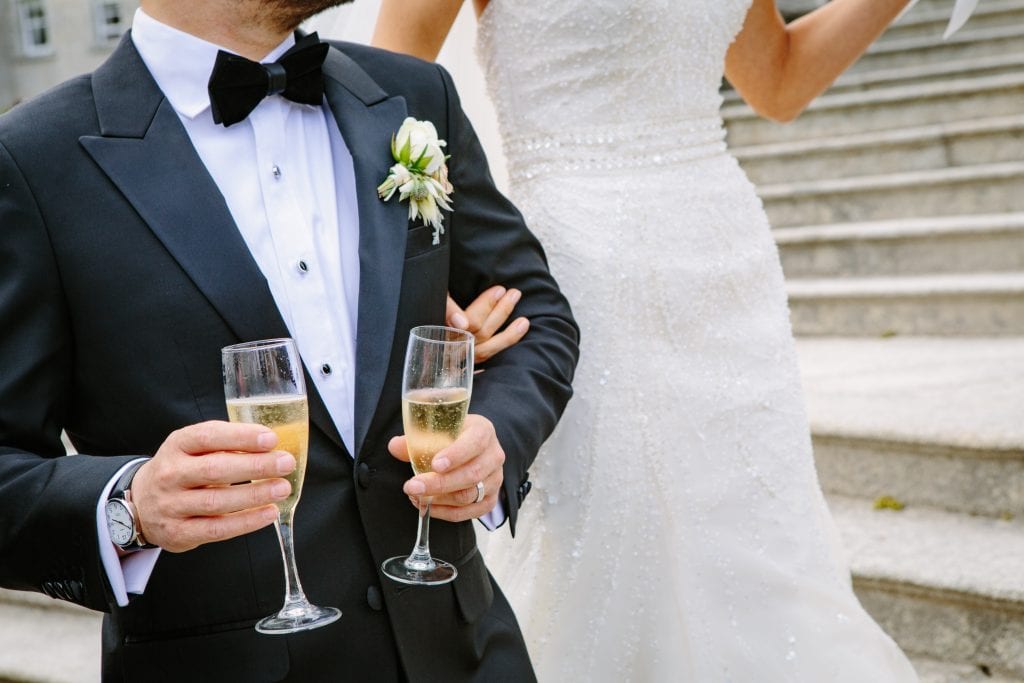 There's no doubt that intimate weddings and even elopements will be a much more normal situation for the rest of 2020, and many guests will have to graciously accept that while they made the cut for the original wedding of 150, now for the much smaller event there's simply no space for them. It's an etiquette minefield, with the most uninvited of guests – the coronavirus – causing havoc and heartache for everyone involved. If guests, couples, venues and suppliers can draw on the British tradition of keeping a stiff upper lip though and not fall into the realms of despair, the 'new normal' for weddings could be fabulous… just not quite what we're used to.
Currently, the UK government are still advising that, in England, weddings of only 30 are allowed with no receptions afterwards except for a group of six people outside or two households inside. The hope is that larger receptions will be allowed soon. But even when they are, weddings probably won't return to normal for a while. Some couples are booking their days for years down the line in the hope that they can keep their original gust list and plans intact. Other couples who are keener to get married as soon as possible are drastically scaling back their plans, for now… with larger post-wedding parties in the pipeline for the future. "We're still taking bookings for 150 people, so I wouldn't say intimate wedding are 'the new normal' just yet," says Tammy Madge, owner and founder of Heritage Rocks, a collection of three leading wedding venues, Seckford Hall Hotel & Spa, Woodhall Manor and Manor By The Lake. "Couples still don't want to be dictated to about who they can and can't invite to their weddings. People might choose to have smaller wedding in 2020 and then have a much larger party next year or the year after. We're talking to couples who are planning a smaller intimate wedding and reception (if it's possible) in the coming months and then planning a larger Christmas wedding party as well."
A More Intimate Guestlist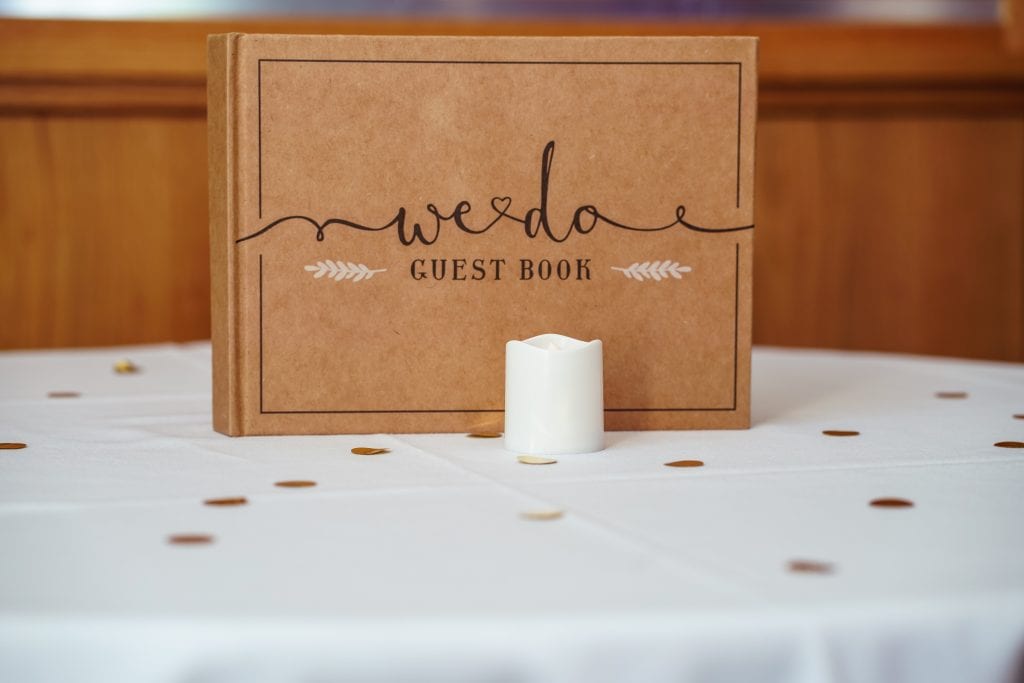 It's not just the pandemic that has steamrolled in and made intimate weddings a more attractive option for couples, although there's no doubt it has sped up the process. "Smaller weddings were trending in the last few years anyway, as couples started to actively choose to reduce their headcount way down in order to invest more in each person, rather than spread their hard-earned money further across 150 people," says Holly Poulter, Creative Director of wedding planning service Revelry Events. Tammy agrees that spending more on the people you really love and want to be at your big day is a real positive of either choosing or being forced by government ruling to have an intimate wedding: "One of the things we've noticed is that we're getting a lot of enquiries for Asian weddings but they are for much smaller weddings than we've seen in the past," she says. "150/ 200 people instead of the usual 400 – 500 people meaning couples aren't feeling obliged to invite every single distant relative. These couples might not be spending any less overall, but it means they can be more lavish towards the guests that are invited."
The pandemic has actually made drawing up an intimate wedding guest list a real breeze for couples, because it has highlighted exactly who is and isn't important. "Couples will have also been forced to really prioritise their relationships this year, which will have an effect on which of their nearest and dearest they really truly need around them on their day, if numbers were a concern," says Holly. Couples need to think about who they couldn't get through lockdown without, without regular FaceTime or Zoom calls, and who the first people they arranged to meet up with were. These people all deserve a place at their intimate wedding table, as well as being spoiled, with their original budget (if it's still feasible) divided between them, rather than trying to spread it thin across many guests. So, instead of spending £60 a head for example, a couple could have a stately sum of £120 a head to work with. Venues and suppliers need to cotton on to this fact ASAP and be there to advise exactly how and what this translates into in terms of food and drink for example. They should be using this down time to think up ingenious ways to make an intimate wedding sound just as magical as a huge affair to couples that are coming to terms with the change in their plans.
Of course, in many cases, a couple's finances will have taken a hit, and again venues and suppliers need to be respectful of this (even though they're in the same boat) and try and support the couple to host a different sort of day to the one they had envisaged. "If couples have been hit particularly hard by this crisis, but they don't want to hang about to earn more money for a wedding, then perhaps we'll see smaller budgets and smaller numbers because of it," says Holly. Couples and venues working collaboratively and flexibly will definitely make 'the new normal' easier for everyone involved.
Couples will be relying on venues and suppliers to lead the way bravely into this new world and guide them on what to do, "Venues need to be more visible in terms of marketing right now," says Tammy. "Many people are booking at least 12 to 18 months ahead at the moment, so by keeping quiet now because weddings aren't possible, venues are going to miss out on future income. Communication with the couples is really important for venues as well. Potential new couples booking far ahead don't want to hear about the doom and gloom of 2020. And, while venues obviously need to stay informed for their couples, it's important that their social channels remain positive. All comms at this point should be positive."
Small does not mean any less exciting and meaningful though. In fact, 2020 and 2021 weddings could be some of the best you'll ever attend because they've been so eagerly anticipated and fought for and the guests probably haven't seen each other for most of the year. "Celebrations are going to take on a whole other level of meaning," says Holly. "For many it will be a reunion, possibly the first time they are seeing some family in long time because of travel or other restrictions. A lot more weight will be placed on weddings emotionally, as an important day not just for the couple but for every single guest and supplier involved. People will understand the true privilege of being a part of someone's special day and it won't be taken for granted any time soon." When you look at it like that, it's clear that the pandemic hasn't all been doom and gloom for the wedding world. Everyone who gets married now, will have a renewed appreciation for the simple fact that they can say their "I dos" surrounded by loved ones.
Positive Wedding Changes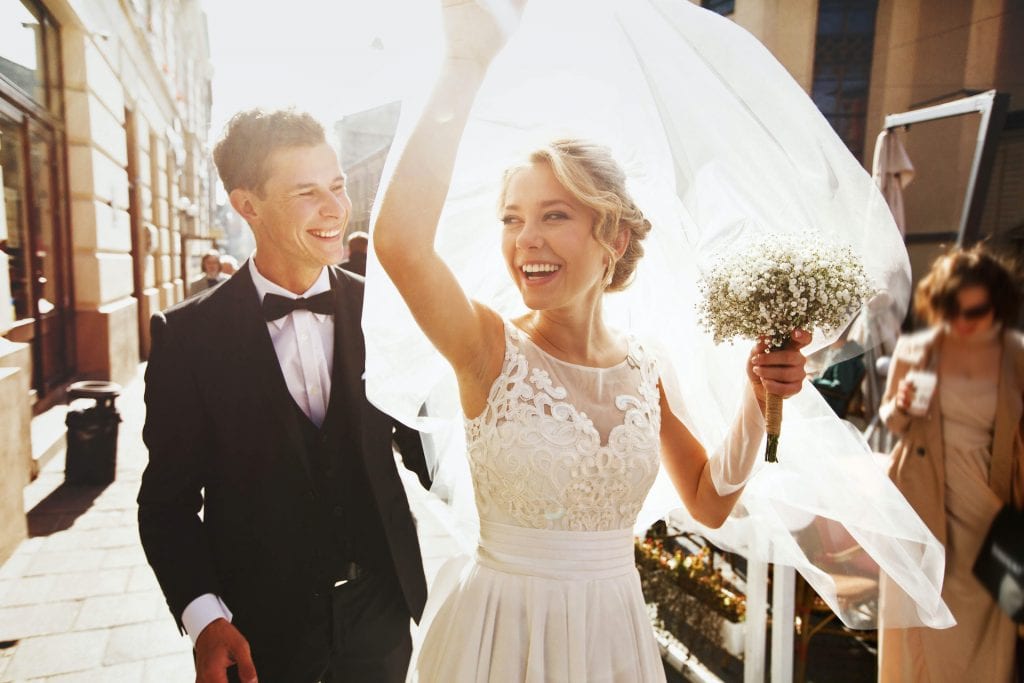 It's not just the size of weddings that will be affected though, and there are plenty more trends starting to emerge from the wreckage of the pandemic. For starters, even us weather-worrying Brits are embracing the great outdoors more than ever before and alfresco weddings are set to see a massive surge in popularity, because they're Covid-friendly and it's easier to social distance. Venues with outside spaces should really make the most of this and ensure their gardens are looking top-notch for this sudden surge in interest. "We know from this year that there is less fear of larger gatherings outdoors, which may make couples rethink their cosy winter pub wedding and instead opt for an al fresco garden party," says Holly. "Open spaces and clever spacing will be a big priority even for indoor weddings, ensuring that there are no cramped airless dance floors with sweaty enthusiastic dancing from your uncles."
Food and drink will also see some changes, but in a slightly different direction to where the current trend was heading: "One trend that was on the rise before the pandemic was a shift from formal, plated food to more relaxed family-style, sharing platters. This had a great communal vibe which couples were loving," says Holly. "But now, we could see a shift backwards to plated meals. Will the worry over germs prevent couples from wanting their guests to share serving spoons for their roast potatoes?" Evening and dessert buffets could suffer the same fate, so venues and caterers need to be more flexible than ever to ensure there's a catering option to suit every couple's desires and health anxieties.
As for nervous speech makers, the fact that speeches aren't currently allowed is something that might make many-a-best man breathe a sigh of relief. Even when speeches are allowed again, it might be that there's a shift away from live speeches and it'll be more acceptable to deliver a pre-recorded video of your speech. "We find a lot of people do get very nervous giving speeches," says Tammy. "To have the ability to create a pre-recorded one that the speechmaker can perfect and have a few goes at and then play on the day, is an idea that many couples will want to embrace."
Technology is another area that is going to play a big part in weddings to come. We've all relied heavily on tech to see us through the lockdown and now it'll help us to ease out of it and enjoy events like weddings like we used to even when restrictions are in place. "If couples are only able to have 30 guests their ceremony, they might want to think about having a videographer there to live stream it to other relatives and friends that they couldn't invite. Or you if it's recorded, they can then give that as their wedding gift to the people who should have been there." You can step things even further and have guests attend your big day in virtual reality: "360 videos for the ceremony could become very popular. Using technology like an Oculus means guests can feel like they are actually at the wedding, only they'll be there in virtual reality."
And, if singing at weddings remains on the banned list for a while, fear not, because you can still dance the night away without the band you dreamed of. Silent discos could become a trend at 2021 weddings, minimising the risk of guests singing at the top of their voices and spreading germs.
What Does This Mean For The Future Of Weddings?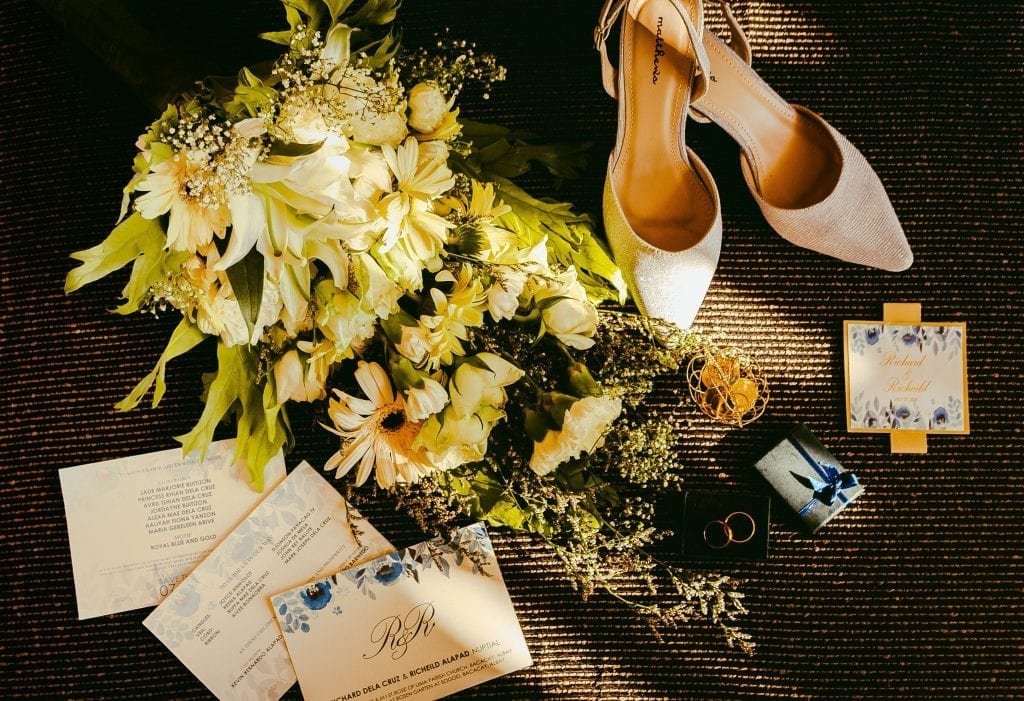 It goes without saying that if the global situation continues to improve, as a guest it's time to take a breath now and get ready to have a year like no other when 2021 rolls in. With all the 2020 weddings as well as the 2021 weddings to accommodate there's going to be a wedding every day of the week! Forget about just weekend weddings, there'll be Monday, Tuesday, Wednesday, Thursday and Friday weddings too – so get saving that annual leave. And, keep your diary relatively clear because last-minute weddings are set to become the norm. "We've had quite a few last-minute enquiries, especially from couples who have had to cancel their destination weddings this summer," says Tammy. In these uncertain times with rules constantly changing last-minute planning is an attractive option for couples who don't want to risk having to keep postponing and having to go through the heartache over and over.
Venues will also be able to claw back some of the lost revenue from 2020 if they are able to do offers and special weekday packages to attract some of these couples desperately looking for a free date in 2021. "2021 is going to be an incredibly busy one for suppliers – those that haven't suffered irrevocable damage in 2020 and are able to move into the next season," says Holly. "Couples will need to not hesitate, even in the off season, to make their bookings for their first choices. Not only do we think it's going to be a busy peak season for weddings in that April to September period, but we think that the end of the year is going to see an unseasonable spike in weddings – but for most venues and suppliers that will be a very welcome spike."
While there's no denying that 2020 has been tragic for the wedding industry, there is definitely hope and happiness to emerge from the ashes. We are now entering a period where weddings are more important than ever – couples are taking things back to basics and simply want to declare their love for each other in front of their friends and families. The sentiment of a wedding has remained intact and has reclaimed centre stage, meaning that the weddings to come (hopefully at the end of 2020 and into 2021) will be some of the happiest and most enjoyable events you're likely to experience, especially when you consider how important you are to have made it onto the  potentially much smaller guest list.