9 Best wedding venues in West Sussex
Author: Sophie Drew
---
Looking for the perfect wedding venue in West Sussex? Well, you've come to the right place. These hidden gems would be sure to impress you and your guests. We understand that the hunt to find the perfect wedding venue can become overwhelming and tiring and that's the last thing you need before you've even started the detailed planning process. So we've created this list of our top 9 West Sussex wedding venues to take some of the stress off of you and your partner.
West Sussex… what a beautiful place. It's home to National parks, a long picturesque coastline, and don't forget the beautiful countryside. So there's the choice of a seaside wedding or a wedding in the rolling hills, and with charming barns, historic manors, and marquee weddings on offer, there is something for everyone.
1) Southdowns Manor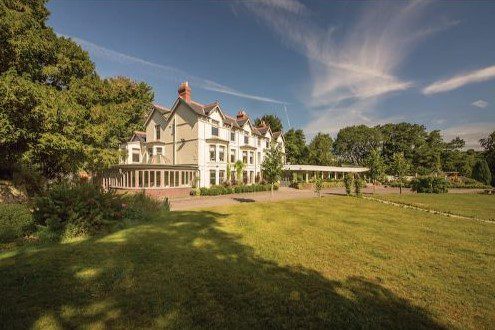 The first West Sussex wedding venue is an award-winning exclusive-use venue situated in the heart of South Downs National Park, which is an ideal setting for wedding photos. Southdowns Manor has character and charm but also boasts modern features, so you get the best of both worlds. There are 3 impressive reception rooms for couples to choose from. The Sussex Room is licensed for civil ceremonies of up to 40 guests. Their Conservatory can host wedding ceremonies of up to 40 guests as well but this space is more light and airy. The Banqueting Suite is perfect for those of you who are planning to have a larger wedding ceremony as this room can host up to 150 guests, it can also have the same number of guests for seated dining, and it features a bar and dancefloor!
2) Mannings Heath Golf Club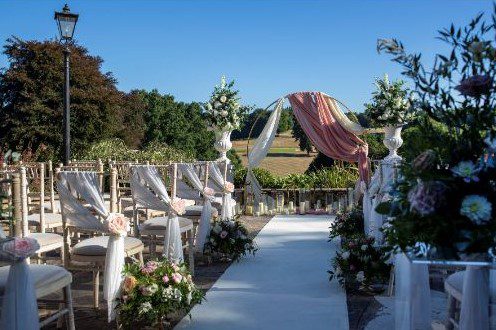 With outstanding natural beauty that offers breathtaking views, Mannings Heath Estate is the ideal setting for wedding day photos. Boasting a terrace, reception options, a clubhouse, and accommodation, this place is the full package. This wedding venue is ideally located just a short distance from Gatwick airport and a few miles from the local train station. This intimate venue in West Sussex is also licensed to hold civil ceremonies with up to 110 guests, which is perfect for couples who don't want to spend their special day traveling around. They can also accommodate 110 guests for a hearty wedding breakfast and up to 150 guests for an evening reception. In terms of accommodation, this unique venue has a cottage on offer. Fuller's Cottage has 4 bedrooms that can sleep up to 8 guests, self-catering facilities, a tennis court, free parking, business facilities, access to two golf courses, and a private garden, and it's both accessible and dog-friendly.
3) Grittenham Barn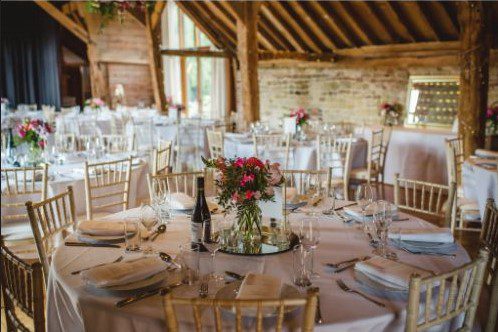 Next on the list of West Sussex wedding venues is a historic and characterful barn wedding venue. Grittenham Barn is in the heart of the West Sussex countryside and has stunning views over the South Downs. They also have a tranquil lake close by, gorgeous gardens, an orchard, and woodland. A truly stunning location. This rustic barn wedding venue can seat up to 120 guests or host up to 200 standing guests. Tables, chairs, and lighting is all included in their price. They also have their hand-made Oval Marquee available as well. The Oval Marquee can accommodate between 8o to 90 wedding guests. This stunning venue is also licensed to hold civil ceremonies outside in their gardens by the lake and woodland area. How romantic does that sound? However, that's not ideal for the colder months, but you can also host a ceremony in their beautiful barn as well.
4) Slaugham Place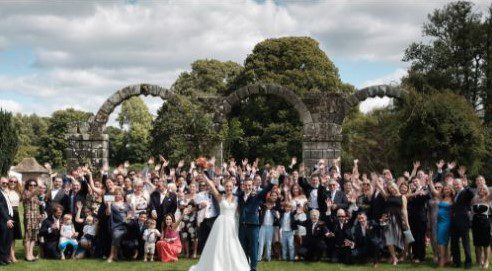 The next West Sussex wedding venue is located next to a waterside Elizabethan manor that dates back to the 1500s. The moat and ruins of the old manor still remain, which make the perfect backdrop for wedding photos. At Slaugham Place a lot of couples opt to get married under the old but magnificent manor arches. Who said romance is dead? There is also a luxury marquee that is heated and has a hard floor which is also great for drinks receptions or serving canapes. Couples can also utilise this space for evening receptions. Imagine dancing the night away with a DJ playing your playlist, disco lights, drinking your favorite drinks, surrounded by the people you love the most. This venue works closely with its catering partner Burnt Orange Catering to create bespoke menus and themes. They deliver high-quality food and service levels that will be sure to surpass your expectations.
5) Weddings At The Wild Garden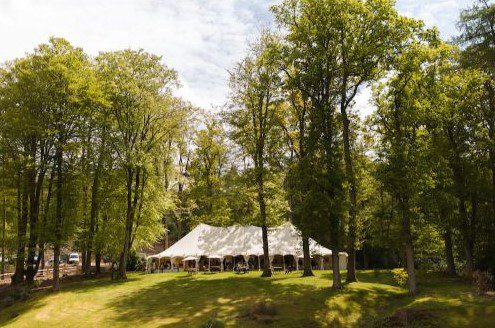 The final venue on our list of the best West Sussex wedding venues is Weddings At The Wild Garden. This exclusive use venue is set on 850 acres of grounds in the picturesque West Sussex countryside. The estate has been family-owned for a hundred years and they have taken care of the grounds and the woodland as well as the 19th-century country house venue. The marquee is light and spacious and contains so comfortable seating so you can rest your feet after all of the partying. Beyond their marquee are their private gorgeous gardens where you and your guests can mingle. That sounds like the dream wedding day to me. On top of this, there is also a double swing and a money-style bride near the private gardens, so there are endless photo opportunities.
6) The Ravenswood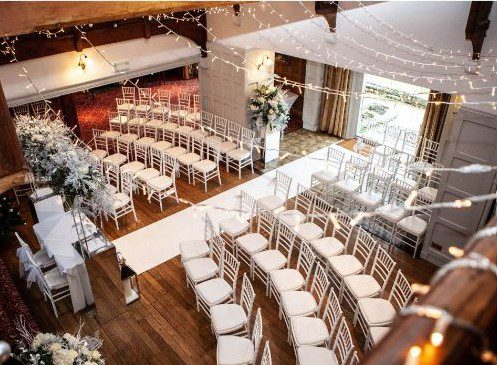 The Ravenswood is a 15th-century building used as an exclusive-use wedding venue, situated in the rolling West Sussex countryside. There are 4 breathtaking lakes, bridges, a rose garden, and a forest walk included in their 18 acres of ground. This historic wedding venue features 4 beautiful event spaces and they have a civil ceremony license for indoors and outdoors, so there are plenty of options. Their function rooms include The Princess Beatrice Suite, The Jacobean Room, and The Baronial Hall. Each room can seat up to 150 guests for a wedding breakfast and up to 300 guests for an evening reception. There are also 34 ensuite beautiful bedrooms to choose from if you're planning an overnight stay. Couples also get the Honeymoon Suite included in their package! Their experienced chefs create bespoke menus to suit all dietary requirements and allergies.
7) Wickwoods Country Club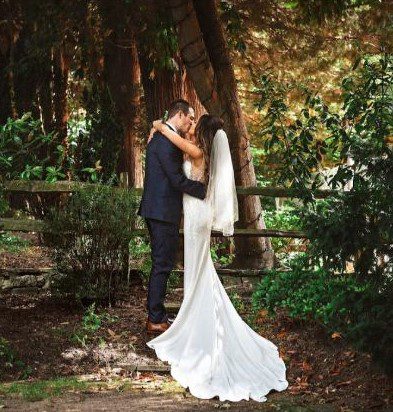 Next on the list of wedding venues in West Sussex is Wickwoods Country Club. This award-winning countryside venue can offer civil ceremonies and overnight stays. Their contemporary Glass House is perfect for civil ceremonies and evening receptions. This beautiful orangery boasts crystal chandeliers and countryside views. They also have a terrace that is ideal for drinks receptions. Their knowledgeable in-house catering team has created a range of menu options to suit all pallets and dietary requirements, which will be sure to tempt you and your guests. On top of this, their weddings team can also recommend suppliers that will suit you and your wedding plans from florists, to photographers, to makeup artists. They also have hotel and spa facilities that couples can choose to use. This includes facials, massages, an outdoor pool, hydropool, and a bio-sauna.
8) Highley Manor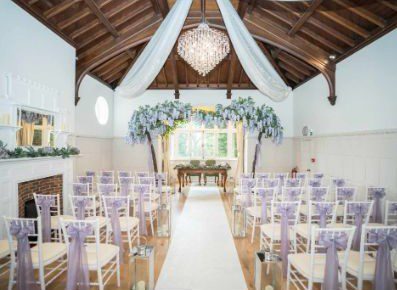 Highley Manor is a 19th-century manor wedding venue nestled in South Downs National Park. Their Great Hall has stunning furnishings, a grand sweeping staircase, and stained-glass windows, which projects elegance and luxury. Their Ceremony Room provides a romantic space for you to say "I do". After that couples have the option to retire to their magnificent Great Hall again for a drinks reception or canapes. The Ballroom is a great space for receptions and wedding breakfasts. It can seat up to 86 guests or host 200 standing guests for the main reception. Highley Manor also has a stunning Pavilion that is used for outdoor weddings. This provides panoramic views of their stunning surroundings, making it the perfect place for wedding day photos. This wedding venue also features 18 individually styled ensuite guest bedrooms that couples can choose to book.
9) Southlands Barn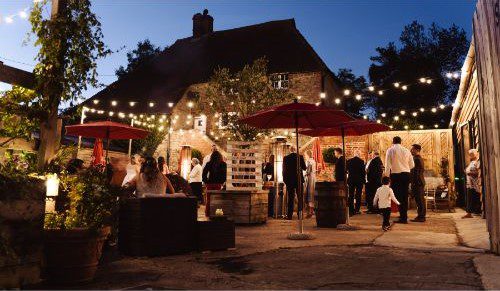 Last on the list of our top wedding venues in West Sussex is the charming Southlands Barn. This family-run exclusive-use wedding venue has two barns available for use. Their 17th-century Sussex Room and their newly converted Cattle Barn which is used as a dining room. This barn wedding venue is surrounded by 120 acres of farmland including a tranquil lake. The Sussex Barn makes a magical location for exchanging vows. Up to 150 guests can be seated here for an intimate ceremony or a reception. The Cattle Barn features round tables and chairs that can seat up to 150 guests and this barn makes the perfect space for a wedding breakfast, or another option for a wedding ceremony. The two barns are connected through their courtyard and a bar area. There is also a fully-licensed outdoor ceremony area with beautiful views which is able to seat up to 150 guests.
We hope our list of our favourite West Sussex wedding venues has given you some inspiration and made your upcoming decision a little easier. We understand the pressure of wanting everything to be perfect on your wedding day, but there is an endless selection of amazing wedding venues out there, like the ones on this list that definitely won't leave you disappointed. Be sure to check out all of these options and then you can find out more information if any of them caught your eye. Remember, it doesn't hurt to enquire about more than one as you can never have too many options, and you don't want all of the dates to fill up! If sadly none of these venues captured your heart, we have several other blogs that can use for inspiration!
Have you thought about your next step in the wedding planning process?
7 Fun facts about West Sussex:
1) Paul McCartney is the first Doctor of the University of Sussex, alongside Anita Roddick
2) Piers Morgan was born in Sussex
3) Brighton Marina is the largest marina in Europe
4) The famous Battle of Hastings actually took place in West Sussex, not Hastings
5) It's home to the oldest cinema, which is still in use and over 109 years old!
6) Gatwick airport used to be a racecourse and even held the Grand National from 1916 to 1918
7) Adolf Hitler wanted to live in Brighton Pavilion if he conquered Britain