9 Best Wedding Venues in Staffordshire
Author: Sophie Drew
---
Struggling to find the perfect wedding venue in Staffordshire? There are several hidden gems that you and your partner might not have come across, so we've put together a list of the best wedding venues in Staffordshire to relieve some of the stress, so you can have the perfect wedding day.
Why get married in Staffordshire you might be asking? With the Peak District National Park, the Staffordshire moorlands, forests, and valleys, this area has striking views of natural beauty which would make a beautiful backdrop for wedding photos on your special day. From the rural countryside to urban beauties like Stoke on Trent, you'll be spoilt for choice in this area no matter what you're looking for! If Staffordshire isn't for you, don't worry, we have a large selection of wedding venues in other locations to choose from.
1) Alrewas Hayes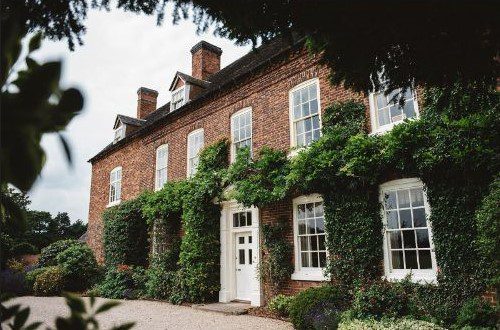 The first beautiful Staffordshire venue is Alrewas Hayes, which is a Grade II Listed Queen Anne country estate wedding venue. The interiors boast both elegant furnishings and charming period features. This exclusive-use wedding venue has several function rooms including The Gallery which can accommodate up to 120 guests for a civil ceremony and The Hall which can accommodate up to 45 guests for an intimate wedding ceremony. Alrewas Hayes provides the option to have a drinks reception in their Courtyard Gardens, which also provides gorgeous views of rural Staffordshire. The Red Room has its own private bar with elegant contemporary furnishings. Their Lakeside Marquee can host up to 220 guests and provides a beautiful backdrop for those all-important wedding photos on your special day with its own gardens. If you're planning a larger celebration, The Grand Pavillion is ideal. Couples can host up to 650 guests in this room. Could you imagine your wedding day at Alrewas Hayes?
2) Moddershall Oaks, Stone
Moddershall Oaks is licensed for both indoor and outdoor civil weddings and civil partnerships. The venue can accommodate indoor ceremonies of up to 130 guests and outdoor ceremonies of up to 100 guests in their custom-built lakeside gazebo, with its own garden and a private courtyard. The interiors give a luxury feel with hand-made Italian chandeliers and crystal lighting. Moddershall Oaks is all about making your whole wedding experience as special as possible. Couples have the option to book a relaxing spa afternoon, to relieve all of the stress that comes with wedding planning, and calm any nerves that may be creeping in as your wedding day gets closer and closer. This wedding venue also offers a mini-moon stay. This includes a stay in the Bridal Suite the night of your wedding, a bottle of champagne, and breakfast in the morning the day after your wedding. Sounds like the perfect wedding venue.
3) Ingestre Hall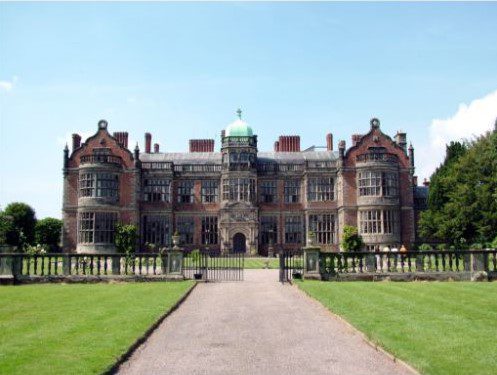 Next on the list of Staffordshire wedding venues is Ingestre Hall. This exclusive-use venue is a magnificent Jacobean mansion set across 27 acres of gorgeous grounds. This unique wedding venue has a lot of history and also happens to be the former home of the Earl of Shrewsbury. Couples can have up to 116 guests for their wedding reception and up to 150 guests for an evening reception. This wedding venue is licensed for civil ceremonies in their Yellow Room which can accommodate up to 72 seated guests. But if you would prefer the more traditional approach, there is a local church located across the lane from Ingestre Hall. They also have two other function rooms to consider for your wedding day which are the Red Room and the Great Hall. This wedding venue can accommodate up to 100 guests overnight, which can include up to 8 disabled guests.
4) Swinfen Hall Hotel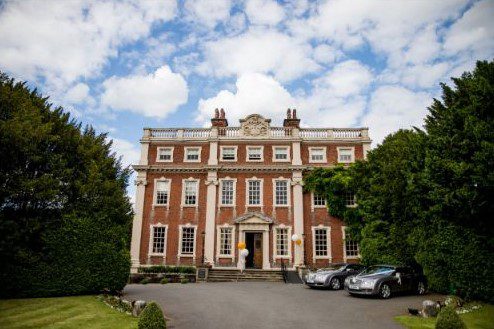 This wedding venue is an 18th-century manor set in 100 acres of countryside. During the warmer months, couples can host a drinks reception on their terrace overlooking looking their award-winning private gardens and pond. If you're planning a winter wedding their log fire provides a cosy and romantic ambiance. For evening celebrations at Swinfen Hall Hotel, couples can use their Edwardian Ballroom with a sprung dancefloor for those of you who like to dance the night away as well as a stage for optional live music. There is a large bar and a private courtyard that can be used for celebrations as well. To end the night, the hotel has 19 comfortable bedrooms and suites for unwinding in, or if you're a bit of a party animal, there is a games room apartment as well This wedding venue also has a brand-new luxury marquee which is perfect for larger weddings.
5) The Town Hall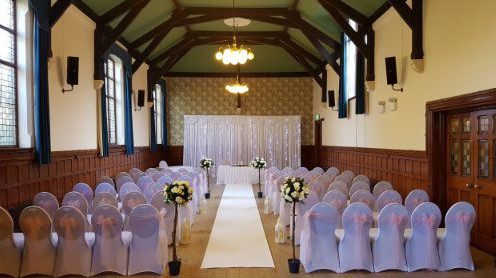 The Town Hall in Staffordshire offers a unique setting for you and your guests for your big day. From the grand gothic arches of the main hall to the detailed decor in the ceremony rooms which boasts both elegance and charm, they have several rooms available for functions of all styles and sizes and accommodate all budgets as well as they can. This wedding venue is licensed to hold Civil Ceremonies in their impressive Lingen and Dove Rooms, which feature a Victorian design with large windows, which creates a light and airy space for you and your guests to mingle in and provides views of the beautiful gardens. Their team works hard to create bespoke packages and advise couples on which one would suit them most. This includes a list of their trusted suppliers from florists to entertainers, to photographers, because we all know how important wedding photos are!
6) The George Hotel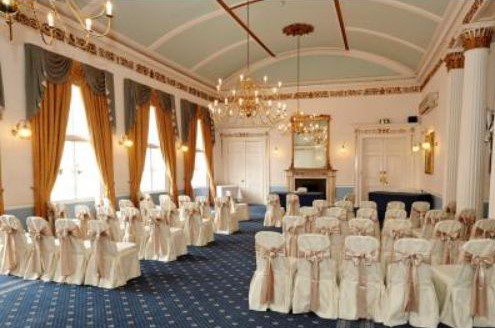 Next on the list of Staffordshire wedding venues is a charming 18th century, set in the heart of Lichfield, which is licensed for civil ceremonies and receptions. This family-owned wedding venue has a variety of event rooms that suit different sizes, styles, and budgets. They can accommodate both small intimate parties and large celebrations of up to 110 people. Their beautiful ballroom can host civil ceremonies and wedding receptions of up to 90 guests. The Garick Suit can host larger evening celebrations of up to 110 guests. The Garick Suite has a lift available, natural lighting, and charming period features. To extend your celebrations, The George Hotel offers a complimentary overnight stay for newlyweds in their cosy accommodation. Their experienced wedding team helps couples to choose the right suppliers and wedding packages to suit their vision.
7) Weston Hall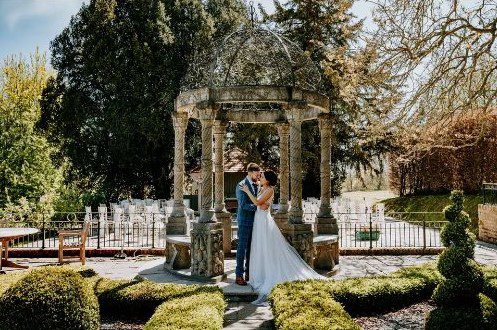 Next on the list of wedding venues in Staffordshire is Weston Hall. Set in the grounds of the Staffordshire countryside, this is the perfect venue if you're looking for a wedding away from the hustle and bustle of big cities. This unique Grade II listed building has stunning architecture and beautiful Elizabethan features. This includes a magnificent stone fireplace and oak beams. Couples can choose to host a civil ceremony in the Conservatory, an evening reception in The Shrewsbury, or a drinks reception on The Terrace, so there are plenty of great spaces to choose from. The maximum amount of guests that can attend a civil ceremony, an evening dinner, and celebrations is 110. There are 7 luxury rooms individually styled and designed to prioritise comfort, that you and your guests can book. The newlyweds can enjoy their luxurious Honeymoon Suite for their first night as a married life
8) Coton House Farm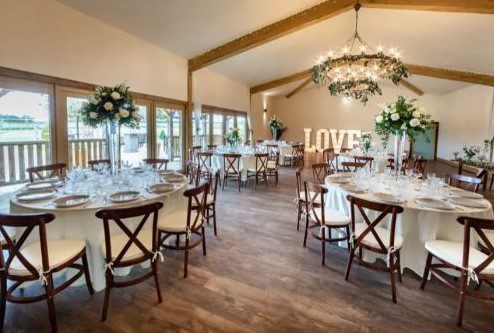 Set in the heart of the Staffordshire countryside, Coton House Farm is a luxury barn wedding venue. Overlooking the beautiful farm, The Oak Barn can host up to 120 guests in the day and 220 guests in the evening. Their neutral decor makes the perfect blank canvas for creative couples to add their own decor without any colour clashes! Their other spaces to consider include The Sty, a luxury open-plan bar, and The Old Dairy Barn, which is a renovated 17th-century milking barn. Couples can host a wedding reception with drinks and canapes in their private courtyard, alternatively, their outside terrace is also a great spot, and it even has a fire pit to keep you cosy in those colder months. This barn wedding venue has a wedding license and accommodates all needs and styles, from Asian weddings to accessible weddings.
9) The Upper House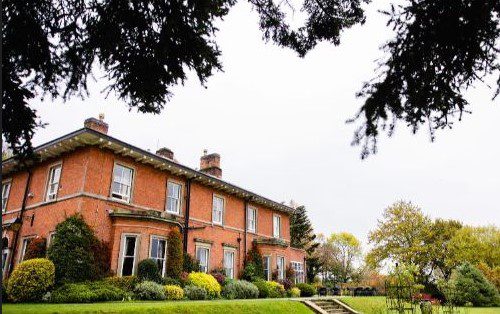 Last on the list of wedding venues in Staffordshire is The Upper House which is a country house wedding venue set on acres of enchanting woodland and gorgeous private gardens. The Orangery Room can seat up to 100 guests for a civil ceremony and up to 60 guests for a wedding breakfast. The Pavilion is the perfect spot for a Summer wedding with views of its own gardens and the lovely Staffordshire countryside. Their largest event space is the Woodland Suite which features a terrace, a walkway that leads to the woodland, and seating for up to 100 guests, perfect for a civil ceremony. It can also accommodate up to 150 guests for an evening reception, with a private bar and colour-changing lights, which gives the perfect party atmosphere for you and your loved ones to dance the night away. Sounds like the perfect wedding venue if you're a fan of country weddings.
That all for the list of our top wedding venues in Staffordshire. Be sure to check out all of these options and then you can find out more information if any of them caught your eye. I hope you fell in love with one of these stunning wedding venues in Staffordshire because I know I have. Hopefully, this has made your decision a little easier and that you end up having the perfect wedding day! Remember, it doesn't hurt to enquire about more than one as you can never have too many options, and you don't want all of the dates to fill up. If sadly none of these wedding venues captured your heart, we have several other guides that you can use for inspiration!
Have you thought about your next step in the wedding planning process?
5 Fun Facts about Staffordshire:
1) The Staffordshire bull terrier is known for its stocky build and for making a good pet is one of the most popular dogs in this country.
2 ) There are a few famous faces that were born in Staffordshire, such as the singer Robbie Williams, the entertainer Neil Morrissey, and the actor Paddy Considine.
3) Of course I couldn't miss out the famous theme park, Alton Towers. There is plenty here for the whole family with child-friendly rides at CBeebies Land and thrill rollercoasters for you adrenaline junkies out there, like Oblivion, Nemesis, and The Smiler. Families can also visit a variety of endangered animals at Drayton Manor Park's conservation zoo and aquarium. There are several hotels, restaurants, bars, and play parks there as well, and I can't forget their indoor waterpark either.
4) The largest ever haul of Anglo-Saxon gold in Britain was discovered beneath a farmer's field in Staffordshire.
5) The first jar of Marmite was produced in Staffordshire by a German scientist.