A Guide To Writing a Wedding Thank You Card
Published date: 27th October 2020 | Author: Hollie Bond
NB: To help you browse our best suggestions we have included some third party links. Some purchases made through these links may earn us a commission to help keep our blogs and offers current and up to date. Thanks for your support!
---
Staring at a huge, seemingly insurmountable pile of wedding thank you cards that need to be written? Don't panic, read our quick fire guide to choosing and writing your thank you cards…
You'd think you'd had your fair share of admin in the run up to the wedding day and once you've said "I do" you can finally have your evenings back to put your newlywed feet up and catch up on all those missed Netflix shows. When you touch down from honeymoon though (or once you come down from cloud nine if you're honeymooning later on), there are a few post-wedding tasks that need to be completed, with the most urgent of these being writing the wedding thank you cards.
If this fills you with the same dread you felt as a child when your parents nagged you after every birthday to make sure you wrote a nice card to Grandma and Grandad, then chances are you'll put it off for as long as possible. But this aspect of wedding stationery is very important. Your guests will probably have bought you wedding gifts, contributed to your honeymoon or spent lots of time and money getting to your big day, so it's only proper and good manners that you thank them for making your day so special as soon as you realistically can.
When Do You Need To Send Wedding Thank You Cards?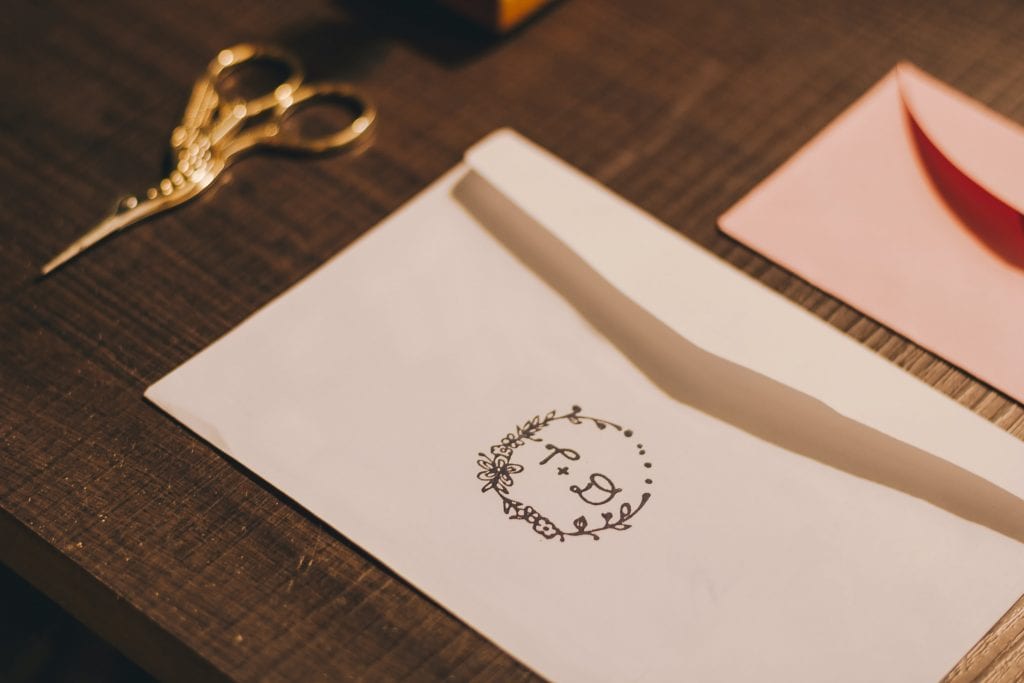 No-one is expecting a wedding thank you card a few days after the wedding has happened, so don't panic and put too much pressure on yourselves to get the whole lot out before you jet off on honeymoon or before you've even recovered from the champagne hangover. The general etiquette about timing with a thank you card for a wedding is that it's ok to send up to three months after the special day. It's unlikely but sometimes guests might send a wedding gift well after the wedding day has taken place. In this situation you'll need to send a thank you for their attendance at the wedding and then another card once you've received the gift.
Who Do You Send Wedding Thank You Cards To?
Even if you didn't receive a wedding gift from a certain guest, it's still important to thank them for coming, as guests end up spending a lot of money on accommodation, travel and outfits to attend the day. Often at an overseas wedding, because you're asking guests to fork out on flights and accommodation to join you, it's good etiquette to not ask for gifts at all, but of course you'll still want to give thank you cards to thank them for the effort they've made to come to your wedding.
To help you keep track of who to thank for what though, make sure to create a list of the names of the senders as you open each wedding present, otherwise you'll end up with the awkward situation of trying to guess which auntie sent you the set of pans and which one the crystal vase! Many wedding gift list companies have a helpful service that records all the purchases for you and that you can access at the click of a button, but you'll still need to watch out for any guests that decide to purchase "off-list".
Do Cards Need To Be Handwritten?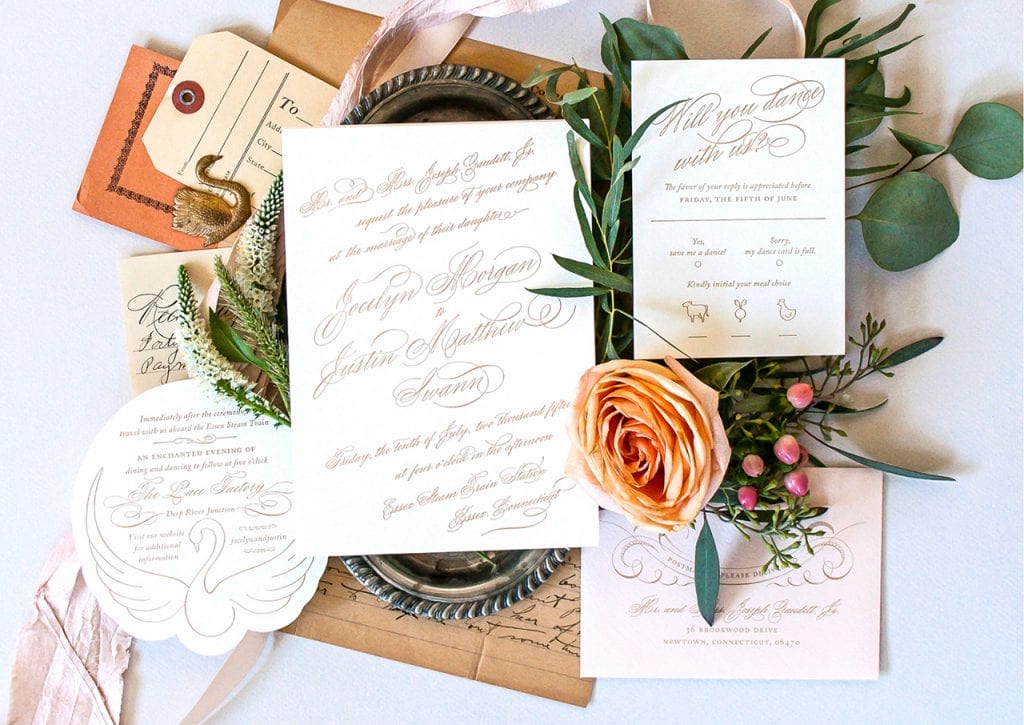 If you want to come across as sincere and really appreciative of your wedding guests then the answer to this one is a resounding yes. There's just something more personal and heartfelt about a hand-written note that you don't get from a printed cookie-cutter style message in a generic thank you card.
Divide the list out between yourself and your new husband or wife to make the task seem less arduous. Although you might want to see who has the best handwriting first! To make the task manageable, don't try and tackle the entire list at once. Write a few wedding thank you cards each night and then reward yourself with some sofa time or by sitting down to dinner with your new spouse.
What To Write In Wedding Thank You Cards
Even the most skilled writers struggle with wedding thank you cards as once you've thanked the recipient for the gift what else is there to say really?
The good news about a handwritten note is that you can make it completely personalised and add a message that's specific for that individual. Perhaps hoping to catch up with them again soon, or referencing something about how much you enjoyed dancing with them on the day or how much you appreciated them driving for 5 hours to attend the wedding. Thank you cards don't have to be essays, but one or two lines where you mention something that is specific to the individual guest/s will go down a treat.
A classic wedding thank you will be along these lines:
A thank you to the guest(s) for attending your wedding and making your day so special.

A thank you for any gifts/ money they gave you, plus a mention of how much you're enjoying using it/ what your plans are for it.

A personal note about seeing them soon or referencing something already planned.

Well wishes to sign off.
Examples of wedding thank you cards:
Dear Sarah and Arthur,

It was so wonderful to have you there on our wedding day and we really appreciate the long journey you made from Wales to be there with us. Thank you for the lovely plates you gave us. We can't wait to use them for a dinner party next time you come and visit.

Best wishes,

Steph and Chris
Dear Polly and Ben,

It means the world to us that you celebrated our special day with us and we'll always remember how much fun we had with you – Ben your dance moves have gone down in history! Thanks so much for the very generous cheque you gave us towards our honeymoon. We used the money to book a hot air balloon flight over the Serengeti and it was a once-in-a-lifetime experience that we'll cherish forever.

Best wishes,

Amy and Mark
Dear Emily and John,

Thank you so much for travelling all the way out to Italy to join us on our special day – we wouldn't have been able to say "I do" without you there and will cherish the memories we made together forever. Thank you for organising the surprise Saxophonist for the reception. It was a truly unique and thoughtful gift and really made the day for us. We can't wait to catch up and show you all the phots from the day soon.

Best wishes,

Carl and Robert
Dear Tanya and Lisa,

Thank you so much for the beautiful vase you gave us to celebrate our wedding, it was so kind and looks beautiful one our kitchen table. We had the most wonderful day and you were really missed (especially on the dance floor!). We really hope you're feeling better now and can't wait to catch up and show you our photos from the day.

Best wishes,

Holly and David
Ideas For Wedding Thank You Cards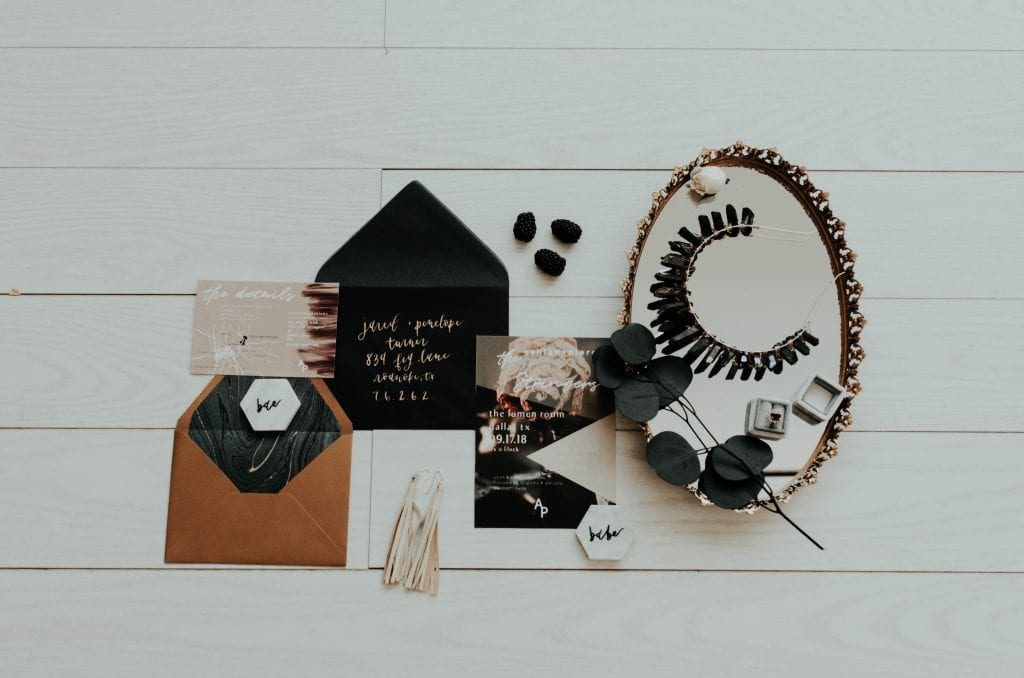 Now you know what you're going to write in your wedding thank you cards, and have an idea of when you need to get them sent out by, it's time to think about the design.
Matching wedding stationery thank you cards
If you love everything to match then you might want to think about this really early on when you first speak to your wedding stationer. Often you can order an entire suite of stationery, from the save the dates to the wedding thank you cards, that all match and represent your wedding from start to finish.
Don't panic if you haven't been this organised or prefer things to be less matchy matchy. As long as you stay true to your theme for example rustic, monochrome, Art Deco, travel etc. then it will all look sleek. That being said, there's no rule about matching stationery, so if you want to choose something completely different to your other stationery then go for it. After all, it's your day, your way.
Photo wedding thank you cards
For a really personalised approach, it can be a lovely idea to use your wedding photos to create the design of your wedding thank you cards. Choose some of your favourite pictures from the day and use a photo editing site to create a collage or design.
Just make sure to speak to your wedding photographer before you choose this route as some photographers can take months to edit photos, especially if they're fine art photographers. Your photographer may be able to send you a few of the best images to use on the wedding thank you cards before you get the whole album.
Honeymoon postcard
If you had a honeymoon fund that your guests contributed to, you could send them postcard style thank you notes to show the sort of thing you spent the money on – experiences like scuba diving, a safari, romantic meals on the beach etc. Postcards can be a budget-friendly idea too, which will be music to your ears after having spent so much on the wedding and honeymoon over the last year or so!
High street wedding thank you cards
Another budget-friendly option can be to buy wedding thank you notes on the high street from stationers like Paperchase and WH Smith. These might not be very personalised, but there's usually a good choice of designs and as long as you hand write the message the thank you will still feel very personal to the recipient.