7 Fantastic Wedding Venues in Essex
Published date: 28th April 2020 | Author: Hollie Bond
---
With a sprawling coastline that's more than 350 miles long and home to one of the largest village greens in England, the wedding venues in Essex boast some of the finest architecture both old and new in Britain…not to mention they're full of personality! Check out some fantastic picks below.
Nestled in Britain's oldest recorded town, Colchester, this stunning palace holds the title of tallest Tudor Gatehouse in the country and overlooks River Blackwater. The buildings of Layer Marney Tower are the jewel in the 120-acre wedding venue estate. The combination of formal gardens surrounded by parkland, with grazing livestock, ponds and majestic woodland give a wealth of opportunity for romantic photography.
You will be spoilt for choice at this wonderful Essex wedding venue.  And if you're a fan of the supernatural, It's also one of the most haunted buildings in Britain and Lord Marney himself is said to roam the halls in a full suit of ironclad armor.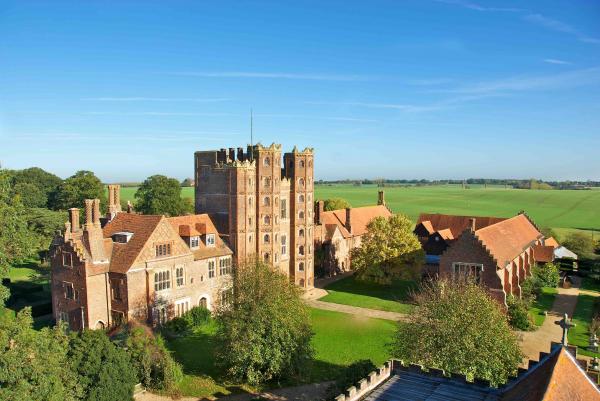 Peace and serenity is in abundance at this 16th century mansion. This is one of our more rural wedding venues in Essex. Regarded as one of the finest Tudor mansions in Essex, complete with barns, cottages, lakes, lawns and a sweeping driveway, you'll be spoilt for choice! The secret cottage is the cherry on top of this fabulous venue, reserved for bride and her bridesmaids to enjoy the night before the big day, this gorgeous little addition comes with its very own hot tub!

Over 800 years old, Vaulty Manor is a beautifully restored 17th century barn in the picturesque area of Goldhanger, in Maldon.  After a fairytale wedding in the barn, the wedding breakfast can be enjoyed in the light oak Baronial Hall for a memorable experience. The acres of stunning grounds and terrace is ideal to enjoy a BBQ or Hog Roast for a summer soiree!
After the wedding festivities, the accommodation options are in abundance. The refurbished manor house adds a touch of modern Georgian glamour to this stunning building and is where both the bridal suite is along with accommodation for up to 10 people. The Courtyard rooms are also equally luxurious and can hold up to 60 more of your guests.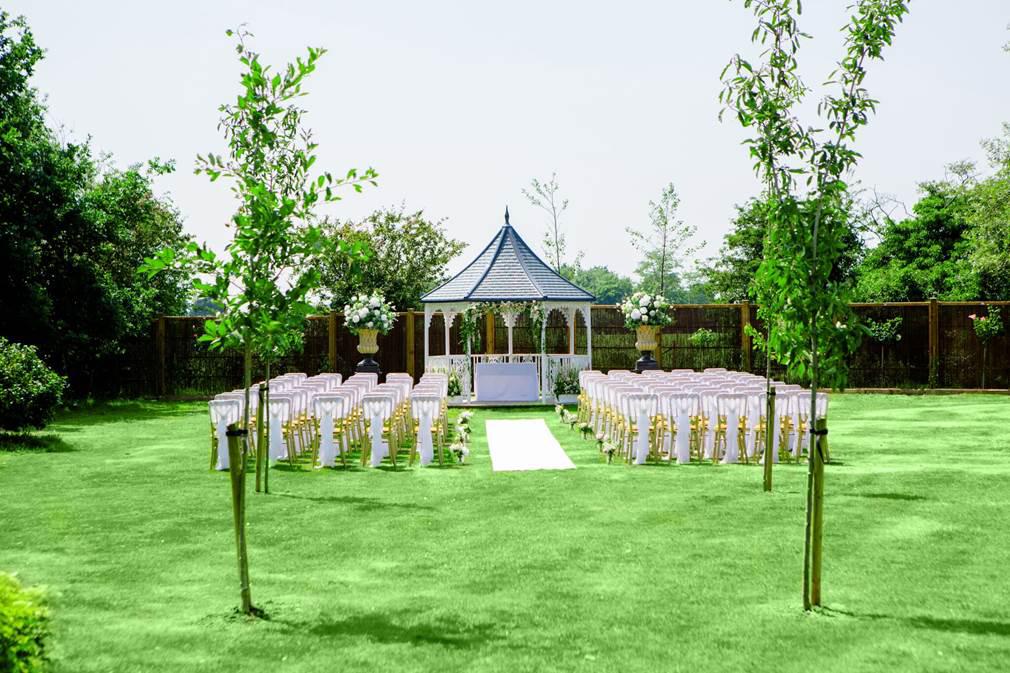 Precisely 468 years old, this Georgian manor does not fail to impress! Make an entrance with the 120-foot-long aisle in Queen Charlotte's oak-paneled gallery or opt for an Al-fresco affair in the inner courtyard on warmer days. The Grand Salon offers dazzling extravagance with its hand-painted ceiling, double-height sash windows, roaring log fire and baby grand piano … and that's just the ceremony.
The former Marquis of Buckingham's Ballroom is a beautiful setting for dinner where you can feast under crystal chandeliers and double-height mirrors. And the party doesn't end there. The party can then move to the the Library with views over the terrace, fountain and lake beyond, a perfect place to host your evening reception! We give this one 10 stars!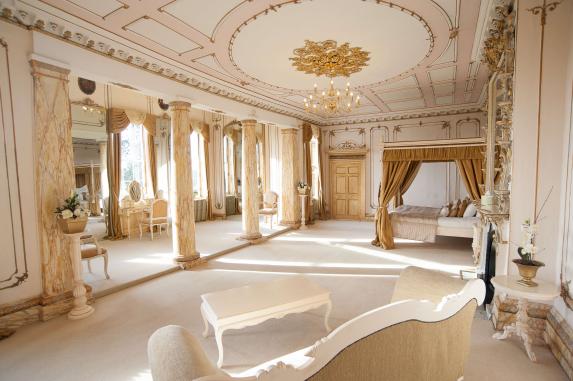 The Norman keep of Hedingham Castle is almost 900 years old and stands in 160 acres of manicured gardens and woodland. With an exquisite ceremony in the Norman Castle is by far one of our favorite ceremony spots of all the wedding venues in Essex. The medieval splendor of the Norman Keep is a one of a kind experience, picture you and your partner saying 'i do' in the glorious banqueting hall surrounded by candlelight. You can then enjoy your reception drinks in the Hall and charming gardens of the quintessential English Country House.
The acres of rolling green land that surround the castle and country house are another delight that make this venue a true beauty and are now scattered with modern sculptures that add an artistic elegance to the entire experience. To top it off, the team at Hedingham Castle will go above and beyond to cater to all your wildest dreams, from star wars weddings to having the rings flown in by owl, if it's possible they will make it happen!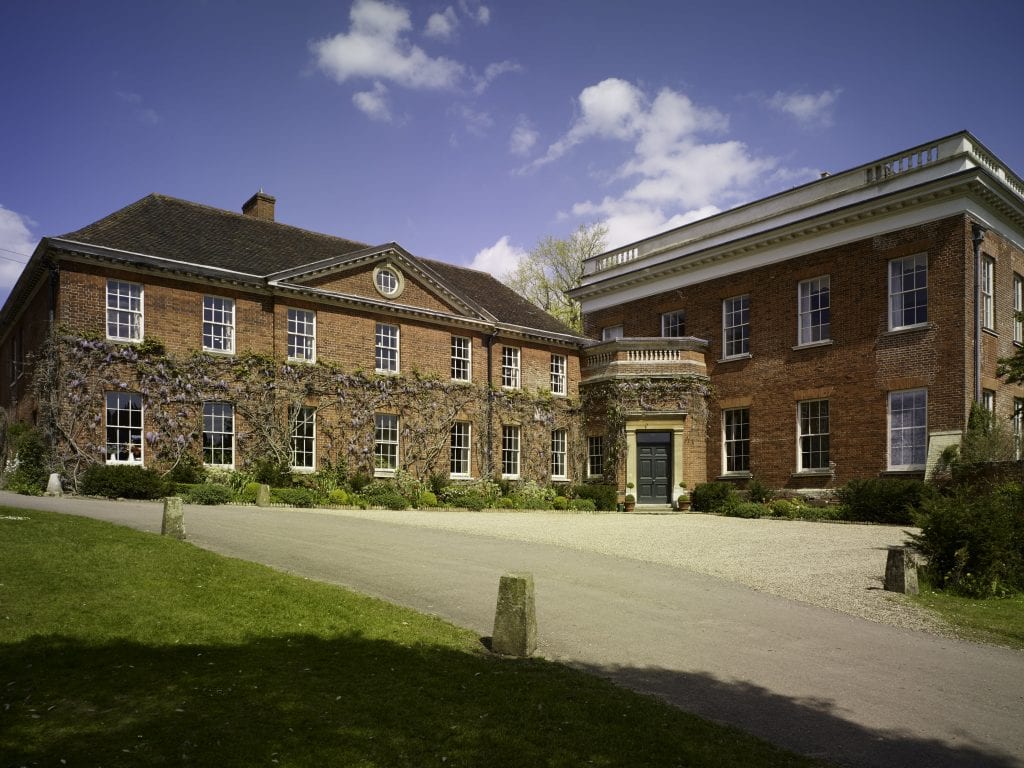 Set in acres of the rolling hills of Essex, Crondon Park is a hidden gem in the countryside of Crondon Valley. This beautiful venue blends original Tudor and Jacobean features that are a testament to the era's architecture. The Baronial Hall is a truly magnificent place to host your wedding. With beautiful rosewood flooring throughout Baronial Hall and sensational light oak timber beams, the Hall is bursting with character and charm.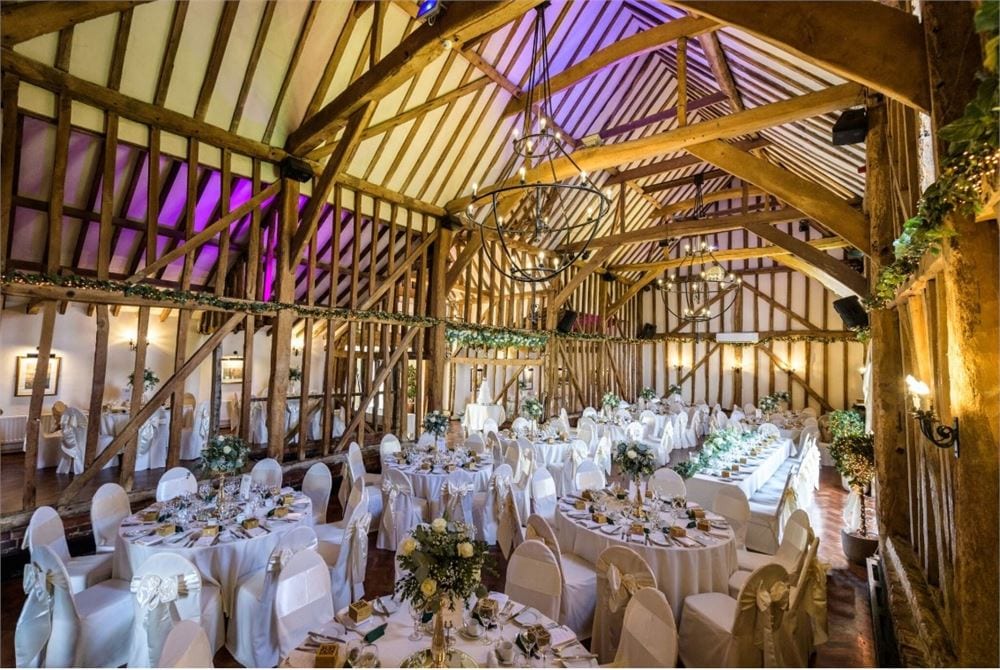 The list wouldn't be complete without mentioning Woodhall Manor, although not technically one of our wedding venues in Essex, this stunning manor sits just over the border and is all you can dream of in a wedding venue. Steeped in history, this beautiful Elizabethan manor is bursting with character.
Reached by a narrow winding road, Woodhall Manor really does have that WOW factor! It stands in Suffolk's heritage coast and is completely secluded from the world, creating an ambiance that feels almost magical. As you gaze upon the stunning red brick manor, it's hard not to be transported back to the 1600's as you open the heavy door and step in through the front entrance. The spiral staircase feels like you've just jumped down the rabbit hole and now in your very own whimsical version of Alice in Wonderland. This is one that can't be missed!