Ware Priory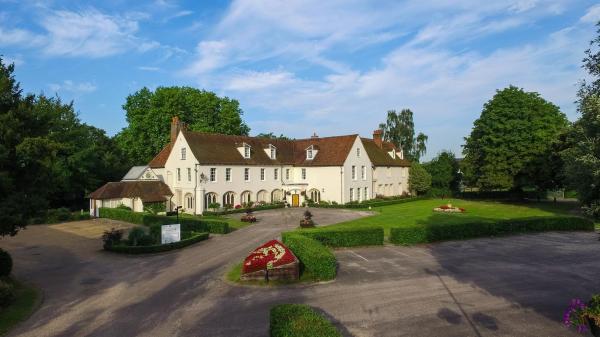 The historic Ware Priory offers a venue steeped in atmosphere with period architecture dating back to medieval times. The Priory Hall features gothic stone arches, stained glass windows and has the remnants of a Victorian Trompe-l'oeil. You enter through the Jacobean front door at the corner of the old cloister arcade and then, after the ceremony, meet your guests as newly-weds through a beautiful wisteria archway before entering the Priory Gardens.

For more intimate ceremonies there is the Hadsley Room, with its late-medieval roof beams and crown post roof. The room boats a 14th Century refectory table, which is believed to be a survivor from the original friary. Our Conservatory offers a bright spacious interior with an intimate atmosphere at night. Large French windows open on to the gardens with access to the River Lea, where wooden bridges access the Priory Island.

If you are looking for the ideal spot for photographs then we have several to choose from: arriving at the front of the Priory with your wedding car, signing the register in front of the stained glass windows in the Priory Hall or using the 14th Century refectory table in our late-medieval Hadsley Room. There is confetti time under the wisteria archway or several idyllic spots in the gardens and by the river.
Website | Email | View Brochure (pdf)
Latest Review