Theobalds Estate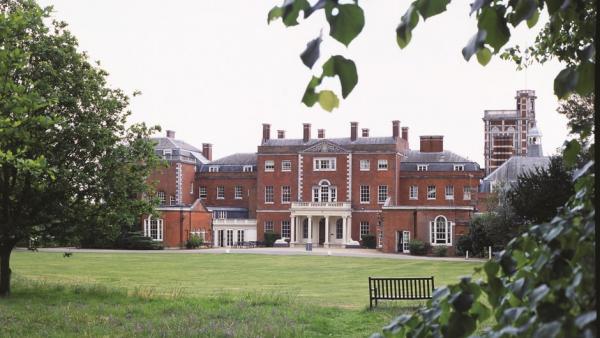 With its tranquil parkland setting, beautifully landscaped grounds and elegant Georgian manor house, Theobalds Estate is one of Hertfordshire's most beautiful hotels. Just 10 miles from London, the hotel is just minutes from J25 of the M25 with fast rail links to the city, making it ideally placed for people looking for a tranquil location but close to central London. The Georgian-style Mansion House and the Ridings Barn, both set the stage for an incredible wedding day.

Our traditionally styled Mansion House can host up to 100 guests for a Civil Ceremony & Wedding Breakfast. The Civil Ceremony can take place within our perfectly manicured Italian Gardens, or our Lambton Room; should the weather not permit. You are welcome to have up to 200 guests for the evening reception and this takes place within our unique rooms, with high ceilings and natural light. All our traditional rooms within the Mansion House open up to our 55 acres of private parkland, meaning there's plenty of picture perfect moments to be had.

Alternatively, our more modern venue, The Ridings Barn, can host up to 150 guests for a Civil Ceremony & Wedding Breakfast. The Civil Ceremony can take place within the stunning Courtyard, which is directly located of off the Barn itself. For a winter option, you can either get married within the Ridings Barn itself or we have the Conference Room within the Management Centre available too. For an Evening Reception, you can have up to 200 guests within this venue and with its high ceilings and beautifully exposed beams – the Ridings Barn is the perfect place to celebrate with friends & family.

As both of our venues are as unique as each bridal couple, we would highly recommend coming to view Theobalds Estate to see your venue preferences. To make an appointment with our dedicated Wedding Coordinators, please do advise your availability by contacting Theobalds Estate directly.
Website | Email | Request a Brochure