Redhouse Barn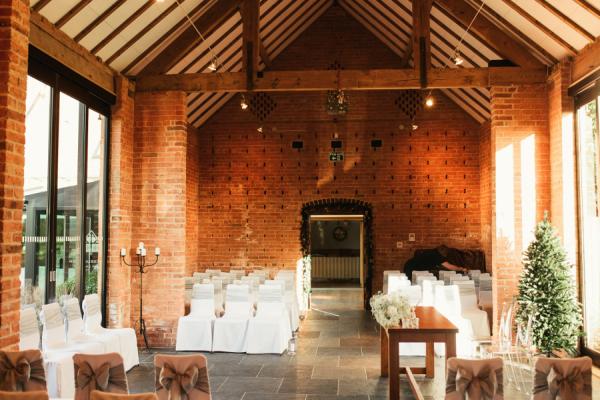 Redhouse Barn is a stunning new specialist Barn Wedding Venue. Set in superb rolling countryside, yet close to major road and rail networks, it is the perfect setting for your civil ceremony and wedding reception.

A magnificent oak frame barn and 18th Century traditional redbrick barn form the centrepiece of this wedding venue. A contemporary glass and timbered lounge bar area links these two superb wedding barns, which are all being fully kitted out with professionally installed PA/audio and media systems.

As well as being beautiful to look at, Redhouse Barn is an environmentally friendly and sustainable site where a freshwater borehole supplies all of their water. Under floor heating throughout this wedding venue will use the latest technology in air to water heat pumps. It will also have cutting edge air conditioning to keep you and your guests comfortable on hot summer days.

The venue is privately owned so you can be assured that you will have exclusive use of the superb, airy buildings as well as enjoying the spectacular landscaped gardens, courtyard and extensive grounds. Your guests will feel relaxed and unhurried with so much space and tranquillity to make use of.

• The Redbrick Barn can comfortably seat 100 guests for a civil ceremony and the Timbered Barn is licensed for up to 150 wedding guests.
• You can choose to have a drinks reception inside or outside in the courtyard, or a mixture of both.
• The Oak Frame Barn can seat up to 160 guests for a sumptuous wedding breakfast. Its minstrels gallery provides the perfect place for your musicians to perform.
• The ultra-modern "Pinches" lounge bar is a superb area both for welcoming drinks on arrival or as a relaxing area for your guests to retreat to after the wedding breakfast. In the summer, light and warmth floods in thanks to the glass doors which run along the entire front of the room.
• In the cool of the evening, or for winter weddings, with those doors closed and the wood-burning stove, your guests can really unwind on comfortable chairs and sofas.
• For those extra special photographs of just the two of you, you are welcome to use the more extensive private grounds complete with a gorgeous Koi Carp pond.
• High quality professional catering and staff on site.

So that you feel totally pampered on your big day, the glamorous timbered bridal room is on hand to use throughout the day as a place to get ready in or to retreat to. It looks out over a glass minstrels gallery onto the timbered barn, meaning you can always stay in touch with proceedings even when shoes need to be changed or make up reapplied.


Website | Email | Request a Brochure
Latest Review