New Place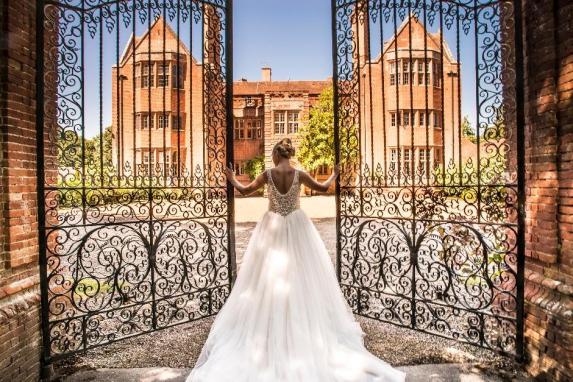 The Place to say I Do….
When choosing a venue for your wedding, we understand that your special day must simply be perfect. New Place never fails to impress. Surrounded by 32 acres of glorious landscaped gardens, the impressive Manor House is Grade I listed and a true masterpiece of design, combining Tudor and Elizabethan influences with subtle, contemporary touches.
Fittingly, New Place was first commissioned as a wedding gift, designed and built in 1904 by the famous British architect, Sir Edwin Lutyens. Merging the interior of an existing 17th century Manor House with his own signature style, the results are nothing short of spectacular.
New Place has a variety of stunning rooms for you to choose from for your ceremony. The magnificent Bristol Room is perfect for a traditional ceremony with its wood panelled walls and opulent focal fireplace, or for a more contemporary feel, the Dining Room offers an elegant light and airy space.
Those seeking a sleek modern look will love The Court or the Arden Suite, The Court has a beautiful chandelier with full ceiling height windows overlooking the scenic terrace beyond. The Arden Suite is a standalone exclusive-use venue, with a private entrance foyer, an exclusive lounge bar with its own catering facilities and a charming outside terrace.

After saying your "I Dos", our exclusive Arden Suite, situated adjacent to the Manor House, will play host to your wedding breakfast and evening reception. Seating up to 110 guests for the wedding breakfast, and 150 guests for the evening reception, the space will give you full exclusivity for your wedding party. We only ever hold one wedding each day, so you are guaranteed to have the spotlight on just you and your guests for the entirety of your special day.
With a tasteful neutral design, the Suite is ideally furnished to accommodate your theme and colour preferences and can be dressed to your exacting ideas. Simple and elegant, quirky and unusual, or elaborate and stylish, our team will push the boundaries to ensure everything is just how you envision it for your special day.
The warmth and personality of our venue, alongside the beauty and historic grandeur, make for a unique setting in which to delight your guests. All finishing touches can be sourced and arranged where necessary to personalise your experience on the day. We're more than happy to assist you by recommending suppliers or by giving advice on achieving your chosen thematic concept.
Website | Email | Request a Brochure
Latest Review