The In & Out (Naval and Military Club)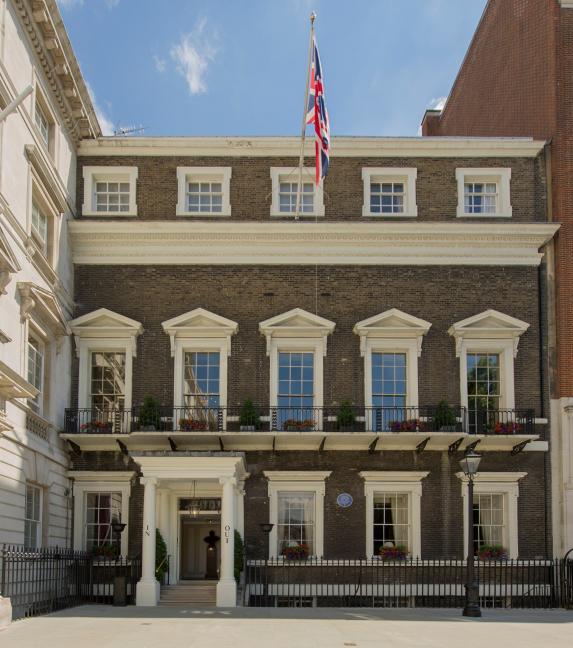 The Naval and Military Club, affectionately and traditionally known as 'The In & Out', is a magnificent venue with superb facilities in the heart of London's Mayfair.

Your guests arrive at No. 4 St James's Square, to this beautiful building that has retained all of its original features of its glorious staterooms. Steeped in history and with its grand and illustrious past, this Grade II listed house is the perfect setting to astound your guests, whatever the occasion.

Entering through to the Inner Hall to the sound of the grand piano, to the beautiful columns and the grand staircase, it is a perfect welcome for your special day.

The 'In & Out' has a variety of rooms suitable for an intimate soiree up to grand scale entertaining. All of our rooms including the Inner Hall, have double height ceilings, large windows and beautiful chandeliers. Each space is individually styled, full of history and complete with beautiful paintings.

The club is a wonderful venue year round; with a charming central court yard for summer weddings and many of the rooms have log fires for winter receptions. The club is grand, yet it has that 'at home' feeling with the soft furnishings.

We also have 52 bedrooms available to your guests, and with the newly refurbished Canning Suite available at a highly discounted rate to the new couple, why not hold a champagne breakfast for the morning after?

We appreciate organising a wedding can be an enormous task and we are here to help you as much or as little as you require. Our on site Event Manager and her team will help you seamlessly plan your wedding and will be in attendance on your special day to ensure that your every expectation is met and exceeded.
Website | Email | Request a Brochure