Mandolay Hotel & Conference Centre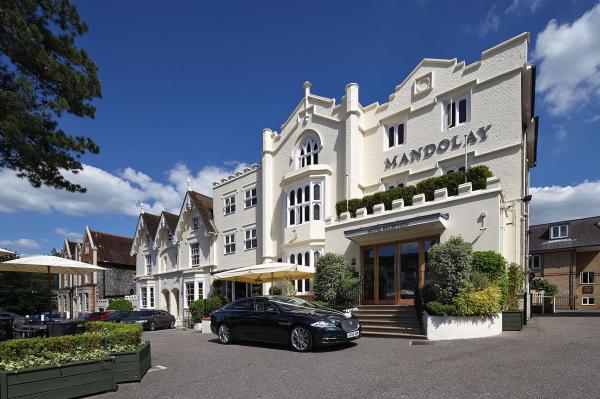 We would like to start by saying congratulations on your engagement and thank you for choosing us as a potential venue for your special day!

We here at The Mandolay aim to inspire and spark your imagination with all the possible ways to create the day you've always dreamed of, however we're also here to listen to what YOU want. Whatever level of creative input you need, our dedicated team of wedding coordinators are always on hand to help bring to life the personal intricacy of your story.

Our Coordinators understand that it can be overwhelming to know where to start planning your wedding, therefore we have created some fantastic Wedding Packages for 2019, 2020 and 2021. However, if these packages do not match your requirements then our team would be delighted to create a bespoke package just for you. Whether you are having an intimate gathering of close family and friends or a wedding party of 500 guests, why not contact us today to discuss your ideas so far. We pride ourselves on the flexibility and adaptability of our fabulous function rooms, service styles and seating configurations.

Our 8 purpose-built event suites at The Mandolay will comfortably host parties from 10 to 500 guests and we are licenced for Civil Ceremonies up to 500ppl. With our 78 bedrooms and suites are decorated to an excellent standard the attention to detail typified by our use of Osborne and Little furnishings, OKA accessories and complimentary Molton Brown toiletries.
The Mandolay is also proudly partnered with a fine selection of exceptionally talented suppliers and vendors. They come highly recommended and are always on-hand to help tailor your wedding to bring out the beautiful uniqueness of each and every couple, because no two weddings are ever the same!

Our comfortable bars feature extensive gin and cocktail menu's whilst our wine list is recognised as one of the finest in the area. Exceptional service is delivered by our award-winning team of staff, each dedicated to providing a warm welcome with an elegant style associated with a busy modern hotel.

Many of the reasons to choose The Mandolay Hotel for your most special occasion may be taken for granted.
So what makes The Mandolay Hotel the prefect choice for your wedding?
Simple. We never lose sight of the fact that it is your wedding, not a version of somebody else's or one designed for our benefit. We listen to every suggestion and whilst our experienced wedding planning team are always on hand to offer guidance and practical advice we refuse to allow a great idea to be diluted or conveniently forgotten. You have been planning this day a lot longer than we have, we are just here to provide the venue and help you achieve a day that you will live with you forever. The Mandolay Hotel, when excellence is standard the service must be exceptional!
Website | Email | Request a Brochure
Latest Review